10 South Asian Women Artists You Should Know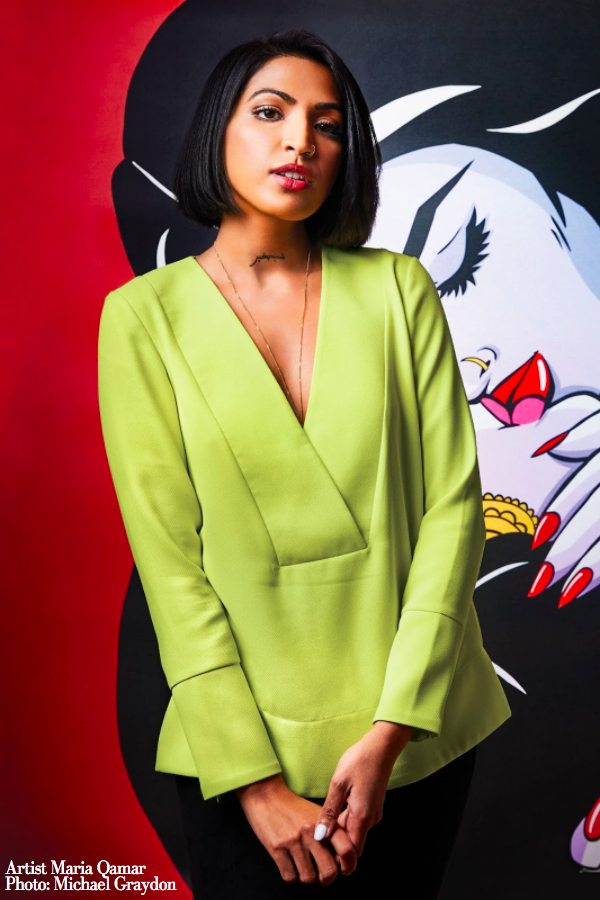 1. Misha Japanwala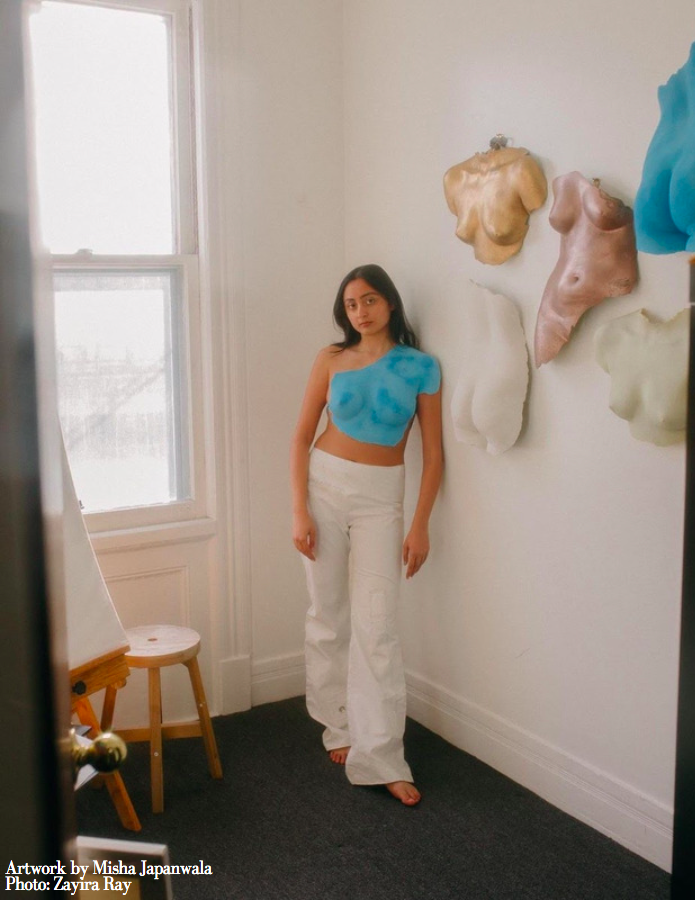 Misha, who is well-known for her personalized body casts, has worked with some of the most influential personalities in the world right now. Cardi B used her art to announce her pregnancy, and then again in Lizzo's music video for "Rumors"! Misha was recently featured on the Forbes Under 30 list for her contributions to the arts. Originally from Pakistan, Misha was trained at Parsons School of Design in New York, where she is based.
2. Gauri Gill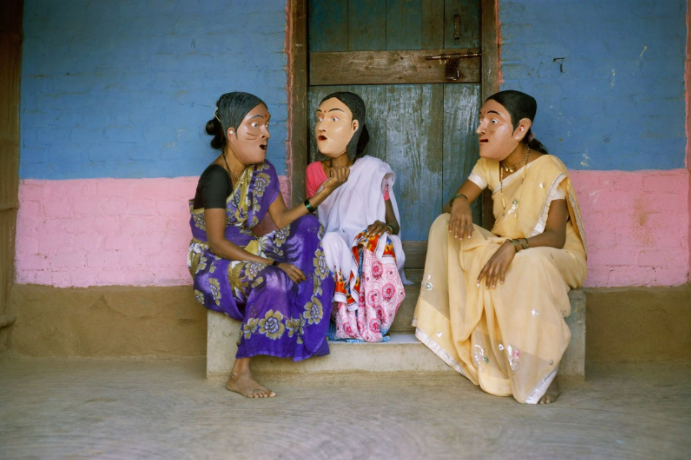 Gauri Gill is a contemporary photographer that hails from New Delhi, India. Gill has been claimed as "one of India's most respected photographers" by the New York Times. Her ongoing exhibition, A Time to Play: New Scenes from Acts of Appearance at James Cohan in New York City, marks the photographer's first solo show with James Cohan Gallery and inaugurates the gallery's new Tribeca space. She is also the prizewinner of the $50,000 Grange Prize, a revered Canadian photography prize that recognizes the best in international contemporary photography. Gill received a BFA in Applied Art from the College of Art in New Delhi, a BFA in Photography from Parsons School of Design/The New School in New York, and an MFA in Art from Stanford University in California.
3. Shahzia Sikander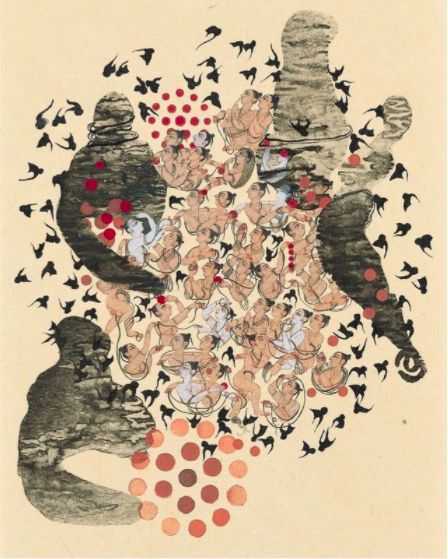 Trained in miniature painting at the National College of Arts in Lahore, Shahzia Sikander is best known for bringing Indo-Persian art into the contemporary dialogue. She works across a variety of mediums and resides in New York City. Shahzia is a recipient of the MacArthur Fellowship Award. Born in Lahore, she moved to the United States, where she attended the Rhodes Island School of Design (RISD) and earned her Masters of Fine Arts in Painting and Printmaking in 1996.
4. Shilo Shiv Suleman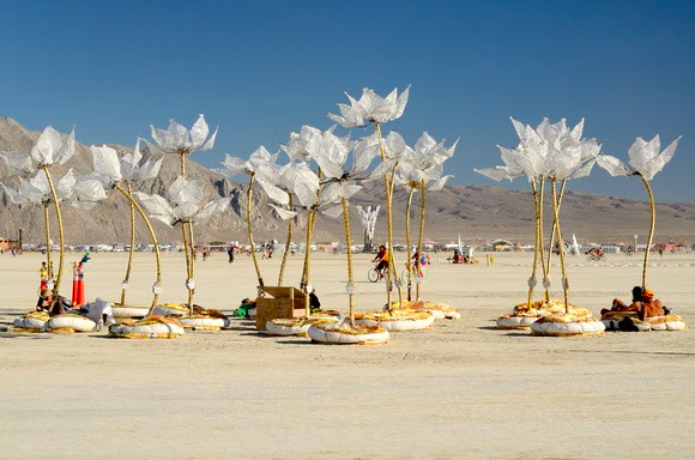 Shilo Shiv Suleman is an Indian contemporary artist who focuses on the intersection of magical realism, art for social change, and technology. She was recently a part of the Sotheby's x Burning Man auction, "Boundless Space… The Possibilities of Burning Man," where her work entitled Temple, a wearable brass sculpture, sold for $56,700! Shilo trained at the Srishti School of Art, Design, and Technology in Bengaluru.
5. Maria Qamar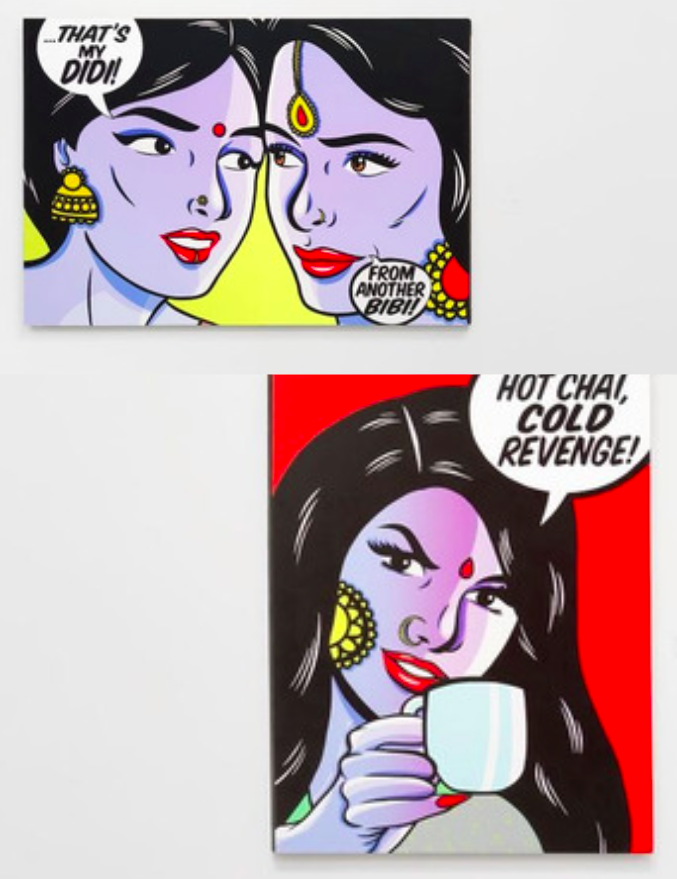 HateCopy, aka Maria, is recognized for her vivid poster art that satirizes South Asian stereotypes in a witty and forthright manner. Her work is an influence of Roy Lichtenstein and Indian Soap Operas. Maria's pop art style, wit, and relatability appeal make her a must-follow on Instagram.
6. Rana Begum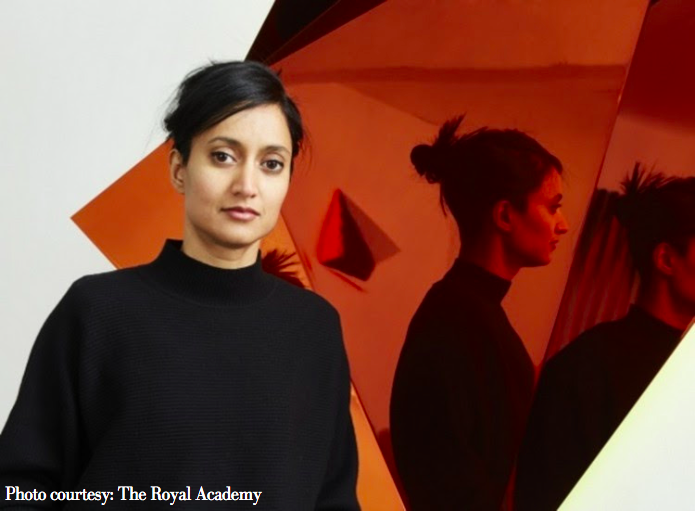 Rana Begum is a visual artist who lives and works in London. Initially born in Bangladesh, Begum's work is a play on light and creative illusion. Her work is an outburst of forms that blur the boundaries between painting, sculpture, and architecture. Rana's work entitled No.1078 Painting (2021) was presented at Frieze in London this year by Jhaveri Contemporary. Rana Begum is a Royal Academician as of 2020.
7. Chila Kumari Singh Burman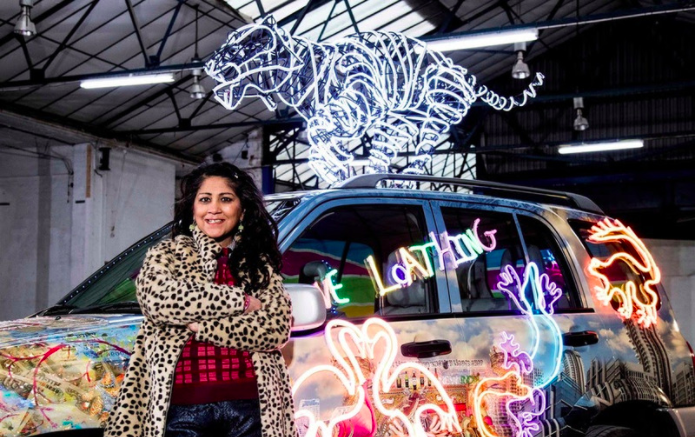 Burman, born in the United Kingdom to Punjabi parents, investigates Asian femininity in her work. Installations, sculptures, and paintings are all part of her body of work. Burman has had a long and illustrious career spanning over three decades. In the 1980s, she was a pivotal figure in the Black British Art movement. She attended the Slade School of Fine Art in London.
8. Bharti Kher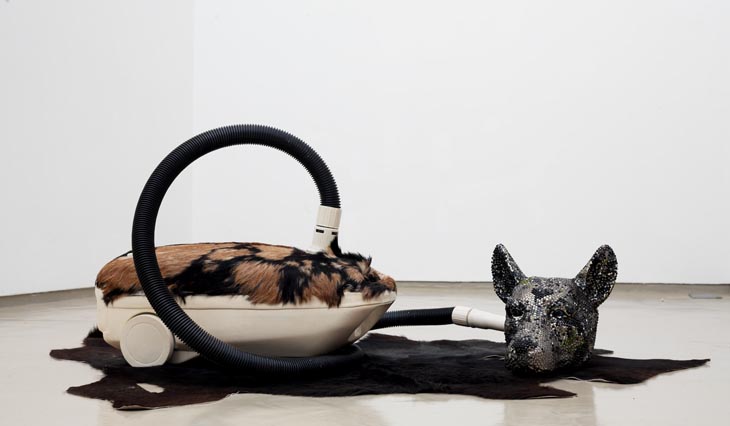 Perhaps one of India's most prominent contemporary artists, Bharti lives and works in Delhi, India. Kher's work incorporates Hindu mythology and bindis: forehead embellishments that symbolize the third eye in Hindu culture. Her work comprises psychological experiments through different themes of Hinduism. Bharti was born in London and received her Bachelor's degree in Fine Art Painting from Newcastle Polytechnic.
9. Rina Banerjee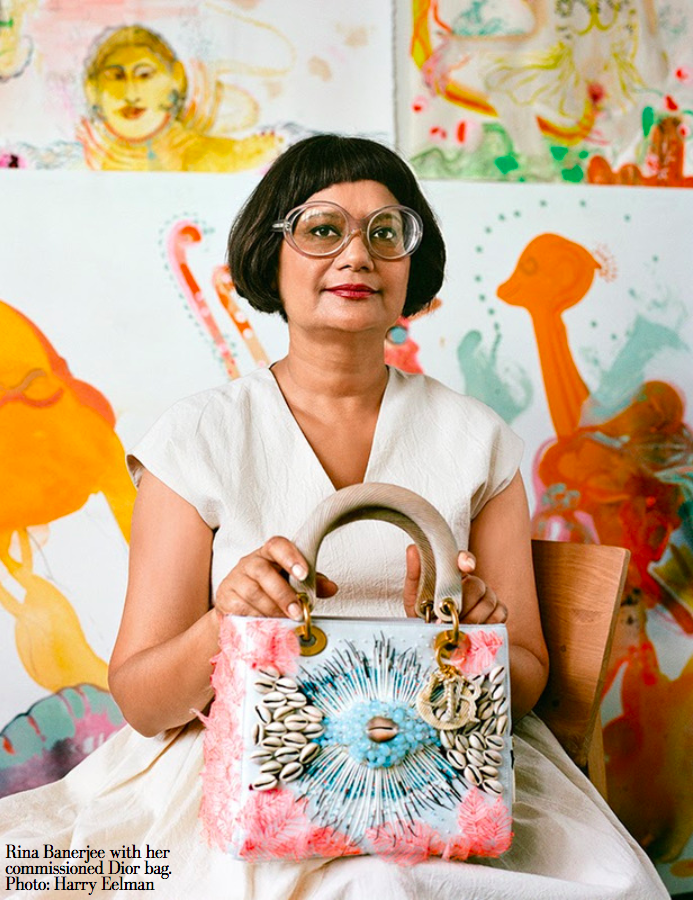 Rina Banerjee was born in Kolkata and trained at the Yale School of Art. Banerjee's work focuses on ethnicity, race, migration, and American Diasporic histories. Banerjee's art has been exhibited everywhere from Biennales, the Louis Vuitton Foundation, the Whitney Museum of American Art, the San Francisco Museum of Modern Art, and even on a Lady Dior bag! In 2020, the artist returned to teaching at the Yale School of Art Graduate Program as a critic.
10. Shilpa Gupta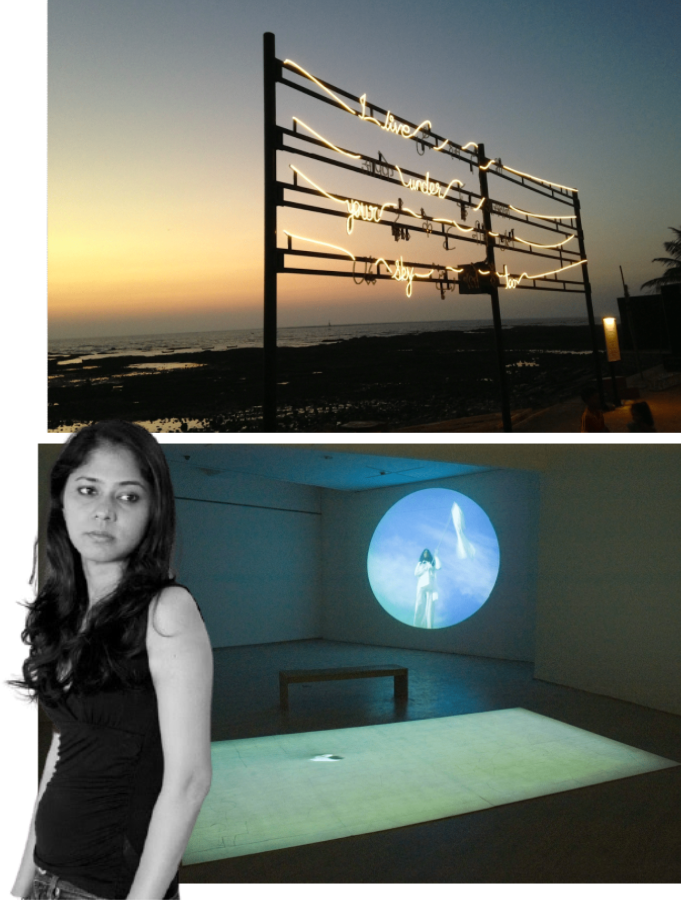 Trained at the Sir J.J School of Fine Arts, Shilpa's work has graced the halls at leading institutions like MoMA, the Centre Pompidou, Tate Modern, and many others. As a multidisciplinary artist, her work investigates a broad array of topics like politics, identity, power systems, and global order perspectives. Shilpa was born in the Indian city of Mumbai. It is also her city of residence and workplace.