We empower women in the art industry through the ultimate curation of luxury content, exclusive networking events, and digital art commerce. Based in New York City, our mission is to bring women to the forefront of the art world, particularly those who embody the "artrepreneur"—an innovator of the arts; one who breaks rules and disrupts the status quo.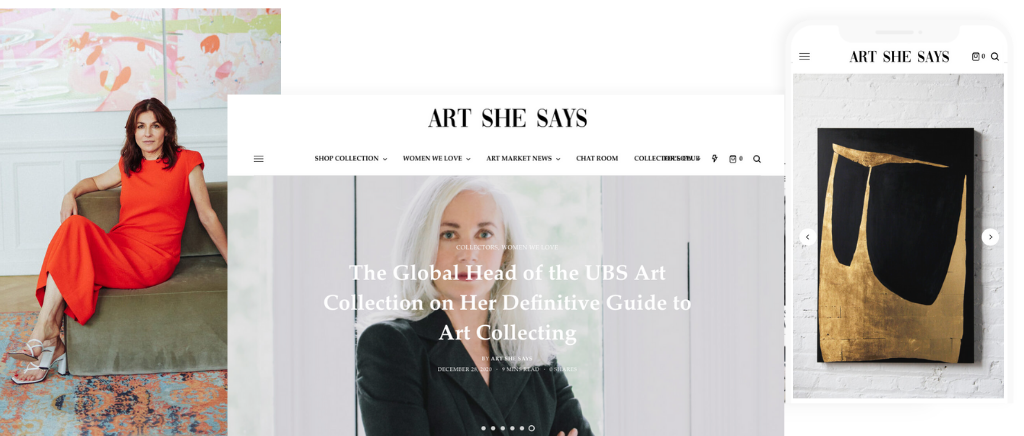 Artshesays.com merges content and commerce by delivering the ultimate curation of aspiration and access, engaging with the world's most savvy and influential women of contemporary art and culture. Daily content includes interviews, art market news, exhibition reviews, and more. Collect art through our e-commerce platform selected and curated by art dealers, gallerists, and editors.
EXPLORE ARTSHESAYS.COM
We believe women are the best investment for the future. While the representation of female artists by primary market galleries is now around 40%, their sales still account only for 2% of the total market. The solution? Invest in women artists.
Our art advisors work one-on-one with new or seasoned collectors to provide personal consultation for an effortless art buying experience. We also curate and style interior spaces for private or commercial partners such as hotels, offices, and more.
INVEST IN WOMEN
Join the global art scene through our exclusive membership club designed to empower women in the art industry. Our members receive reciprocal perks and get access to our monthly salon series, private viewings, cocktail hours, and invite-only dinners.
APPLY FOR MEMBERSHIP
Are you a(n) artist, gallerist, or artrepreneur? We offer creative direction, digital strategy, and event production to help find your voice, scale your business, and empower your art career. Bespoke packages available including photography, web design, social media presence, and more.
KNOW MORE
Whether it's an art gala, exhibition launch, or networking dinner, we can help design and execute your next private or corporate event, crafting an unforgettable experience with sophistication and style.
BOOK A CONSULTATION
Our omni-channel approach reaches an ultra-high net worth audience with a passion for art and luxury. Our platform and social media channels can connect your brand to a unique niche of art connoisseurs and cultured trendsetters through personal and engaging strategies in a digital-first experience. We also bring you art, style, glamour, and sophistication through bespoke events, connecting you to a community of affluent members through private viewings and intimate dinners.