Molding Our Story with Misha Japanwala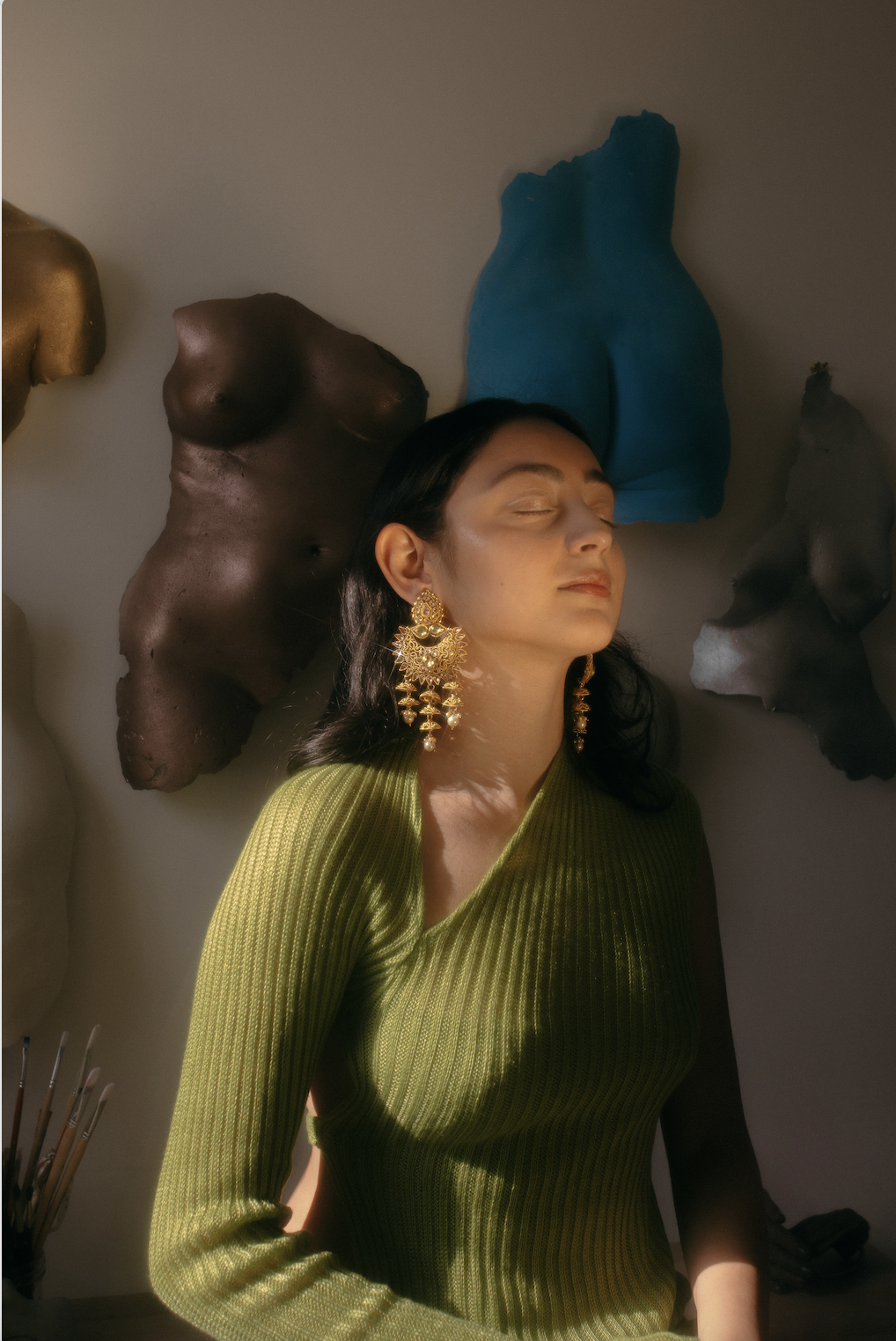 Photo by Zayira Ray
A poetic warrior with a diverse spectrum of creative skills, Misha is a voice for many. Her work strives to transform the prejudicial narrative surrounding women's bodies into one that embraces compassion and celebrates the natural form.
Born in London and raised in Karachi, she moved to New York City in 2014 to attend fashion school. She has created custom pieces for Cardi B, Gigi Hadid, Halsey, Cindy Bruna, and Joy Crookes, among some, and is also a featured honoree of Forbes 30 under 30.
Misha takes us through a chronology of her creative life, beginning with the origin of her distinct style, what led her to create work on bodies, and her two-time collaboration with Grammy-winning artist Cardi B.
How did you begin your practice?
I had started brainstorming about my thesis collection for the final year of art school. Since I was in a fashion program, it had to be a fashion collection, loosely. I say loosely because they left it fairly open-ended. I had struggled to find something amazing to talk about with the physical aesthetic of the kind of work I wanted to create throughout my time in school. I didn't want my work to be just pretty clothes. I felt I had to honor myself and talk about what I wanted to do in this work by not going down that path.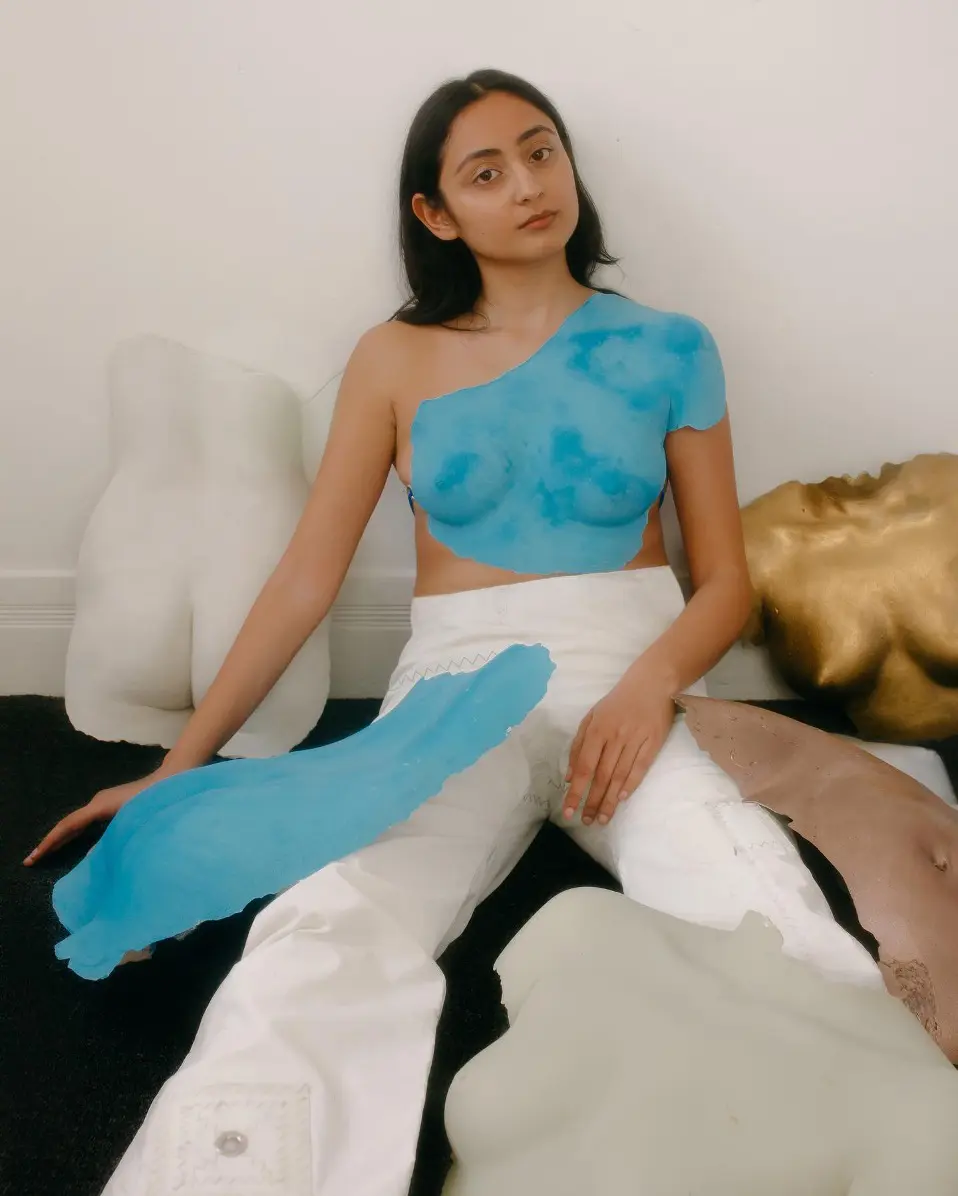 How does fashion inform your work?
I think fashion is a powerful art form. I wanted this collection to reflect who I was as an artist, a woman, a Pakistani woman. All of the things played into the development of that collection. When I think about when I started creating these sculptural works as fashion a few years ago, I think I entered into it kind of naively. At that point, the expression inside of me was just bursting to come out, and I think there was a little bit of rebellion weaved into there as well.
Why is creating work on women's bodies important to you?
Everyone has something to say about the woman's body that has nothing to do with them as individuals. I knew that to be a fact when I started creating the work. The community that I've been able to build by sharing my work- primarily other women of color see that, feel something, and have it resonate with them at a deeper level. The kind of conversations it has led to has been amazing. Reflecting on all things is something I'm so grateful for, I hope to continue forward.
What is your approach while handling criticism?
The noise reiterates how necessary it is for the work to be put out there in the first place. It keeps me on the path. Maybe one day in my lifetime, I'll create a piece of work, and no one will have anything to say about it. Everyone will say, "Cool, it's a woman's body, and she's entitled to the decisions that she makes for herself," and that's the end of it. Eventually, if that's the case, I'll gladly hang up my casts and call it a day. But that day is not today, and that day is not tomorrow. At least for now, I'm going to continue creating it in the way I have.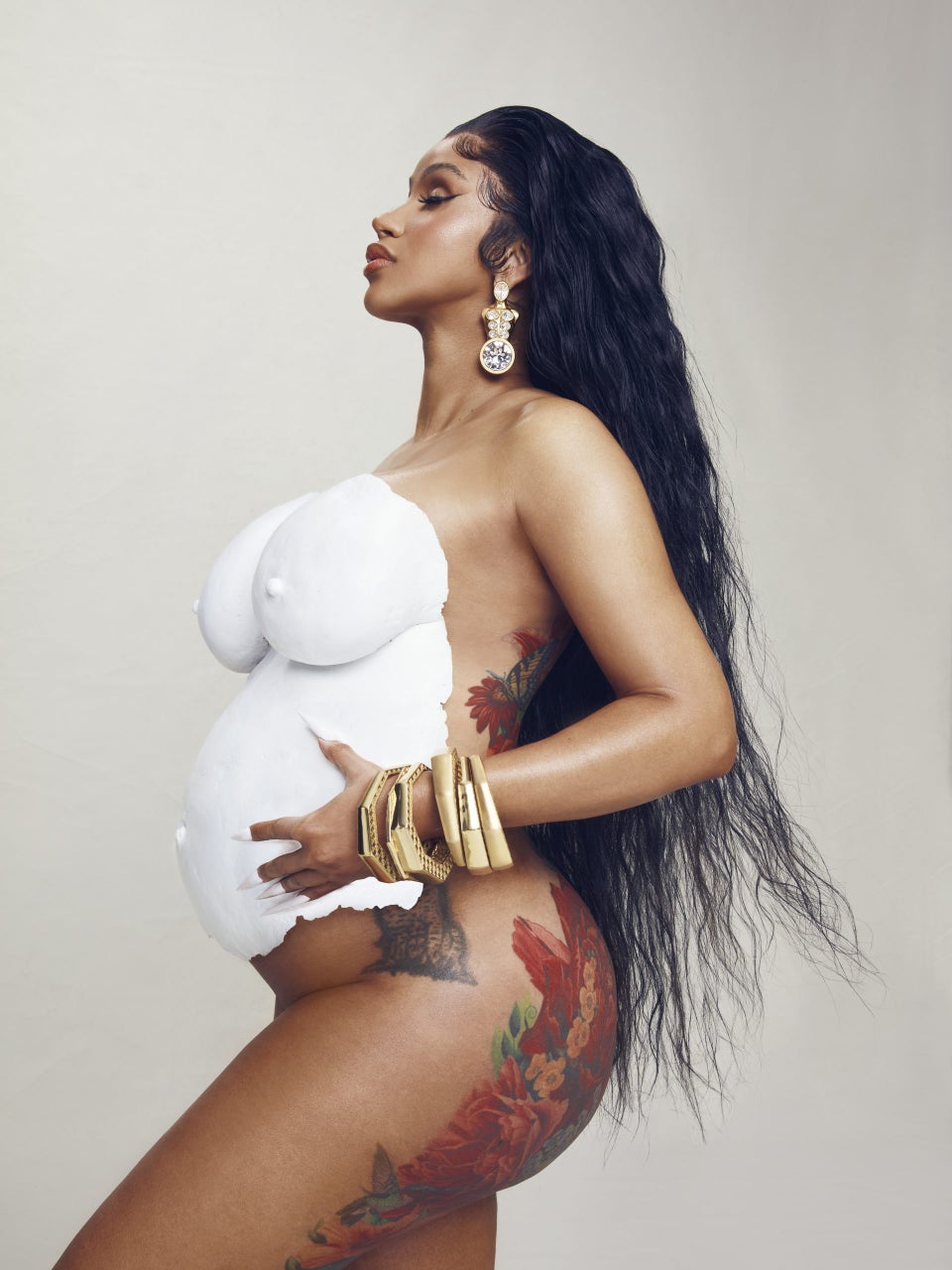 What was it like to be commissioned by Cardi B not once but twice!
It was an insane experience, honestly beyond my wildest dreams. It happened towards the end of June. I was feeling lost as an artist. The feeling of being lost comes up often, especially when you don't have a project to work on and you don't have this momentum going. It feels like this vacuum of space. When the collaboration happened, it lit the fire in me again. We needed the pieces super fast, and I was up for an entire week trying to get this done. At the end of it- I was quite literally passed out on the floor, so exhausted!
How did it happen?
Cardi B's stylist Kollin Carter, who she's been working with for a while, reached out to me saying that there's a top-secret and time-sensitive project for which they wanted me to come on board. From the time of that phone call to me being on the plane to LA was 48 hours. I got the call the night before my birthday. Being in LA and not being in my studio was a learning curve. I had to do everything I possibly could to make sure that they have these two pieces in their hands by the end of the week. The pregnancy announcement happened while I was still in LA because I decided to stay an extra couple of days with my husband and just allow my body to recover from the week that happened. We were at the LACMA just looking at art, and both of us had turned on our Cardi B Instagram notifications because I said, "Okay. If it's going to happen, I need to know the second it happens." Both of us got the "ping" notification at the same time, and both of our jaws dropped. Then the rest of the day was just a blur.
What about the music video with Lizzo?
The music video with Lizzo came out around early August. I had no idea whether it would get used or not. I knew that I was making it for a music video with Lizzo and had no idea what the song was on; then Cardi and Lizzo started teasing that they were collaborating. The music video was premiering and, I had forgotten about it. When I woke up the next morning I had a couple of texts that said I was in the music video. The fact that both of them were used and that I even got the opportunity makes me so grateful.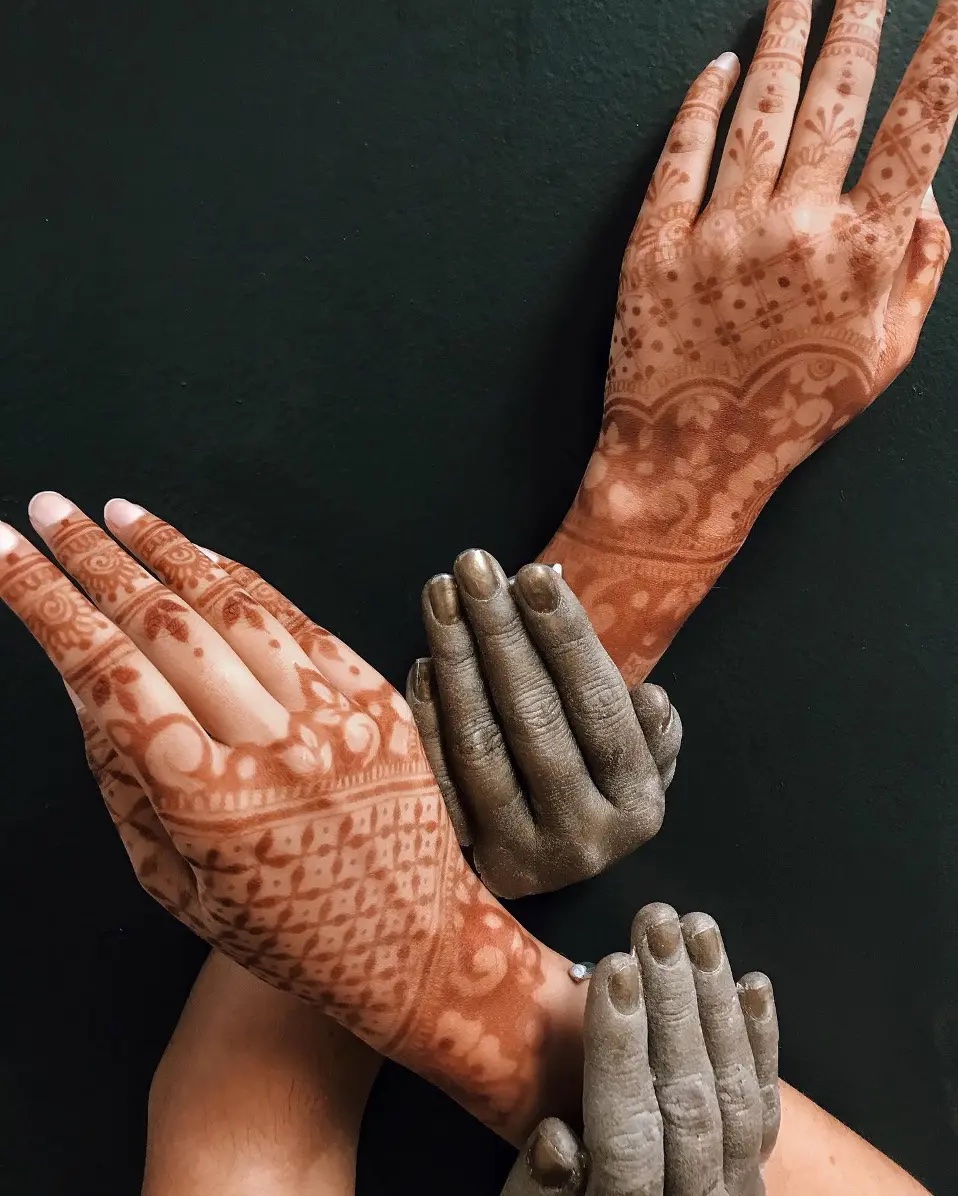 What does your ideation process entail?
My ideation process looks very different depending on what I'm inspired by and the kind of piece I'm creating. Many times with the 2D calligraphy work, it comes from reading about something in the news or something a woman has said about an experience she has had to endure. I find that the way I communicate those thoughts is through 2D because, in the moment of reading that, the reaction within me is so visceral and strong that it needs to get put out immediately. The way I do that is through my 2D calligraphy work. Making the cast is much longer intentional. It is also a wonderful piece to create because when you're with a piece for so long you're able to think all about the various things that come to you when you're making it. Honestly, I don't have an exact ideation process. I don't have a specific start and end, middle, or endpoint. When I feel compelled to make something, I make it.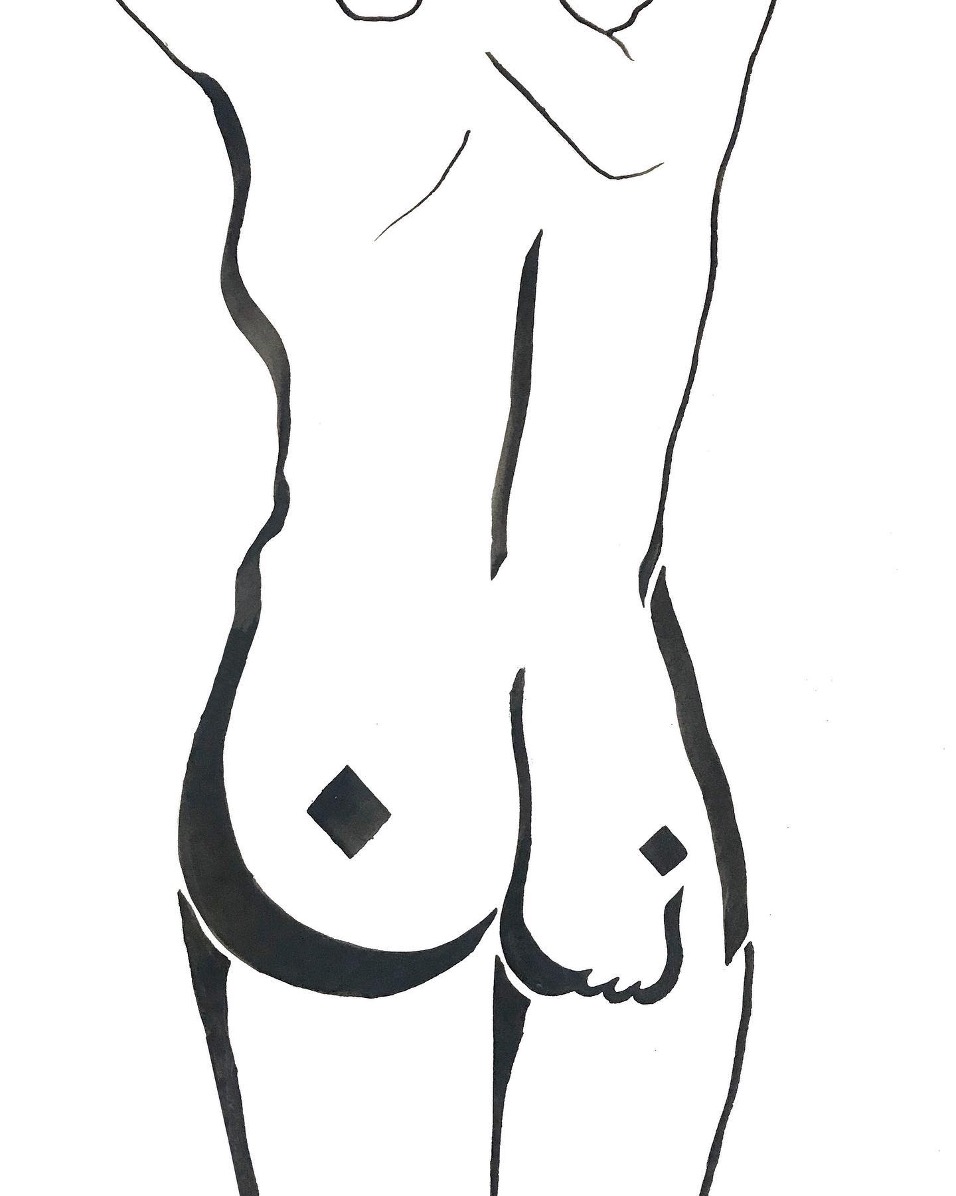 How do you deal with burnout?
Sometimes you just need to have a glass of wine, call your best friends and chat. I think if we all slowed down and created things with intention and meaning because we need them, and not because we want more money, our planet and we as individuals would be better off.
What would you say are your main takeaways from both the fashion and fine art realms, given your background?
I still find myself very new and navigating through fine art spaces because my education is in fashion. That is where I've been most comfortable. I have had a lot of people ask me whether my work is fashion or art, as though it can't be both. People see the work and categorize it in more of a traditional art context. My biggest takeaway from having this work be viewed from both sides is that I don't feel the need to categorize it in such a hard way. There is a long history of fashion designers creating work that goes beyond the body and considers it a dress or a piece of clothing. When we box and categorize our art in that way, we limit ourselves to what is possible to create. If we made it okay to remove those boundaries, express and create art in a way that is simply a creation, as opposed to creating something to exist under this category for this industry- we would be able to explore and expand the kinds of things we create.
What would you like to say to aspiring South Asian artists?
There is a need for you to express yourself and put yourself out there. I think it's important to understand that our experience is valid and our work is necessary.