The Abstract Life of Ana Pusica

The next generation of Abstract Expressionist are here and one name you should know is Ana Pusica. The Serbian-born, Munich-based artist expresses a keen sense of style with bursts, splashes and whispers of color that draw viewers in. Her life is centered around her art and she's daringly unapologetic about it.
Her explosive style was revealed when she allowed her raw emotions to take center stage, unraveling an artistic voice that's been inside her all along.
Working on large scale paintings, upwards of 19 feet in length, as did the likes of original Abstract Expressionists such as Helen Frankenthaler, Pusica's bodily movements become a part of the work itself. Manipulating the canvas to fit her vision turns a day at the studio into the gym. Her works are like an orgasm manifested, a vibrant and powerful burst of color that is barely contained by the size of the canvas. Read on to learn more about what inspires the artist and get to meet her quirky outlooks on life.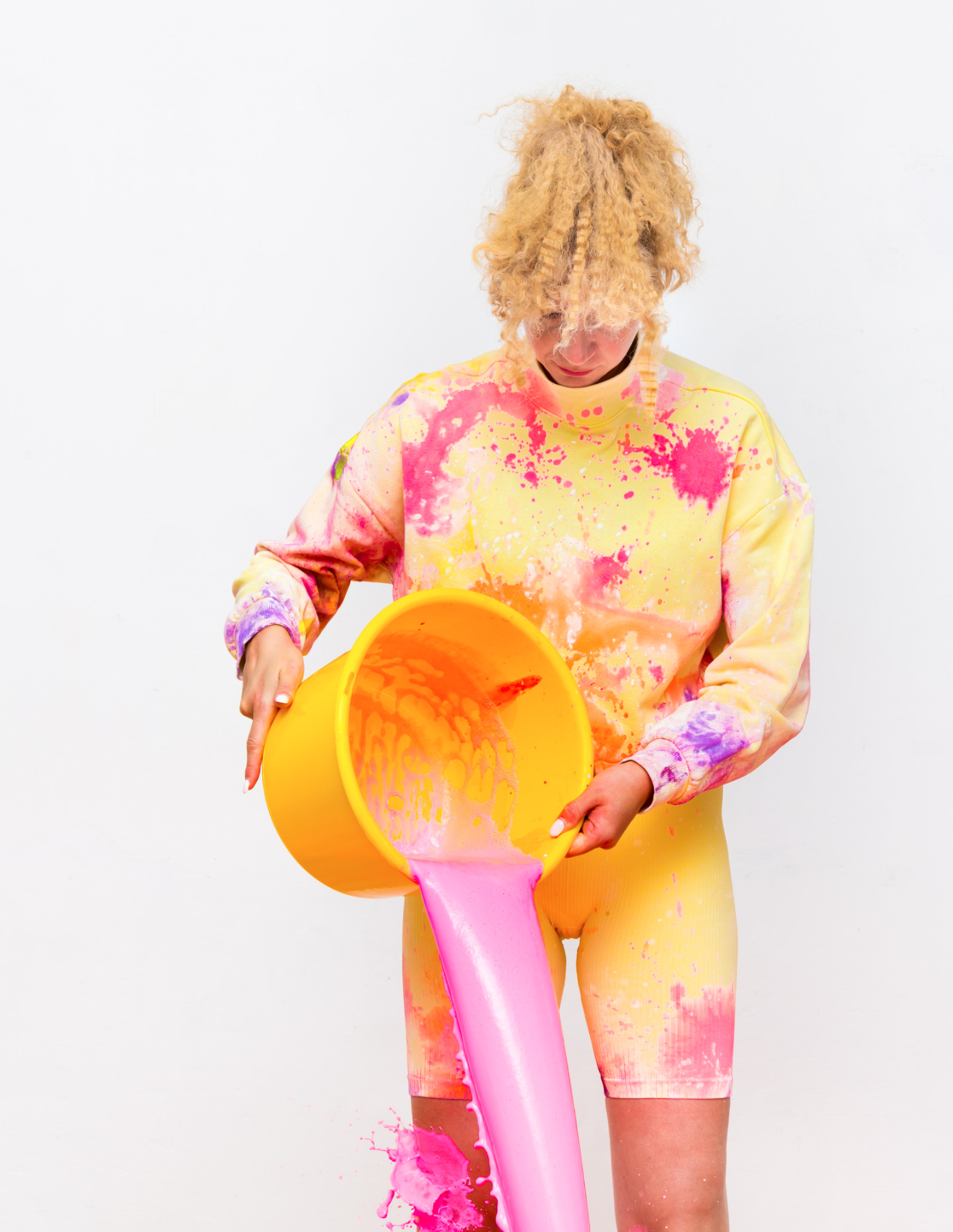 What is your creative process?
Paintings are a diary of my pure energy! I work on the floor, so I go around the paintings, I step on them, I flip them around, put them in the air. Most of them are 3, 4 m high. It is exhausting, you know! I am throwing paint directly from the bucket, using splashes of water, pigments diluted with Plextol, I paint with hands, legs, toilet paper, brushes, wooden sticks. My paintings are a beautiful fluorescent thunderstorm! Especially the new sequence of work "Cosmic Latte". I am truly in love with this one! A mass of pink exploding in front of Space Turquoise. My technique is fast, dynamic, my breath is caught in that paint.
The process itself is usually made out of repeating one motive several times. I believe that working on multiple paintings at the same time frees you from all the unnecessary factors that are interrupting the act of painting to become more instinctive and intuitive. To the point that it is converted to something almost spiritual, seductive, or psychedelic.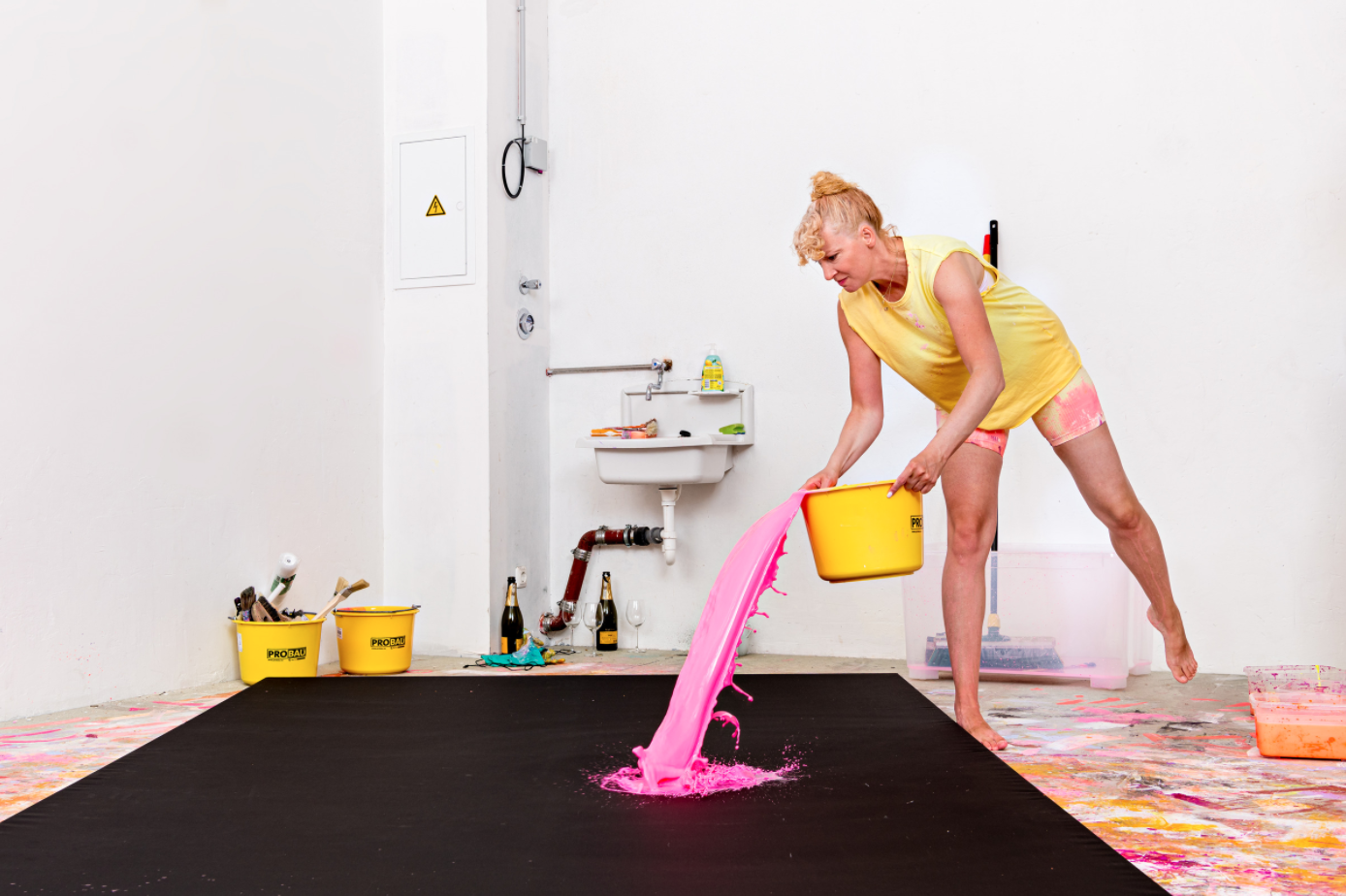 Where do you draw inspiration from?
From work. I am working all day long, most days. When I am in a flow, new ideas are just evolving. To be honest, inspiration is something I don't believe in. I believe in work, determination, and focus. Creativity is a product of my enormous passion for colors and the ecstasy of experience I am making during the work. I only feel alive while painting! Everything I need to create is already in the studio, I find my solutions very rarely outside my professional life. From time to time I need to put myself together, shortly accumulate the energy and clear up the vision. I am doing that in the bathtub, on Sundays. All the decisions I make are made in my bathroom.
Describe your work in 3 words.
Beautiful, fluorescent, thunderstorm!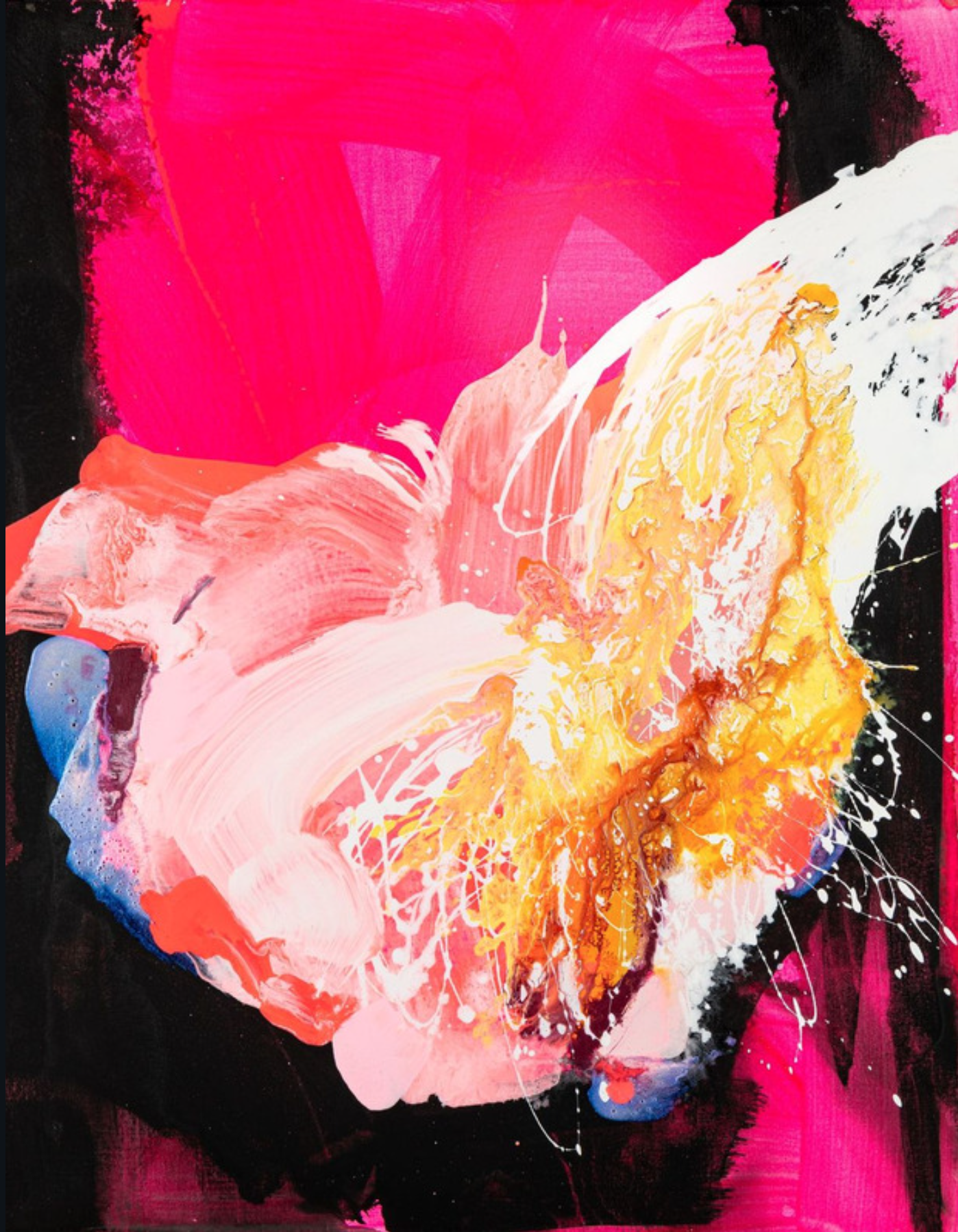 What motivates you to create?
Giving chaos an order but at the same time giving up control. I have been focusing on that topic for almost a decade now. There is a constant, ongoing conversation between the controlled color-slathering and fully accidental splashes. It's the tension between those two that keeps you watching and watching and watching the painting. I want to hold you, and your eyes to jump from one splash to another, and then move through the brush stamps to a fluffy surface in the background where you can rest for a moment. It's a game, it's insane! It's a beautiful color storm in front of your eyes! What motivates me is literally organizing the chaos!
What is your life philosophy?
What you give, you get back.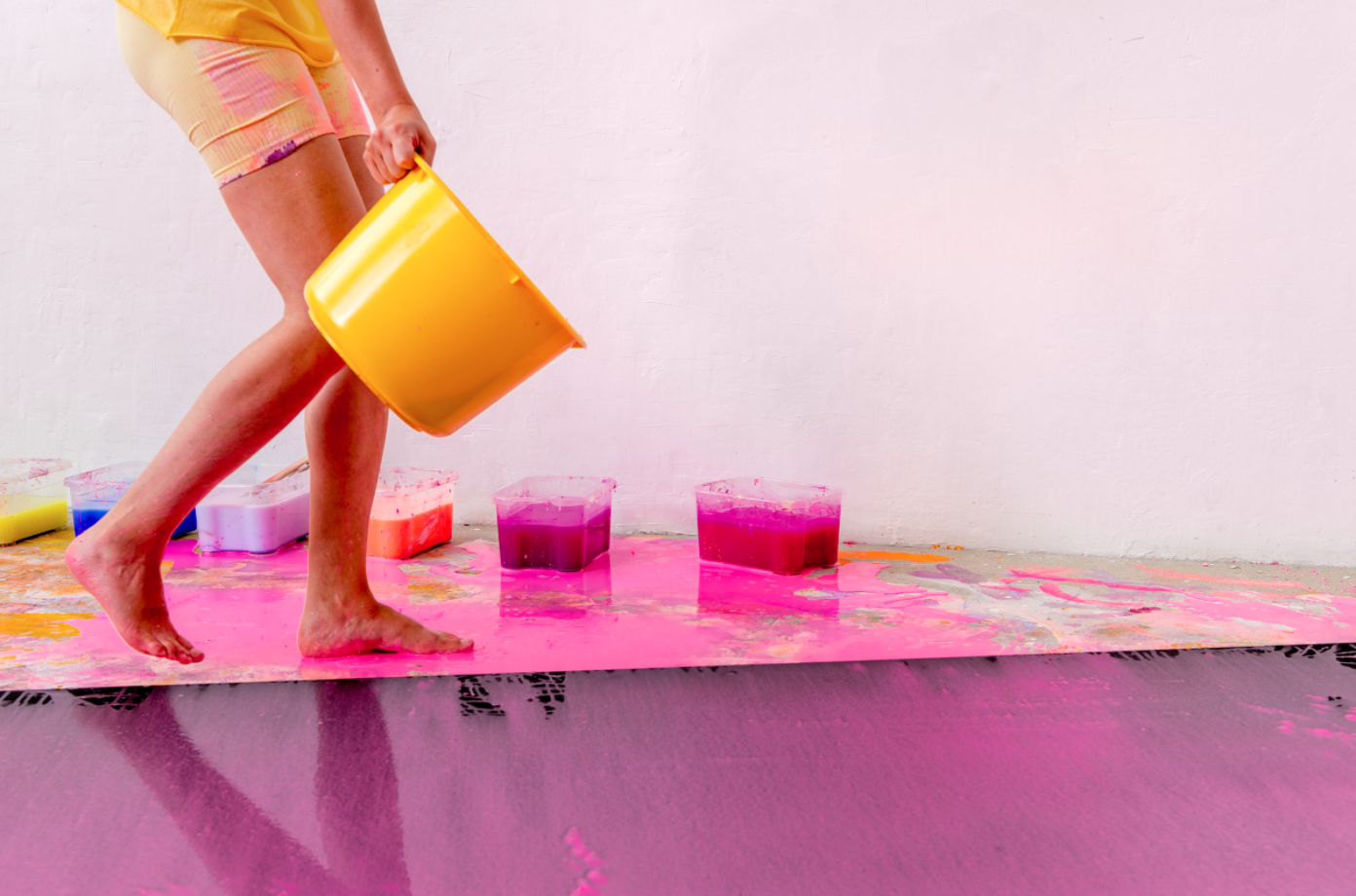 If you could have a drink with one artist dead or alive, who would it be and why?
I am so happy I was asked about this! That's one of the two questions I am usually asking people myself. The second one is "Do you take a shower in the morning or in the evening?" There are two people on my list: Elvis Presley and Ernest Hemingway! I would kill to hear Elvis in front of me alive!
The force, the power, the intensity, the strength, the weight, the ginger in his voice, ooooh boy! And Hemingway because he was so damn hot! If anyone asks, I shower in the evening with warm and in the morning with ice-cold water.
What makes you laugh no matter what?
My Teddy called Srećko.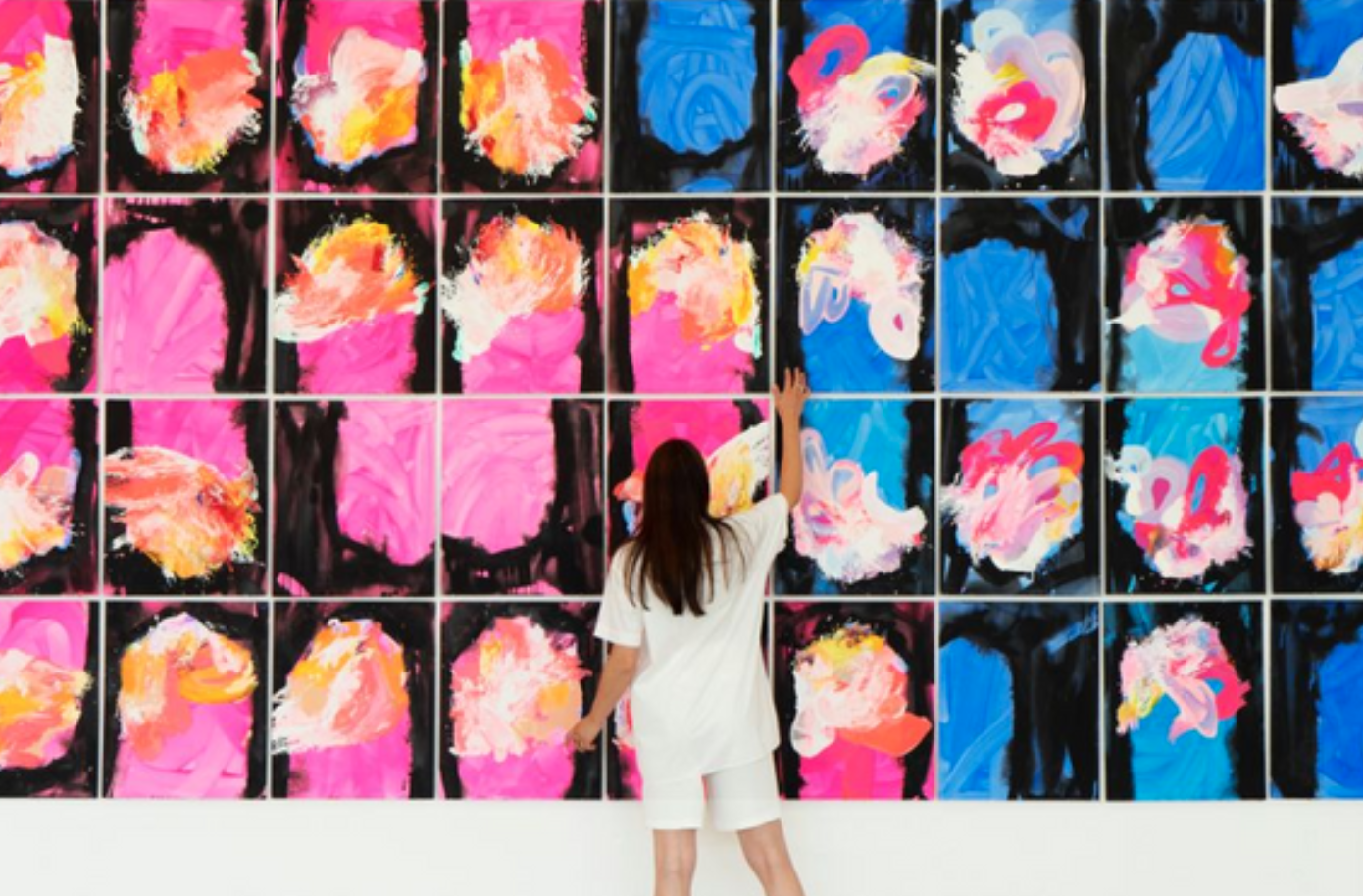 Name your favorite female artist.
Helen Frankenthaler.
See Also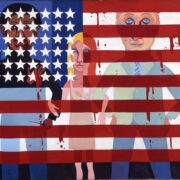 What's something we wouldn't know about you by looking at your Instagram page?
am somebody who struggles a lot with keeping my ego quiet. There is the need I have to impress with everything that I am doing. The vital need to extend my existence is pushing me forward. Besides that, privately I am a combination of: coffee, pace, hot baths, clean bedsheets, sun, rain, snow, wood, stone, bright grey, books, Cy Twombly, Christopher Wool, Sean Scully, and green tea.
Tools or mediums you'd like to experiment with?
At the beginning of the year, I got attracted to the plexiglass so badly! I want to transform and cut my paintings into pieces of plexiglass. Color and hang them from the ceiling! It's going to be something extraordinary. The drama of overlapping with the beauty of the material, I can't wait to see that done! During Wintertime 2021 the first examples should come to light.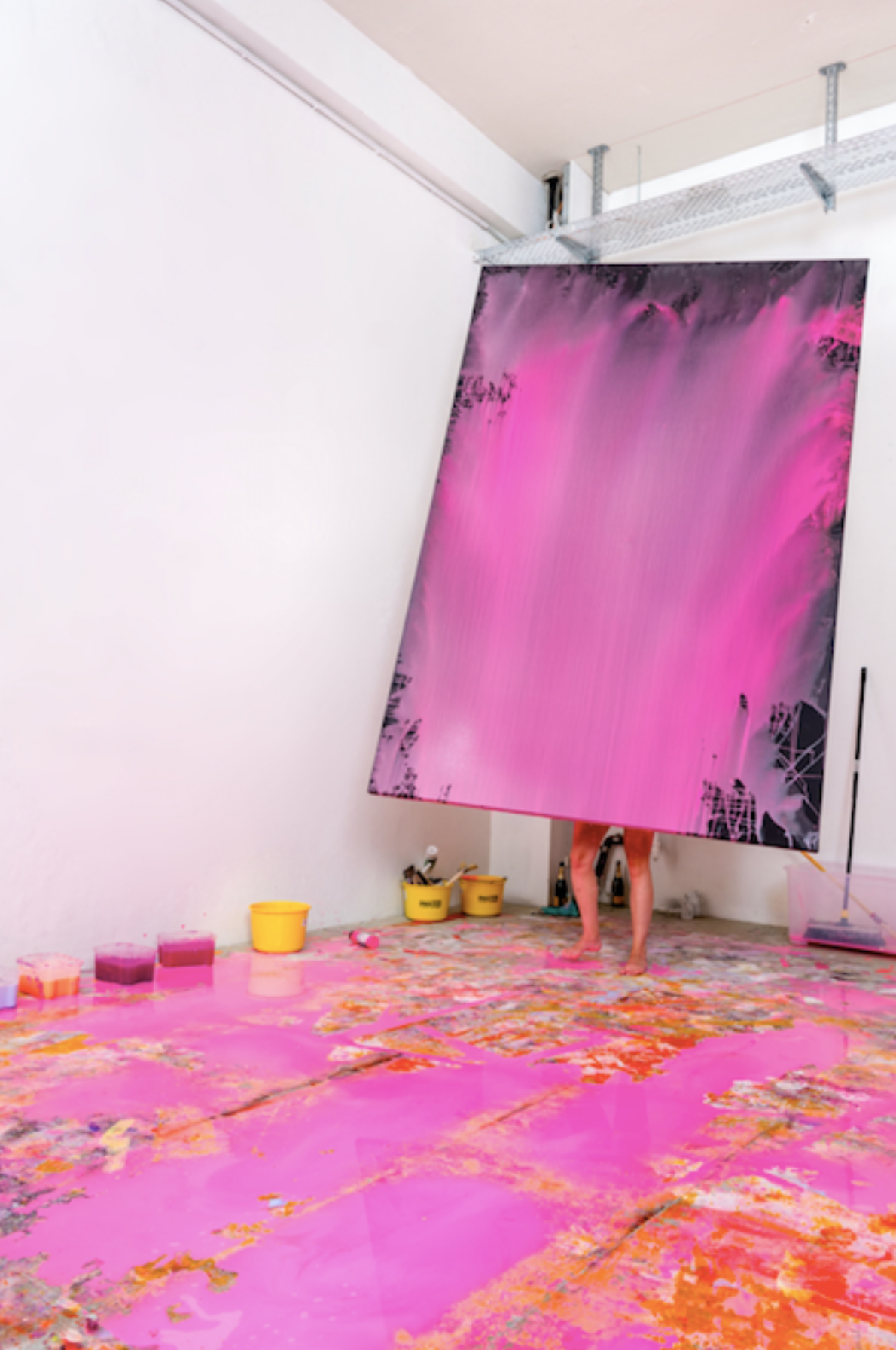 Silence or sound while creating? If sound, what are you listening to right now?
By 9:00 am latest I am in the studio. Then I sit there for a good hour in silence. Right after, I am hitting the color on the canvas and putting some Bach, my favorite Well-Tempered Clavier interpreted by Glenn Gould – fascinating! Or Beethoven's piano sonatas performed by Friedrich Gulda. I am having a lunch break with looking at trash videos and then continuing to work until 17:00, 18:00 with something like Sublime, Nancy Sinatra, Rusconi, Roberto Fonseca, Mad Professor, or some mixes by Laurant Garnie
What is your approach to color?
I am obsessed with limiting my approach in every way. Particularly when it comes to the color palette. For example, green is a NO-GO for me. Can't stand that color. In 2020, I tried to work with blue, but that didn't go well. But in the same year, I revealed paintings infused with a new and vibrant palette of Magic Blue, Space Indigo, Perglanz Blue, Space Turquoise, Magic White, and Space Red. That opened up a completely new window for me. The logic I am using is a tendency of fitting together colors that you normally avoid combining and make peace between them.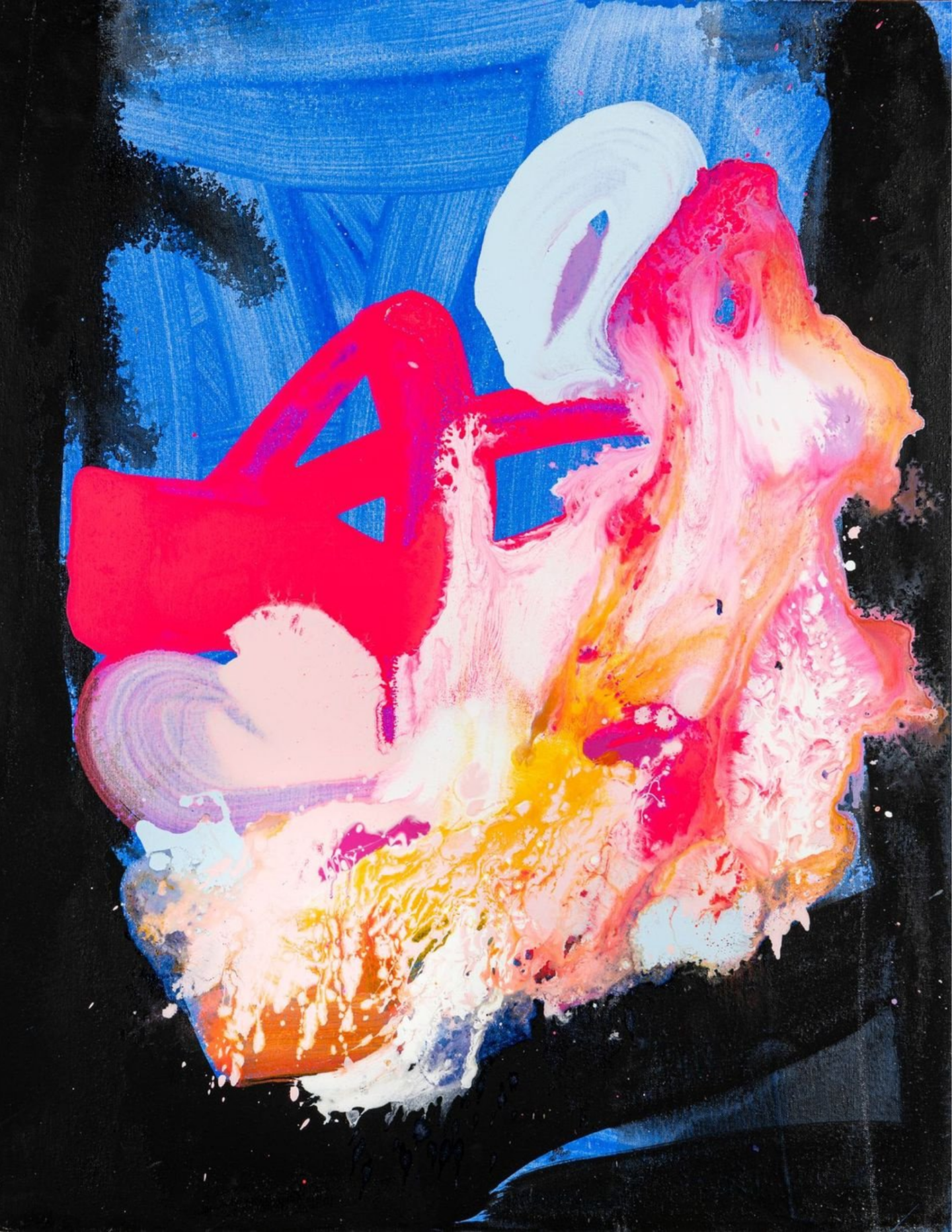 What makes you excited about the future?
The future should be bright! And that's almost enough for getting excited. The idea of having my own "FACTORY" is turning me on. It should be a big, very big production place. Seriously, why is that still put in such a bad context!? What scares the artist about the idea of being actually happy and wealthy? I just don't get it! Do you get it?
What influence does modern culture have on your work?
At the moment it is a very exciting time in the world. I can smell how conventions are changing, the rhythm is getting faster, and the world is becoming smaller. I LOVE IT! I want to feel other markets and continents, I am hungry, and I want to learn! This must be the first time in history that I, as being a woman, can do whatever the f* I want! If we put it like that, that art is a reflection of the time we are living in, then my work, as loud and uncomfortable it might be, is just the right thing. When we discuss modern culture, the first thing is to think about how toxic social media is. No, it just means how you use it, is toxic! Social media is simply a platform for information. You can either choose to use it unconsciously or consciously. The choice is yours. And I am very thankful for having that choice.