10 Artists to Know from OVR: Miami Beach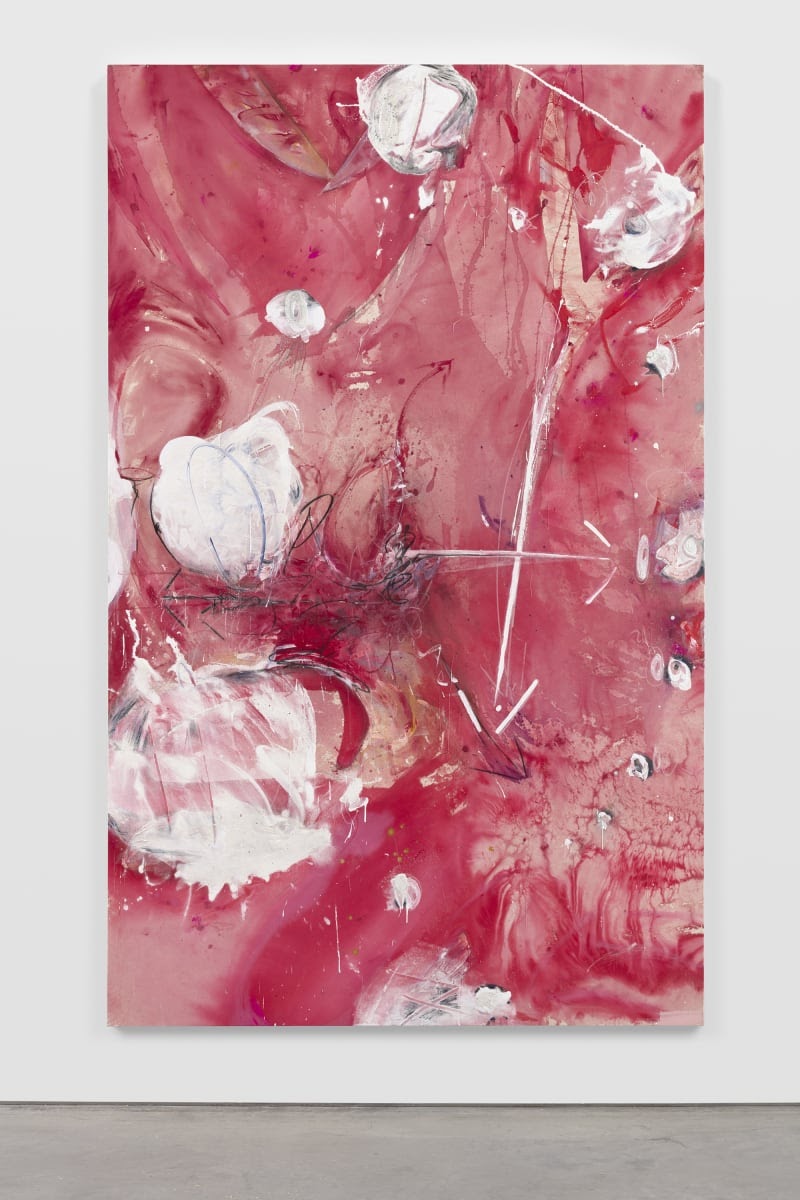 Scrolling down the internet this year instead of strolling down the beach.
---
It's a very strange year: By this time we would have all been down in Miami running between fair vernissages, exhibition openings, private tours…and partying all night. Once again we have navigated the online fairs during their respective VIP previews to offer you an uniquely curated selection of interesting up-and-coming artists and insights from OVR: Miami Beach, along with two extra bonus from the satellites fairs NADA and UNTITLED. Make sure you also read our previous round-ups from the virtual fairs this year. Some of these women artists you will find making a reappearance at this OVR: Miami Beach.
As we started the year with a selection from IRL Frieze LA, let's hope to close this year of online-only art fairs and start the new one reporting onsite. All fairs are open to the public from December 4 until December 6.
OVR: Miami Beach
Elizabeth Neel at Salon 94 (New York)
Elizabeth Neel (b.1975) stages a fascinating choreography of swathes of colors, exploding in the canvas and then dancing with the gravity flow on its surface. In fact, her intensely gestural marks are the result of a free use of rollers, brushes, rugs, but also of the force of gravity, playing with the conflicts between instinct, memory and action. This painting in particular is very sensual and organic, reminding a mix of mud and blood, or the rusty clay seeping through one's toes after a downpour.
Taking on the family art legacy (as granddaughter of American painter Alice Neel) the artist has already had solo and group exhibitions at galleries and museums around the world.
Ebony G. Patterson at Monique Meloche Gallery (Chicago)
The fascinating multilayered work by the Jamaican artist Ebony G. Patterson (b.1981) creates lush and mysterious gardens which aim to address complex issues and conflicts of race, gender, class, and violence of our time, and especially within the post-colonial context. Made of neo-baroque tapestries and tangles of ghostly fauna and flora, these immersive installations have something ceremonial and mystical and raise questions about the ephemeral nature of beauty, and the continuous cycle of life, between destruction and hope for regeneration.
Portia Zvavahera at Stevenson (Amsterdam, Cape Town and Johannesburg)
Portia Zvavahera (b.1985) has seen an incredibly fast rise after having been featured in a at Andrew Kreps in New York in a group show resulting from a collaboration with Stevenson Gallery. This meteoric rise was eventually confirmed earlier this year by her solo show at David Zwirner in London and the record price set at Phillips by a work which was presented less than a year before at Kreps, and which more than doubled its estimates.
Deep in spirituality, her works offer some dense and cathatic visions of dreams and of mysticism, which express the inherent conflicts between tangible and intangible, spirit and soul. Back in 2013, at the age of 28, she was actually asked to represent Zimbabwe at the Venice Biennale, but only now, with the current great attention on African Artist, was probably the perfect time for her works to be received, and her career to take off.
Let's hope that a greedy market won't void all the almost magical energies embedded in her powerful works.
Giulia Andreani at Galerie Max Hetzler (Berlin, Paris, London)
Giulia Andreani (b.1985) works on archival photographs, recovering memories of the European society daily life in the early XX century. However, the enigmatic blue-grey hue at once warm and cold interestingly provides to these neo-realistic scenes an allure of ghostly images, as something which was intentionally removed, but now is hauntingly coming back.
Addressing notions of historical amnesia and unearthed buried narratives, she masterfully paints scenes that force us to face and reconcile with our past, as something necessary to find our way to the future. In fact, her paintings often conduct a sociolo on analyzing themes as women's position in society through history, motherhood, trauma and forgotten figures in political and art history.
The Venice-born and now Paris-based artist took part to the prestigious Villa Medici residency in Rome in 2018, and has already exhibited in many public institutions.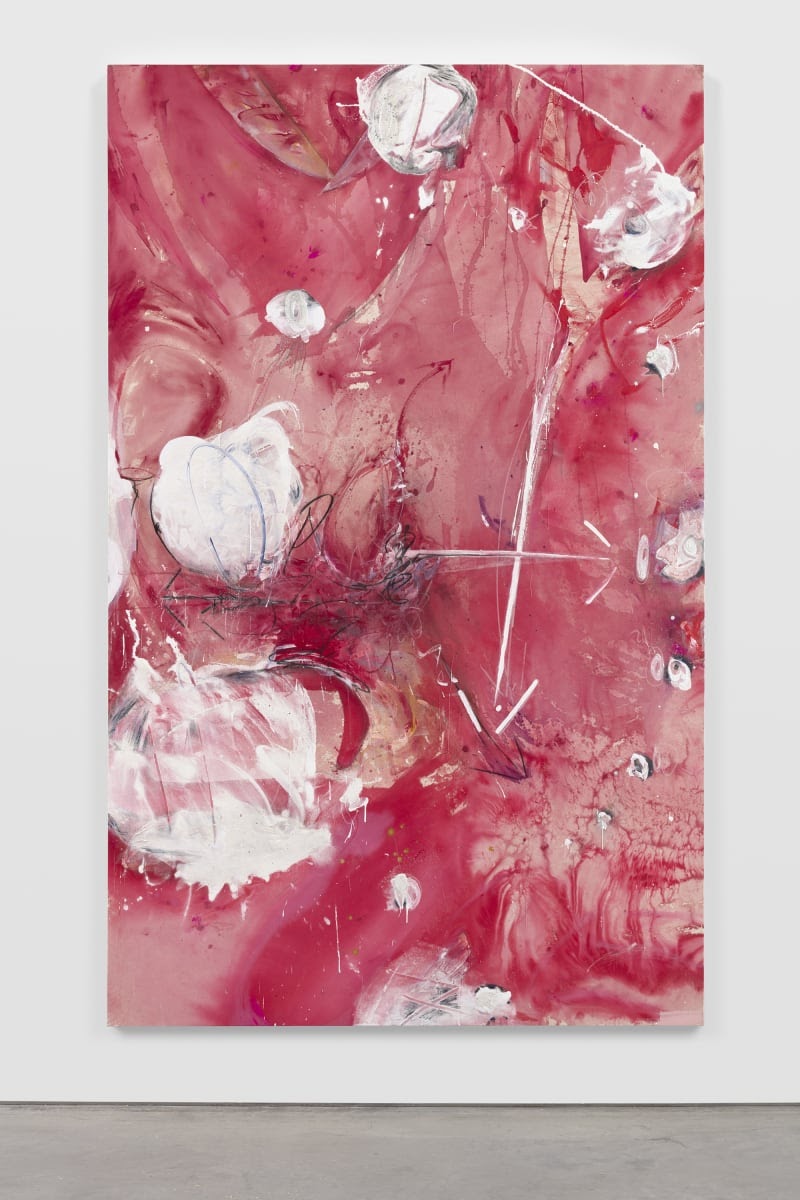 Suzanne McClelland's (b.1959) artistic process is so fascinating in the way it meaningfully enacts the eternal conflict between human reason and feelings. In fact, the series starts with rational mathematical formulas meant to quantify intimate impulses – for example, our desire for love. However, these formulas are eventually staged on the canvas with a purely instinctive gestural manner, creating magmatic compositions which better reflect the intimate psychological vortex caused by human emotions, pulsions and desires.
France-Lise McGurn at Simon Lee (London, Hong Kong)
The delicate atmospheric works by France-Lise McGurn (b.1983) tap into the boundaries between consciousness and unconsciousness sensations, taking the viewer into dream-like landscapes, which often freely expand beyond the drawing and the canvases, into the space.
In fact her romantic compositions of archetypal characters generally subvert all traditional figurative boundaries between backgrounds and figures, creating immersive emotional environments which freely explores the intimate experience of city life.
See Also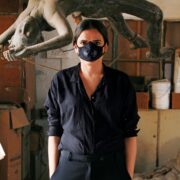 Los Angeles–based Colombian artist Carolyna Caycedo (b.1978) explores vital questions on our relation with nature, addressing through elegant sculptural metaphors the need of environmental justice and more equal distribution of resources. Most of her hanging handmade nest-like or trap sculptures relate to her on-going project which examines the impacts of transnational corporations in Latin America watercourses, as elements which affect the fragile balances between landscape and communities living there, both in ecological and sociological terms.
Ilana Savdie at Kohn Gallery (Los Angeles)
As well Colombian-born but Brooklyn-based artist Ilana Savdie offers us a brightfully colored portrait of some hallucinatory and multilayered parallel world. Much of her work draws from the digital landscape, while dealing with feelings of anxiety, fixation and obsession that this apparently open but often oppressive world can stir in us. One of her focuses has been in fact the idea of "artificial beauty" and how it relates with consumerism and the beauty industry.
BONUS: NADA AND UNTITLED ART FAIR
Bianca Nemelc at Assembly Room (New York)
New York artist Bianca Nemelc (b.1991) celebrates the female form, the mystery of being a woman, and the uniqueness of brown and black bodies. Voluptuous but bold and joyful, the sexuality of these bodies is so beautifully natural to get close to the simplicity of the primitive Venus, as symbols of fertility and life which directly connect to the natural world.
As the artists says these paintings are about: "Being this person of color, painting Brown and Black bodies—not for anybody else—but for Black and Brown people needing to see what healing could look like in this idealistic world where you can float in the water and there is not a care in the world."
Jenna Gribbon at Fredericks & Freiser (New York)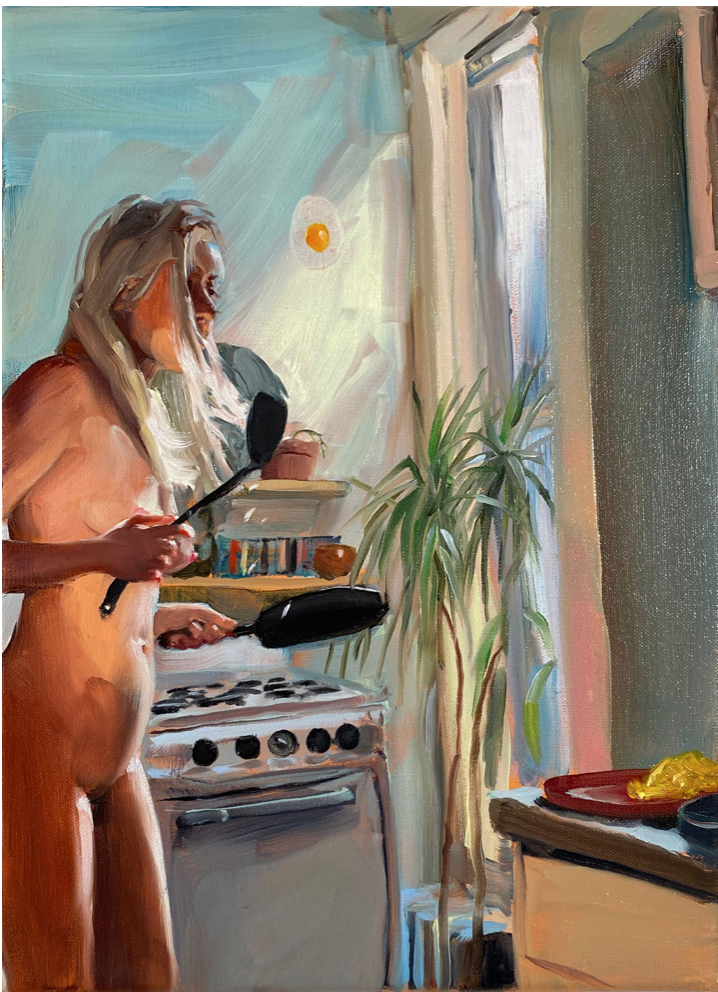 Jenna Gribbon (b.1978) has probably been one of the most sought-after women painters in the past several months, both in Europe and in the States. Her spontaneous slapdash often portrays intimate and audacious moments from her personal life and relations, but which she savely combined with references to the history of art, and impressionist masters as first.
As the press said, "putting these personal scenes into the public gallery space, Gribbon understands her paintings as 'commentary on the voyeuristic nature of the world."
The undeniable bravure of the artist with painting is interestingly coupled with a sincere and genuine voice which make these works very personal, but at the same time truly universal, close to all the viewers who can easily identify in the artist gaze while looking at her girlfriend, as we all could look at our loved ones.