Art Basel OVR:2020 was only live to the public for 24 hours, so we have rounded up our top picks by women artists below in case you missed it.
---
Art Basel launched OVR:2020, its inaugural Online Viewing Room, on September 23. This Art Basel edition was dedicated to showing 600 works made in 2020. Self-isolation has propelled artists to contemplate new perspectives, articulate unexpected connections, and propose new ways of interpreting the world around us. These works, born of the unfamiliarity of 2020, are drawn from nature, technology, and culture. Collectively, these works suggest an expansion of the inner world—an embrace of slowing down, observing, and reflecting.
In the absence of the effervescent crowds and champagne, one could arguably have an even more intimate experience with the artworks. Upon entering a gallery's virtual viewing room, one can truly be alone with the art, each accompanied by a detailed description and price. As the art industry transforms to expand into the digital world, we are seeing an increase in price transparency, as well as a decrease in carbon footprint at virtual fairs. So while we eagerly wait for the return of physical art fairs, we can nevertheless appreciate the silver linings of viewing art from the cloud.
Alicja Kwade | Kamel Mennour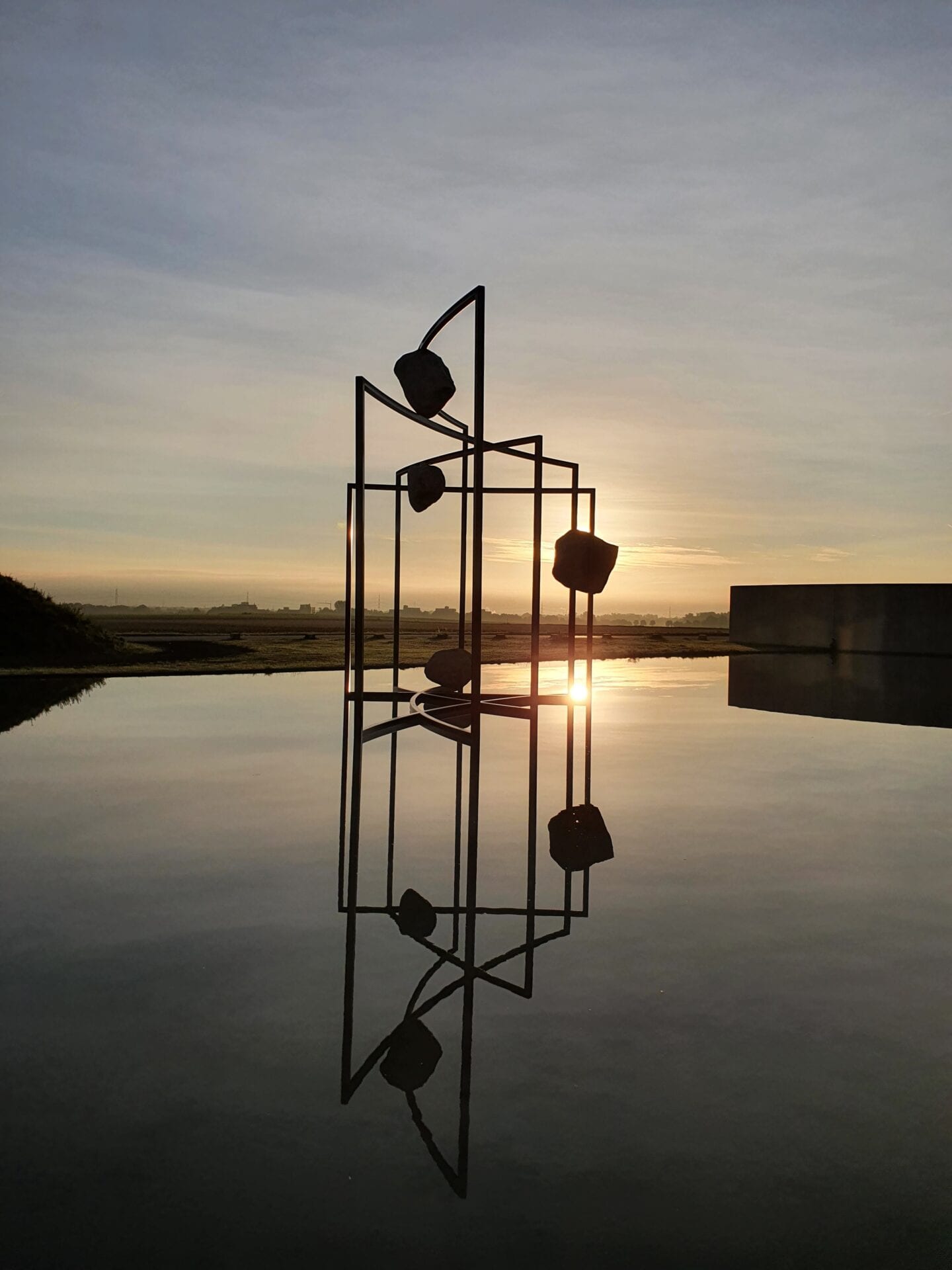 Alicja Kwade's extraordinary sculpture, MatterMotion, reflects on time, perception, and physics. The mirrored nature of the installation blurs the line between reality and the subconscious, bringing to light the importance of in-depth self reflection.
Alicja Kwade | König Galerie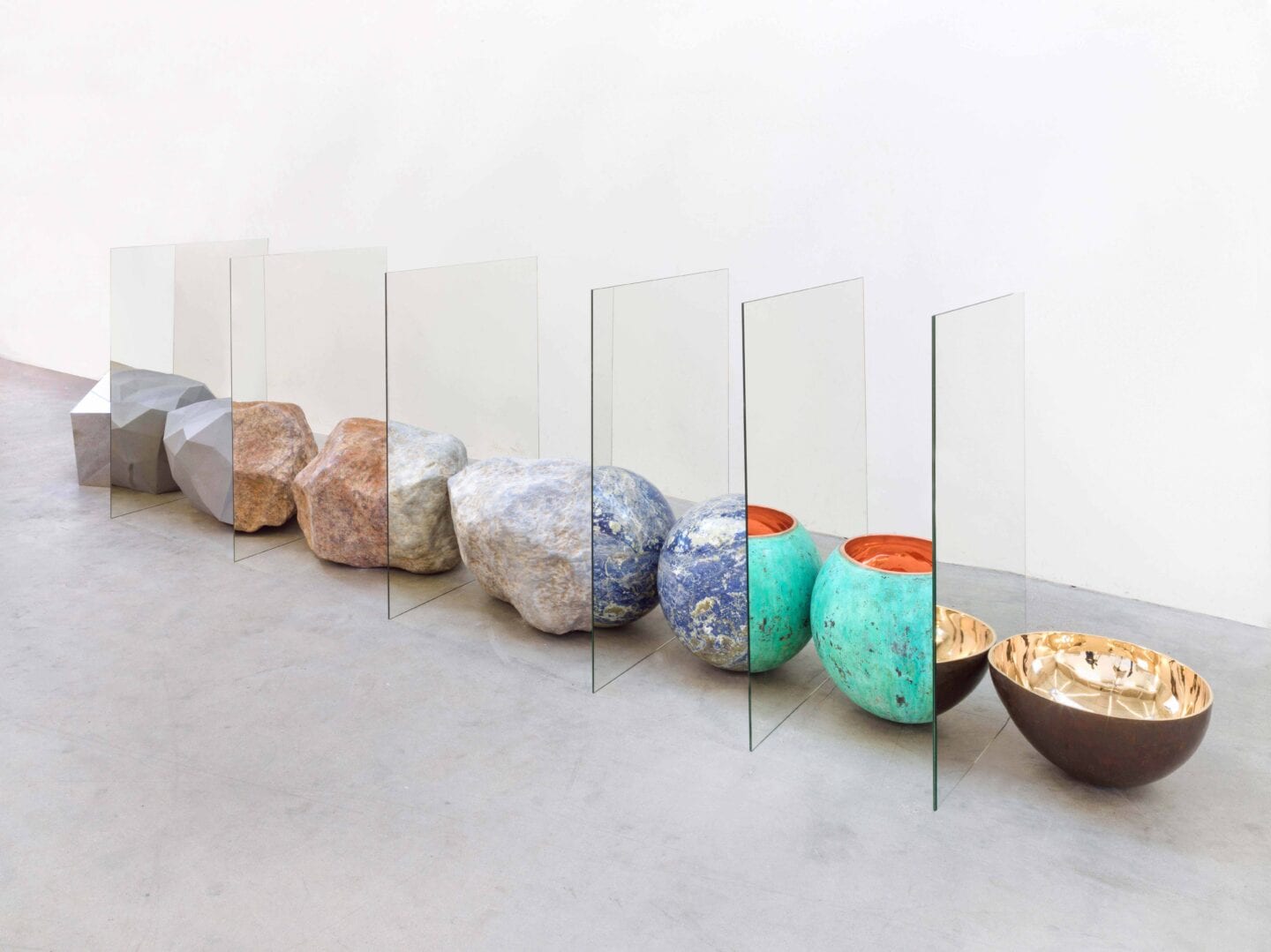 Presented by three different galleries at Art Basel OVR:2020, Alicja Kwade is undeniably making waves in the art world and an important artist to watch. In this stunning sculpture, she uses a fossilized tree trunk as a starting point. Through a seven-step transformation, the natural, organic structure finds its final form in a man-made bronze bowl. The sculpture poses the question of identity in relation to different states of being and explores the concept of multiple realities. If the same atoms know how to form different structures at different points in time, could everything also be perceived as the same?
Rita Ackermann | Hauser & Wirth Gallery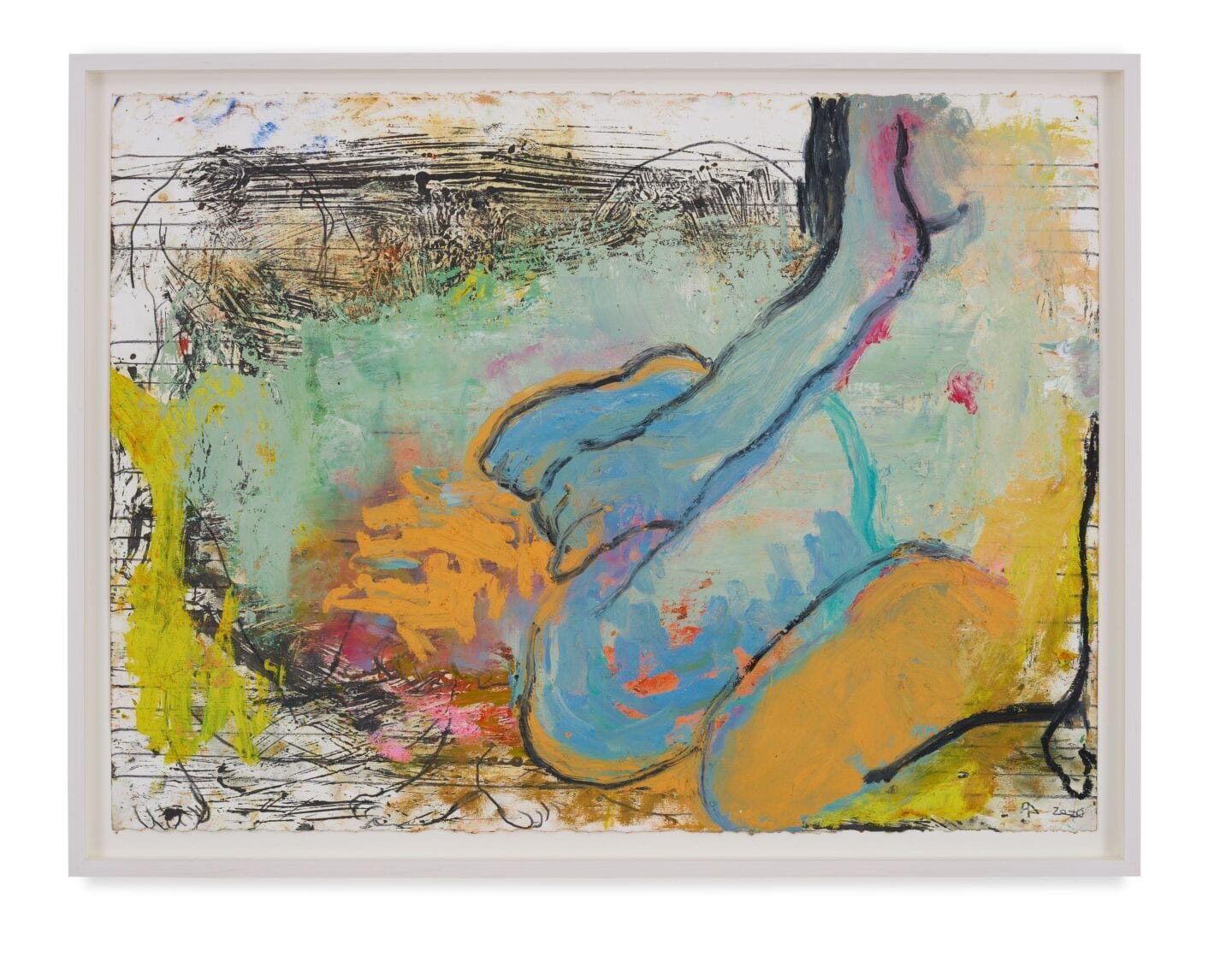 This lyrical painting belongs to Ackermann's Mama Series, in which repeated imagery is often combined with vivid swathes of colour, giving her work a complex visual component that oscillates between abstraction and figuration. Her use of oil and china marker makes her figure's lines and gestures appear more intimate to the viewer. In this work, the female figure unfolds upon what looks like a musical score, echoing the colour harmonies that throb across the picture plane.
Tacita Dean | Frifth Street Gallery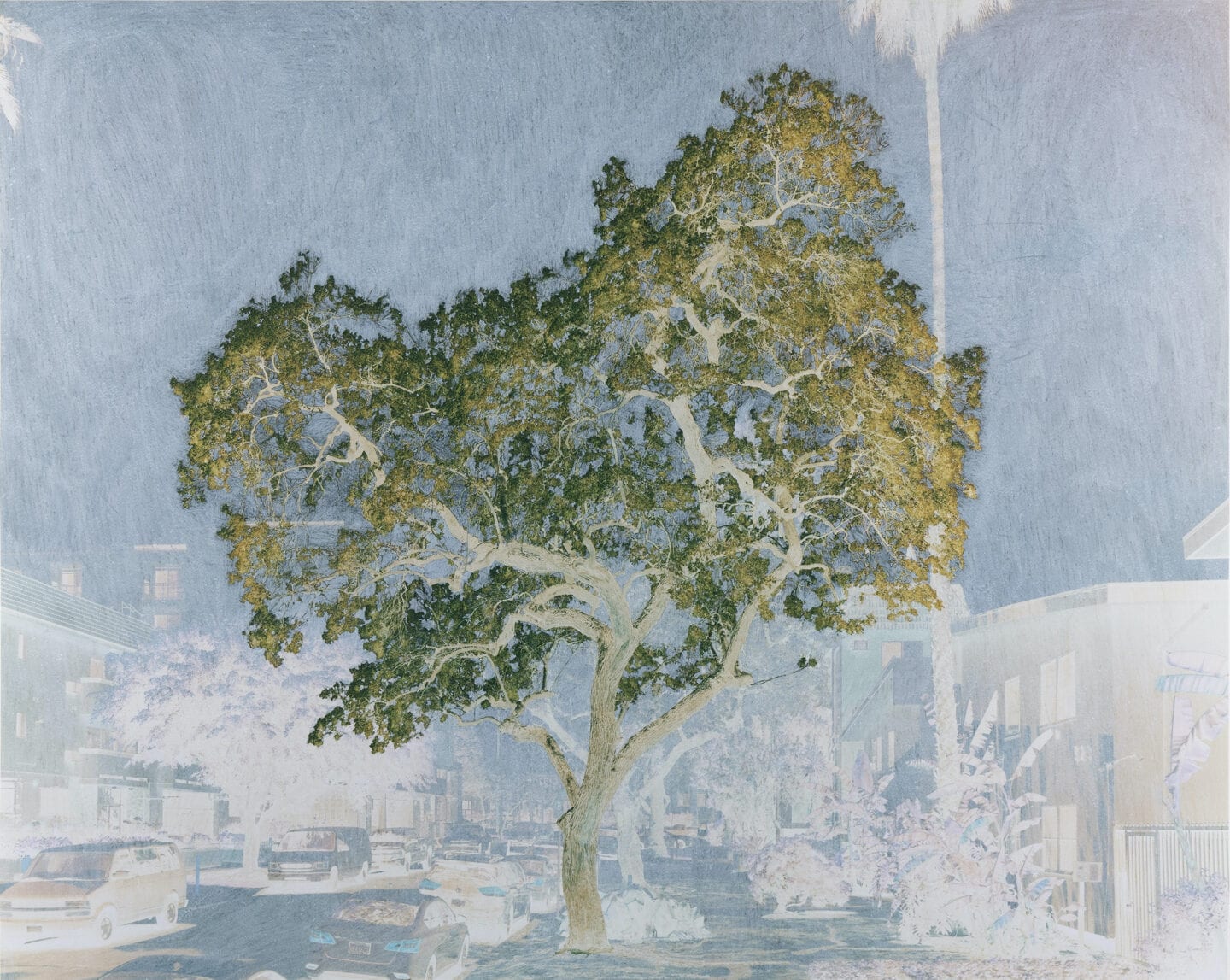 Tacita Dean's works give life to specimen trees, such as the Jacaranda flower tree in this work. Blooming from a ghostly Los Angeles street, the tree seemingly communicates its isolation to the viewer. Study for Purgatory (Threshold) is a study for one of the sets designed by Dean for The Dante Project, a collaboration with the choreographer Wayne McGregor, which was due to be performed at the Royal Opera House in London in May this year. The performances were cancelled due to current circumstances but are being rescheduled for 2021.
Lee Bul | Lehmann Maupin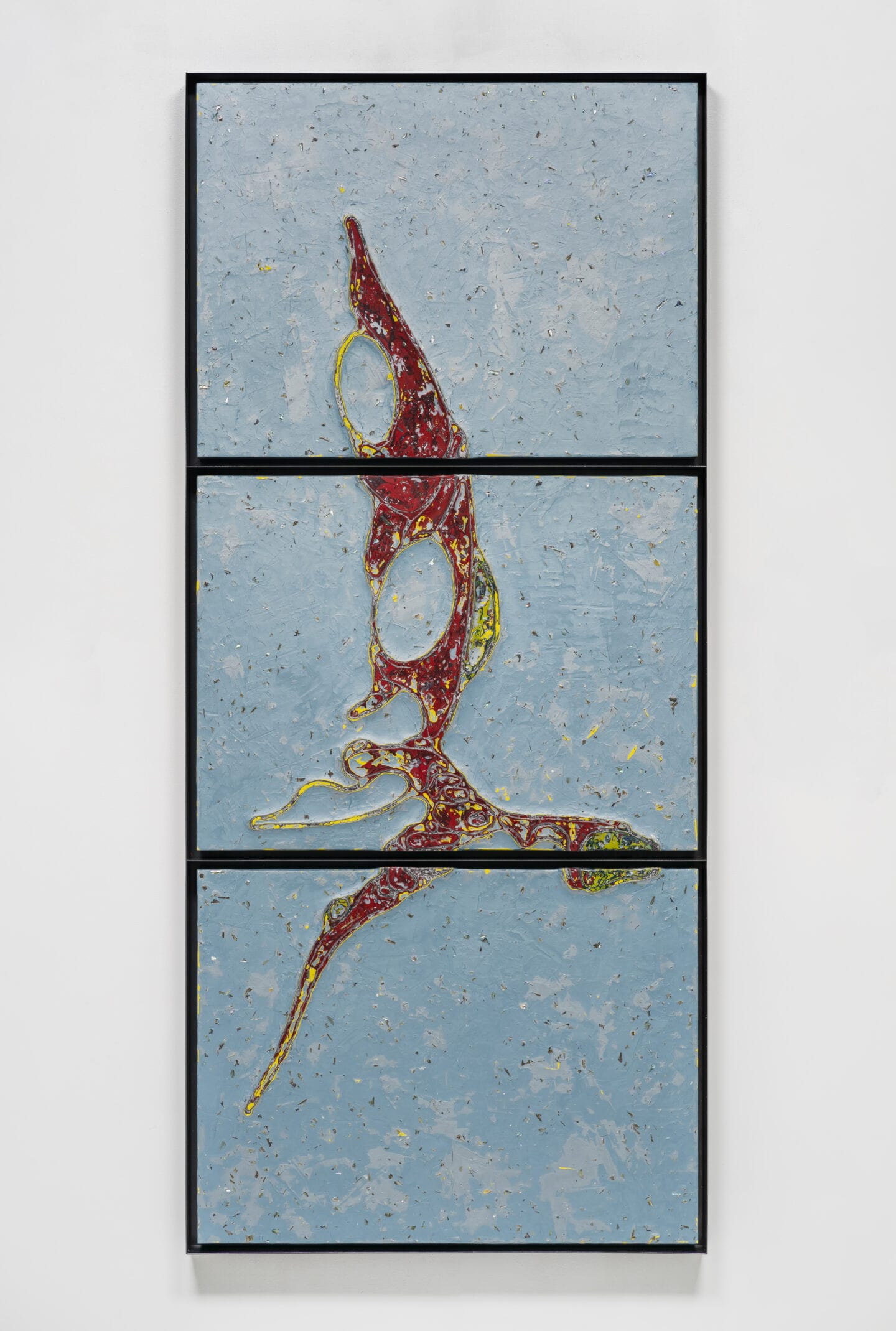 Perdu XXXIX is part of Lee Bul's Perdu series, named after the French word that translates to 'lost.' In her Perdu works, Lee Bul blends together forms that are vividly yet delicately rendered in natural and inorganic material such as mother of pearl, velvet, and acrylic paint. The fragmented forms in this series are presented as hauntingly beautiful creatures. In this new work, Lee Bul offers the viewer an opportunity to contemplate the current state of the world through a fragmented vision of the future.
Sarah Sze | Tanya Bonakdar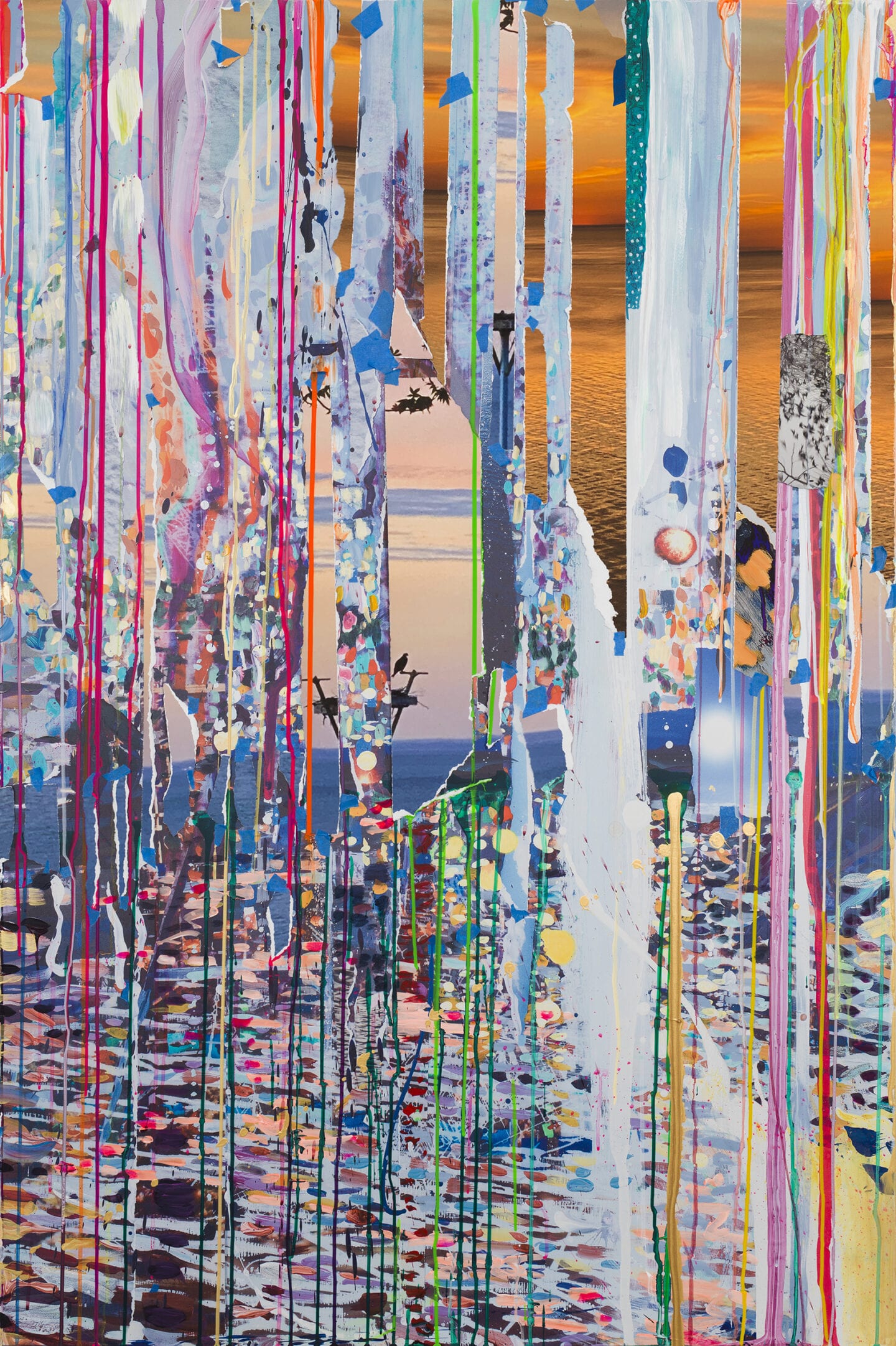 Through a complex constellation of colours and images, Sze expands upon the never-ending stream of visual narratives that inundate us daily—from magazines and newspapers, television and iPhones, to cyberspace and outer space. This work looks like a cracked iPhone screen, or a portal into another universe. Ultimately, Sze's works alter our understanding of time, place, and memory by stimulating our senses, through which we comprehend the physical world around us.
Donna Huanca | Peres Projects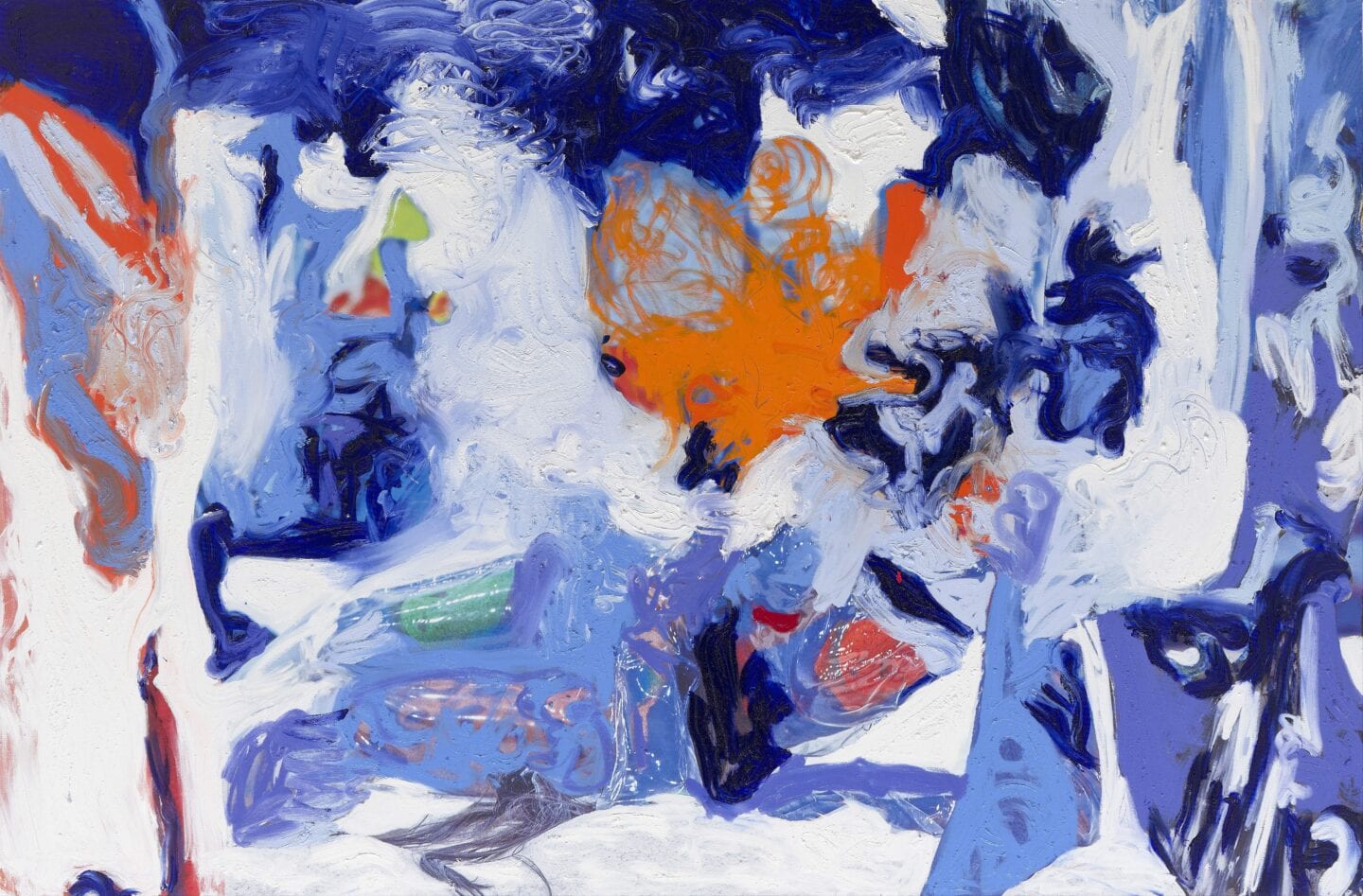 Donna Huanca puts a feminist spin on Yves Klein's blue nude models. Infusing pigment with performance, she paints the skin of her nude models to create both mesmerizing paintings and exhilarating choreography. The pulsing rhythm of her sensual works explores the fluidity and complexity of femininity, offering the viewer a multisensory experience.
Heike-Karin Föll | Campoli Presti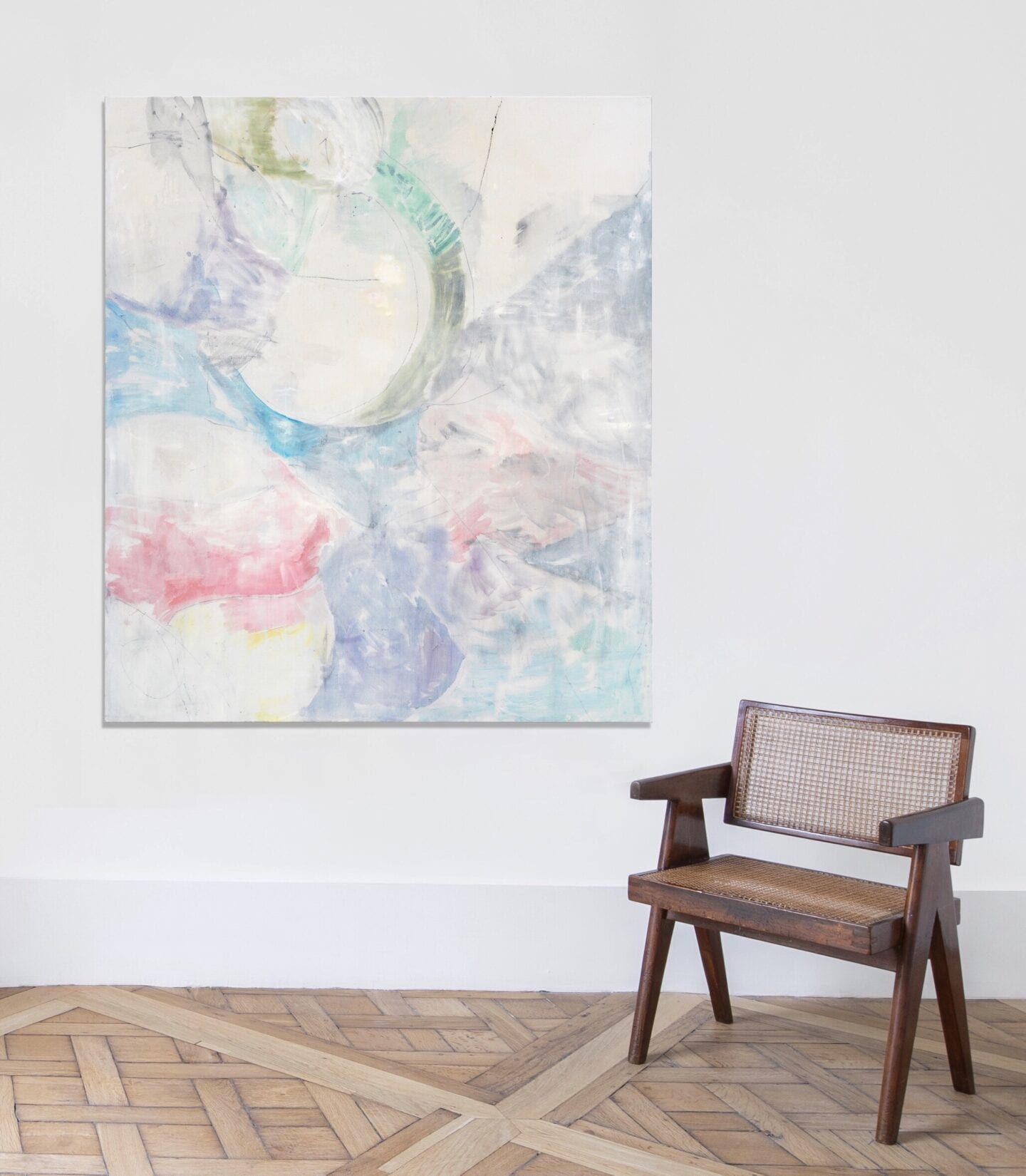 Constructivist bow (2020) illustrates the artist's interest in female Constructivist artists. While engaged with gender issues, Föll does not attempt to promote a particular gaze or a specific body discourse, but rather seeks to explore their volatility through fluid forms and configurations.
Tschabalala Self | Galeria Eva Presenhuber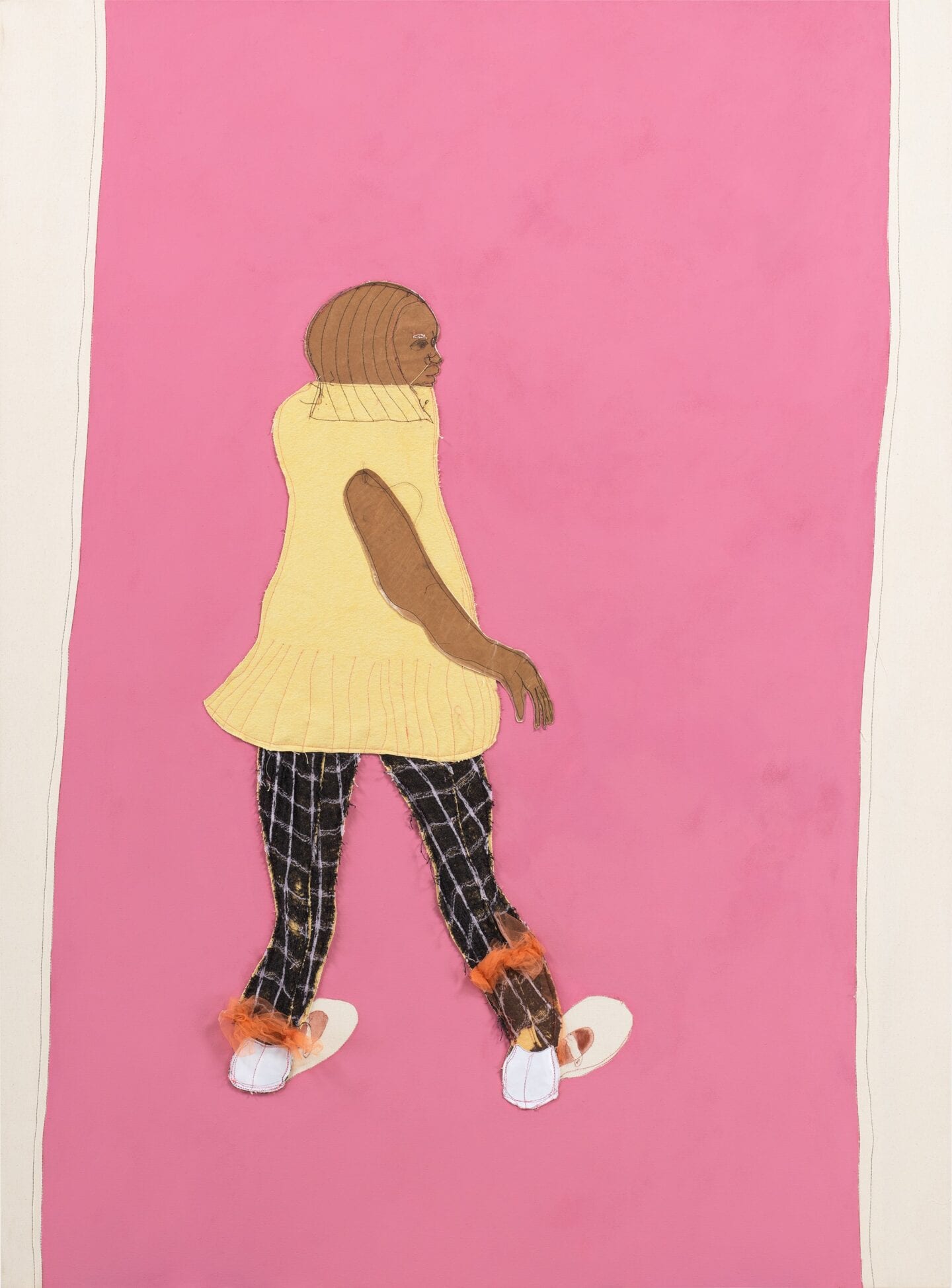 Tschabalala Self paints figures who she refers to as 'avatars,' giving them the duality of a digital-aged character that is at once tied to tradition through her handmade process. Self's collaged characters seem to emerge from personal exploration of identity. While bodies with exaggerated curves in patterned fabrics are discordantly combined with simplified features, her characters ultimately stand before the viewer with undeniable power and presence.
Martha Jungwirth | Galerie Krinzinger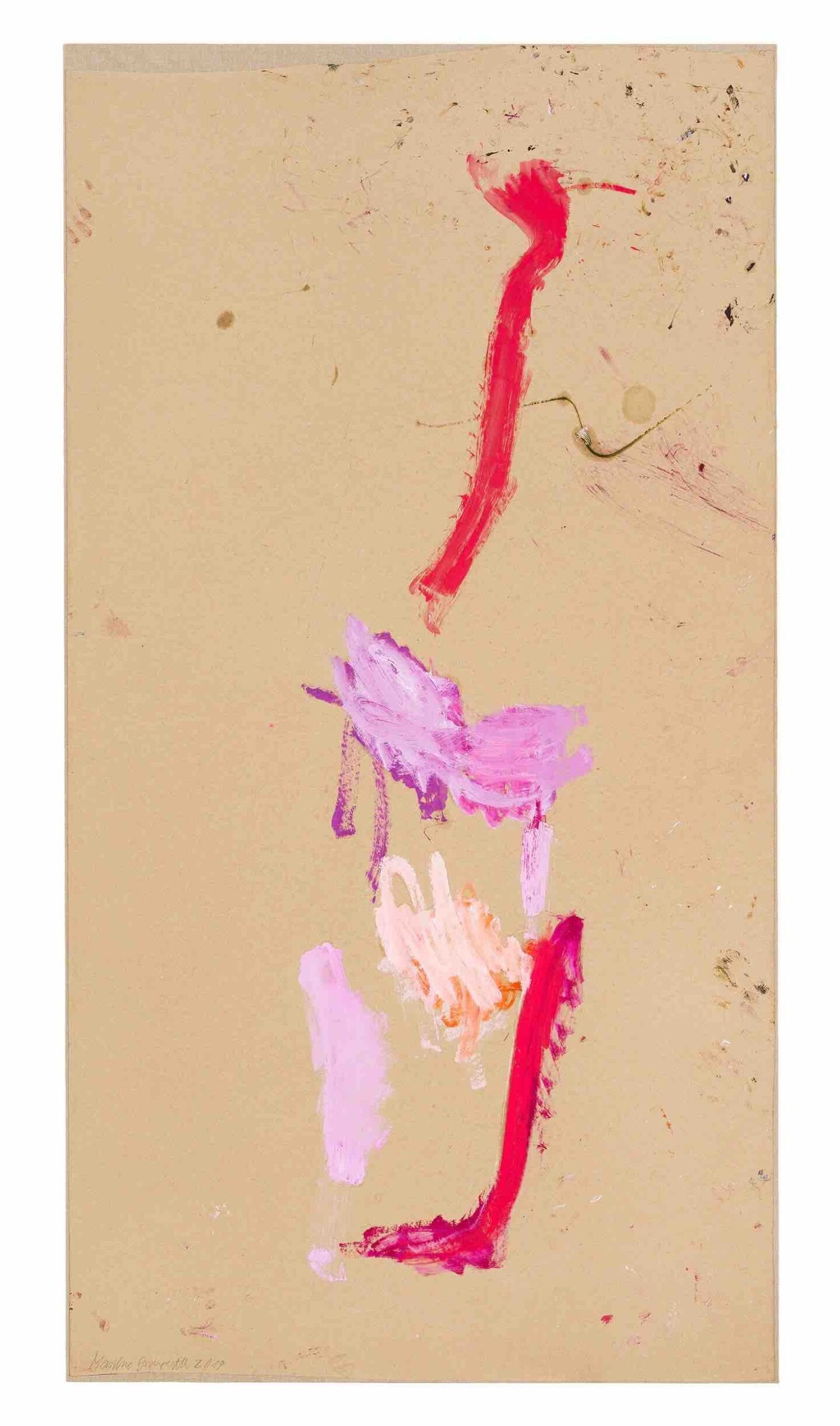 Martha Jungwirth's painting process emerges from a combination of intuitive spontaneity and control of her aesthetic principles. The energetic, gestural, colourful marks on her paintings mirror her fluttering inner emotions and memories, documenting the raw reaction to her sudden impulses. Martha Jungwirth's characteristic compositions offer an elegant insight into her elasticity of spirit, which reveals itself through her explosive, gestural style, as well as her hedonistic, poetic colours.