Inside the Iconic World of Yvonne Force Villareal

The art collector and cultural zeitgeist was privy to the early careers of many of today's biggest contemporary artists and was a muse to the famous Alex Katz—who painted her more than twenty-two times!
Meet Yvonne Force, the cultural tour de force of the New York art scene, who began her legacy circa 1990s, boldly establishing a presence around the world with today's biggest contemporary artists through her charity Art Production Fund, along with business partner Doreen Remen.
Since 2000, the duo has worked with contemporary artists to build trailblazing projects and public installations around the world, most memorable being Swiss artist Ugo Rondinone's Seven Magic Mountains and Berlin artists Michael Elmgreen and Ingar Dragset's Prada Marfa. Their first most iconic project was a performance at the Guggenheim Museum in 1998 for which the artist Vanessa Beecroft stood a formation of women of different shapes and sizes in the entrance of the museum in nothing but black Tom Ford-designed bathing suits. Ahead of its time, the display previewed a decade in which art and fashion would co-mingle, as designers sought artistic collaboration and art's sense of exclusivity.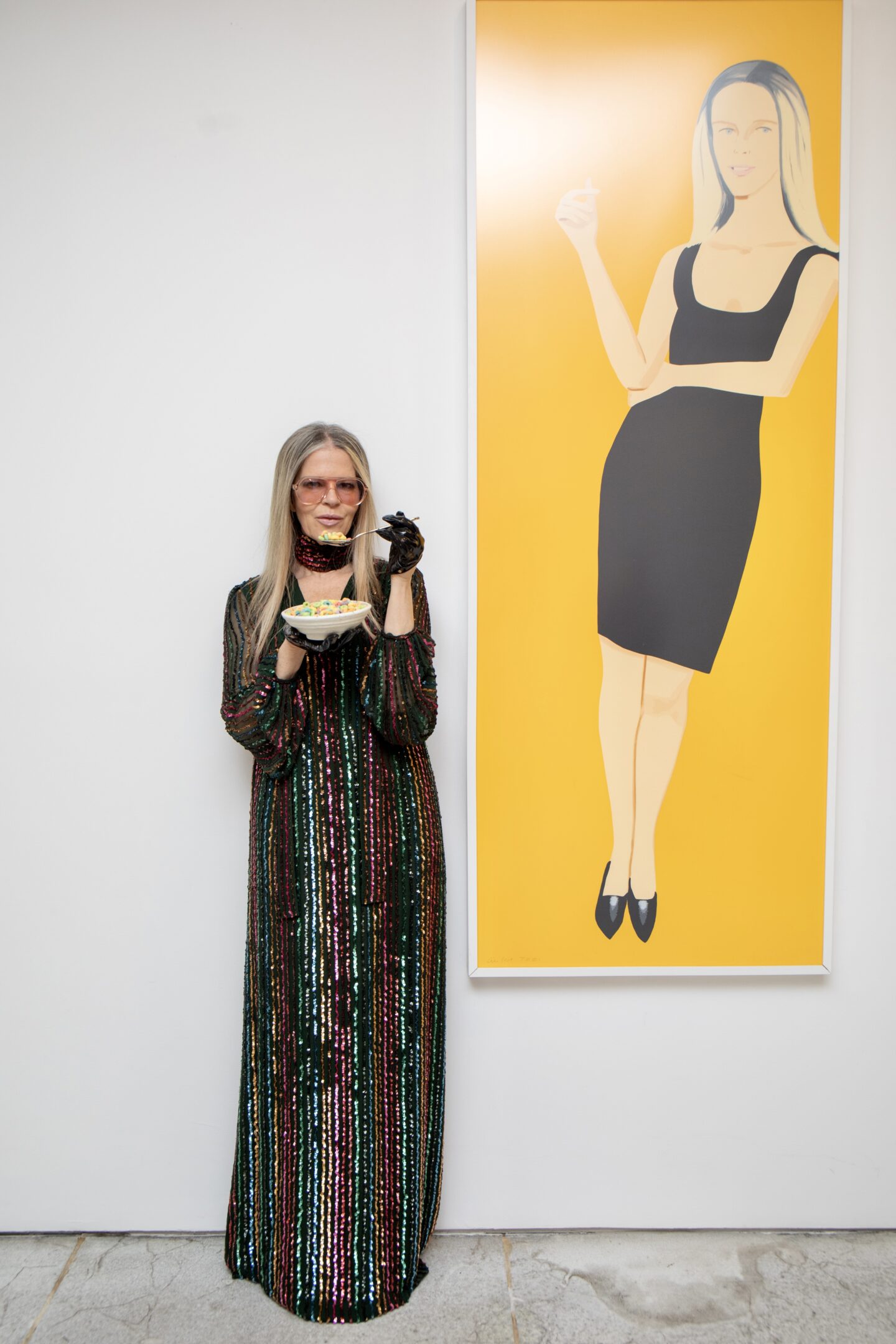 Now, Force and her business partner run a creative agency called Culture Corps—which extends beyond the typical art advising realm and explores an intriguing niche within the entertainment industry, licensing and placing artworks in notable television shows such as Gossip Girl, Billions, and Shonda Rhimes' Inventing Anna—where they sanctioned a replica of a Cecily Brown painting.
Indeed, Force is a force to be reckoned with and one of the O.G. power women ahead of the game when it comes to taking contemporary art to the next level. Frequently found wearing 1970s style sky high boots, eccentric colors, and oversized sunglasses, Force's signature style is similar to the eccentric collection inside her elevator loft in West Soho, filled mostly with pinks and yellows.
Upon entering the foyer you will find a giant abstract painting on wood by Rashid Johnson, and down the hall you are greeted with a spiraling light sculpture by her husband and acclaimed artist Leo Villareal. The furniture dates to the late 60s to 70s, including a bright pink L shaped sofa from a Southampton thrift store and a barge couch by John Chamberlain at the center. Next to the pink sofa is a piece by Rachel Feinstein, which was recently borrowed for an exhibition at the Jewish Museum.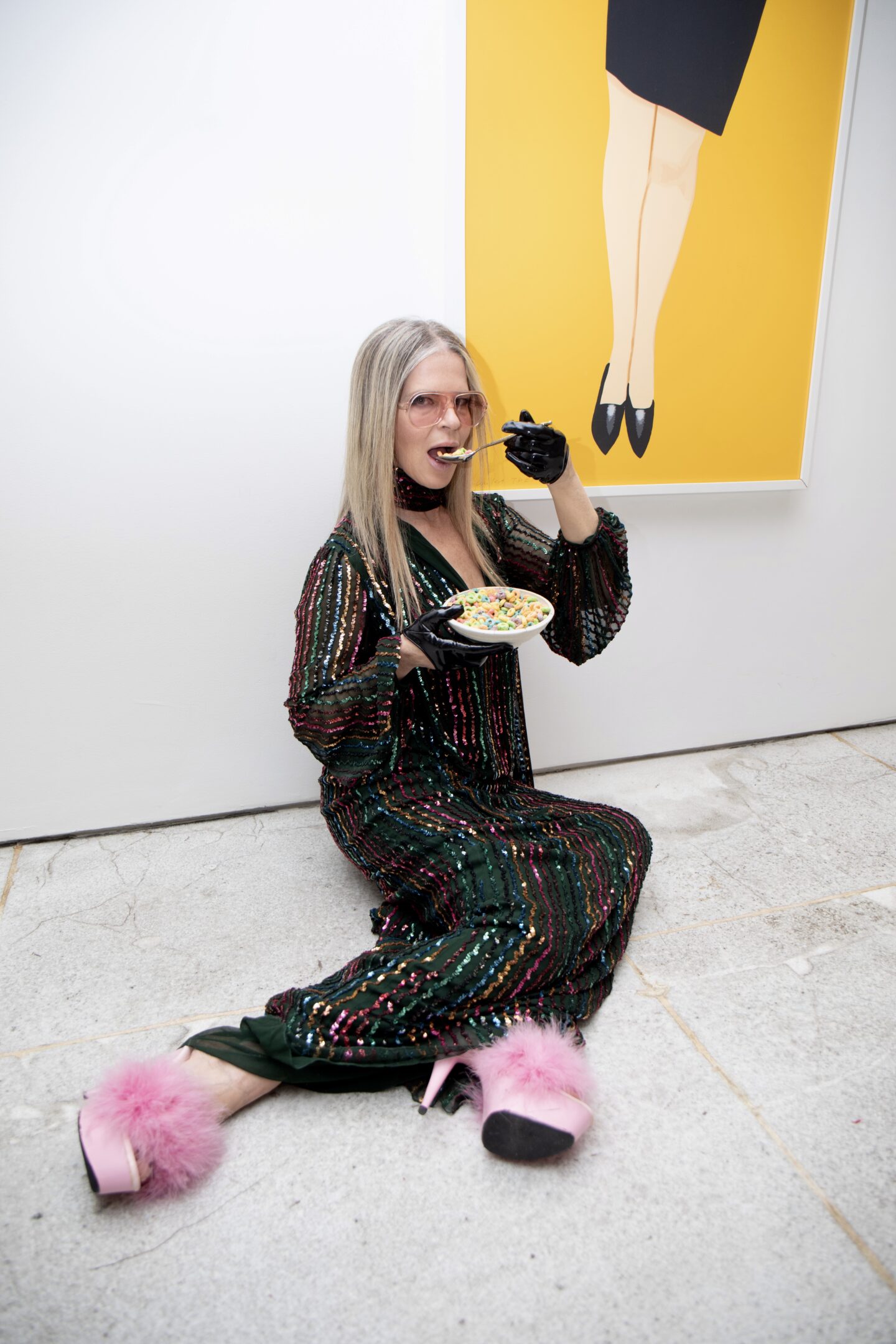 A bright pink Alex Katz painting is central to the collection, featuring Force herself and her husband Leo Villareal. Next to it is a bright yellow work by Katz where Force is posed wearing a black dress.
Across the room is a 1995 gem by Lisa Yuskavage—a triptych titled Blonde Brunette Redhead, which Force had salvaged for a mere nine thousand dollars back when she luckily discovered the highly acclaimed contemporary star right before the brink of her career.
We spoke to Yvonne over a pancake brunch in her kitchen, which warmly greeted us with a giant yellow painting by Lisa Yuskavage from 1998 titled Big Little Laura. Watch the footage where we chat about the art world in the 1990s, when it was a small handful of names the industry recognizes as the mega artists and dealers of today.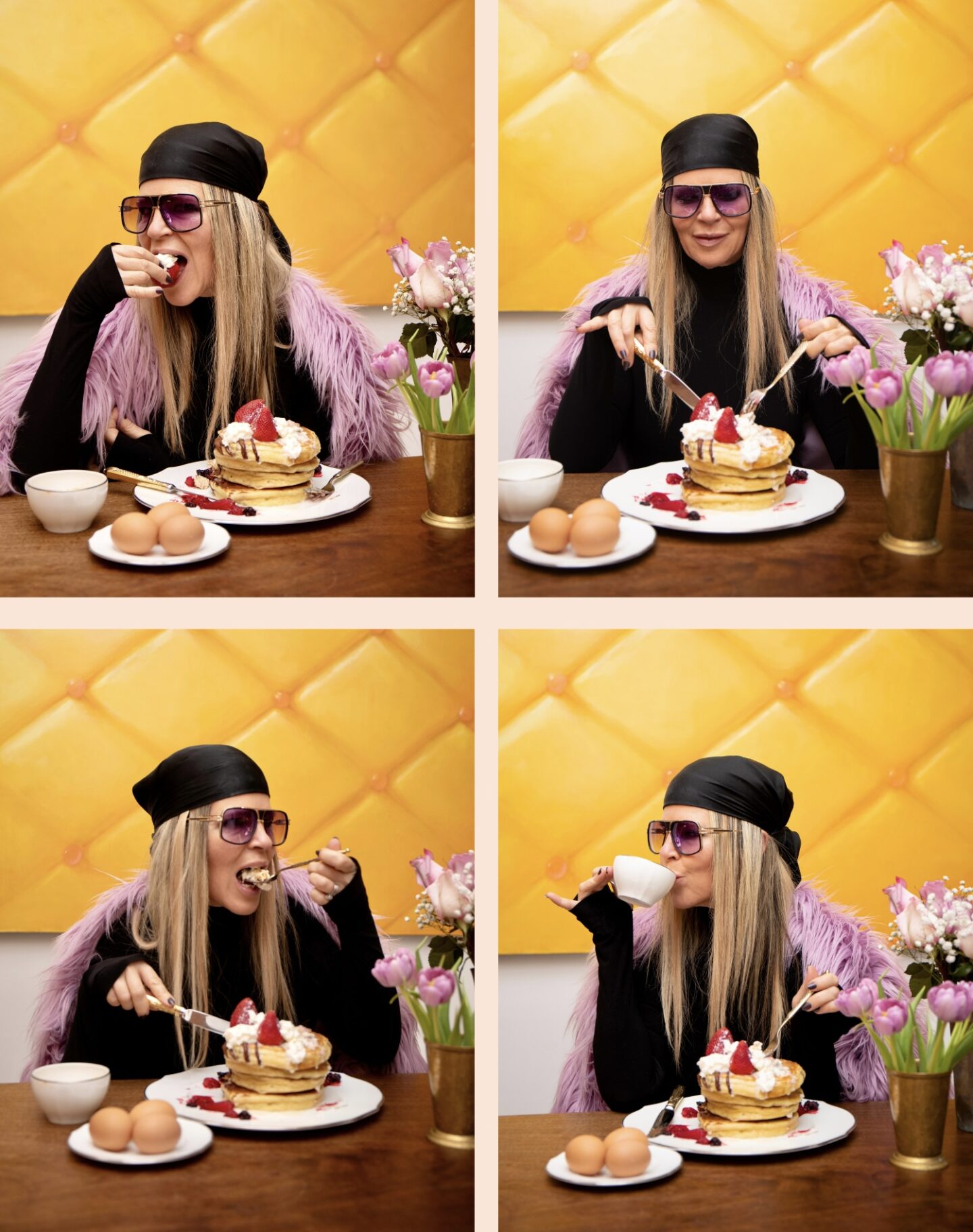 YVONNE IN A FEW WORDS: Born original, refuse to die a copy.
CURRENT HOME: Downtown NYC and Marfa, TX.
PROFESSION: Cultural Entrepreneur: Co-founder, Art Production Fund; Founding Partner, Culture Corps; Founder, Brite Force Marfa
WEEKEND: Thank Goddess It's Friday – Sunday.
ALTER EGO: The Force.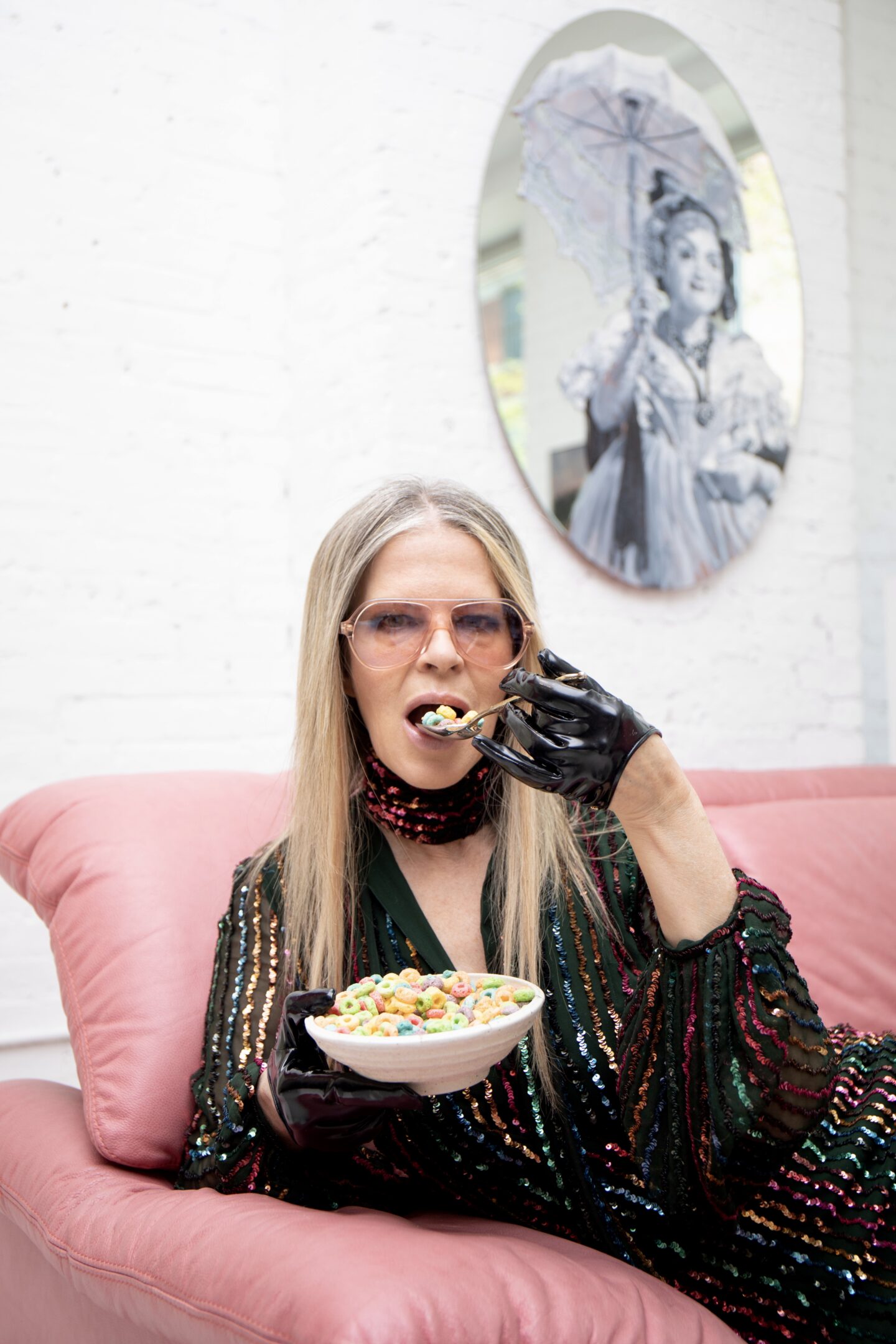 NIGHT OUT: Wherever my artist friends have their openings.
PARTY TRICK: I seek out meaningful connections.
HANGOVER CURE: Gluten free toast, a huge glass water with a splash of fresh OJ and go back to bed for an hour.
CAFFEINE FIX: Grass-fed whole milk cappuccino please.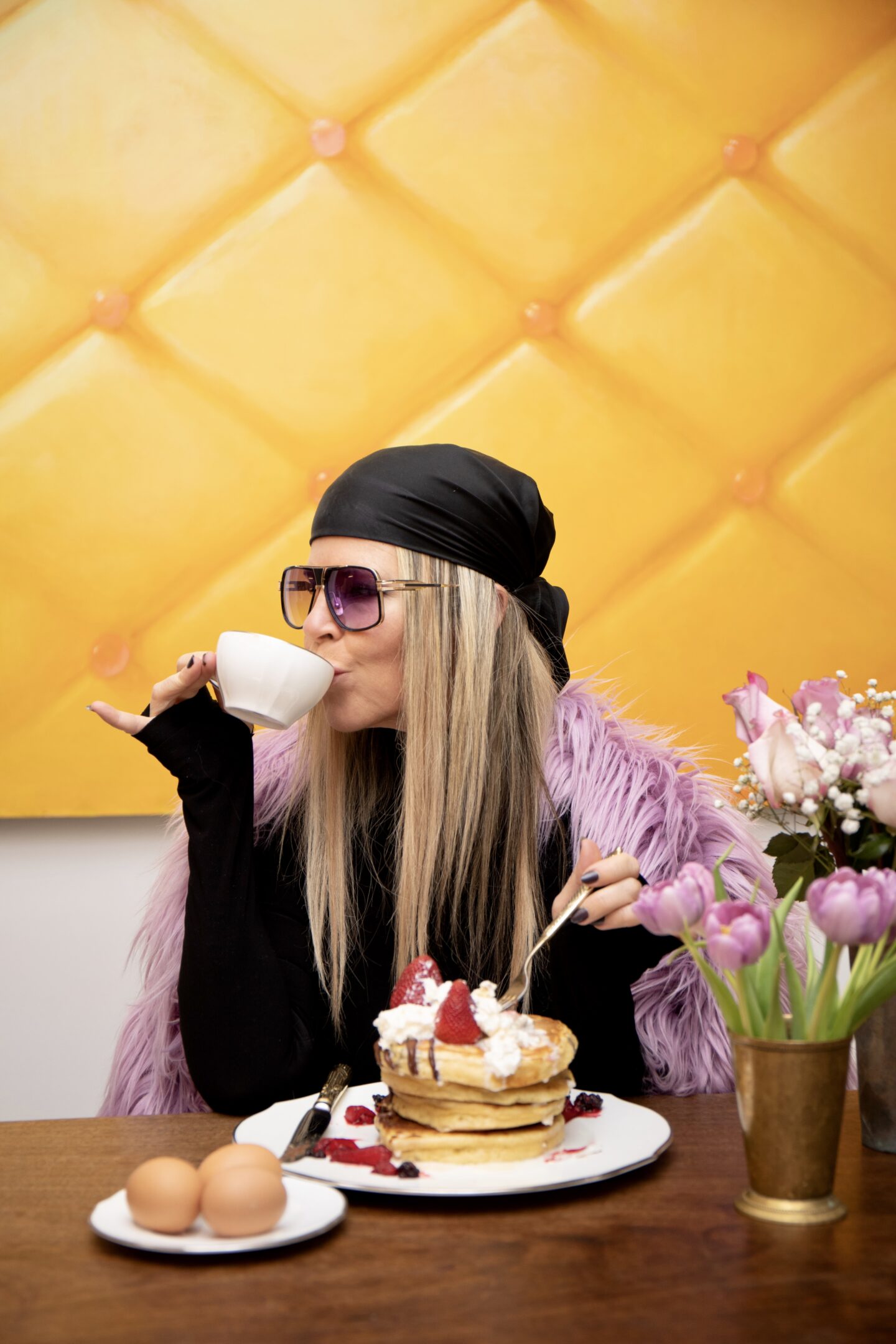 ARTIST: Lisa Yuskavage.
DECADE: 90's because it was intimate / NOW because there are multiple art worlds and more opportunity for everyone.
EXHIBITION: Women are finally featured across the board: Jaune Quick-to-See Smith at Whitney, Sarah Sze at Guggenheim, Cecily Brown at The Met, Wangechi Mutu at New Museum.
GOSSIP: Do I have stories, however I make it a habit not to gossip!
DESTINATION: Heading to Egypt tomorrow.
PLAYLIST: Blondish everything.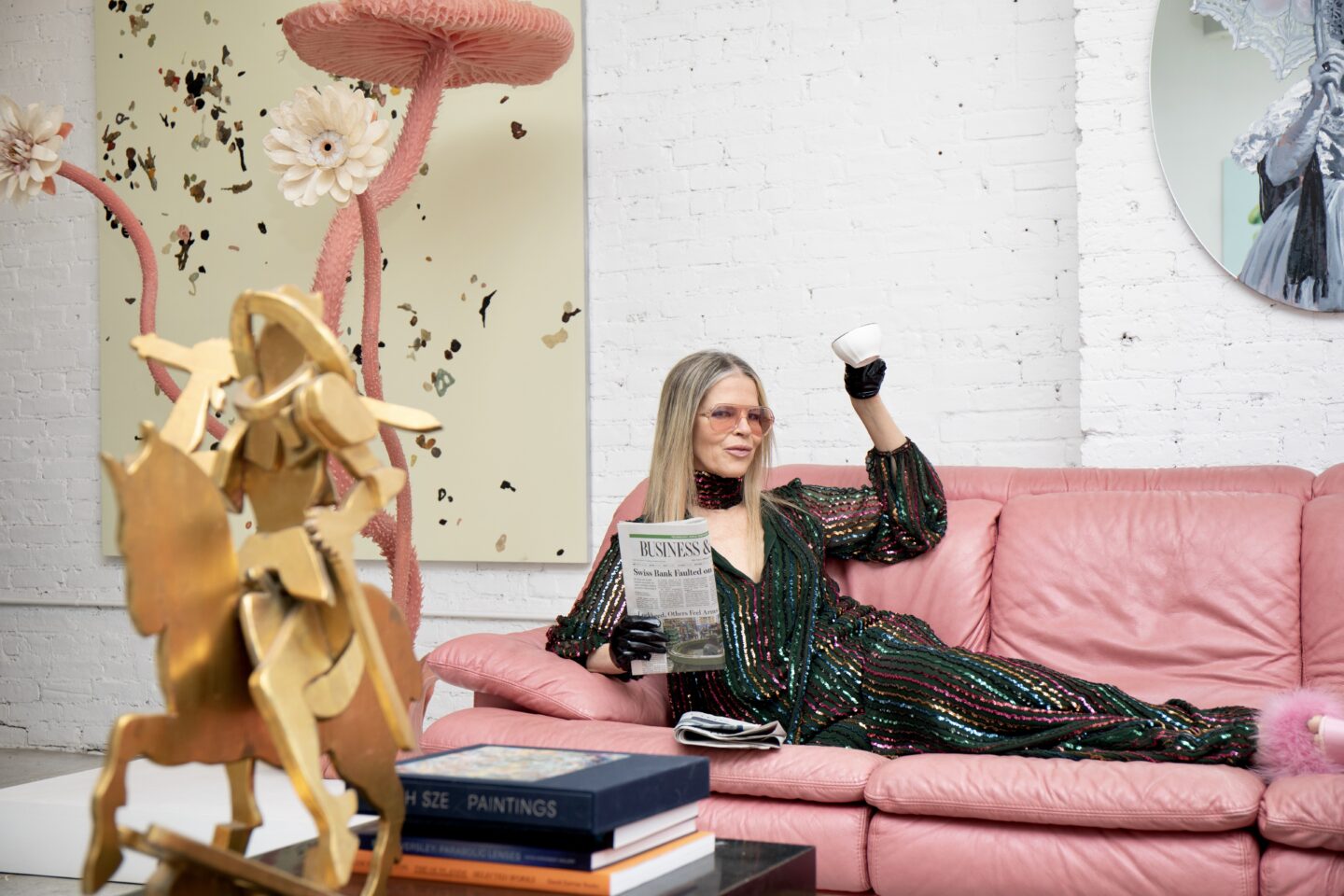 ART CRUSH: (Baby) Jane Holzer took me under her wings when I was a 24 year young gallerina (before the word existed).
SPLURGE: Alex Katz portrait of me and Leo, in 2002 we got a payment plan.
GALLERY: My husband's Leo Villareal, "Interstellar" at PACE.
ART FAIR: Frieze—my friend Amanda Sharp co-founded it. I attended the 2003 London launch and been to most every iteration as it has grown to. Now in LA, Art Production Fund just curated the public art area Frieze Projects: "Now Playing."
TAX HAVEN: Taxes in NYC are insane…Marfa, Texas in my long term future.
STAYCATION: Casa Cipriani, New York.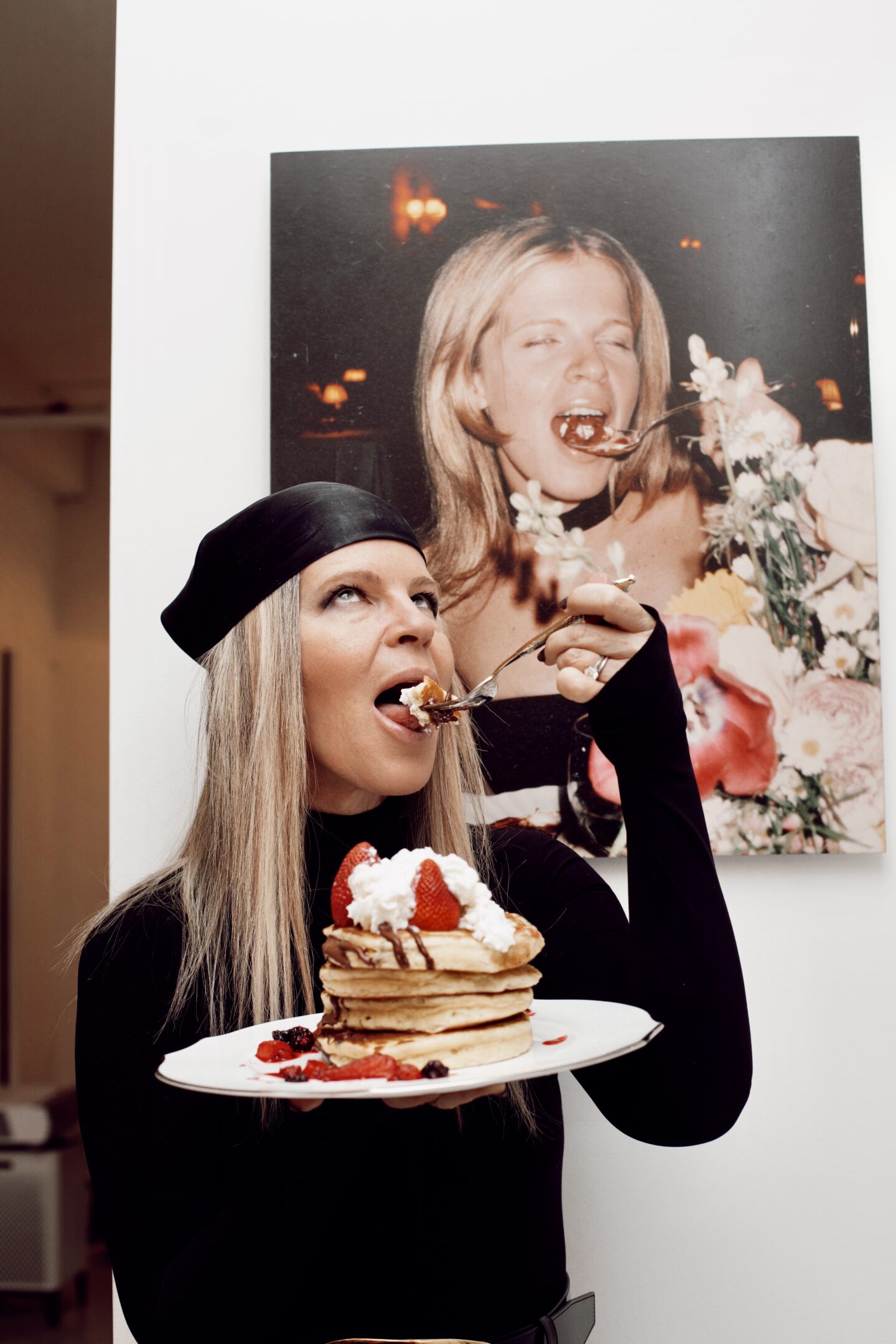 KENNEDY: John F. Kennedy Jr. and Carolyn Bessette-Kennedy, I knew that magical couple who tragically left this life way too soon…
EXCUSE: I disdain the excuse from anyone "I was drunk."
COMPLIMENT: Being invited to pose for artists I deeply respect.
BREAK UP LINE: Can't remember, their loss…
ART FILM: "Virgin Suicides" by Sofia Coppola. My daughter is named after the main character, Lux.
BOOK: The Power of Now by Eckhart Tolle.
STYLE ICON: Gloria Steinem inside and out.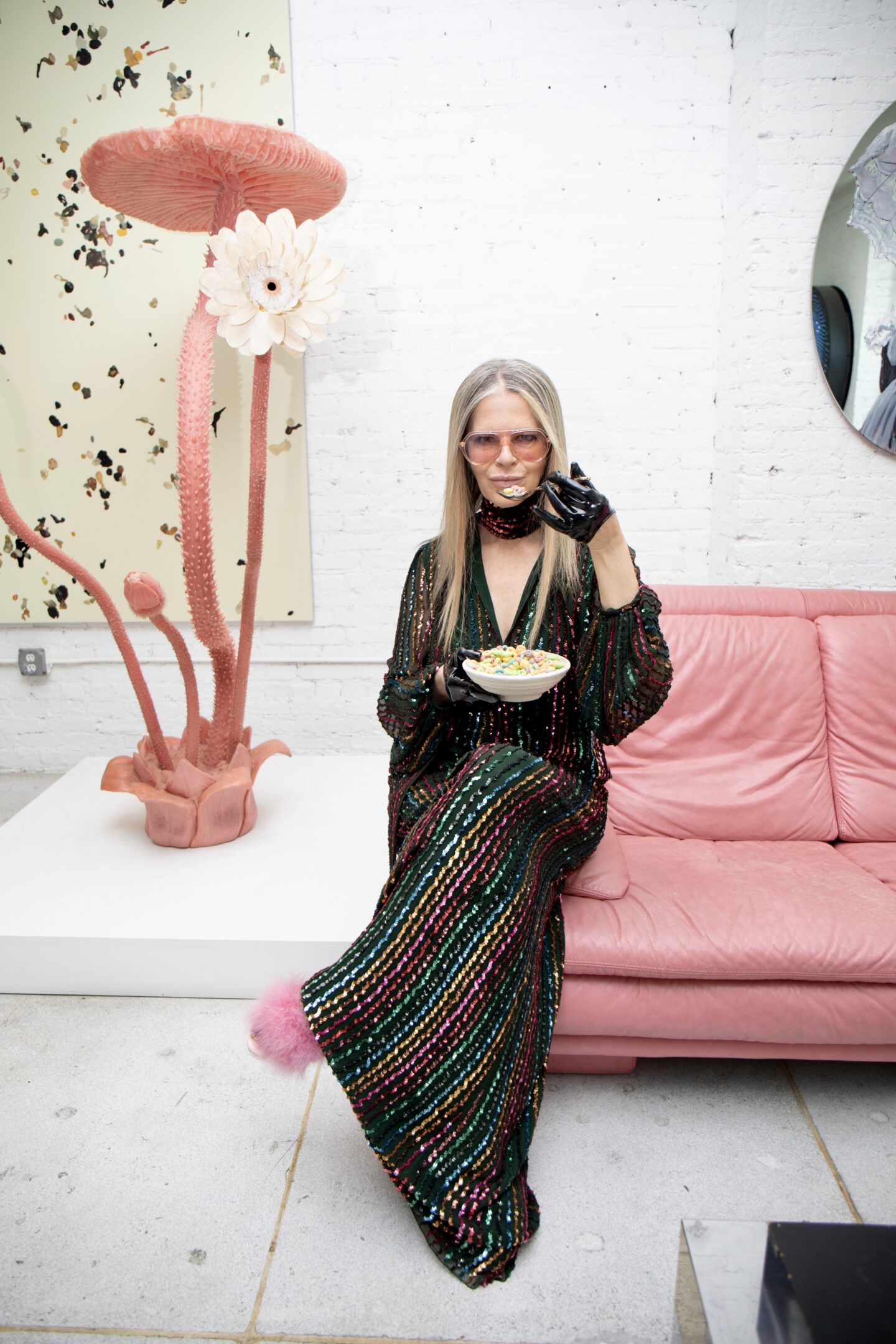 HANDBAG: I'm over bougie handbags, I prefer a kick ass hip bags usually handmade by Etsy designers or vintage from my closet.
SHOES: Givenchy Marshmallow Rubber Wedge Slides. Cool and comfy.
ART HANDLER: SAT, Safe Art Transport.
SELF-CARE: Yoga 3x a week for 20 years.
LEISURE: Turn off the alarm and relish in family time.
BEACH CLUB: Orient Yacht Club (a chic shack on stilts where my kids learned to sail the Northfork of Long Island).
ADVICE: Quiet the noise and follow your instincts, don't complain, make meaningful contributions, large and small…
LIFE MOTTO: BE HERE NOW.