The Collector's Trend: Our Favorite Artist x Fashion Collaborations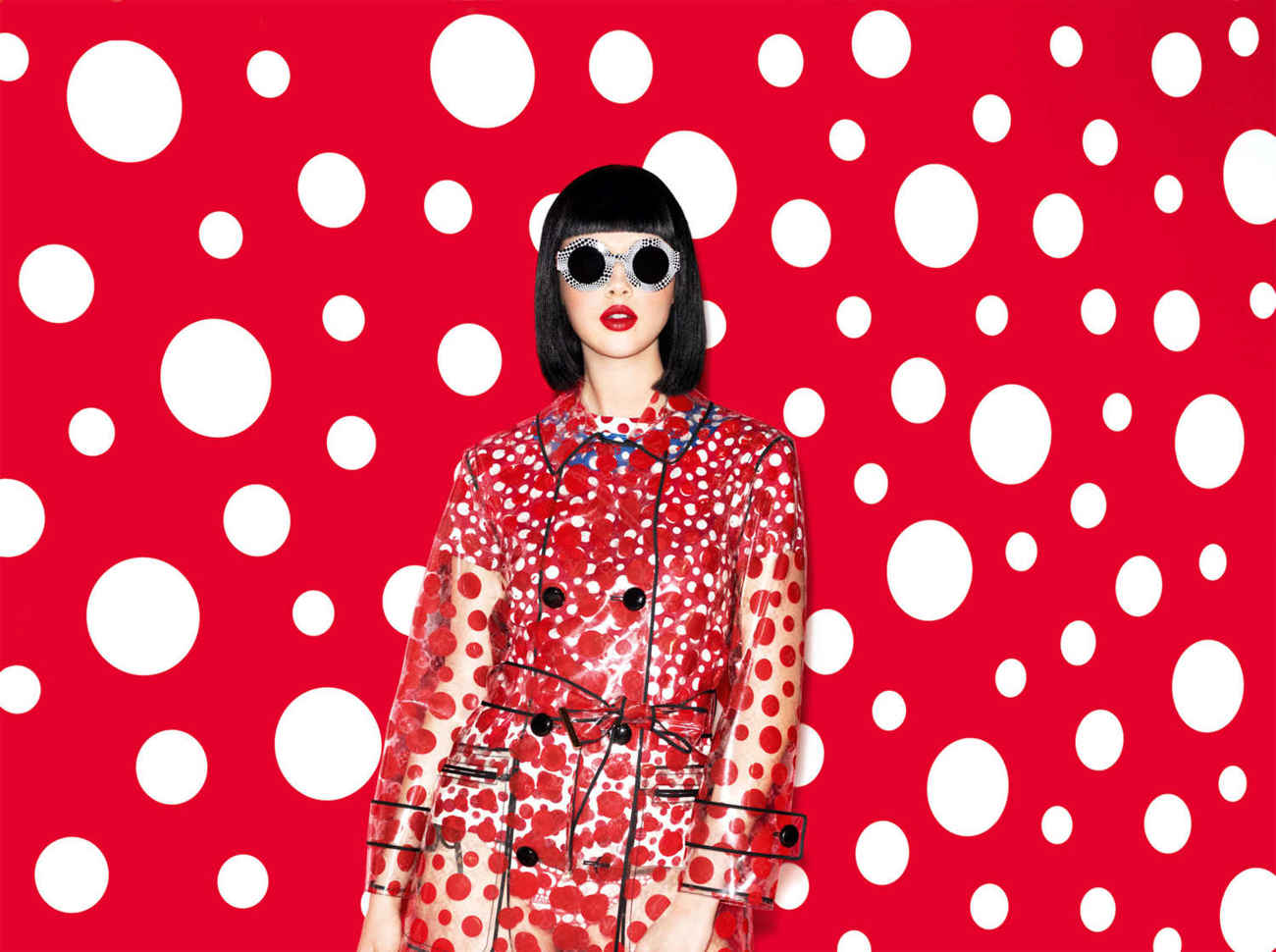 The latest trends in art and fashion brings a whole new genre of art for the collector's market — what Christie's describes as "blue chip artist ready-mades."
---
More often than not, artist collaborations with luxury fashion brands are overlooked investment pieces. Frequently paired together throughout history, the more blurred lines between art and fashion, the higher the price will go. From Tschabalala Self's latest collaboration with Louis Vuitton's newest collections of handbags to Alice & Olivia's newest collection of Basquiat skirts — see below our top favorites in art x fashion.
Yayoi Kusama x Louis Vuitton (2012)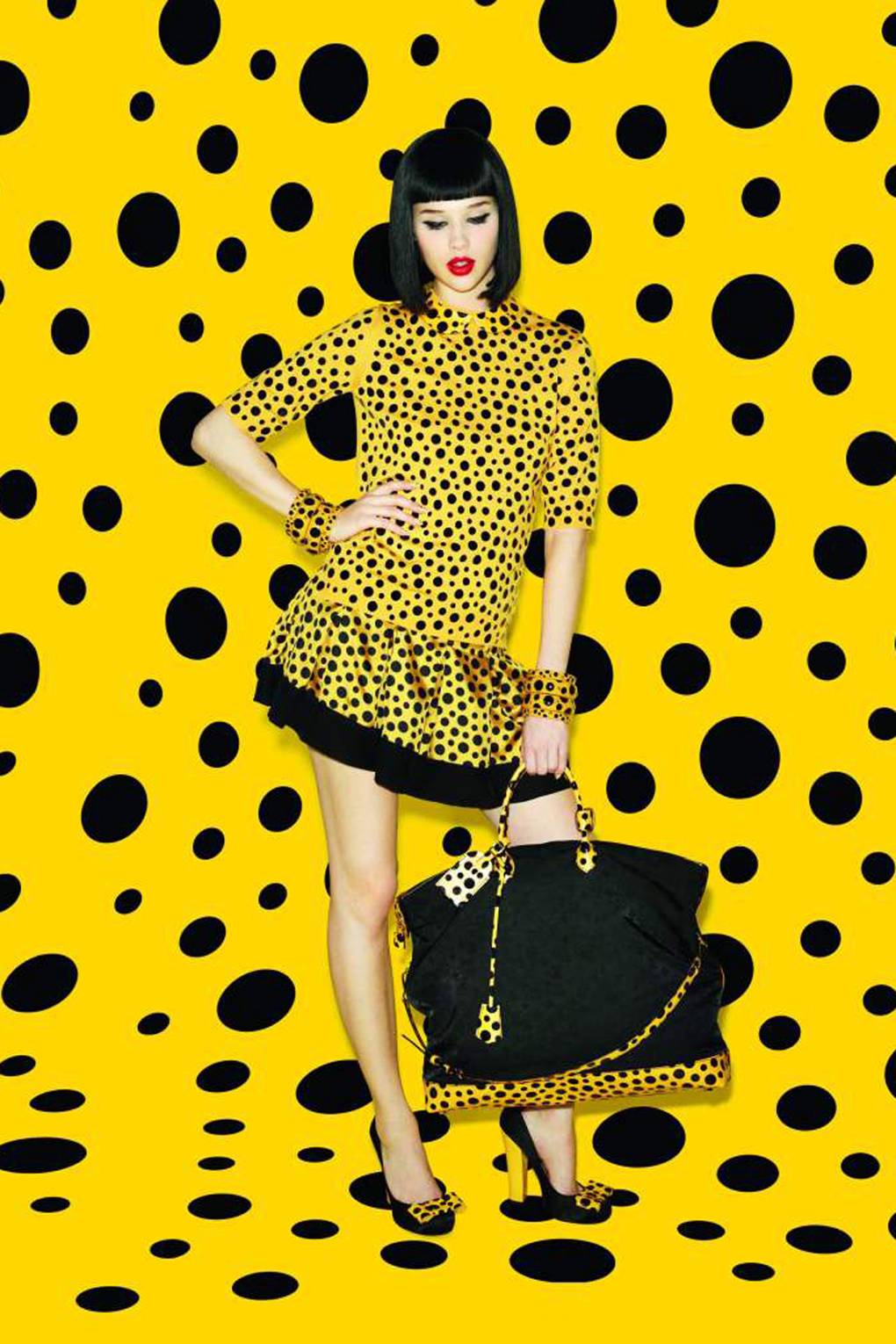 Following a collaborative artistic retrospective of Japanese artist Yayoi Kusama, in 2012 Louis Vuitton celebrated her unique style with the Infinity Dots collection. With both a ready-to-wear and accessories collection, the line was inspired by Kusama's most representative works and designed in collaboration with the French fashion label's creative director Marc Jacobs.
Tschabalala Self x Louis Vuitton (2019)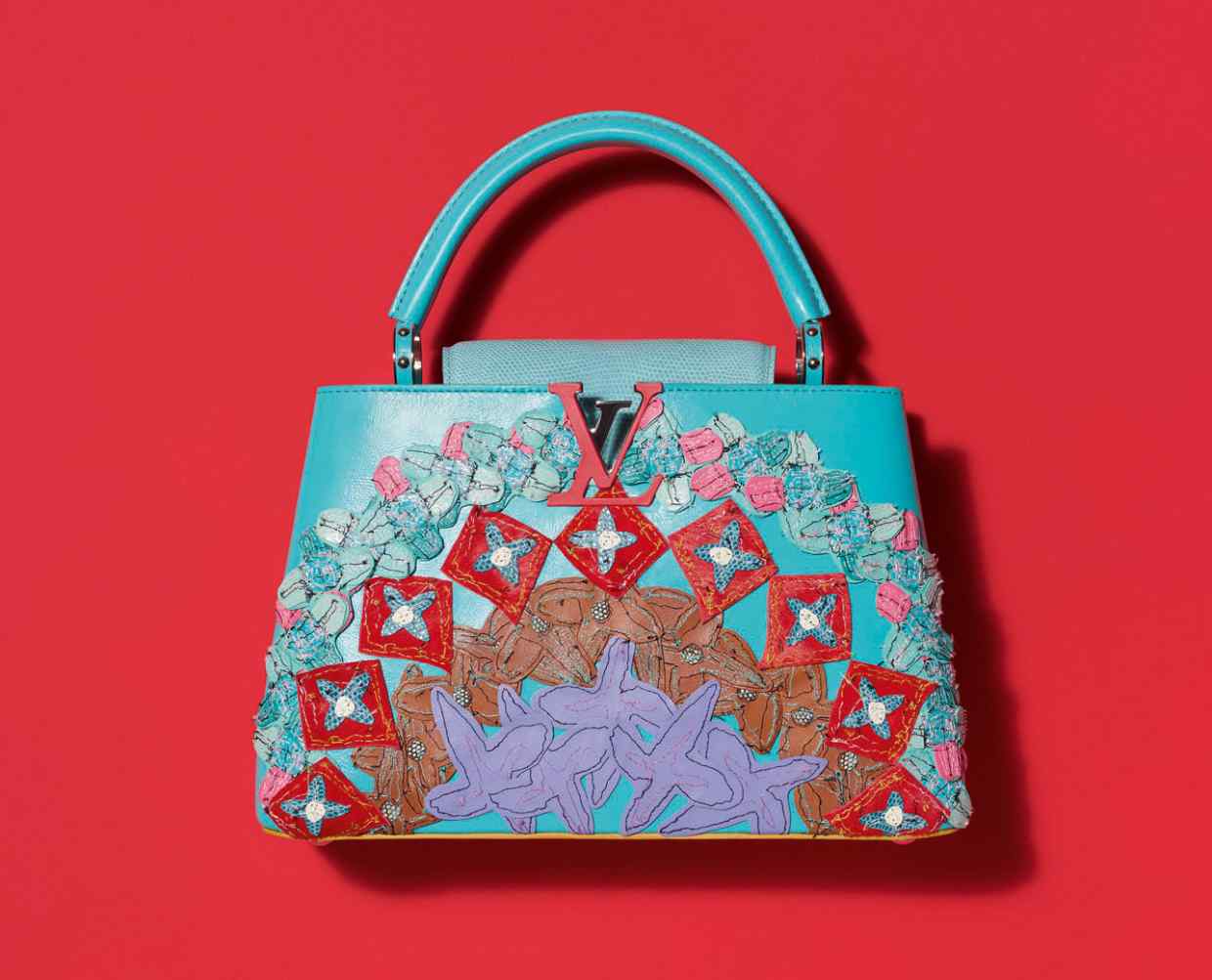 Among the "crescendo" of collaborations, the latest partnership at Louis Vuitton includes African-American artist Tschabalala Self, along with six other contemporary artists. With absolutely no guidelines, each artist was given, as a starting point, a Capucines bag, the top-handled style that made its debut in the Vuitton canon in 2013 and has since become a contemporary classic. "And that was it. They could build it from scratch, they could destroy it, slash it, burn it, do what they wanted to it. It was total freedom. Here is an object – repurpose it," says Louis Vuitton CEO and chairman, Michael Burke, who credits Vuitton's executive vice president Delphine Arnault as the "guiding light and energy" behind the project.
Marilyn Minter x Edie Parker (2017)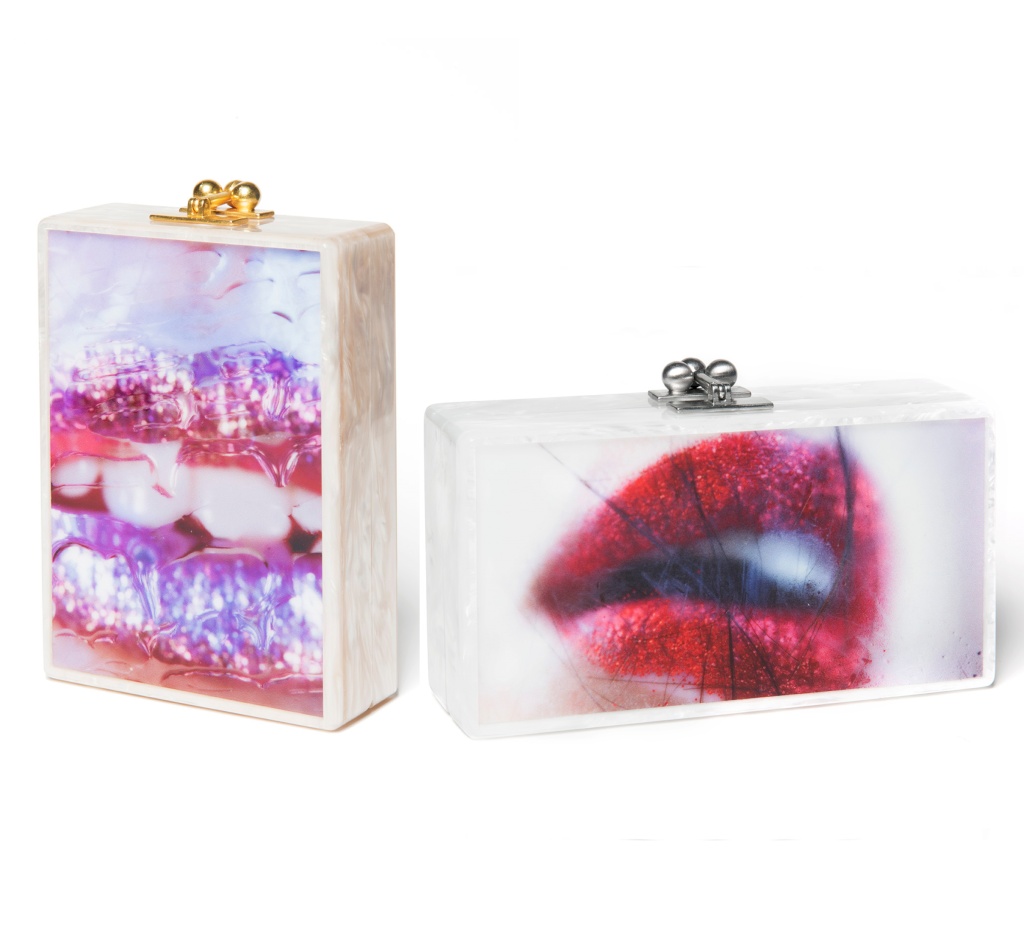 "Marilyn Minter's work explores feminism, fashion, and celebrity so it was an organic partnership," said Heyman of the collaboration. The exhibition was presented as part of A Year of Yes: Reimagining Feminism at the Brooklyn Museum, a yearlong series of ten diverse exhibitions celebrating the 10th anniversary of the Elizabeth A. Sackler Center for Feminist Art.
Elsa Schiaparelli x Salvador Dali (2017)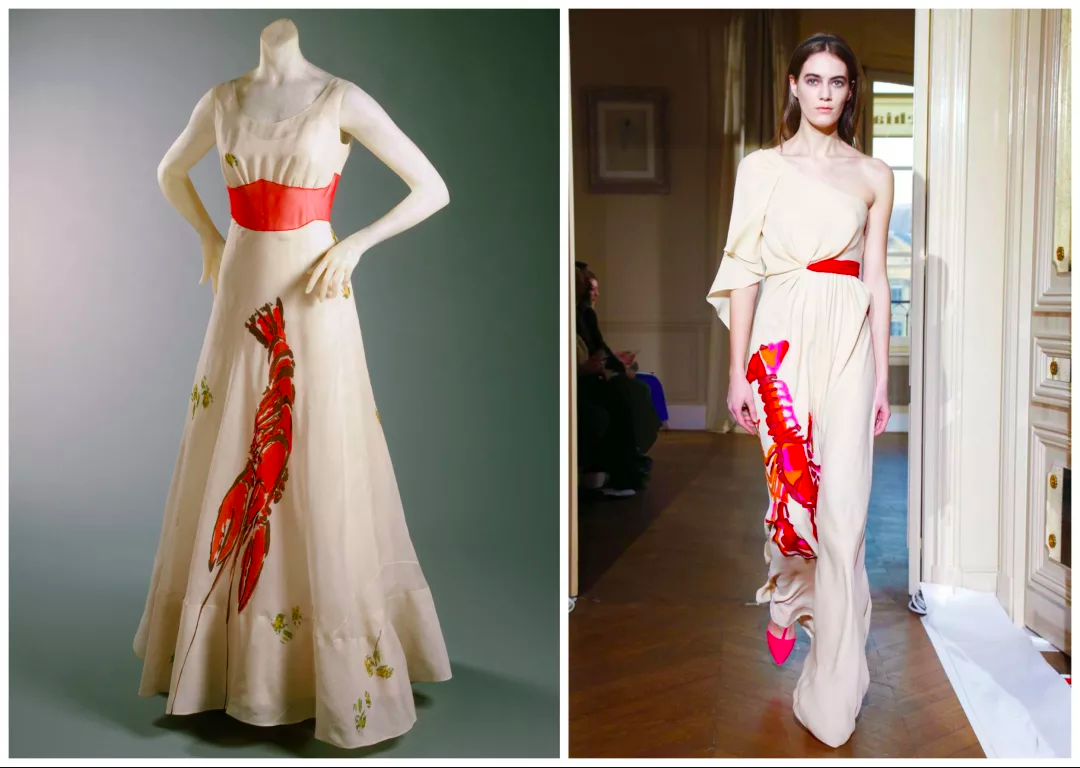 When Italian designer Elsa Schiaparelli met Salvador Dalí, a successful partnershi ensued. Both the designer and the artist delighted in the power of Surrealism to shock the fashion and art worlds. Their collaboration reached the height of Surrealist absurdity, creating memorable fashion moments like Shoe-Hat, which evolved from a photo of Dalí irreverently posing with a shoe on his head. And then there's the 1937 Lobster Dress (a personal fave), which was born from a Dalí drawing of an massive crimson lobster on a simple white organdy evening gown, symbolic of his endless obsession with sex.
In 2017, as a tie-in to the "Marilyn Minter: "Pretty/Dirty" exhibition at the Brooklyn Museum, the artist partnered with Edie Parker's Brett Heyman for two limited-edition clutches featuring artworks from her first retrospective. Designed to carry a smartphone and other evening essentials, the one-of-a-kind bags are available in two styles, a nude pearlescent 'Carol' bag featuring Minter's Glitter Mouth and a white pearlescent 'Jean' bag featuring Wet Kiss, both of which are finished with an interior mirror etched with the artist's signature.
See Also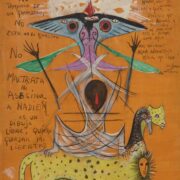 Alice + Olivia x Jean-Michel Basquiat (2017)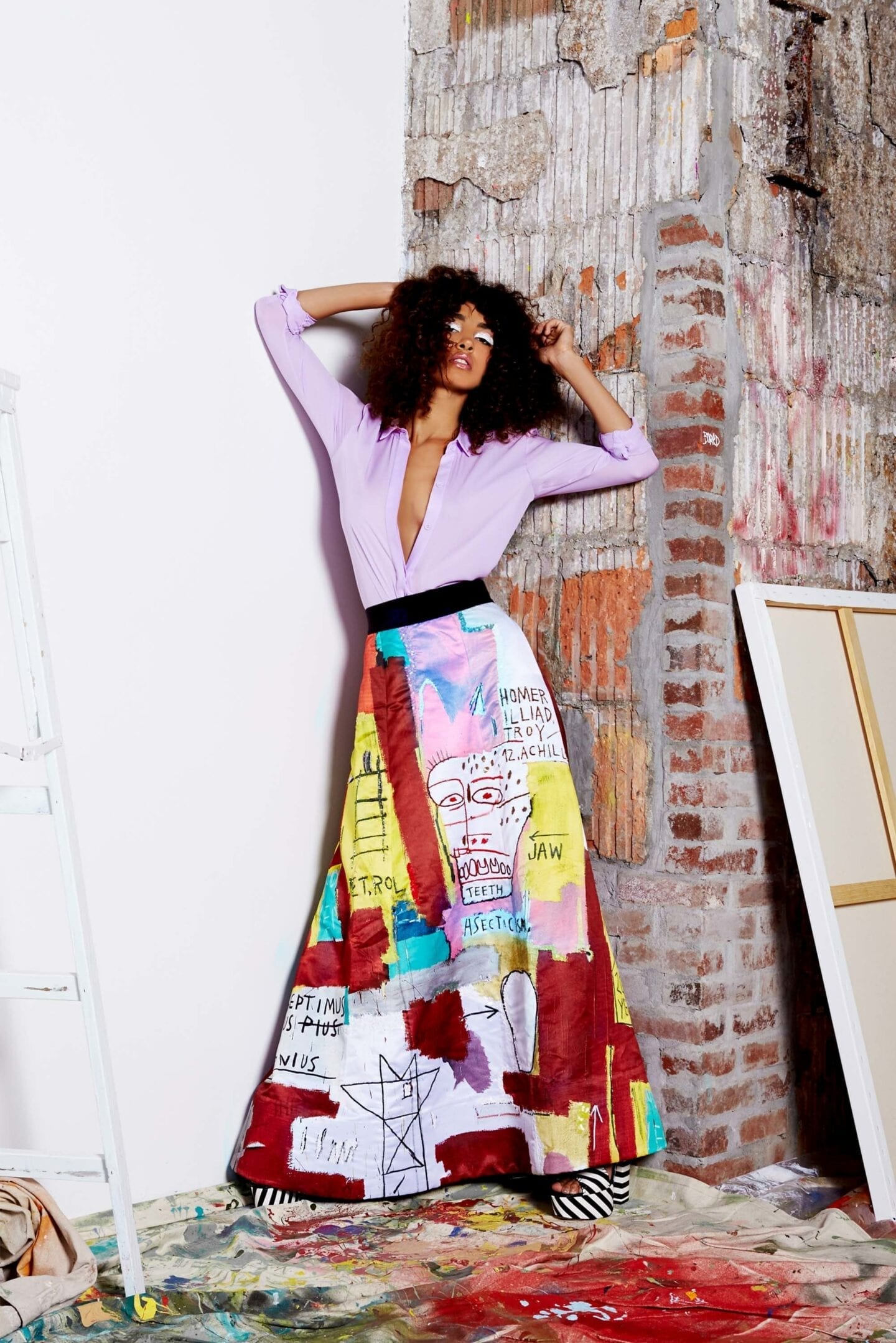 In 2017, Stacey Bendet of Alice + Olivia collaborated with the Basquiat estate to pay homage to the artist in splashy and subtle ways. The resort line included pieces that were digitally printed with his graffiti-esque paintings, while others took cues from the artist's famous notebook entries or his eclectic personal style, including casual items that mirrored Basquiat's color palette, and charming accessories etched with Basquiat's signature crown motif. "I didn't want to just slap his paintings on things," Bendet said. "I wanted [the prints] to feel like real paintings and feel dimensional, and I wanted the clothes to have elements of him, too." Bendet was also thinking about what the women who surrounded Basquiat might have worn in the '80s; her monochromatic "power suits" were designed with gallerists in mind, and she envisioned one of Basquiat's girlfriends in acid-wash jeans and a bomber jacket.
Alice + Olivia x Keith Haring (2018)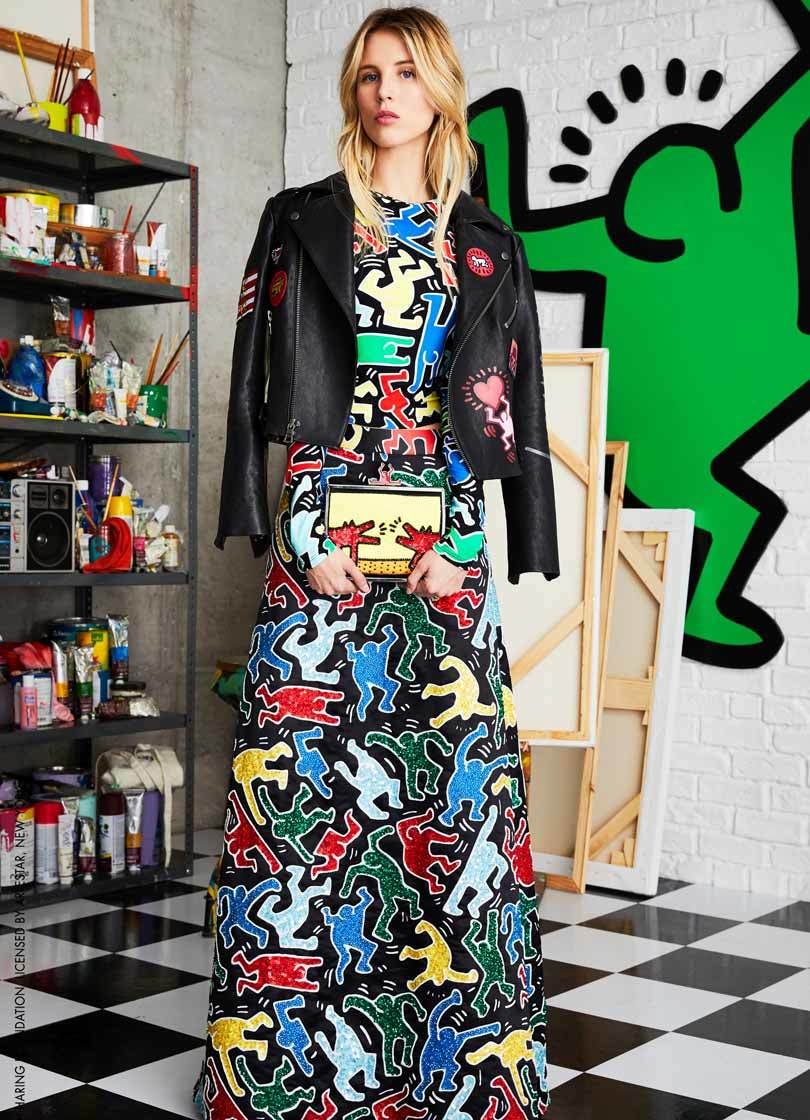 In 2018, Alice + Olivia by Stacey Bendet launched a capsule collection featuring the artwork of Keith Haring across a range of ready-to-wear, accessories, ball gown skirts, and shoes. The capsule collection features Haring's trademark dancing figures and prints in patchwork collages.
---
Featured image courtesy of Pop Sugar.