September Art Market Report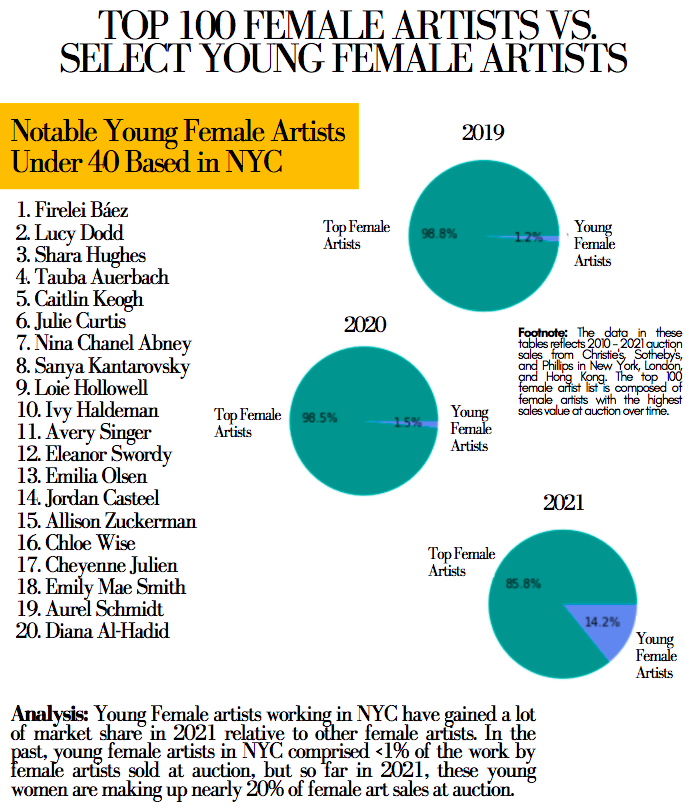 As of Monday, 13 September, 186 out of 1,429 works at the Armory were reported as sold via the fair's online platform. Out of the works sold, 102 were created by female artists.
The top selling female artist at the fair was American artist Hayley Barker. The Shrine Gallery in NYC sold a total of 7 of her works. Barker was followed by artists Bony Ramirez and Jennifer Rochlin whose respective galleries each sold 6 of their works.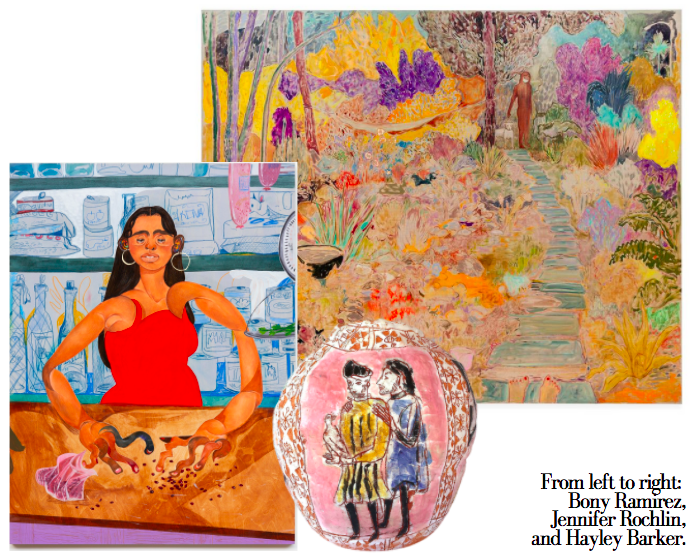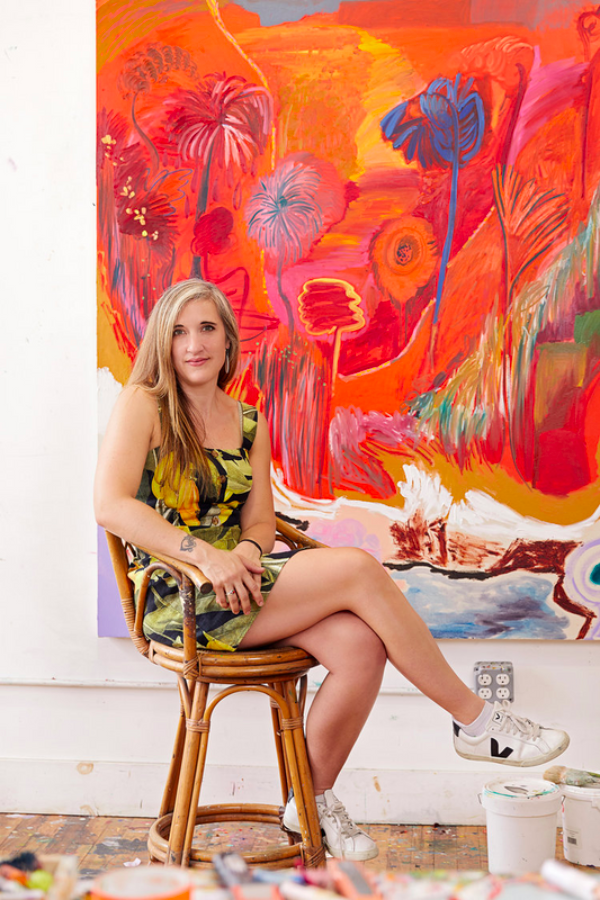 Shara Hughes (b. 1981, Atlanta, GA) is a Contemporary American painter known best for her vibrant and lyrical landscape paintings. She received her BFA in 2004 from the Rhode Island School of Design, and later went on to attend the Skowhegan School of Painting and Sculpture. Visually similar to Matisse's early Fauvist landscapes, Hughes' large-scale paintings are gestural, abstract, and full of symbolism.
Shara was recognized early on in her career by Susan and Michael Hort, well known collectors in the art world for their support of young emerging artists. However, it was not until her inclusion in the 2017 Whitney Biennial when her market really took off. Before the Biennial, only 7 works by the artist had come up for sale between three major global auction houses. In 2017, that number rose to 13. On average, there are 14 works by Hughes that come to auction each year. The average sale price for the artist's works rose from $52,205 in 2017 to $91,718 in 2020, a decrease from the 2019 record of $141,885 per work.
According to Artsy, Hughes primary market also remains strong for this mid-career artist with her large-scale works selling for around $150,000 and her smaller works selling anywhere from $30,000 to $50,000. Perhaps Hughes' global market strength can be attributed to the recent interest in her work coming out of Asia. Three of the top five highest hammer prices at auction for one of Hughes' works were sold in Hong Kong. Two of those sales took place in 2021 which suggests that the artist's market is not only stable, but steadily increasing.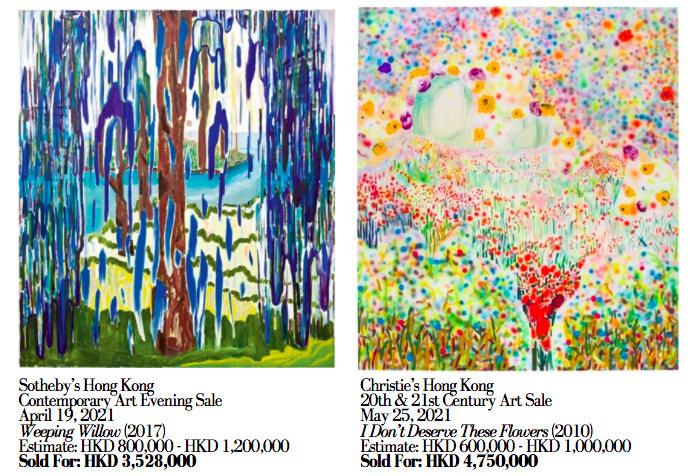 In May of this year, Hughes' had her first museum exhibition in the U.K. The artist purposefully created four large-scale paintings of flowers to accent the repurposed medieval church architecture of the Garden Museum. However, many consider the recent acquisition of Hughes' painting How Do You Sleep At Night? (2017) by the Metropolitan Museum of Art in NYC to be the true career-defining moment for the artist.
Another major milestone for the artist, Hughes' first ever major solo retrospective in the United States will be exhibited at The Contemporary Art Museum St. Louis from September 3, 2021 through February 20, 2022. Paintings, drawings and prints from the past seven years will be on display.
Analysis: Prices for one of Hughes works on the secondary market began to soar after her debut at the 2017 Whitney Biennial. The average price for one of her works increased from $51,323 in 2017 to $105,954 in 2020. So far this year, the average sale price for one of the artist's works has grown to $187,364.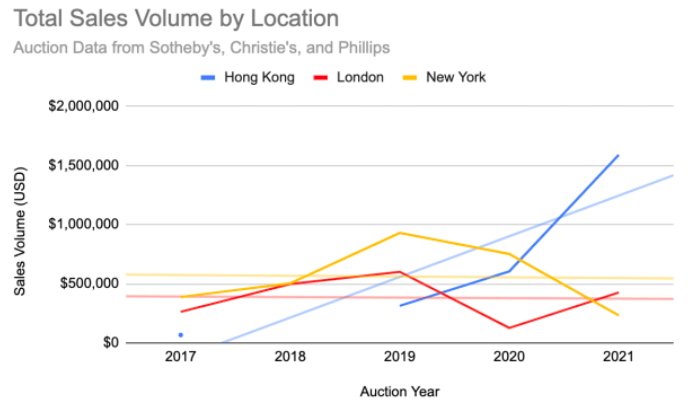 While Hughes' market in New York and London have remained relatively stable from 2017 till now, the increase in average sales price and overall total sales volume may be attributed to the artist's growing popularity in Asia. The auction record for one of Hughes works was set in April 2021 with the sale of the painting Weeping Willow (2017) which sold for $455,112 at Sotheby's Hong Kong 20th Century Evening sale only to be reset one month later at Christie's Hong Kong 20th & 21st Century Art Afternoon Session with the sale of I Don't Deserve These Flowers (2010) for $612,750.
The performance of Hughes auction sales over time is also intriguing. As you can see from the graph below, the majority of the artist's works that come up for auction have sold 300% above the auction house's low estimate. This data suggests that collectors are willing to pay 3x the auction house's estimate to own one of Shara Hughes works. This trend over time coupled with the artist's most recent sales record implies that Hughes' work is still very much in demand and should expect to see sales prices rise in the near future.