Hiba Schahbaz on Painting the Nude: Overcoming Cultural Obstacles and Achieving Artistic Breakthroughs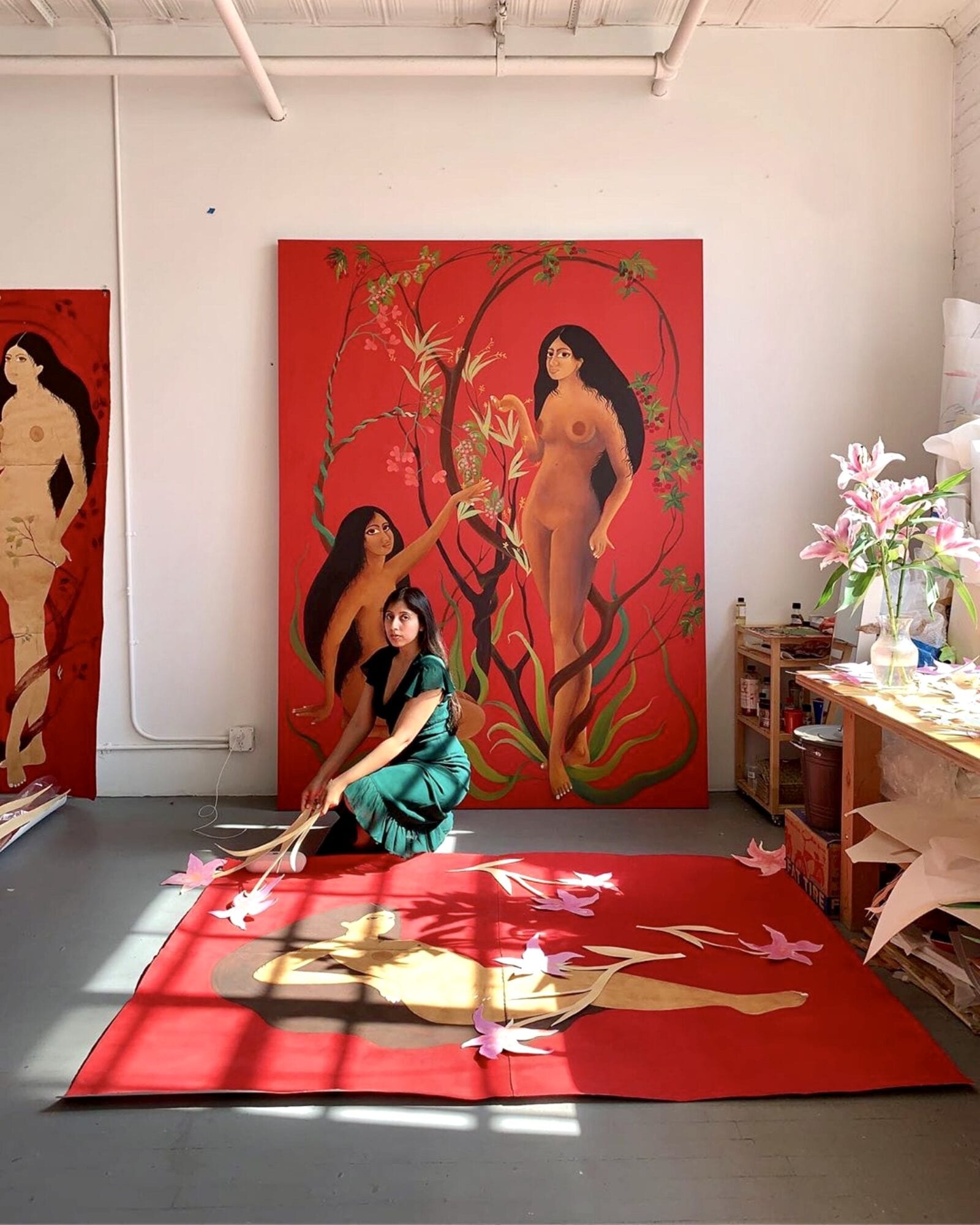 From paper to canvas, Pakistani-born artist Hiba Schahbaz talks creative breakthroughs that have evolved her signature works into a bigger and stronger medium as she continues to unfold a narrative that transcends cultural and political boundaries.
---
In her latest solo exhibition at De Buck Gallery in New York titled Dreaming, Pakistani-born artist Hiba Schahbaz showcases a thrilling new chapter of her work, featuring her first exhibition as she transitions from water-based works on paper to large-scale figurative oil painting. In this fresh body of work, she carries the viewer on a reflective and expansive inner journey, exploring themes of self-healing, emotional journey, spirituality, and the desire to create safe and nurturing spaces for women to feel seen and represented.
Schahbaz initially trained in Indo-Persian miniature painting at Lahore's National College of Arts, and later earned a Master's in Painting from Pratt Institute in New York. Her work addresses issues of personal freedom, destruction, sexuality and censorship by unveiling the beauty, fragility and strength of the female form. The inclusion of the female figure in her paintings creates nebulous "safe spaces" embracing the idea that radical empowerment can coexist with beauty and tranquility.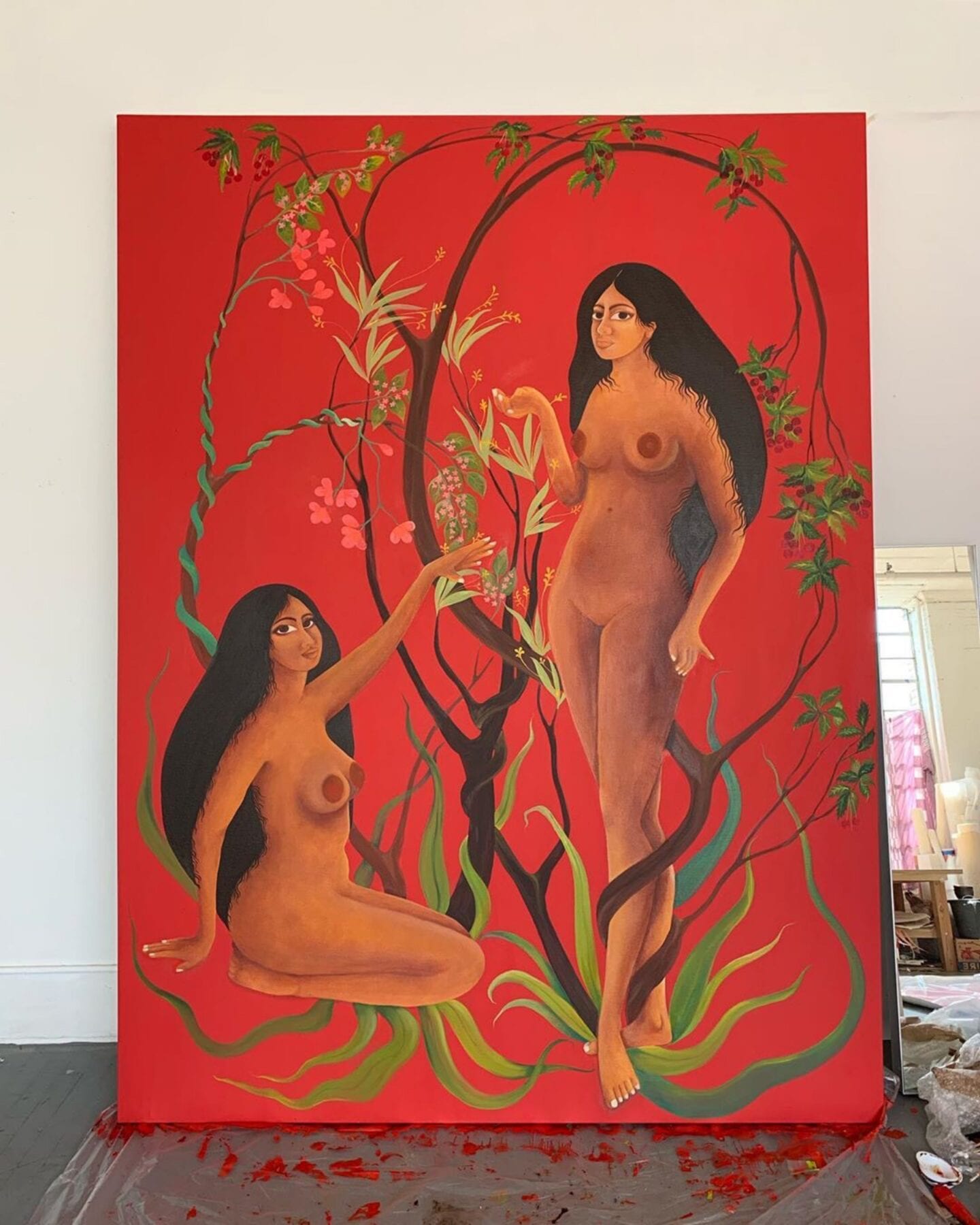 Meticulously ornamented and vividly colorful, Schahbaz's lyrical depictions of women inhabit a dreamlike, all-female world, and are interwoven with references to intimate self-portraiture and iconography drawn from her own personal mythology. Surrounded by nature, female figures recline in art historical references, reimagined and reclaimed through a lens of both loving gentleness and feminine power. A lush rose-colored palette dominates the exhibition, which also mirrors Schahbaz's inner world as she moves from the vibrancy of red into the softer palette of pink that she imagined as a space of self-healing.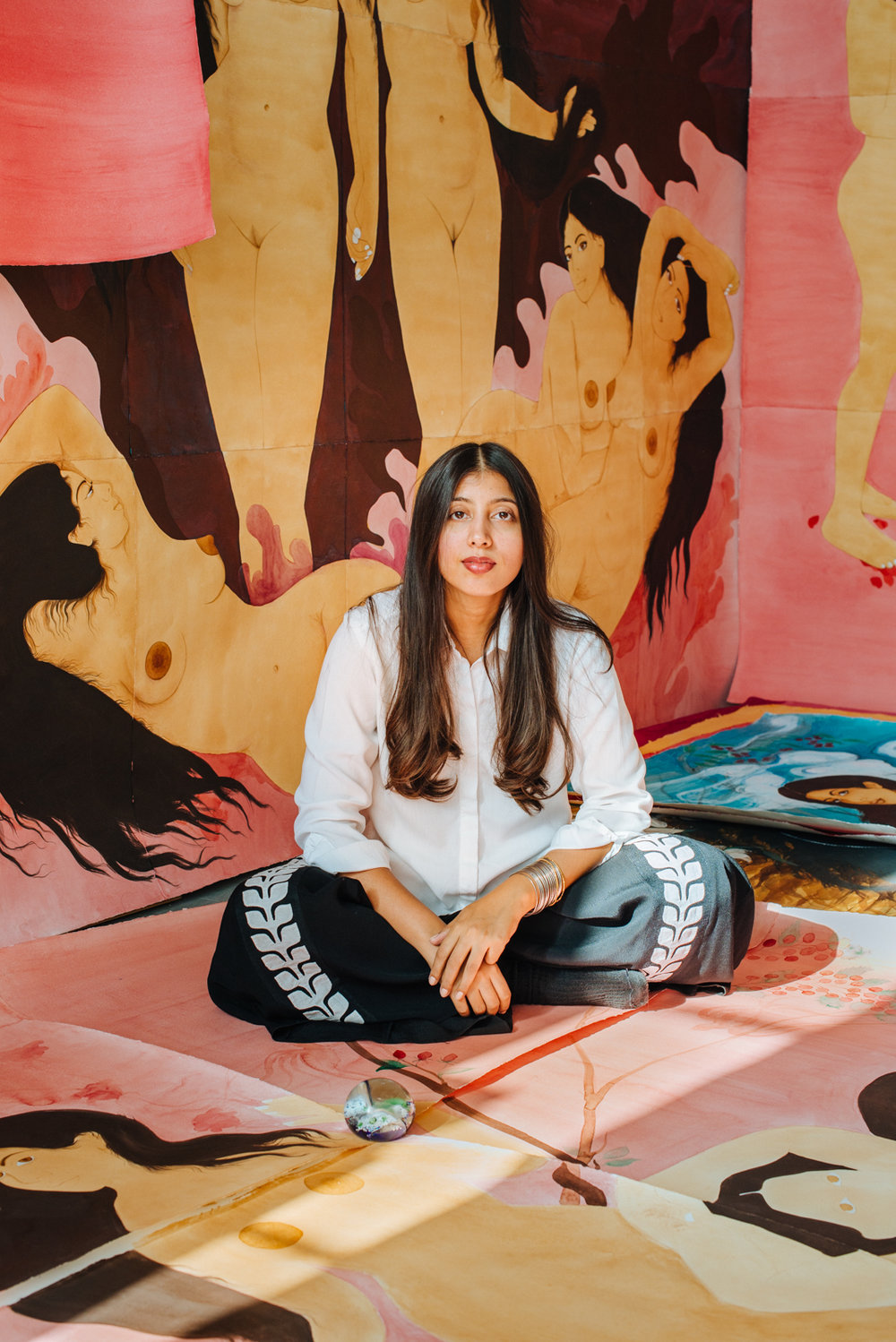 Beyond each individual narrative, the canvases themselves serve almost as emotional votives; through the pieces themselves Schahbaz creates a collective consciousness of women. "Painting has become a sanctuary," says Schahbaz of her new work, "like a garden I'm growing in the studio. There's so much suffering right now and to create a healing counterpoint to that has been part of my conscience during this time."
Last summer, we visited the artist in her studio during her initial transitional period and discussed how she found her inner voice, and recontextualized her art form to accept and embrace a female perspective. In this interview, we revisit the artist to explore her own personal and creative breakthroughs as she continues to unfold a narrative that transcends cultural and political boundaries.
Dreaming will be on display at 507 West 27th Street until 10 October, as well as in De Buck's virtual viewing room as part of the gallery's digital programming.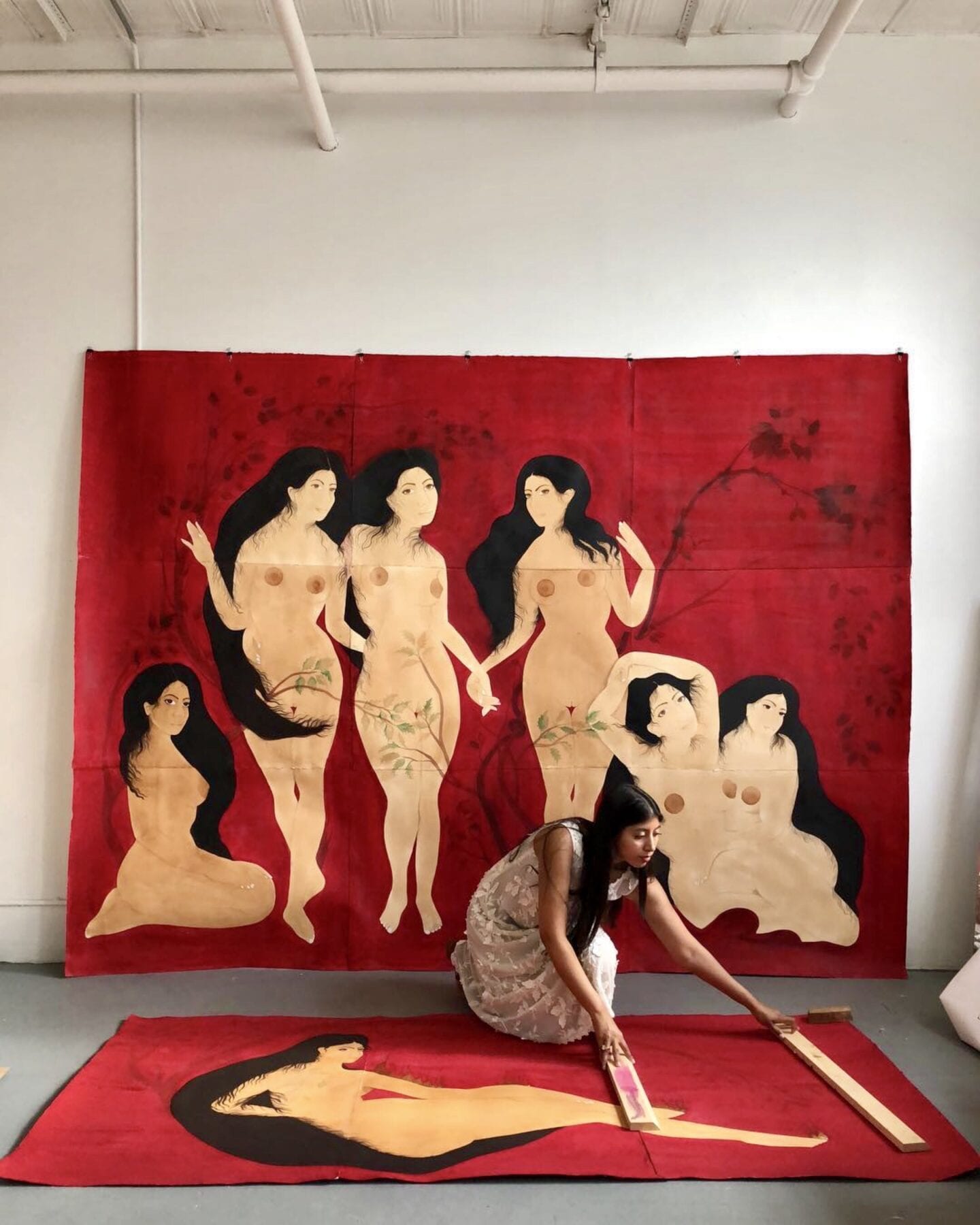 What was the emotional connection between the shift in medium from paper works to large figurative oils?
I started painting in oils in spring of 2019. It was an emotionally tumultuous time and paper is such a beautiful and delicate medium, I needed to express myself in a different way and so I found myself gravitating towards oil painting. Although I trained as a miniature painter, a lot of my recent works have been life-size. My recent paper works were larger than life. They remain delicate, even though they are life-size. I continued working on that scale when I transitioned to oil painting.
My online spring show with De Buck Gallery was all miniatures and those small paintings come from a more meditative space. I feel like when I'm working really small, I go into an extremely centered and calm state. When I'm working large, the work becomes more physical and I enter a flow state with the medium.
I feel like the emotional connection with the work shifts. In the smaller works, there's a lot more narrative in them, which is more personal, and when she becomes larger, she becomes more archetypal and much more representative of all women. I've been lucky enough to share life experiences and stories with so many women and I feel their experiences are reflected in these new works. That's interesting to me because I wasn't expecting that.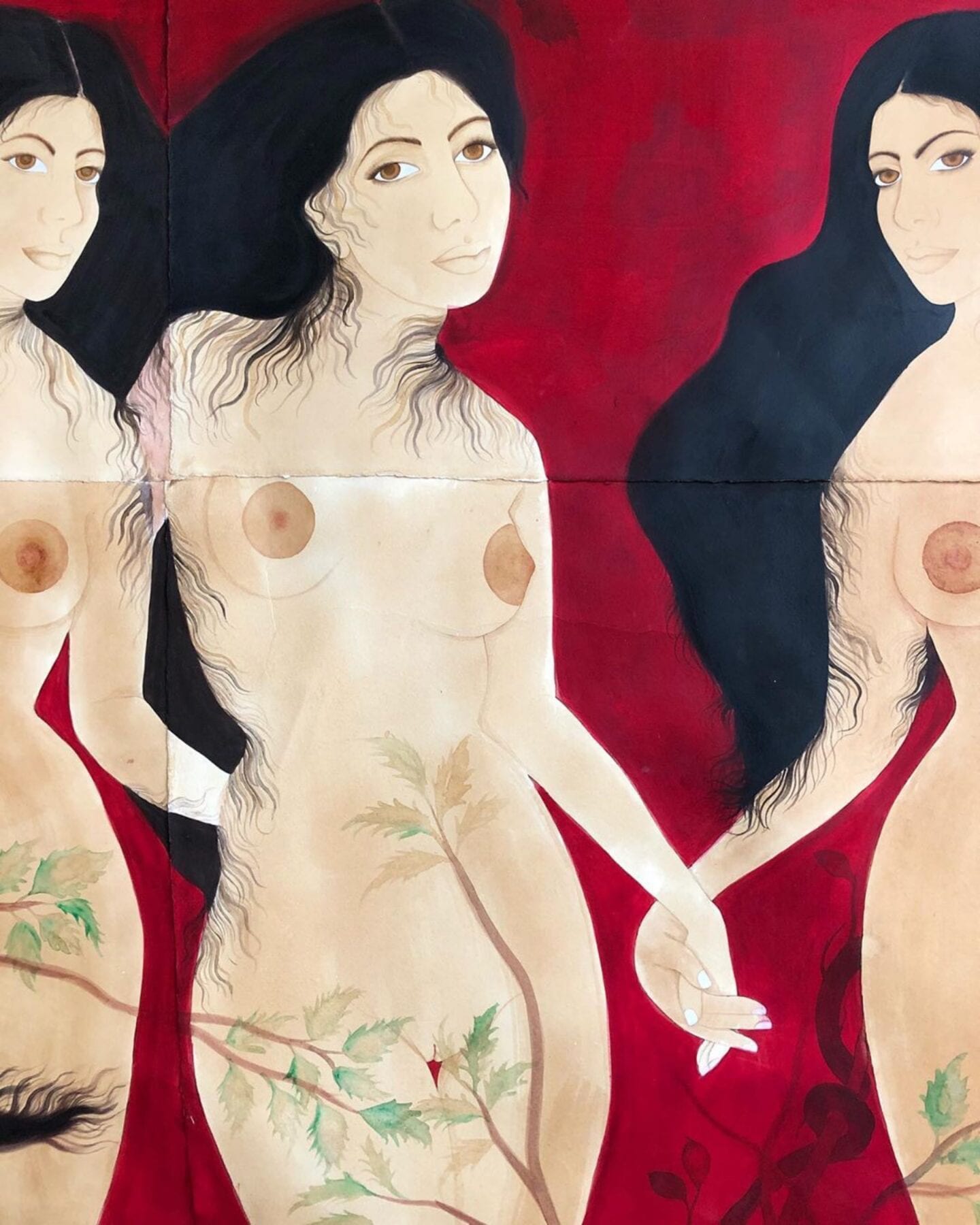 Tell us about how you were recently repainting a work at the gallery.
For me, emotionally, she wasn't really done and as the gallery was closed over Labor Day weekend, I had a few days to work on her while there was no one there. It's important to me that the work feels complete when it goes up for exhibition. As an artist I struggle with knowing when a painting is done and I need to be able to feel it when I let go. Including this painting in the exhibition was a last-minute decision- I was painting it until the day before it left the studio for the gallery. I started working on her pre-Covid and then I sanded her down and repainted the piece. And I wasn't even sure if it was going to be in the show, but then right towards the end, I thought if I don't make this painting now, she's going to get left behind, and she was important. It was a bit of a gamble, but I just kind of went for it.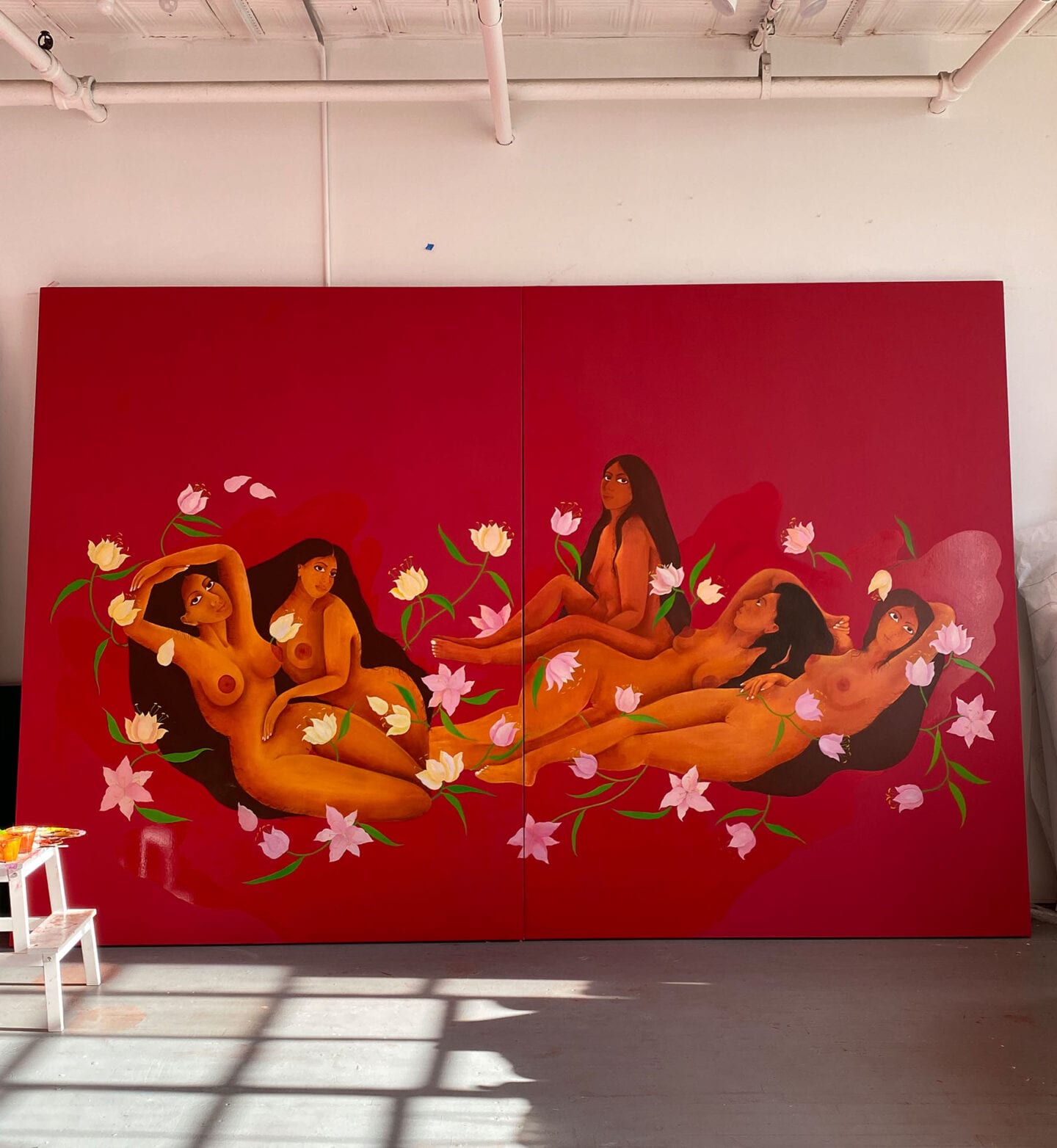 I remember seeing the comments on your Instagram video and one person said: 'Don't touch it! It's perfect.'
[laughs] It's a thing though. I feel like as an artist, when you're showing work that is so fresh, you're self-critical because you want to be able to stand behind everything you do. I like to be able to sit with paintings before I show them. I was committed to completing this painting for this show because I felt like she was an important part of this body of work. I wanted her to be there.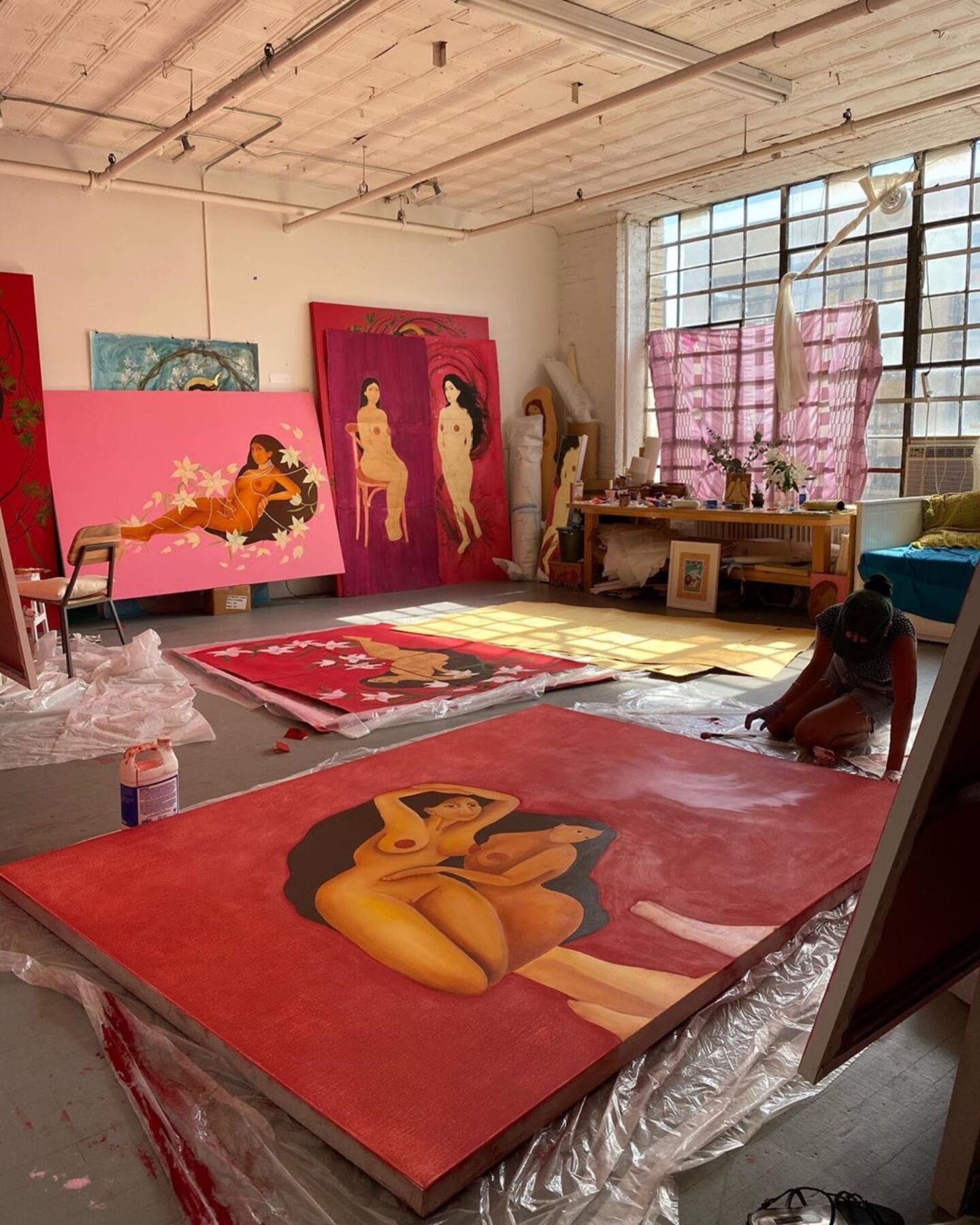 Explain your artistic influence. How did this develop into your signature style?
I was drawing myself since I was really young and then, it just kind of took a life of its own. My background is in miniature paintings and Islamic art which I explored during my undergraduate studies in Pakistan. I've always been involved with the female body and painted it and this exploration has continued throughout my life. My most recent works pull from European art history as well as the language of Indo-Persian painting. Now that I'm living in New York, I have more access to museums and galleries and a lot of the old master paintings that I have referred to I have seen in person in different institutions.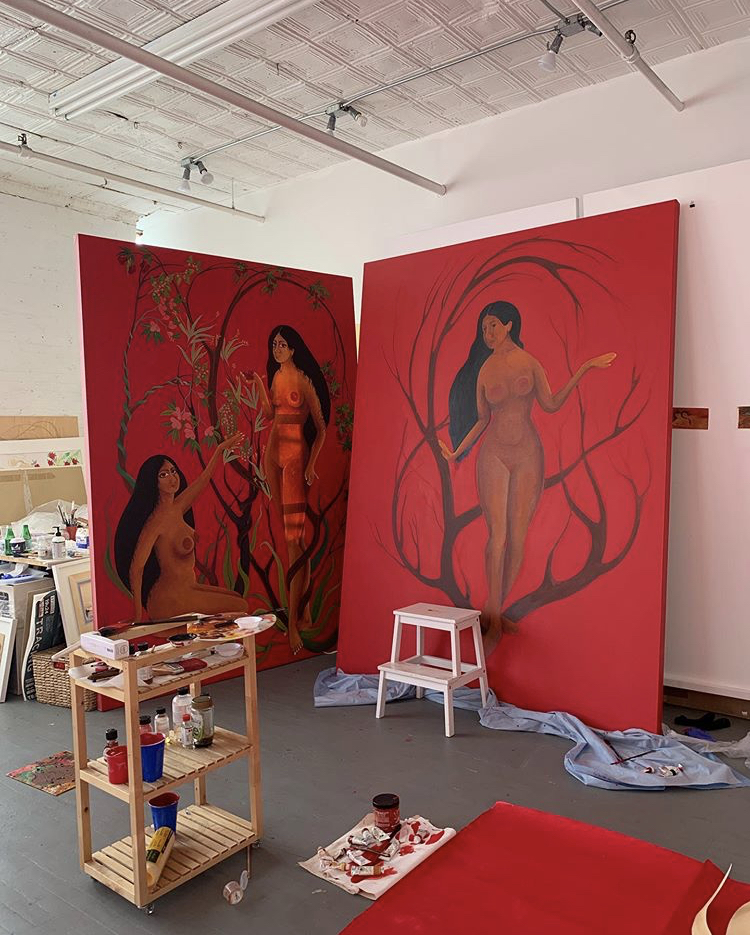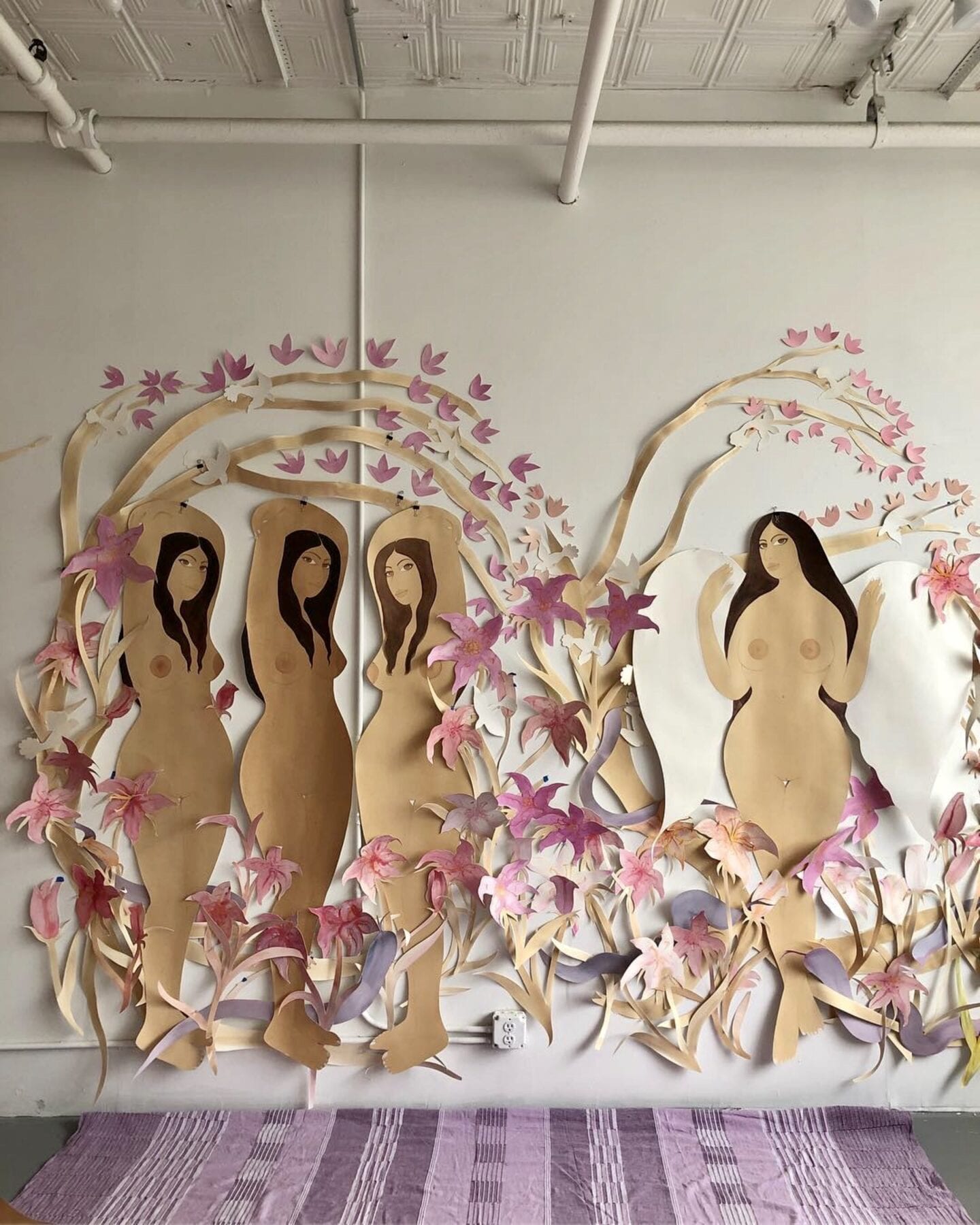 You have a lot of animals, trees, flowers, and fruit in your paintings. What is the significance of these to you?
I always feel nature is so perfect and I think I have always tried to bring that into the studio. I love lilies, they are my mum in laws favourite flowers. I like to paint imagery that reminds me of home. When I began making cut paper installations I was making them for myself, not for exhibition. It was post-election and everyone was feeling so heavy and upset. I don't want to make political paintings but I wanted to make something which felt safe for women, a beautiful space for women to be in. The day after the election, I had two curators come into my studio and they were both crying, both women. I think a lot of it is what I want in my immediate surroundings, what is going to give me a sense of peace.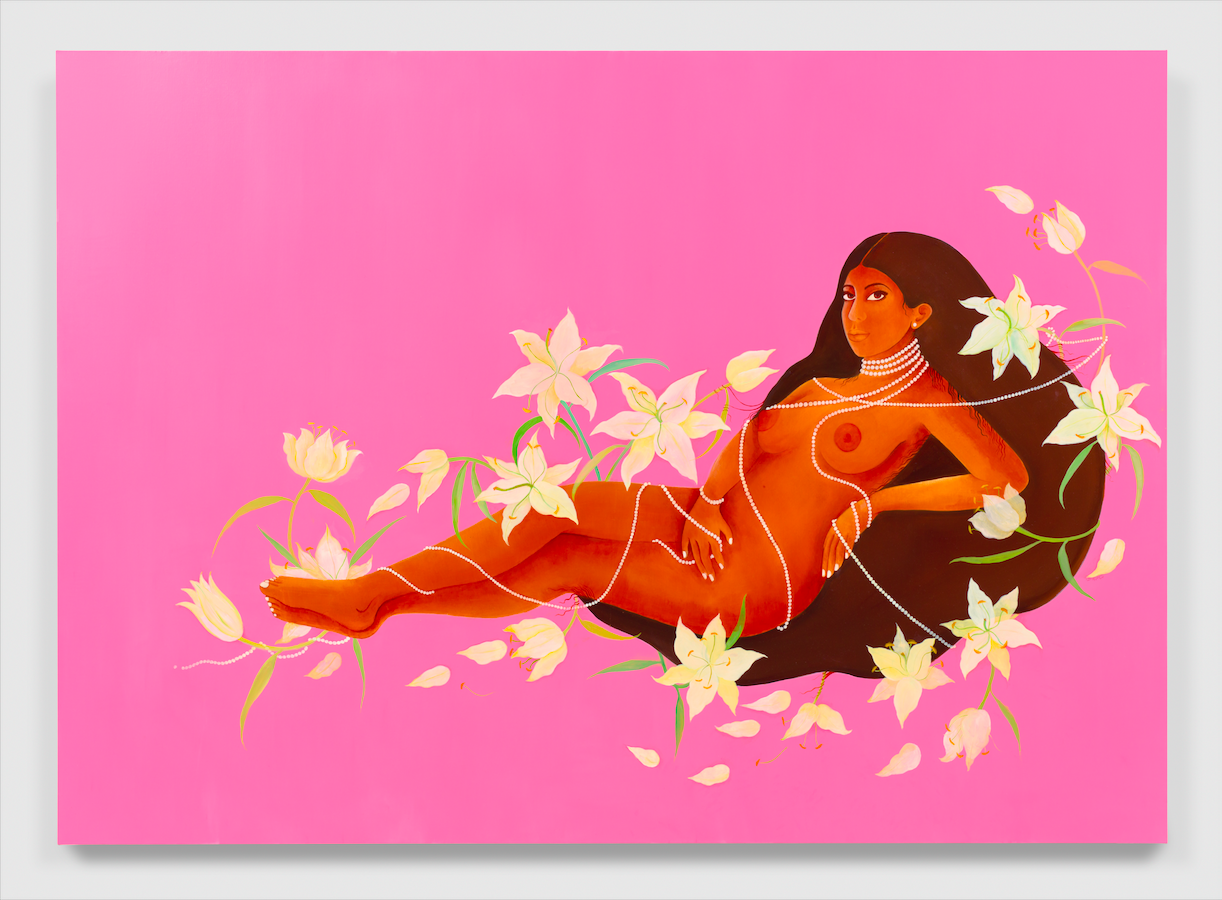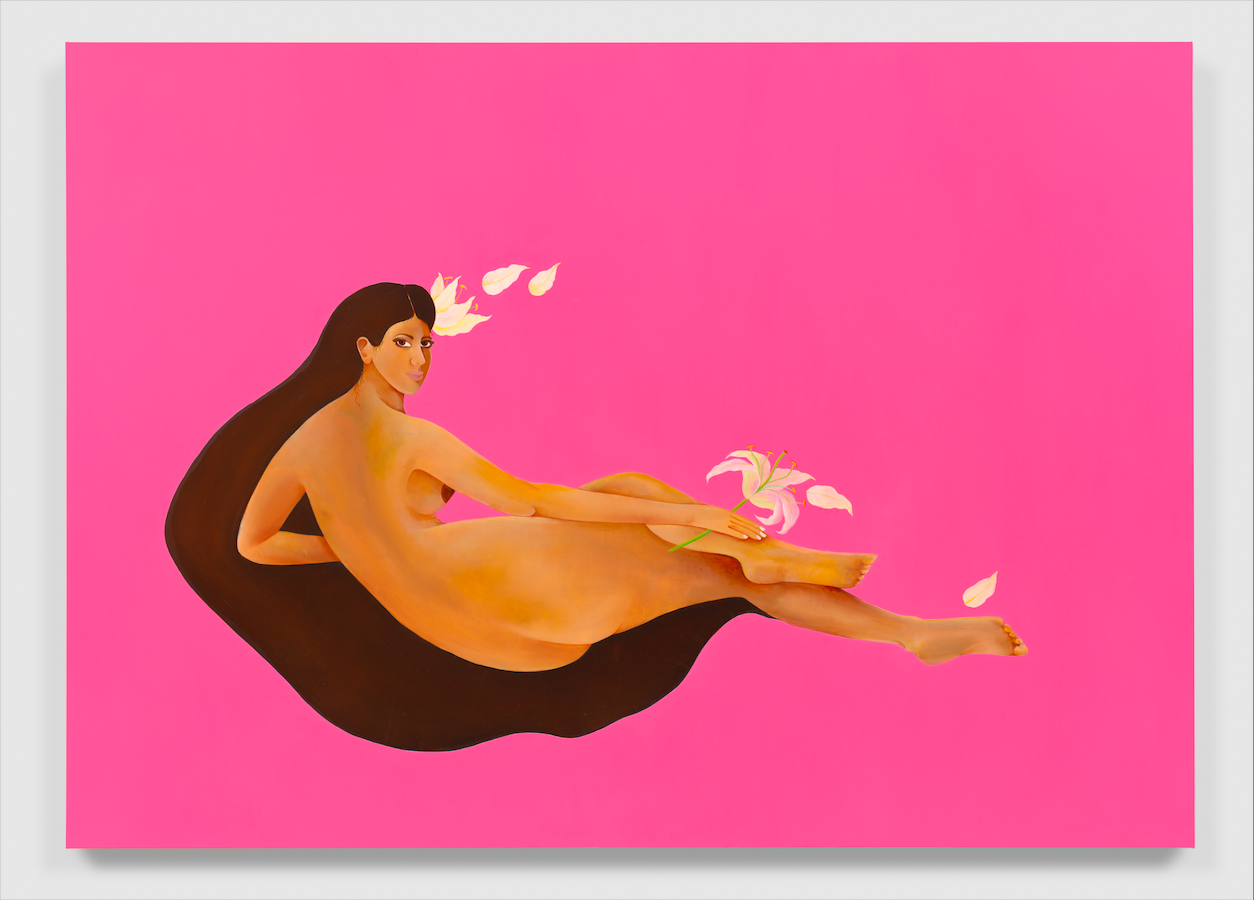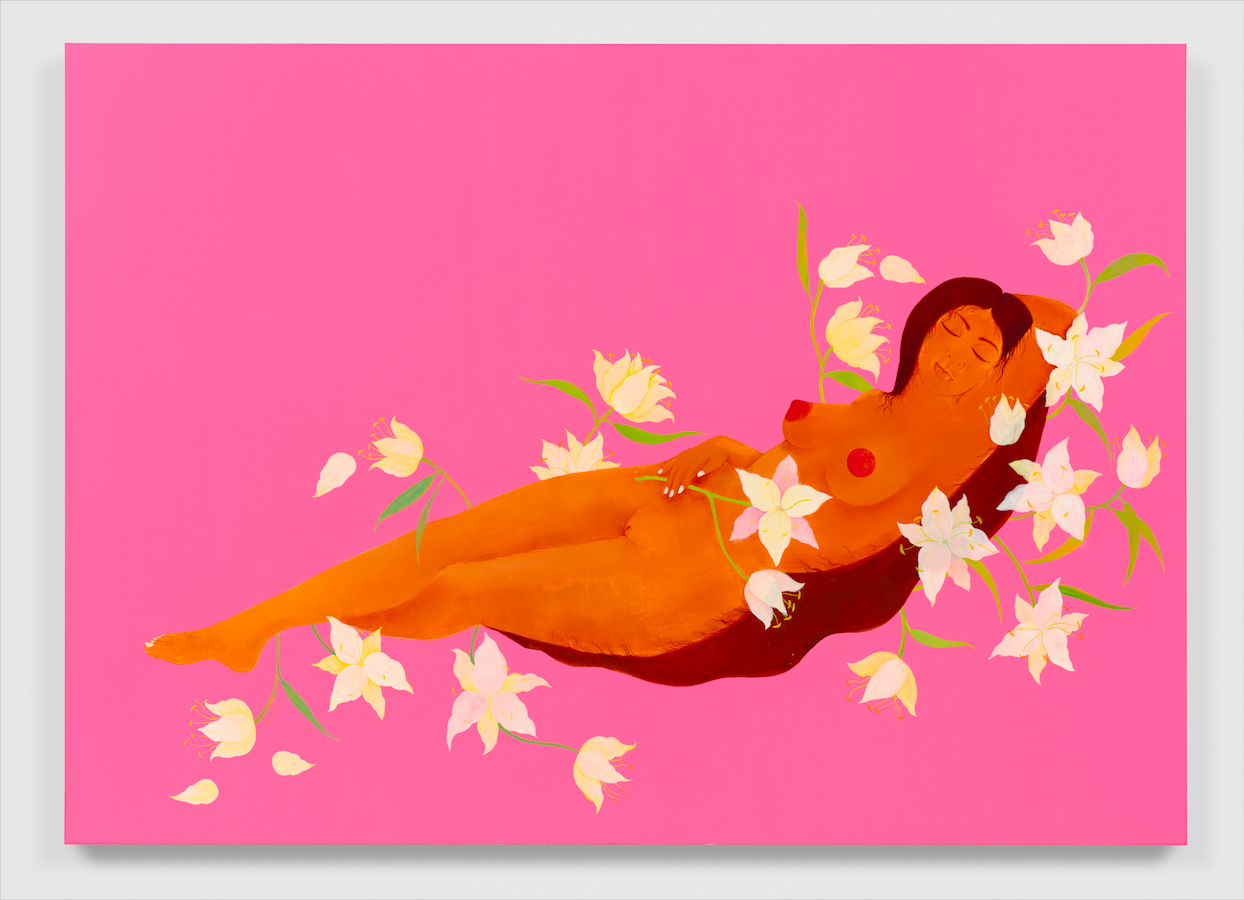 Do you have any morning rituals that you integrate into your day?
I meditate twice a day. I usually listen to guided meditations. I have a healer who is really amazing and I meditate with him in the mornings. Before I start my day I need some time to center myself.
When you're not painting in the studio, what do you do for fun?
I'd like to go paragliding, I love the feeling of being in the sky. It can't be a mental thing, because my mind wanders back to painting. I need a physical thing I can do, which takes my mind away from work. What better way to do that then do something that is totally drastic!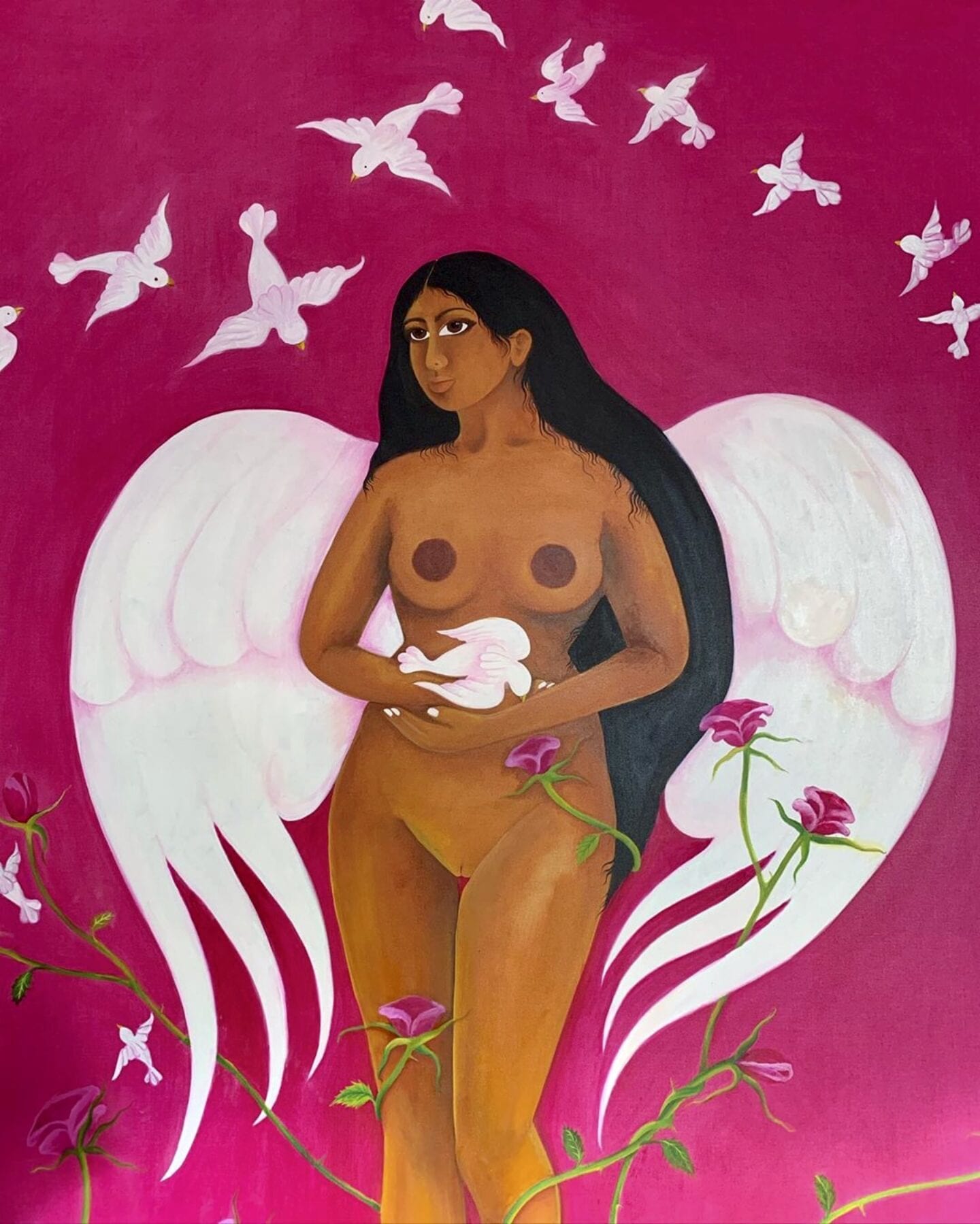 Who are your favorite female artists?
There was a Frida Kahlo show at the Brooklyn Museum that I really loved and I spent a lot of time with her paintings there. I visited the Hilma af Klint show at the Guggenheim. It was a beautiful show full of works on paper works and the energy in the museum was almost cosmic. I loved the Florine Stettheimer show at the Jewish Museum. Those three are some of my favorite shows that I've seen of women artists recently in New York.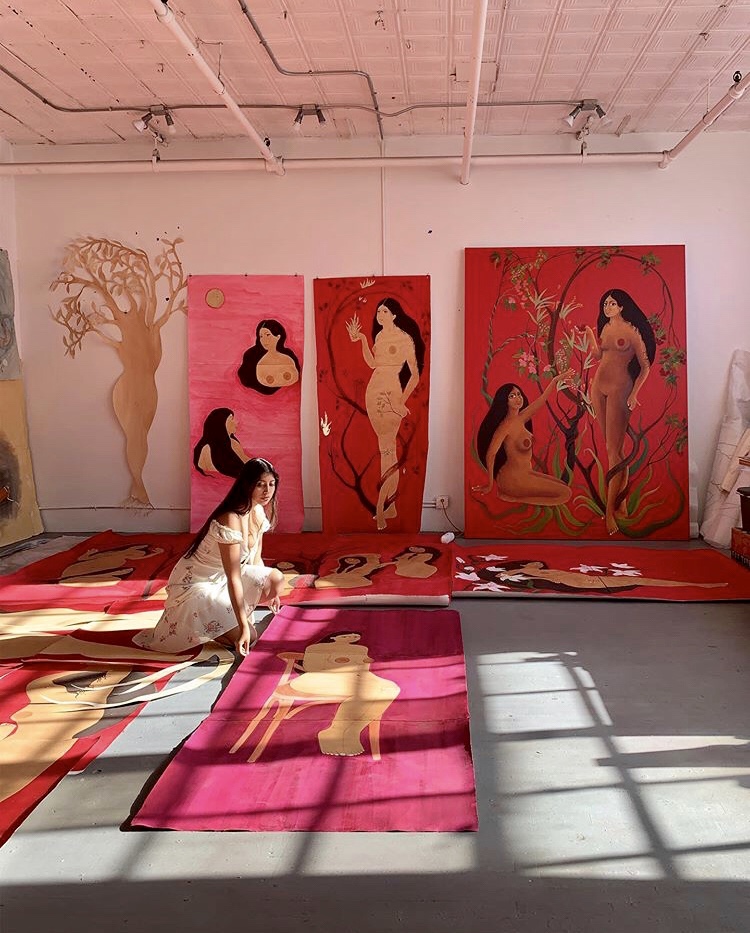 Do you find a lot of South Asian women who are inspired by your work?
I get a lot of messages from women from all over the world who connect with and want to know more about my paintings. Some of these women are South Asian and appreciate that they are being represented positively. I also feel like people can identify with the paintings without understanding why they are identifying with them. There's a strange connection that runs through the work for women, and I love that.