Women Artists Dominate the Scene of New York's May Auctions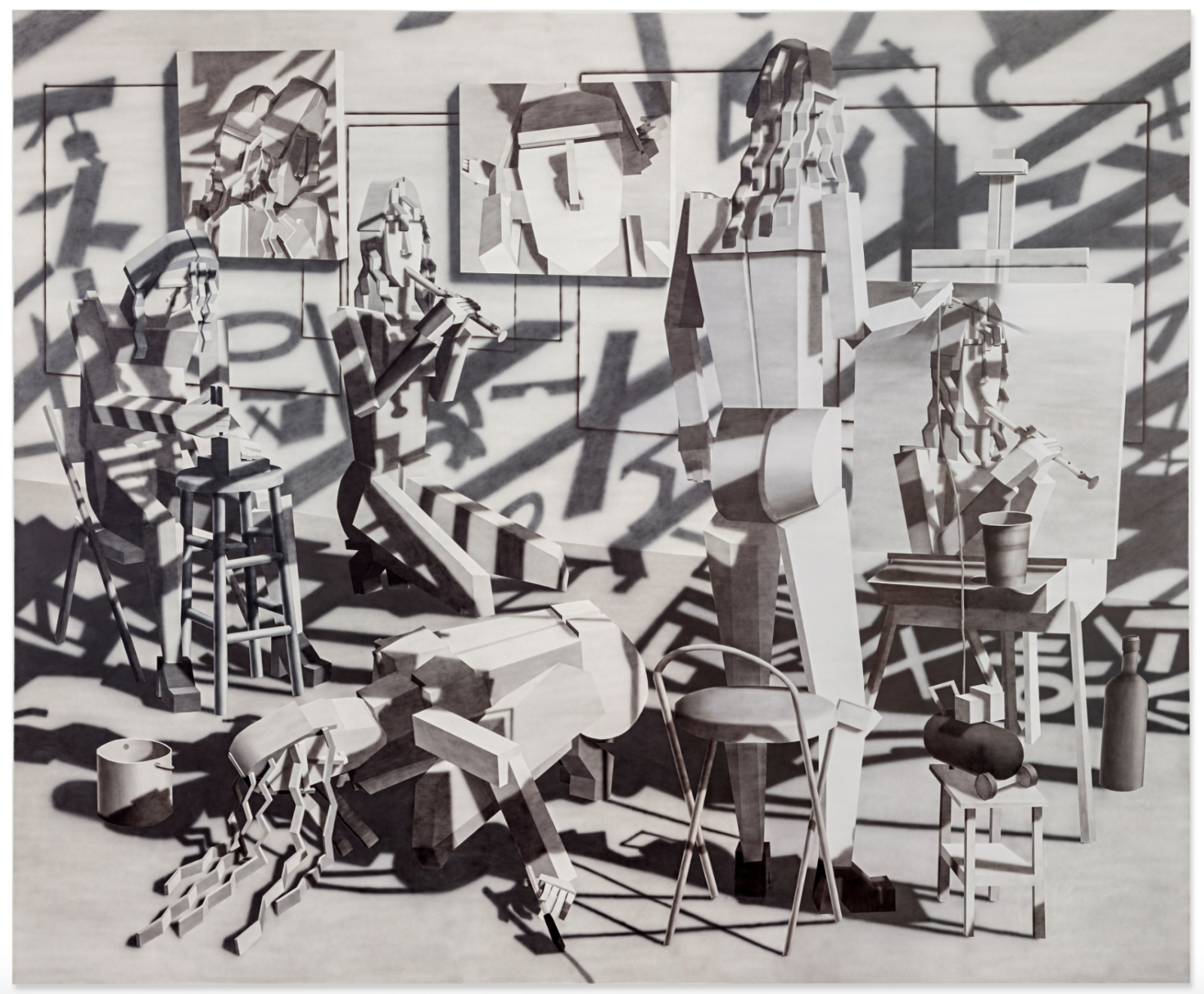 Avery Singer, Happening, 2014 - Lot sold: 5,253,000 USD at Sotheby's The Now Evening auction, 19 May 2022
Works by female artists have been long underrated in the art market. The recent May auctions finally showed an inversion of this trend.
---
There is no question that works by female artists have been notoriously underrepresented in the art market in comparison to those of their male counterparts. Nevertheless, in the wake of unprecedented social reckoning in recent years, female artists have slowly but surely been getting their due on the auction block.
Following the two blockbuster weeks of marquee evening sales at the major auction houses that ended last week in Manhattan, the buzz surrounding works by female artists was particularly evident.
Behind the quality of works at hand, the scarcity of availability created a perfect storm where demand crashed into lack of supply. From that, nominal records were not only set, but also re-set for blue-chip and emerging female artists alike. Part of my work at Palmieri Fine Art involves not only looking at auction results, but also analyzing and trying to understand how those results happened. Though auction houses may know interest and registered bidders prior to the sales, nothing can be truly captured unless you are watching in real-time, and the desire and fierce competition for certain works this season and the depth we saw in the sales rooms was unrivaled.
This high-volume of bids came in particularly for works by speculative and young contemporary artists who undoubtedly dominated forces during this season's sales. We have indeed seen the thirst for these works grow in recent years, with Phillips setting the bar high when works by many of these wet-paint artists dominated their sales during the height of the pandemic.
Jumping on Phillips' bandwagon, Sotheby's established "The Now" evening auction last November which, according to Sotheby's, "focuses on the art of our time, offering the most exciting, cutting-edge works on the market." Notably, the second edition of the sale which sold last Thursday included nearly 60% of works created by women artists, which Sotheby's claimed marked the largest percentage of female artists to ever appear in an evening sale—a statistic that Sotheby's seemed to have been especially proud of.
The sale brought in nine auction records, six of which were works by women artists. Many new and familiar names appeared in not only this sale, but across the auction block at Christie's and Phillips as well.
Here are names and journey up to the rostrum.
A Stellar Newcomer: Anna Weyant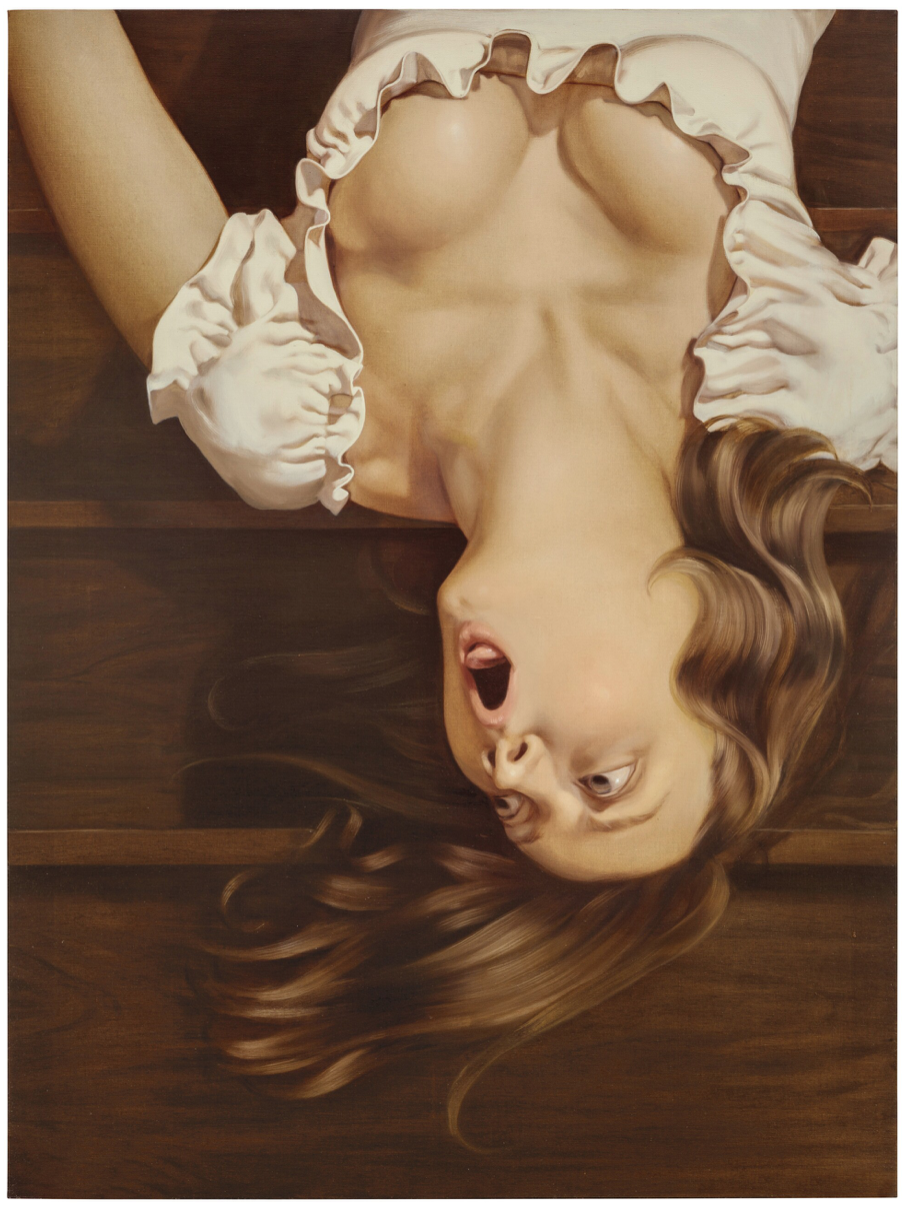 A newcomer to the auction market, 27-year-old artist Anna Weyant most recently became the youngest artist to join Gagosian's gallery roster, whose titular principal just so happens to be her boyfriend. Weyant sold three works across the marquee sales, each of which beat their prior records and held the coveted placement as the first lot in each respective sale. First, bringing in at least 8 bidders on the phone across the New York, London, and Hong Kong sales rooms and eclipsing its presale estimate in a matter of seconds, Summertime, 2020 sold at Christie's 21st Century Evening Sale to Hong Kong specialist Wendy Fang's telephone bidder for $1.5 million, 7.5x its published presale low estimate. This was the record for the artist at the time, only to have been surpassed when Falling Woman, 2020, which sold in Sotheby's The Now Evening Sale for $1.6 million, 10.8x its published presale low estimate. Barking at auctioneer Michael Macaulay like hungry wolves, at least 7 telephone bidders bid on the work which ultimately sold to an online bidder. The third record price was later achieved at Phillips Contemporary Evening Sale when Weyant's still life, Buffet II sold for $730,800 against its $100,000-150,000 presale estimate. Though the Phillips work did not surpass the other two records, we recorded even more bidders, 9 in total, who were not just in the global sales rooms, but also in the room and multiple bidders online.
The Latin Wave: María Berrío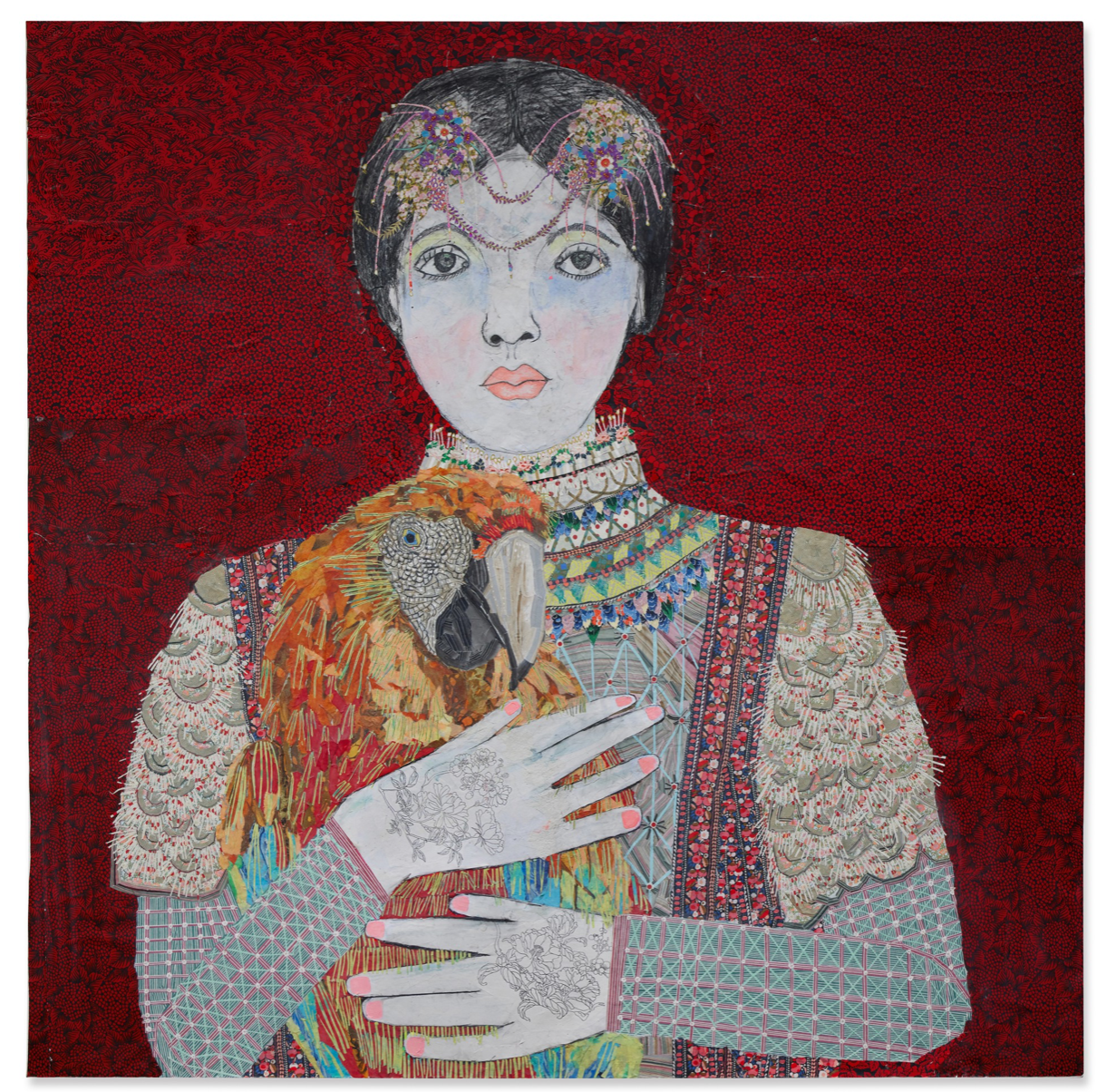 New York-based Columbian artist María Berrío, who only appeared at auction for the first time in November 2021, also made records this season for her densely textured Japanese paper collages on canvas. Berrío recently became more desirable on the market after Sotheby's sold La Cena in their March 2022 mid-season sale for $1.5 million against a $350,000-450,000 estimate. This currently remains the record price for the artist after bringing in 5 competitive bidders. This season, Christie's offered the large-scale 2011 canvas The Celebration at their 21st Century Evening Sale, which sold for $1.3 million against a presale $500,000-700,000 estimate. This is now the second record price for the artist at auction. Sotheby's additionally offered The Lovers 4, 2016 at their The Now Evening Sale which achieved $1 million, more than 3x its published presale low estimate. As opposed to just a quartet of telephone bidders that Christie's had the week prior, The Lovers 4—a more domestically scaled painting than The Celebration and Phillips' undermentioned Burrow of the Yellow—brought in 7 total bidders, 3 of which were in the room, and ultimately sold to Claudia Dwek's telephone. This is now the fourth record price for the artist at auction. The fifth record price was later made when Phillips offered Burrow of the Yellow, 2013 which sold for $998,000, nearly 2.5x its published presale low estimate.
The Fantastical Landscapes by Shara Hughes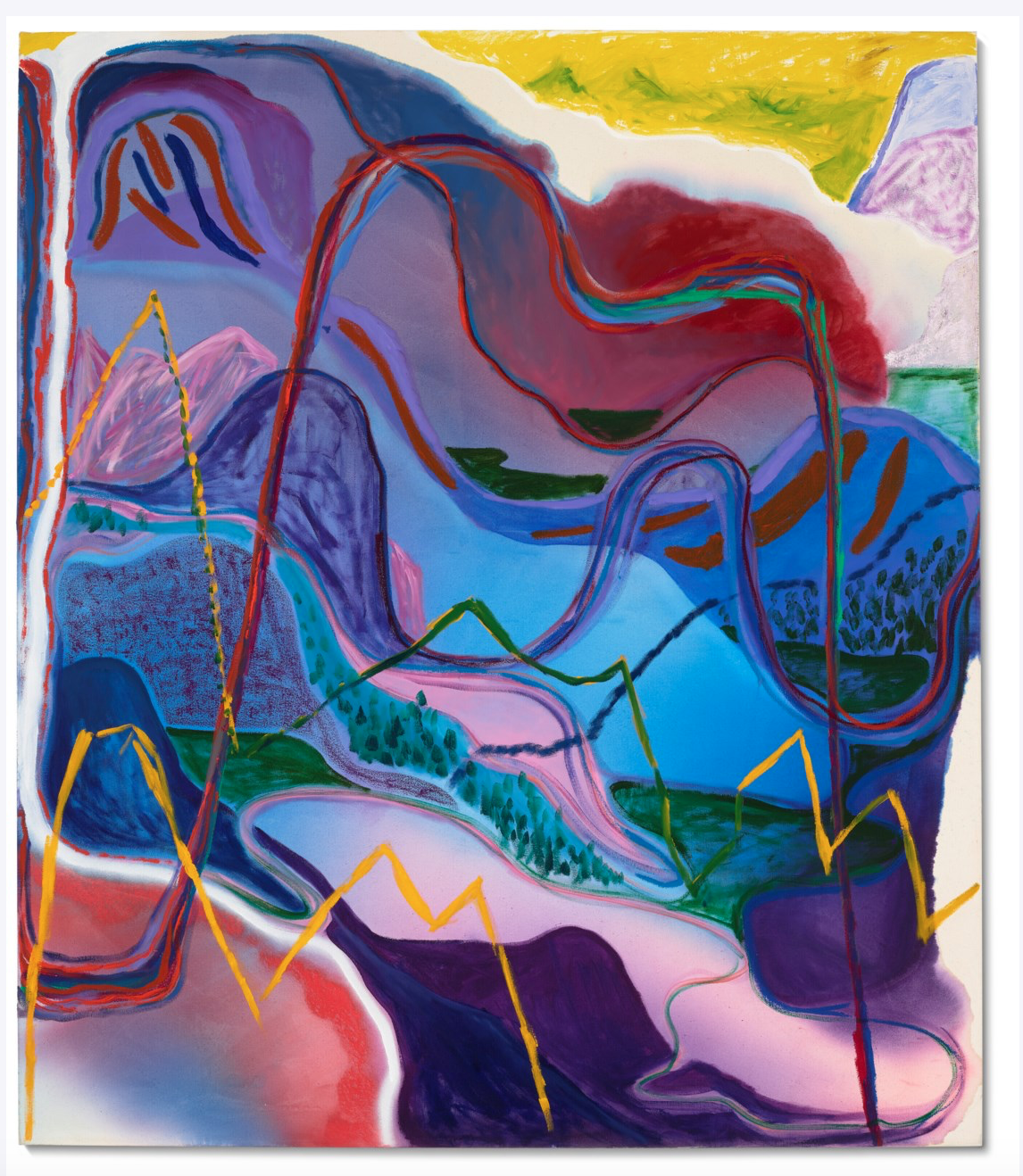 Shara Hughes is another female artist whose fantastical landscapes have been highly celebrated at auction, which predominantly came on the heels of her 2017 inclusion in the Whitney Biennial. Co-represented by both David Kordansky, Los Angeles, and Pilar Corrias, London, Hughes particularly saw astronomical prices in 2020 when her works were selling 5 to nearly 12x her presale estimates. This sales season, Christie's 21st Century Evening Sale set a new record price for the artist when Spins from Swiss, 2017 brought in no less than 6 bidders from Asia, Europe, and the States and sold for $2.9 million, 5.9x its published presale low estimate. Phillips Contemporary Evening Sale later sold another 2017 landscape, The Not Dark Spots, for $1.6 million after a seven-minute bidding war between an octagon of bidders and ultimately ending between Lauren Peterson and Kevie Yang's telephones. Lauren's phone ultimately won the lot for over 5x its published presale estimate. This became the fourth record price for the artist at auction. Sotheby's additionally offered I am an Island in their The Now Evening Sale. An arguably more sparse painting than the paintings at Christie's and Phillips, the work still surpassed its estimate of $250,000-350,000, selling for $693,000 and brought in 4 recorded bidders. 
The Year Of Christina Quarles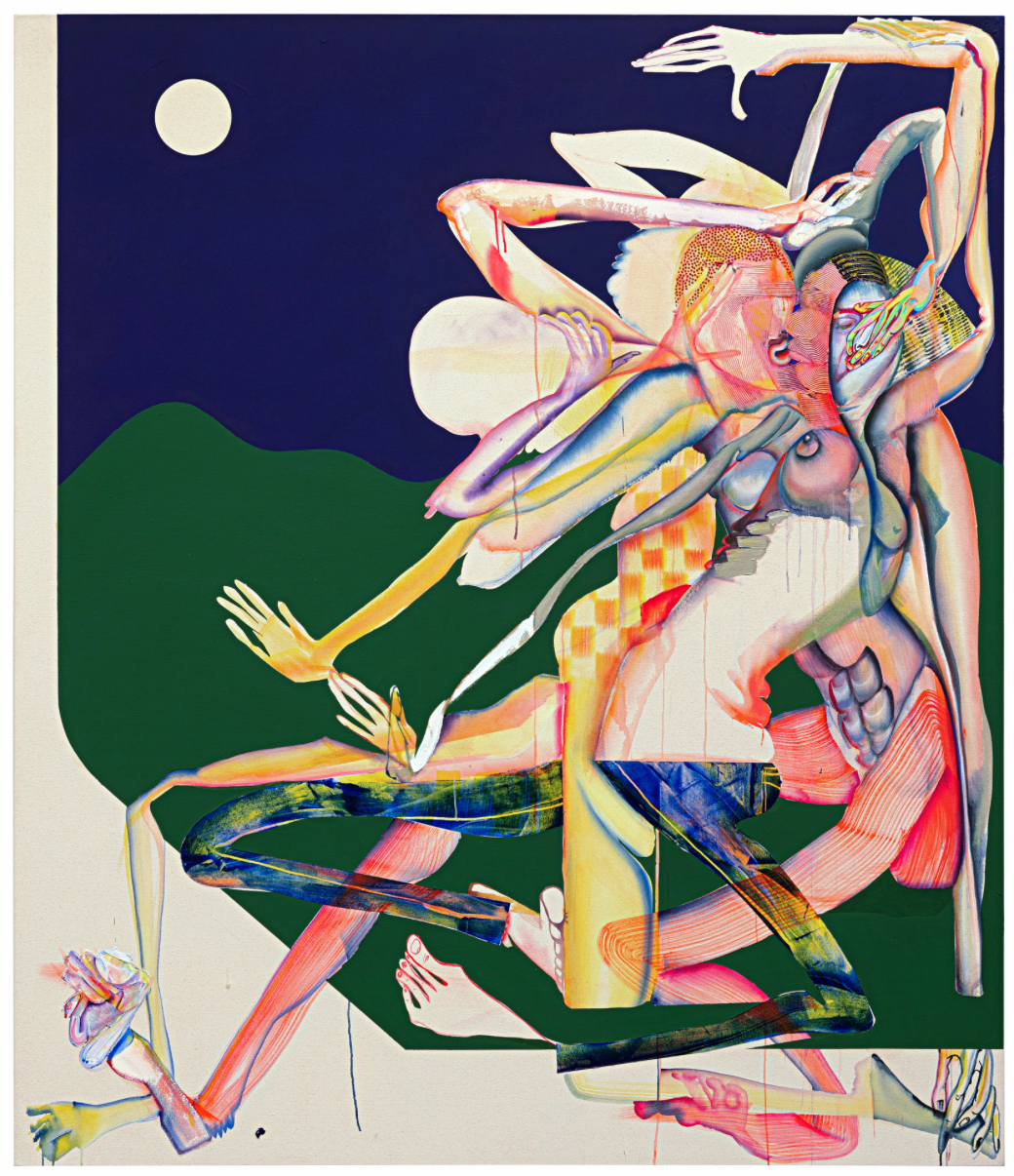 Where the 2020 market seemed to be the "Year of Shara Hughes," and 2021 was "The Year of Jadé Fadojutimi" (who, surprisingly, we did not see much of this season), 2022 may or may not now be the "Year of Christina Quarles." Co-represented by Hauser & Wirth, New York and Pilar Corrias, London, Quarles' paintings have only appeared at auction less than a dozen times, with only one work coming up this season. Arguably the highlight of Sotheby's The Now Evening Sale, Night Fell Upon Us Up On Us, 2019 brought in nearly 10 bidders in numerous places, and ended in a bidding war between David Rothschild, Brooke Lampley, and Alex Branczik's phones. David Rothschild's bidder ultimately won the lot for $4.5 million, 7.5x its published presale low estimate. The artist's previous record, 6.5x lower than this new record, was just $685k, having brought in 5 competitive bidders at Sotheby's first-ever The Now Evening Sale last November. Night Fell Upon Us Up On Us was seen recently displayed in a show of works owned by a deeply respected Texas collector and sold not three years earlier at the Regen Projects booth at Art Basel Miami Beach for much, much less.
The Golden Lion Winner: Simone Leigh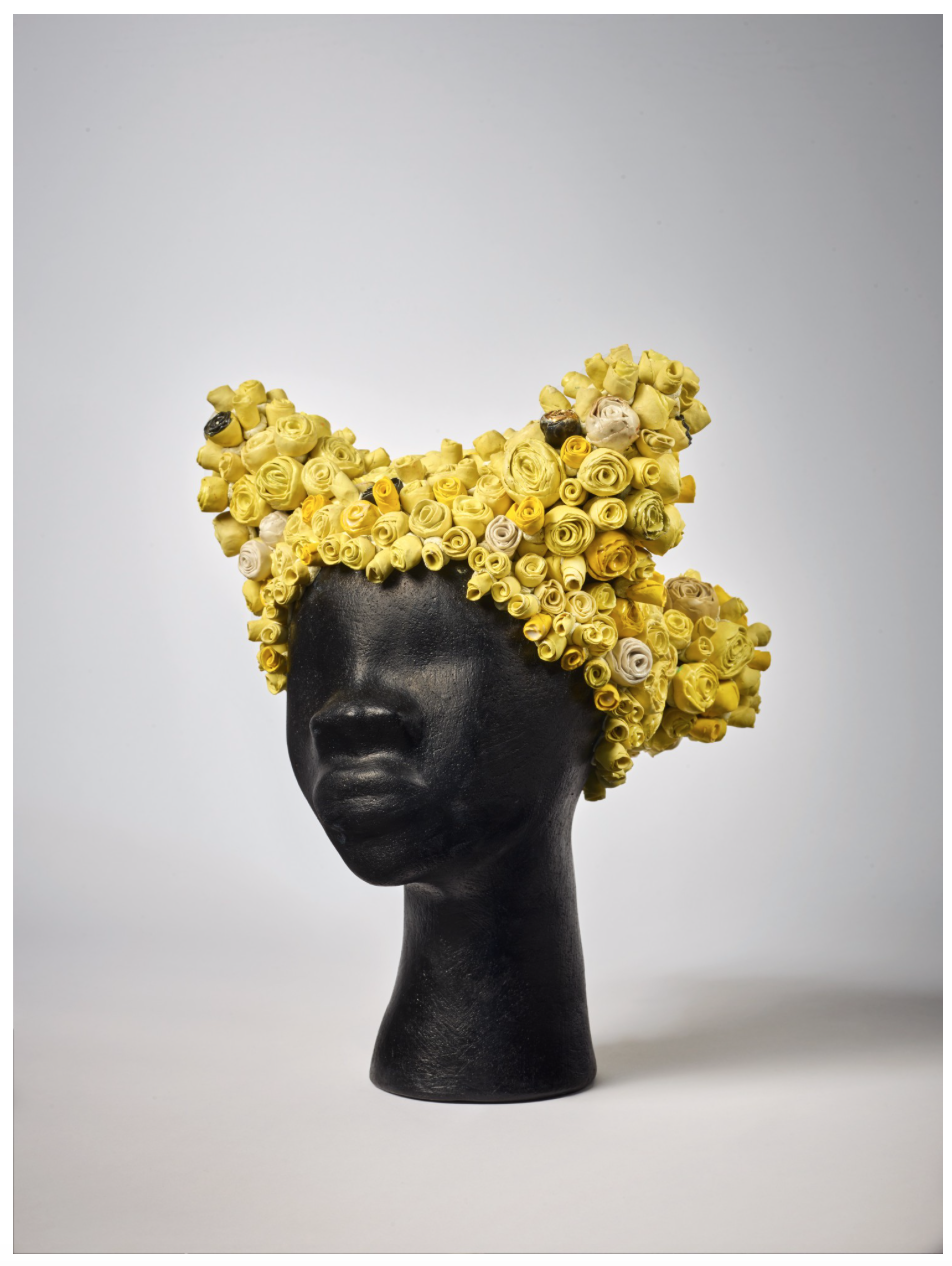 An additional bidding war was spawned at Sotheby's The Now Sale on Thursday when they offered a work by Simone Leigh, the newly awarded Golden Lion winner at the Venice Biennale. Again, the only work by the artist offered at auction this season, Birmingham, 2012 featured a bust of a black women adorned with vibrant yellow porcelain flowers and titled after the 1963 terrorist bombing of the 16th Baptist Church in Birmingham, Alabama, which killed four black girls. Blowing past estimate in a matter of seconds, the work brought in at least 7 recorded bidders and sold for nearly 10x its estimate for $2.1 million. This is the first time Leigh's work has surpassed the million-dollar threshold at auction, with her previous record being at Sotheby's New York in 2020 when No Face (House) sold for $403k, with proceeds having gone to benefit the High Line in New York City.
Helen Frankenthaler's New Record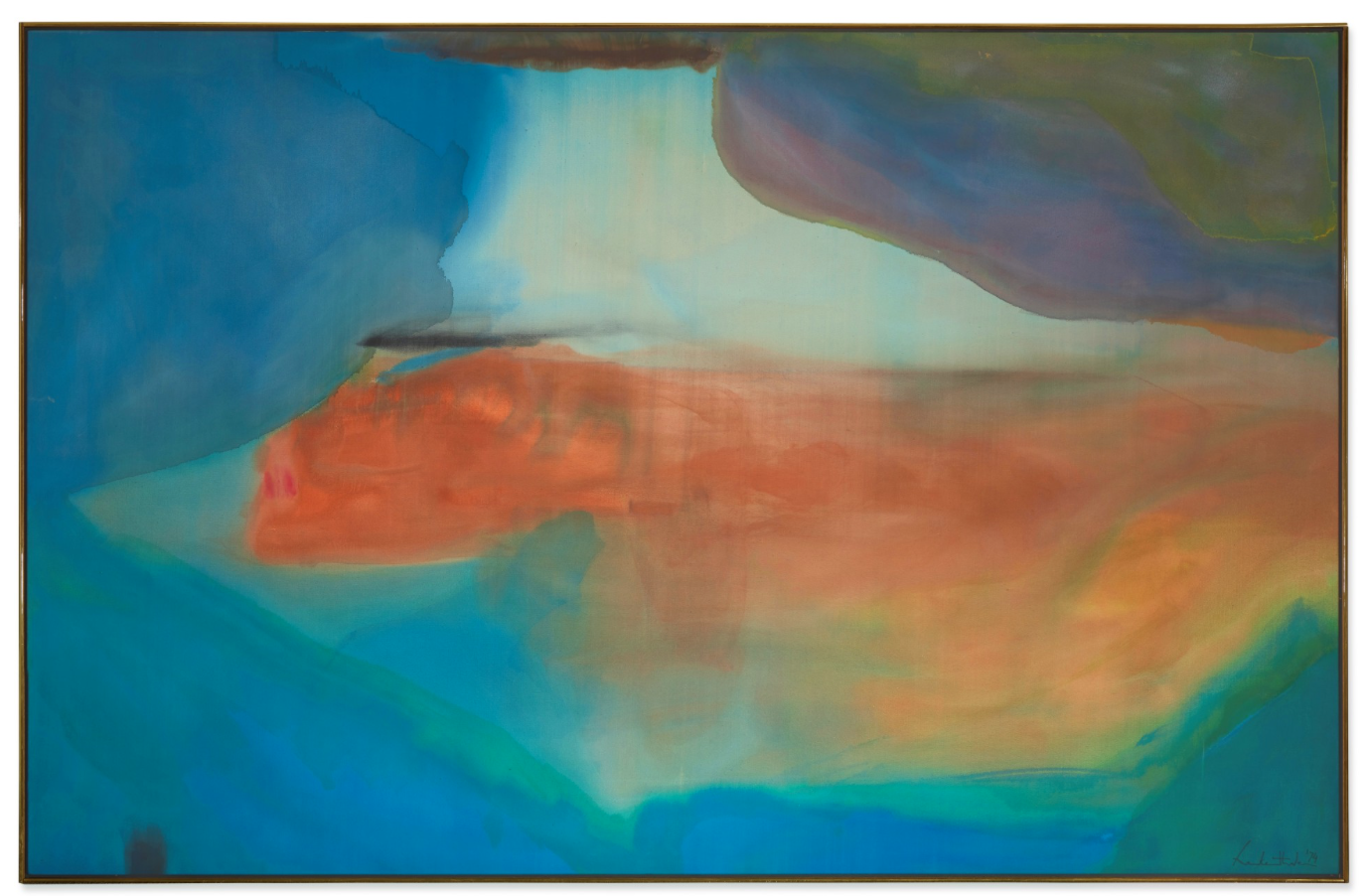 Likewise, though not locking in just as much of a heated embrace as the aforementioned artists, female Abstract Expressionists still saw an influx in prices at auction this season, a recent shift that has succeeded in many recent major institutional shows alongside the 2018 release of Mary Gabriel's 2018 book Ninth Street Women that shined light on the female Abstract Expressionists who worked alongside their celebrated male counterparts. As such, Grace Hartigan made a record price at Christie's 20th Century Evening Sale when Early November, 1959 sold for $1.1 million, with her prior auction record being just $687k at Christie's New York in May 2021. Helen Frankenthaler also performed well this season, where 8 paintings of hers were offered across Christie's, Phillips, and Sotheby's evening and day sales. Her large-scale canvas Circe, 1974 sold at Sotheby's Contemporary Evening Sale on Thursday for $4.7 million, nearly doubling its published presale low estimate. Having brought in 5 frenzied bidders, this is now the third record price for Frankenthaler at auction, with the top two being recently in June 2020 and November 2021 alike.
Rediscovered Women Surrealists: Dorothea Tanning & Leonora Carrington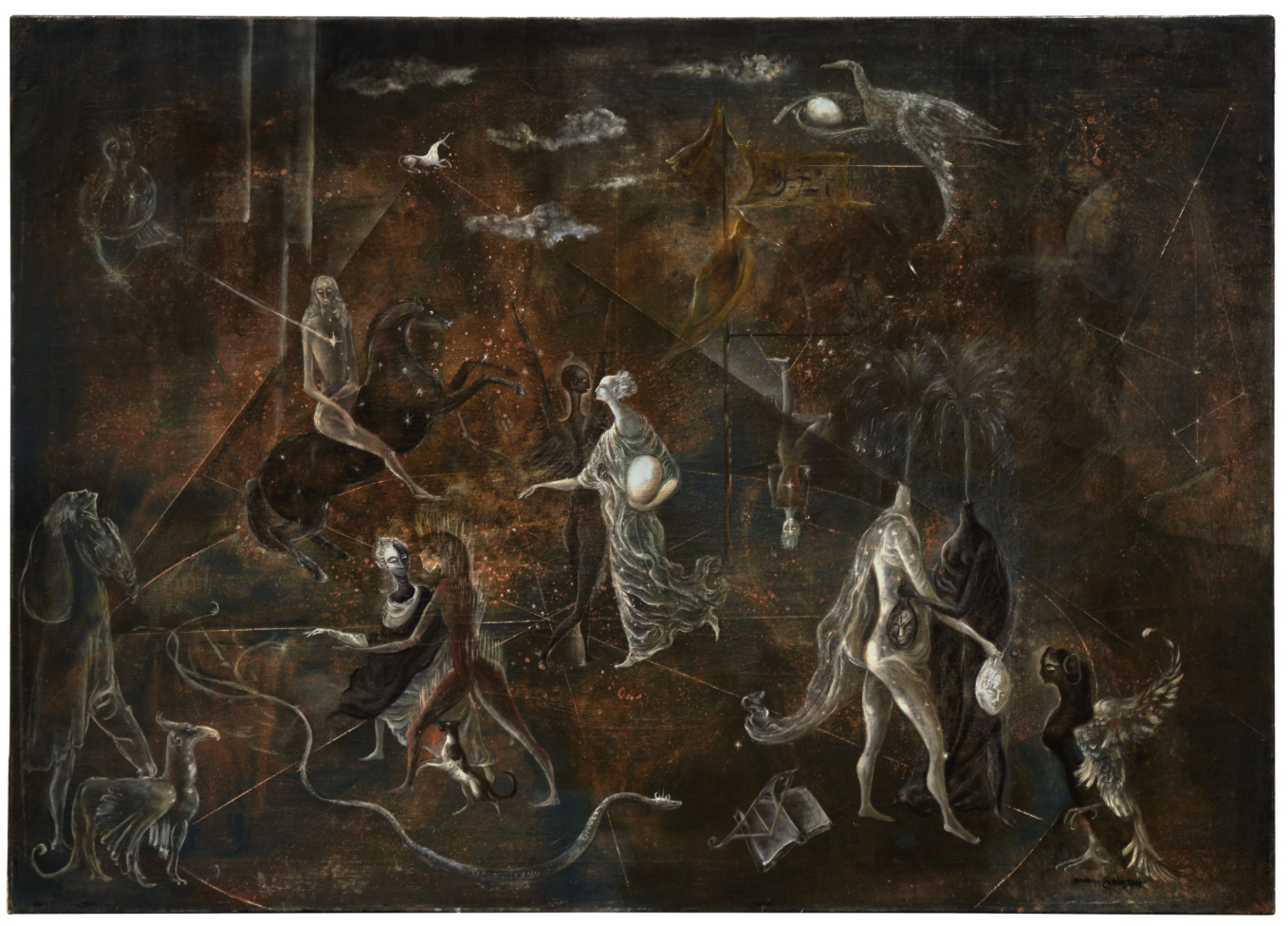 Equally important, female Surrealist painters who made substantial contribution to the dreamy movement saw a substantial uptick in prices this season. On Saturday May 14th, Christie's sold the single-owner sale of Surrealist work from the Collection of Rosalind Gersten Jacobs and Melvin Jacobs. Here, Dorothea Tanning's Le mal oublé, 1955 sold for $1.4 million, nearly 5x its published presale low estimated. The prior record for the artist was for $1.1 million at Christie's New York in May 2018, which came just prior to the artist's 2019 retrospective at Tate Modern. Sotheby's Modern Art Evening Sale additionally offered many works by female Surrealist painters. One of the first few lots of the sale was Kay Sage's I Walk Without Echo, 1940 which sold for $1 million against a $600,000-800,000 estimate. This is now the third record price for the artist at auction. The following lot was Leonora Carrington's The Garden of Paracelsus which sold very well after a 5-minute bidding war. Carrying a presale estimate of $1.2-1.8 million, the work achieved $3.25 million, nearly 3x its estimate. This is now the top auction record for the artist, the previous being $2.6 million at Sotheby's New York in November 2014.
But is Gender Disparity Fully Resolved?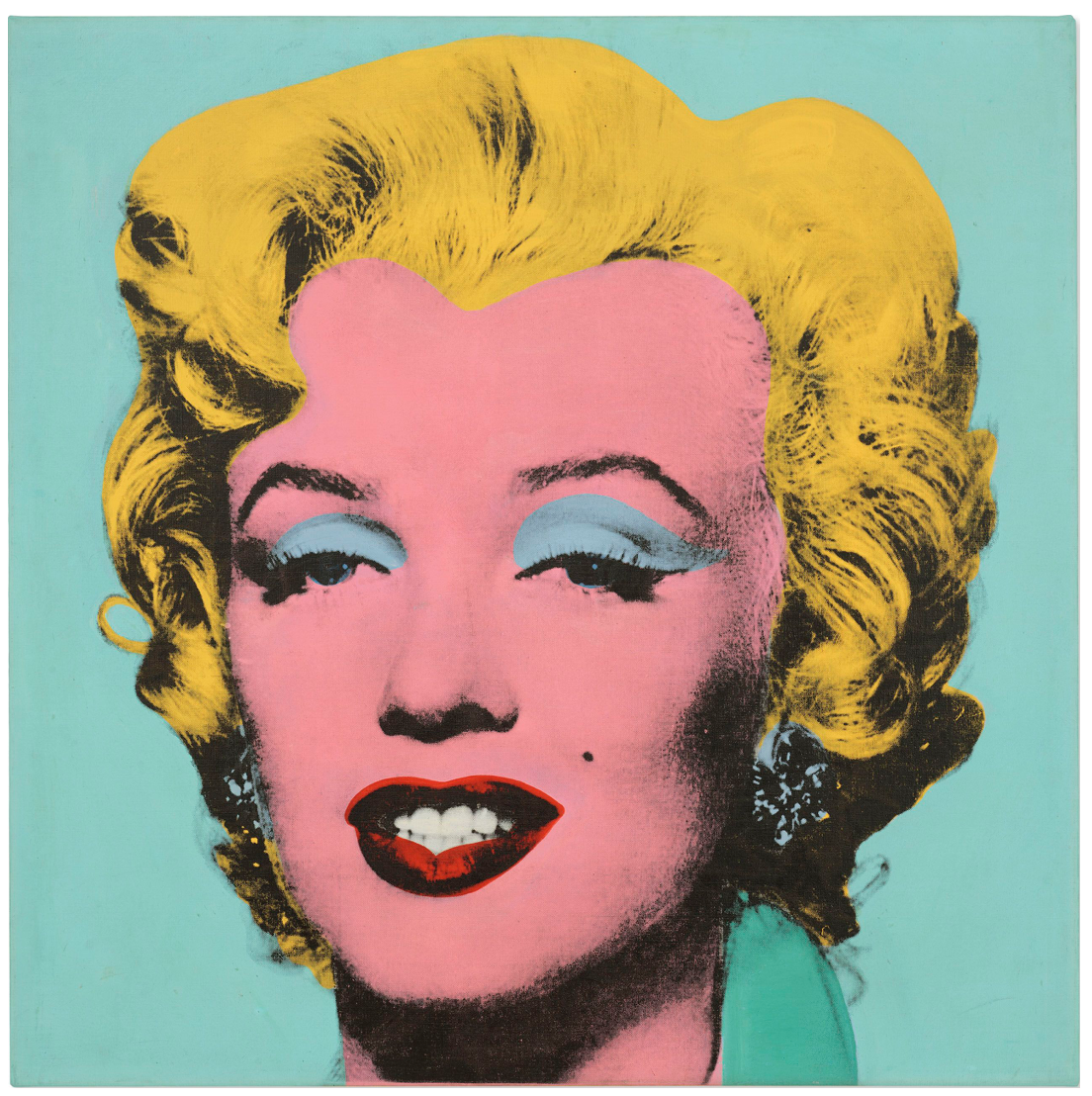 Nevertheless, works by male artists continued to still command the highest prices at auction—as was evident in Christie's $195 million sale of Warhol's Shot Sage Blue Marilyn. Additionally, The Macklowe Collection at Sotheby's, which brought in a record-breaking $922 million in its two-part sale, featured mostly works by canonical white male artists. Of the 65 lots offered in Parts I and II of the November and May sales, only 4 works were sold by just one female artist, Agnes Martin. Likewise, the highly celebrated Collection of Anne H. Bass Evening Sale at Christie's did not feature works by any female artists at all.
Though this issue in gender disparity has not been fully resolved—with works by female artists representing only slightly more than 5% of the overall sales totals in this season's marquee evening sales—the uptick in prices and volume of works indicates the art market is on the rise for women. After the fierce bidding we have seen, with numbers climbing higher and higher in a matter of seconds, it will be interesting to observe the results in the fall and pay particular attention to whether the auction houses continue the trend of prominently placing works by women artists within their sales.