All the Women Artists We Love at MiArt: Milan Art Fair Digital Edition

Originally scheduled for April during the usual Milan art week and directly connected with the globally attended Design Week, MiArt was first postponed in September and eventually forced to go online, amid the resisting concerns of the pandemic and hesitance from international dealers to take part. 
With its almost unique formula which combines an offer of contemporary and modern art with collectible design, over the last few years the fair has in fact exponentially grown in quality, attracting major international galleries and getting closer to other major European fairs such as FIAC or ARCO.
The new digital platform promises to connect its community across geographical borders through a smooth navigation through sections. Moreover, additional multimedia materials can be  shared by galleries to provide context to their presentation, and you can easily get in contact with them with a live chat.  
Still, this is definitely not the same vibrant atmosphere of the physical fair when you could be looking at art with a cheery bubbly glass of prosecco. Nevertheless, there's some works worth the virtual tour. Here all the women artists presented by participating galleries we loved, a good chance to discover some contemporary Italian women artists and women-led galleries. The fair is open to the public until 13 September.
Monica Bonvicini at Raffaella Cortese Gallery (Milan)
With her extensive curriculum of international exhibitions and awards, Monica Bonvicini (Italy, b.  1965) is arguably among the most interesting mid-career women Italian artists, despite she now lives and works in Berlin. Her work has already been featured in several prominent biennials, including Berlin (1998, 2004, 2014), La TriennaIe Paris (2012), Istanbul (2003, 2017), Gwangju (2006), New Orleans (2008), and Venice (1999, 2001, 2005, 2011, 2015), where in 1999 she was also awarded of the Golden Lion. Her career is in fact reflected in her highly international gallery representation, including Mitchell-Innes & Nash, New York; Galerie Peter Kilchmann, Zurich; König Galerie, Berlin and Galleria Raffaella Cortese, Milan. 
This highly hironic work is part of her language-based works, an interesting strand of her practice already presented in exhibitions and public art commissions worldwide. As in this case, her works often relate to popular culture, performing with hirony some critical gestures to mock and point to vulnerable and flawed parts of our society
Lynda Benglis at Thomas Brambilla (Bergamo)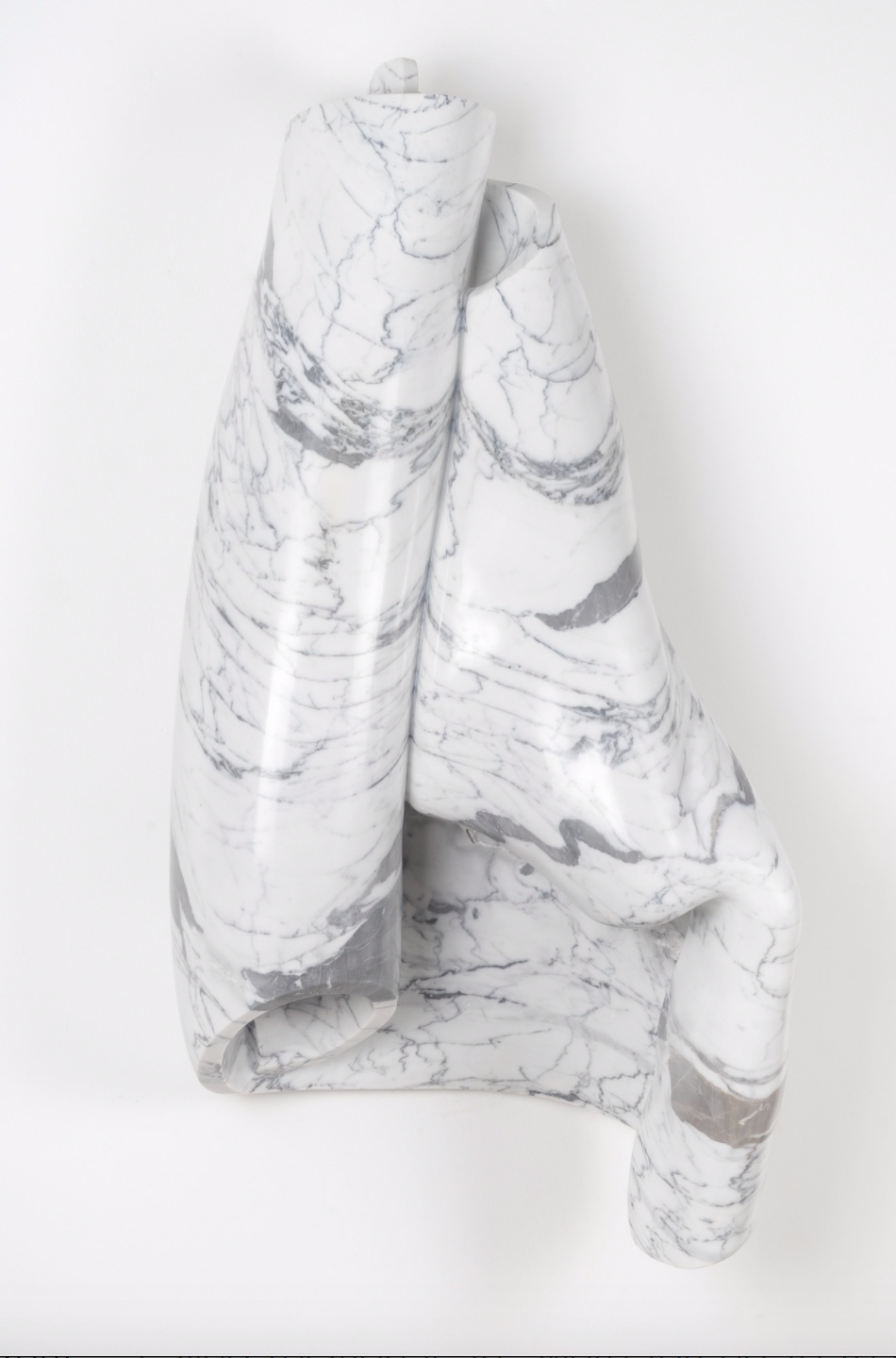 A selection of impressive late works on Carrara marble by the post-minimalist American artist Lynda Benglis (USA, b.1941) are presented by the Italian gallery Thomas Brambilla. Their torsions seem to challenge the properties and the solid fixity of the marble, while engaging with the improbable acrobatic pleats and movements of the Baroque. 
Conceived by the artist during a period in Italy in her late life, this series of work is in fact inspired by the movements of the soul and the powerful frozen gesture we can find in the best creations by the Italian master sculptor Gian Lorenzo Bernini. 
A beautiful evidence of the wonderful creative possibilities that can open with an empathic interaction of an artist with the place, the identity and the material of a foreign place where they're invited to exhibit.
Latifa Echakhch at Kaufmann Repetto (Milan, New York)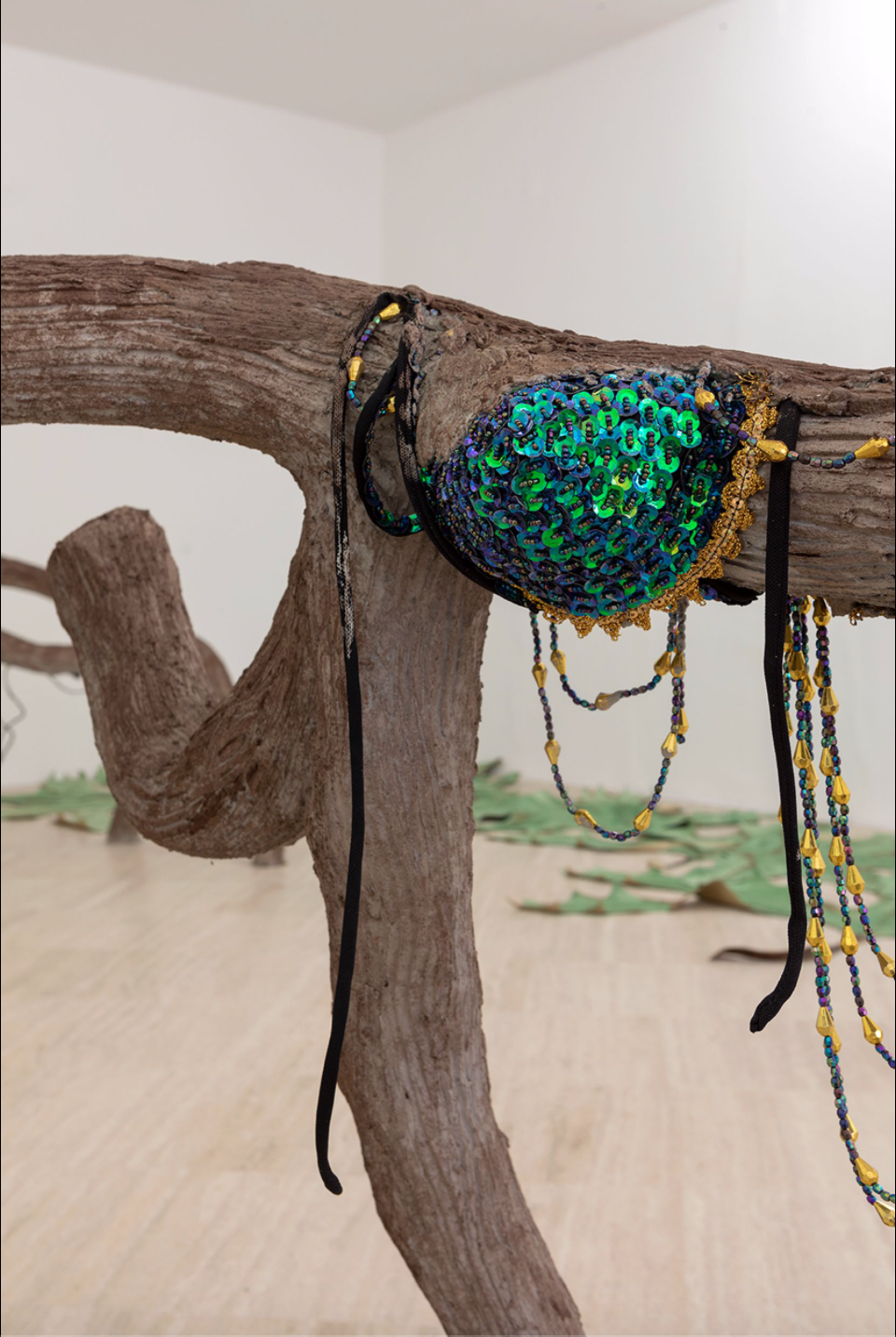 This would have been a big year for Latifa Echakhch (Morocco, b.1976), who was selected to represent Switzerland for the Venice Biennale, now postponed to 2022.  
Born in Morocco but now now based in Switzerland, Latifa has been closely watched in Europe for the past decade at least as upcoming talent, especially after she won she won the Prix Marcel Duchamp in 2013, and already having being included meanwhile in several esteemed biennials, as the Sharjah Biennial, the Biennale de Lyon, and the Biennale of Sydney.
She was recently taken into the roster of Metropicture in New York, while she has long been represented and supported by Kaufmann Repetto, who will open her solo show in Milan on September 24th, and the Paris-based Algerian Dealer Kamel Mennour.
One of the last opportunities to catch her before her market decisively takes wing?
Mimosa Echard at Martina Simeti Gallery (Milan)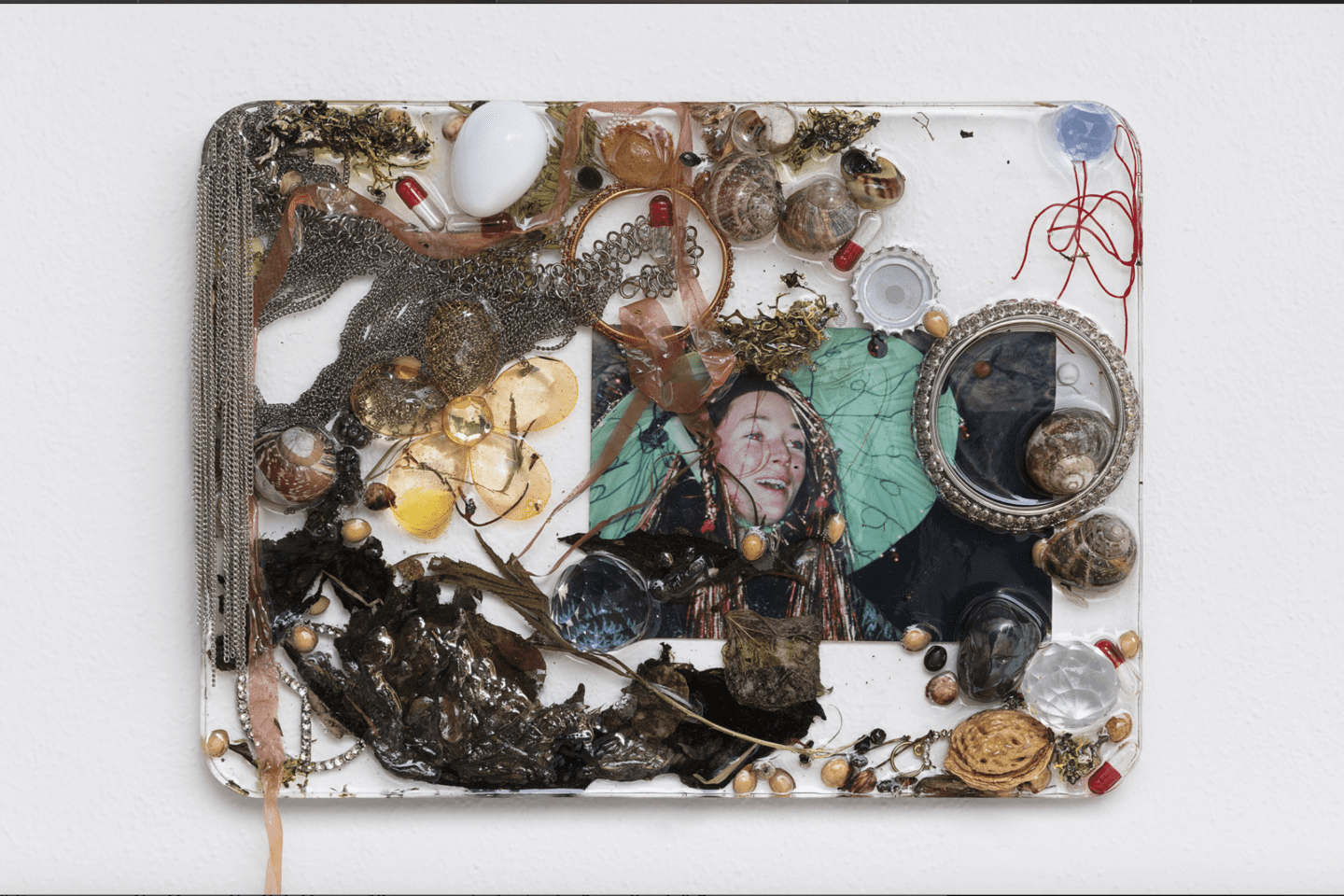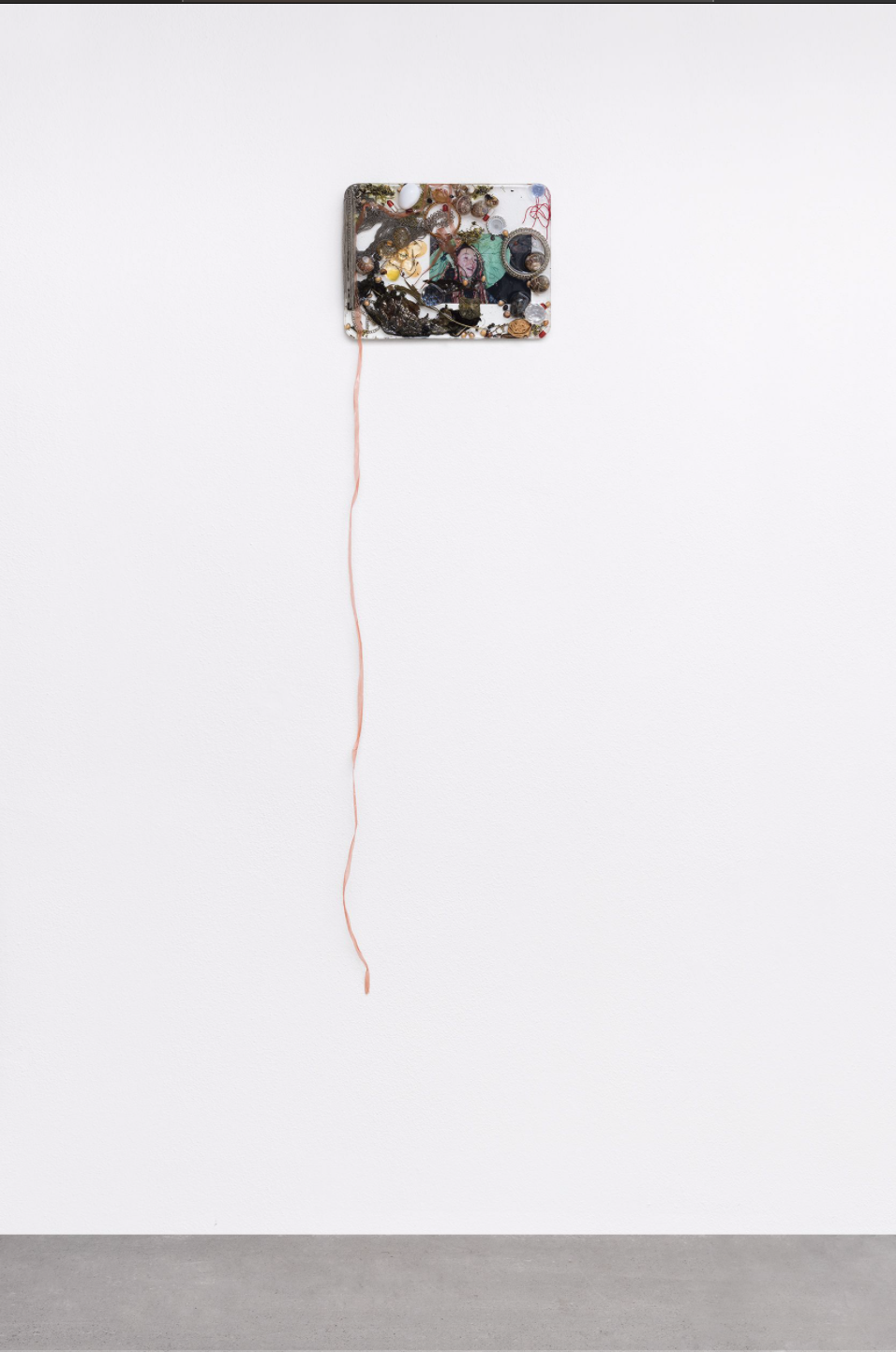 The works of Mimosa Echard (France, b.1986) appear as some very personal and sentimental archives of fragments and vestiges from a recent fleeting past. Often presented in cabinets, boxes and vases, these assemblages describe a kind of archeology of precarious poetry of apparently trivial moments, which eventually made the meaning of the daily experience of the world. 
Over the last few years, her work has been exhibited in several galleries and arts institutions in France and USA, and she has a show now planned for 2021 at the Palais de Tokyo,in Paris. Recently, she was included in the group show "Domain est la question" at Galerie Chantal Crousel in Paris, and she's already in some great collection, including the Centre national d'art contemporain, the Musée d'Art Moderne de la Ville de Paris, Domaine de Chamarande, FRAC Corse, Fondation d'entreprise Galeries Lafayette and Sadami Art Foundation.
Elisabetta Benassi at Magazzino (Rome)
With an outstanding career behind,  which already includes an extensive list of institutional shows and publications, Elisabetta Benassi (b.1966) is probably one of the most interesting mid-career women artists in Italy. 
Her highly conceptual work often draws from events in recent history, exploring the poetic potential of the historical imagery through objects which, as casually found clues, help to critically analyze and narrate complex political or sociological facts which shaped contemporary history.
Cosciente solidale, 2020 reproduces the telegram sent by the famous music composer, Luigi Nono to the Venice Biennale, where he expresses his solidarity with the student protests of 1968 against police repression, announcing his withdrawing from the Venice Biennale that year as reaction.
Thea Djordjadze at Kaufmann Repetto (Milan, New York) 
Transparent layers of watercolour pencil and crayon dance with a bold, gestural physicality on a cement base, creating warm chromatic sensations in the viewer and in the space, where they expand. Interrogating the boundaries between sculpture and painting, with this series Thea Djordjadze (Georgia, b.1971) actually seems to take distance her usual more minimalist and modernist forms and installations, giving life to unexpectedly lyrical canvas  where the solid materiality of the cold  plaster is sublimated by this  subtle chromatic experience, as in some secret alchemic process. Her work has been included in international group exhibitions such as Documenta (13), Kassel (2012) and the Venice Biennale (2013 and 2015).
Etel Adnan at Galerie Lelong & Co. (Paris, New York)
Known for her essays and verses as arguably the most celebrated and accomplished Arab American author, Etel Adnan (Lebanese, b. 1925) was recently rediscovered and strategically valorized also for her visual production, which spans through different media, from tapestries to drawings, films and canvases where the oil is often directly applied on the canvas. 
Her fields of floating fields of colors create poetic atmospheres on the canvases, infusing vibrancy in these harmonious compositions. Influenced by the early hurufiyya artists as well as by Japanese traditional landscapes paintings, the chromatic rhythms of these compositions are often sensitive reflections of the places she experienced in her life, from the warmth hues of her native Lebanon to the bright colored lights of her adopted home, of northern California.
This rediscovery of her visual production especially took place after her works was exhibited at the Whitney Biennial in 2014, followed in 2017 by her inclusion in a group show at MoMa, where she was presented together with other prominent women artists working with abstraction, including Ruth Asawa, Anni Albers, Magdalena Abakanowicz, Lygia Clark, and Lygia Pape. The journey into her recognition culminated with the 2018 MASS MoCA retrospective of the artist, titled "A yellow sun A green sun a yellow sun A red sun a blue sun" which combined and contextualized her paintings in oil and ink, with a selection of her literary works. Her works are currently in the collection of major institutions including Museum of Modern Art (MoMA) and  San Francisco Museum of Modern Art (SFMOMA).
Maria Lai at M77 Gallery (Milan)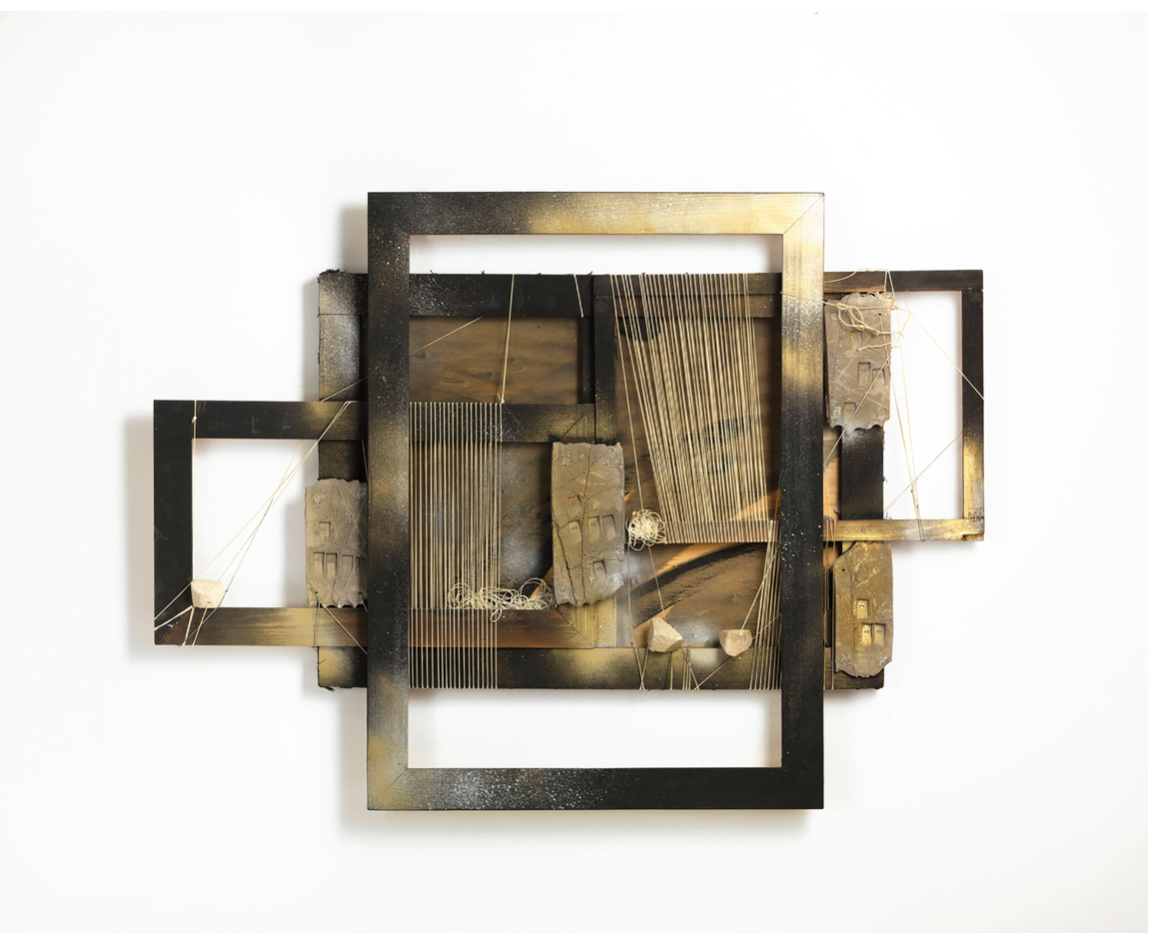 Delicate weavings connecting people and stories in a community, are at the essence of Maria Lai's work (Italy, 1919–2013). Her practice has been largely informed by rural customs, stories and legends of her home in Sardinia, and in particular to the voices of the women who lived there, resulting in works of an extremely intimate and truly authentic femininity.  
Over the course of her illustrious sixty-year career, her work was shown extensively in solo exhibitions throughout Italy and Europe, including the 1978 Venice Biennale, and more recently in documenta14 in Athens and the 57th Venice Biennale (both in 2017). In 2018 Marianne Boesky Gallery dedicated her a solo show in New York, marking Lai's first solo exhibition in the U.S. since 1956, and the taking over of the artist representation by the international gallery.
This wonderful gold-painted intricate assemblage well the variety her diverse and highly personal practice, which encompasses drawings, watercolors, sculpture, textile-based works, performances, and community actions,
Petra Feriancová at Gilda Lavia Gallery (Rome)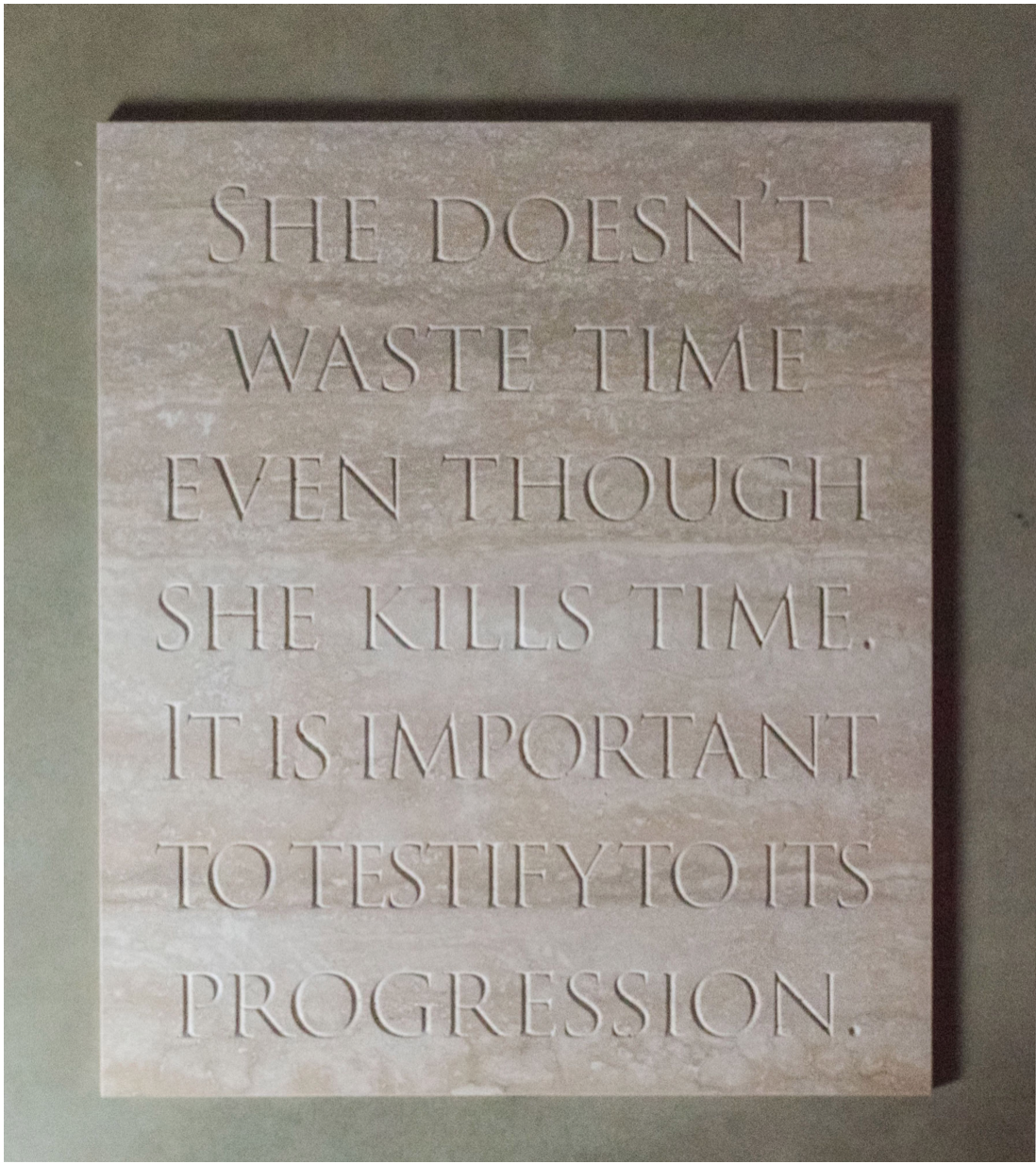 Petra Feriancová (Slovakia, b. 1977) recent series of engraved travertine marbles look like gravestones of admonition of some tragically deep existential truth, discovered through suffering and pain but also priceless life-changing experiences. The experience of motherhood, the experience of aging, are all in-between of a subtle frontier between suffering and joy. 
The key element of Petra practice is infact a conceptualization of her own emotional reactions, but enacted with an effort to materialize the processes of perception and memory, and simultaneously examine the circumstances under which they are shared. In this sense, engraving on stones, is a way to put into place, to sediment, feelings and experiences which shaped the existence.
Irma Blank at P420 (Bologna)
German-born but living most of her life in Milan, Irma Blank (Germany, b.1934) is one of the uniquely poetic examples of minimal-conceptual practices, started in the late 60s.  Moving in the between the minimalist rigourous abstraction and the vertices of the visual poetry, she has pursued a radical and very personal form of inexpressive and de-subjectivized art. 
Between these dense lines of these diary-like compositions, she records in fact her time of living, but through an indecipherable handwriting. Executed mechanically as in some a rigorous ascetic practice, this accumulation of signs is voluntarily left without any possibility of signifier and concrete referents, in an extreme attempt to purify the linguistic expression, up to an impersonal and so potentially universal essence of time, where writing is not linked to knowledge or narration, but to being.
After the inclusion in the 57th Venice Biennale (2017), last year a show at the of powerhouse Luxembourg & Dayan in New York marked the beginning of a long awaited international recognition of her work. She immediately found great appreciation especially among Asian collectors, who fell in love with her highly philosophical and almost meditative approach to the marks, which make her practice more akin to the attitude in the traditional Asian calligraphy art. She's already included in the permanent collections of the Centre Georges Pompidou, Paris; the Getty Center, Los Angeles; Kunstmuseum, Düsseldorf; and the Bibliothèque Nationale de France, Paris, among other institutions.
Claudia Losi at Monica de Cardenas Gallery (Milan, Lugano, Zuoz)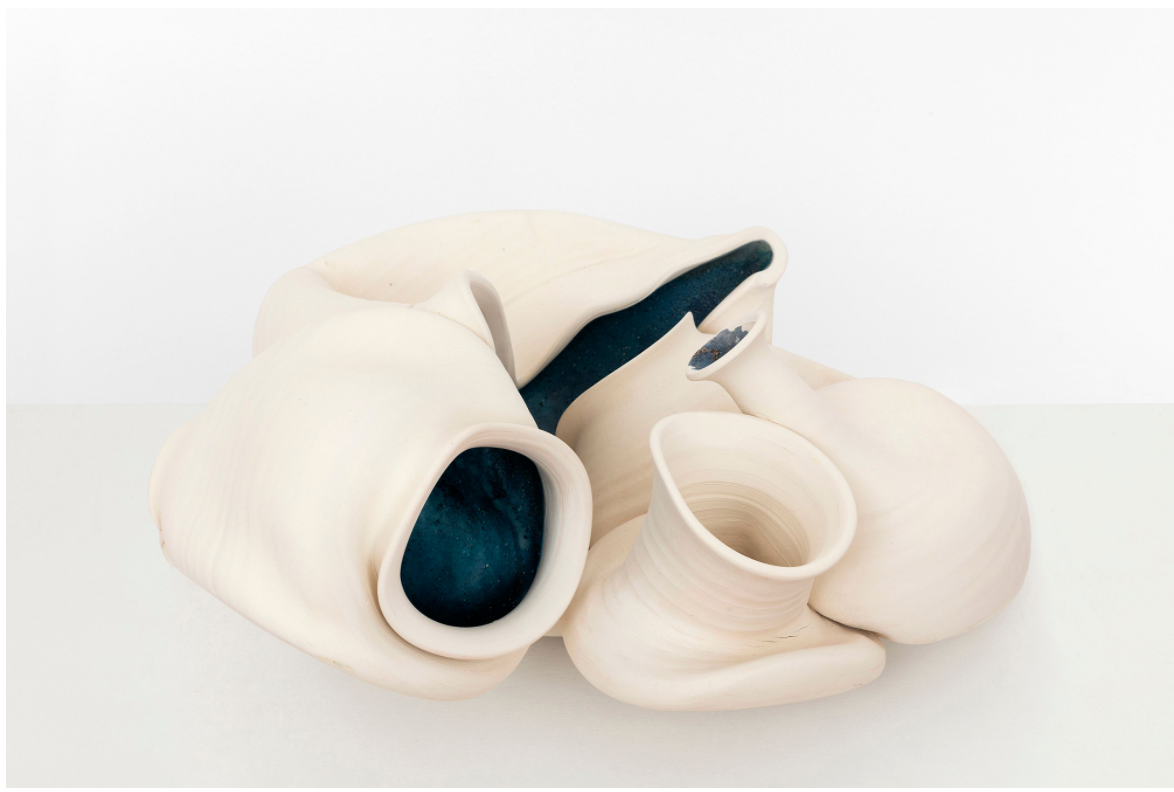 Claudia Losi (Italy, b. 1971) focuses her artistic research on the relationship between humankind and landscape, drawing inspiration from natural phenomena, science principles, history and anthropology. Often her works adopt the form of an open narration, which sometimes also external agents and the audience are asked to take part in enacting those relations as a way to grow awareness of them. 
Her CV still prominently local, including shows in major Italian museums as MAMbo (Bologna) and MAXXI (Roma), but Monica De Cardenas Gallery has recently presented her on a more international stage with a show in their Zuoz space (Switzerland) and she has been selected for an intervention included in the itinerary project "Boccata d'Arte" organize I'll d by Galleria Continua in historical villages all around Italy.