Anna Kenneally: The Weight of Figuration and Abstraction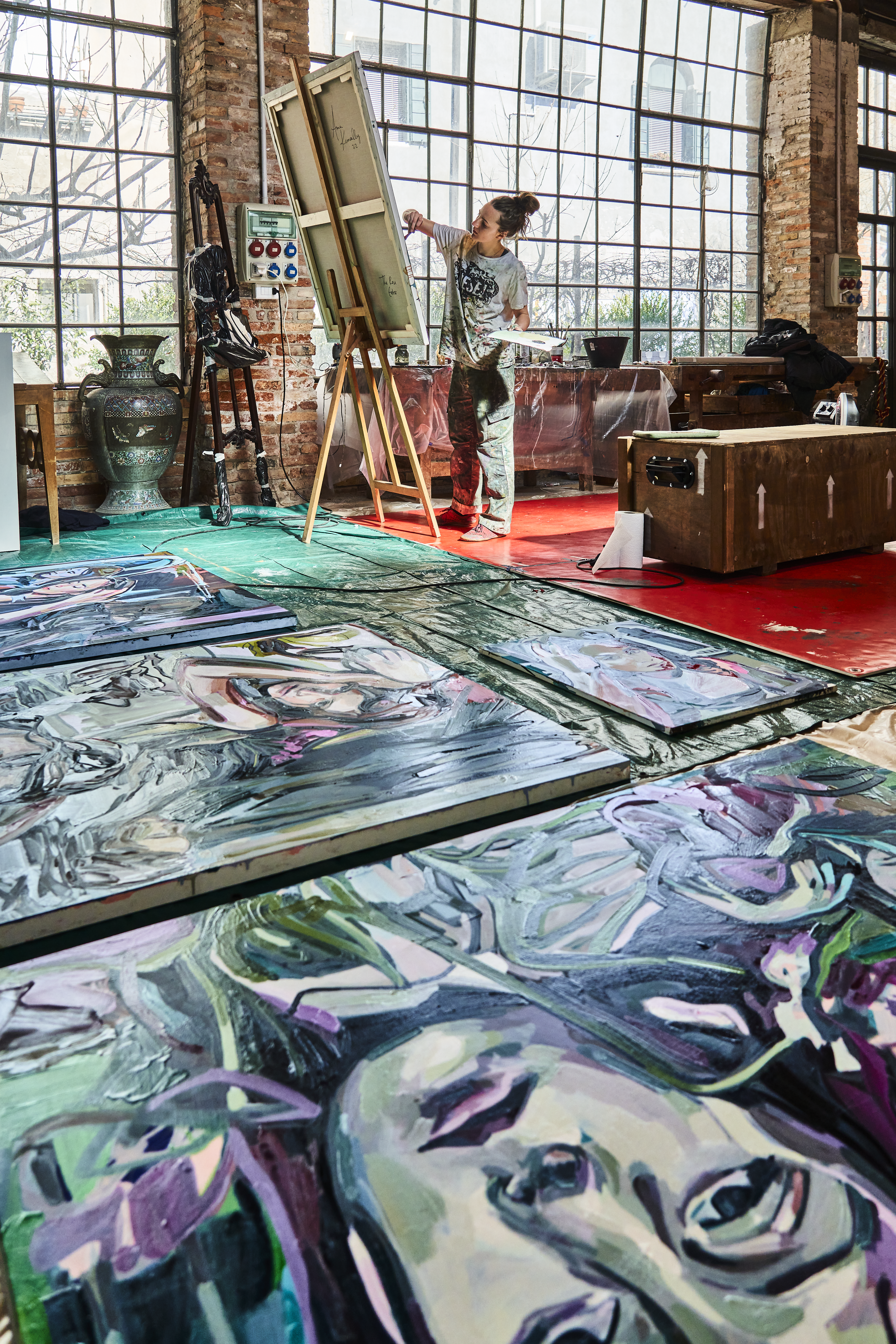 Anna Kenneally's work fluidly merges figuration and abstraction, weighing them carefully, and then exploding the backgrounds with erratic brushworks.
---
Anna Kenneally's deeply expressive painting practice makes her close to the Brücke artists, while she still defends a distinctively more contemporary Neo Gothic and Neo Romantic character. 
Staging the conflict between the natural and the artificial, fantasies and realities, all her figures already depart from the triviality of ordinary life.
Her canvases narratives are amplified by emphatic colorful and vibrant strokes, that already project her characters in a more emotional than factual dimension.
We talked with her about her work and her approach to painting, just after she completed her residency period in Venice and moved back to London.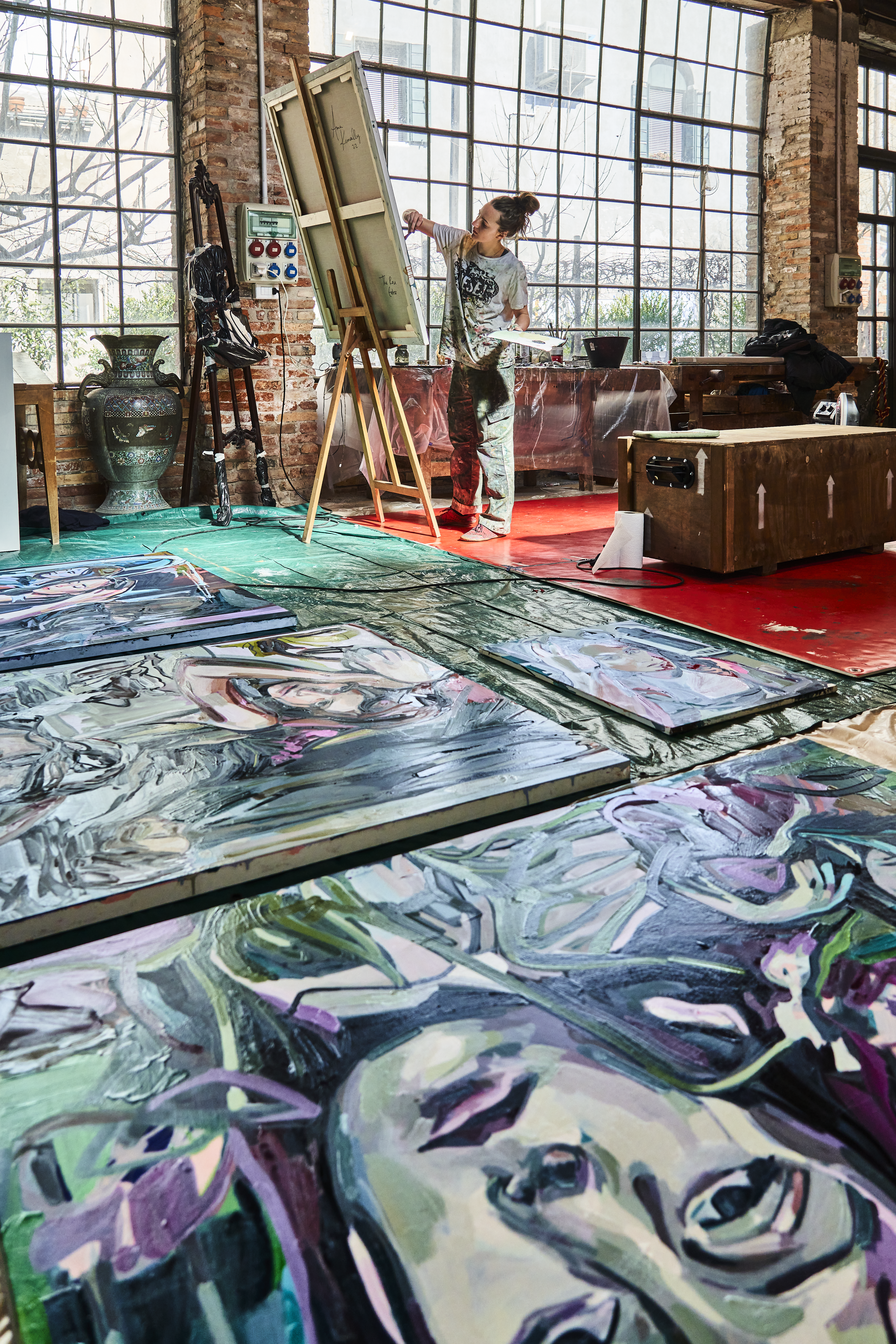 All your canvases are extremely vibrant and expressive, thanks to a fluid dialogue between more refined figures with less refined backgrounds, often described through erratic brushwork. How would you describe your relation with figuration and abstraction?
I look at painting as a balancing of forms, be that through the weight of abstraction or the anchoring of composition through figuration. Contrast is always in operation within my work, through relationships of light and dark, interactions of colour or perhaps the thematic cohesion of subject matter. These devices override the presumed boundaries between concrete figuration or abstraction.
I work on the floor for the majority of the painting. Lying the works flat on the floor allows me to access every part of the canvas from a vantage point. This also allows me to throw paint without the consideration of the work changing as it would if it was on the wall. I love using large brushes and also long paintbrushes that enable me to see the entire canvas from a set distance as I paint. These preferences also contribute to a less refined division between elements. My interest in grunge and punk ideology is introduced beyond the subject matter through expressive marks.
Increasingly I have been looking at cinematic devices in order to highlight specific painted elements within chaotic compositions. For instance, this could be through dramatic shadows or deliberate lighting. Slashes of light that fall across the face or eyes, ensuring focus on the subjects' face. I want extreme divisions of light, with compositions aggressively spotlighting the subject as if pulling them out from the darkness.
More recently I have been thinking about referencing specific restricted colour palettes, found through film stills and reference photography and applying them to my painting collages and sketches. I look for ways to digitally speed up this transformation. The mood of the colour palette is transferred to the new image.
I love the way these can be employed in order to draw focus to significant details, represent arcs within a story or elicit psychological reactions. Sci-fi films often work within combinations of blue, grey and green, a prime example being green tint in the 1999 Matrix, creating a spectrum that was suggestive of the early monochromatic computer monitors. The idea to paint with these restrictions is a departure from my approach to painting and makes me feel like an extension to the digital tools I use within painting.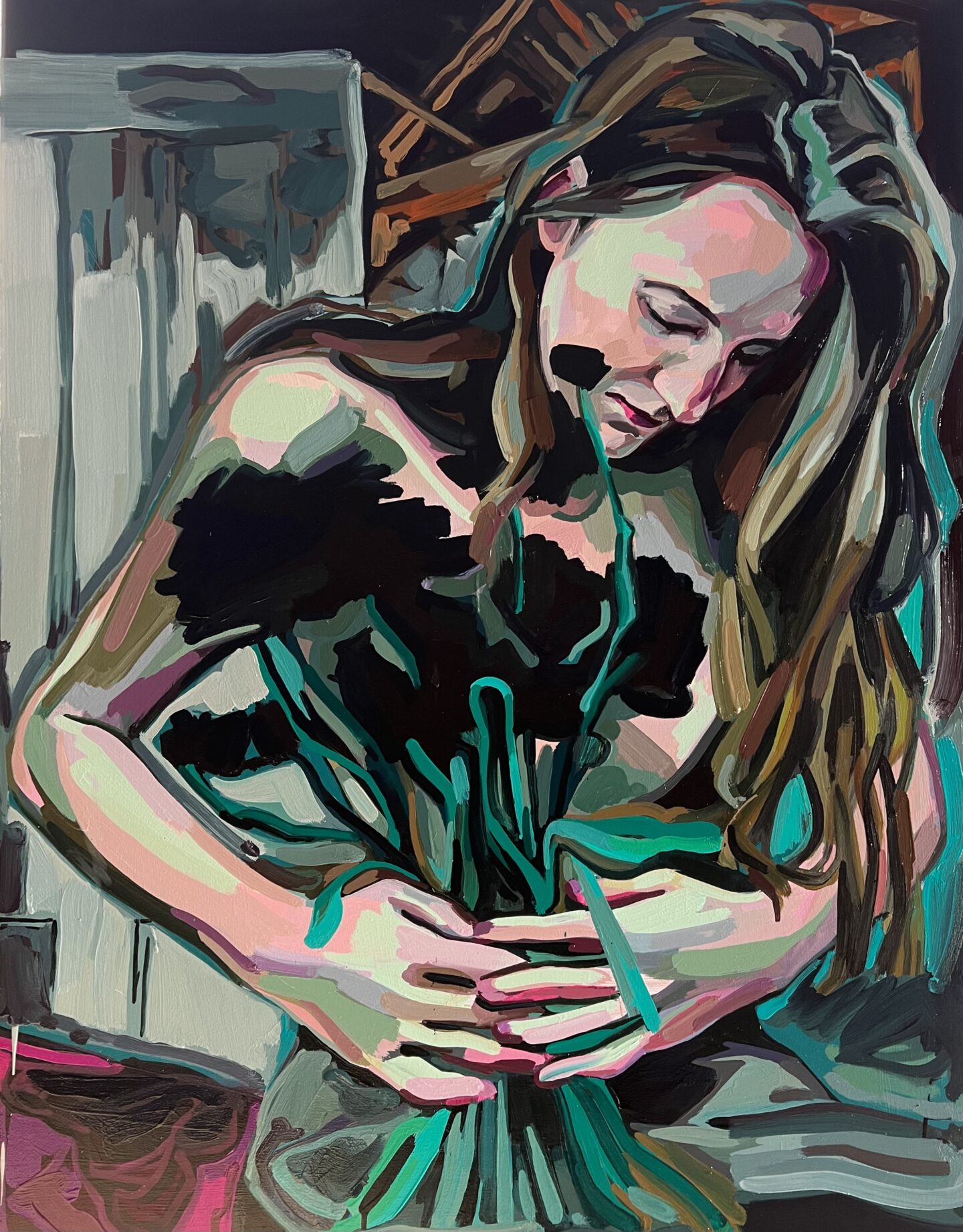 Often your characters appear to come directly from fairy tale, or fiction novels. What's your main source of inspiration? Can you walk us through your image-making process?
I do not see these characters as fairy tale, they are based on real people and a culmination of alternative aesthetics. I search for atypical characters; I may be drawn to them due to the way they are dressed or the way in which they hold themselves. Through multiple appropriations and drawn processes these subjects become painted avatars by the time they reach the canvas. Sometimes assuming the role of the creative, the characters are depicted alongside motifs or imagery that align with their core beliefs or aesthetic.
I have always been fascinated by subcultures and the visual ques we use to define them. Their belief systems, behavioural commonalities, they can be portrayed as the deviant and make suggestions of unrest. Rooted within the fringes of society, their appearances often distinguishing themselves from others. From a visual perspective I am drawn towards the attributes of movements and styles such as grunge, goth, bohemian and rave. I also gravitate towards re appraisals of long past artistic eras such as the pre-raphaelites and renaissance. I am interested in how the same idea of a subculture can be applied to the language of painting.
My painting process is largely experimental. without any fixed order I work between Collage, digital painting and intuitive drawing and painting. Through collage I sculpt and draw compositions. Multiple photographic, painted and drawn elements become new through a saturation of influences and mediums.
Evoking the melancholic vibe of Victorian Gothic, combining elements of horror and romance. I am drawn towards gothic and psychologically driven literature and film, often appropriating their narratives and applying them to the characters and situations I am depicting. I enjoy exploring the relationship between beauty and ugliness. It's always been interesting to me how it is hard to depict a dark scene through bright colours.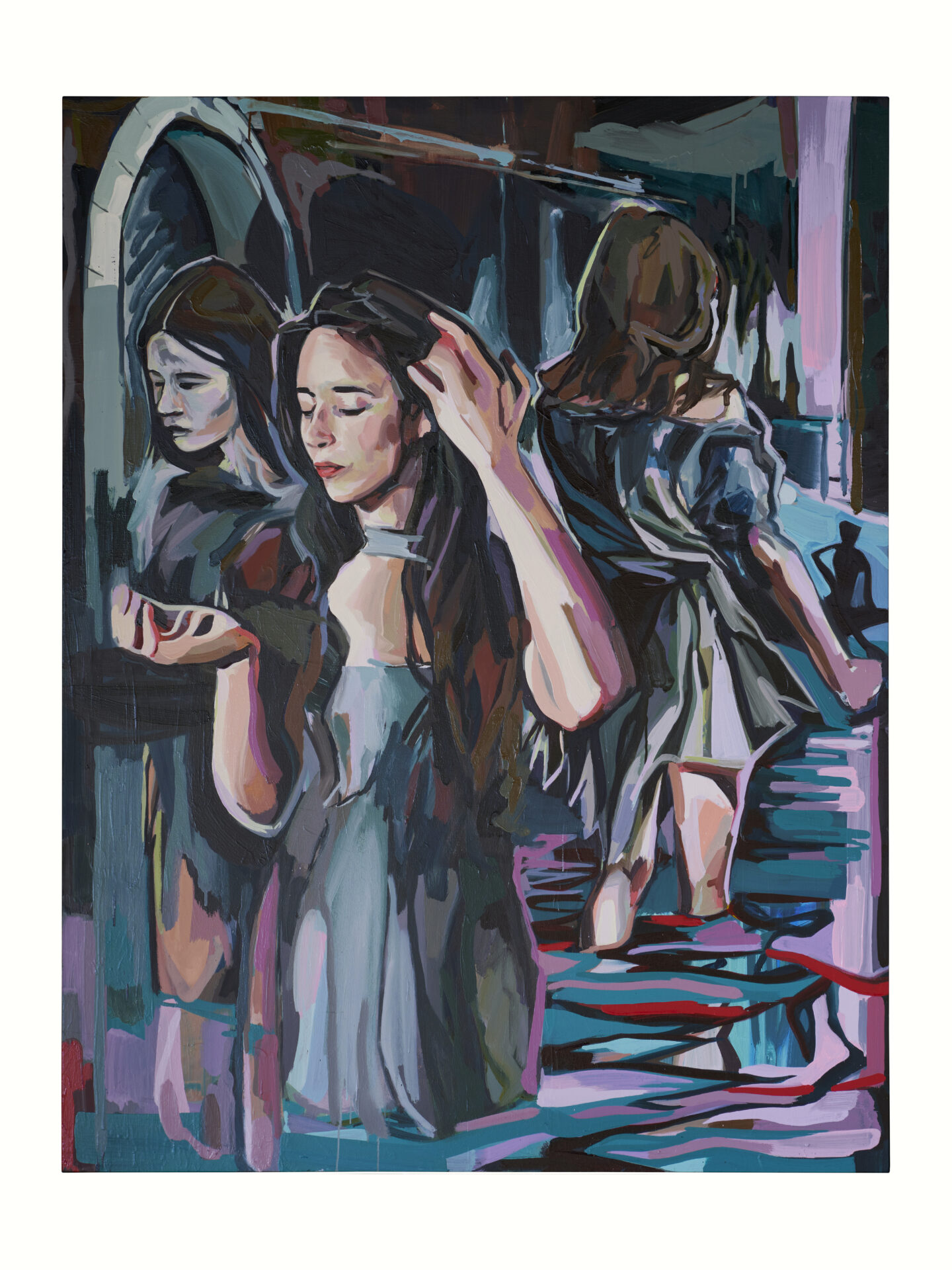 Most of these figures are set against a floating florae, natural landscapes and sometimes more disquieting vistas of inhabitable and apocalyptic lands. What interests you the most in the relation between humans and nature, around which all your works seem to gravitate?
I want my characters to exist in a place that appears to be uninhabitable. Abandoned buildings wear their history and through decay they gain beauty. Futuristic or Science Fiction esque scapes distance the figures from the familiar. Often set within unchartered surroundings, they pick over decimated landscapes or explore abandoned spaces. These atypical characters accentuate monumental disconnect with their environment, serving as a welcome diversion.
Asides from the main subjects, many supporting figures within the scenes appear to have been ravaged by nature and engulfed by unruly natural forms. Resembling colourful semi abstract structures, built through combinations of forms such as orchids, exerts from existing abstract paintings, botanical drawings and surrealist imagery. These human figures taken over my plants seek to highlight our warped relationship with nature and how we attempt to reconnect with it. I find plants and natural matter to be a bridge between figuration and abstraction.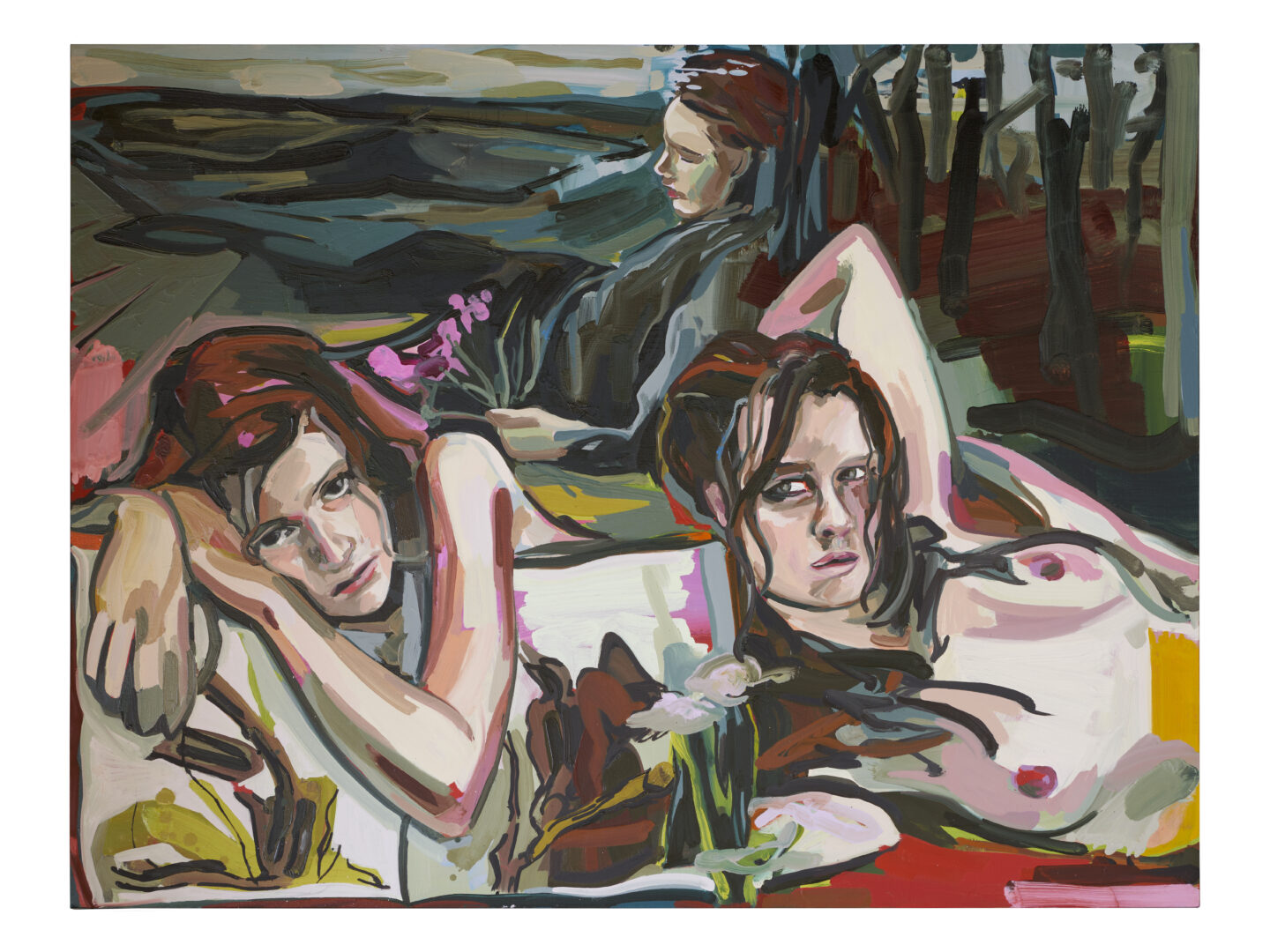 You just completed this residency period in Venice, which is a city that offers some original and unique scenes in terms of atmospheres and colors, as well as a very unique experience of the relation between humans and the natural element. How the city has influenced your work, and how you think your approach has maybe changed or have been nourished by this period there? How would you describe the body of works that resulted?
For five weeks I painted in the Squero Castello space, situated in a quiet part of Venice. Due to my timing in Venice, I was able to see glimpses of Zuecca Project's preparations for the Venice Biennale. The combination of being on the water and the large studio allowed me to fully immerse myself into a new series of work. A stark contrast from my studio in London's Shepherds Bush. As this was also my first solo residency, I was surprised by some of the outcomes and in terms of my studio activity and progression of ideas. It was a very special experience.
From the outset, I was interested in the meeting of the water and the architecture.
Often my paintings seek to highlight unrest within the figurative subject of the painting, making it all the more interesting to instead shift focus to that of the landscape. My painting 'Sculptures of the Night' depicts figures submerged in ever rising waters. The surrounding figures within the work are ragged and morph into stone, weathering much like the space they inhabit. Reframing ugliness and pain into evocative characters, these figures embody a collective experience, tapping into anxieties and uncertainties.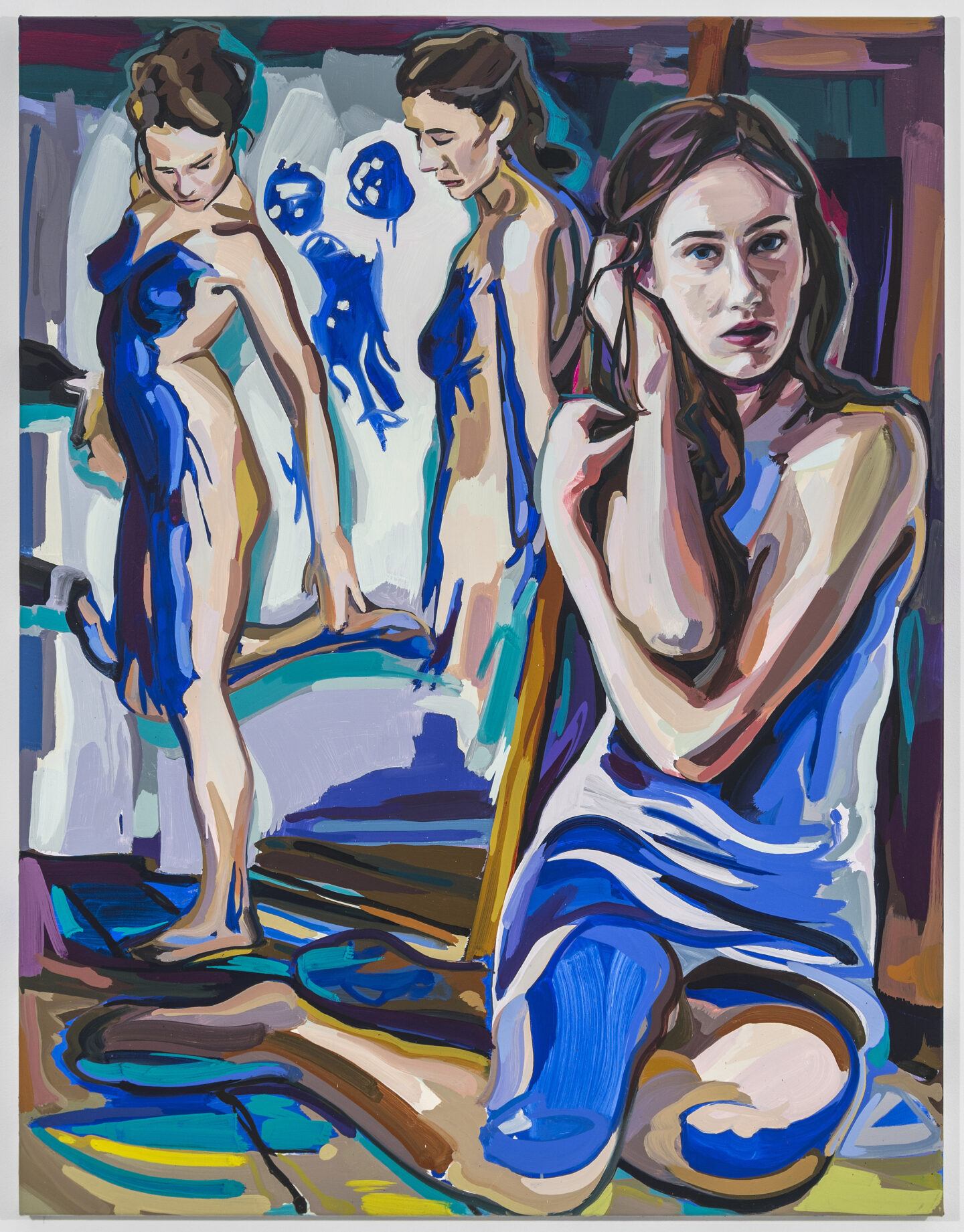 Name 3 women artists that you admire.
Kati Heck, Danica Lundy, Dorothea Tanning.
Dream cocktail meeting of your life: Where and with who?
Literally anywhere with Paula Rego.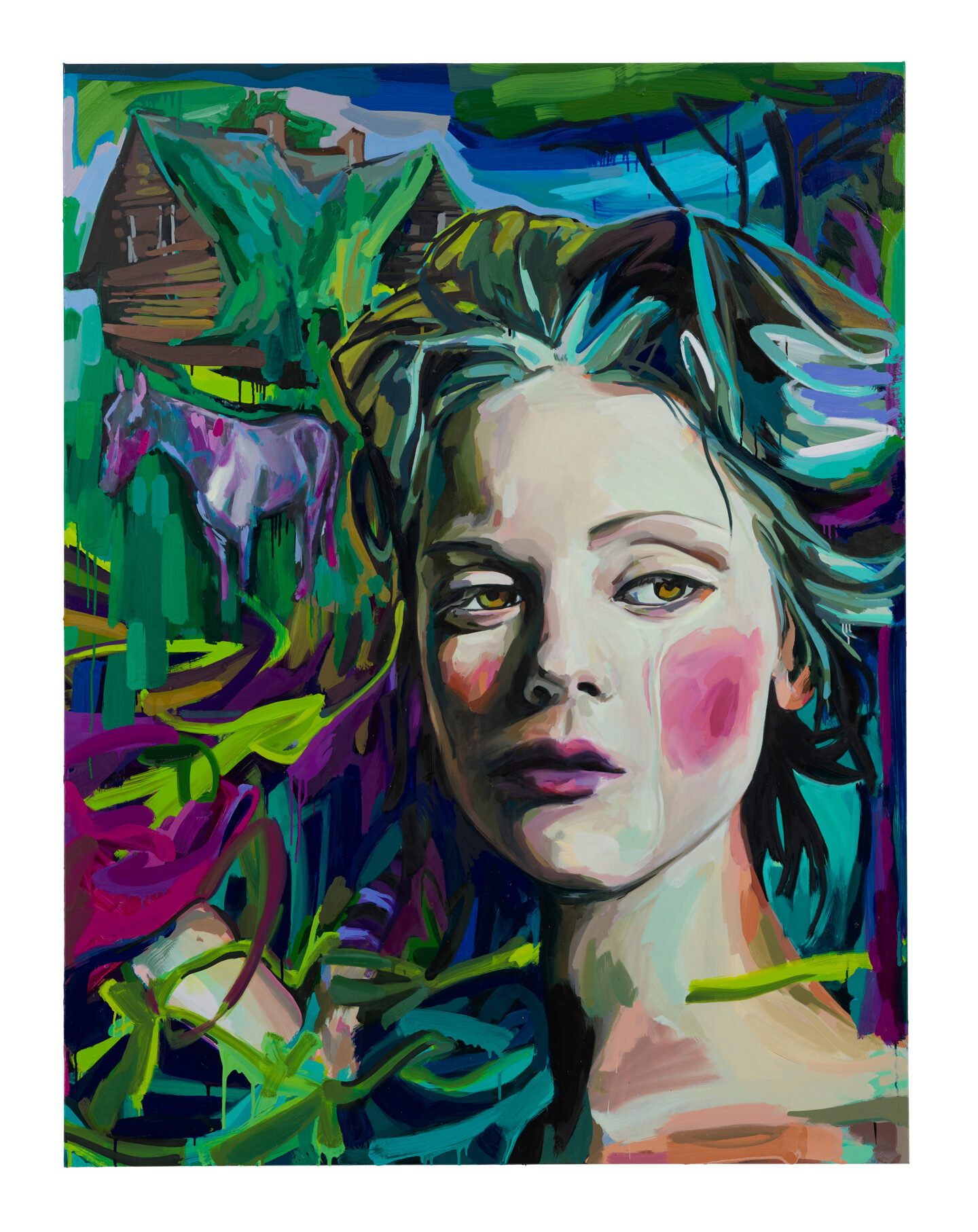 You just had a solo show at the New York-based gallery Fredericks & Freiser. What's next for you? Where else will people be able to see your work between 2022 and 2023?
Having recently completed my solo residency in Venice, my work will next be on show in June at Stems Gallery in Paris. The group show is curated by Joan Tucker, who kindly also placed me in the residency at Zuecca Projects. The working title of the show "Summer Lovin", conjuring up ideas of desire, dreams, fantasy and nostalgia. I am also working towards a solo presentation at MISA Art Fair in Berlin this September and have plans to show in London later this year.