Three Day Art Guide to Palm Beach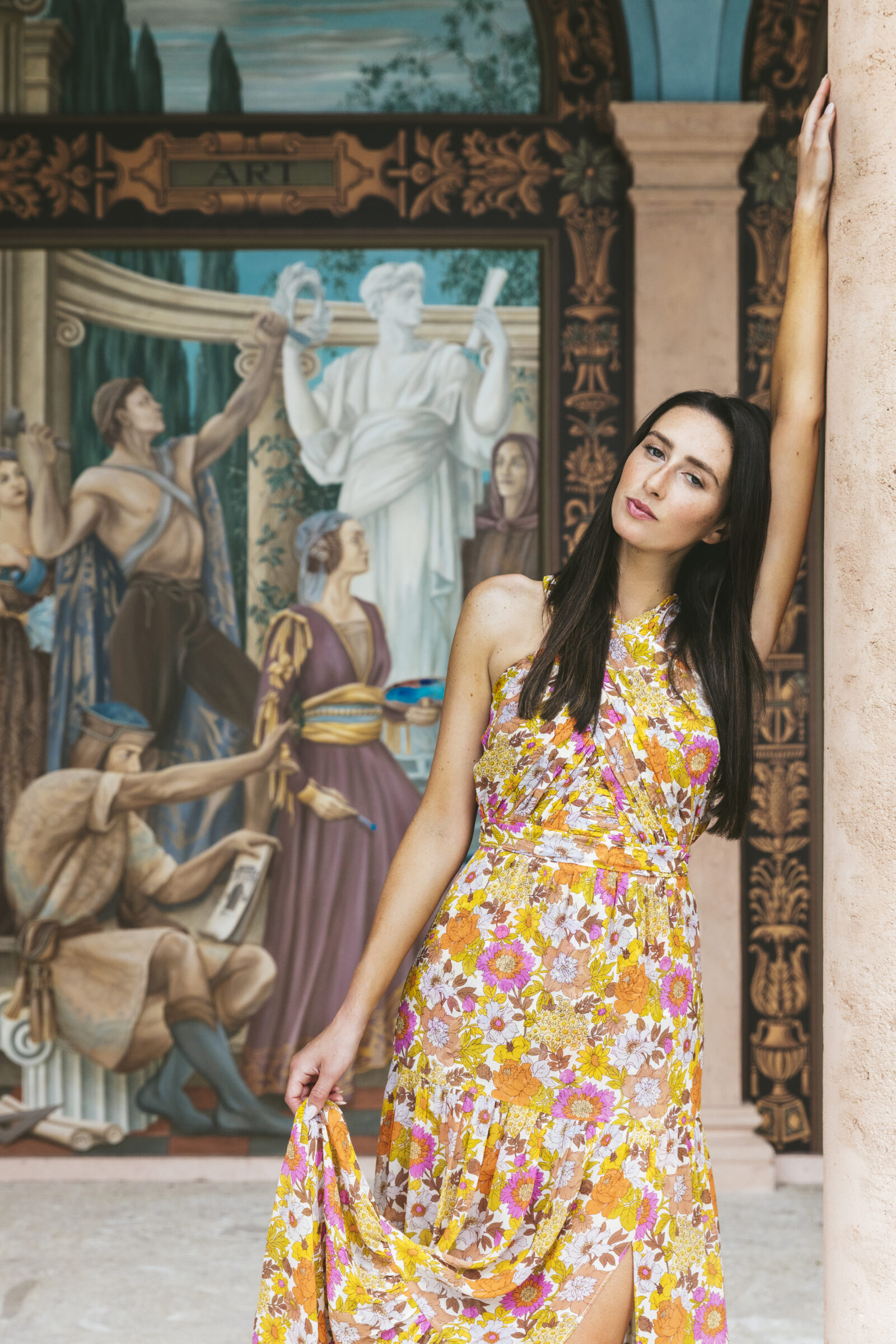 Clouds of coronavirus and tax increases have sent New Yorkers flocking to Palm Beach this year—and the art world has followed. If you're someone who enjoys art, the illustrious, sunny pastel island of Southern Florida is now the place to be. Here is our three-day art guide to Palm Beach. We've included where to stay, what restaurants to try, and pop-ups galore. Naturally, we also had to feature some of our favorite female artists, gallerists and collectors in Palm Beach, too.
DAY ONE IN PALM BEACH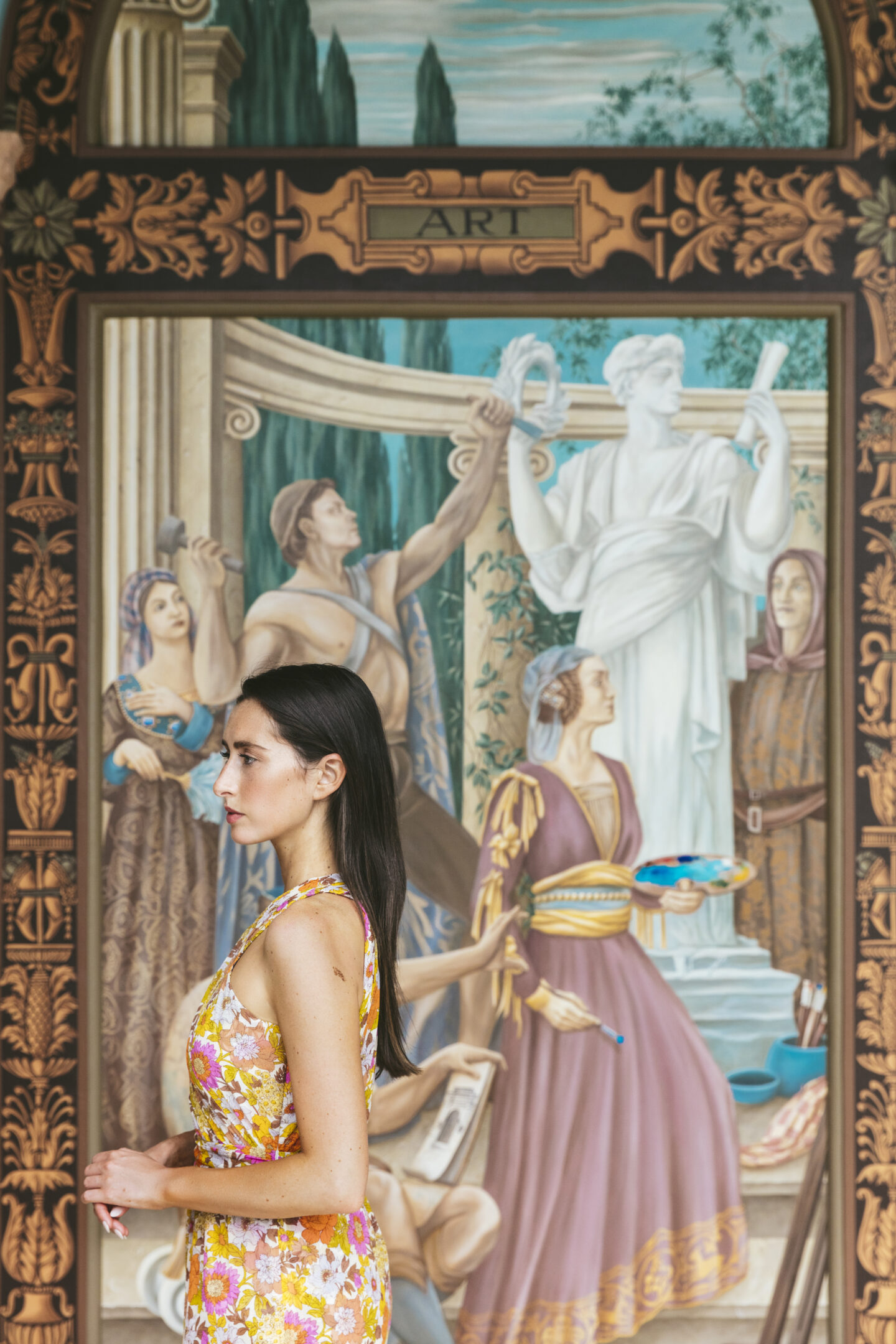 10:00AM: Breakfast at Swifty's poolside at The Colony Hotel for their delicious chocolate chip pancakes or French toast smothered in maple syrup! A boutique hotel located at the heart of Palm Beach since 1947, now designated as a historic landmark. Thanks to President and Owner Sarah Wetenhall, we would say it is possibly the heart of Palm Beach as well.
11:00AM: The Society of Four Arts and Sculpture Garden. Current exhibition: In a New Light: American Impressionism 1870–1940. On view until April 16, 2022.
Founded in 1936, The Society of the Four Arts is one of Palm Beach's leading cultural institutions, offering art exhibits, lectures, concerts, films, and educational programs. It is also home to two libraries and two beautiful gardens—the Four Arts Botanical Gardens and the Philip Hulitar Sculpture Garden. Walkways and plantings, fountains and seating, security and event lighting, a plaza and fountain, and a garden pavilion, planned by landscape architecture firm Morgan Wheelock, an oasis for all who visit.
Among the many sculptures currently on display include works by Lawrence Holofcener, Luis Montoya, Leslie Ortiz, Felipe Castaneda, Diana Guest, Philip Jackson, Dan Ostermiller, Ira Bruce Reines, Jose Antonio Villalobos, and Augusts Saint-Gaudens.
12:30PM: Lunch at Sant Ambroeus Palm Beach.
This one-of-a-kind location of the inimitable Sant Ambroeus offers authentic Milanese cuisine combined with the hospitality of the Palm Beach Island. For a chic lunch with girlfriends under pink umbrellas listening to the palm breeze and fountains, while indulging in yummy cacio e pepe and pink princess cake—or a Feta Watermelon salad and Prosecco.
2:00PM: Stroll the numerous galleries and shops at The Royal Poinciana Plaza including: Acquavella Gallery, Levy Gorvy, Sotheby's, Pace Gallery and female owned Gavlak Gallery. Check out the new Veronica Beard store, too.
Built in the late 1950s and designed by world-renowned architect John Volk, The Royal Poinciana Plaza stands today as one of Palm Beach's most treasured architectural gems.
The latest exhibition we visited at The Royal was Loie Hollowell: Contractions at Pace Gallery. A favorite this season, it includes five new paintings from her Split Orb series, which comprises sculptural paintings focused on the process of childbirth.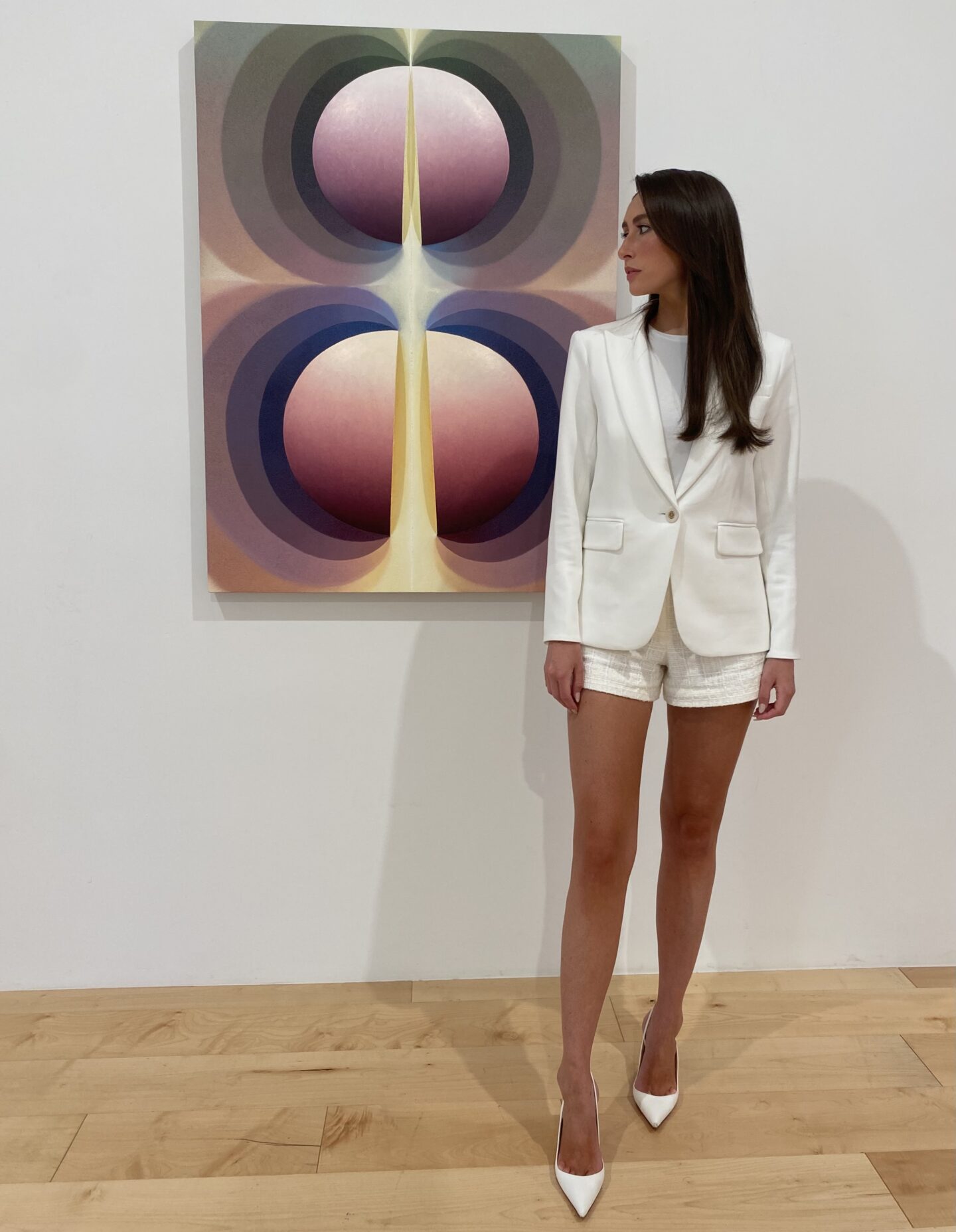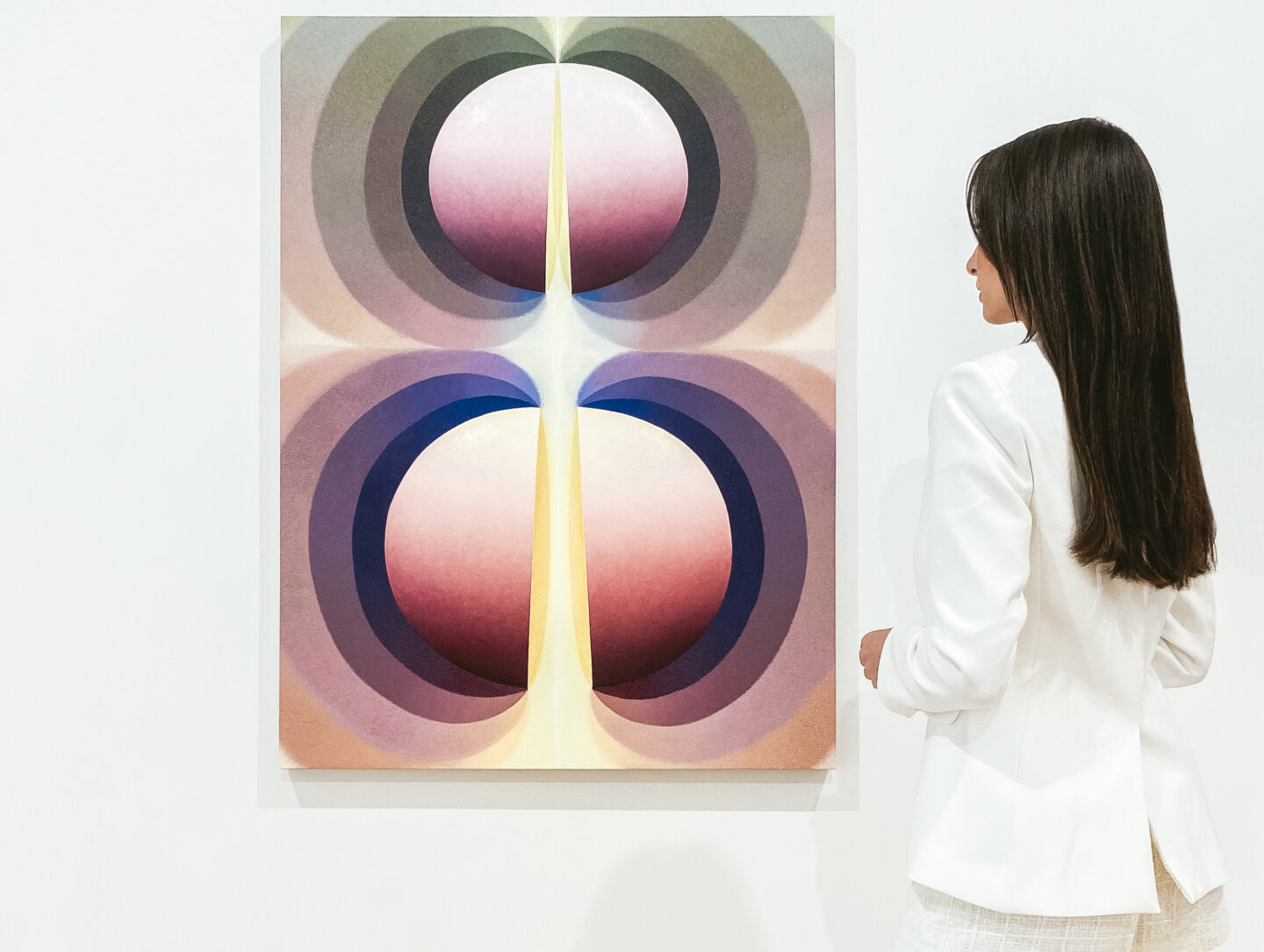 We had the opportunity to ask the artist a few questions.
When she started painting… "Both of my parents are artists so I started painting when I was a very young child. My mom is a seamstress and political cartoonist for the local paper, and my dad was a full-time painting professor. Anytime my father wasn't teaching he was in his studio painting, so I learned how to have a strong artistic work ethic from the both of them. They even turned a closet in my childhood home into a "studio" for me to use as my own when I was very little."
Her favorite work… "I don't have a favorite painting from the exhibition. In a way, I consider all of the works in the show to be one piece since they all illustrate the expanding of the cervix during labor, each at a diameter greater than the next. In this sense it's difficult for me to consider them individually."
On the right to choose… "Because my art practice is made possible in large part due to the fact that I was able to have an abortion in my twenties, and therefore have the ability to continue pursuing making art, I am adamantly pro-choice."
Favorite female artists… "I am very much influenced by feminist voices such as Judy Chicago, Eva Hesse, and Louise Bourgeois."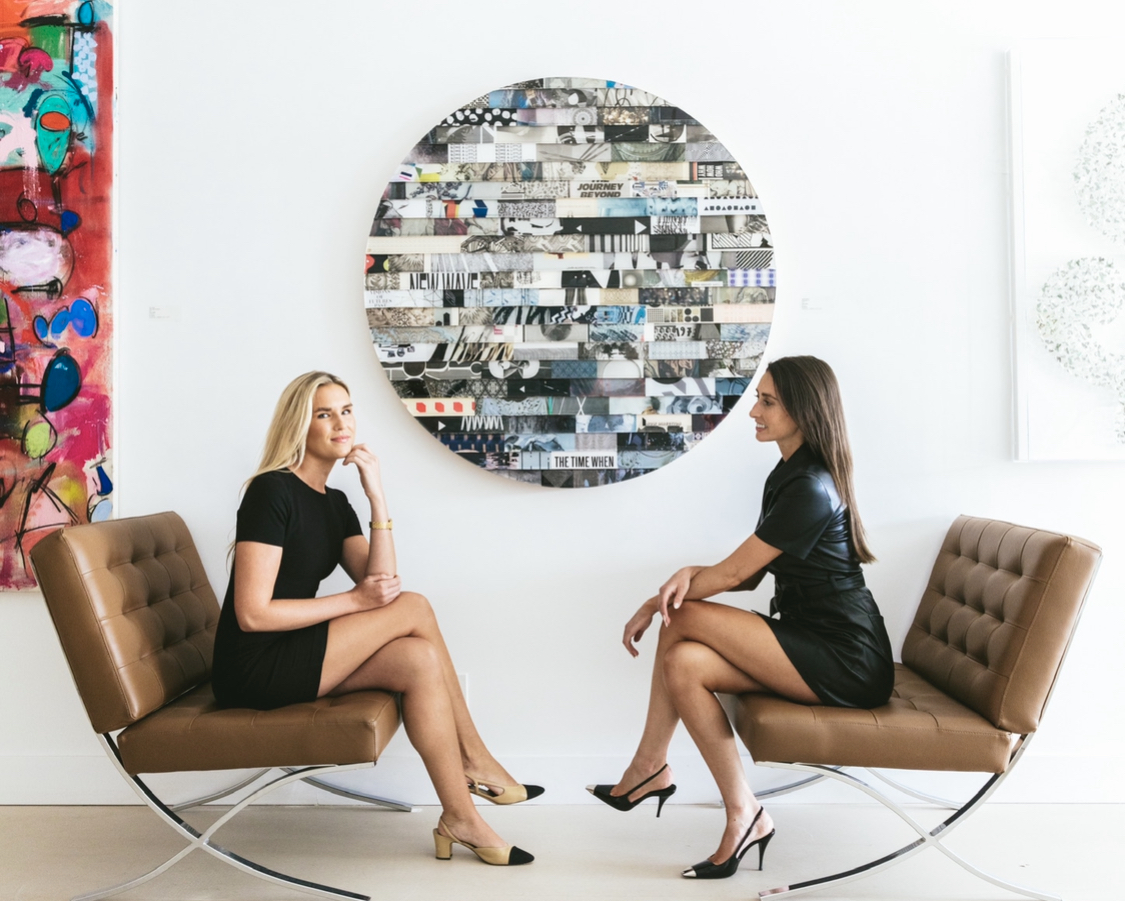 4:00PM: Check out Samuel Owen Gallery —just a block away from The Royal at 253 Royal Poinciana Way, Palm Beach, FL 33480 @samuelowen. (And, while you're there, check out the new FiveStory Palm Beach at 201 Royal Poinciana Way at the corner of South County, too! @fivestoryny).
Co-Owner & Director of Samuel Owen Palm Beach is Devon McCready, a model/ gallerist who was just named "30 Under 30" in Palm Beach Illustrated. The young art dealer says, "The gallery will continue to launch the careers of emerging artists, engage collectors, and be a staple gallery in PB's art boom." She aims to advise a new generation of collectors and curate a space that makes art fun for everyone. Current female artists on view include: Audra Weaser and Dani Cooperman.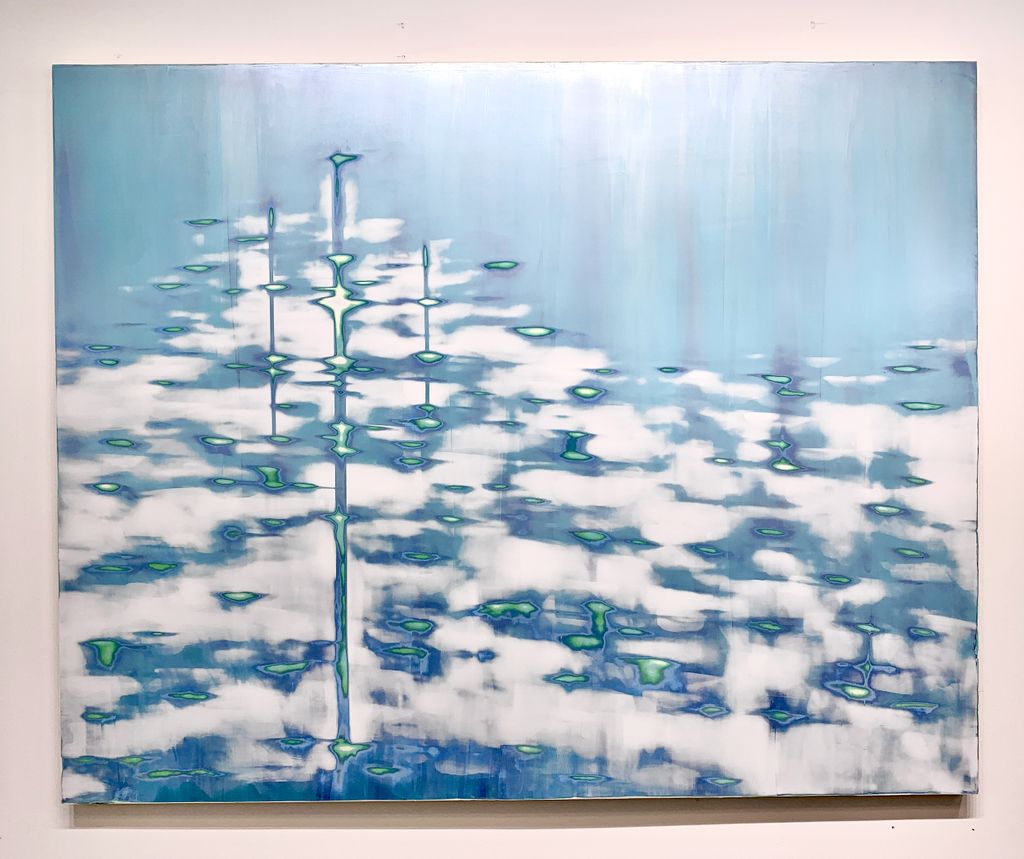 We asked Devon her favorite feminist movement in art history… "The American feminist art movement of the late 20th century speaks to me greatly. Women like Judy Chicago, Barbara Kruger, and Cindy Sherman always come to mind when I think of ground-breaking artists. I love female artists who are influenced by traditionally feminine "craft" techniques such as quilting and embroidering. Tracey Emin and more recently Bisa Butler are two of my favorites."
5:30PM: Cocktails at Lola 41 at the new White Elephant Hotel, 280 Sunset Ave, Palm Beach, 33480. A Nantucket favorite, now in Palm Beach. We love the sushi.
7:30PM: Dinner at Café Boulud at The Brazilian Court Hotel, 301 Australian Ave, Palm Beach, FL 33480 Enjoy sipping on their famous White Cosmo and their Dover Sole, while dining beneath the palms. We suggest the Dover sole.
DAY TWO IN PALM BEACH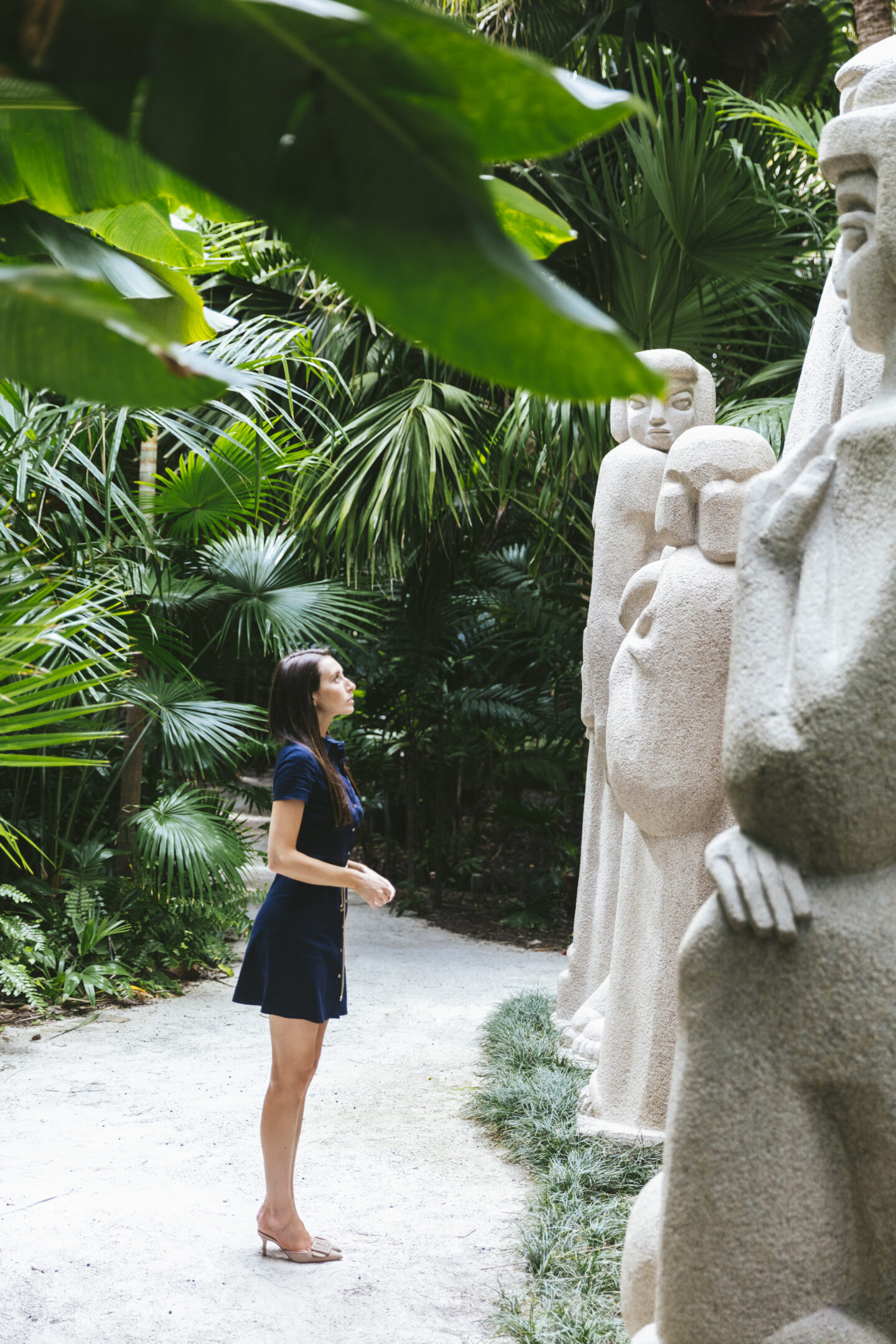 10:00AM: Grab a croissant and coffee at the newly opened Hive Bakery & Café.
10:30AM: Visit the Ann Norton Sculpture Gardens.
The Ann Norton Sculpture Gardens comprise the former residence of sculptor Ann Weaver Norton (1905 -1982), the widow of Ralph Hubbard Norton – collector and founder of The Norton Museum. The house is listed in the National Register of Historic Places, and the two acre property, featuring a collection of 250 species of tropical palms, lies near downtown West Palm Beach on the Intracoastal Waterway.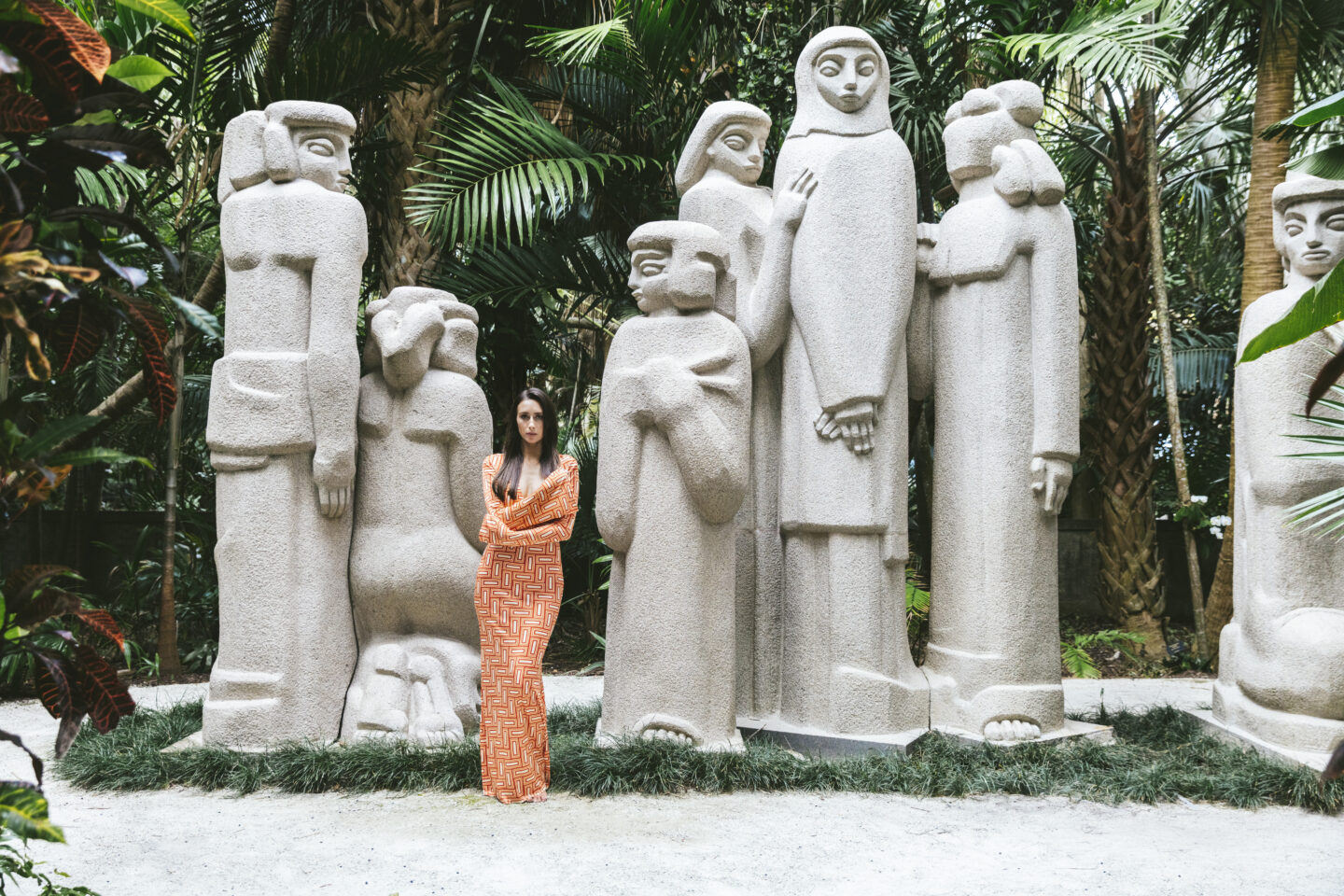 Displayed throughout the house, studio and gardens are more than 100 works by the artist, including nine monumental sculptures, eight in brick and one in granite. The Gardens were designed by Ann Norton and Sir Peter Smithers. The largest tract of garden containing the great brick sculptures, is designed in a natural, unmanicured style. The experience of coming across Norton's mysterious monoliths as surprises in their lush green jungle-like setting is akin to discovering another world.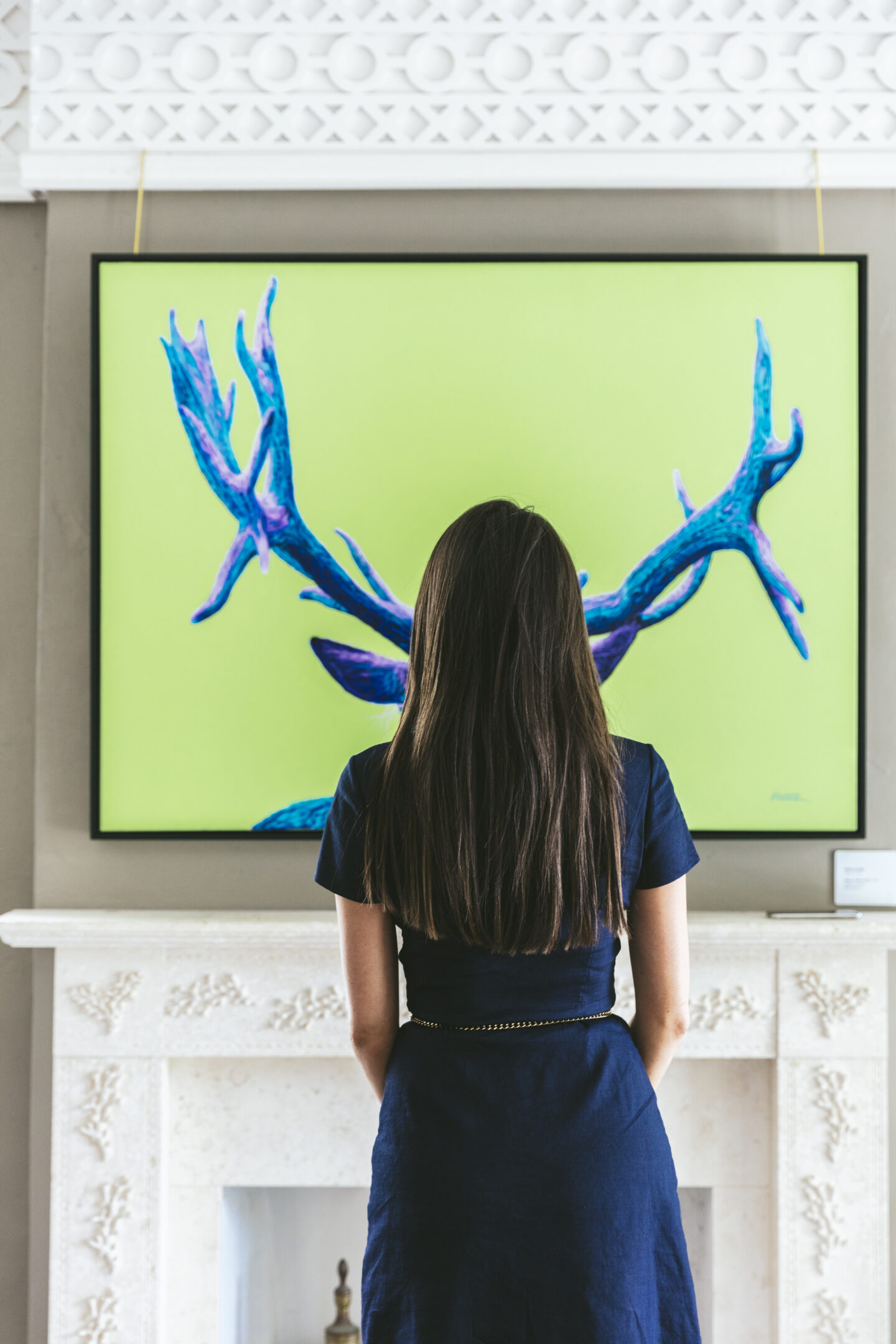 There are currently five exhibitions by other artists on view including Mary Page Evans, Helmut Koller, and Bradley Theodore, their current artist in residence.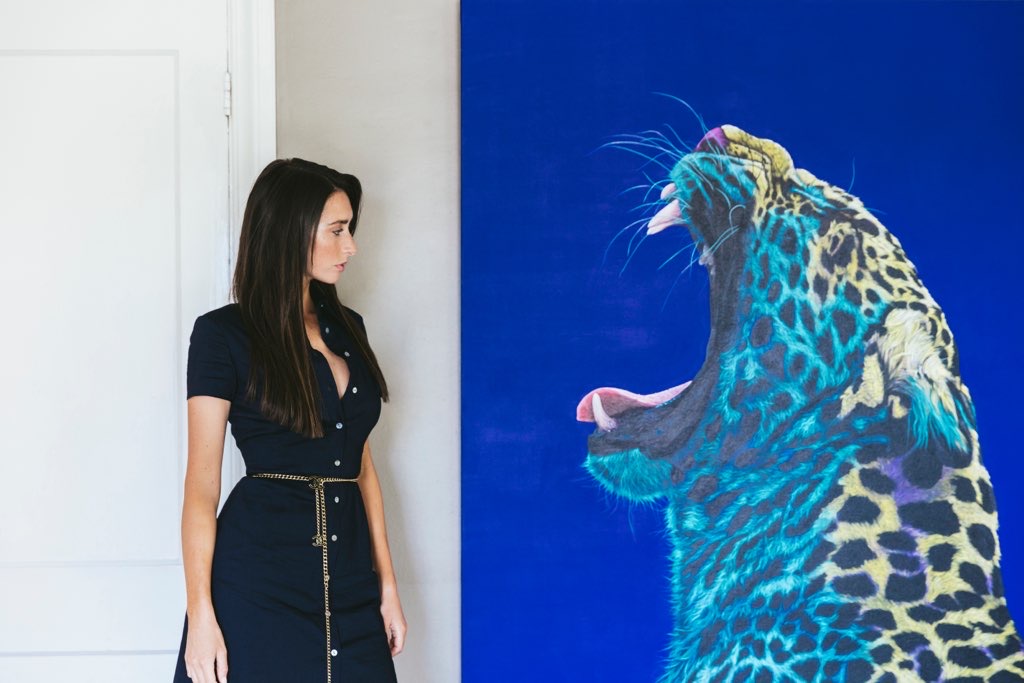 1:00-2:30PM: Lunch at Le Bilboquet Palm Beach. Probably the most festive restaurant on the island. Rosé all day at Bilbo. Appropriate dress is required. Now serving petit dejeuner avec café au lait as well.
3:00-6:00PM: Visit Christie's new pop-up location directly next door to Le Bilboquet. Then stroll historic Worth Avenue and check out galleries including: Lehmann Maupin, Cavalier Gallery, JL Modern Gallery, Findlay Galleries, Holden Luntz Gallery, DTR Modern Galleries, female owned Brintz Galleries, and Wynn Fine Art Gallery in The Esplanade (where the @aktion.art boys are: Nick Hissom and Kameron Ramirez!)
7:30PM: Dinner al fresco at Renato's on Via Mizner, named after legendary Palm Beach architect Addison Mizner. Fine Italian cuisine and wines. Jacket required. Valet parking.
DAY THREE IN PALM BEACH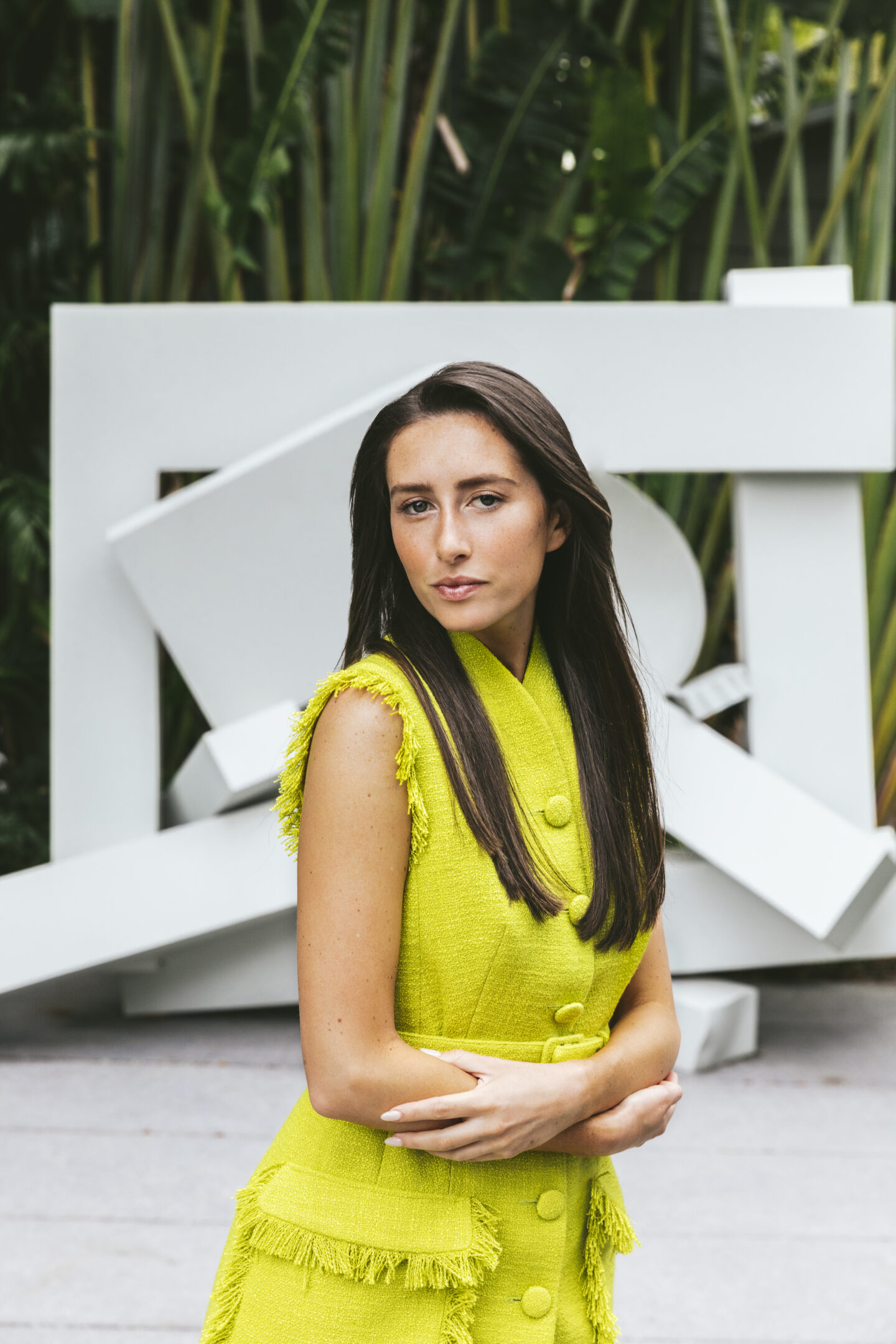 10:00AM: Coffee at News & Gourmet at The Breakers Hotel. Best place to buy a magazine on the island! Great gift shopping, too.
11:00AM: White Cube. One of the world's leading contemporary galleries led by Global Board Director, Daniela Gareh. Current Exhibiton: No More Dark Days by Theaster Gates. On view until April 16, 2022.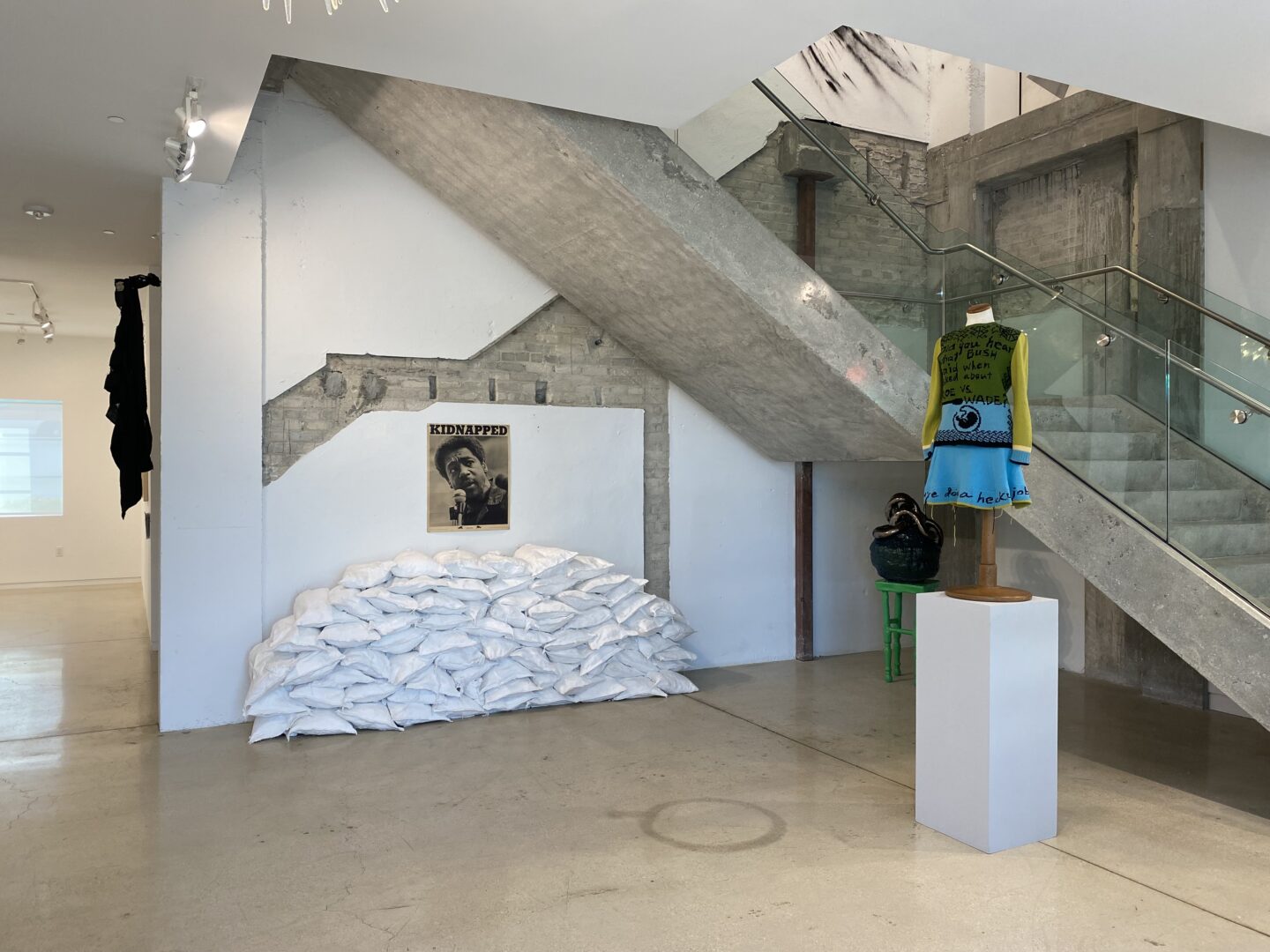 11:45AM: The Collection of Beth Rudin DeWoody at The Bunker Artspace in West Palm Beach featuring ten new installations of both established and emerging contemporary artists curated by Laura Dvorkin and the "fiercely feminist" Maynard Monrow, along with this season's guest curator Franklin Parrasch. On view until May 13, 2022. By appointment only at TheBunkerArtSpace.com.
Read more about it here.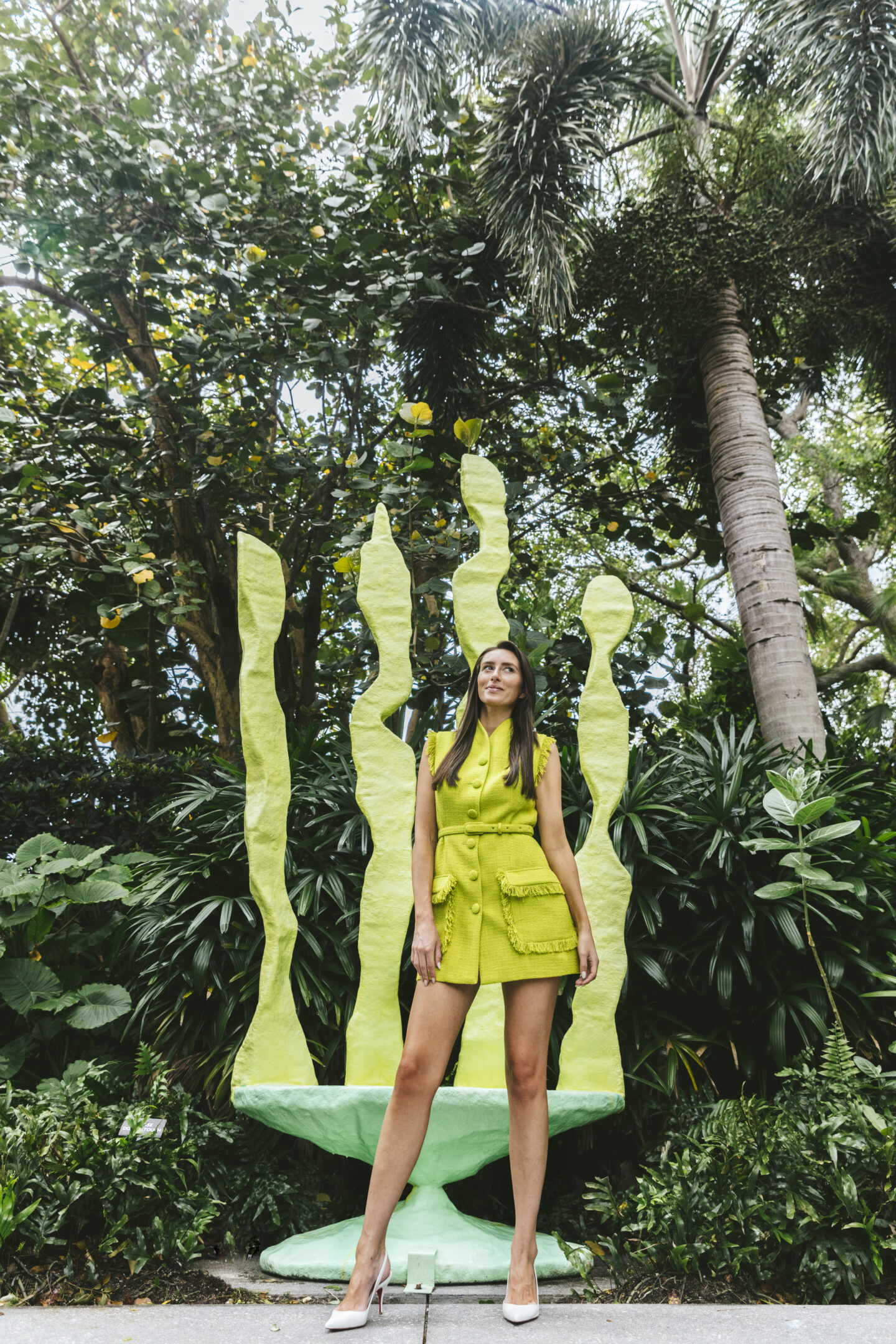 1:00PM: Quick lunch at The Restaurant at The Norton. Indoor and outdoor space next to the Norton Sculpture Garden Make a reservation at norton.org.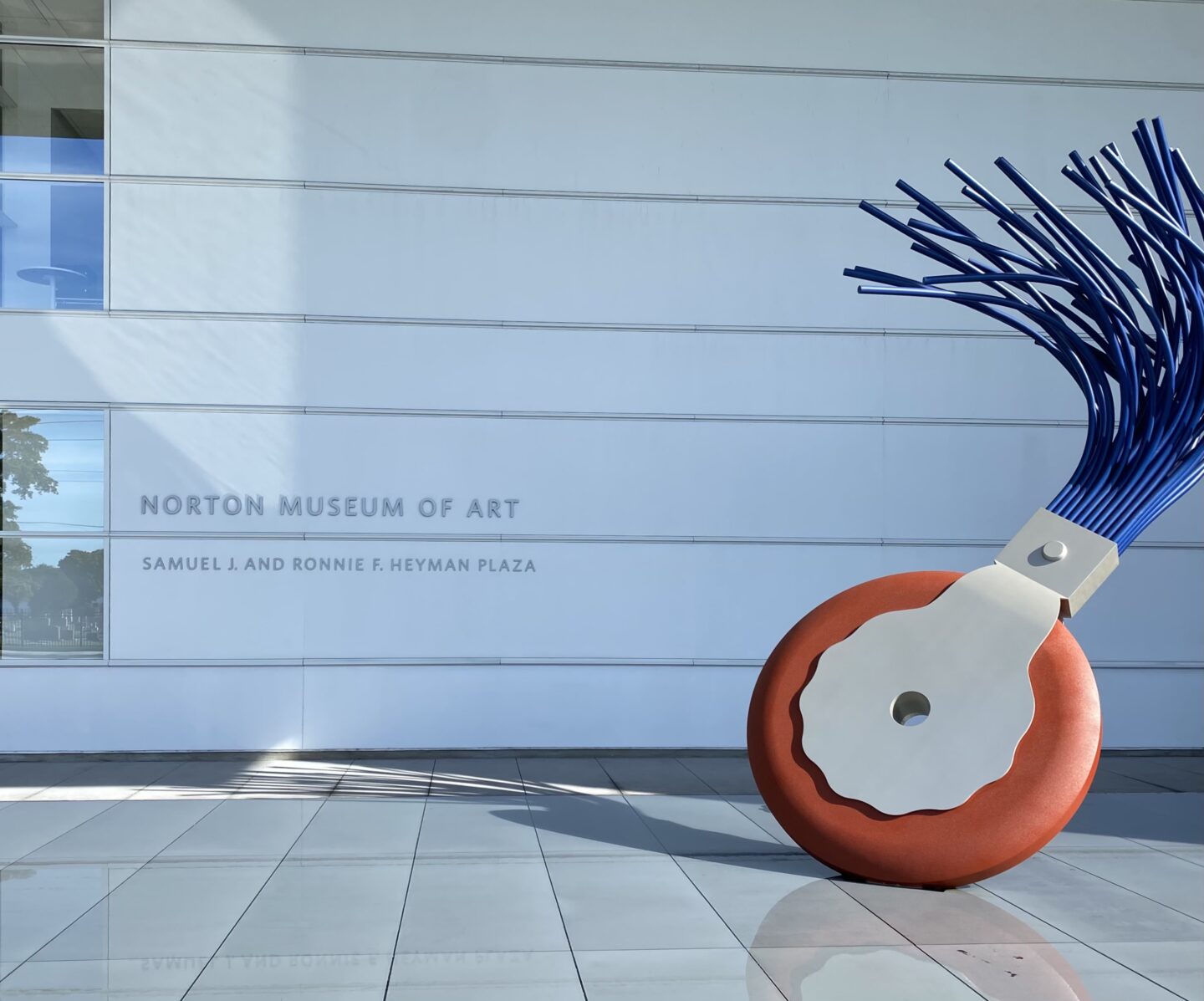 2:30PM: The Norton Museum of Art.
The Norton Museum of Art was founded by industrialist and collector Ralph Hubbard Norton (1875-1953) and his wife Elizabeth Calhoun Norton (1881-1947). Highlighted exhibitions include: The Howard and Judie Ganek Collection; February 5 – September 25, 2022; Durer, Rembrandt, Picasso: Three Masters of the Print; March 13 – September 11, 2022; A Remarkable Gathering: The Fisher Landau Family Collection (Agnes Martin, Georgia O'Keeffe, Picasso, and others), March 13 – September 11, 2022; Gifts of Ellen Graham; photography donated to The Museum's permanent collection.
In 2011, the Norton launched Recognition of Art by Women (RAW), an annual exhibition series that celebrates the contributions of living female painters and sculptors with solo exhibitions. Funded through the Leonard & Sophie Davis Fund/ ML Dauray Arts Initiative, the Norton has organized solo exhibitions for British painter Jenny Saville (2011), American painter Sylvia Plimack Mangold (2012), British sculptor Phyllida Barlow (2013), Swedish sculptor Krista Kristalova (2014), African-born, L.A.-based painter Njideka Akunyili Crosby (2016), and Austrian painter Svenja Deininger (2017). RAW 2018 featured the work of Chicago-born, New York-based artist Nina Chanel Abney.
In 2013, the Museum's Trustees embarked on a bold, visionary museum expansion, enlisting the renowned London-based architectural firm of Foster + Partners to design a new building. The expansion also includes a lawn for outdoor programming, or relaxing, and a sculpture garden. The project also included the renovation of six Museum-owned, 1920s-era cottages to house an artist-in-residence program, and the Museum Director's home, all to better serve the art and the community. It is simply a "must see" for all who love art and visit Palm Beach!