Dior's Creative Director Maria Grazia Chiuri and Dior Men's Creative Director Kim Jones have been threading the fashion institution into the art world with profound and sensational artist collaborations.
---
Maria Grazia Chiuri has worked with an array of incredible feminist artists, including Grace Wales Bonner, Penny Slinger, and Judy Chicago, since she joined Dior as the brand's first female Creative Director in 2016. Over the years, Chiuri has collaborated with numerous female creatives to turn Dior's runway shows into a global stage for feminist art and values.
In 2019, Chiuri partnered with the British surrealist artist Penny Slinger to showcase Dior's Autumn/Winter 2019 Haute Couture Collection. Slinger transformed the original Dior Maison at 30 Avenue Montaigne into a mystical black-and-white mansion. Flames of fire, clouds, roots, and flowers bloomed from floor to ceiling, igniting a blaze of female energy through visions of Mother Nature.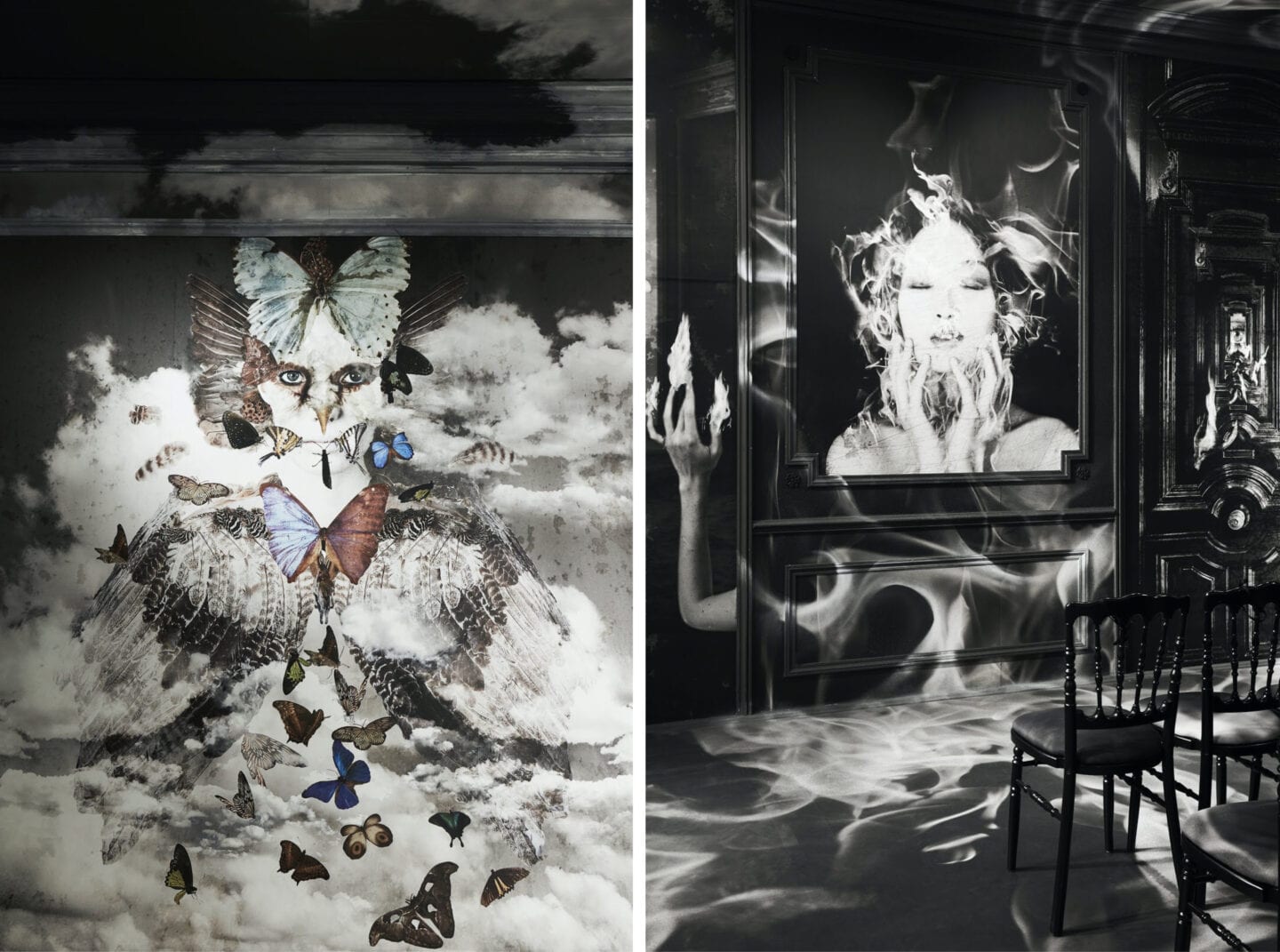 Chiuri and Slinger collaborated on the final look of the collection: a sculpture dress in the form of a golden house. The sculpture dress symbolised the idea that our clothes are our body's houses—we live in them. Chiuri's avant-garde designs introduced a new conceptual vision of haute couture. Replacing traditionally tight cuts and defined contours with silhouettes that take the shape of each woman's unique body, Chiuri has revolutionized haute couture to fit the modern woman's contemporary lifestyle.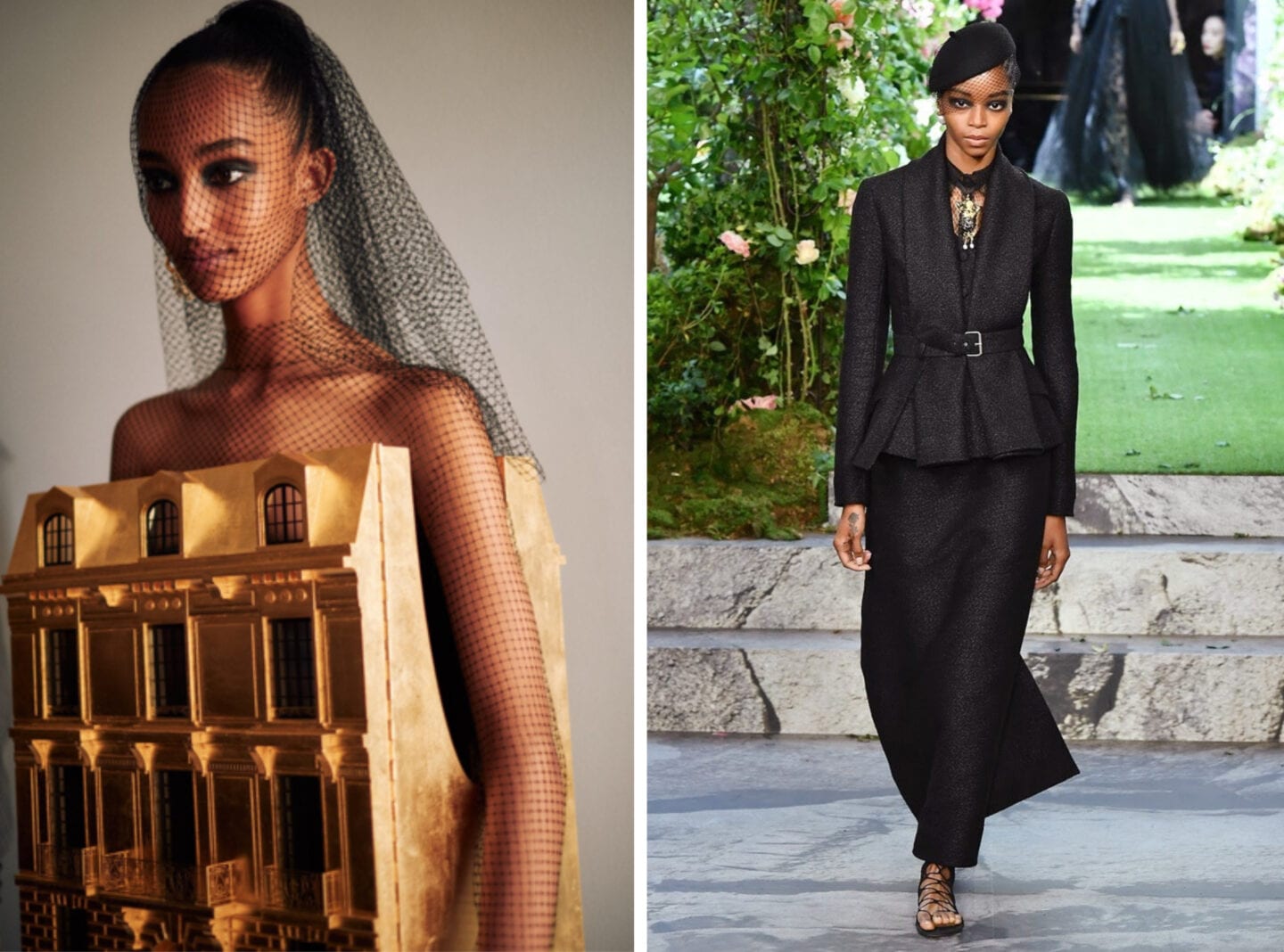 Defying the disheartening ambience of 2020, Chiuri has filled the year with an awe-inspiring roster of art x fashion collaborations that bring female creatives into the spotlight.
In January, Maria Grazia Chiuri brought Dior together with the great feminist artist Judy Chicago to present Dior's Spring/Summer 2020 Haute Couture Collection. In lieu of the usual runway tent in the garden of the Musée Rodin was a majestic, womb-like architectural artwork built to resemble a goddess called 'The Female Divine.' Chicago imagined 'viewers will literally walk into the body of the goddess and the viewers and the models will be enveloped in the warm, golden light of her divinity.'
Inside the voluptuous yet ethereal structure, 21 velvet banners lined the ceiling as the backdrop of the runway show, each embroidered with a thought-provoking question. Starting with the proposition on the central banner 'What If Women Ruled the World?' the consequent series of questions explored how different the world would be: Would God Be Female? Would Men and Women Be Equal? Would There Be Violence? Would the Earth Be Protected? Floating above the guests at the show, the questions weaved together a feminist framework which confronted and enveloped its viewers. The show was not only an incredible art x fashion moment, but also an unforgettable celebration of the female spirit.
In February, Dior's Autumn/Winter 2020 Prêt-à-Porter Collection was presented in a politically charged production created by Claire Fontaine, a collective of feminist artists. Large neon signs radiating feminist ideologies such as 'Consent,' 'I Say I' and 'Feminine Beauty Is A Ready-Made' illuminated the runway, awakening a sense of empowerment in the viewer. The show was a fearless, urgent declaration for women's rights that echoed the slogans on Chiuri's T-shirts which debuted a year ago at Dior's AW19 show: 'We Should All Be Feminists.' 'The Future Is Female.' 'Nevertheless, She Persisted.' Chiuri continues to bring her voice of empowerment to Dior's runway, demonstrating her consistency in supporting and promoting women's rights. Presenting Dior's latest collection through their shared prism of feminism, Chiuri and Claire Fontaine not only created a legendary synthesis of art and fashion, but also galvanized their audience, who undeniably left the show with a glowing sense of female pride.
In March, Chiuri debuted the podcast series 'Dior Talks' to further open up conversation with our generation's female creatives. The platform provides an amplified voice to women artists who have collaborated with or influenced the brand, including Tracey Emin and Mickalene Thomas. This project demonstrates how feminist art drives Chiuri's work at Dior, and unveils her behind-the-scenes efforts to celebrate all female creatives on the global stage.
Expanding on Dior's dialogue with contemporary artists, Kim Jones has also presented his share of remarkable art x fashion collaborations since joining Dior Men as Creative Director in 2018. The roster of artists includes Daniel Ashram, Raymond Pettibon, Hajime Sorayama, and KAWS, whose 'BFF' character appeared as a striking 33-foot-tall floral sculpture on the runway of Dior Men's Spring/Summer 2019 show.
In Dior's most recent artistic collaboration, Kim Jones designed the Spring/Summer 2021 Menswear Collection as an homage to Ghanaian artist Amoako Boafo. Using his signature technique of finger-painting, Boafo paints portraits of his family, friends, and other individuals who inspire him. The artist has always been deeply interested in fashion, and he emphasizes on expressing his subjects' sense of style through his finger-painted swirls of umber, olive green, yellow, red and blue.
In this stunning collaboration, Jones did a phenomenal job of translating Boafo's art from the medium of painting to couture. He delicately infused the patterns found on Boafo's figures' clothing with timeless Dior symbols, and translated Boafo's finger-painting effect into Dior's renowned embroidery designs. In the film 'Portrait of an Artist' which launched the collection during this year's digital Paris Fashion Week, Jones describes the process of taking the textures, prints, patterns, and colours from Boafo's portraits, and giving them new life on classic Dior designs. One of the pieces in the collection is a shirt woven with an ivy leaf print—this textile was extrapolated from one of Boafo's paintings, but is also reminiscent of the ivy pattern on a 1950 evening gown designed by Christian Dior.
Having spent his childhood in Africa, Jones has always longed to collaborate with an African artist. This pure desire to celebrate Black culture strikes the chord of universal relevance in the current social climate. However, this pioneering and authentic collaboration is so much more than a trendy moment. As Tremaine Emory succinctly puts it, this artful collection 'drowns the viewer in the shimmering light of the Black gaze, which we so rarely see in fashion or the art world.' Boafo's art not only creates a sensational narrative for the collection, but also opens up a crucial cultural conversation in the creative industries and beyond.
Dior has mesmerized us with yet another one of its exquisite artistic collaborations, further cementing its commitment to the arts, and continuing its legacy of celebrating and empowering all genders and skin colours as a truly global brand.