TEFAF New York: 10 Treasures You Can't Miss This Fall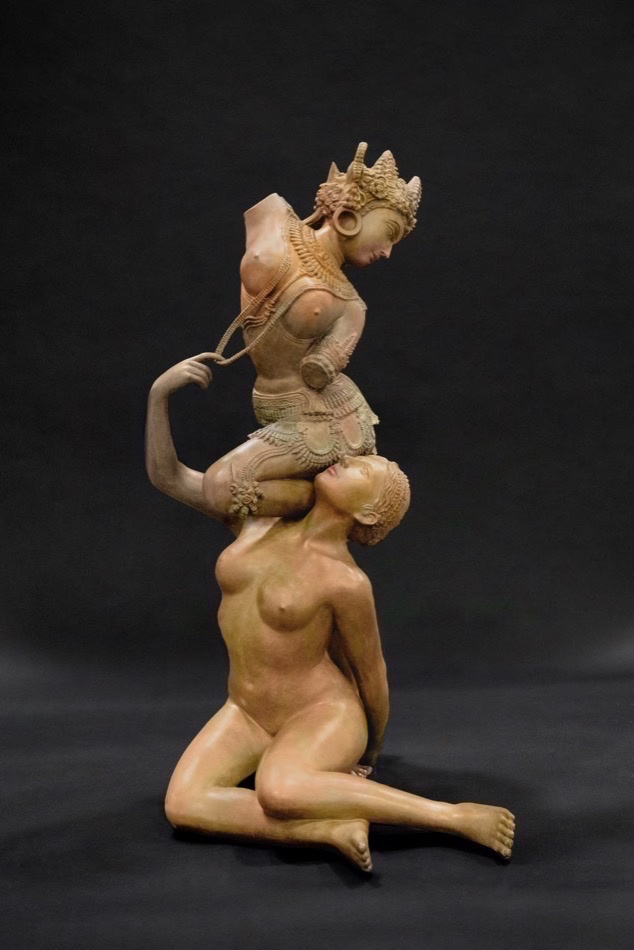 Usually at this time of the year Park Avenue Armory shines with the extraordinary treasures shown during TEFAF New York. This year, the fall season in New York is inevitably quite different, with no fairs at Armory and less events and exhibitions around. Back in March, TEFAF in Maastricht was one of the very last European fairs happening in person, but they were eventually forced to close early due to coronavirus cases spreading and negative comments by dealers blasting the fair for allowing the risk of infections. Now, even the prestigious and long-running European Fine Art Fair in New York has gone virtual, and their quality this time was secured by a top-notch vetting process.
Each of the 300 exhibitors had to choose only one item to present–an artwork, design object, or exquisite jewel–resulting in a quite agile and very elegant online display you'll be able to enjoy until Wednesday, November 4. Here are 10 stand-out treasures and treats we would love to have–also to sweeten this bitter fall.
1. A George Braque 18 Carat Gold and Diamond Necklace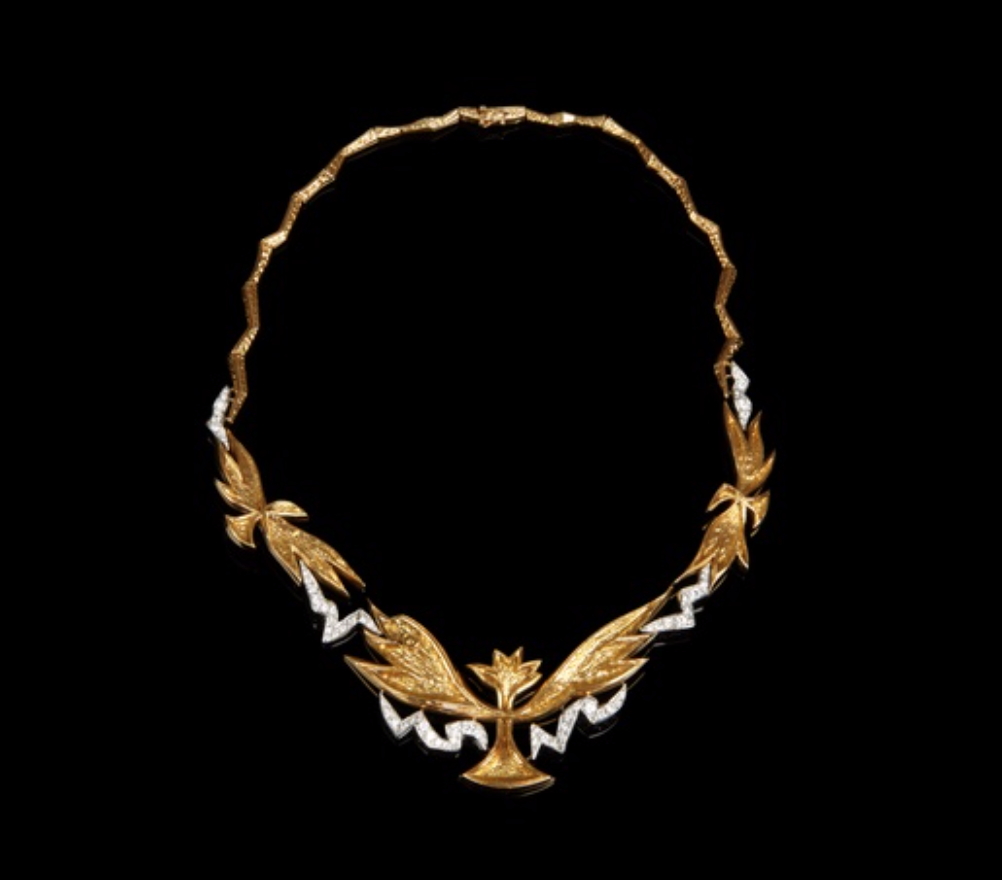 A masterpiece of wearable art, for your next art party: this 18-carat yellow gold and platinum necklace with brilliant-cut diamonds designed by Cubist pioneer Georges Braque is a uniquely fashionable gem. Made by Heger de Löwenfeld and named after Poseidon, the Greek god of the sea, this is an incredible example of Braque's late life jewelry-making practice and an exquisite example of wearable art refinement. As always, Didier Ltd. confirms to have the best collection, and selection for sale, for this quite new but growing and rewarding category of collectibles.
2. Carmen Herrera: Hymn of Her Love for Paris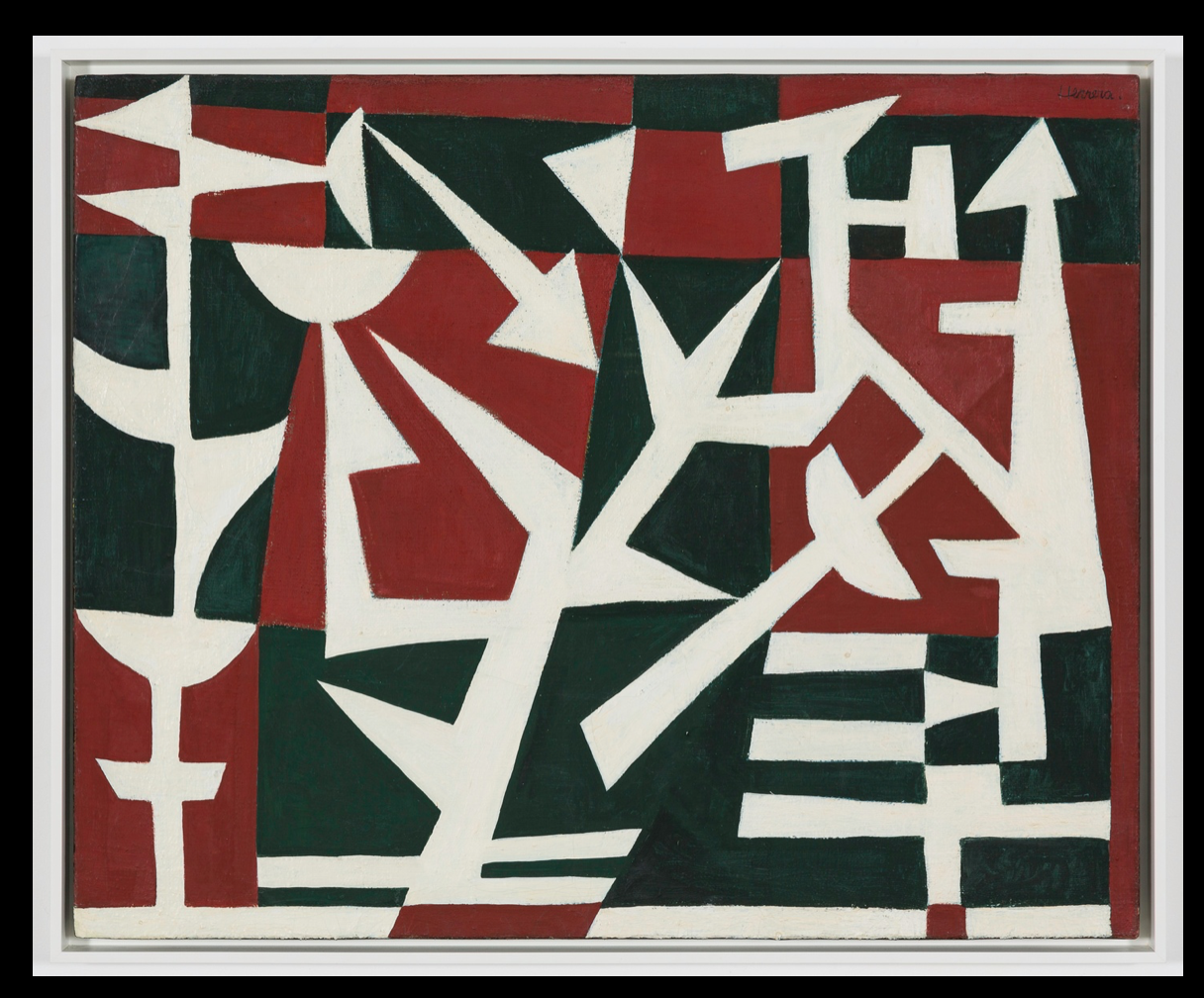 "I don't know why I was born in Cuba, I should have been born in Paris."

–Carmen Herrera
It was in Paris that the Cuban-born avant-garde abstractionist Carmen Herrera (b.1915) embarked upon her revolutionary journey into non-objective geometric abstraction, for which she found recognition only late in her career, becoming today one of the most sought-after postwar woman artist (especially after her last auction record for Blanco Y Verde (1966–67), sold for $2.9 million in March 2019). This rare acrylic on canvas is a seminal work of Herrera's early experimentations with abstraction and a hymn to the artistic capital she loved, which admittedly gave her the main inspiration sources for her art. Herrera and her husband, Jesse Loewenthal, immersed themselves in the vibrant atmosphere of the Parisian postwar art scene and café culture of the Left Bank, circulating among artists like Arman, Serge Poliakoff and Jean Tinguely and writers like Eugène Ionesco or Jean Genet. Shown at her her first solo exhibition in New York at Galería Sudamericana (1956), this work celebrates the influence and legacy of the "the French concrete school", which she originally combined with the dynamic formal and chromatic rhythms of Afro-Cuban ritual and symbology.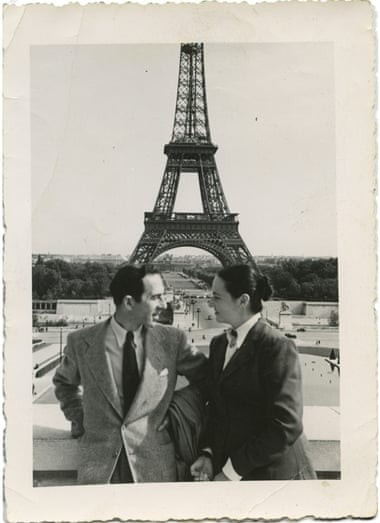 3. A Sumptuous XIX Century Diamond Tiara Once Owned by a Flamboyant Man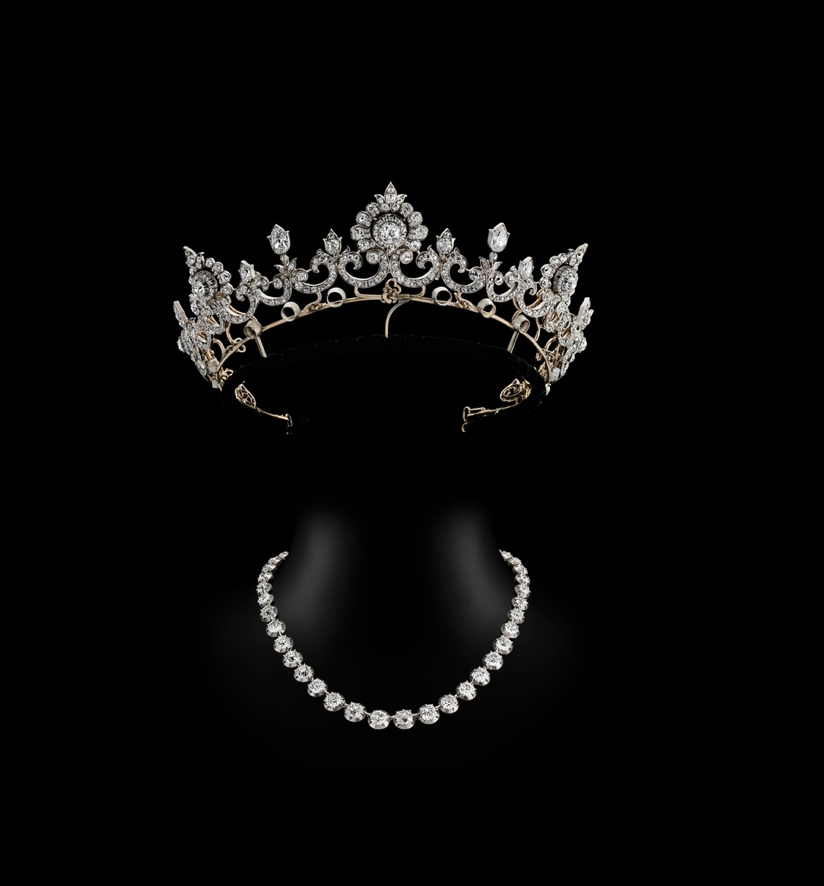 Who would not love to feel like a princess wearing this diamond tiara? Timelessly stylish, curiously this magnificent jewel was once owned not by a princess but by a flamboyant and controversial man, Henry Cyril Paget, the 5th Marquess of Anglesey also known as the The Dancing Marquess for his love for theatre and his lavish spending and colorful social life living as a real "diva." Just make sure not to fully take a cue from him, as despite having inherited a large patrimony, within six years he spent it all largely on clothes, jewels and his travelling theatre productions! When he sadly died at the age of 29 years old, all the jewels went to his cousin' wife, Lady Marjorie, who was photographed by Cecil Beaton wearing the tiara at the Coronation of King George VI.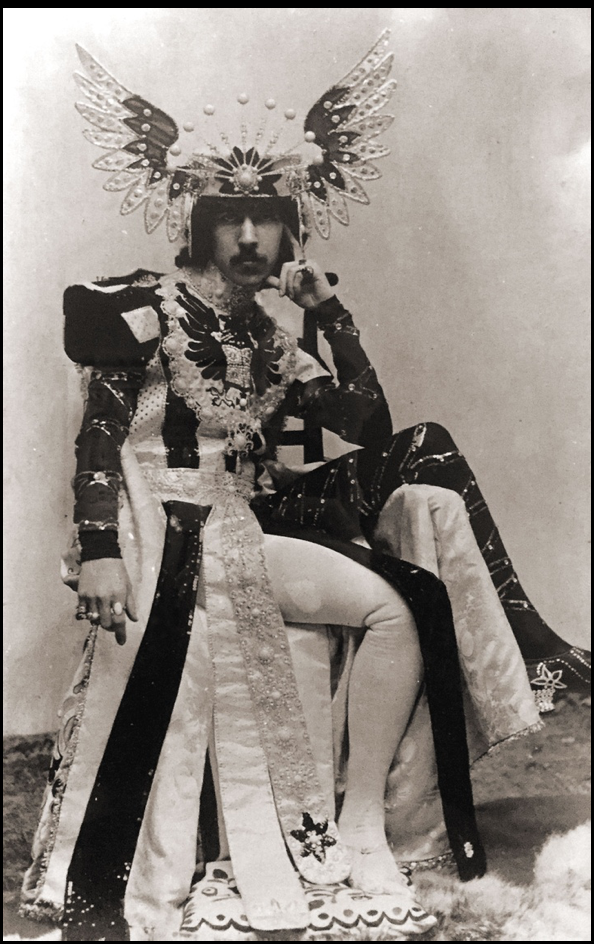 4. A Delicate Gesture in the Eternity of Bronze by Louise Bourgeois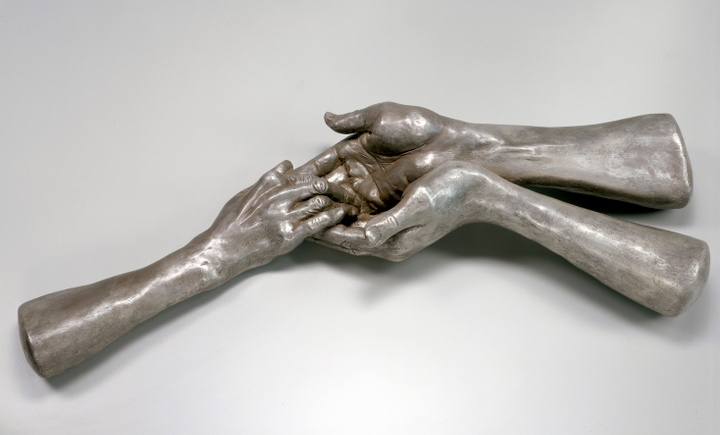 An intimate yet universal gesture frozen in the eternity of bronze, as those of a child in those of a parent: held hands, outstretched hands, affectionate and protective hands. This incredibly emotional and symbolic work by French artist Louise Bourgeois celebrates with a single powerful image the power of relations, affections and solidarity among humans, especially to support us through difficult times. This sculpture is a smaller version of a piece of larger scale, part of a group of six bronze sculptures from 1996, which was originally installed in Battery Park City, Manhattan, New York across from the Statue of Liberty and in close proximity to the newly founded Museum of Jewish Heritage, but later removed among controversies. Eventually acquired by the French government, the monumental version is now welcoming visitors at the Jardins des Tuileries in Paris, here permanently installed on granite blocks.
5. Tea Time with Style — Anywhere!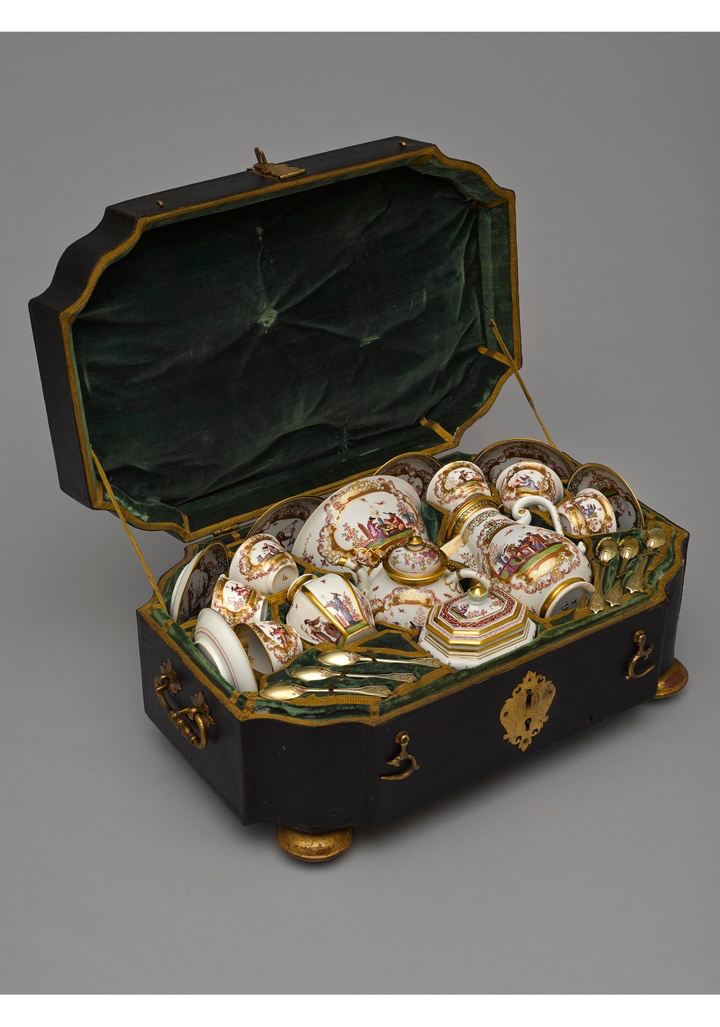 You can't meet your friend anymore at Starbucks with new lockdown restrictions, and now you need to take a cup of coffee or tea at home for a chat? What's better than welcoming your guest with a fancy XVIII century tea and coffee service in its original leather case? Then, you'll be able to easily take it with you for your next countryside escape, or at work once back from smart work and surprise all your colleagues on coffee break. The production of these luxury travel tea and coffee cases began in Dresden in the XVIII century, in order to accommodate princes' needs for the luxuries they were accustomed to, even when traveling between places. This special porcelain service is an exquisite example of these sumptuous ensembles, coming with an elaborated polychrome decoration of chinoiserie figural scenes and gold lace borders, and with its original leather case.
6. The Soft and Comforting Touch of Hanne Friis Textile Sculptures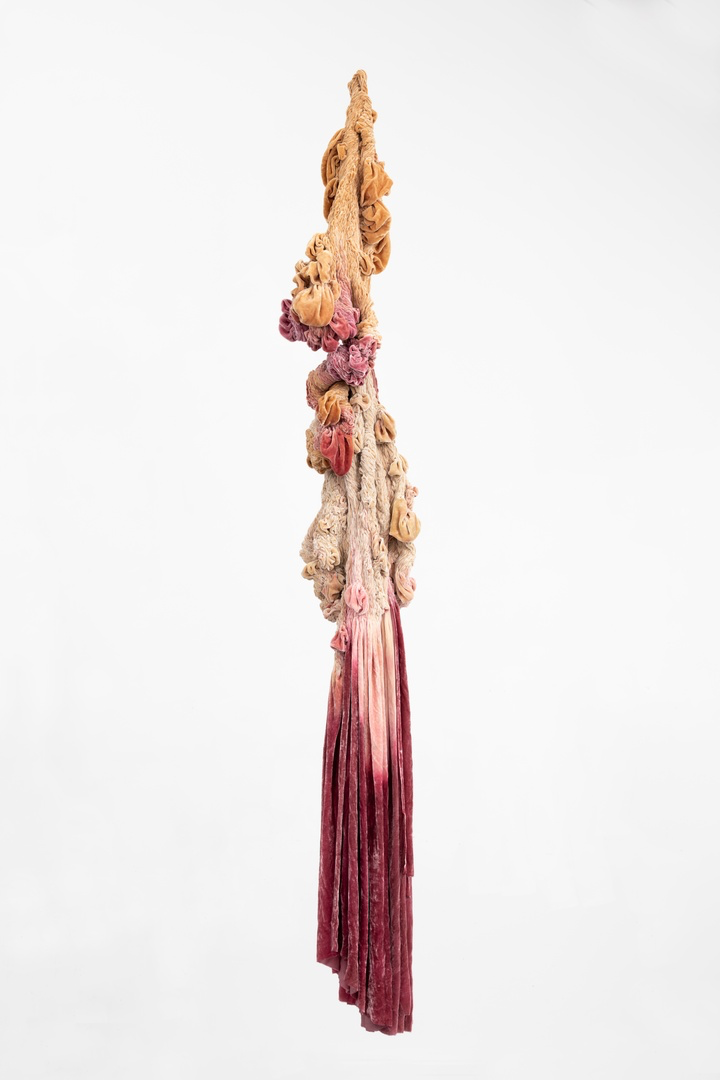 Hanne Friis (b. 1972) is a Norwegian textile artist who creates lusciously tactile handmade sculptural works. These sensual objects made with needles and threads emanate a corporeal energy, in their amorphous, twisted, and tangled movements. Purposely, Friss' sculptures are often reminiscent of the organic elements of nature or the human body, but they also show an exquisite attention to possible combinations of fabrics and textures as a way to convey highly specific impressions of our senses.
In this way they're both a palpable form of art and a trigger for inner sensations. Certainly this "new ornament" can be a comfortable presence at home in these times. Hanne Friis' works are already in several important public and private collections, including the National Museum of Art, Oslo and the National Museum of Decorative Arts, Trondheim in Norway, and was recently included in important group exhibitions at Revelations at the Grand Palais, Paris in 2019, Tissage Tressage at the Villa Datris Foundation in France in 2018, and The Forgetfulness is Full of Memory at Gallery Marso, Mexico in 2018.
7. A Dazzling Woman-Designed Tiffany Studios Glass Lamp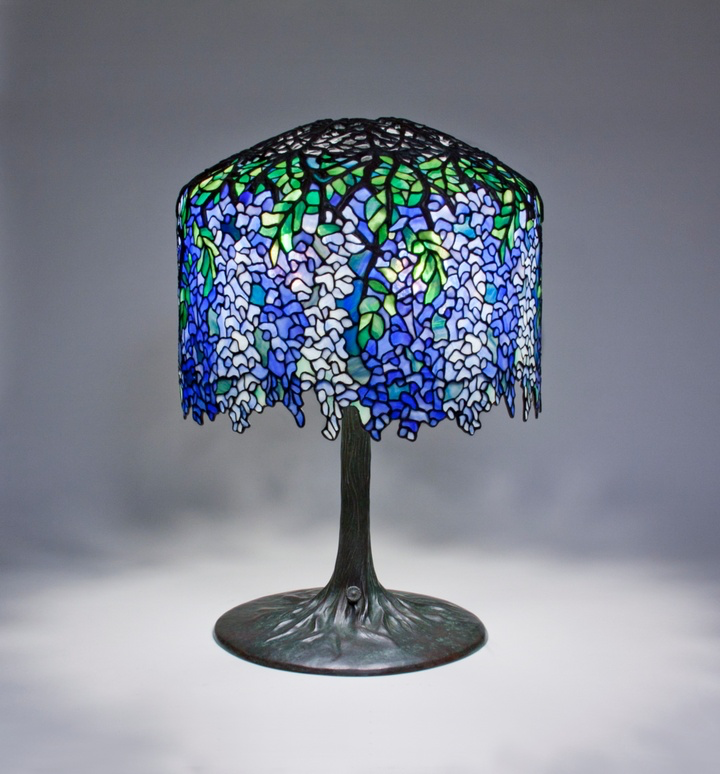 Tiffany Studios' lamps and vases are some of the highest results of American early XX century design and the unique leaded glass technique. They became very fashionable among New York society at the time of their creation, but they have also acquired a strong international appeal ever since. The aesthetic genius behind was Louis Comfort Tiffany (1848-1933), a designer, an artist, but also a savvy entrepreneur — chip doesn't fall, as his father was Charles Tiffany, founder of the renowned jewellery house Tiffany & Company.
Most of the vases were made of bronze from Tiffany's foundry in Queens, while the elaborated top was made by skilled glass artisans who Louis often picked from the most prestigious art schools, as well historic European firms who helped to expand his aesthetic vision. Among them was a woman artist, Clara Pierce Wolcott Driscoll, who became head Women's Glass Cutting Department at Tiffany Studios, and designer of the most iconic Tiffany lamps, including the present Wisteria, which is now widely considered to be a trophy to any collector of American Design. An exquisite example of a woman and artist-designed object, a proof of the potential of purely artistic contamination in the innovation of manufacturing.
8. A Rare Painting by a Woman Artist from XVII Century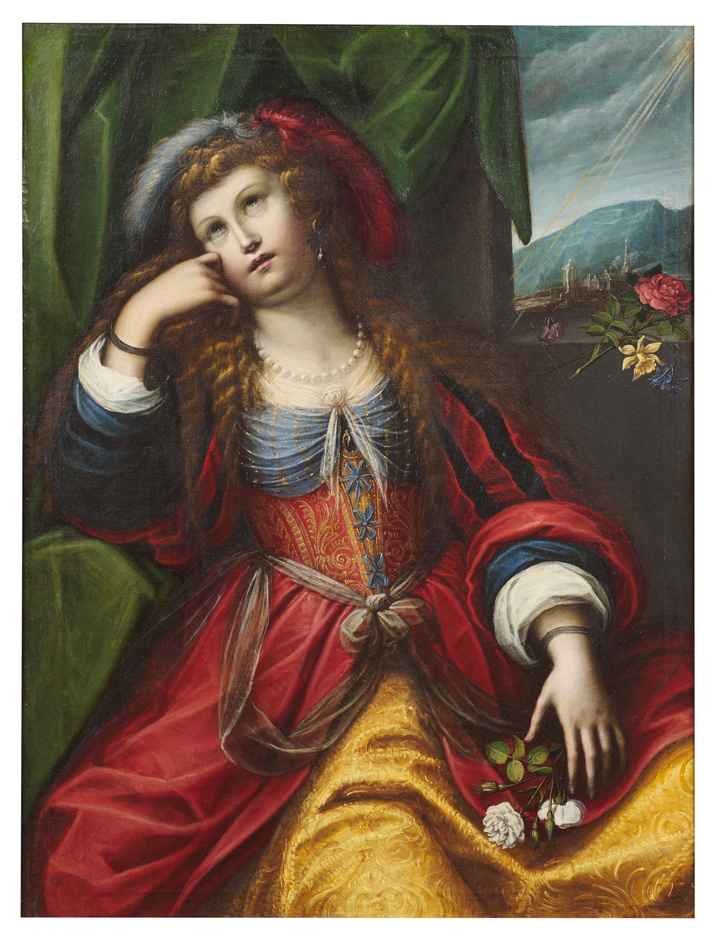 Interestingly, the previous editions of TEFAF have proved that current surging attention for once-overlooked female artists is now also expanding to Old Masters and Ancient art.
This is part of a long-needed gender-equality rediscussion of the art historical discourse, however, rapidly going well beyond the exclusively institutional context, the phenomenon has recently culminated in the new hype around figures as Artemisia Gentileschi, as well as in commercial initiatives like Sotheby's The Female Triumphant curated sale during Masters Week sales, endorsed by fashion diva Victoria Beckham.
Among these artists, Orsola Maddalena Caccia, was a leading and tribalizing figure among the women painters of her time, earning great critical acclaim in Piedmont. As Artemisia she was the daughter of an artist, but unlike her she chose to lead a cloistered life. Her studio was within the walls of a convent in Moncalvo founded by her father, but shortly distancing herself from his Mannerist style, she developed a highly personal and autonomous pictorial language specializing in bright colored flowers and still-lifes not conceived as decorative pieces, but rather as complex sacred metaphors.
9. A Fabergé Miniature of a Pink Princess Couch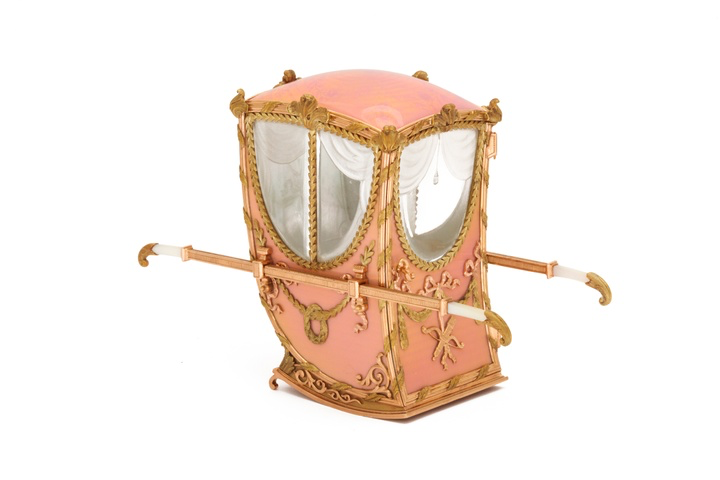 This gold and pink enamel miniature is one superb example of Fabergé's objets de fantaisie/fantasy objects, which combine an impeccable craftsmanship with the fascinating atmosphere of the Veille Europe/old Europe courts. You are immediately taken away to the imaginary world of princess fairy tales with this elaborate bejeweled Sedan chairs or chaises à porteurs – an enclosed seating to convey a person suspended by two horizontal poles carried by porters, popular in Europe from the 17th to 19th centuries. Fabergé's success lay in fact in his ability to transform his clients' fantasies into reality, with extremely rafinate objects which still make people and collectors dream today.
Interesting note for us: also among Fabergé's highly specialized and skilled work, we find a talented young woman and self-taught artist, Alma Pihl (1888-1976), who revolutionized Farberger re-imagination of Neoclassical and Rococo styles.
10. A Female Response to the Overt Male Representation of Historical Monuments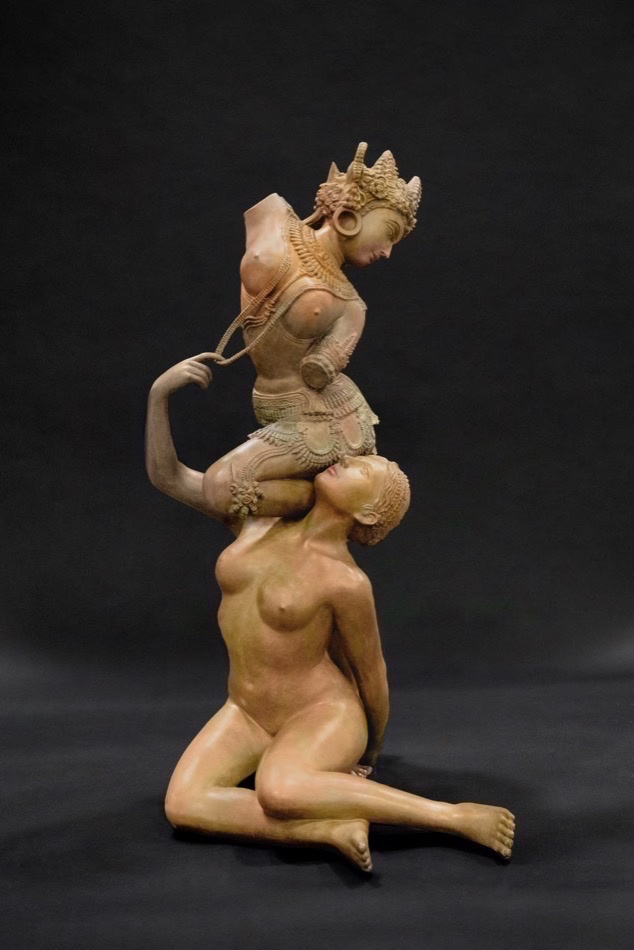 It may look to some as strange antiquity, but this sculpture of two intertwining female deities' bodies are instead a contemporary powerful image of a syncretistic embrace between cultures, identities and religions. This highly iconic but provocatively eclectic artifact challenges any previous idea of politically or religiously charged monuments.
Agreeably, the gallery text describes: "This bronze sculpture, with its sinuous entanglement of a Greco-Roman Venus and an Indian Devata, demands that we understand 'tradition,' 'culture,' and 'identity' as impure, heterogenous, unstable, and always in process, disrupting taken-for-granted national, temporal, and art historical boundaries." This work encapsulates the practice of the Pakistani artist Shahzia Sikander (b.1969), materializing a concept she first sketched for a banner for the MoMA in 2000, and further developed with her NYC Mayoral Advisory Commission on City Art, Monuments and Markers. Her work aims to elaborate a woman's response to the overt male representation of historical monuments through anti-monuments where confident, multicultural women are the new protagonists.
If you're in New York, you'll be able to see this sculpture included in Shahzia Sikander's exhibition at Sean Kelly, Weeping Willows, Liquid Tongues, opening November 5th.