The Leading Ladies of Luxury Handbags

The fast-growing niche of female collectors take precedence at Christie's Handbags & Accessories this November auction, and these three leading specialists are behind the scenes of it all.
---
Wearable art, some might say, luxury handbags and accessories are one of the newest and fastest growing categories to come to a well-established art market. Since its inception over 10 years ago at Christie's, the appeal of this alternative market is seeing leaps and strides in terms of its young collectors, fashionistas, and future visionaries.
"Where men have traditionally taken the helm as established collectors and auction buyers, the Handbags & Accessories department is the only female-centric collecting category at Christie's, with a majority of buyers being women as opposed to men," says Caitlin Donovan, VP, Head of Department, Americas.
While women have been wearing, utilizing, buying, and collecting handbags as far back as prehistoric times, it was only in recent years that luxury handbags, and the collecting mentality and culture surrounding it, transitioned from merely function and fashion, to a celebrated collecting category and asset class.
With a billion dollar primary market for luxury goods by many of the celebrated brands and fashion houses, it makes sense the secondary market – with a focus on brands that care deeply about craftsmanship, design, creativity, and small productions with high demand and limited supply – followed suit.
At Christie's headquarters in New York is a trio of power women behind the scenes of it all: Caitlin Donovan, Rachel Koffsky, and Madeline Lee. We spoke to each specialist on the history of handbags and accessories at auction and what they're most coveting right now.
Caitlin Donovan, Vice President & Head of Christie's Handbags & Accessories Department, and Head of Sale for Sneakers & Streetwear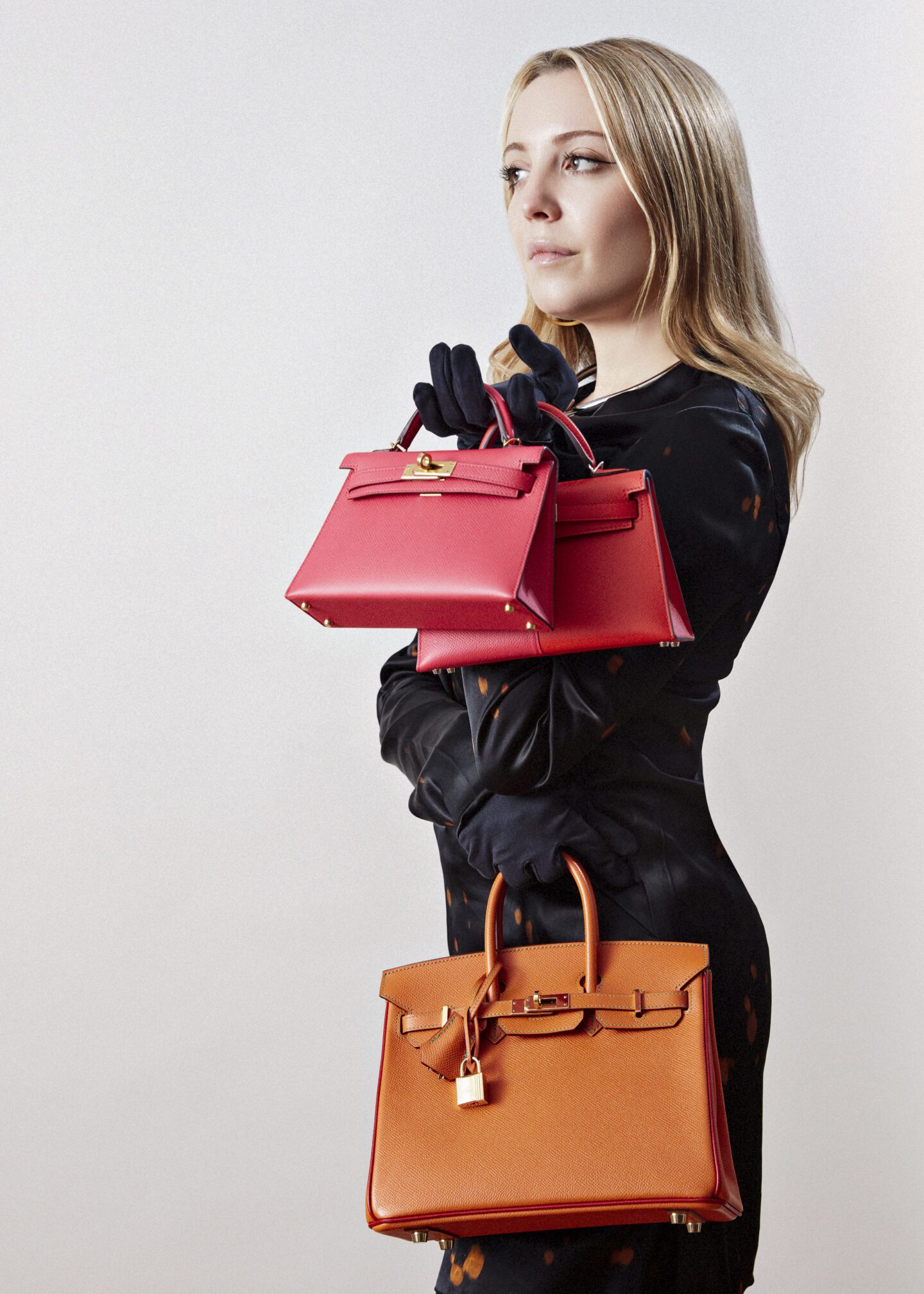 How does one become a specialist in this field? What is a typical day like for you?
CD: With no formal training program or course to become a handbag specialist, my path was forged from my early days working for a luxury handbags brand, to the auction world, where I spent many years studying the product and market, to help create and grow the department at Christie's.
As Head of Department in the US for one of the smallest departments at Christie's, I get the pleasure of wearing a lot of hats, being involved in every part of the process, which makes each day unique, absolutely never boring. Whether it's meeting with clients to bring in property for sale, strategizing on how best to curate and position our upcoming auctions and category as a whole, authenticating property brought in house, working with the Christie's Marketing and PR teams once a sale has come to fruition to package a sale, then selling an auction, or private sale property, through our many channels, outlets and personal relationships. Focusing on new and creative ways to continue to grow and expand, in the US, and beyond, traveling for events across the US, and very importantly, supporting my clients to help maintain, grow, and sell their collections around the world.
How is streetwear collectible growing? Tell us about your efforts in exploring this market.
CD: The definition of luxury has shifted greatly in recent years across all realms of the multi-faceted world of fashion and collectibles. With heritage brands such as Louis Vuitton and Fendi hiring creative geniuses like Virgil Abloh and Kim Jones to reinvent a deeply established, traditional, couture house, we see a new breed of young collectors and fashionistas gravitating towards this collectible streetwear market across all buying levels. Buyers in their teens covet the fashion, and the drops, made ever more desirable with the limited supply that comes to market and can be found on some of most important fashion icons and influencers of our generation. When James Jebbia founded Supreme, the small skate shop on Lafayette Street in 1994, I would be surprised if he had the vision of what the brand would become, a brand and logo which has become ubiquitous worldwide, and collected and worn by some of the most prominent of fashion insiders and luxury collectors.
Streetwear brings in a new type of collector to Christie's, similarly to our early days establishing the Handbags department, finding a new collector base, one that is new to the auction world and most specifically Christie's, and helping them transition into an established auction buyer. Collectors of streetwear, most importantly, represent our future collectors, and cultivating these new relationships and using the well-established auction model to sell a new type of property the auction market has never seen, has become one of my favorite parts of the job.
Tell us about the market for sneakers?
CD: The secondary sneaker market has been around far longer than our foray into this space, with an established group of highly knowledgeable and educated collectors who have been buying and selling for many years on the primary and secondary markets alike. Like any collecting category, there are many different types of sneaker collectors, which based on their collecting style, behave very differently, and covet very different property.
With collectors who focus on provenance – game worn and signed shoes from their most respected athlete – to collectors who focus on drops of specific models, fashion shoes, and collaborations made in very limited runs, only available to a handful of lucky primary market buyers – under the umbrella of "Sneakers" there are many different subset categories which need focus and attention. These collectors are amongst the most multi-faceted of any single collecting category I have worked with, which has made entering this space exciting, a bit confusing at times, and ultimately a category I look forward to continuing to grow at a higher level within Christie's.
What type of women are collecting streetwear?
CD: With the new definition of luxury, streetwear has transitioned from clothing and accessories which were once upon a time deemed unpolished, sloppy even, to a new relevance within fashion culture. Women across all ages and levels of collecting appreciate and now place a higher importance on streetwear and sneakers.
I've found this to be the case with both men and women. Our buyers are a wonderful combination of new and novice buyers to the auction world, younger in age and experience, to highly established Christie's collectors, collectors who have come from the traditional auction departments, with an interest in the new luxury collectibles market. There is no defined streetwear collector, male or female, rather the span encompasses all those who have an interest in current fashion and culture, and an eye for collecting.
What are some interesting recent statistics on handbags at auction? Most expensive piece ever sold?
CD: An interesting fact is that the Handbags & Accessories department at Christie's had its most profitable year to date, showing a continuing growth in the secondary handbags auction market. Our most recent Spring Auction in New York achieved the highest sale total for a New York-based auction to date, with record breaking prices across the board, a 98% sell through rate by lot, and 155% by low estimate.
Mirrored in our results globally, our Spring Hong Kong auction achieved the highest sale total for any Handbags & Accessories auction to date, which helped solidify our position as market leader, and record holder for the most expensive Hermès Birkin, Kelly and Constance bag ever sold at auction. With a growing appetite and more education around collecting and this new marketplace, I am confident this is only the beginning of what's to come.
Which handbag are you currently coveting?
CD: I gravitate towards a classic, often vintage, bag from Hermès or Chanel, or streamlined bag from a brand like the Row or Bottega. What I have my eye out for currently on the secondary market is a Hermès, shade of dark green like Vert Fonce, Sellier Kelly 25, with gold hardware. If anyone happens to come across one, please send it my way!
Rachel Koffsky, Vice President, Auctioneer & International Senior Specialist of Christie's Handbags & Accessories
What makes a handbag a collectible item? Who is the typical collector?
RK: A collectible handbag is a timeless piece that is well-constructed, will stand the test of time and after some time can be passed to the next generation or perhaps even sold. A piece that is created in limited numbers and is rare is considered especially collectible!
I would say there is no typical collector. An exciting aspect about the handbag category at Christie's is that there is a wide range of price points. There are pieces in our auctions that begin at $100… all the way up to $100,000. A collector could be looking for a unique, extremely valuable object that they have been seeking for a decade, or could be someone hoping to acquire their first designer bag.
What is a typical day like for you?
RK: A typical day is waking up to emails from Asia & Europe – taping away as I make a pot of coffee. Meet a client for breakfast to discuss the upcoming consignment opportunities or exciting pieces that are coming up for sale. Get to the office at Rockefeller Center for calls, followed by reviewing some handbags that have come in for the next auction. I might have an auction, lecture or interview in the afternoon. After work, stop at a friend's gallery for an opening. One of my favorite elements is traveling internationally to meet interesting clients, tour handbags and assist with auctions.
How are the prices of luxury handbags established? How do you determine the value between brands such as Chanel vs Hermès?
RK: When pricing pieces for auction, regardless of brand, it is important to consider historical auction performance. The low and high estimates are bidding guides for clients but at the end of the day – each auction is a unique experience. The final price is determined by the highest bidder – just one bid above another client.
As an auctioneer, what advice do you have for those getting into auctioneering?
RK: All of the Christie's auctions are streamed live online! There are also videos on YouTube of past auctions. This is the best place to start! Oftentimes, auctions will also be open to the public. Practice in front of the mirror, or film yourself on your phone. A public speaking class will also come in handy.
What is your definition of a timeless piece?
RK: A timeless piece is one that will stand the test of time – both in style and construction. It is not trendy now, or dated later! A timeless piece is one to invest in.
Which handbag are you coveting right now?
RK: I am coveting a 2010 So Black Calf Box Leather Birkin – designed by Jean Paul Gautier and featuring PVD coated, glossy black hardware, the piece first appeared on the Fall/Winter runway and has been a collector favorite ever since.
Madeline Lee, Junior Specialist at Christie's Handbags & Accessories Department, New York
As the youngest specialist in your department, what is a typical day like for you?
ML: Each day brings an entirely unique agenda, but connecting with new and existing clients is at the core of my role as we work to source and sell our auctions year-round. From helping clients find rare pieces to purchase through private sales to guiding new clients through their decision to sell in one of our auctions, my relationships with each individual are at the center of my days and it's especially rewarding to grow with each client over the years.
Equally rewarding for me is having the opportunity to regularly work with different departments throughout all areas at Christie's. Preparing an auction is an extremely collaborative process and every team—from Client Services to Photography and Operations—plays an indispensable role. Every season though, one of my favorite projects is working with our Gallery team to design our next exhibition at our Rockefeller Center gallery. Time and again, I'm amazed to see the incredible exhibitions they bring to life.
There are many artist collaborations in luxury fashion these days. Who has been your favorite?
ML: Emphasis on MANY. With seemingly endless collaborations being brought forth these days, I love coming across pieces from the 2000s and 2010s that take you back to when designers first started to play with the idea of collaborations. (Think Louis Vuitton x Stephen Sprouse, or Murakami.) I don't think there is a formula for what constitutes a successful collaboration, but I think that the best ones always come as a surprise, represent something meaningful to their time period, or open up an interesting dialogue.
More recently, one of my favorite announcements was the collaboration between Apple and Hermès. At first you wonder what these two companies could possibly have in common, but the two are very much aligned in their commitment to design, despite their products being extremely different. I think it's wonderful that Hermès (which was founded almost 185 years ago) found a modern partner in Apple.
Your current favorite bag?
ML: There are many brands and modern styles that I appreciate, but if I could only use one bag for the rest of my life and could choose anything, it would be a Birkin. I have seen hundreds, maybe even a thousand, of Birkins and they are incredibly well constructed to stand the test of time. Each one is stamped with a code that tells you what year it was made, and I've definitely been surprised more than once by a bag that appeared to be brand new, but turned out to be 20 years old, or more. I don't have one, but like to think that I'm in the right place to find one if and when the time hopefully comes!
Highlights of the upcoming auction in November?
ML: I have to start the list by sharing the Himalaya Niloticus Crocodile Birkin 35, which has firmly cemented its place as the "holy grail" bag for major collectors. Next, one of my personal favorites is a Rouge H Doblis (aka suede) Kelly 25 with 18K Gold and Diamond Hardware, which I have never come across before and find so beautiful for the upcoming winter season. I think our clients will also be excited to see our selection of limited edition Hermès pieces, which include longtime favorites like a Black Shadow Birkin, as well as new iterations like a Sesame Cargo Birkin 35, a Bleu Nuit Cosmos HAC Birkin 50, and a tri-color Mini Kelly 20 II in Rose Extreme, Rouge de Coeur & Bleu Zanzibar.
Tell us about the accessories in the upcoming sale. What can we find?
ML: The accessories in our sale range from fashion jewelry to home/lifestyle objects, and everything in between. From our upcoming sale, some of my favorites are a pair of enamel bracelets from Chanel's Paris-Shanghai Métiers d'Art 2010 collection, an Hermès "Kellydole" charm, and a black Hermès Kelly "To Go" wallet.