Taking Charge at the Auction Stage with Bonhams Jacqueline Towers-Perkins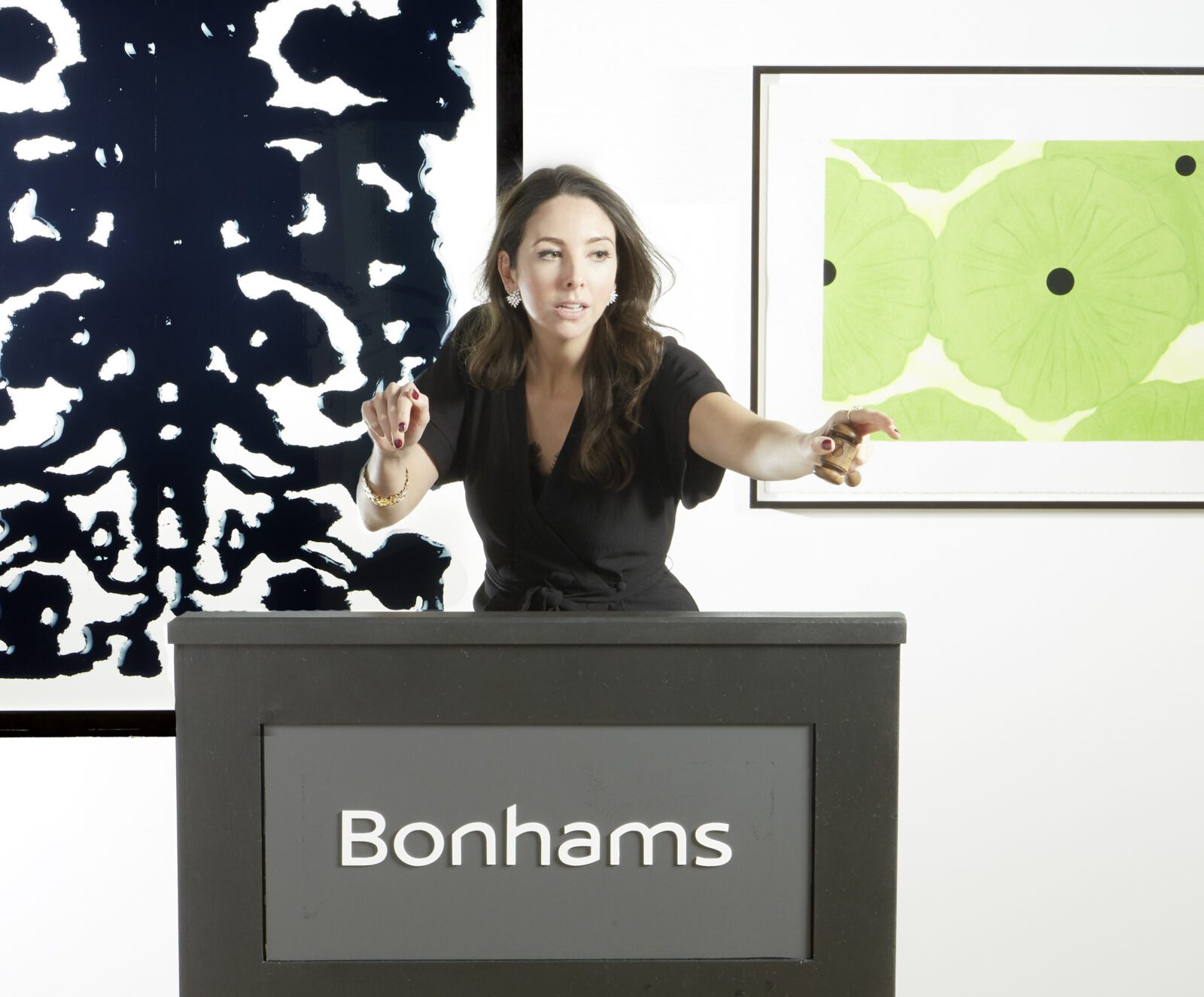 Ever wondered if you have what it takes to run the stage of an art auction? Meet the Vice President and Director of Post-War & Contemporary Art at Bonhams, Jacqueline Towers-Perkins, a widely respected New York-based auctioneer who gives us tips and tricks on what it's like to work the podium under pressure. Starting at a tiny auction house in England, Towers-Perkins began her career auctioning off antiques in the mere hundreds. Fast forward years later, she's now raising millions of dollars at high profile charity galas for international royalty such as HRH Prince Charles to Jay-Z and Beyoncé.
Jacqueline in 3 words…
Can I have five? I received an email today describing my auctioneering style as that of a 'wolf in beautiful sheep's clothing!' I'll take it!
What inspired you to become an auctioneer?
At the start of my career, I really only saw older male auctioneers taking sales. So the idea of seeing more people like myself on the rostrum and in charge of the auction and the room was a great motivator. It really made me aspire to the role and to encourage others to do the same.
Additionally, I have always worked in auction houses and on starting my career there, I always thought that auctioneering seemed like the pinnacle of the auction process: the cherry on the auction cake. To have worked with a collector, consigned a work to sale, researched every part of its history and then to be able to offer it to market as the auctioneer, always seemed to me like the amazing final step in an incredibly personal journey.
Your first auctioneering gig…
My first time auctioneering was at my first job out of university at a small auction house which had a weekly sale. I was thrown on the rostrum with no prior warning or training to sink or swim. Luckily I survived! Each week I improved and became more confident – it really was the most terrific training ground, selling all variety of objects to different people at different prices.
The highest bid you've ever received…
I cleared the 2 million dollar mark for a super rare François Xavier Lalanne sculpture in an Important Design Sale at Bonhams last year. It was an exciting personal achievement and an incredible accomplishment for the department.
The most memorable auction moment…
My most memorable auction was taking the charity auction for Jay-Z's Shawn Carter Foundation with both Jay-Z and Beyoncé hosting and in attendance. They are incredible philanthropists and leaders and it was an honor to help contribute to the $6 million raised to help fund further education and scholarships for young people who have faced challenges.
Female artists on your radar…
I was lucky enough to visit Natalie Baxter's studio a few months ago. I hope to acquire one of her incredible textile works from her soon! Recently I really enjoyed being introduced to the amazing work of artists Amelia Carley and Amelia Konow through a terrific show curated by advisor Jessica Wessel. I also absolutely love the work of Genieve Figgis, Emily Mae Smith, Gisela Colon's beautiful rainbow forms and the work of Jordan Casteel, Nina Chanel Abney and Genesis Belanger.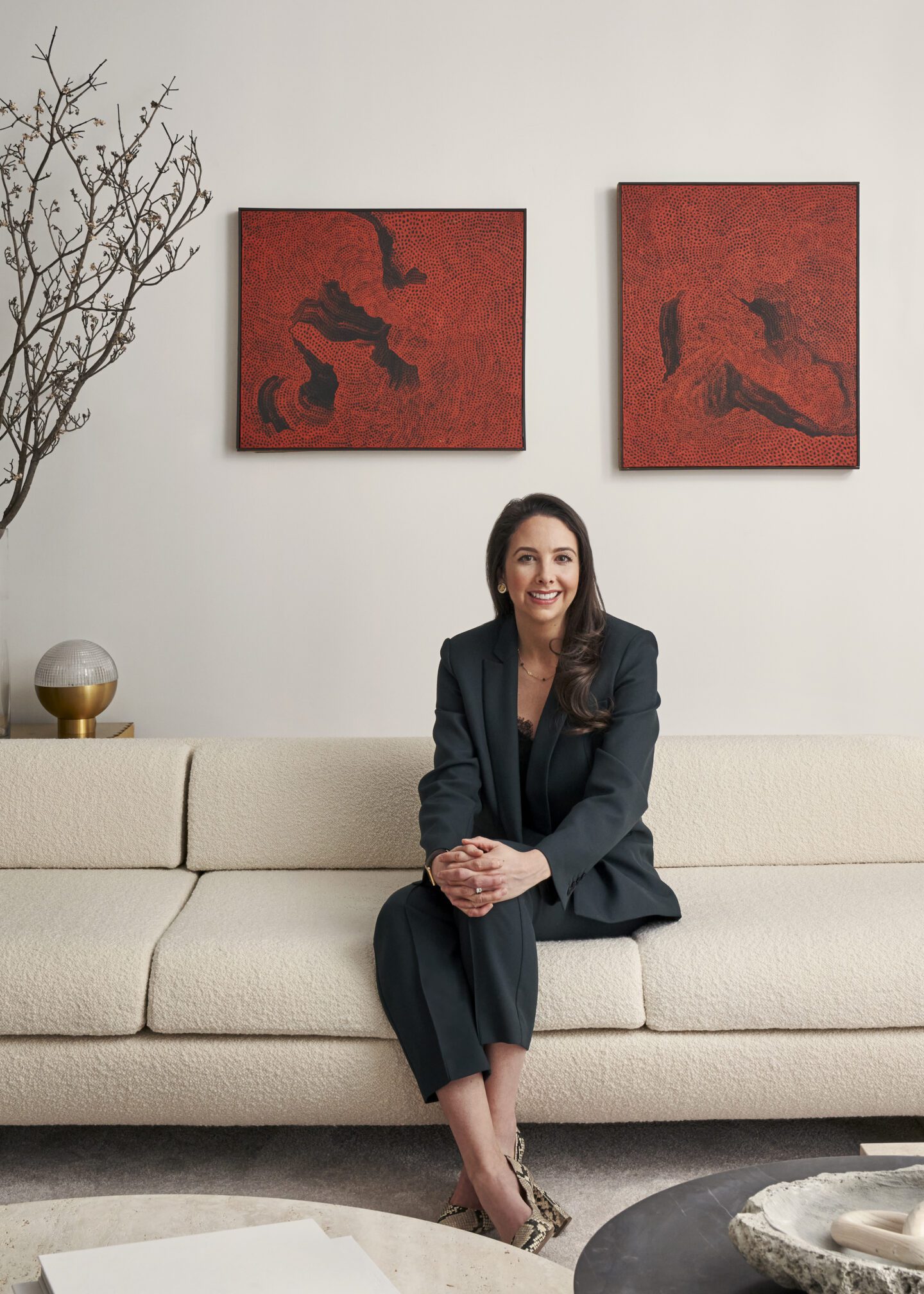 Who we can find in your personal collection …
It's incredibly eclectic. My very modest collection includes contemporary prints featuring a work by Jonas Wood, some terrific modern pieces by women artists including Francois Gilot and Elizabeth Frink, mixed in with older 19th century portraits and silhouettes.
Best advice you've ever received…
'When in doubt, wear red'. It is a terrific reminder to be brave and bold in those moments when you doubt yourself, but simultaneously solid practical advice for when I am inevitably rushing to a gala event and cannot decide what to wear on stage!
3 tips for public speaking and having a strong on-stage presence…
Prepare! Write a basic script a few days ahead of your event, practice it so you know what to expect, and say it out loud to loved ones so you feel comfortable and are familiar with your speech.
Anticipate nerves. You may not get them but it's good to anticipate them in case. Ask a friend ahead of time to give you a pep talk on the day, have positive music to listen to and clear an hour on your calendar in case you feel the need for any last-minute practice runs.
Get the crowd on your side. You need your audience to be behind you in order to deliver your message and speak successfully. So set a fun and friendly tone from the start, engage in a personal manner and try and create intimate connections, despite the size of the group you are speaking to. But above all remember that the crowd wants you to succeed and do well – let that positivity help you along and enjoy yourself!