Rachel Hovnanian Brings Contemporary Art to the Medici Palace Museum in Tuscany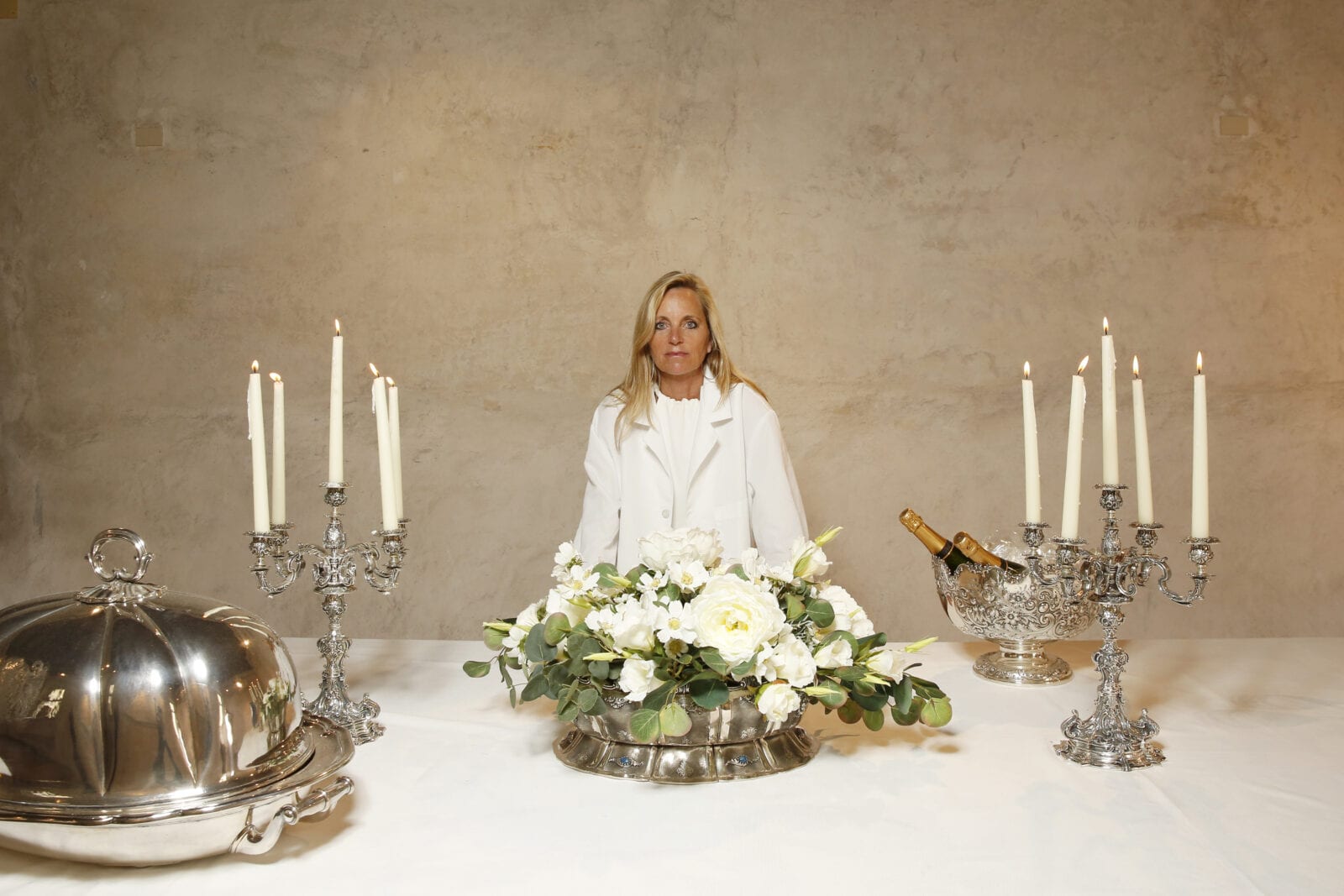 'Open Secrets' is on view at Palazzo Mediceo di Seravezza until September 15, every evening from 5 p.m. to 11 p.m. Presented by the Pechersky Family Foundation in collaboration with the Terre Medicee Foundation and Galleria Poggiali, and curated by Annalisa Bugliani.
---
In the north of Tuscany, near the coast and Carrara, where the famous marble that Michelangelo used comes from, sits Palazzo Mediceo di Seravezza. The redone palace and manicured lawn, offset by towering mountains, is an intimidating yet elegant space by the quiet town. Open Secrets by New York-based artist Rachel Lee Hovnanian consists of 14 paintings, sculptures, installations, and video pieces displayed both inside and outside the UNESCO World Heritage Site. The works are focused on the artist's memories and emotions.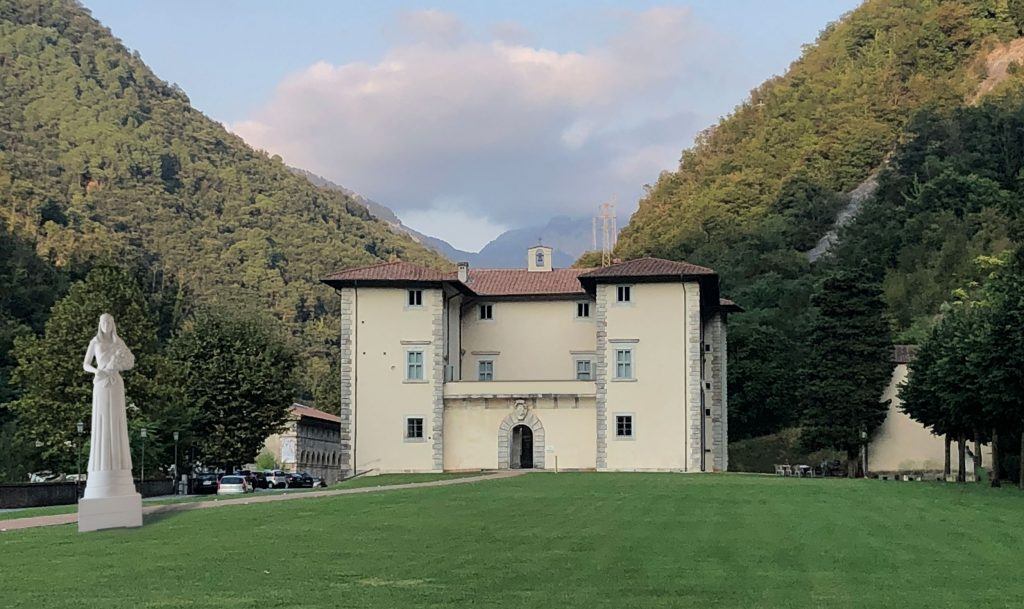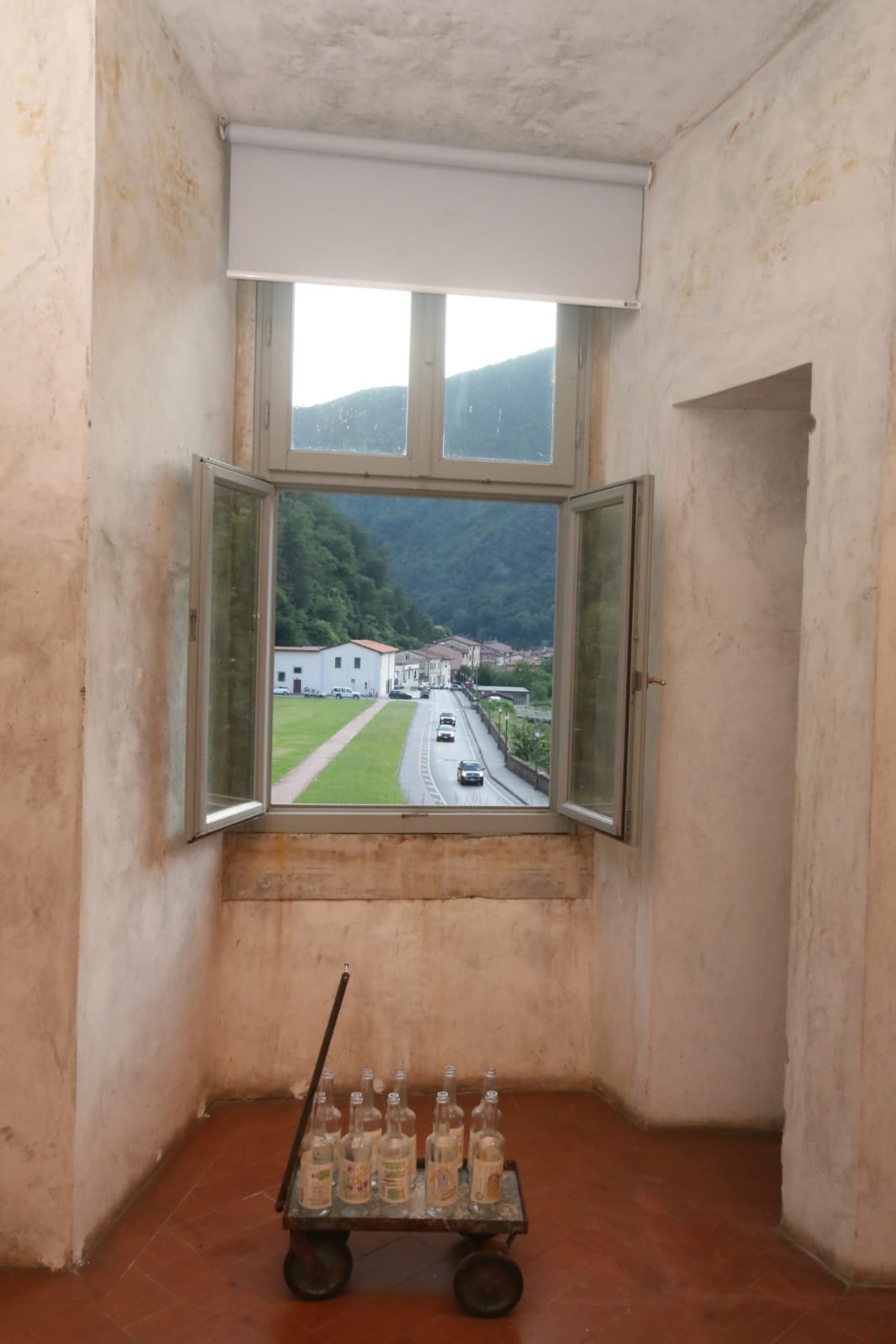 Open Secrets marks Hovnanian's first solo show, and is her personal exploration into the impact of the digital age on today's society, particularly the deeper effects on our psyche. The inspiration for her work comes from her own lived experiences and from observing people and society at large. Societal themes and behavioral trends that dictate our lives are also influential. "By creating 'Open Secrets,' an experience of shared societal voyeurism, I believe it demonstrates the power of installation art which is challenging in this incredibly powerful museum setting."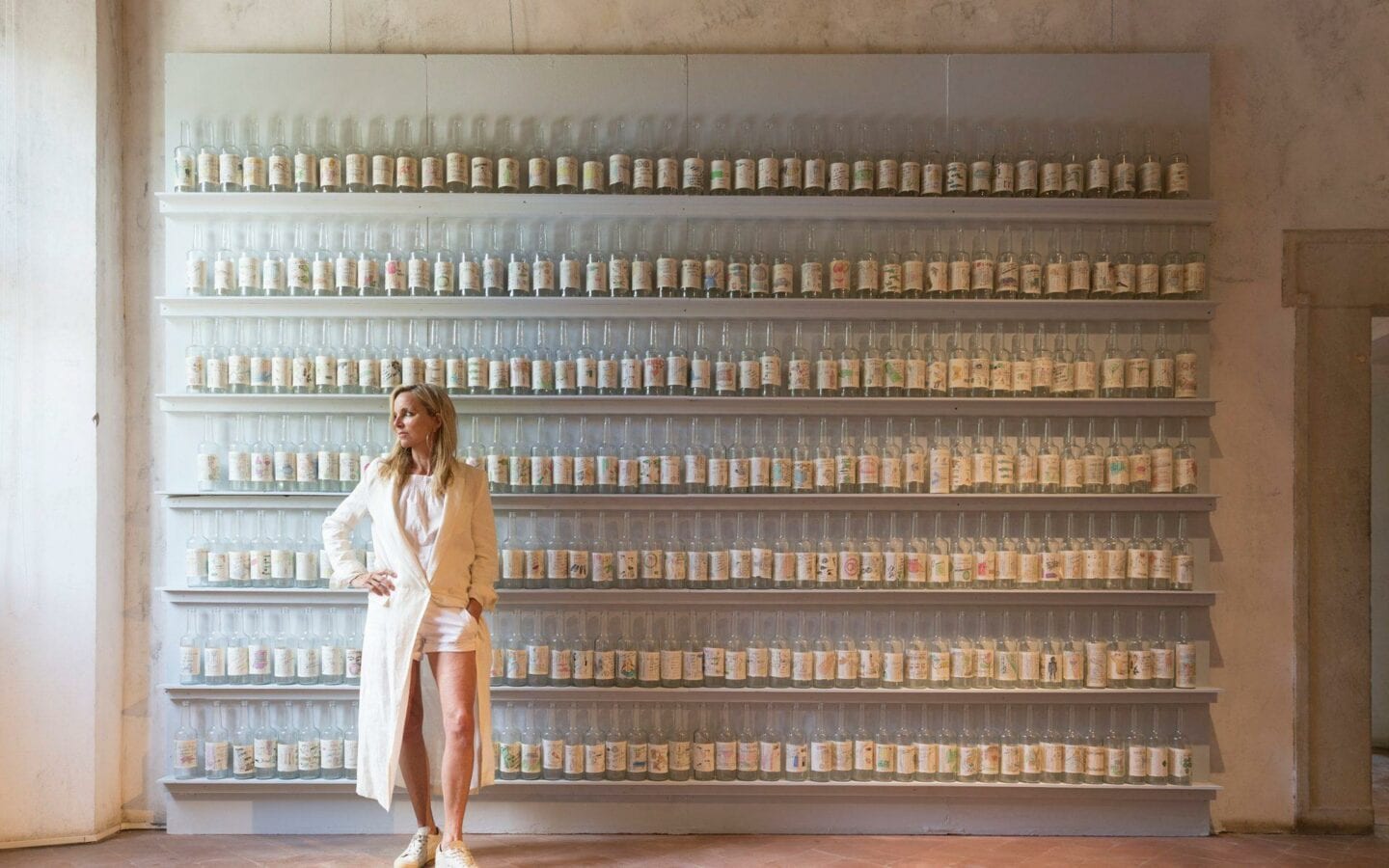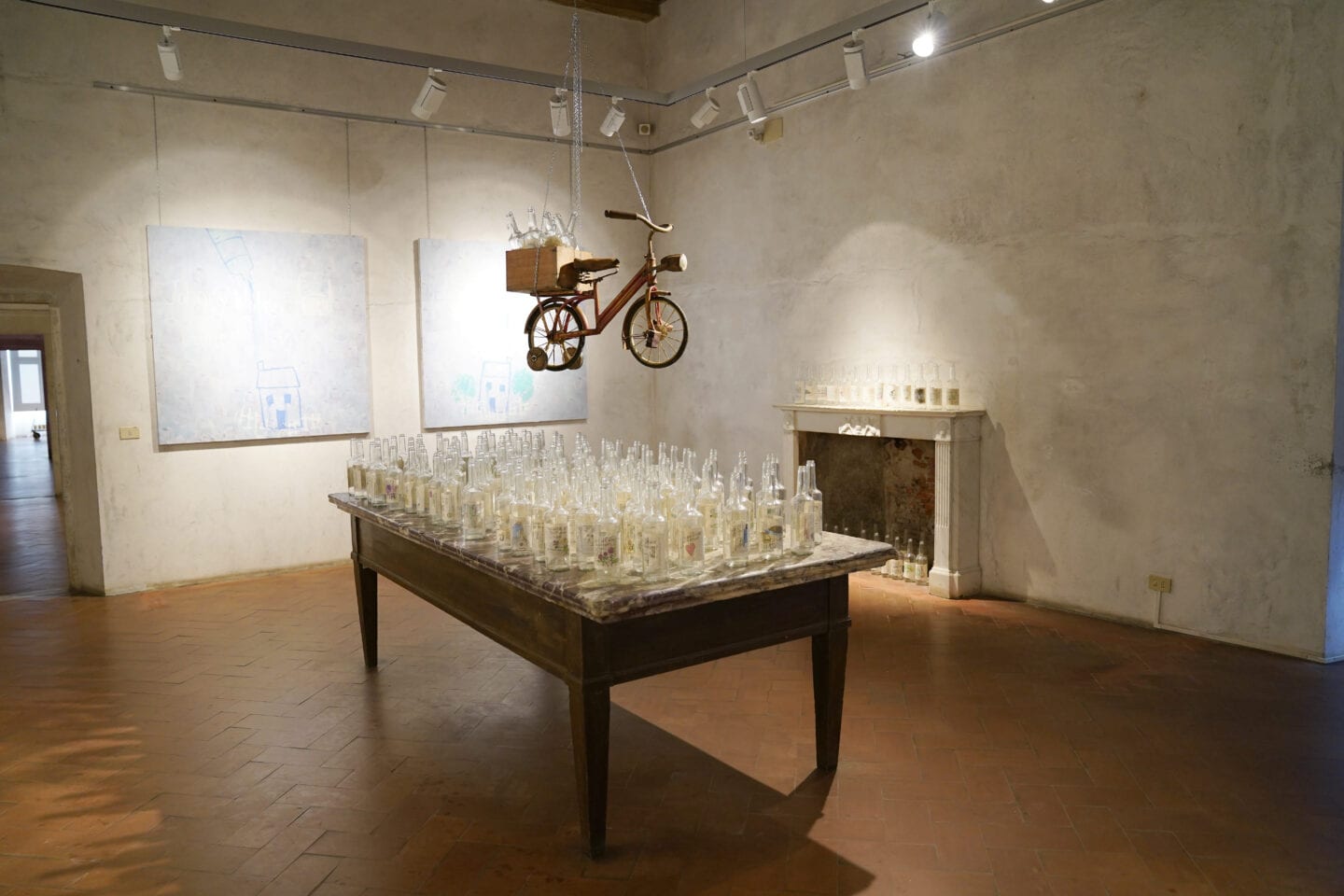 Palazzo Mediceo is indeed an interesting setting in its own right. Commissioned in the sixteenth century by Cosimo I de' Medici, Grand Duke of Tuscany, the palazzo was intended to be a temporary residence during his visit to the marble quarries and silver mines. In 1982, it became a museum space for modern and contemporary art. When asked how she thought Open Secrets fit into a space with such rich history, Hovnanian said that the two work well in conversation together. "Both stand as symbols for the pursuit of perfection. I am mindful that the Palazzo Mediceo di Seravezza is a museum in a commanding setting. I believe we as artists look back to traditions both within and beyond the visual arts to imagine possibilities for an uncertain future recalling those famous formulations: 'we are the face of our times' and 'the future of the world is written on our hands.'"
Hovnanian wants people to connect to her work in their own individual ways, pointing their attention to something deep within themselves that they might not have noticed before. The various media she uses also help connect with a wide audience: from painting, sculpture, film, video, photography, interactive internet installations, and more, Hovnanian uses whatever medium she feels connects best with her creative energy and the space.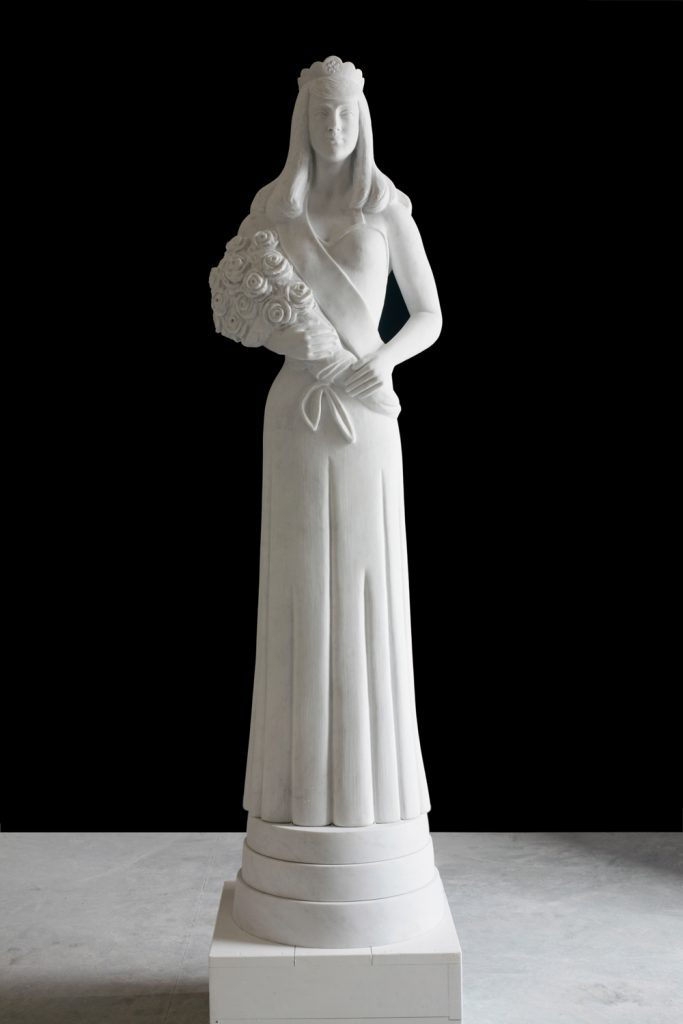 In terms of particular works she would like to draw attention to, Hovnanian mentions the first piece that viewers see upon approaching the museum: Beauty Queen Totem, an 11-foot-tall sculpture she made back in 2009. It, like much of her other sculptural work, was done in Carrara marble; she even had a sculpture studio in Carrara, Italy for many years. In her new interactive installation, Shhh, she has a Carrara marble bust of an angel with its mouth taped shut, representing the suppression of truth.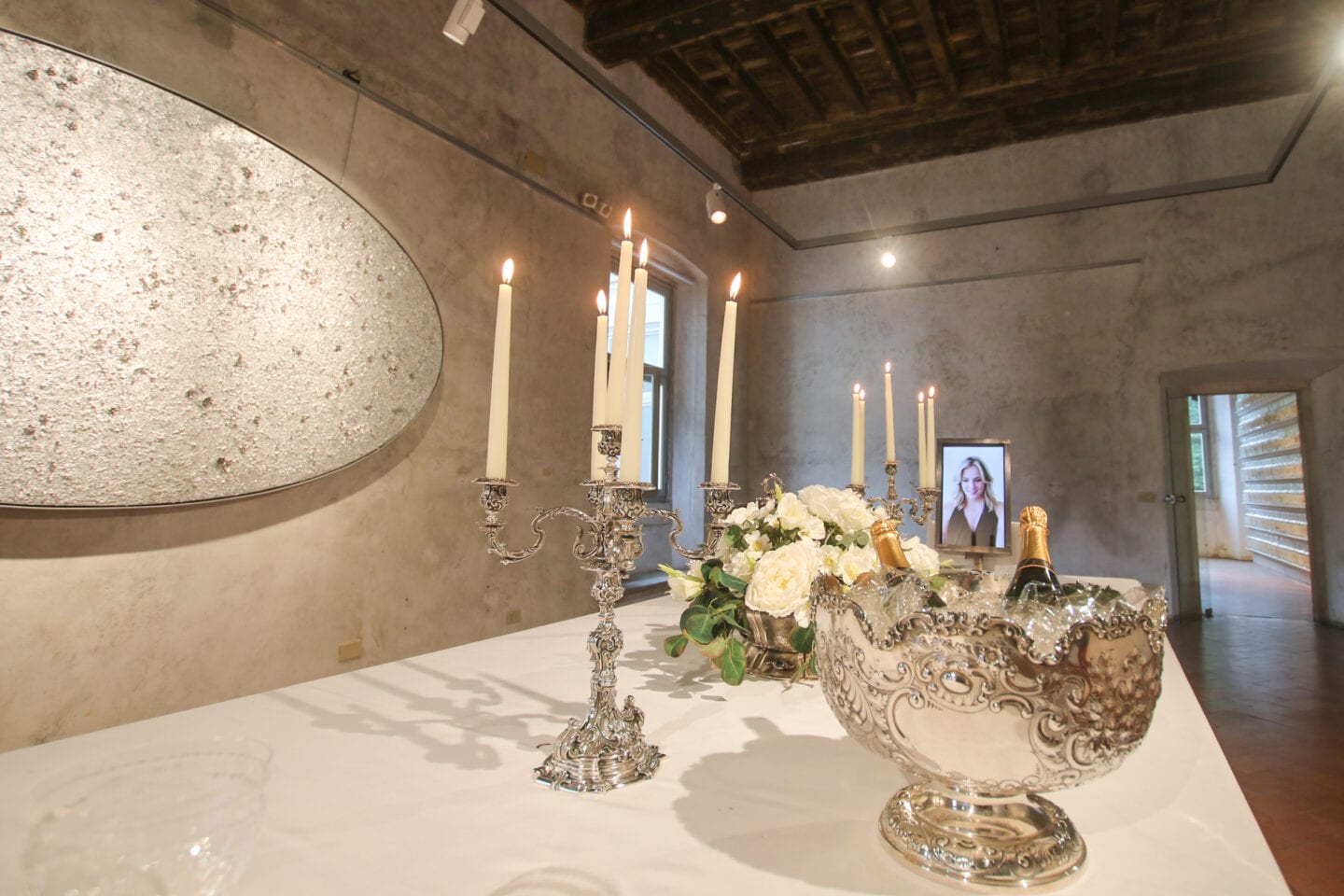 In Dinner for Two, two video screens, resembling iPads, are set up on either side of a nicely set table. They show a woman and man, both rarely making eye contact with the other, as they look down at invisible phones with accompanying text message noises. While this scene is unfortunately familiar, the most startling aspect is the highchair in the corner, farther from the table, set up with a video screen of a toddler. According to Hovnanian, the real-life child did not look up from her iPad for the entire two hours she was filmed.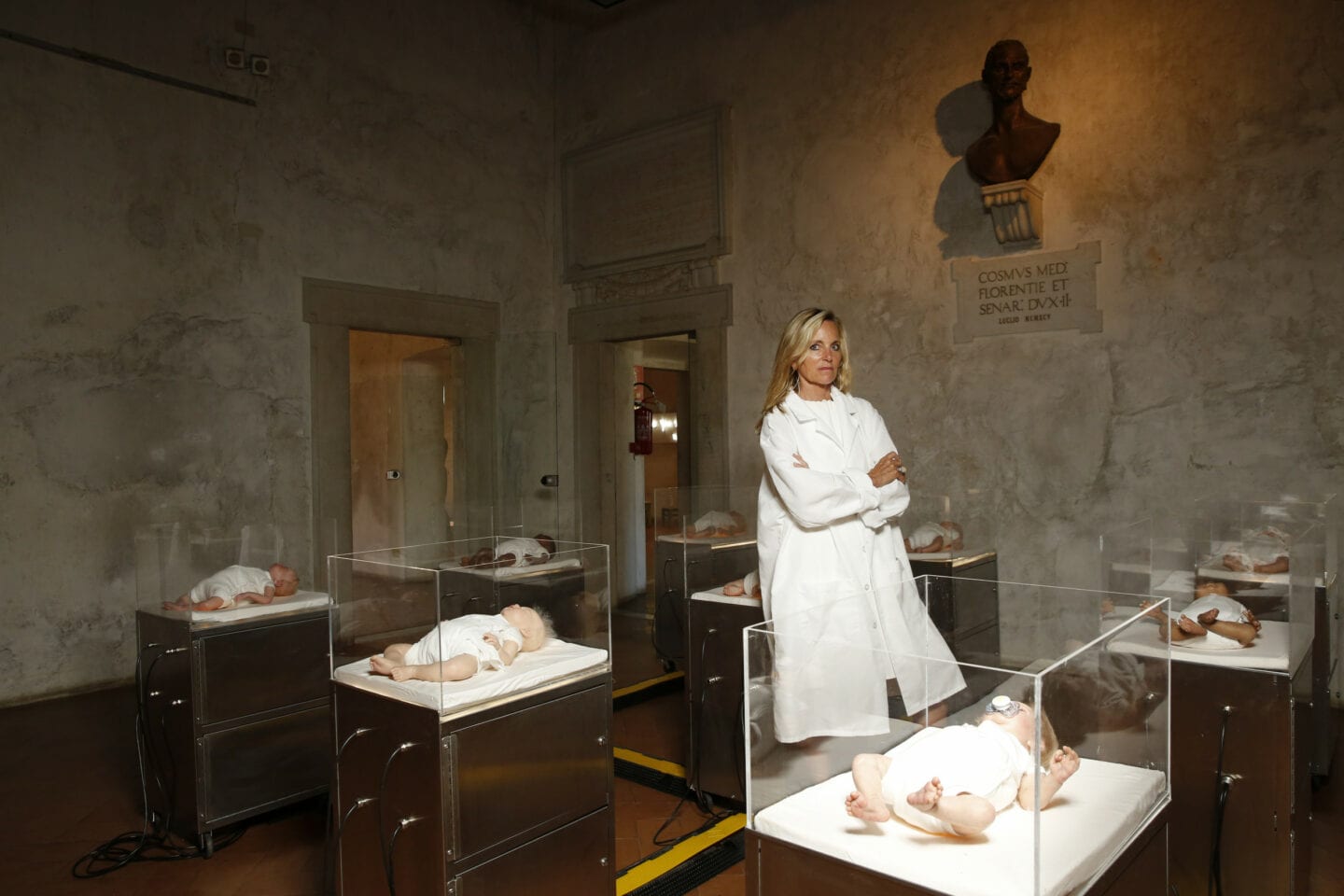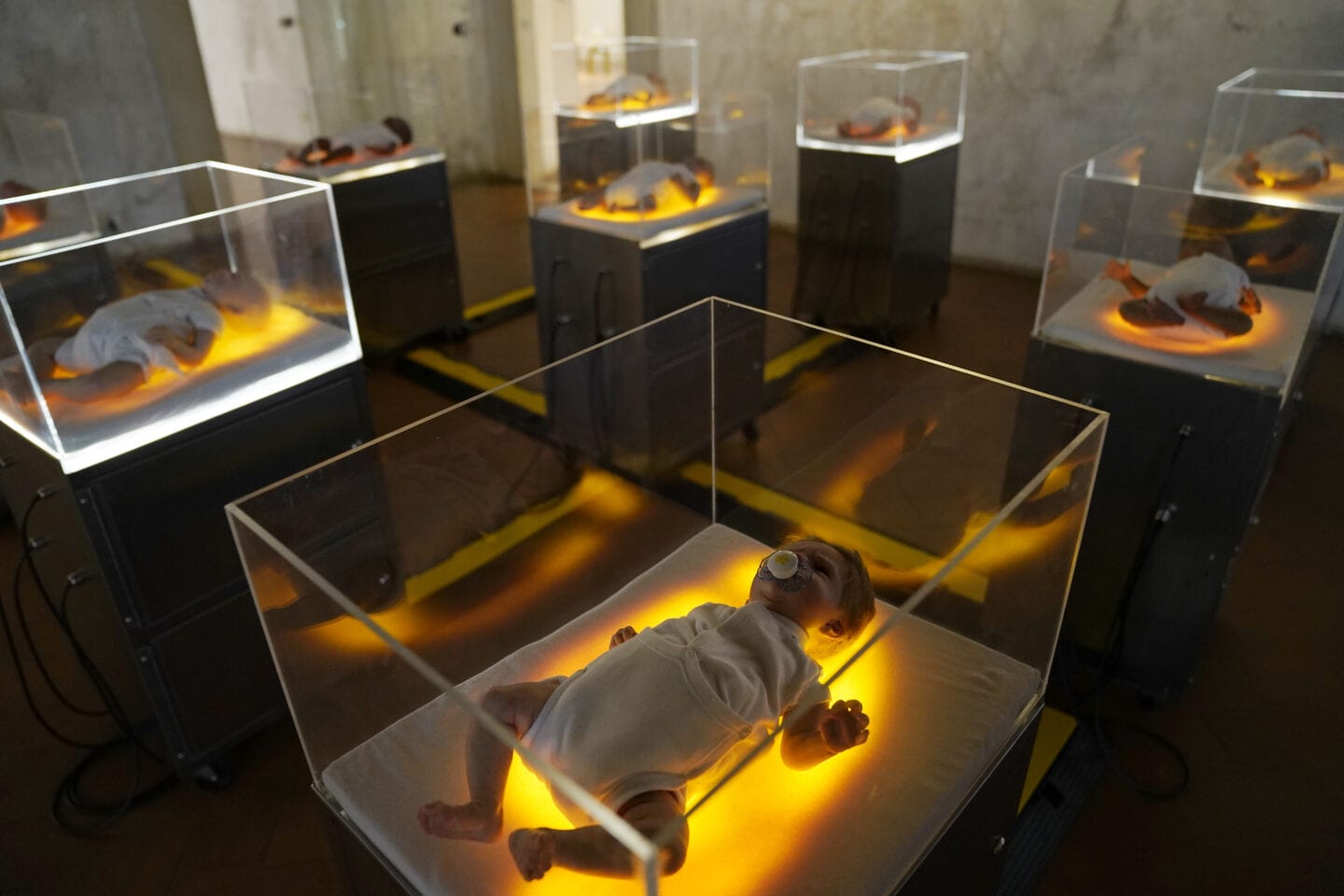 "I am also debuting a new interactive video work, Swipe Left, Swipe Right, which considers the newest overlap between interpersonal connections and technology – the rise of dating apps. In our contemporary society built around marketing, we are conditioned to react to products based on their packaging. Swipe Left, Swipe Right plays upon the idea that smartphone dating profiles allow users only one image to communicate the complexity of who they are. Other users then make a judgement about who people are based largely on that one image. Swipe Left, Swipe Right explores how users invent ways to assert their personalities on image-based dating apps that otherwise reduce their profiles to solely their looks."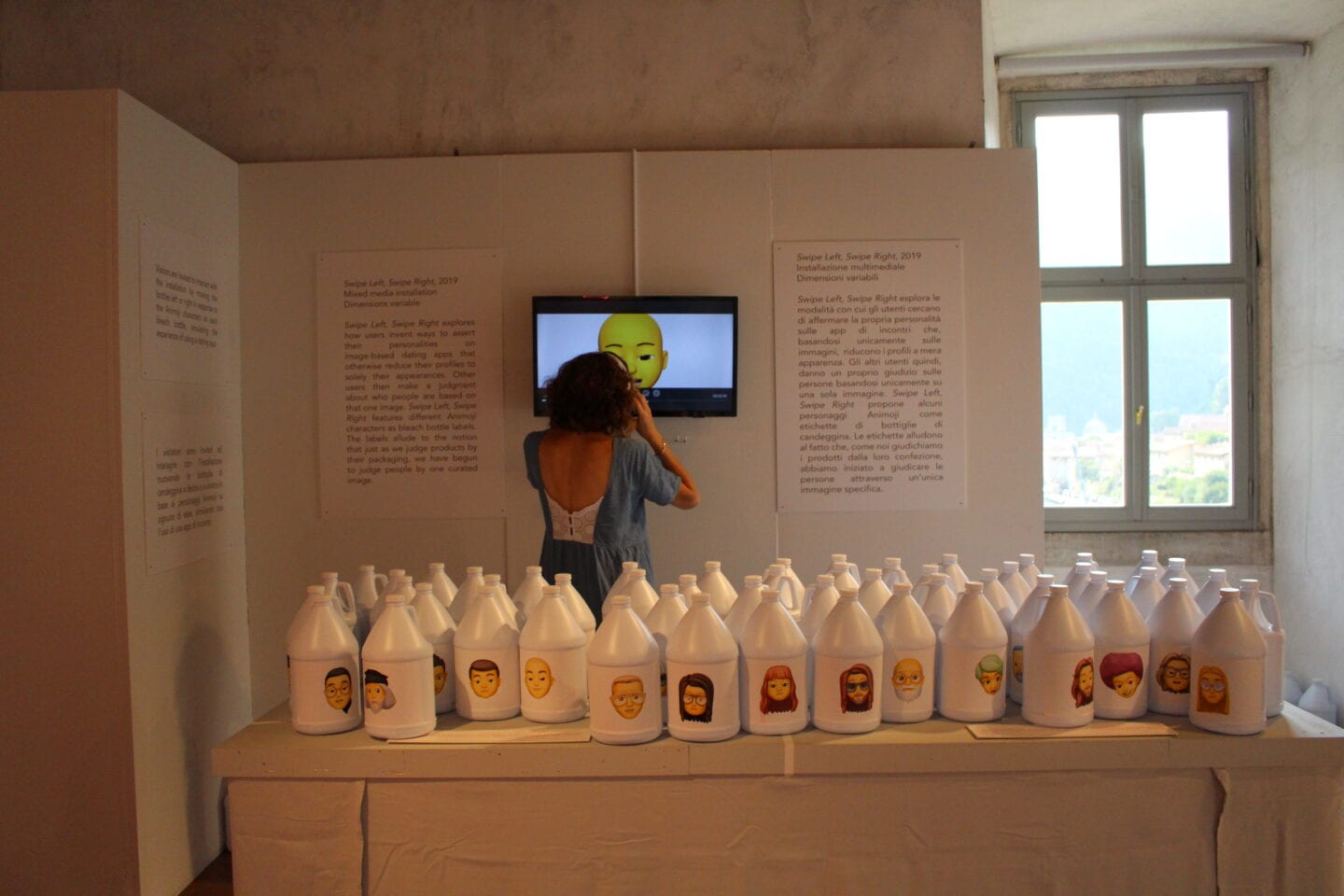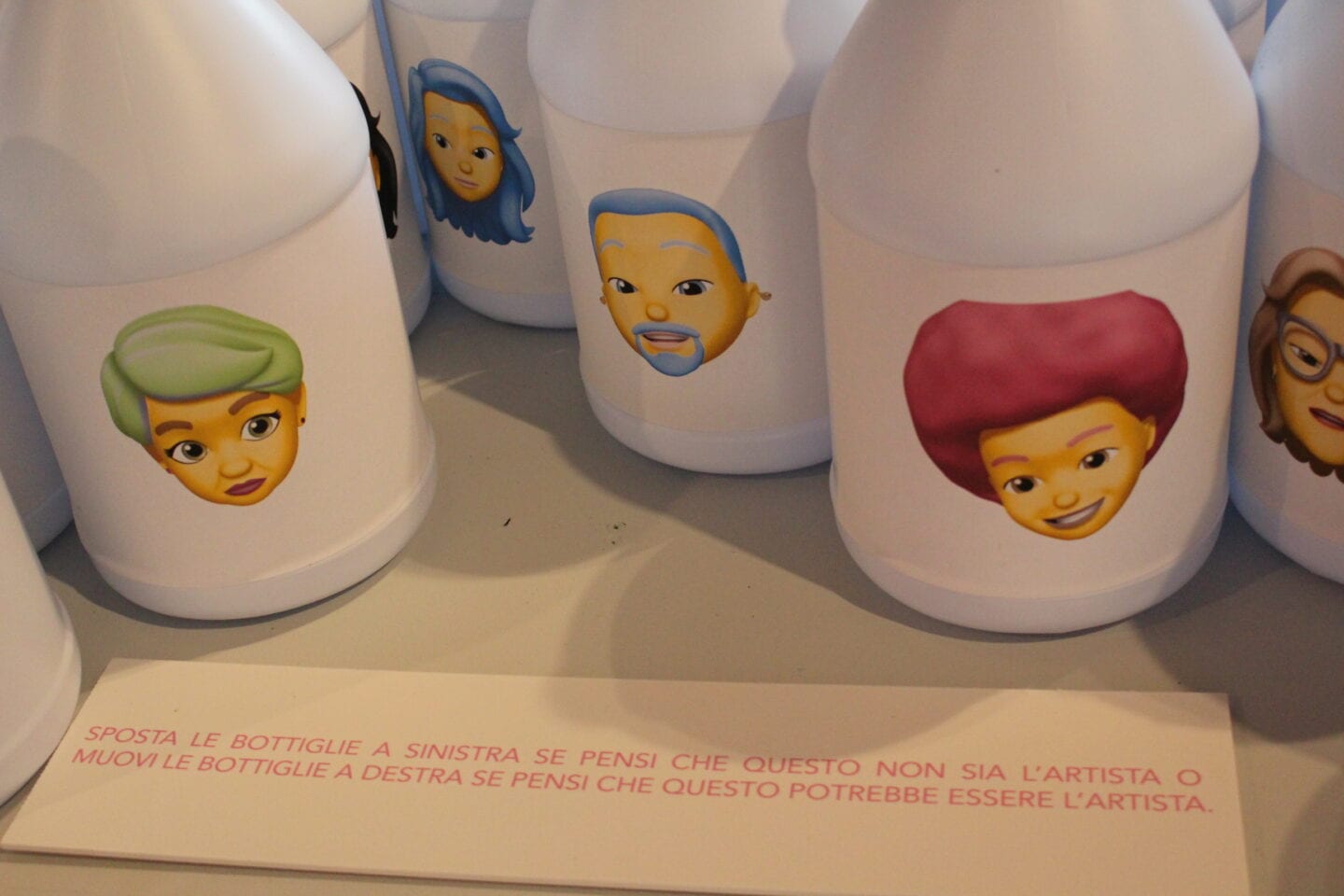 For Swipe Left, Swipe Right bleach bottles are lined up on a table with different emoji characters on each one. Viewers are invited to first put on headphones and watch a video screen in which the different characters speak, asking the viewer which one looks most like what you would expect an artist to look like. Then viewers can move the bleach bottles with the characters they think most fit an artist to one side of the table.
See Also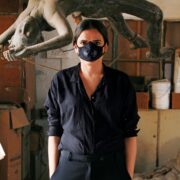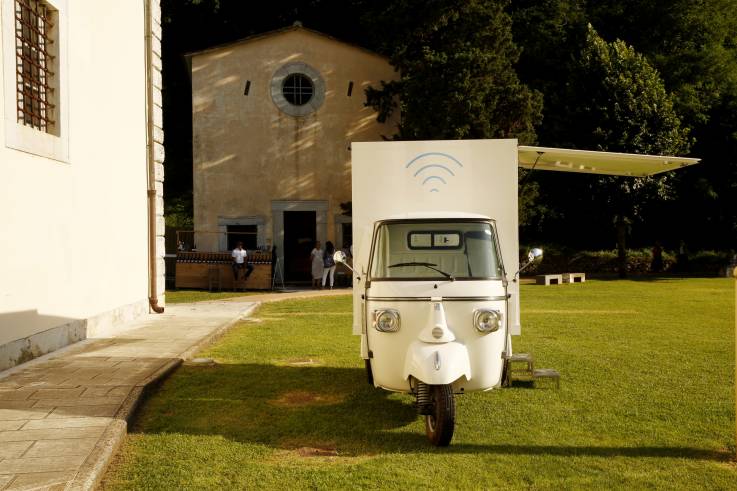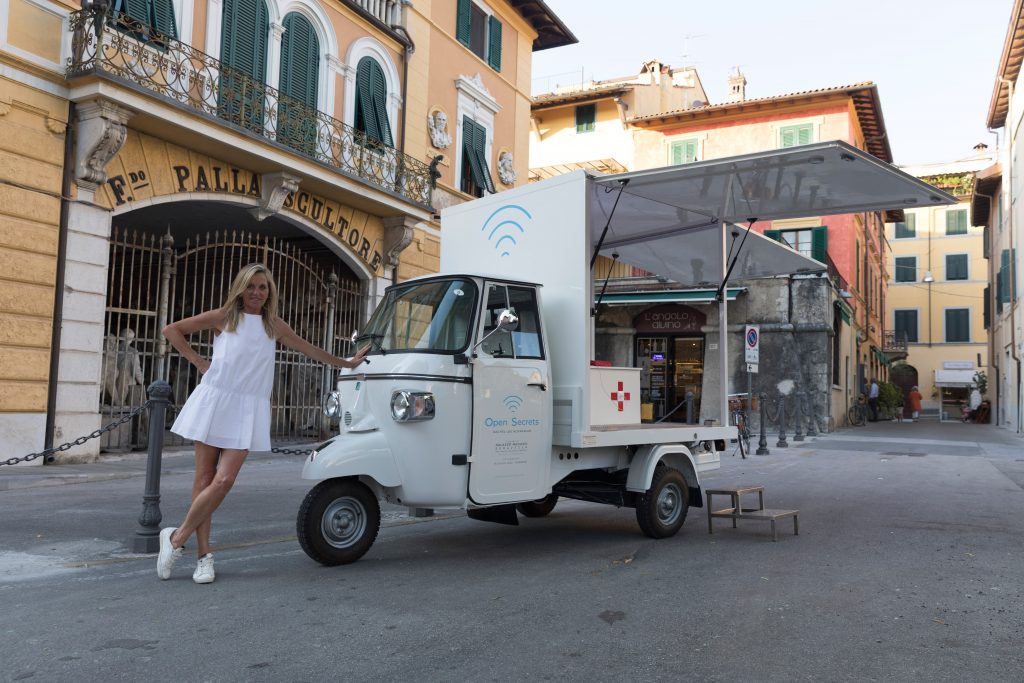 Then there is the Apé Truck, created specifically for Open Secrets and allowing Hovnanian to let the museum "travel" to reach more viewers. "The truck features my proprietary phrase FMLMBD (F*** My Life, My Battery's Dead) to engage with this societal addiction. The Apé travels around Tuscany, providing participants with free Wi-Fi and a phone charging station that doubles as a bench. The space is illuminated by my neon work FMLNW (F*** My Life, No Wi-Fi). The Apé is an S.O.S. for the SMS age. In the glow of this sentiment, visitors are asked to activate the charging station bench, marked with red crosses, by charging their 'dying' digital devices. By transforming these acronyms into an occasion for viewers to enter a power relationship with digital technology, the work implies a tension between the fragility of life and the immortal nature of the digital revolution."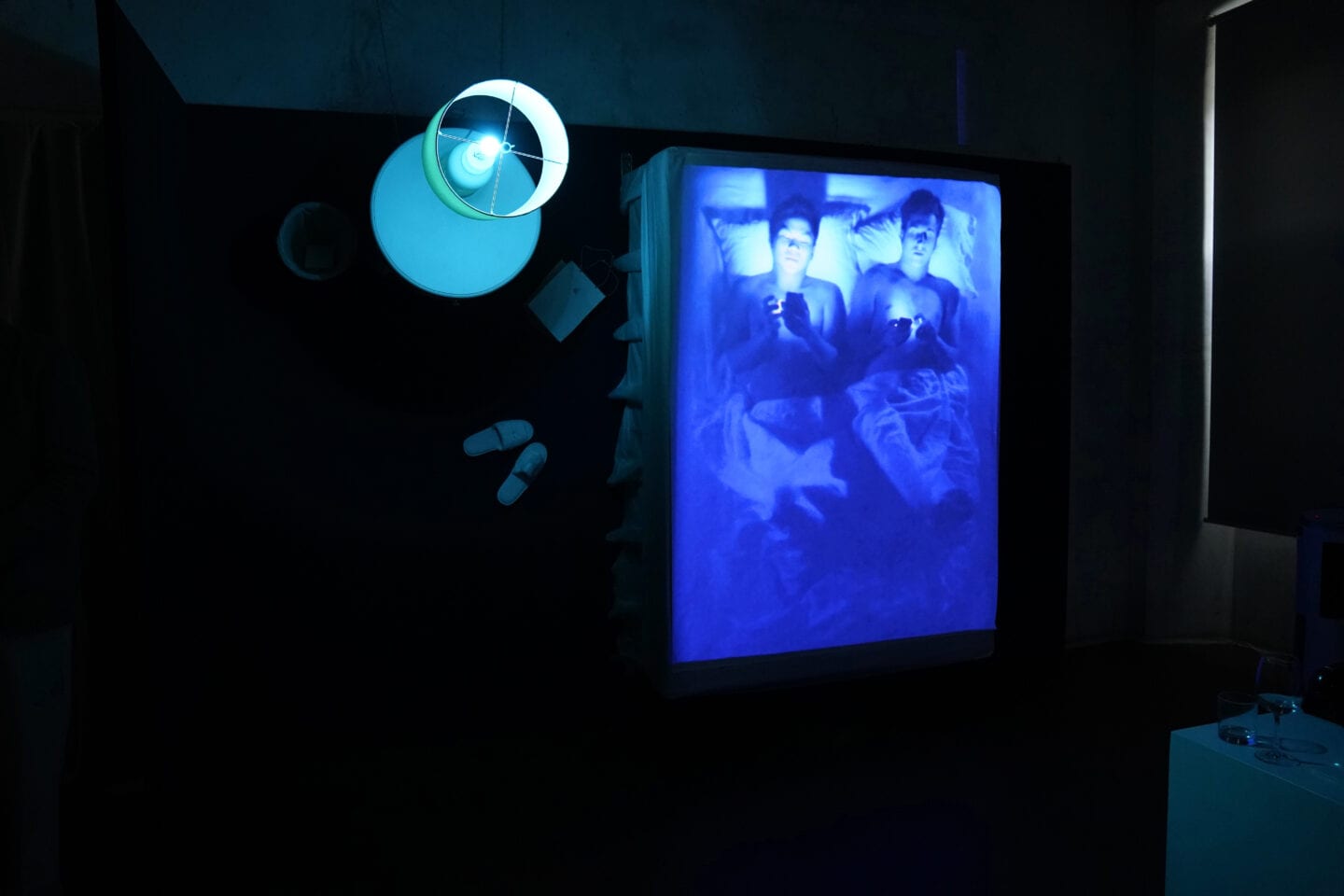 The exhibition closes with a dark room, lit by candles, and filled by curling tubes representing the inner turmoil of keeping something important to yourself. Here, viewers can whisper whatever secret it is that causes that inner turmoil into the tubes, then walk to the other side of the room to open a small door and hear their words. The intensely private, intensely vulnerable space encapsulates the personal nature of the exhibition and allows viewers to walk out with both a sense of enlightenment and relief.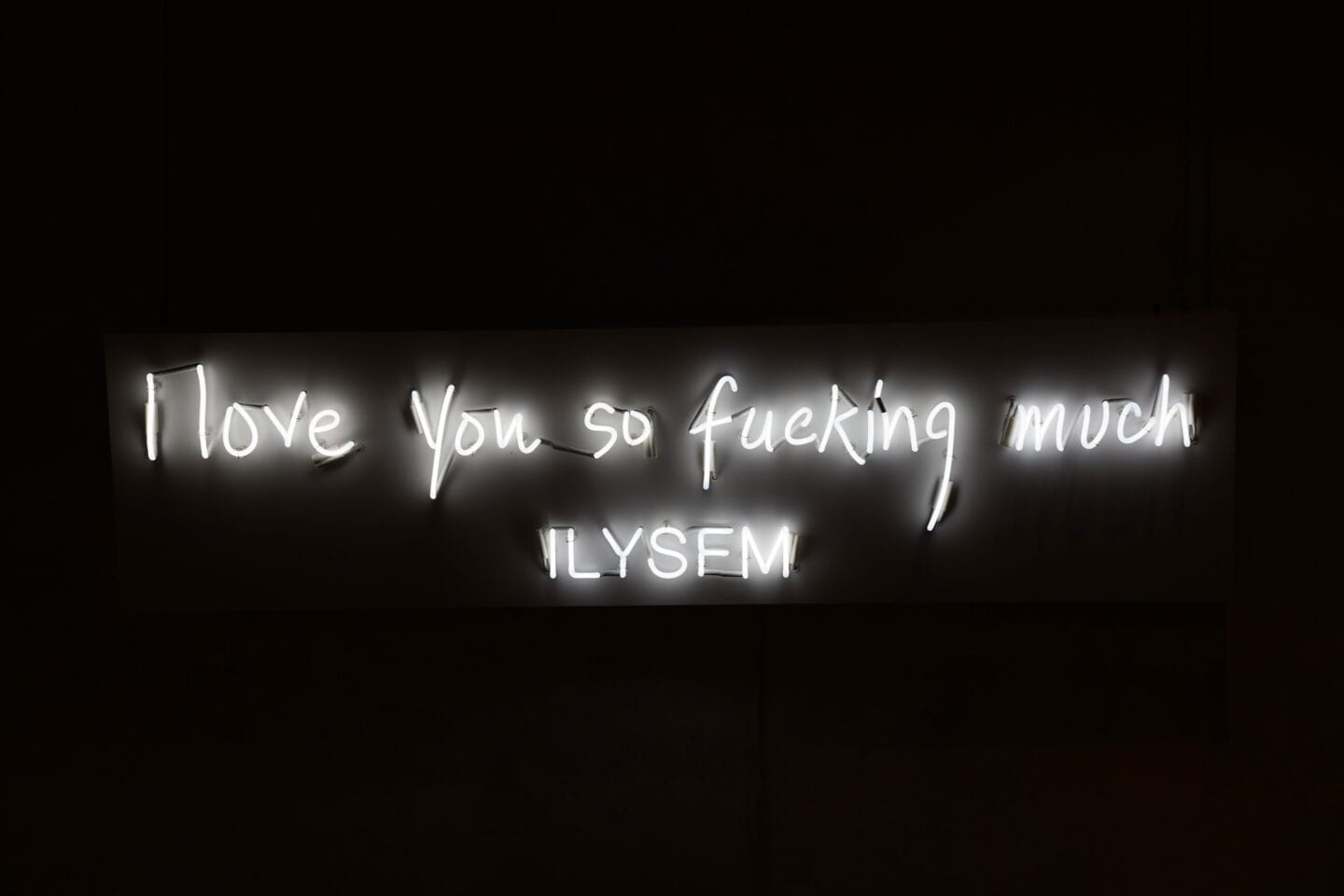 Open Secrets asks the question: "Are we connecting more intimately with others in this post-internet era?" The exhibition shows the pressure on people to use new modes of communication, as well as showing our best lives online. Each room, every one very different yet somehow building off the one that came before, illuminates our search for perfection and gratification in the double life we've created: the digital and the real.