Donna Huanca Uses Sound, Scent, and Sight to Dismantle Expectations of the Museum Experience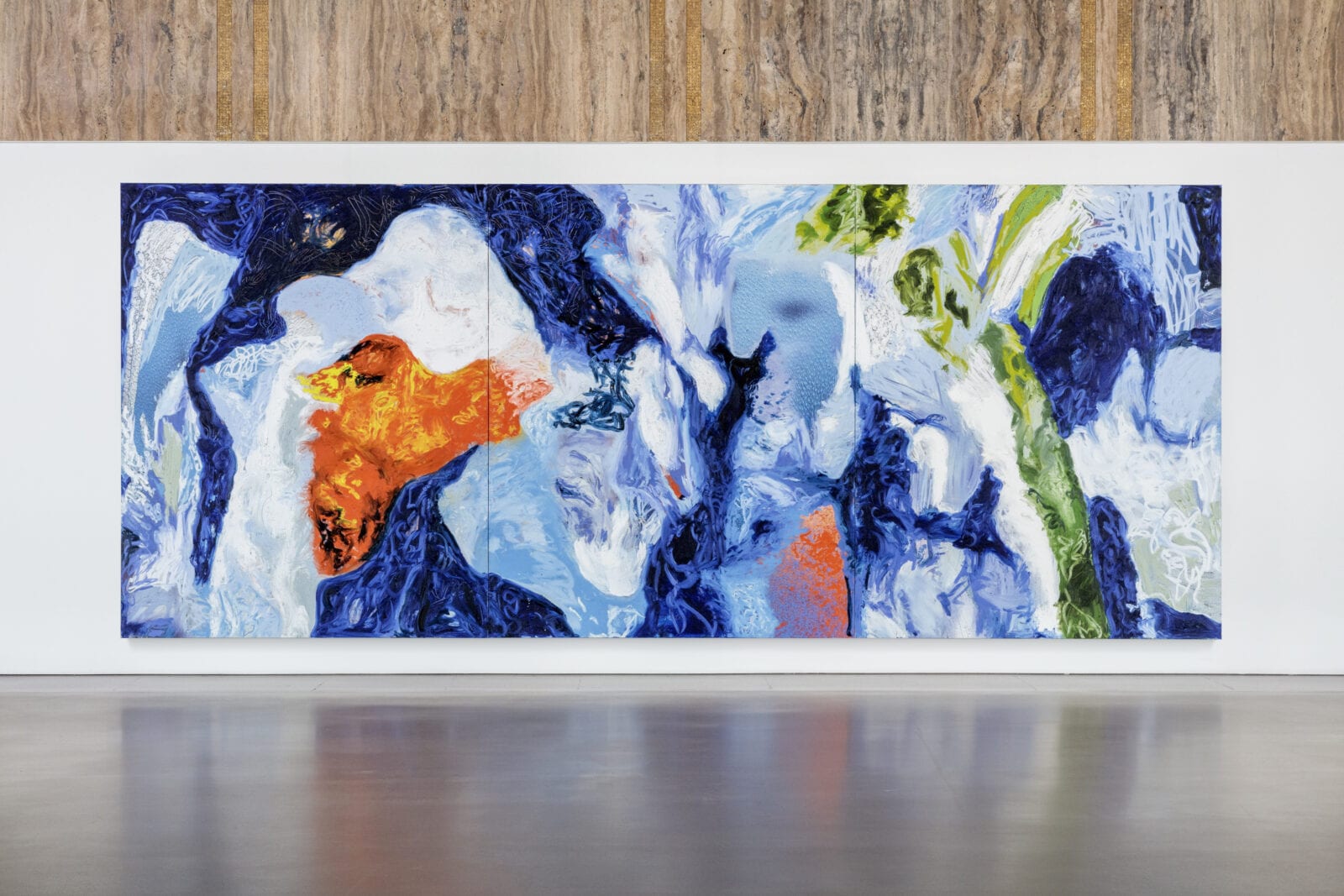 Donna Huanca's latest exhibition is on view at the Marciano Foundation in Los Angeles until December 1st, with live performances every Saturday and a series of public programs with artists, activists, and scholars discussing topics related to gender and sexuality.
---
Even before entering the cavernous room which houses Donna Huanca's Obsidian Ladder at the Marciano Art Foundation, her work assaults the senses. A woodsy odor, like a cross between a humid greenhouse and a musky Palo Santo combines with a menagerie of noises– musical babbling that sounds both human and animal at once. Commanding the space with sound, scent, and sight, Huanca's work represents an important trend toward work which interrogate traditional notions of art making and viewing.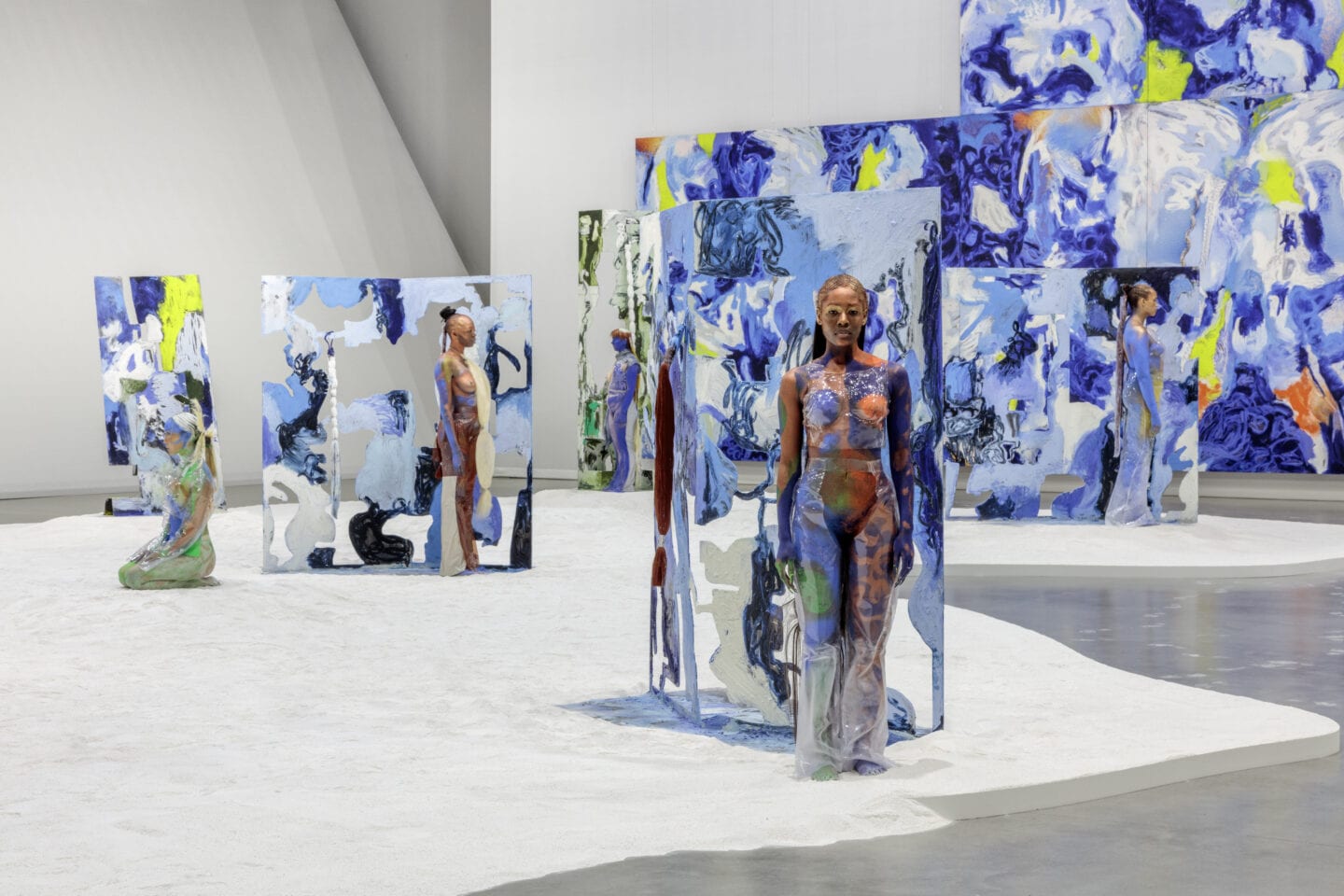 In her first large-scale solo exhibition in the United States, Bolivian American artist Donna Huanca, sets out to activate a new topography of senses and manifest femme power. She populates the MAF's 13,000 square foot Theater Gallery with nine semi-nude female identifying models, painted and adorned in elaborate futuristic decoration.  They wander atop an alien landscape, a sand bank dotted with gestural carved steel sculptures. The models' feet leave pathways in the sand, reminding viewers of their presence on the weekdays when they do not occupy the space. Manic swatches of indigo, cobalt, and orange paint adorn the walls and the statues themselves, infusing the space with an Instagram-worthy aura of abstraction. 
The effect is dizzying, visceral, and baffling upon first entry. There's no single place to look or path to follow in the space, and the models move languidly without a clear rhyme or reason. Coupled with the noises and smells, it feels as though Huanca has removed the glass of a zoo diorama, and thrown her audience directly inside. Yet, this intentional disorientation creates a space for Huanca to foreground femme power and spirit.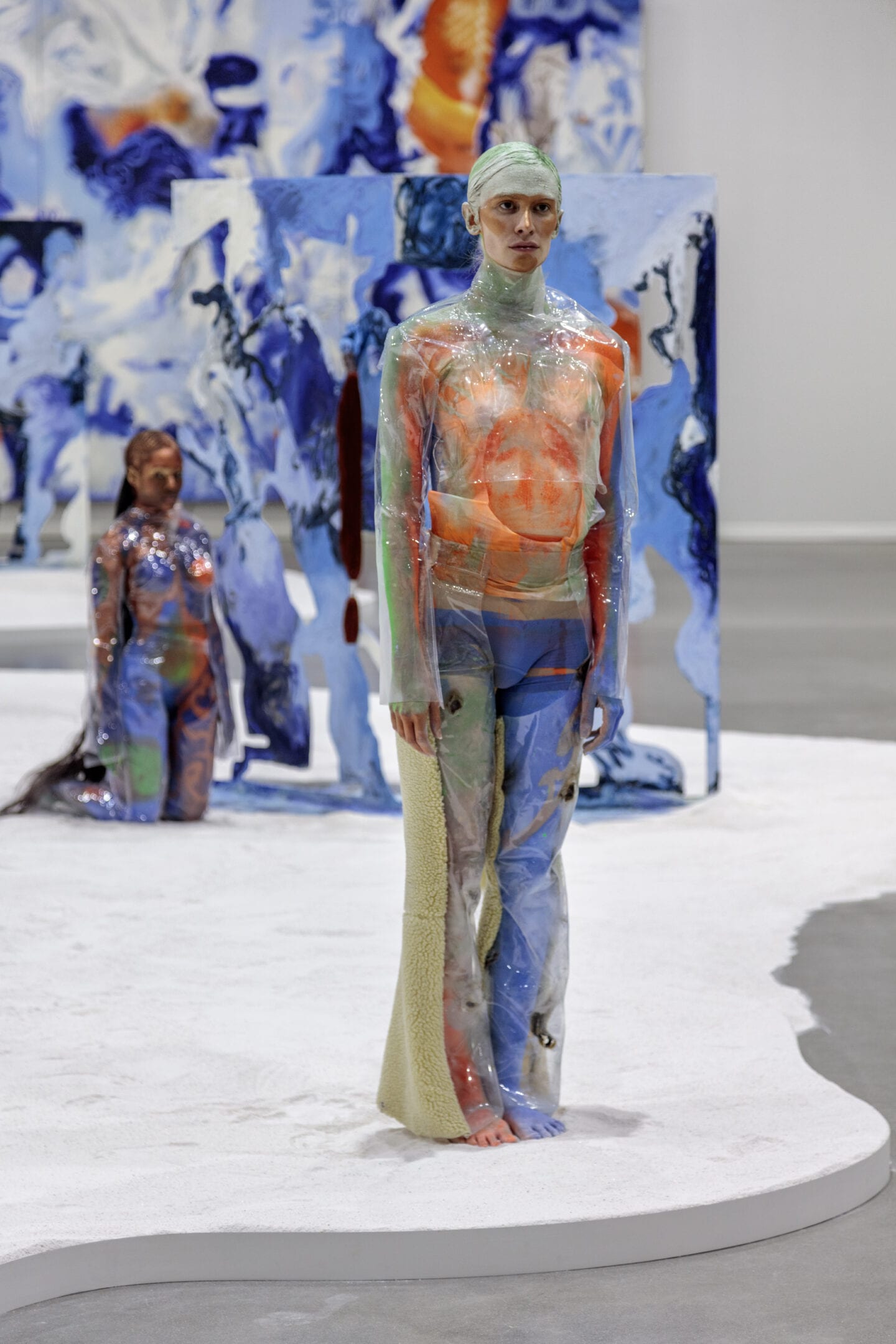 Huanca's work reimagines museum exhibitions and moves beyond the traditional medium of a canvas, which she describes as "colonizing" the violence rooted in the foundation of most museum spaces. The artist references a history within western museums that prioritizes the work and gaze of white male artists while showcasing the loot from centuries of colonial conquest. 
The Marciano Foundation, built on a former Scottish Rite Masonic Temple by a male architect, represents masculine power structures past and present. Rather than ignore this history, Huanca addresses it directly. Her futuristic installation transforms the space into an intentionally baffling jungle of abstraction, co-opting the historically chauvinistic genre of abstract art (think Picasso, Rothko, and Pollock) making it a declaration of her own distinctly female artistic license.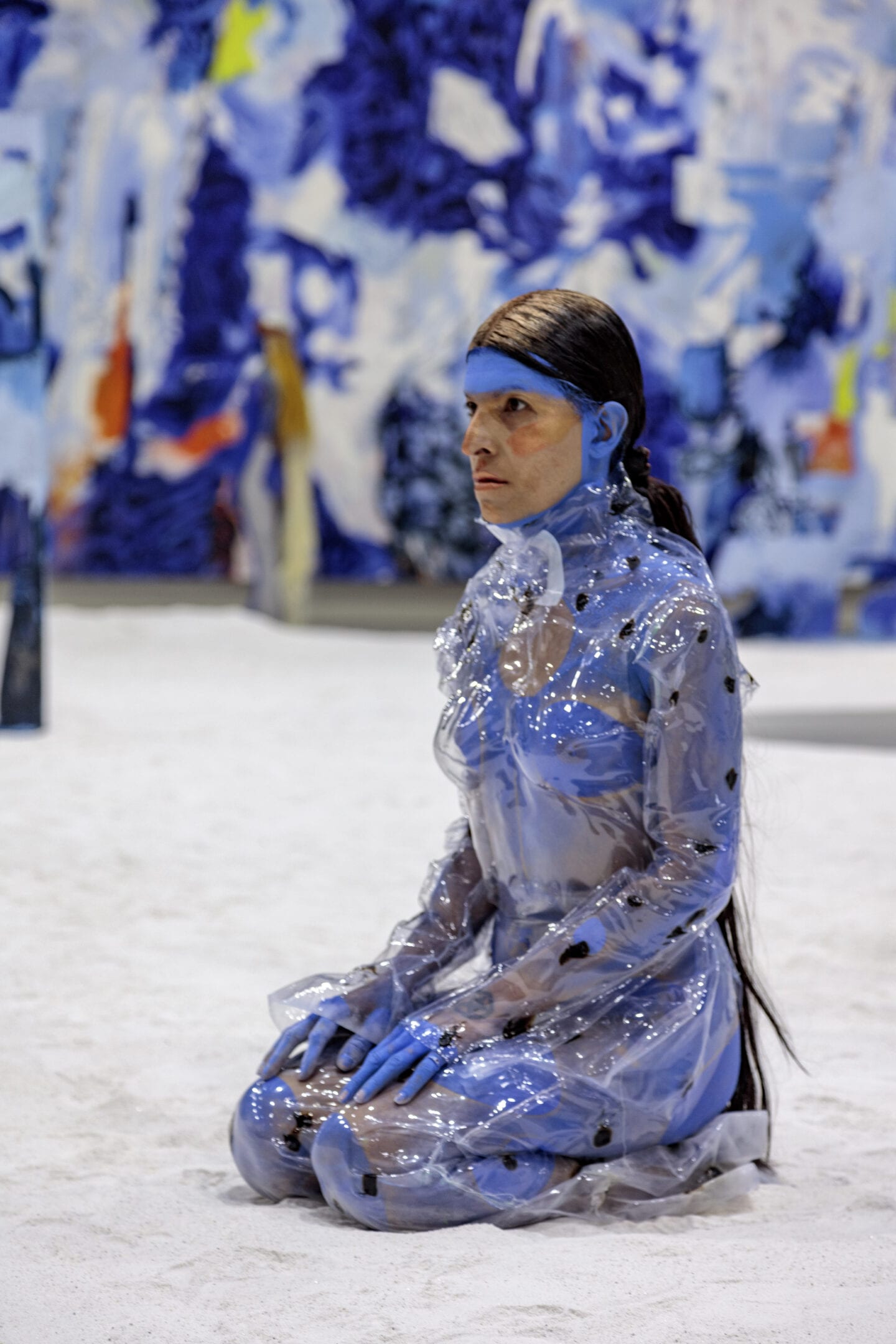 The exhibition feels novel, because so few spaces exist in which female presence and agency is prioritized to this degree. The audience feels the requisite discomfort of voyeurism, an acknowledgement that we are watching on the models turf and in their habitat. Moreover, Huanca prioritizes the models comfort and safety by placing heaters beneath the sandbar, using safe organic materials to cover their bodies, and allowing them the freedom to move through the space as they choose. By allowing the models free reign over the space, Huanca emphasizes their importance as part of the exhibit rather than artificially-posed objects. At the same time, viewers still feel vaguely like foreigners in this world, demonstrating the Huanca's most important point. She forces visitors to acknowledge the privilege of looking, triggering an awareness rarely felt when one gazes, for example, at a Renoir nude. 
See Also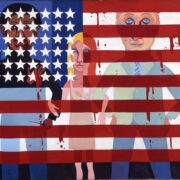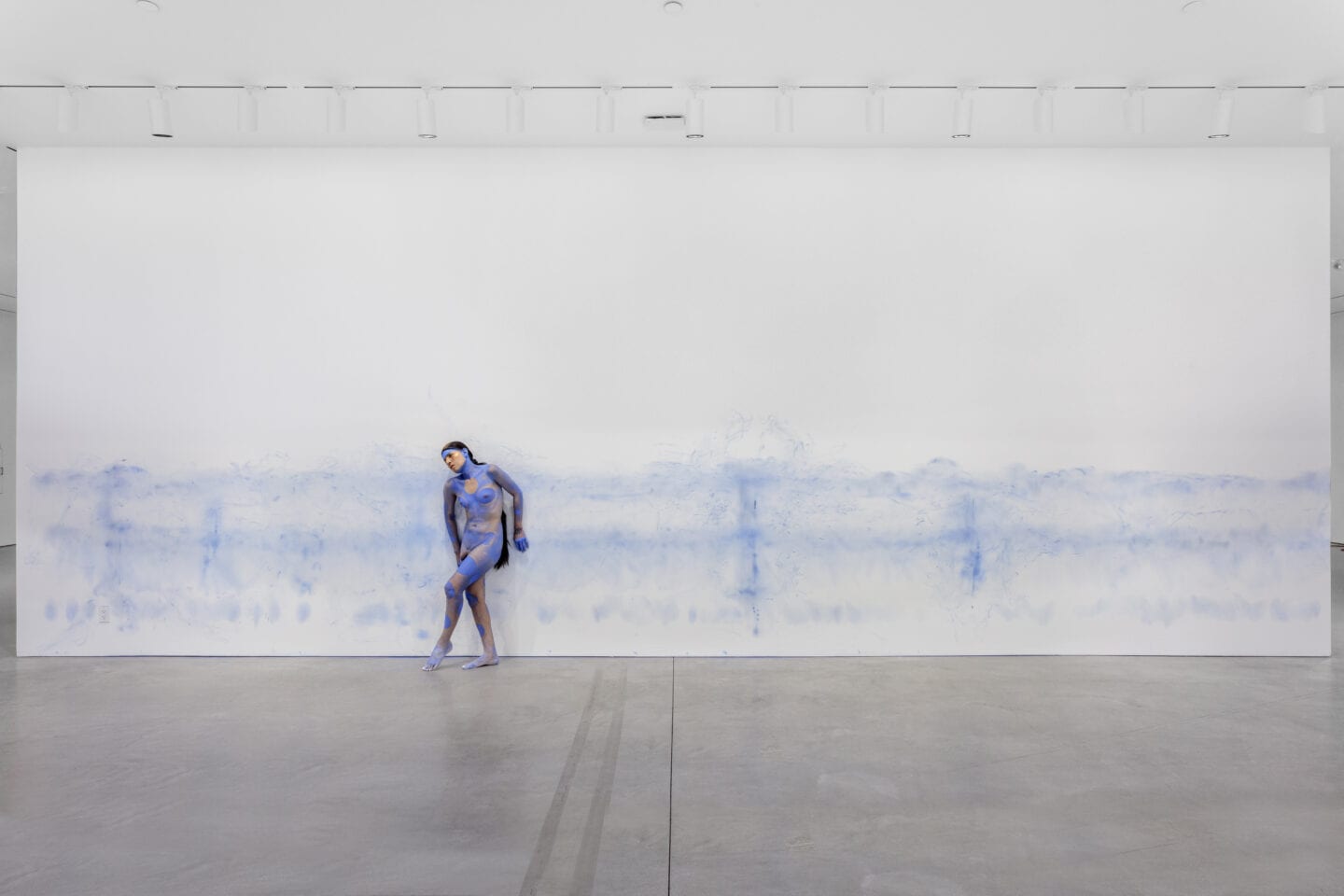 At the same time, her work recalls earlier female performance artists such as Marina Abramović's pioneering performance, "The Artist Is Present" and Yoko Ono's famous "Cut Piece." In doing so, she continues the practice by female artists of problematizing the male gaze, furthering it to decenter the colonial sensibility which pervades most museums. Our response might initially be discomfort and confusion, but this allows us to begin to grapple with assumptions of established ownership in Western art settings.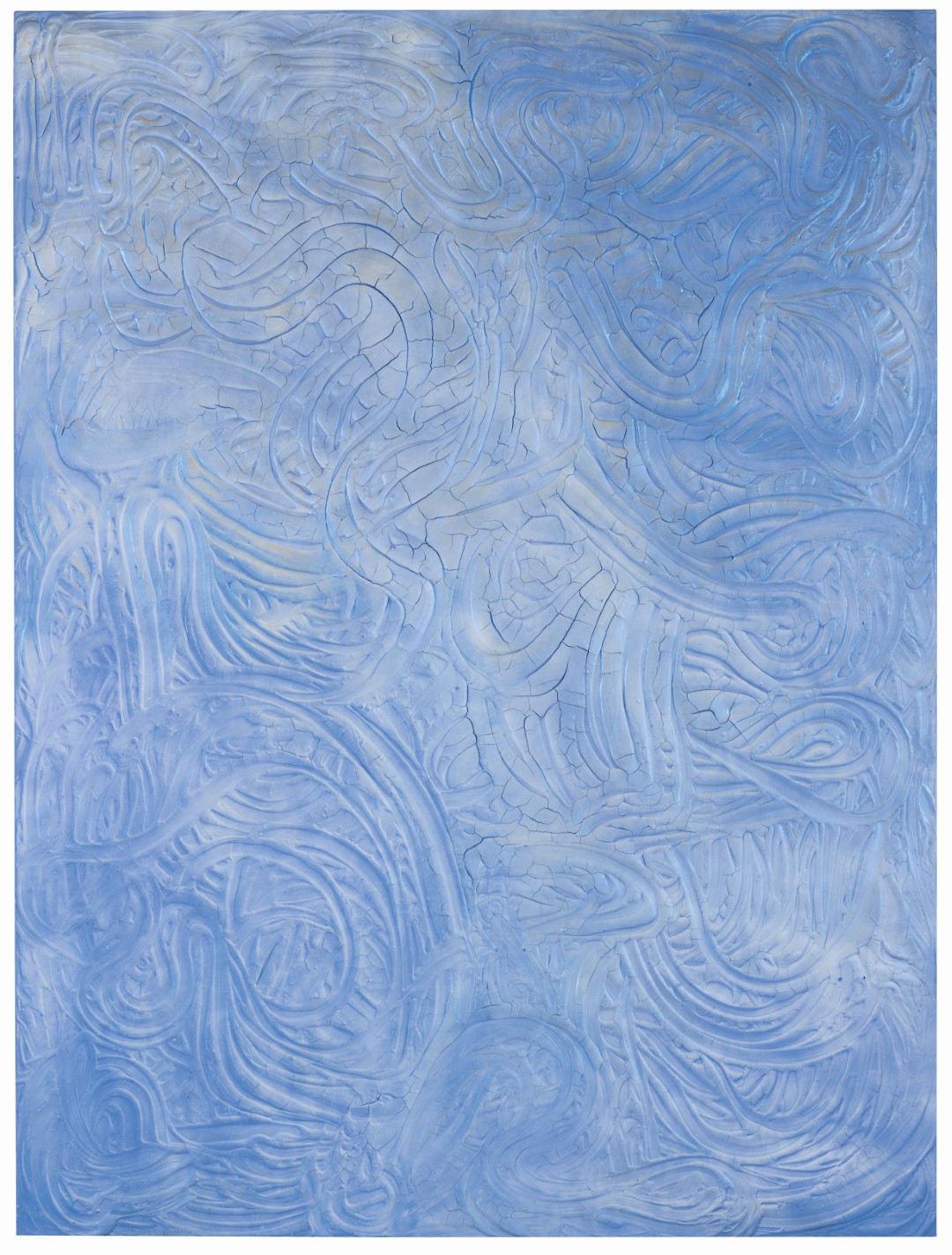 Huanca's work represents an important step in the contemporary art world as more diverse selection of voices gain visibility and traction. Moreover, her work is gaining popularity at auction—her piece "Pisces" estimated for 8,000-12,000 pounds recently went for 32,500 GBP at Sotheby's Contemporary Day auction in June. By occupying the room and the senses in every tactile capacity, she asserts a future of female powered art spaces.