British Artist Antonia Showering recently had a solo online exhibition with White Cube, showing ten paintings beautifully layered with abstract landscapes and fluid figures.
---
In a time when human contact is decidedly reduced and families are separated by closed borders, we are all collectively experiencing the feeling of loneliness. Antonia Showering makes the emotions we crave tangible in her paintings, enveloping the viewer in the warmth of familial affection and romantic intimacy. Bathed in swathes of green and golden hues, her figures are often interlaced in an embrace, or weaved into the layers of her landscapes. Her deeply emotive paintings are inspired by her personal relationships, her mixed cultural heritage, her memories and reveries.
Antonia's dream-like paintings explore how memory works—recollections morph every time we revisit them and eventually fade into one another. Using a technique called pentimento, Antonia layers fluid figures upon abstract backgrounds, capturing the nostalgic feeling evoked by fading memories and stacked recollections. Although we can never freeze a moment in time, Antonia gives permanence to the emotions of her memories on her canvases.
At 28, Antonia is already blossoming in the London art scene. Since she received her MFA at Slade Art School, she has had exhibitions at Timothy Taylor, Stephen Friedman Gallery, and White Cube.
What brought you into the art world? Do you have any memories from your childhood that drove you to become an artist?
My Chinese grandfather was a brilliant draftsman. He studied architecture in the early 60s here in London, back when plans and designs were drawn up by hand. When I was a child I would sit beside him and we would sketch together on his desk in his study, which was covered in his drawings. I have many memories of him teaching me how to draw. A few years ago, I went back to the Architecture Association where he had studied and saw some of his drawings again, as they had kept hold of them in their archive. Seeing them again was a special full-circle moment.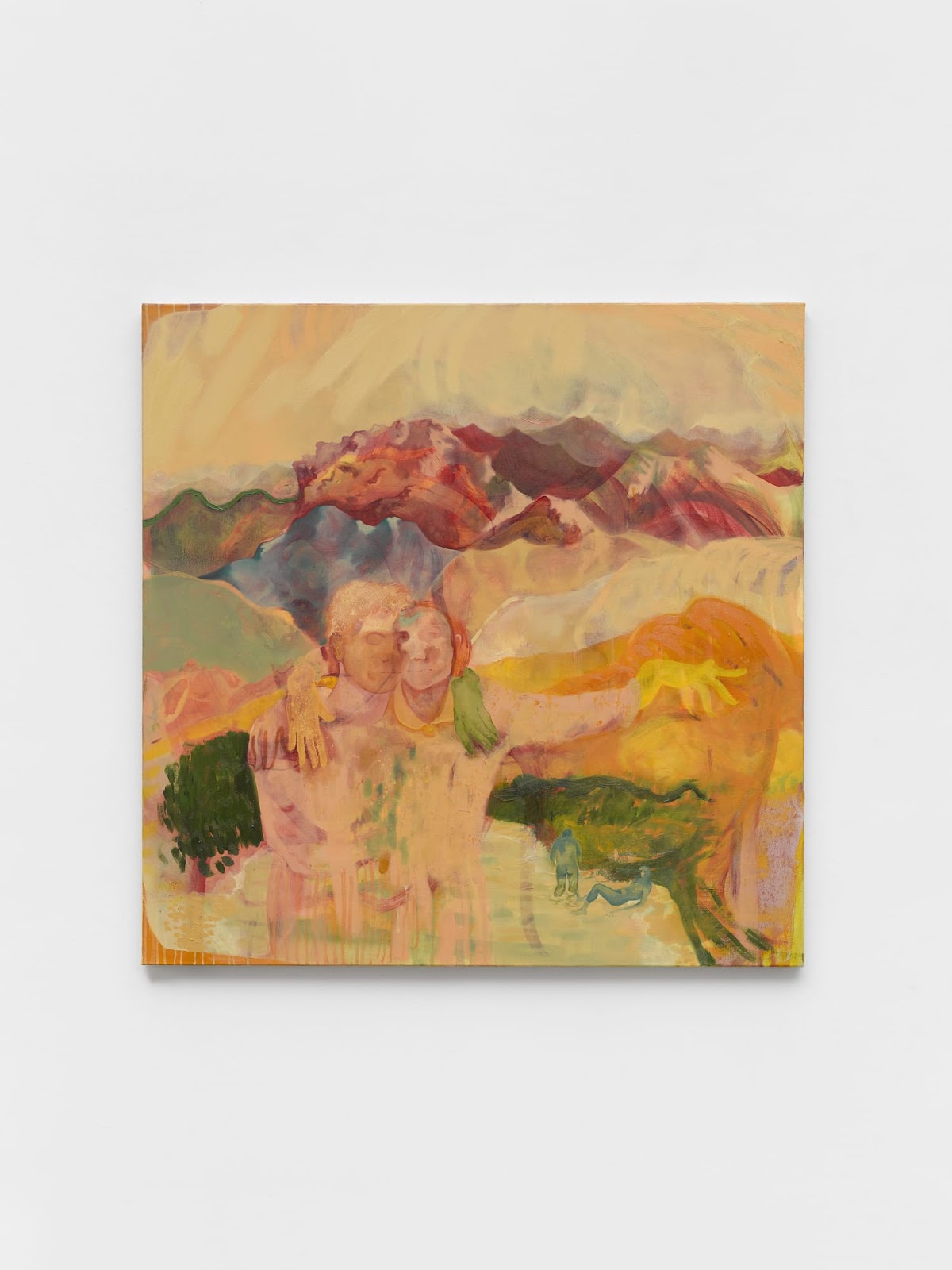 Your paintings have a dream-like quality to them, depicting scenes of family members and lovers in layered landscapes. What is the story behind your works and your style?
Familial relationships have always been at the core of my practice. There are definitely a couple of recurring characters found in my works, with paintings frequently depicting my younger brother and niece. These figures mature as the body of work grows. Despite returning characters, each painting holds an individual story and the narratives assigned to my figures shift and unravel as the works develop. When my younger brother's daughter was born there was a huge shift in the family unit. We all moved up one spot on the conveyor belt: grandparents became great-grandparents, parents became grandparents. I have made a few paintings touching on the conflicting but universal feelings this gave me.
My works often explore different ways of expressing intimacy. It's love in all its different forms—from a familial and domestic setting where someone could be holding their child, to depictions of people I have recently loved in a less platonic way. The figures inhabiting my paintings are quite genderless. When I begin painting a figure it will start as one person, but then I subconsciously begin to react off the marks, so when I stand back and look at the canvas, my figure will have slipped into someone else. I often find that the role of my characters shifts as my work unravels. I like to leave my figures as open as possible so that the viewers can project their own histories and narratives onto the piece.
Where do you draw your inspiration from?
My paintings draw inspiration from an amalgamation of lived experiences, psychologically charged yearnings, fading memories and desires. I also allow my paintings to be dictated by chance happenings. When I paint, I continually shift the canvas to defamiliarize myself. It often begins as an abstract painting, and only later as I begin to go into figuration does the motif emerge.
I also like to visit my family, because seeing their individual relationships with each other always inspires me massively. I'll go back and draw frantically when I see different family members. Seeing the love they have for each other is something that I want to depict and make tangible and accessible to the viewer.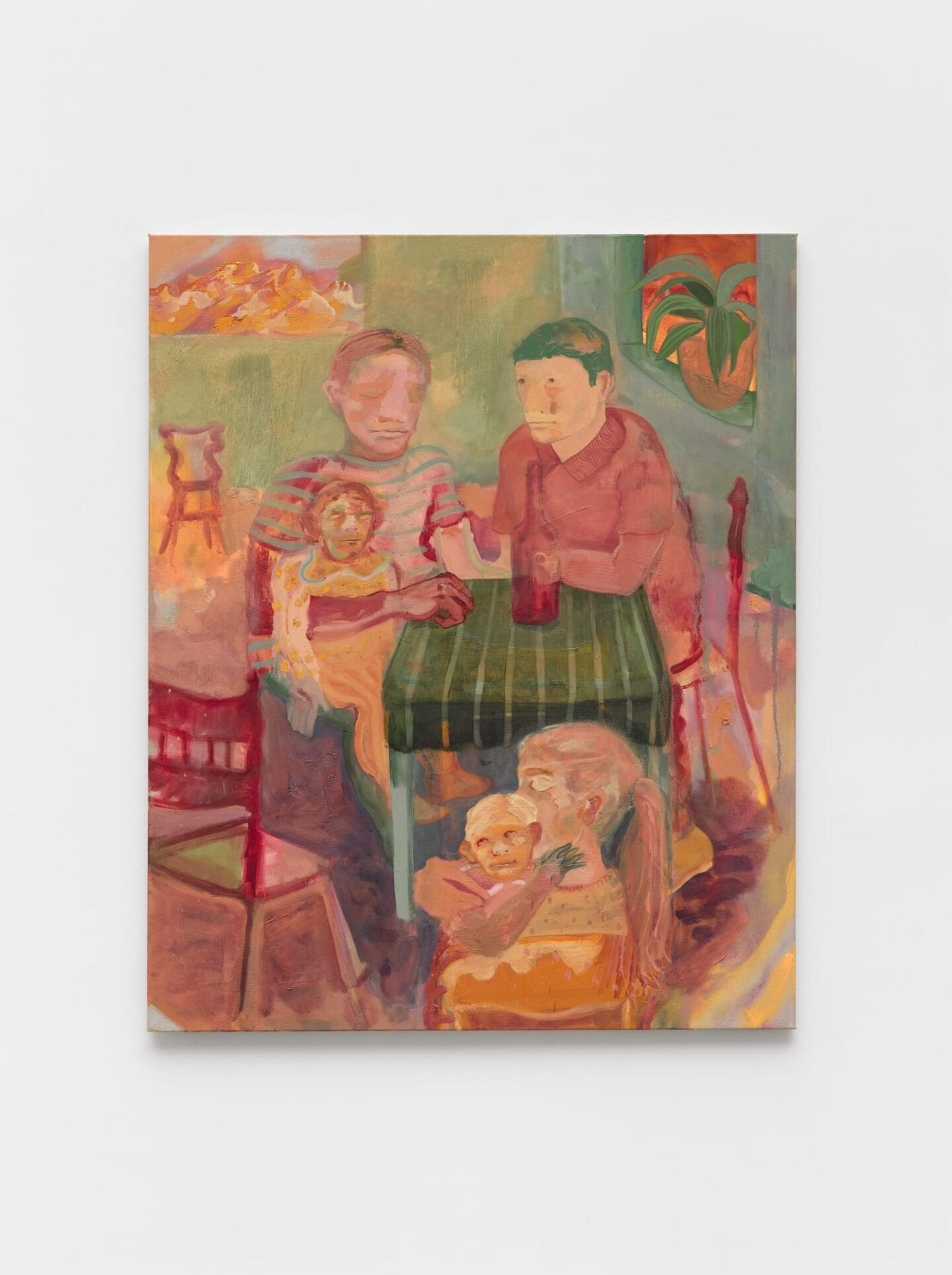 Can you describe the creative process behind your paintings?
I begin by stretching the canvas with linen, and priming it with pigment in the sizer. I sometimes pour oil paint onto the canvas when it's lying flat on the floor and then I pick figuration into the marks. I usually start by creating a balanced, harmonious image that doesn't relate to anything specific. I like to solely concentrate on colour relationships, compositional balance and mark making. The figuration arrives later, when the memory or feeling that I want to solidify starts to appear on the canvas.
I also use a technique called pentimento, where I stack different recollections on top of one another so the viewer can see evidence of previous decisions. I want the viewer to try to see beyond the initial surface. The longer you sit with the canvas, the more the painting reveals itself.
Your recent online exhibition with White Cube is very impressive! What is your favourite piece from the exhibition and what does it mean to you?
I would say that although this is my favourite body of work I have made as a whole, my paintings feel a bit like my children, so I wouldn't be able to pick a favourite! But The Teacher (2020) is a particularly important painting and relates back to your first question. It is from the memory of my grandfather working at his desk. It was quite emotional when I realised while I was working on the piece that it was of my grandfather sitting as his desk. When he passed away I was quite young and didn't fully understand it. I remember at the time, the tooth fairy would always write back to my secret notes and Father Christmas would eat my mince pies. So when I left a note behind a photograph I had of him, leaving a section for him to reply, I found it strange that he didn't. So this piece is about communication—through painting my grandfather, I feel it's almost a way of being in touch with him. The paint pouring down onto the sketchbook on the floor signifies this.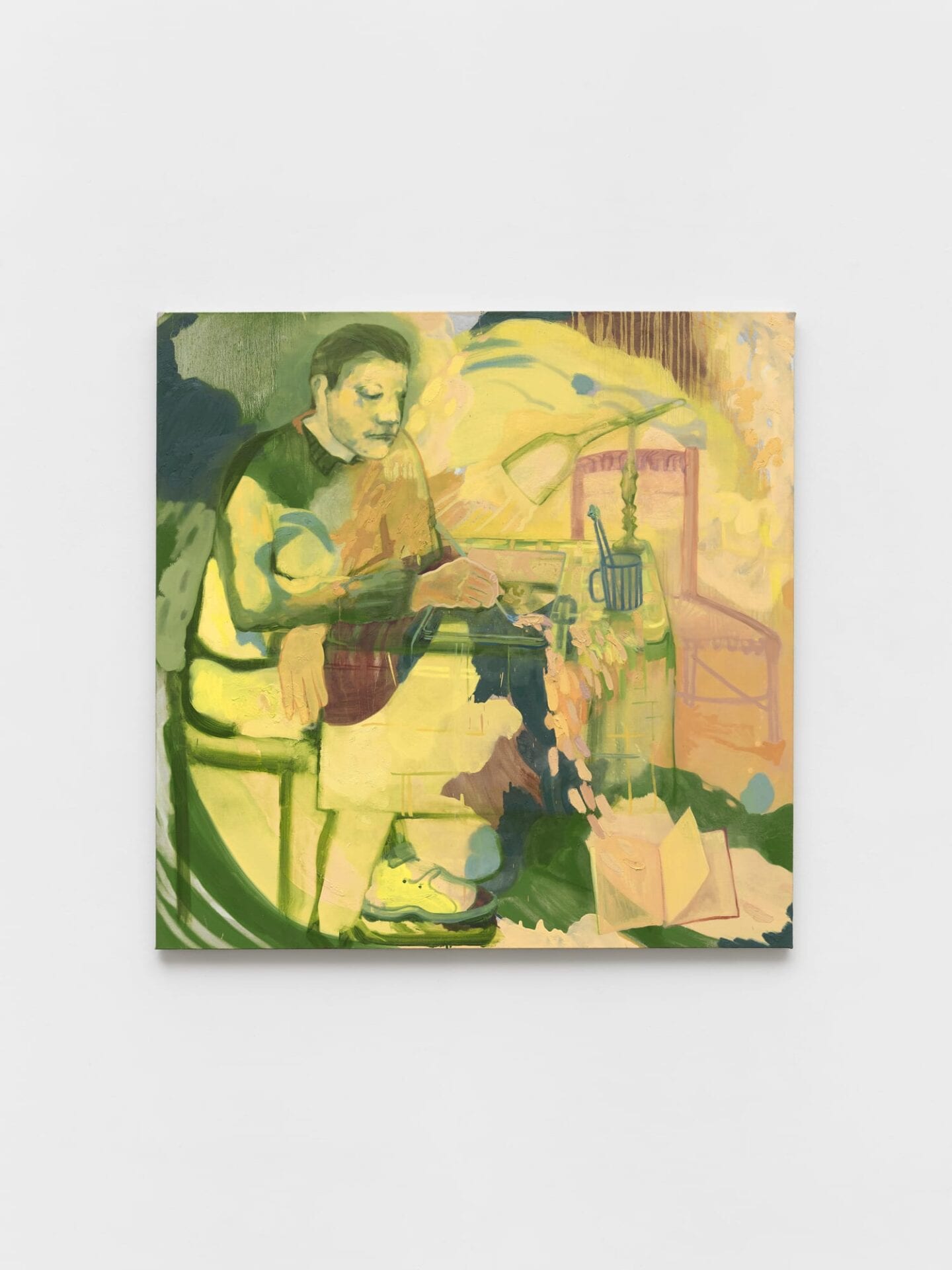 Do you think your mixed Swiss and Chinese heritage has seeped through your canvas?
I definitely think they have, because my paintings are about creating these worlds that make complete sense of the different places I am from. The landscapes embody this. There are three mountains that face the village where my Swiss grandmother grew up, to which we return three or four times a year. The mountains act as a constant in my life, unaffected by the passage of time; and they often reappear in my paintings.
The palette I use has lots of oranges and reds, which could be drawn from my Chinese heritage. My mother can be quite superstitious—every Chinese New Year she calls to make sure we're wearing something red!
Speaking of colours, how do you choose your palette?
My colour choices are reflective of my mood and the season, which I think come hand and hand. In the summer months I feel more energetic, so the colours in my works are a lot more vibrant. In the autumn my palette naturally ends up becoming softer and more muted.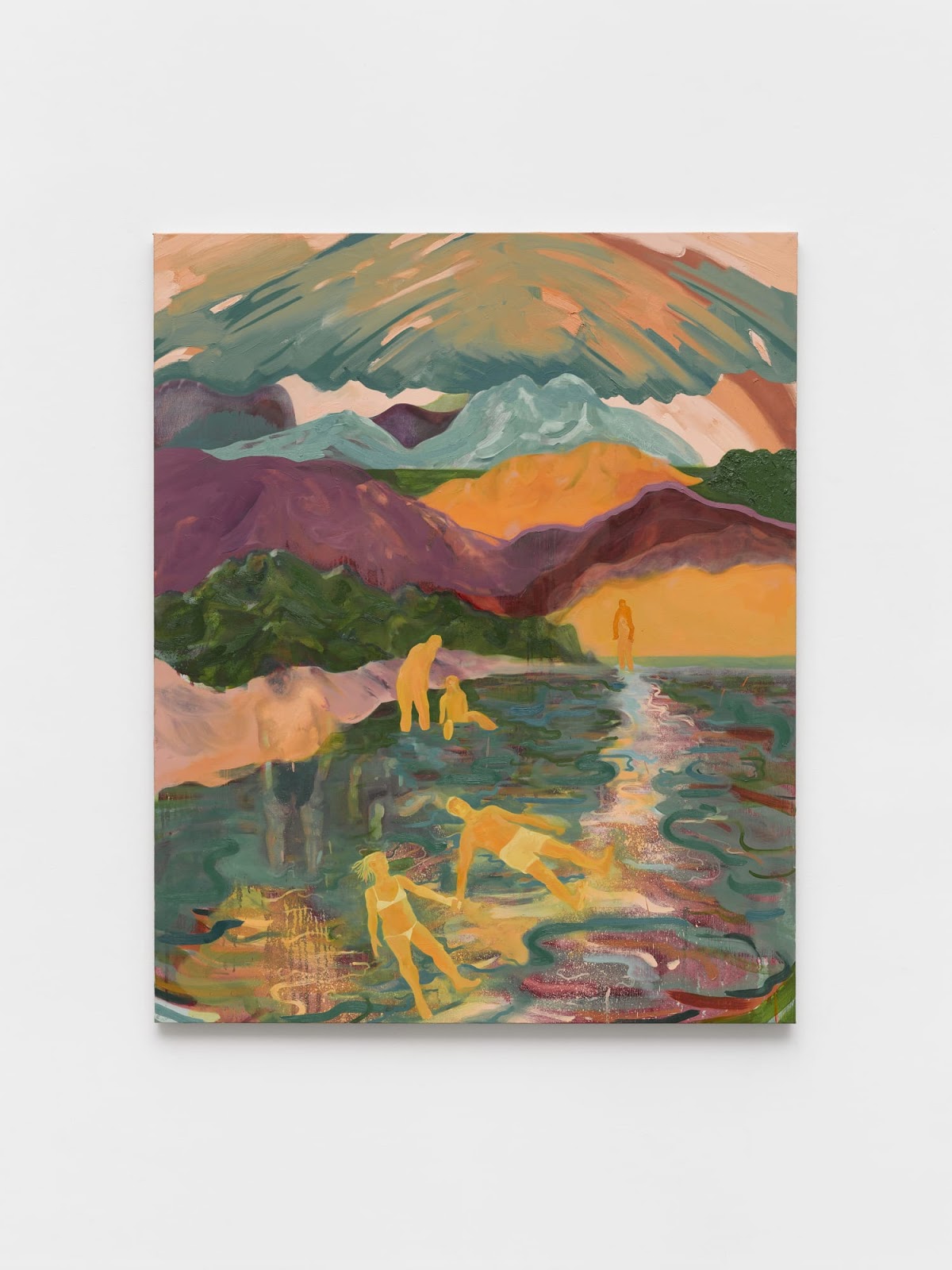 What is a typical day for you in the studio?
When I get to the studio I have to put the radiator on because it's pretty chilly. And then I spend quite a lot of time looking at the paintings, because how you remember the image is never true to what it actually looks like. I'll sit with my notebook and write bullet points about where the painting lacks vibrancy or needs some more attention. And I'll spend some time mixing colours—the good thing about having a cold studio is that my mixed colours don't dry as quickly from the night before. Then I'll start painting. When I have to take a break I bring a snack up to the mezzanine and afterwards I can come back to see the painting with fresh eyes again.
Most of the works you made for your solo show with White Cube were made during the lockdown. How did it affect the way you work?
The paintings I was making in the beginning of the pandemic were definitely craving some human contact. Rescue (2020) was a work made during the lockdown and it conveys the desire for human contact. But as time passed, I got used to spending time away from other people's touch and intimacy. I came to find acceptance in solitude…I became comfortable with being alone and not feeling lonely. That's when I painted Teacher (2020), which is one of the only paintings I've made of a totally solitary figure.
Obviously there was the constant worry and panic about loved ones. But I also enjoyed being alone in the woods with just my dog. It was quite a magical time where I painted through the night until six in the morning, as there was no reason to be following anybody's body clock but my own.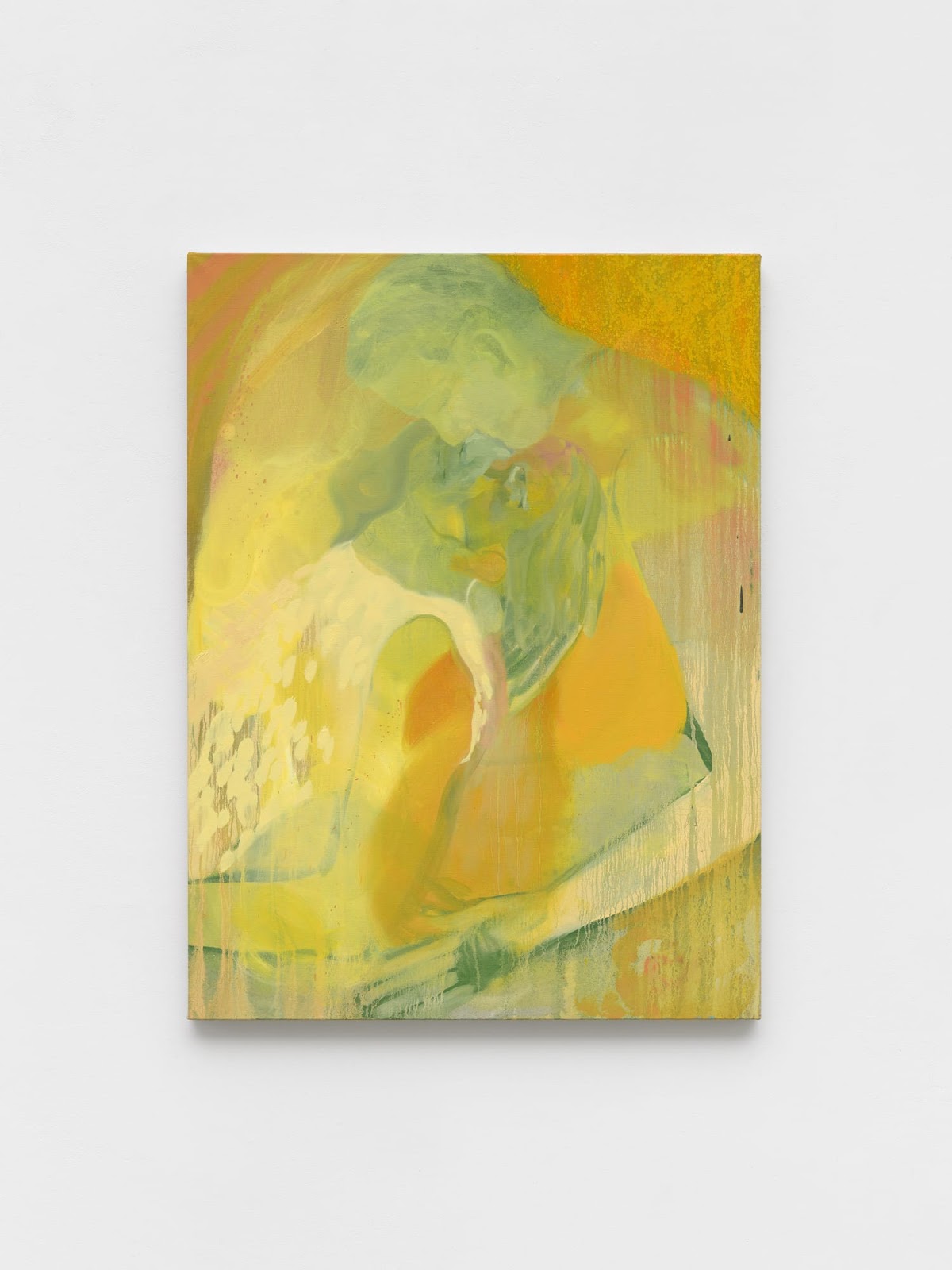 How do you think living in London, with its bustling art scene, has shaped you as an artist?
I am very happy to have been living and working in London all these years. I missed the galleries and museums during lockdown and feel lucky to live in a city so rich in culture. ES Magazine recently published a piece spotlighting about twenty-five young London-based artists. It felt pretty special to feature among so many people I've met over the years—artists I've done residencies with, artists I've studied with, artists I've shown with in different group exhibitions. There is definitely a great community here, where you'll befriend and cross paths with a number of different makers over the years. There really are a lot of exciting artists making brilliant work in London at the moment.
Are there any artists who have especially inspired you?
Alice Neel, Gabriele Münter, Leonor Fini, Miriam Cahn, Paula Modersohn-Becker, Vanessa Bell…The contemporaries would be Nicole Eisenman, Tracey Emin, Lisa Brice…have I just said all women artists? I think I have!
We love that!