Meet Aileen Murphy, the Berlin-based Irish painter who is making waves in the global art scene, with recent exhibitions held in London, New York, Dublin, Munich, and Cologne. With previous training in dance and ballet, Murphy has natural mastery over her large canvases. Her swaths of vibrant, pastel colours reveal her hand's gestural dance across the canvas. While her painterly strokes suggest abstraction, fictive figures are the focus of Murphy's paintings. Her figures playfully oscillate between the layers of her paintings, at once revealing and concealing themselves to the viewer. Her current exhibition at Amanda Wilkinson Gallery in London shows five works, all equally arresting with their jewel-like colours and bursts of energy. The viewer is invited to step into the worlds that Murphy has created with her scintillating layers, and experience the dance between her colour harmonies and her figures that are voluptuously alive.
How did your journey to the art world begin? Was there a pivotal moment that led you to become an artist?
I could sense that there was something meaningful in colouring when I was 7 or 8, and I used to draw cartoons off of the television as a kid. I would record them on the VCR, press pause, and obsessively draw them until I got them to look exactly like the cartoons. I was always encouraged to make pictures as a child, but the practical side of being an artist was something that I had to learn to wrap my head around, because it doesn't really guarantee that you make a living. At age 18, I attended the National College of Art and Design in Dublin, did the foundational program and then a three-year painting degree. After that, I stopped painting for a while and mostly did drawings. There was a period of time when I worked collaboratively with three other artists in an artist collective called Soft Blonde Moustache. Then when I was 27, I decided to start painting full-time again. I went to Frankfurt to continue my painting studies under Amy Sillman and Monika Baer. You could say it was more of a windy road where I grew in different directions, rather than one pivotal moment.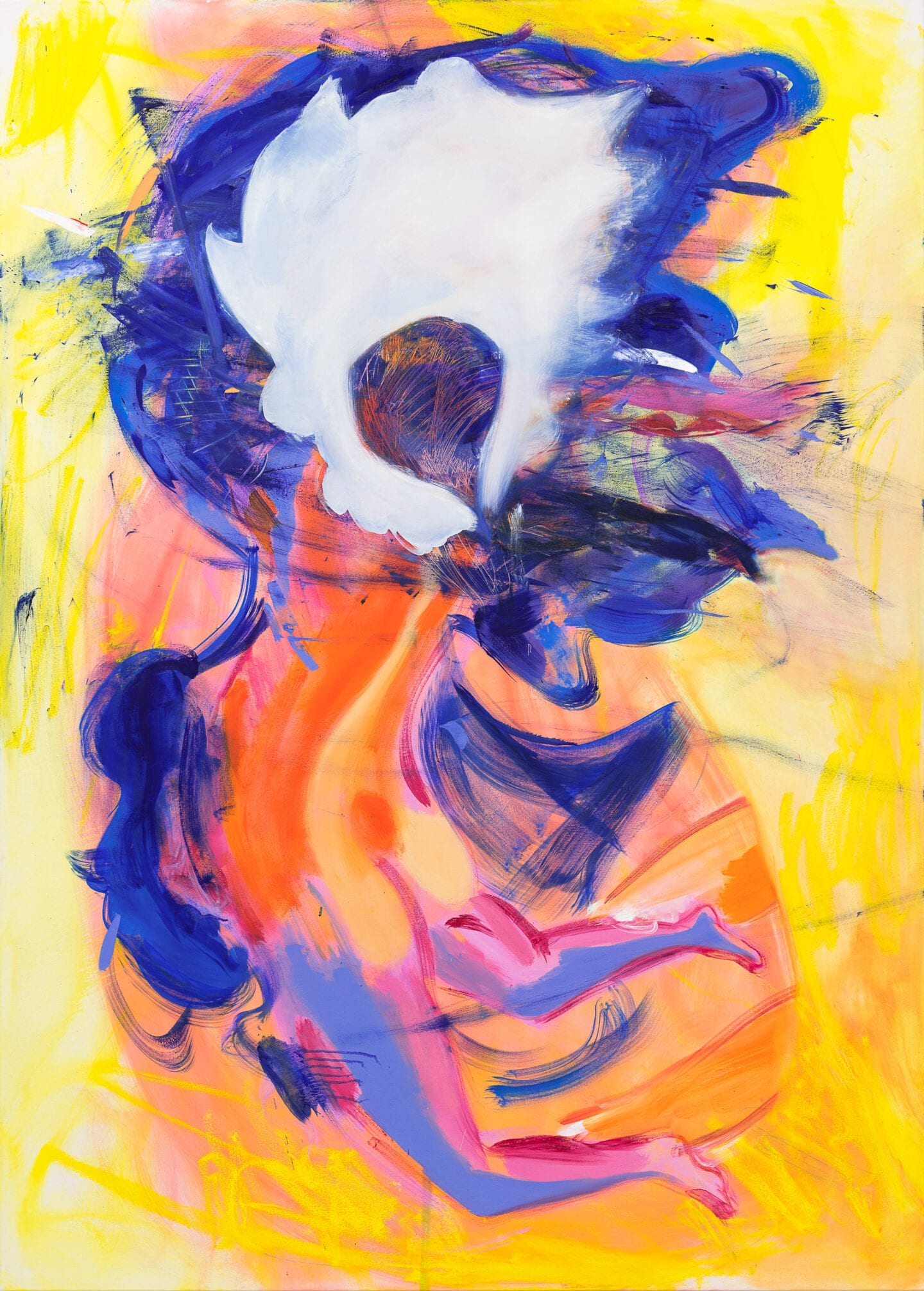 Your works are at once abstract and figurative, and your figures seem to both reveal and conceal themselves in the oscillating layers of your paintings. What is the story behind your style?
My current style feels holistic to who I am. I've always been attracted to both imaginative art and paintings that are more figurative. When I first started painting I used photographs as reference. But when I went to Frankfurt, I wanted to start painting from my imagination and go naturally with how I respond to the paint. I was studying with Amy Sillman—who is brilliant—and she encouraged me to work on a bigger scale, bigger than my arms can go. That was an important leap for my development, as I could put myself further in the painting. The physical, gestural movement of the body across the canvas is important to me, as I have a background in dance and it has always been a big part of my life.
Can you tell us about the creative process behind your paintings?
My inspiration often comes through drawing. When I sit down and draw, my ideas become a lot clearer. Then I use my drawings to get started on the canvas, but I never know how my paintings will turn out. With each layer that I add or erase, the original figure morphs and changes. There's so much potential in painting. Anything can happen in painting, really! I work quite quickly and I like accidents, so my paintings evolve moment to moment and they often take unexpected turns. It's exciting but it can also be challenging: sometimes I want there to be a problem because it helps create something new but sometimes I also end up stuck. It's become necessary for me to learn to embrace letting go, destroying things, and not being precious. When you're improvising you have to trust that what you lose will come back in another way, so you just have to keep moving forward.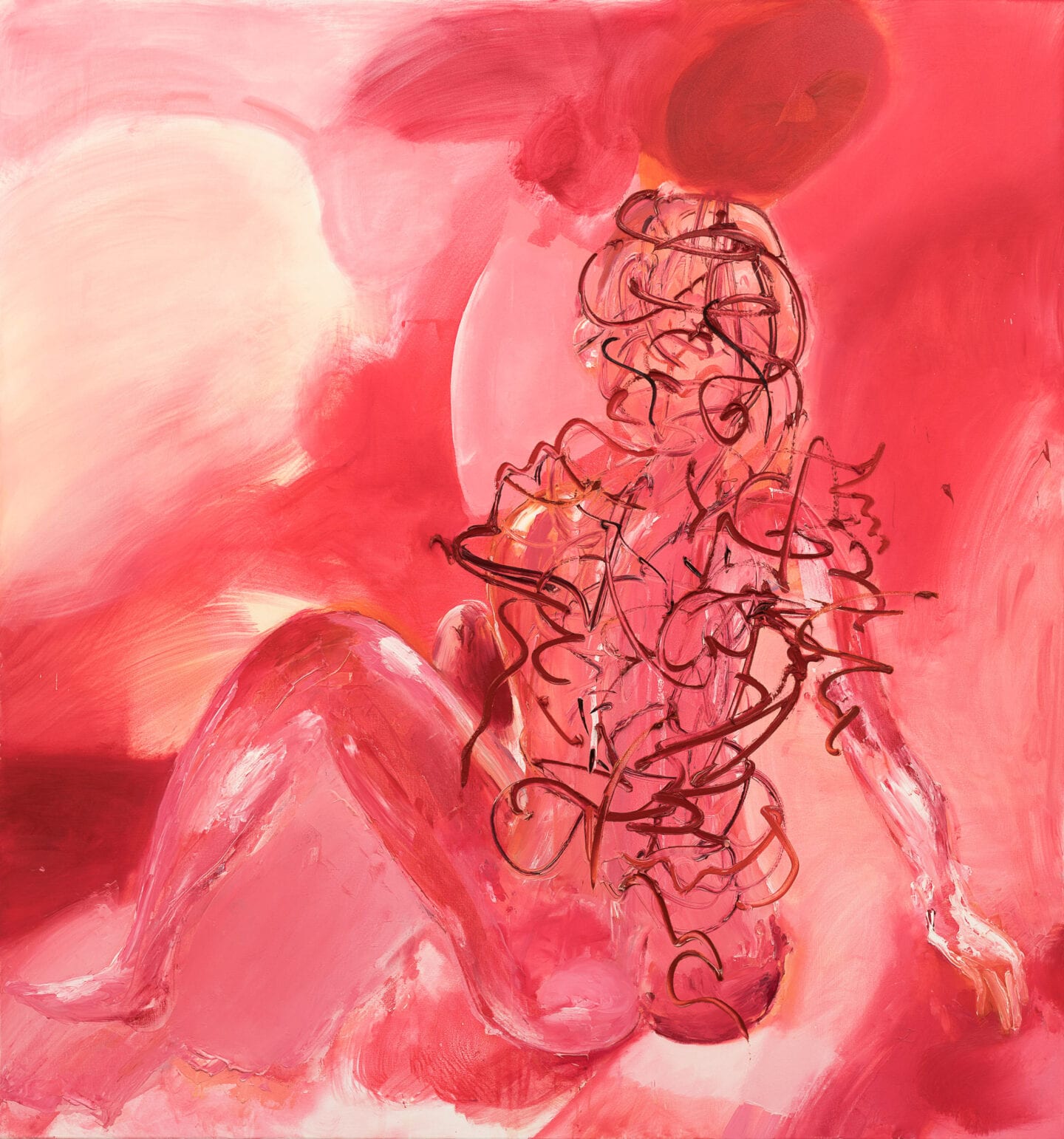 How has growing up in Ireland and now working in Berlin influenced your artwork?
I didn't really appreciate or get as good of a perspective of Ireland until I left. What I miss the most about Ireland is the countryside and the nature. I think growing up and being near the sea had some kind of impact on my spirit. Then of course there's Irish literature, Irish storytelling, and Irish mythology which we learnt in school. Reading the plays of Oscar Wilde as a teenager definitely influenced my work. I really enjoy his humour. In my works I don't force narrative, but it does emerge naturally. While I connect Ireland to my childhood, Berlin is about my community—the artists, the conversations that we have, and going to museums together. I love how much art I can see here.
We really enjoyed your current exhibition at Amanda Wilkinson Gallery in London. What is your favourite piece in this exhibition, and can you tell us a little about it?
I'm really bad at picking favourites in general, but the painting in the show I've been thinking about the most is O! O! (2020). My favourite colour is yellow. It's a colour I often use as a base. But the colours and textures kept changing and building upon each layer as I worked through the different stages of this painting. There's a nice dryness to the painting due to the fact that I sanded it back quite a lot. I got very playful with this painting—it evolved a lot through an expressive burst of rhythm. The dark space in the middle looks like a mouth, but it could also be another body part. I then put on these breasts that look like cakes but could also be eyes looking up. I had to work to bring the different layers together, but the hand on the side of the painting managed to stay there through the whole development. I want my paintings to be open to interpretation so the viewer can finish it. So it's up to interpretation whether it could be an orgasm, or a birth, or some other kind of release.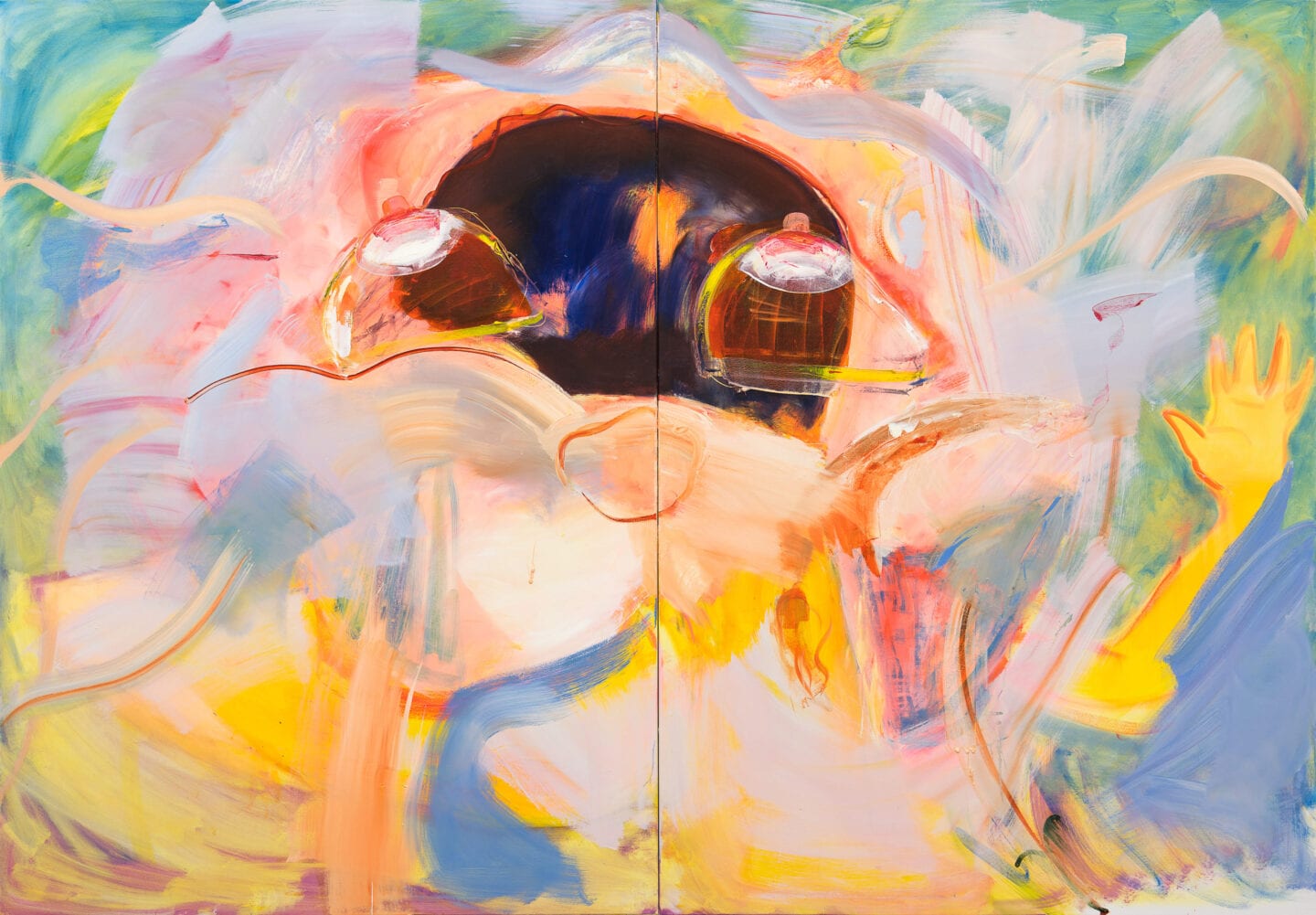 Amanda told us that you love poetry and literature. How has poetry influenced your paintings?
Yes! It's really nice that Amanda told you that. I was one of those book children…Poetry was introduced to me in school but as an adult I can see its influence on my works, especially poetry that's visual, where there's an imaginative space that's conjured. I love poetry because of its intimacy and subjectivity—you can also sense the person in there. I find it inspiring how poetry manages to make things that are ineffable explained in language, blurring the line between image and sound. I especially love the poets Elizabeth Bishop and Dorothea Lasky.
We love the dreamlike dance of your colours. Each painting has such a different palette, some are more vivid while others are more pastel. How do you go about choosing the hues for each painting?
Colour is probably the most intuitive aspect of painting to me. It's really important even in my day to day life. I feel the most free with colour—it's something that I really feel when I'm painting. I choose my painting's colours very intuitively because paintings develop moment to moment in their own way. Sometimes it can be guided by the motif of what I am painting. And other times I think about the palette of the exhibition as a whole, as I do like there to be variation. For example, if I made a painting with certain colours, I would guide the colours in my next painting in a different direction.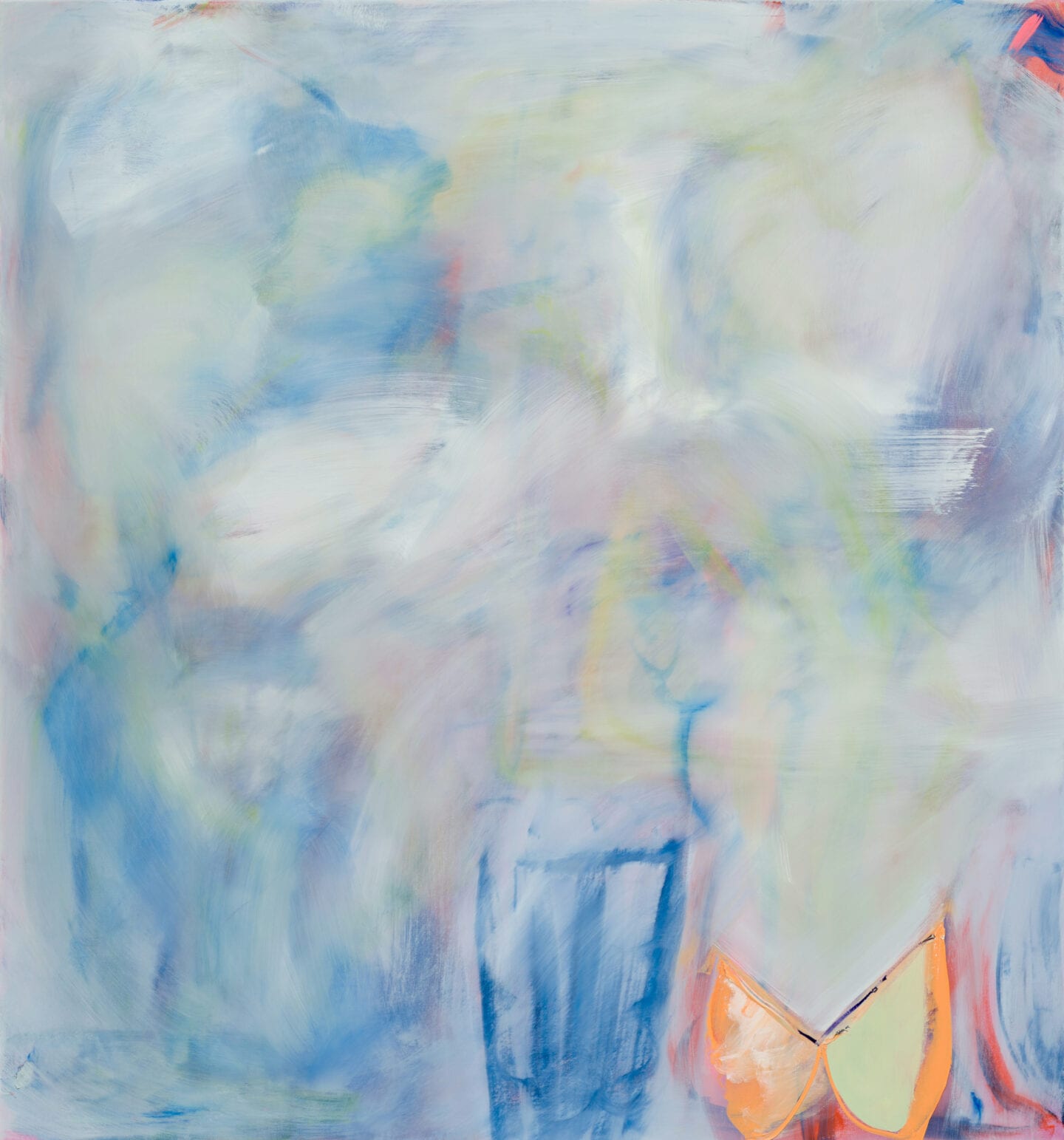 All of your works in this exhibition were completed in 2020. How did the pandemic affect the way you work?
The show at Amanda's was supposed to be earlier in the year, and I'm usually quite organized and I like the works to be made in good time. The surface of my paintings have quite a lot of layers, and I like them all to be dried before they get packed. So the works in this exhibition were all finished on the cusp of the pandemic. And then after that I made paintings for the group show that my gallery in Munich, Deborah Schamoni, had scheduled for the end of May. But other than that I've actually been mostly drawing and reading during the summer. It's been a bit of a zombie mood, so I used reading as almost an exercise to fight for my headspace. But September came around and I am now getting back to painting, and I feel so much better doing that now.
What is a typical day for you in the studio? Do you have certain habits, or music you prefer to listen to while painting?
The first thing I do is put on painting clothes and the last thing I do is clean my brushes. I like to make some tea to settle in, clean a bit as I'm pretty messy, and take a look at my paintings. I then sometimes mix colours as a way to get into the mood of painting. I usually paint for 4-5 hours, then I make food and maybe go to the art shop, come back and paint a bit more.
I don't know if I should be embarrassed to tell you this! But I've actually been listening to the same music since I was a teenager when I paint. I listen to other music in my normal life, but when I'm painting, I only listen to music I discovered in my late teens and early twenties, like Tori Amos, Pearl Jam, Joanna Newsom, Kate Bush and The Smashing Pumpkins… When I paint there's a joint energy with that time. The music almost creates a familiar terrain—similar to the state of mind when you're dancing to songs. If I listen to new music I get too distracted!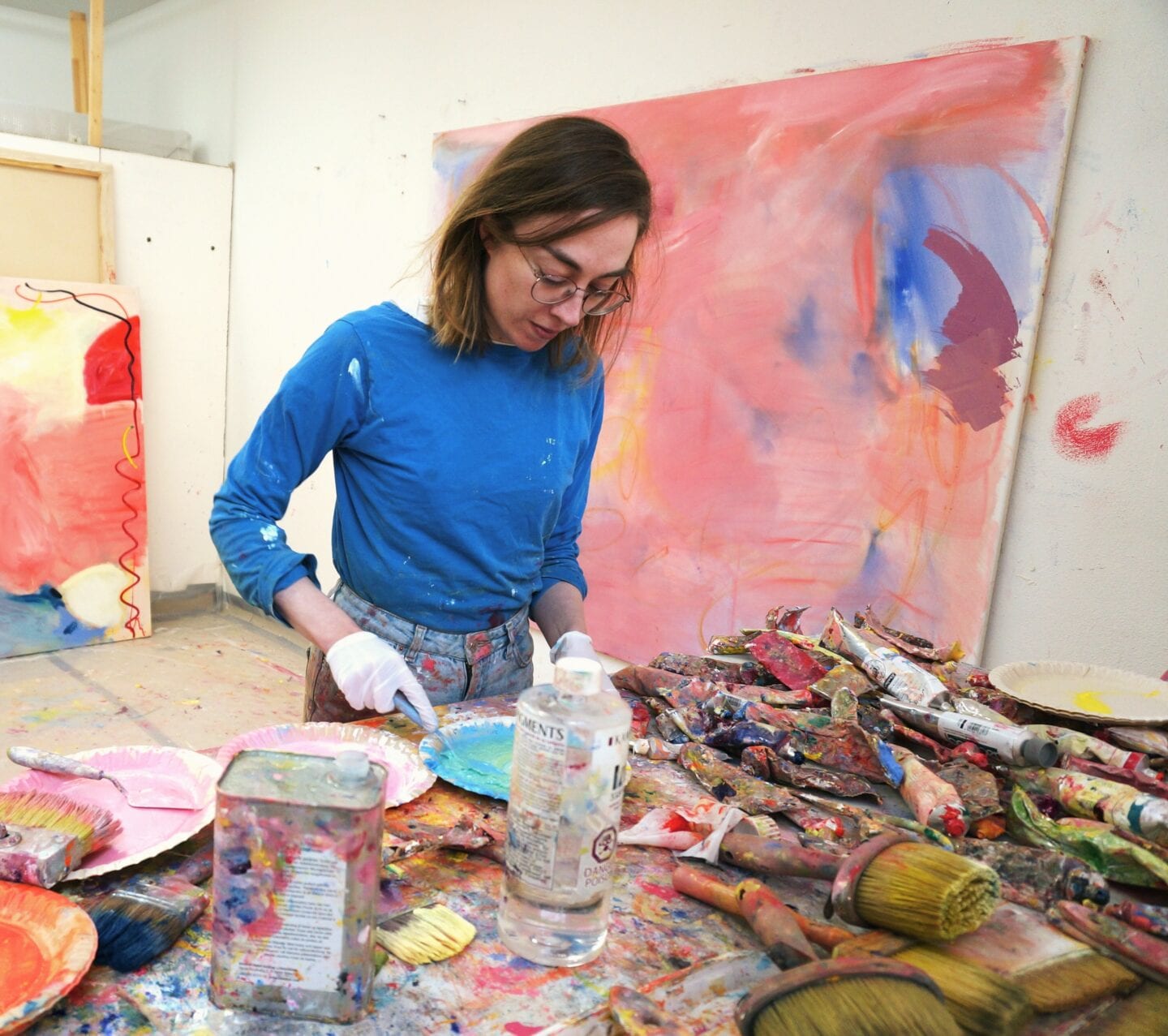 Are there any particular art movements or artists which have influenced you as an artist?
The expressionists! Lee Krasner, Helen Frankenthaler, Joan Mitchell–all the ab ex painters, although I wouldn't really say that my painting came from that lens. I think when I saw them they made so much sense to me…but I'm a more figurative painter. I also love the Surrealists, especially Dorothea Tanning. I think her paintings, sculptures, poetry, and everything she's made is very wonderful. Then there's Francis Bacon, Eileen Agar…and I'm a really big James Ensor fan. I've also always been inspired by this surrealist film called Daisies by Věra Chytilová. It's an incredible film—it has a lot of inventive cinematography and collaging. Dance companies, particularly Pina Bausch and Michael Clark, have also influenced me.
Tell us about any future plans and goals you're excited about?
Mostly to keep painting, and see what happens in the studio next! I'm very excited about my show at Amanda's and I'm curious to see how that will continue for the rest of the month.