8 Korean Women Artists We Love (From Korea, and its Diaspora)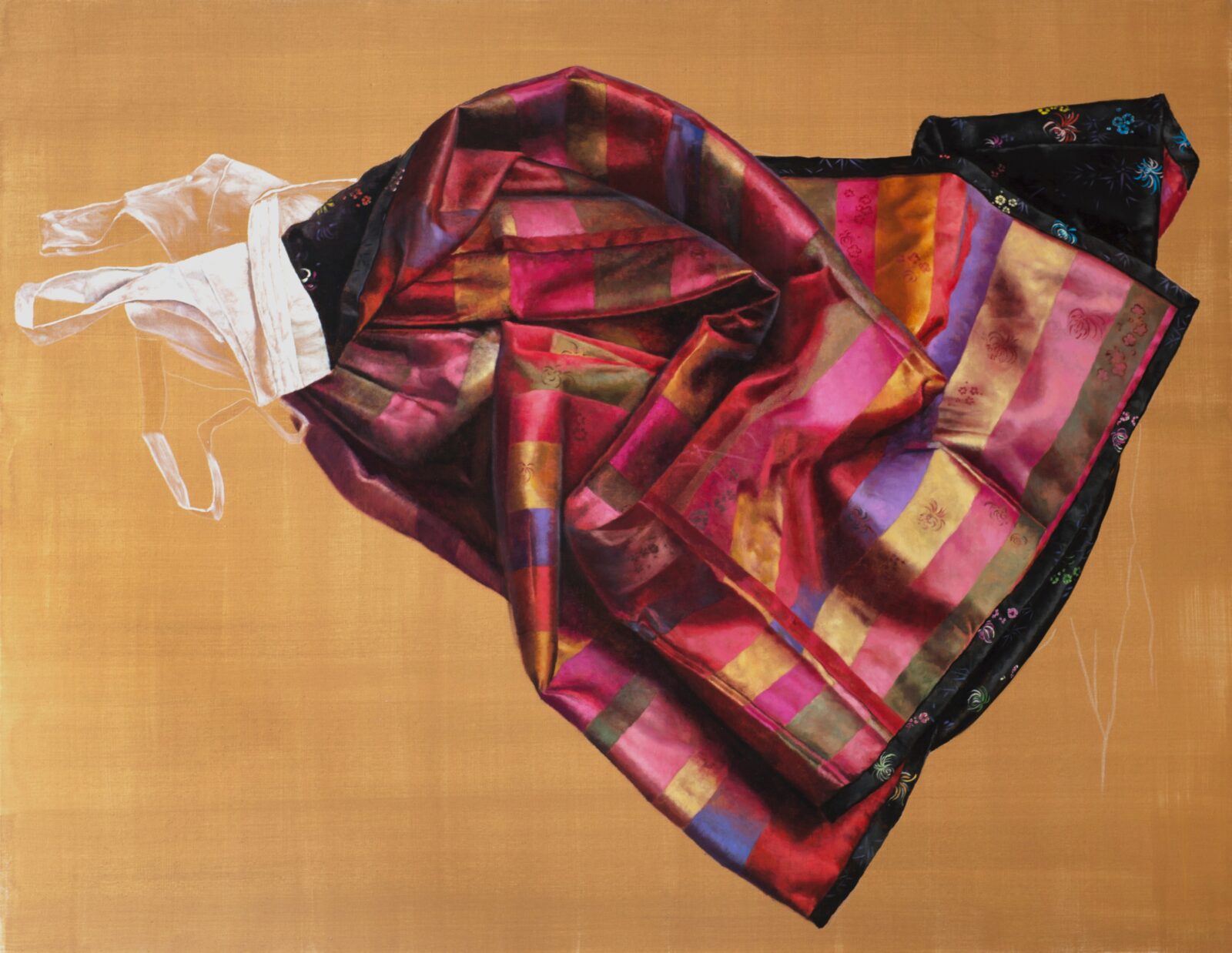 After experiencing the growing international attention on the South Korean capital through our skin, a question comes naturally: why is the art world looking so much in Seoul direction?
---
The art scene in South Korea has never been more vibrant than now: local and international galleries are flourishing, exhibitions and art fairs are popping out, local collectors are growing and diversifying and – cherry on top – KIAF (Korean International Art Fair) just announced its partnership with Frieze for September 2022.
"You are in Seoul today and you are witnessing a total change and development boost of the art system, I think it must be exciting to be able to look at what's going on here with your own eyes," said one of the directors of the Korean Gallery Association.
And he couldn't be more right: through studio visits, exhibition hopping, chats with artists and professionals, and glimpses at auction houses' previews one can easily feel the art world gears rotating faster and faster and, consequently, the appealing possibilities that this blooming is offering.
Thus, starting a conversation on women artists in Korea is an interesting opportunity to refine our lenses once again, focusing on exploring the beautiful landscape created by talented female artists.
When we begin to explore the conversation on Women artists in Korea, we cannot transcend from the important work of some key figures that were the first to open a necessary conversation on the role of female artists against a male-centred system, contributing in paving the way to their contemporary fellows. Part of these artists include internationally renowned names such as Lee Bul, Kyungah Ham, Haegue Yang, Minjung Kim, Kimsooja and Yun Suknam.
Recently, Hakgojae Gallery presented an exhibition on Yun Suknam, acknowledged as the "godmother of feminist art in Asia" and whose importance resonates strongly in the activism approach present in her whole artistic production, as reminded by Kim Hyeonjoo (Professor at Chugye University for the arts):
"The pursuit for the sovereignty of women, coupled with feminist ideal of harmonious existence of all life forms, has been her principal concern; accordingly she has striven and refined her artistic idiom that could replace the male-centered impoverished imagination that has dominated the Korean art world".

—Kim Hyeonjoo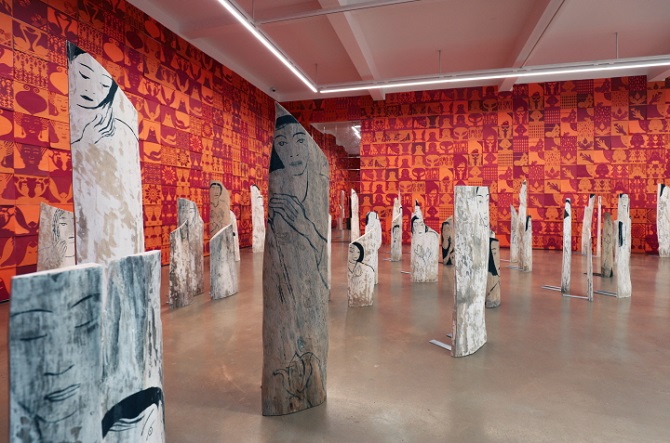 Today, Korean female artists occupy a wide and diverse space, with beautiful art that spans across multiple mediums. We are therefore so excited to present this first curated selection, which includes artists recently seen on exhibitions, art fairs, studio and gallery visits – as an anticipatory glimpse to future immersions in the vibrancy of the South Korean art system.
This article also features some artists who are part of the Korean diaspora: they don't necessarily live in Korea but their Korean identity is embodied, explored and/or negotiated in their artistic practice. The choice of including them is part of a willingness to offer a comprehensive highlight on Korean female artist presence, which cannot stand apart from the important socio-cultural and historical discourse existing around diaspora.
JooLee Kang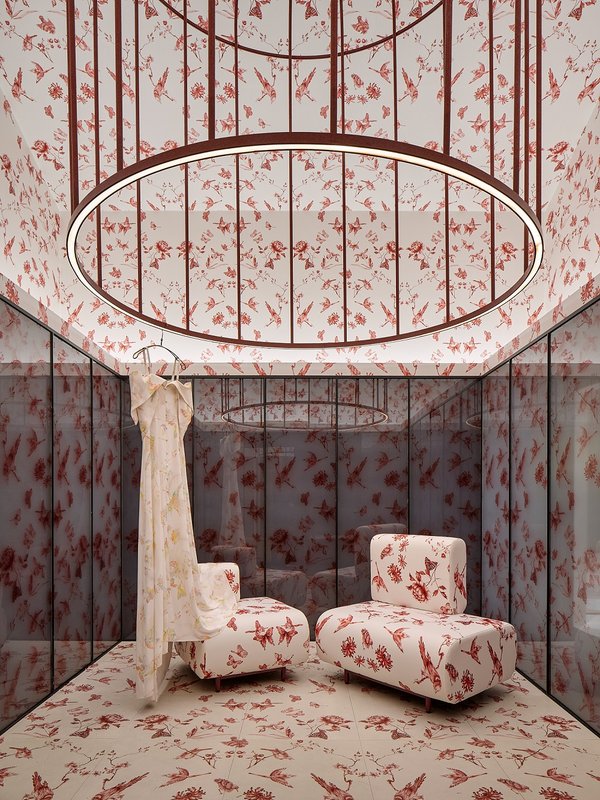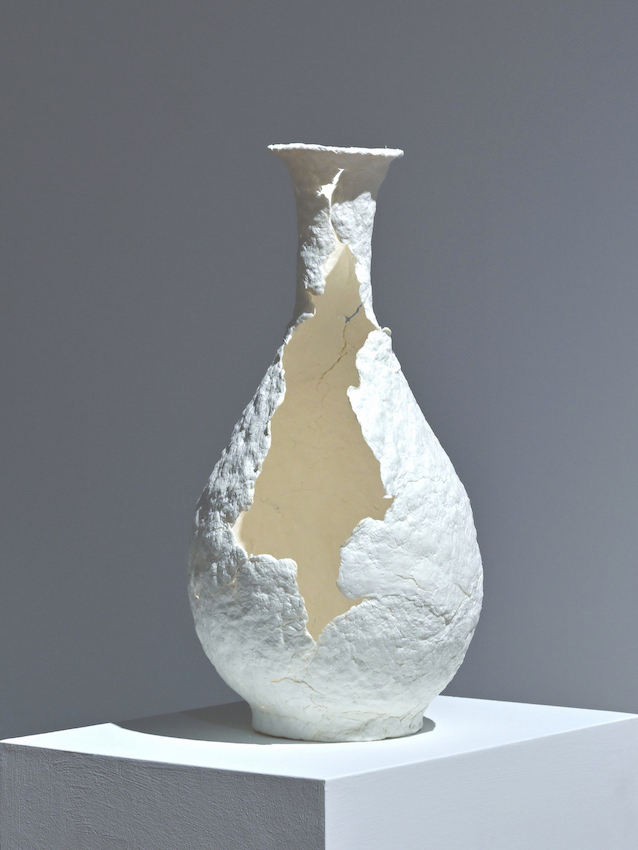 Looking at JooLee Kang's art means immersing in a delicate microcosmos of animals, flowers, plants and insects, presented on the most various surfaces – from canvas to decorative ceramic, from paper to a large-scale installations. The artist's ballpoint pen technique expresses her interest and research on ecological environments and the complex interrelation between humans and nature. The fragility of this relationship is embedded in the delicacy of Kang's drawings, which immerse the viewer in a charming aesthetic, and that, to the attentive eye, reveal how the same subjects depicted with such fine style are represented with mutations and malformations. It's a delicate warning, which attracts us through its aesthetic like a charming siren and invites us to wander about heavy yet necessary questions on our impact on their environment and how we can survive together.
Kang graduated from Tufts University – School of the Museum of Fine Arts, Boston in the U.S. and Duksung Women's University, Seoul in Korea. Her works have recently been featured at Soorim Cultural Foundation: Kim Hee-Su Art Center (2021) and Gallery NAGA (2020, 17, 14). She's had several shows around the US, Korea, Spain, Taiwan and China. She is actively working in both the U.S. and Korea.
Helena Parada Kim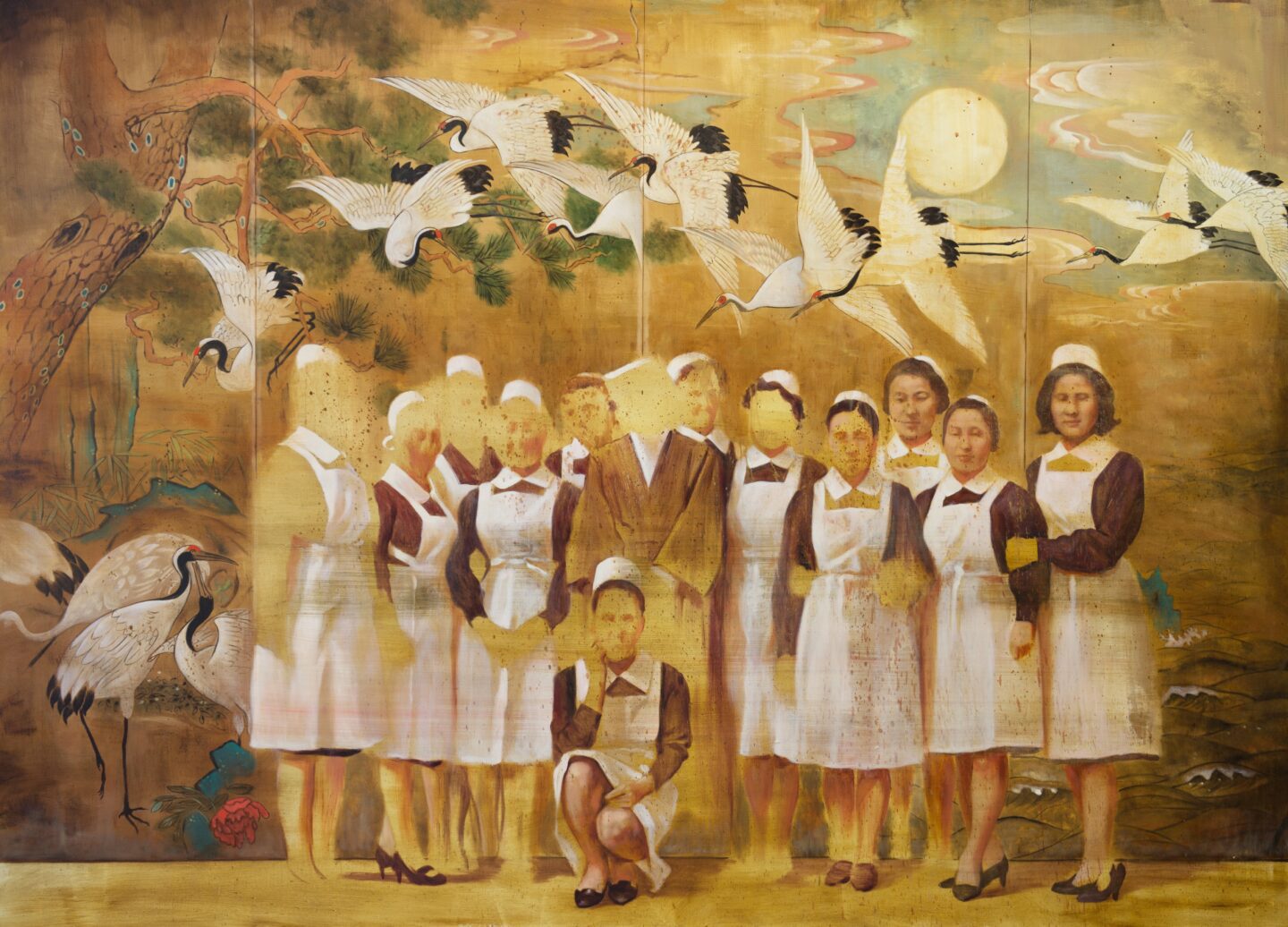 Helena Parada Kim, is a Korean-Spanish artist which grew up in Cologne, Germany, born from a Korean nurse and a Spanish immigrant worker. The quest and investigation on Korean identity is a vital part of her artistic practice. From her mother's practice as a nurse, she started a research on photographs featuring Korean nurses dispatched to Germany, becoming deeply interested in the history and culture of Korea – resulting in the choice of the subject's of her oil paintings: Korean nurses, hanboks (traditional Korean dresses) and ancestral rites, investigating themes such as presence and absence, cultural identity and Korean history, from the individual to collective experience.Her traditional oil painting technique stems from renaissance painters such as Titian or Velazquez.
Kim's artworks were featured in several solo and group shows in South Korea, Germany and Spain. She recently held a beautiful solo show in Italy, immersed in the wonderful architecture of Villa Angeli (Pegognaga). She is represented by Choi&Lager gallery.
Won Seoung Won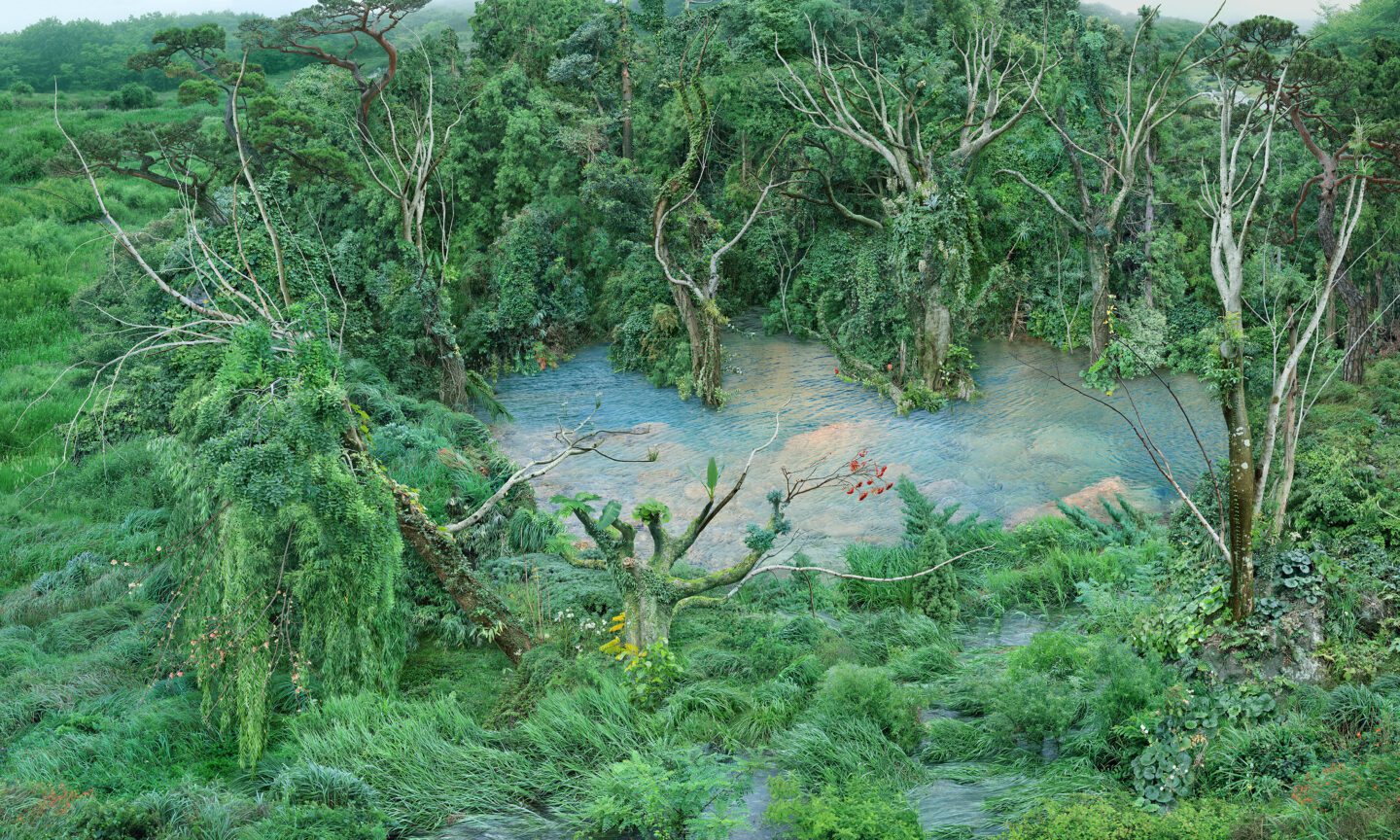 Won Seoung Won's photo-collages present dream-like narratives through imagined landscapes, mastering a storytelling where lines between reality and fantasy remain blurred. Her research stems from cautious observations of the real world, conveyed into a built imaginative world through narrative construction. The artists' peculiar technique uses the digital juxtaposition of several photographs, interweaving single stories into a bigger fantastical narrative, with an ending touch of drawing – a technique which traditionally is seen as opposite to photography, that is able to contribute to further enhance the dichotomy between real and imagined worlds.
Won received an M.F.A. from Kunstakademie Dusseldorf in 2002 and Kunathochschule fur Medien Koln in 2005. She held solo exhibitions in Korea, Germany, China, Poland, Japan and the U.S – in both galleries and museums. She recently held a solo show at Arario Gallery – which represents her – titled "The Inaudible Audible"
Kyungmi Shin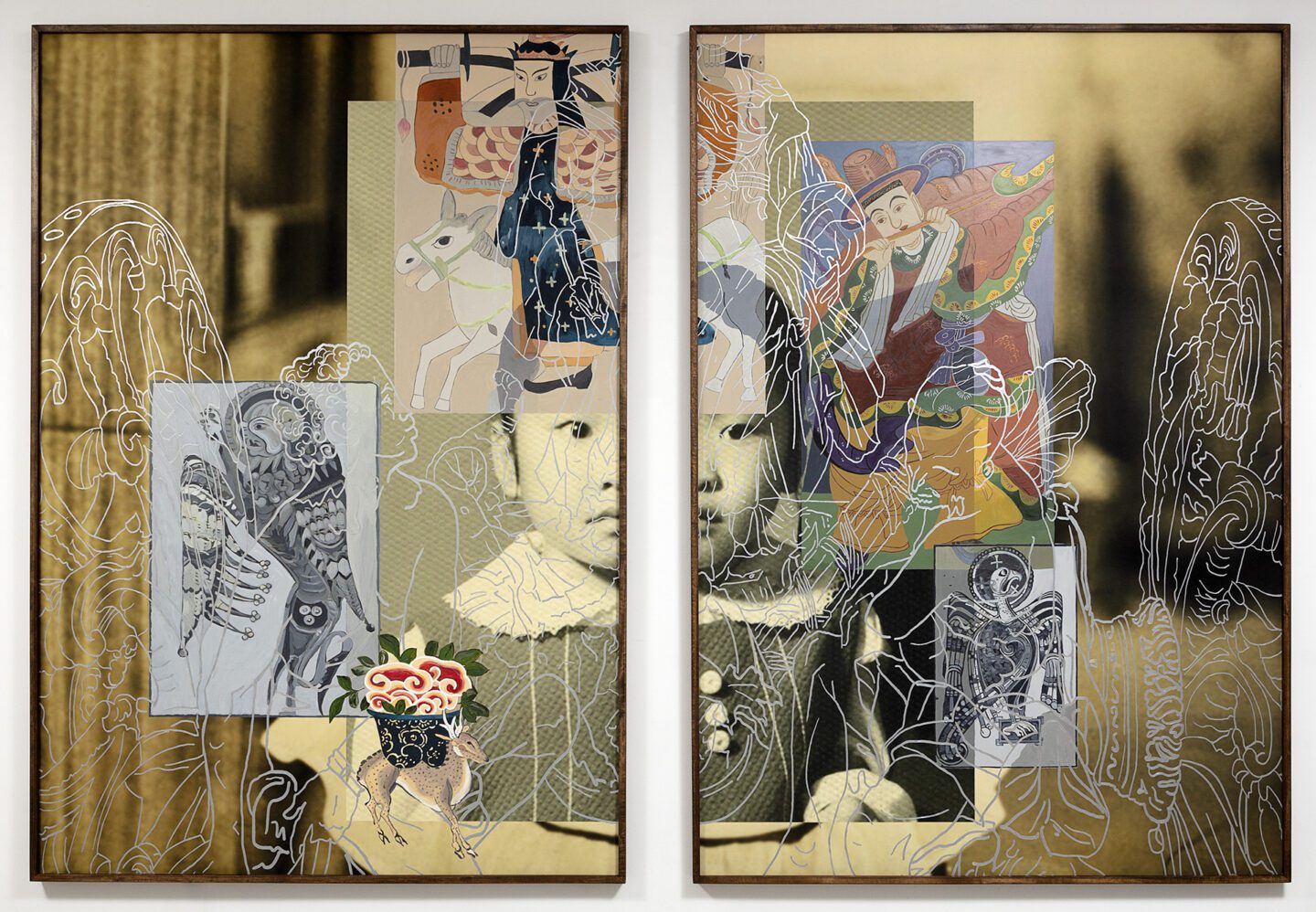 At the center of Kyungmi Shin's work stands the investigation of cultural hybridity, applied to a complex interrelationship between faith, position of power, and the exchange of cultural capital between east and west – related to her personal story of South Korean immigrated in California with her family when she was 19.
As a result of her research and investigation, her artworks – which mediums vary from painted photo-collage to ceramics – embody the different layers of meaning and discourses that surround her research. The result consists in powerful and expressive visual works that reflect on some of the most discussed social and cultural questions today, powerfully asking to disrupt and re-imagine questions of history and identity.
Shin obtained an MFA from UC Berkeley in 1995 and exhibited in several art galleries and museums in South Korea and the US. Some of her works are exhibited in the permanent collections of Berkeley Art Museum, Pacific Film Archive, and the Getty Center. She recently held a solo show at VSF Los Angeles.
Yaloo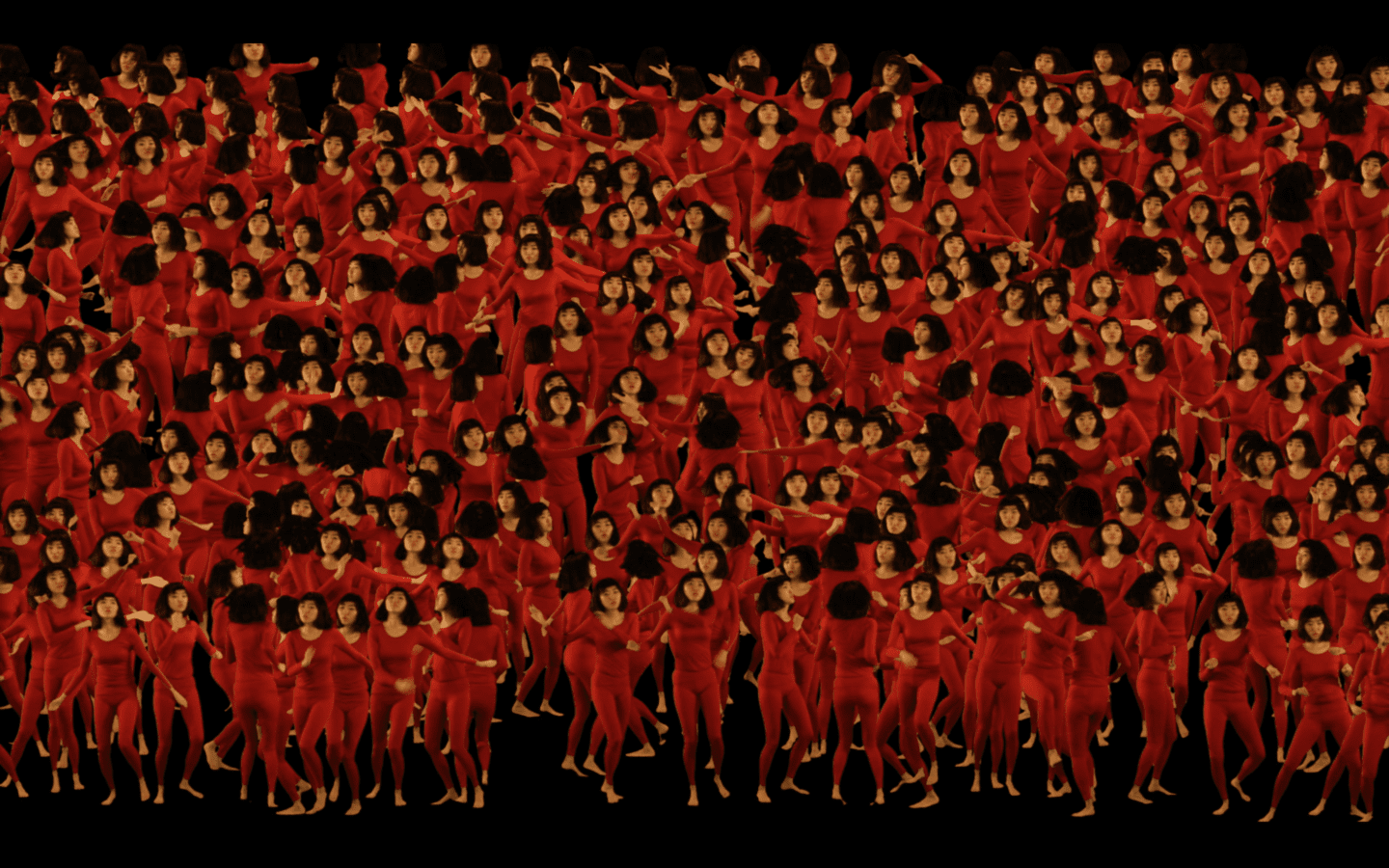 Yaloo is a South Korean born extravagant visual storyteller working with digital media. Her one of a kind visual treatment on mundane imageries and her experimental use of new imaging making technology invite viewers to be immersed in her world while sparking friendly conversations on important matters of our time. She works across different media and new technologies, from video art to VR, projection mapping or digital fabrication (among others) embracing the new possibilities and new spirit of Seoul's vibrant scene in contemporary and alternative art practices. She also recently started working on NFTs, as a collaboration with the new Korean platform Mars Green, for which she realised "Pickled City", a series of submerged urban gardens of the not-too-distant future, which reflects on "the Anthropocene epoch, natural disasters, urban architecture influenced by technological development, and the human body".
Among her works, we particularly loved "New Millenium Workout routine", based on a policy adopted by South Korean government in 1999 which issued a series of exercises for all students to perform in school, in order to ensure that South Korea as a nation would remain healthy for the next 1,000 year. Her video-art piece, where she filmed herself performing the exercises, is a reflection on both body performativity, connections with east and west, together with a reflection on the practice itself.
She received a BFA & MFA from the School of the Art Institute of Chicago(SAIC) focusing on Film,Video, New Media and Animation. She has received several fellowship and residencies across South Korea, USA, Japan and Canada. Her works have been part of a number of solo/group shows and festivals in the cities such as Chicago, Portland, New York, Quebec City, Malmö, Dresden, Fukuoka, Vancouver, and Seoul.
Lee Eun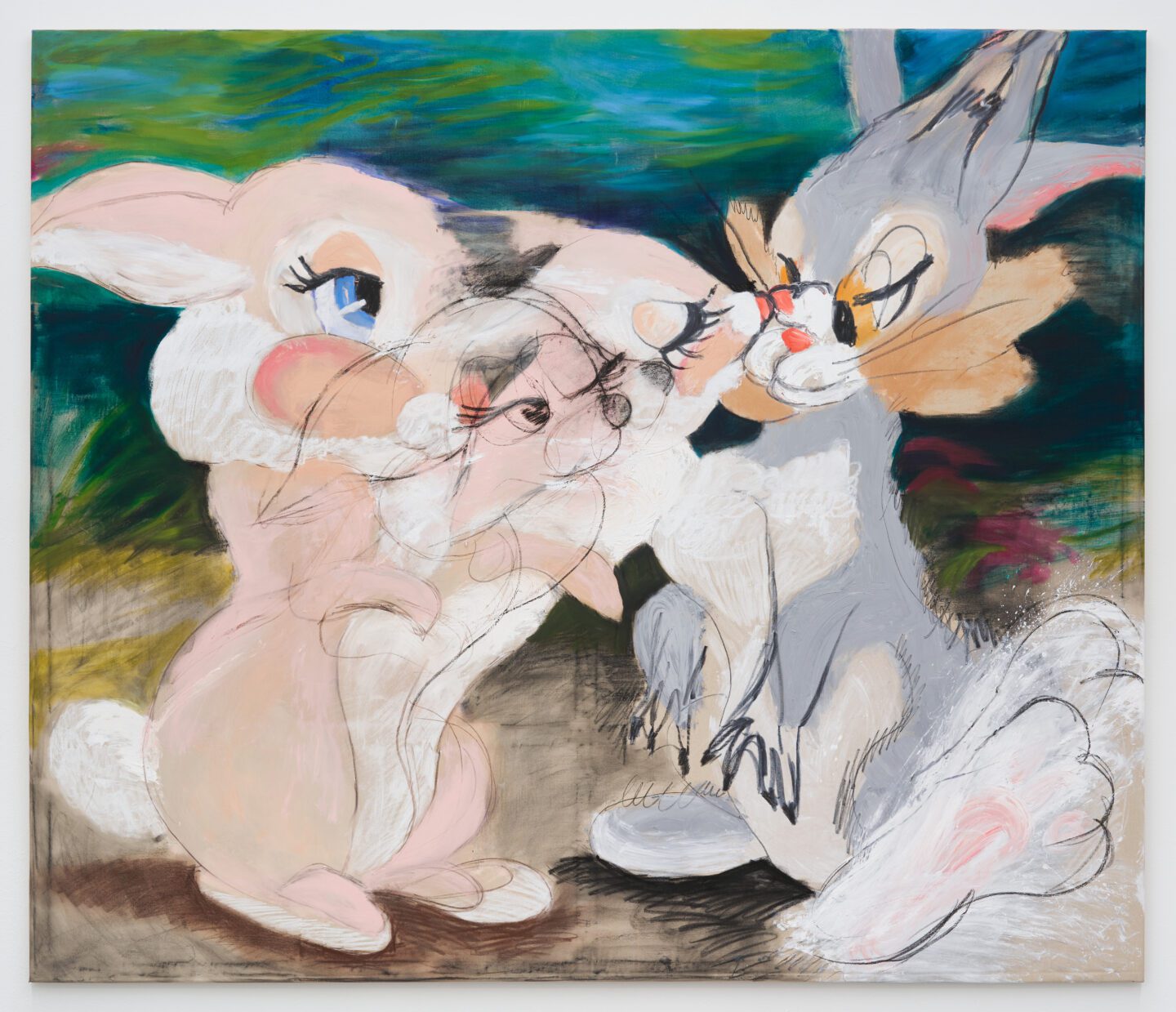 "Once again, I go back to the beginning and think of the fire of that time. Is this painting frozen? Is it moving?"
Lee Eun's fun and irreverent works convert GIF's digital movement into a painting, in what we may call a counter-investigation of the zeitgeist of our time, where everything is transformed into digital. The artist sees GIF as "a projection of desire that can be seen "without thinking" and "seen without censorship". Through her painting practice she aims to amplify the ephemeral language of the digital image into something which acquires permanence in the physical world.
The movements of her artworks express a physical state of "constantly moving" through a not goal-oriented attitude, like an "eternal moving", implying a peculiar psychological situation of existence which reflects Eun's one. Drawing from GIFs, her work could be seen as a visualisation of a sound through the language of painting, which also interlace with the artist practice of collecting and choosing GIFs that relate and represents her state of mind.
Eun is an emerging artist, she received her Master of fine arts from Seoul National University of Science and Technology. She held a solo exhibition "Autoplay" at Uhjjuhda GALLERY 2 (2018). She is currently holding a solo show at Gallery Chosun(2022).
Yun-Kyung Jeong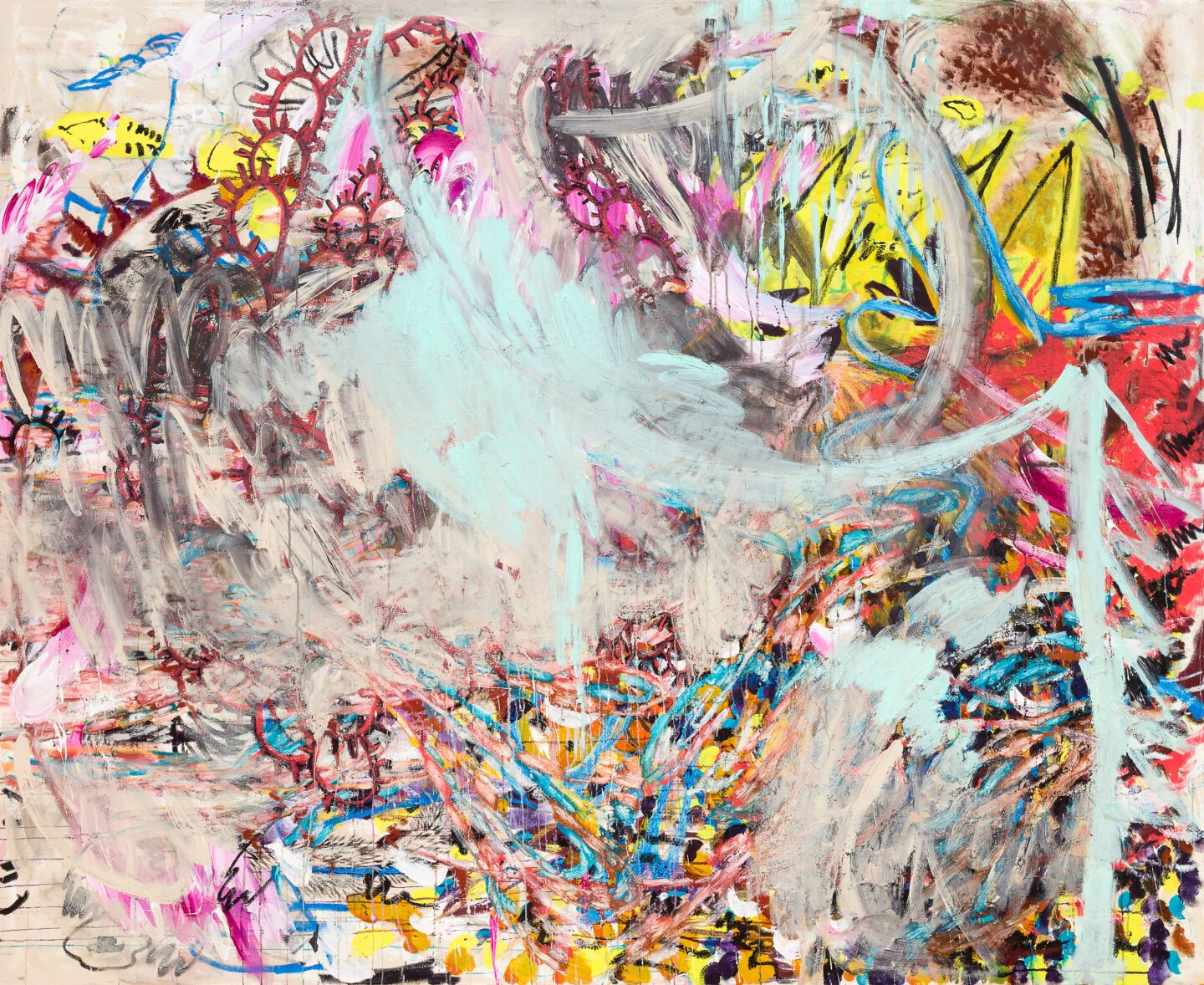 Yun-Kyung Jeong's practice consists in abstract works on canvas which, through a mixed-media technique that includes drawing and painting, explores a complex storytelling which takes inspiration from both the artist's interest in architecture and nature, and insights from her personal life. Her recent work includes the juxtaposition between feather-like and lead-like shapes drawings with strong and bold colours, and brush-strokes.
After 16 years spent in London, she recently went back to Seoul with a solo exhibition named "Finger Spell" at Graphite on Pink Gallery. This latest exhibition marks an ulterior shift in her work, resulting from her personal experience during the pandemic: the title of the exhibition refers to the digital and paper finger drawings that the artist did at home on her phone screen when she could not go to her studio. Once on canvas, the result is "a brightly coloured strokes on top of complex, multi-layered cosmos as if she casted a spell" (Minji Chun), which explores the relationship between past and present, revealing illusions of reality.
Jeon graduated from the Slade School of Fine Art with a Master of Fine Arts in 2008. The artist recently held exhibitions in Moscow, Hong Kong, Seoul and London. In 2018, she was selected asF Forbes Korea Power Leader. Her works are part of art collections of Tiroche DeLeon in Israel, Museum of Modern and Contemporary Art and OCI Museum in Seoul.
Jung Lee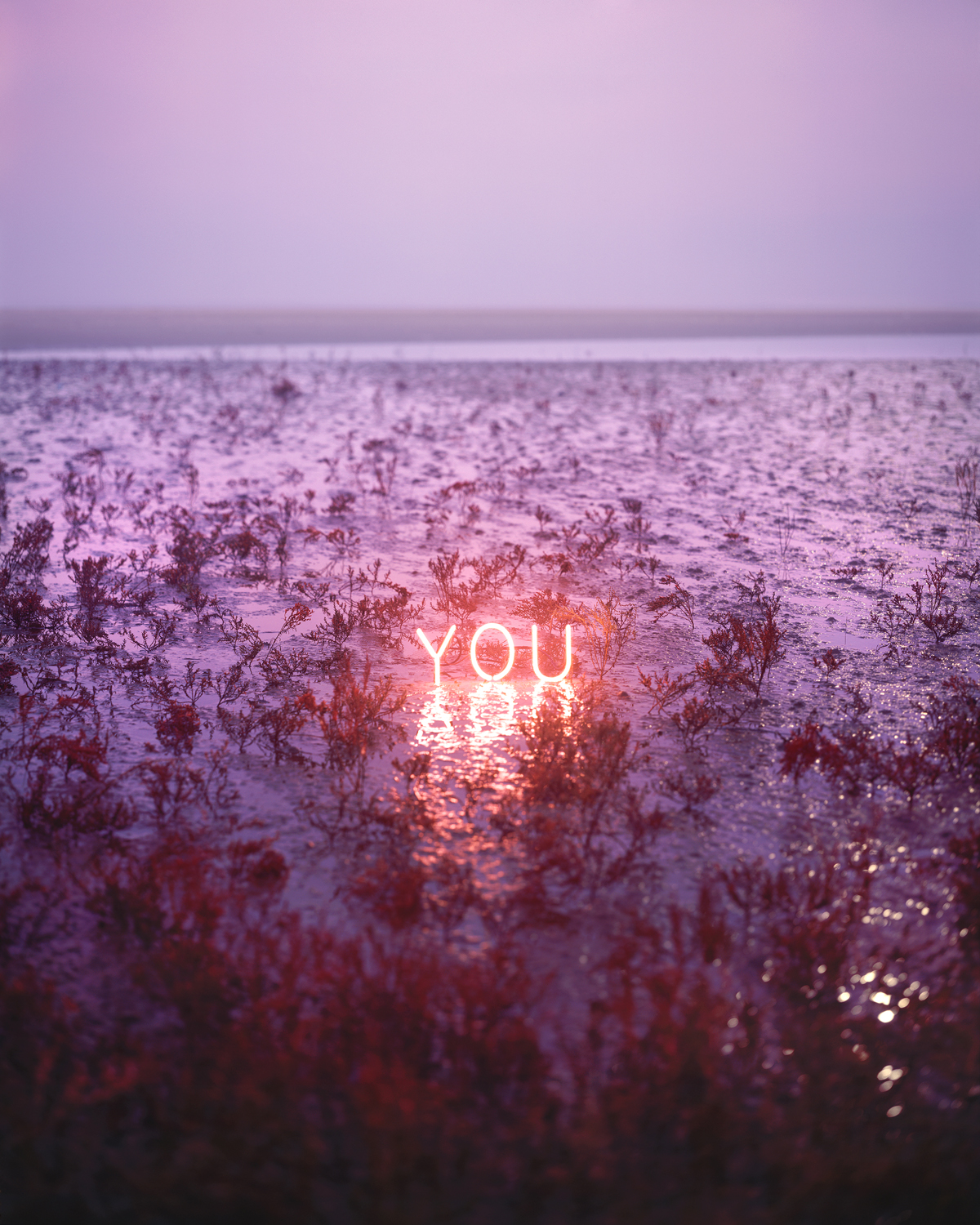 Jung Lee is a South Korean artist known for her photographs of text-based neon light installations set directly in the landscape. The artist's photographic works are almost oxymoronic in contrasting neon light installations depicting romantic phrases to their contextualisation in parched landscapes such as deserted plains or snowy fields. For many of her works, the artist is inspired by Roland Barthes' A Lover's Discourse, which led her to analyzing that most intense and overwhelming state, the unanswered desire, the language of complete love and the deep state of loneliness into which the lover throws himself. The result is a combination of melancholy and power, leading us to reflect on the very notion of what it means to love.
Lee holds an MFA in Photography from the Royal College of Art and an Honors degree in Photography from the Kent Institute of Art & Design, both in the United Kingdom. The artist has exhibited in several solo and group exhibitions in Switzerland, South Korea, UAE, the United States, the Netherlands and Germany. In 2014, she collaborated with the American band Maroon5, preparing a cover of one of their albums; in 2021, she collaborated with the fashion label Saint Laurent for an advertising campaign in Seoul. She is currently holding a solo show at Christophe Guye Galerie, Zurich, Switzerland.
---
Header Photo: Helena Parada Kim, Sonae´s chima, 140×180 cm, oil on linen, 2017 (c) Courtesy of the artist
Valentina Buzzi
Valentina Buzzi is an Italian Ph.D researcher, lecturer and art writer based in Seoul, South Korea. She works in collaboration with different art magazines and cultural institutions across Italy, South Korea and the United States in order to share insights from the Korean cultural scene with western audiences and to promote cross-cultural pollinations. Her academic research spans at the intersection between art, cultural studies and cultural policy, with a focus on the symbiotic relationship between art and society. Valentina earned a BA in Art History at IULM University (Milan) and an MA in Cultural Policy at Warwick University (UK).