Rising Star Mathilde Denize Debuts Her First Solo Show with Perrotin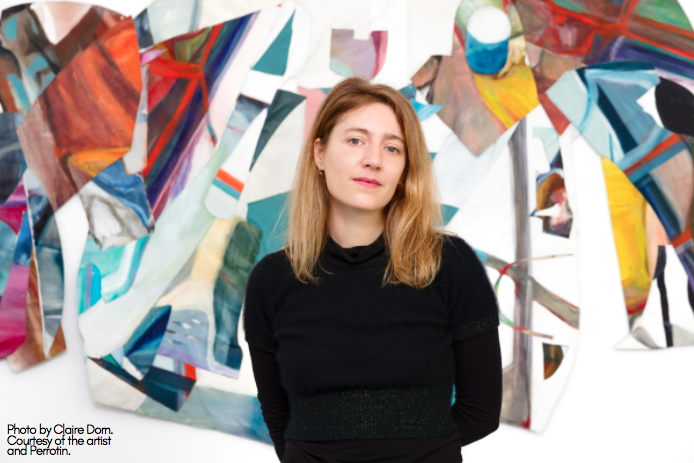 Born in France and now back to her beloved Paris after a year in Rome for prestigious Villa Medici residency, Mathilde Denize is having her first solo with Perrotin: Reverse for a Better Move, opened on September 9th, during the biggest hype week of Armory Show in New York.
Denize's fanciful and distinctively whimsy assemblages and collages reactivate leftovers of older canvases by weaving them into kaleidoscopic compositions she describes as characters or puppets. In fact, conceived as paintings to wear, they can become alive in a dazzling dance of colors during performance, challenging in this way all traditional boundaries between sculpture and painting, costume and installation.
Meeting her for a cocktail in NYC, we discussed her practice and approach to art ahead of this important show.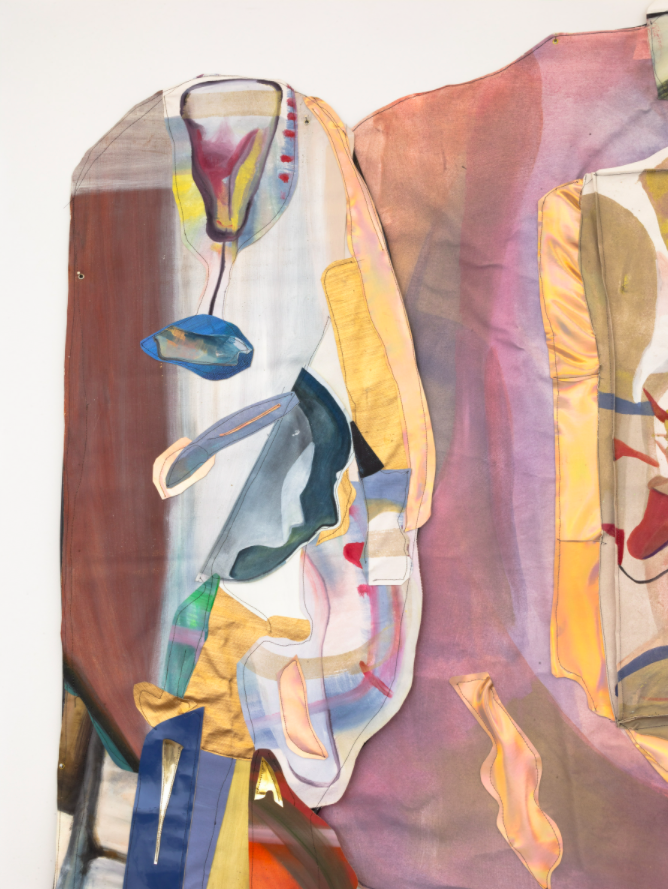 Following a first group show in Paris, this is your first solo show with Perrotin and the first in New York. Must be exciting. Can you tell us about this series of work you're presenting and the concept behind this title?
I produced the works for this exhibition during my residency at the Villa Medici. This body of work is a mix between past and new techniques. In my very first works, I tried to create figurative paintings, but in my opinion it never quite worked. I kept all of these paintings, and only recently decided to use fragments of them, cut into the human form, in my new works. To me, this process was a way to go back to my original impulsions: telling enigmatic stories with bodies shaped as garments, second skins of my own mythology.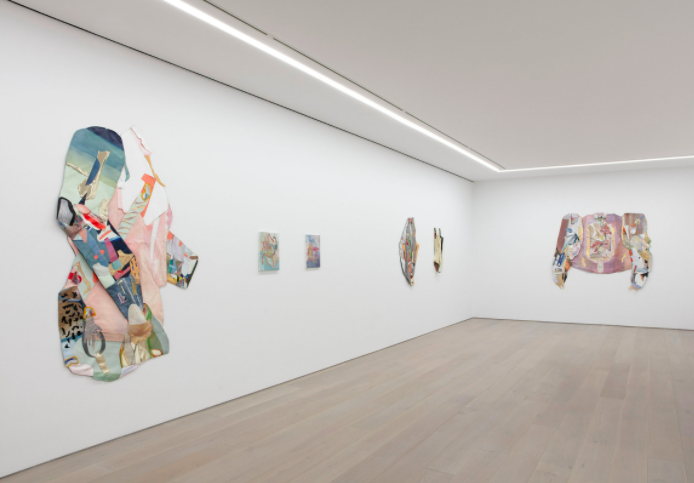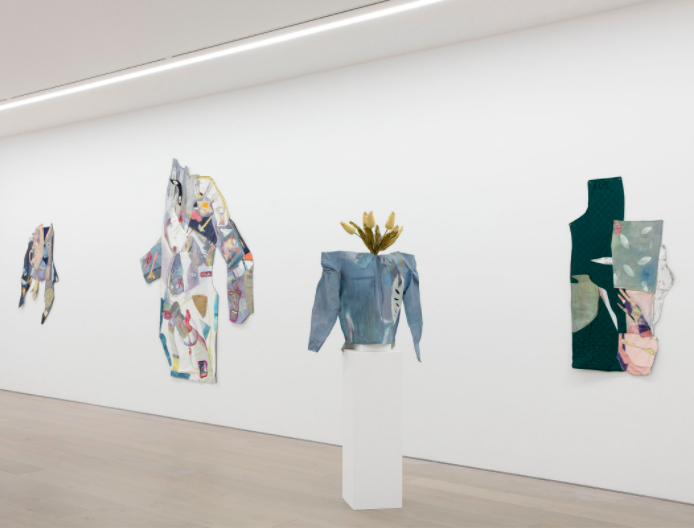 There's also an important performative part in your work, turning many of your works into "wearable" paintings/sculptures, which are activated and become alive in elegant performances. Can you tell us about this side of your practice?
Yes, for two years I worked on a performance called 'Haute Peinture.' I had this idea for the performer's to wear my old and unfinished figurative paintings. I was happy with the result, and it heightened my interest in utilizing the pictorial body within a multi-dimensional space.
I also shot a movie at the Villa Medici, where three characters embody these enigmatic figures. For this work, I created costumes that allow the character's to appear and disappear, half-human, half-abstraction.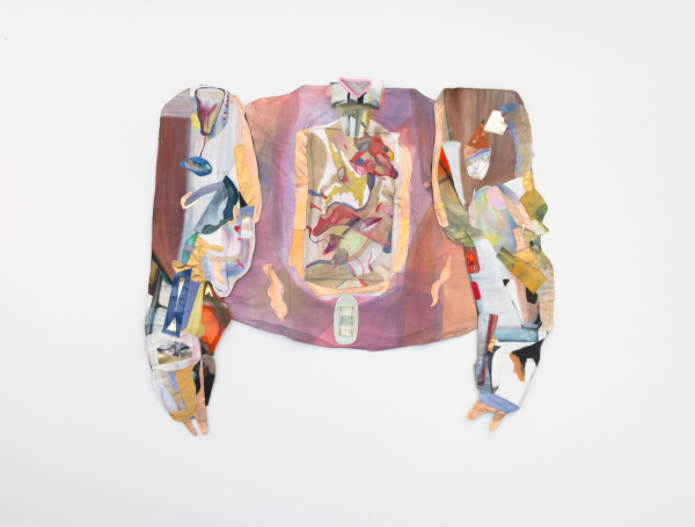 Your practice implies the use of canvas leftovers recombined in colorful and very sensual collages and assemblage. Why this technique and what kind of considerations it implies? Would you say it is more a formal research, or you have a specific thinking and message behind?
I've always worked with recycled materials. To me, it is mainly about an economy of means, a personal ecology and poetry. Today, I'm intertwining classic paintings on canvas with unusual found objects. I particularly enjoy the reflection vinyl creates, mirroring the shape of the work as well as distorting the spectator's perspective. It opens up new depth, doors inside the costume.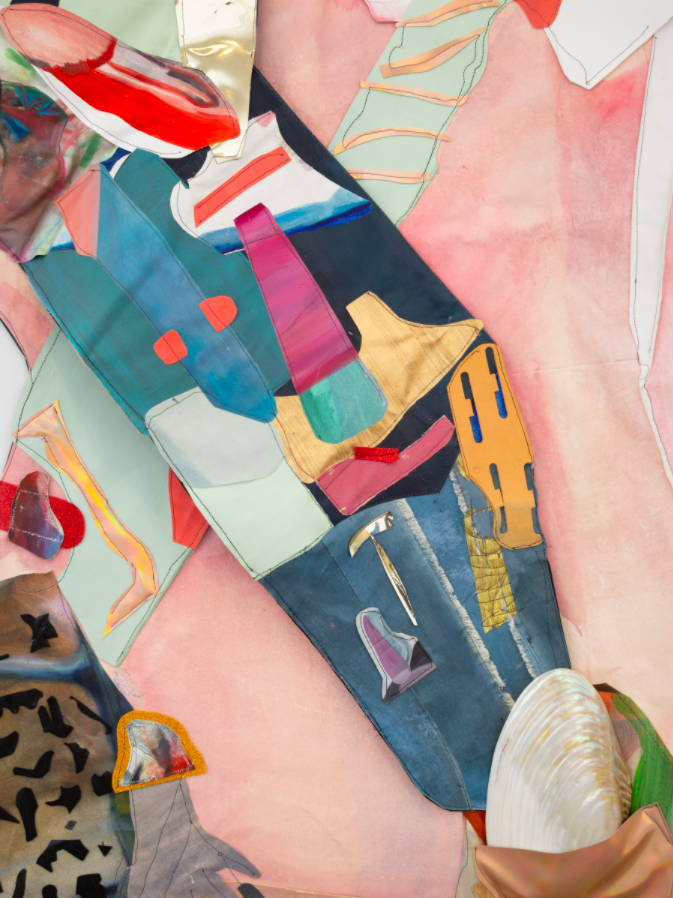 I want to leave the canvas…to me, it is mainly about an economy of means, a personal ecology and poetry.

–Mathilde Denize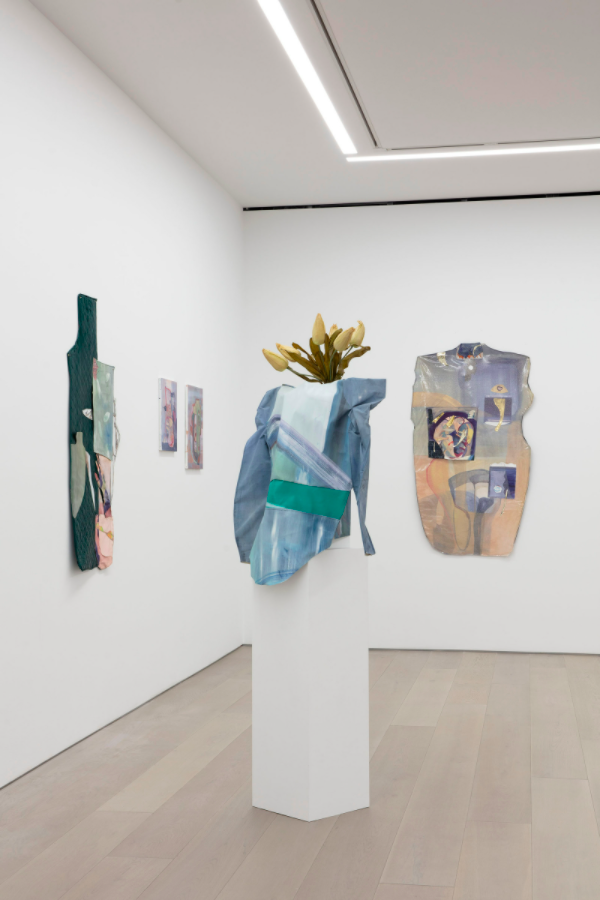 All your works reveal a rich set of references, primarily linked to research in the early centuries avant-garde, and in particular their theories of integration between disciplines, for a "living art." I'm thinking to the Futurism or Bauhaus theatrical plays, for instance, and their studies on lights, colors and movements, as well as their repurposed practices once considered only minor decorative arts and traditionally primarily linked to women. What are your main sources of inspiration?
Indeed, artistic movements from the past century have inspired my work, surrealism too, as well as some of the female pioneers of abstract art, such as Georgiana Houghton or Hilma af Klint. All this research is part of my artistic process, but also informs my way of living. I do not limit my work to my studio's space, it continues everywhere I go.
See Also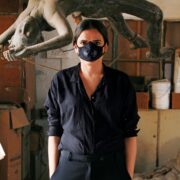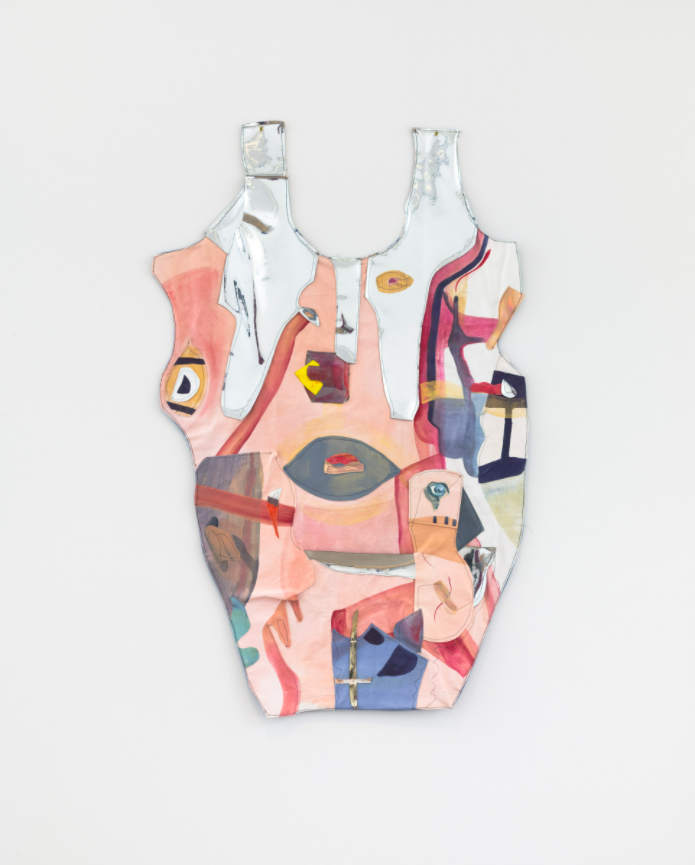 You're fresh from a one year residency experience in Rome, as recipient of the prestigious fellowship by the France Academy. What are you bringing back with you from this period at Villa Medici?
Being at the Villa Medici has been an amazing experience. I was able to work in a larger scale and really connect with the works on a deeper level, since this was the largest studio I have had. My studio had a view of the whole city, so I was of course inspired by Rome, which has such a rich artistic history. I was also inspired by the people I met there, who each had a unique story to tell. These new works continue the core themes of my practice but with a new lens.
Let's get more to more casual questions. Name your favorite female artist.
Tough question! There are so many amazing female artists, but some that come to mind as immediate inspirations are Georgia O'Keeffe, Hilma af Klint, Lucinda Child, Frida Khalo, Agnes Martin, Virginia Woolf, the notebooks of Sonia Delaunay, my artist friends… so many more…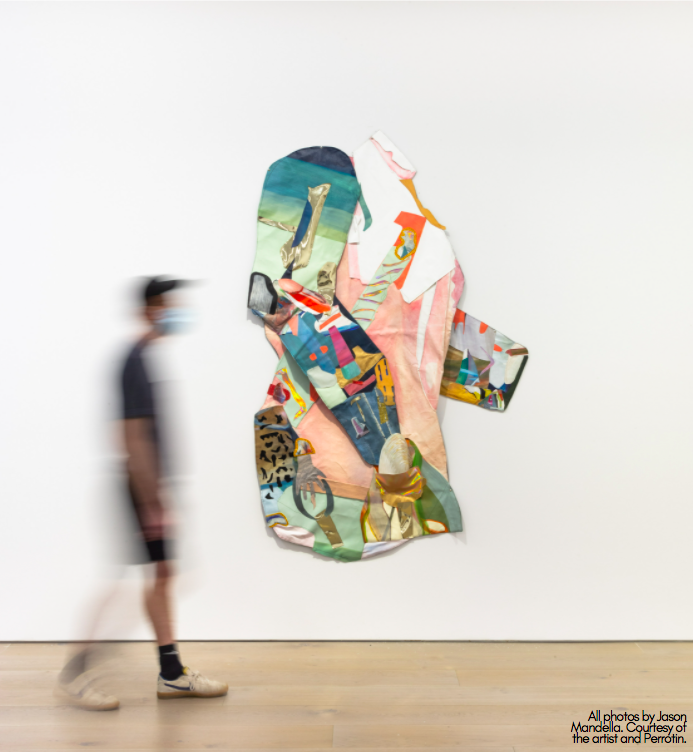 Favorite drink? If you could have it with an artist who would be?
Gin tonic with Cassavets, coffee and cigarette with Bresson, bloody Mary with Frida Kahlo, red wine with Georgia O'Keeffe, beer with Francis Alÿs, water with Jim Harrison.
To close, let's look toward new horizons. This is the first major solo in the US, which is a big career path. What are your other plans for this year, and how you see yourself in 10 years from now?
For now, I have a solo exhibition planned for 2022, in an art center in Paris. I will screen the movie « Tell me if it's not new », shot at the Villa Medici and will present all the garments from the video in the space, sort of as a complete diary of my time there. In ten years: I believe the world around me will always make sense if I still have a studio.