Behind the Scenes with Sotheby's Jewels Specialist Joanna Gong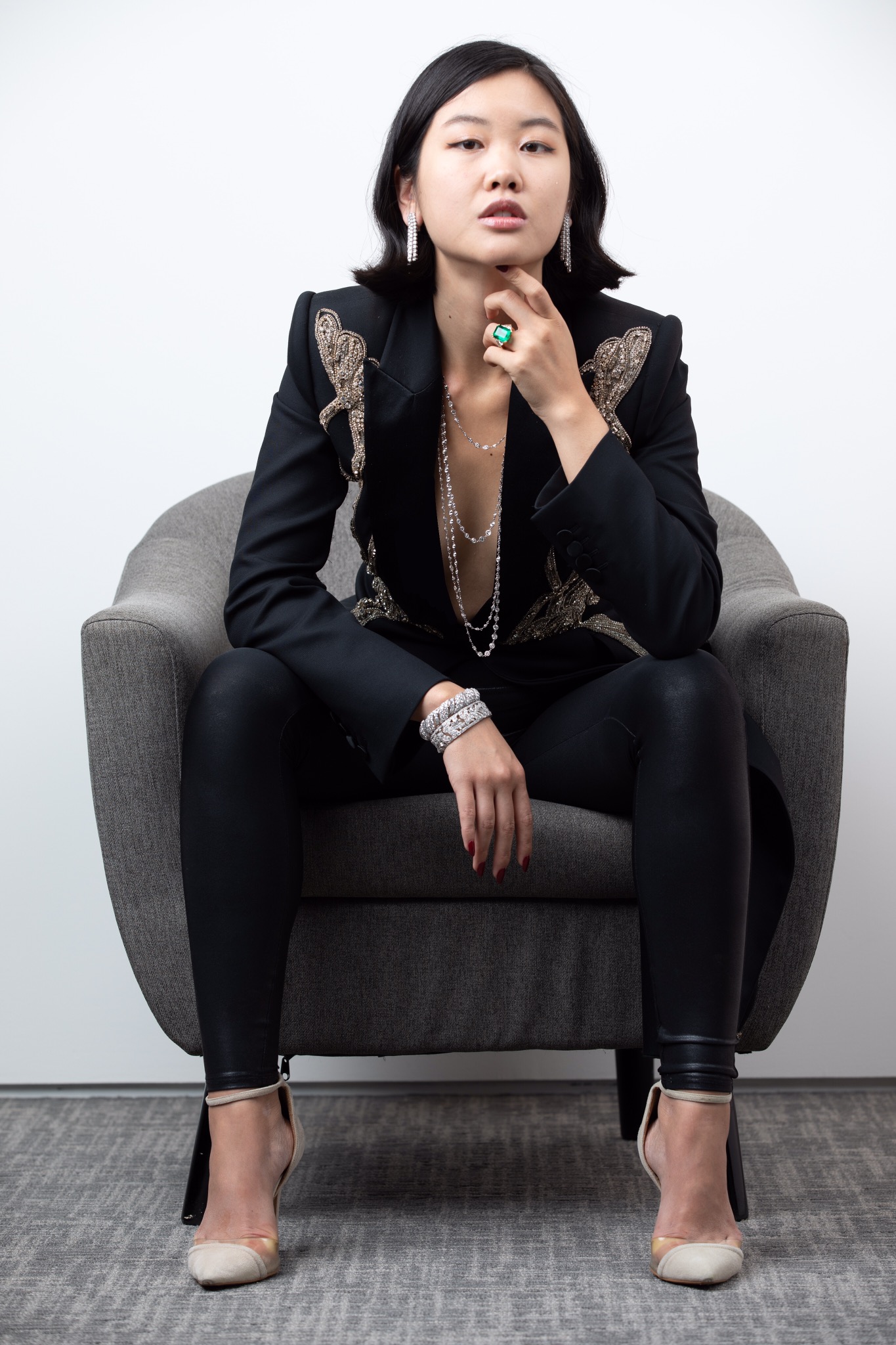 From blacksmithing to dealing diamonds, the jewelry specialist's career in the art world is nothing short of extraordinary. 
Blacksmith, silversmith, and goldsmith—all titles that one might think to find only in the pages of a fairytale. With a determination of steel, Joanna Gong pursued these very avenues after being inspired by the Hall of Arms and Armor at the Metropolitan Museum of Art as a student at Pratt Institute. After getting certified, she switched her major to jewelry the following year, graduating to become a private jewelry consultant and gemologist. Before getting scouted by Sotheby's, Gong frequented over 40 countries, visiting trade shows and stone mines, and organizing jewelry salons and lectures in mainland China to focus on jewelry history and market education between the East and West.
This past weekend, we spotted Gong in her element at the Magnificent Jewels opening at Sotheby's New York, where she gave us a behind the scenes tour of the upcoming sale that will take place on April 15. Amongst the beautiful treasures includes an array of very important colored stones: a 10.20 carat Colombian emerald ring with remarkable clarity, a 28.01 velvety sapphire of Kashmir origin, and a 41.50 carat D, flawless round brilliant diamond to top off the sparkle charts. There is also a group of Egyptian revivalist jewels that is particularly exciting for the archeological enthusiasts.
We spoke to Gong about her career as a jewelry specialist and some of the important things to know about the most common gems: diamonds, sapphires, rubies, and emeralds.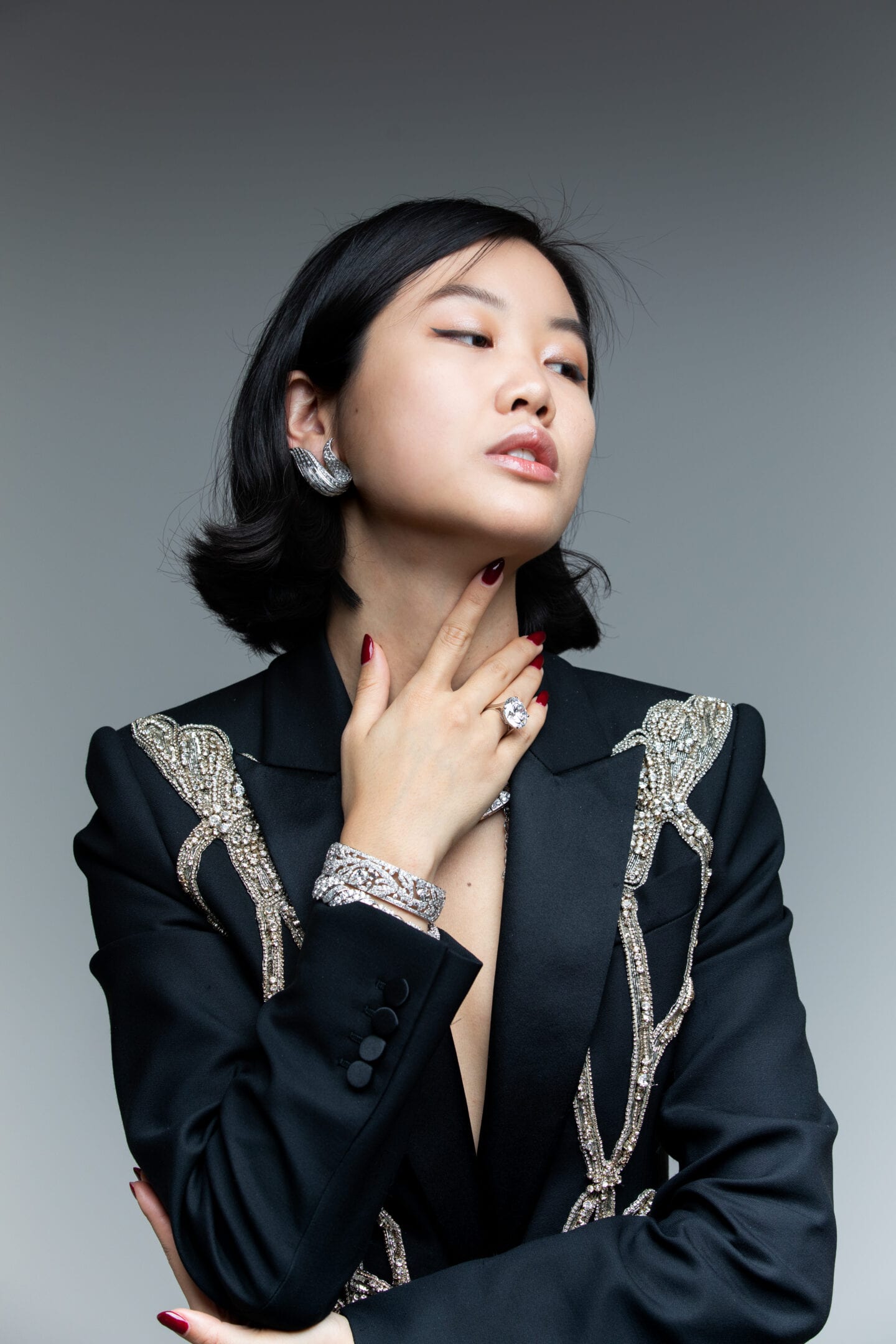 You started your foray into the art world as a blacksmith, silversmith, and goldsmith. Tell us about this!
Like many New York art dreams, my journey started in the famous halls of the Met. After living most of my life abroad, I moved back to the city to attend Pratt Institute as a fine art major. I recall meandering through the Met as any art student does, and having my breath completely taken away at the hall of Arms and Armor. After spending hours trying to dissect the mechanisms of gauntlets, I signed up for a blacksmithing course the next day. It didn't take me long to move from steel to softer metals such as copper, silver and gold. The following year, I was a confirmed jewelry major. I spent the subsequent few years on the bench, honing techniques from stone setting to enameling. In the evenings the school hired me as a monitor to other students in the studio—I'm even FDNY certified because of that!
During this sector of my life, I had the immense privilege of moving to Japan to apprentice under master silversmith Hiroshi Suzuki at Musashino Art University. He has for many years been represented at Adrian Sassoon, and his work can be found anywhere from the V&A Museum to the Chatsworth house.
You started dealing jewelry on your own. How did you transition to this? Tell us what this experience was like and what is one thing you learned from being your own boss?
It was very much a 'right place/right time' scenario. A group of investors approached me to help diversify their investment portfolio, and thought that jewelry was a tangible asset they would like to explore.
I was incredibly young to be given full responsibility of managing another's capital. It was essentially baptism by fire, but without it, I would not be able to stand on my own two feet the way I can today. When you're your own boss, you are your own glass ceiling. Don't wait until you're over qualified to execute a project. Jump in the deep end, bite off more than you think you can chew—you might be pleasantly surprised at how fast you can rise to the occasion!
Also, once you've kicked the ball down the field, no one is going to tell you what you're doing right or wrong, so introspection is paramount.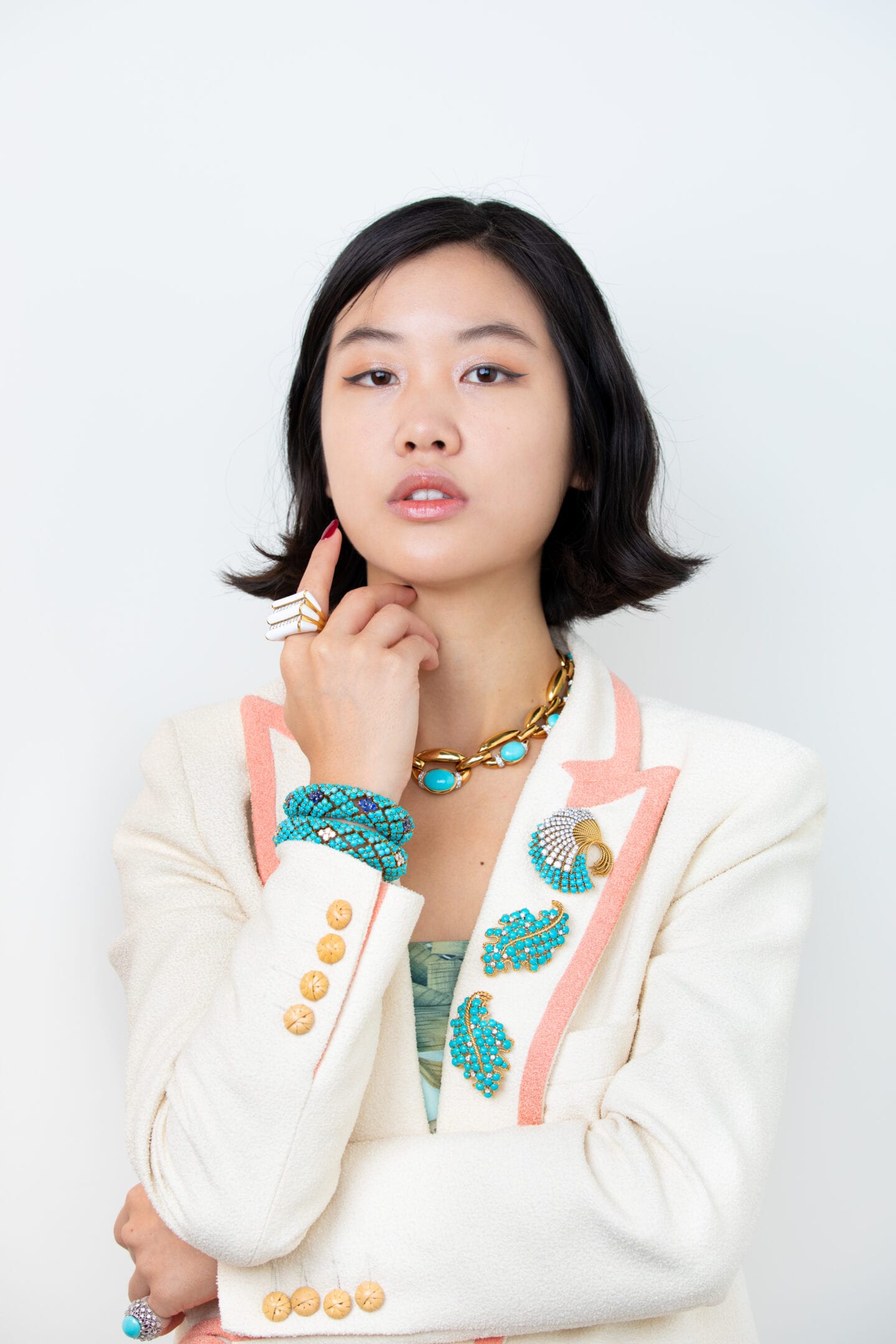 Joanna wears Missoni x Blazé Milano suit with Van Cleef & Arpels Gold, Turquoise, and Diamond Clip-Brooch, David Webb Turquoise and Diamond Brooches, David Webb Turquoise Sapphire and Diamond Bracelets, David Webb Enamel Ring, and Turquoise Diamond Ring.
Now that you are a Jewelry Specialist at Sotheby's living between cities, tell us a typical day in your life (pre-pandemic). 
Strangely enough, even amidst this pandemic I moved 3 countries and 4 cities. The nature of our work relies on our first hand inspection to be able to properly value items for sale—because of that, a true work-from-home scenario was never viable for us long term.
Due to my constantly changing environment, it is hard to paint a 'typical day' as responsibilities shift dramatically between times and locations. 
We work year long around the clock to source and sell our sales. A day could be spent traveling to a client's home for an estate appraisal, or 6 feet underground in a bank vault sifting through someone's newly inherited property. It could be in our offices counting diamonds and writing condition reports, or in one of our galleries organizing a luncheon. 
Hours are long and grueling—especially when working international time zones. But with that said, the best part of being in a team is the camaraderie.The people, passion and knowledge are truly unparalleled. The idea that I could sit in my office and dial a 4-digit extension to reach the ears of some of the most revered scholars across 40+ departments- that's what gets me out of bed everyday!
What have you currently been up to in Palm Beach and what are we to expect in the area? 
In November 2020, we opened a new gallery in Palm Beach at The Royal Poinciana Plaza, offering a wide-ranging selection of fine art, design, jewelry, watches and luxury cars in a curated lifestyle setting, all available for immediate purchase. We also have a space in East Hampton which we will be returning to over the summer once the Palm Beach season slows down. It has really added a new dimension to our client interactions: people love that they can negotiate discreetly and seamlessly, independent of the auction calendar. Unlike auction prices which are subject to demand, in private sales prices are fixed, clear and always mutually agreed upon between both parties. Our gallery team is extremely knowledgeable, and we frequently hold opening events—it's a space to watch out for!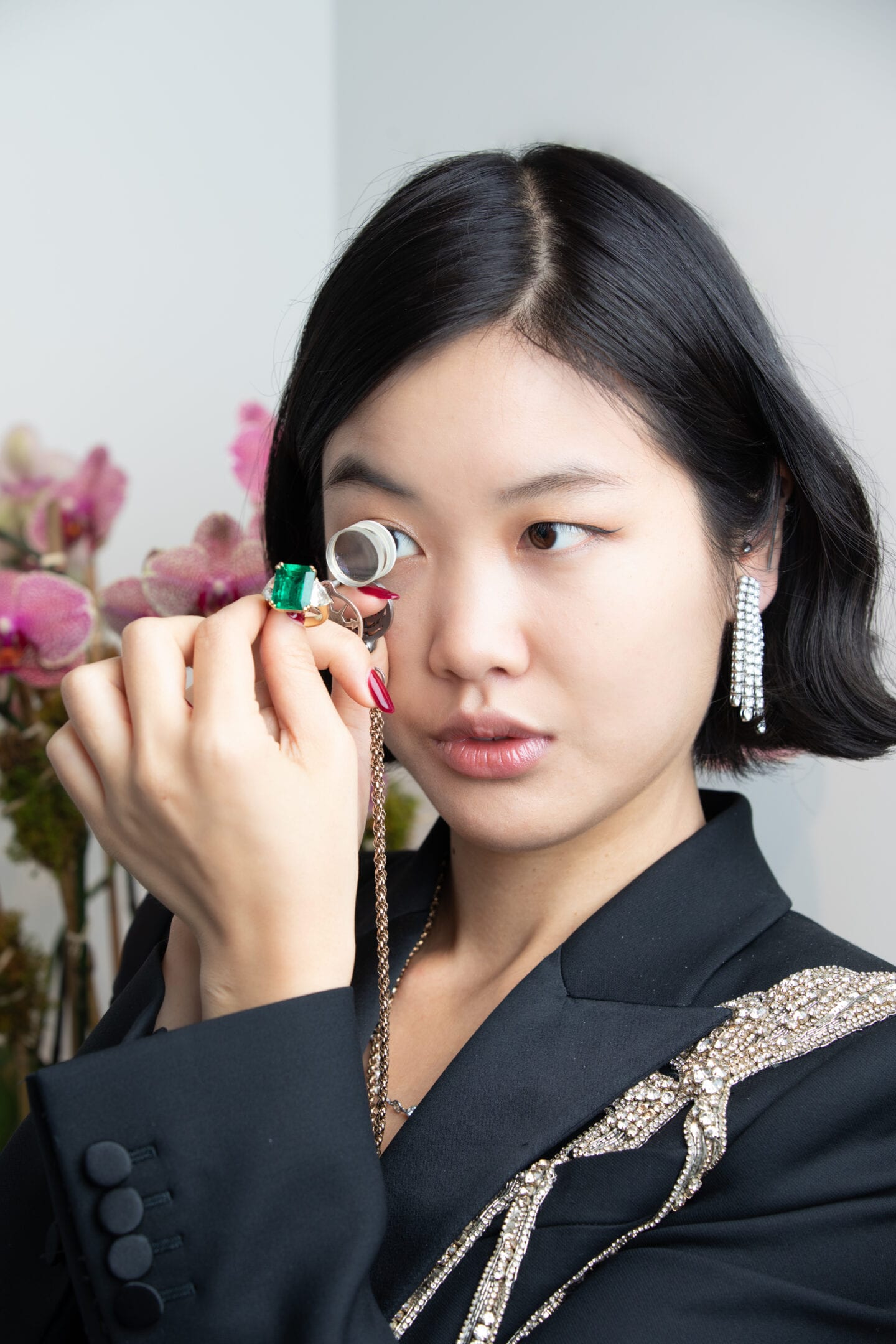 List the most common gems you work with and a little history on each. 
We are exposed to a vast variety of materials on the job, but surely the most common are our 'big four'—Diamond, Ruby, Sapphire and Emerald.
Diamonds are a girl's best friend. Prior to my gemology degree I was a nay-sayer to the hype of diamonds. But from a mineralogical standpoint, they are actually very special. Composed of the single element Carbon, the extreme pressure and temperatures of the earth's mantle have shaped this element to a unique cubic structure, creating extreme hardness and an adamantine finish more brilliant than any other mineral. One can especially appreciate this when compared to its twin sister, graphite- which is also pure Carbon, but extremely soft and lack-luster. This comparison can also be a cheesy, but real, metaphor of life.
Sapphires actually come in every color of the rainbow. This is referred to as 'allochromatic'—it is when a mineral is colored due to the different trace elements that infiltrate it's structure during growth. The blue variety of the mineral Corundum is what we commonly refer to as 'Sapphire'—it is blue mainly due to the element Iron!
Rubies are actually the exact same mineral as sapphires! They are also a Corundum- Al₂O₃. But they are colored red due to a rare earth element called Chromium. The most coveted rubies are those from the marble deposits of Burma. Fun fact: I wrote my thesis dissertation on the ethical and ecological impacts of the Burmese ruby mines- my travels to that country and deep interest in the field were largely due to my best friends in high school being a group of Burmese refugees.
See Also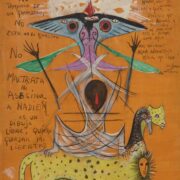 Emeralds are part of the Beryl family, another allochromatic mineral. The green of an emerald is also colored by the element Chromium! But this secret sauce causes lots of disruptions in the mineral, commonly causing them to be riddled with inclusions. Due to this being an intrinsic part of the stone's nature, there are actually historical emeralds cut into thin slabs that would showcase their vine-like inclusions- these were romantically coined 'Jardin', as it was to mimic peering into a lush green garden.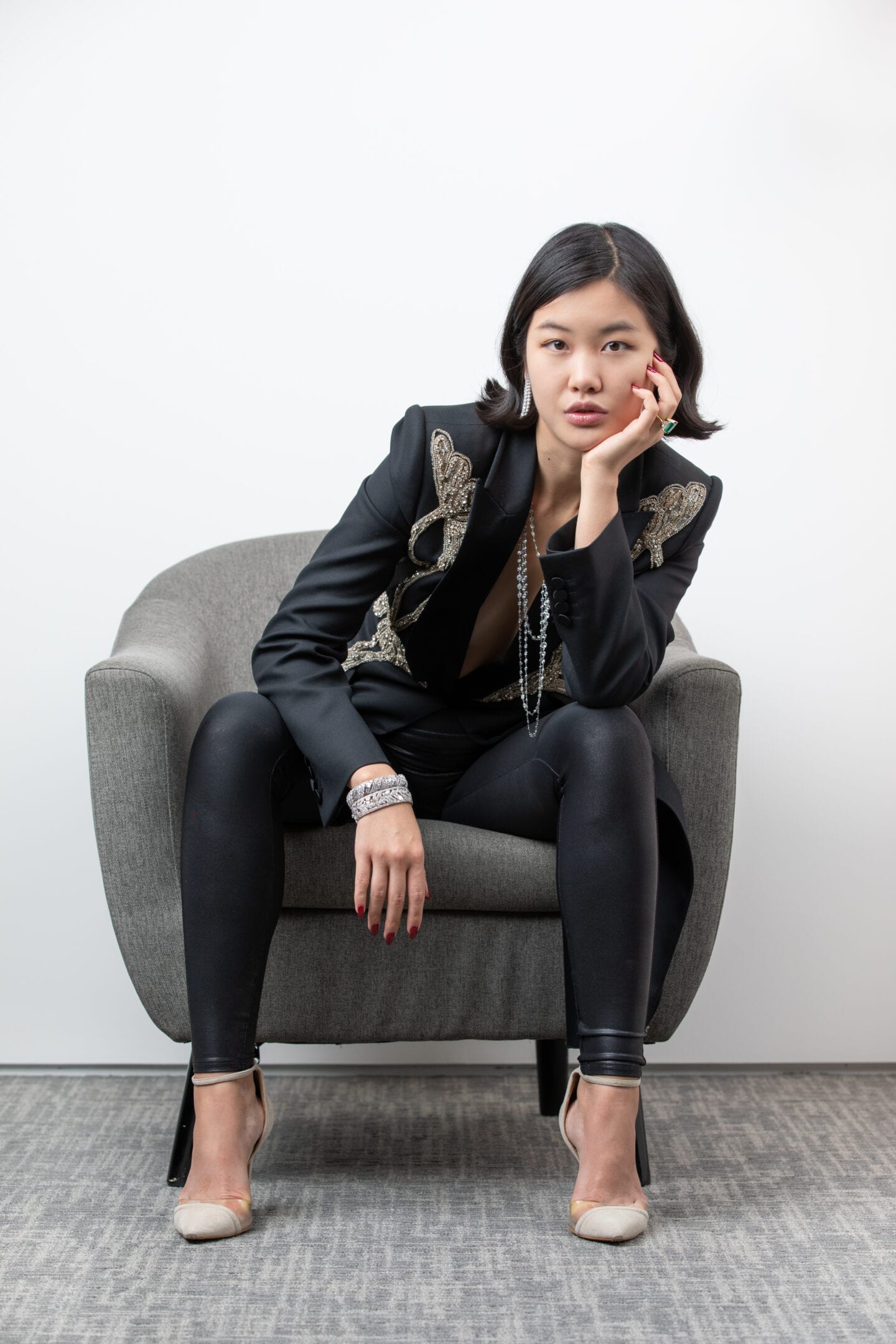 What are the most highly sought-after jewels in the industry? 
I would say historical jewels with provenance, signed pieces with iconic designs, and important colored stones that have not undergone any human induced treatments.
Who are the typical clients you work with?
Jewelry is a unique category. It somehow has the ability to puzzle itself into the widest variety of lives. One could have collecting interests in anything from contemporary art to antiquities, baseball cards to cars, and all have a jewelry collection on top. It has the ability to condense the most amount of wealth into the smallest physical form. But more importantly, it is the most personal of the collecting categories. Something one wears on their skin speaks most to their daily activities, tastes, milestones in life- and it is a true privilege to have one entrust those intimate details with us specialists, and in turn invite us to be a special part of their lives.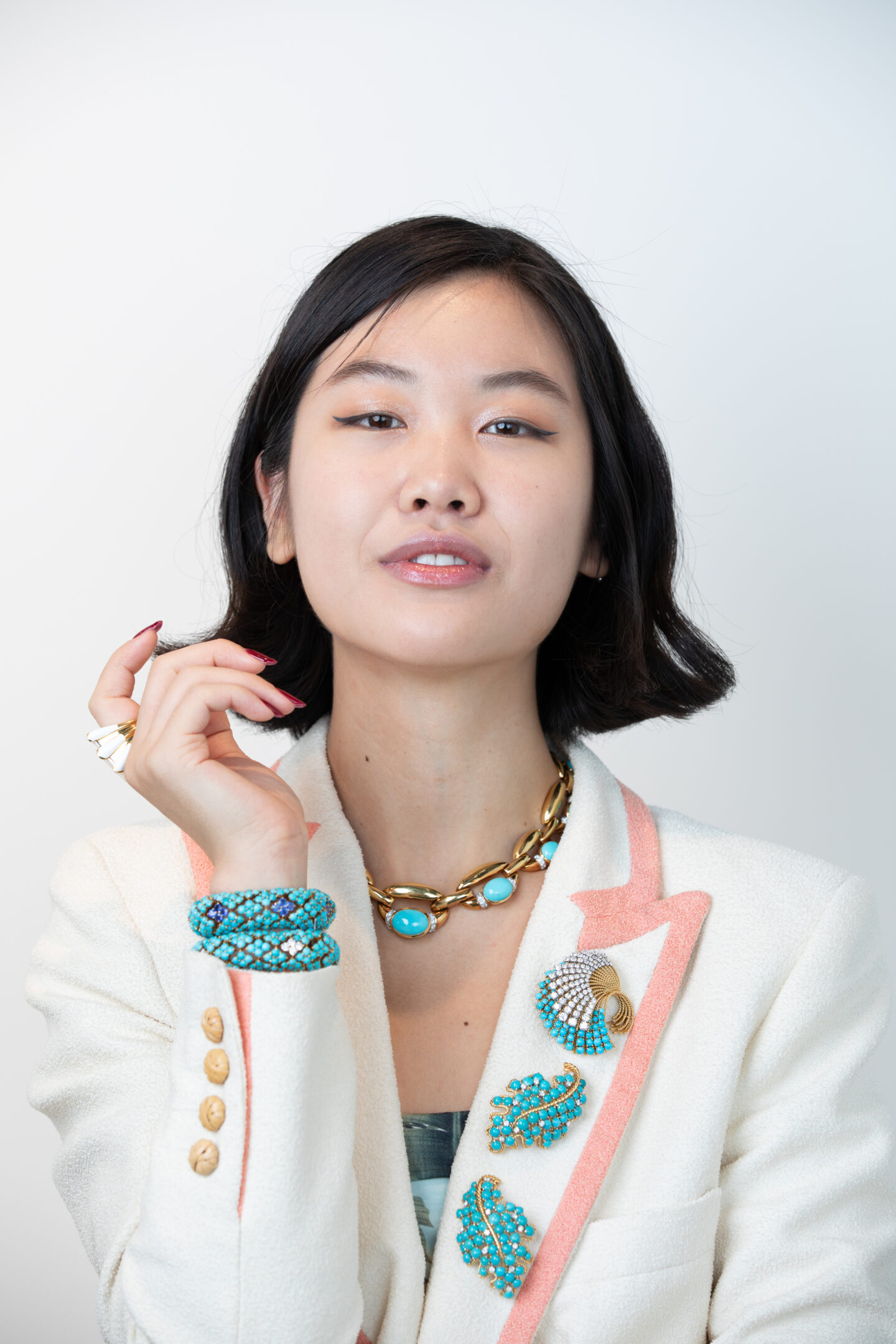 Joanna wears Missoni x Blazé Milano suit with Van Cleef & Arpels Gold, Turquoise, and Diamond Clip-Brooch, David Webb Turquoise and Diamond Brooches, David Webb Turquoise Sapphire and Diamond Bracelets, David Webb Enamel Ring, and Turquoise Diamond Ring.
List one of the most impressive treasures you've worked with. 
In 2018 we had the immense privilege of selling the Royal Jewels of the Bourbon-Parma Family, one of the most important ruling families of Europe. Amongst them was a group of jewels that belonged to Queen Marie Antoinette, the most famous Queen of France. It is easy to choose her blockbuster natural pearl pendant, which achieved over $US 36mil against an original estimate of 1-2 million. But for me, the piece from that collection that struck most was a small ring with diamond encrusted initials 'MA' and a woven lock of hair encased. It is likely this was a mourning ring for Marie Antoinette's daughter, and encased a locket of the Queen's own hair to commemorate. Another possibility is that this was Antoinette's own ring, in which case the hair would not be of her own, but that of someone she loved dearly.
Whichever scenario, that to me is the essence of making a jewel powerful, and how it beats all the 100ct diamonds on top of my 'most impressive' list. 

What is one piece of advice you'd give to others working at an auction house?
Be genuine, and maintain your own identity separate from the company. Someone once advised me to build a shield-like persona as a method of self-protection in an industry that can be very socially draining. Contrary to this method, I have found that the only way to upkeep the frequency of social events and interactions with people from vastly different backgrounds, is by not trying to be one of them. 
Be genuine in your opinion, believe in your expertise, and uphold your integrity. Trust can only be earned if it is given. This might sound like an incredibly naïve approach, but I firmly believe it is what has saved me from losing sight of the larger picture.
Finally – is it true anyone can go into Sotheby's and try on the jewels we see on display? (Most people don't realize this!) 
Yes, it is absolutely true! During Covid times we do require an appointment due to capacity limitations, but anyone can make one—so come one come all!