The Women at Frieze London 2019

ART SHE SAYS scouted the London art fair to create a list of rising female artists that you should be looking out for.
---
Frieze Art Fair is not for the faint-hearted, the seemingly endless rows of gallery spaces are on first glance an immense sensory overload. Over 160 galleries and a 1000 artists from across the globe turn Regent's Park into an infinite space of modern art. For art collectors, it is all your Christmases rolled into one, for those wanting to view incredible art however, it is to lose your conceptual awareness and for each piece of art to blur together. Nevertheless, we have carefully curated a list of the seven female artists who left their galleries out of business cards and should be top of your radar:
Urara Tsuchiya
The stylistic choice of curators that caught many off guard at Frieze was the overwhelming inclusion of installation pieces. On first thought, showcasing an installation at Frieze is a bold move. The hugely busy and open space will have immediate effects on ones response. It appears hard to forget the conditions of your surroundings, and fall into an artist's creation when a thousand people surround you. It is a deep shame to hear that installation pieces underwhelmingly sold in comparison to paintings and that buyers have shunned "risky" installations. This is perhaps because it is safer for buying and selling to acquire something that can be hung. Regardless of selling, Japanese artist Urara Tsuchiya, is perfectly aware of what draws in crowds at Frieze. Turning the corner into Union Pacific gallery, there is a sudden immediacy of the crowd using phones to capture the humour and brilliance of Tsuchiya's hotel room, frozen in time. A real double bed is surrounded by large ceramic sculptures, most noticeably lamps with figures and creatures contorted around them. The wall behind includes six new relief like works, including one poster that circulated social media reading 'why men love bitches.' It's a semi-ironic take at the absurd intrigue at female underwear on a bed. This is followed with the dreams of the inhabitants of the room, showcased in small ceramic rooms.
Hannah Quinlan & Rosie Hastings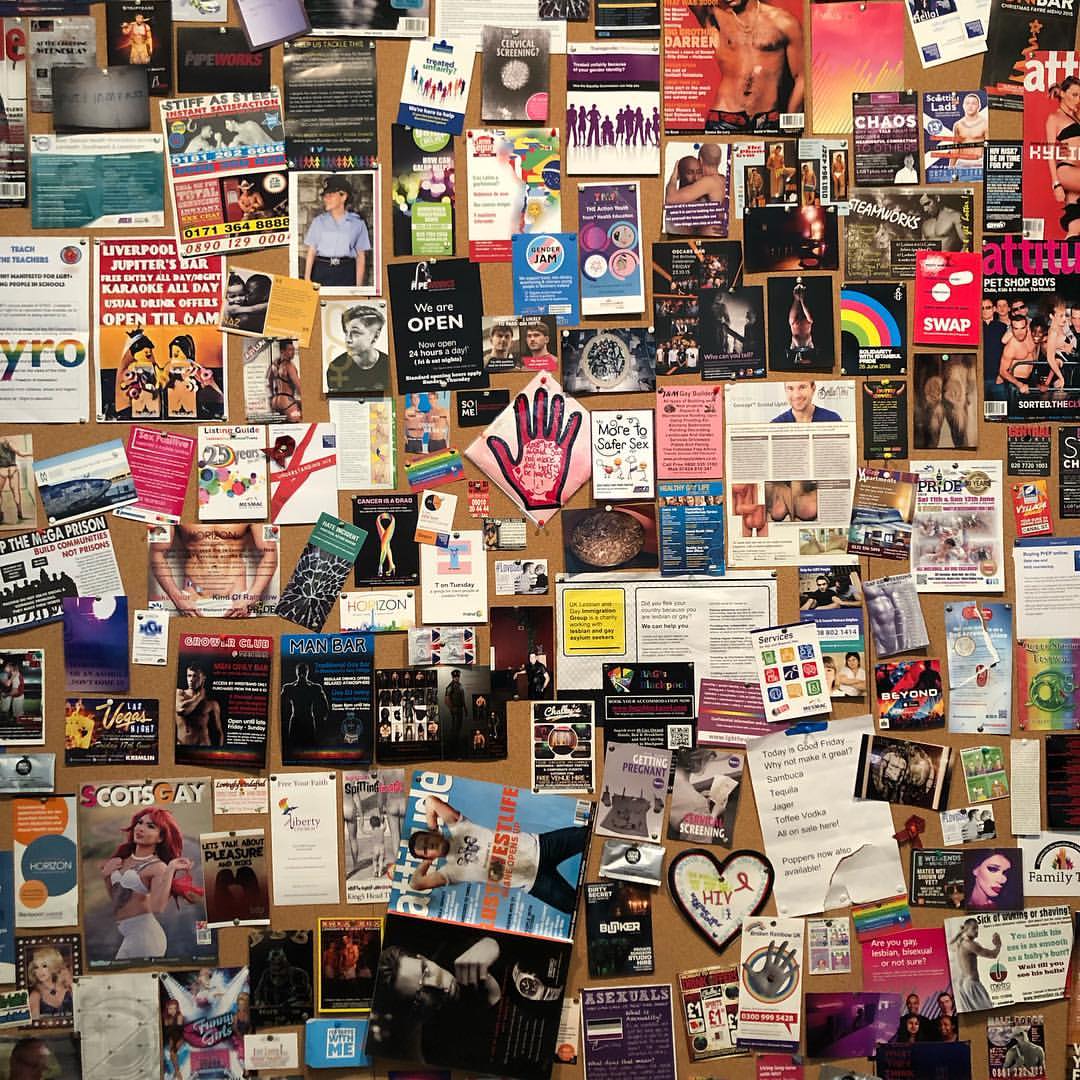 Following the immensely successful Kiss My Genders exhibition at the Hayward Gallery in London, identity politics and discussion around gender was heavily featured at Frieze. Highlighting these issues for Whitechapel Gallery in London were collaborative artists; Hannah Quinlan and Rosie Hastings. Walking into the Whitechapel showing, one is faced with a dominating pin-up board of exoticised gay libido and overtly beautiful sexual freedom. Only when one looks closely do they see proud LGBTQ+ posters side to side with depression helplines and explicit adverts that thrive on body dysmorphia. The piece is called the Scarcity of Liberty #2, and narrates the history of being LGBTQ+, not with a clear progression, but a kaleidoscope of love and pain. Old and conservative placards sit beside new, capturing the narrative of queer histories and realising the necessity of reintroducing an erased LGBTQ+ history. The artists, who are known for creating video installations of gay culture in the UK and Chaucer-esque narrative drawings, are setting down the stones for future LGBTQ artists.
Mary Sibande
One of South-Africa's most prominent contemporary artists, Mary Sibande, has dominated the London art scene in 2019. Whilst featuring in Frieze London for Kavi Gupta Gallery, the photographer and sculpture has her first solo UK exhibition at Somerset House: I Came Apart At The Seams. Sibande presents a series of striking photographic and sculptural costumes, exploring the power of imagined narratives in challenging stereotypical depictions of women and shaping post-colonial South African identity. Her large scale prints depict "Sophie," a figure played by Sibande herself. Through Sophie, scenes are played out depicting the deconstruction and destruction of old stereotypes on black women, from domestic housemaids to myriad empowered characters. The piece featured at Frieze, entitled: Wielding the Collision of the Past, Present and Future establishes Sophie, with Dorothea Tanning-esque creatures removing her maids uniform to reveal a rich purple underneath. The image confronts the relationship between confrontations and liberation when one is faced with a change, specifically that felt in the UK with recent political turmoil.

Chitra Ganesh
New for Frieze London 2019 was the Woven exhibition, curated by Cosmin Costinas, executive director of the non-profit Para Site art space in Hong Kong. As the title suggests, the exhibition consists of woven fabrics and narrative tapestries. The works, which consisted entirely of artists from the South and South-East Asia, all focused on the legacy of colonialism. The artists featured in this section come from as far away as Madagascar and China. "The history of weaving is both rich and loaded," Costinas says. "It was marginalised for a long time, in part because it was associated with women and outside a Eurocentric view of art." Our pick from Woven is New York based artist Chitra Ganesh. Daughter of Indian parents, Chirtra's work embodies the cultural and identity displacement felt by young immigrants. Her work blends surrealism, expressionism, Hindu, Greek and Buddhist iconography, that is the combination of Eastern and Western backgrounds. Featured at Frieze were outlandishly visual tapestries, most notably Pussy Riot (2015), a huge piece that consists of glitter, mirrors and infinite layers of fabrics. Her works evoke great narrative works by Bosch, but instead, feature superheroines and real life female role models.

Donna Huanca
It's quite a bold move for a gallery to only show one artist at their booth, but that is exactly what the Simon Lee Gallery did. Their solo presentation of Bolivian-American artist Donna Huanca was a visual and calming treat, a beautiful escape from the intensity of the fair. Walking in you notice the paintings are mounted on banks of sand, almost as if they are islands that one is drawn to for survival. Ambient sounds of birds and wildlife accompany the paintings, incense is placed around the exhibit, specifically chosen by Huacana to give off the richness of a Bolivian seascape. The scent is taken from a Palo Santo tree, a species native to South America, and used specifically in rituals. The sterile cleanliness of Frieze has little effect on Donna's work, she claims: 'I want the experience of my work to create a surreal moment similar to a hallucination," that feeling is achieved. Donna Huaca, is known for painting on women, who would perform on the islands of sand, but the effect of painting on these Perspex plinths is not lost. The paintings are cut to resemble female bodies swaying and moving, as if the performers are within each piece.

Viviane Sassen
Photographer Viviane Sassen is featured heavily on Frieze advertising that coats the walls of the London tube network, and it is with no surprise. Having spent the last six months with private access to Versailles Palace, Sassen presents a series of collages, deeply encompassing the untold story of Marie Antoinette. Greek and ancient Roman imagery had a lively presence but few with the idiosyncratic flair of Viviane Sassen. Sassen worked with a group of young women who live near the palace, using them as models to create a blend between the ancient and the modern. This is a step away from Sassen's usual subjects, which mainly focus on travel photography in Africa. Her works are pre-drawn and then realised through post-editing software. The subjects are always very geometrically shaped, with a strong urge on the abstraction of the human body. Mirrors have a consistent presence, morphing the body into untold and often alarming shapes.

Lena Henke
Lena Henke is an artist that few in London knew about before Frieze, now a quick google search into the fair and Henke's steel and rubber sculpture My Move will flood the page. The piece screams Freud, an explicit introspection of the self through sex. One body (perhaps the true self) is a content red, the other is a metallic and empty vessel. The piece, has resonated with so many, not just psychoanalytically, but politically. Audiences came to Frieze to see how artists responded to the identity crisis spreading through nations. Henke's work is a collage of references to art historical movements, Freudian theory, city life, the interplay between nature and culture, and sex. Throughout her career, Henke has consistently used her art to tackle the unequal interplay between male and female remuneration, power, and opportunities.
---
Featured image courtesy of Jake H. Lomas for ART SHE SAYS. Kathryn Andrews, 'Wheel of Foot in Mouth No.5,' 2019.