The Woman Behind Christie's Post-War and Contemporary Art Department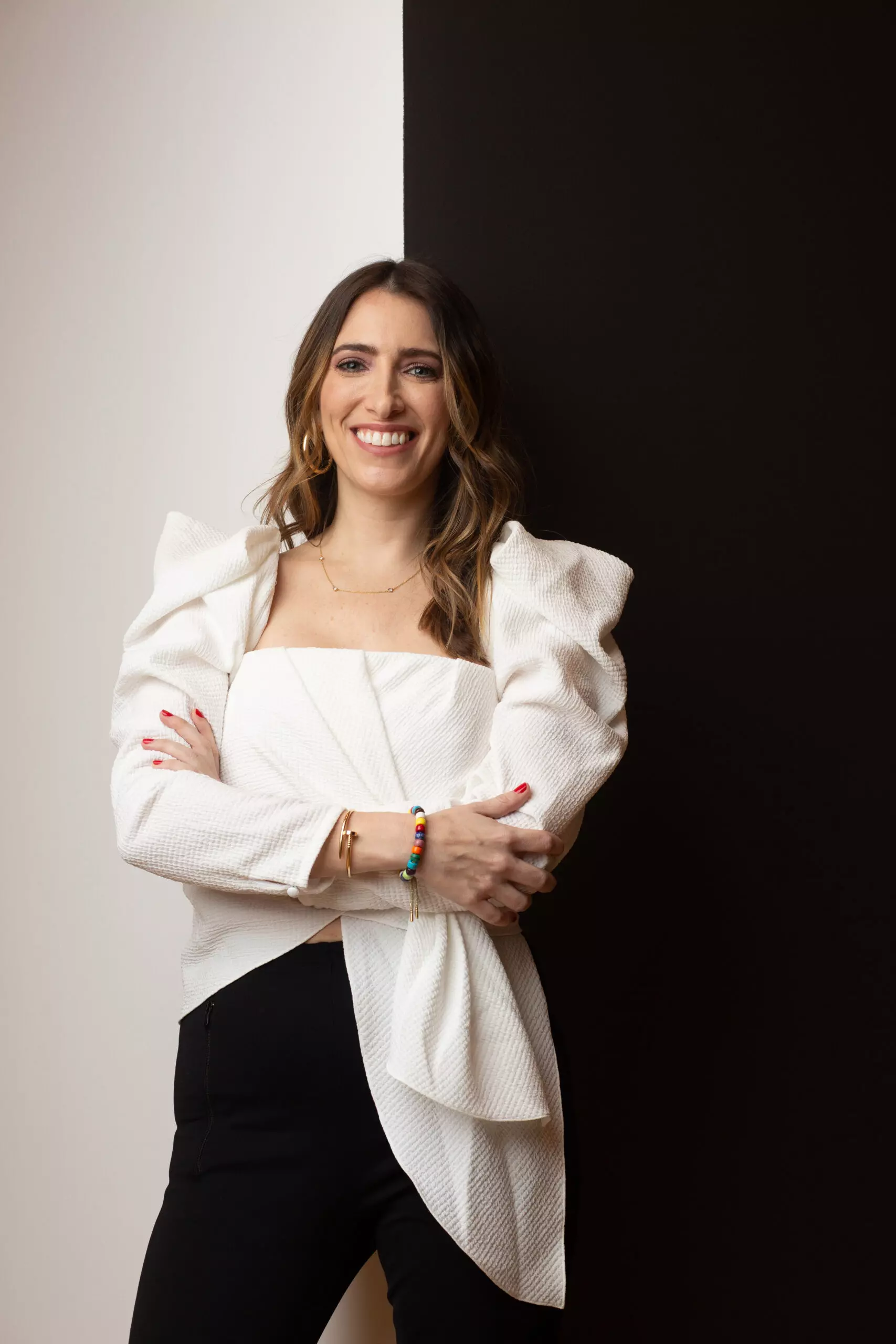 Johanna Flaum on the turn of the century shift into virtual auctions, the rise of women artists at sales, and an insider look on how she runs one of the auction house's most prestigious departments.
---
This past year was a strong time for women at auction, not only with the rise of emerging female artists whose prices achieved in sales have begun to parallel their male counterparts, but the individuals behind the scenes as well. Johanna Flaum, Head of the Post-War and Contemporary Art Department at Christie's in New York has made major strides in spearheading the international auction house's recent developments into the virtual space, being the first to come out with the concept of the live streamed sale, a model that has now been reinterpreted throughout the industry.
Capturing the drama and magnitude of major sales through a screen, Flaum took inspiration from the excitement of a live event such as the NFL draft and Saturday Night Live at home. The result was a live-streamed relay auction conducted by four auctioneers, from New York, London, Paris and Hong Kong sale rooms.
However, running the Post-War and Contemporary Art Department is no easy feat. Inspired by the sheer force and intellectual prowess of the women who are at the origins New York art scene, such as Peggy Guggenheim, Betty Parsons and Marion Goodman—who were among the first to champion post-war art—Flaum gives us a look into her career as well as power tips for women in the auction space.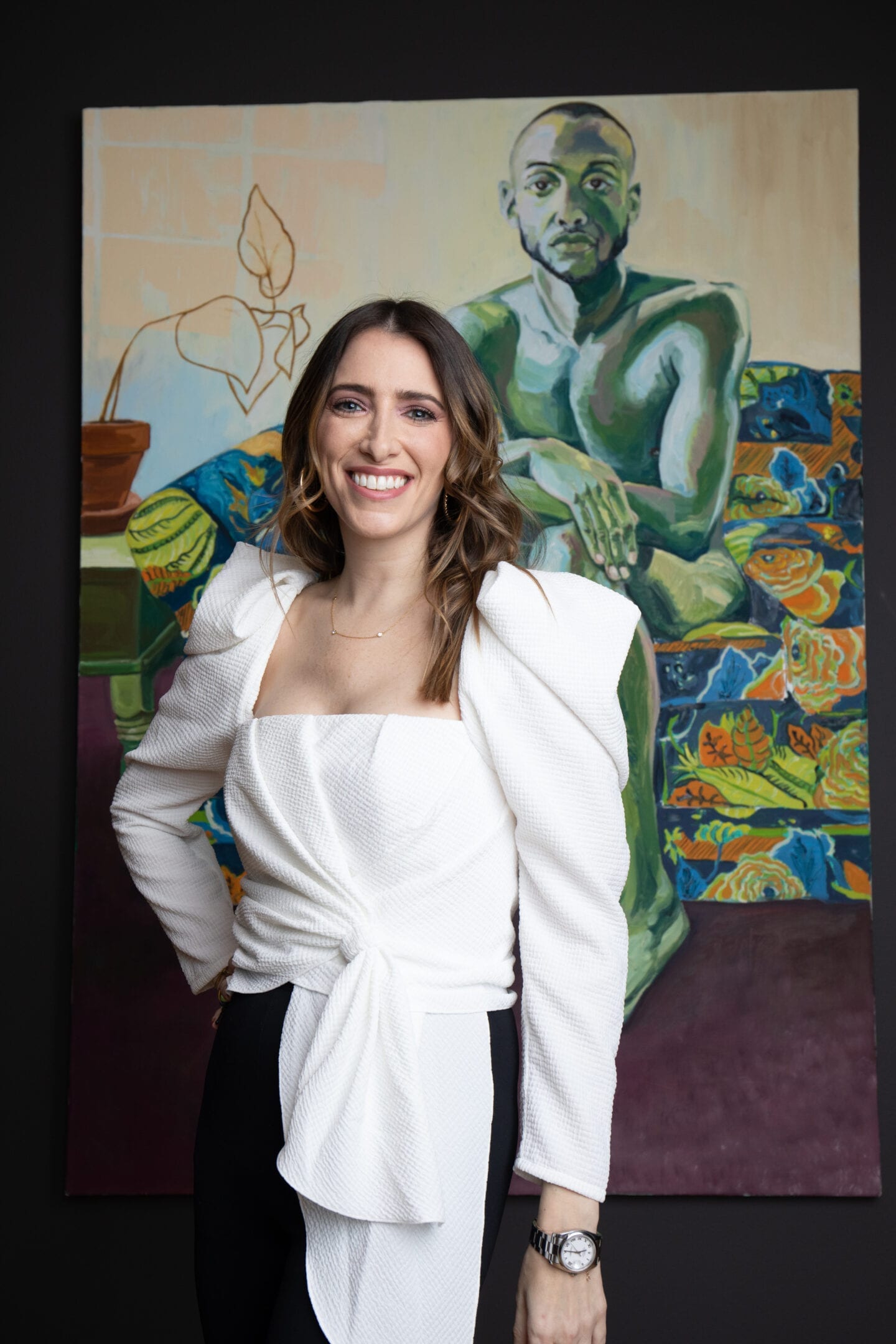 Johanna Flaum with painting by Jordan Casteel.
Tell us about your role at Christie's.
As the head of the Post-War and Contemporary Art Department at Christie's in New York, I spend much of my time thinking about and discussing art. It is my passion for art that got me into this business, and I feel lucky that it continues to be at the core of everything that I do 15 years later. Working with clients on making interesting acquisitions, pitching for major business, working with my colleagues to decide how to best bring a work to market, whether that be an auction in New York or a private sale in Hong Kong, these are some of the most important and enjoyable components of my job.
On the other side, I am driving strategy and innovation, which was particularly important over the past year, when we had to decide the best approach to selling works at the top end of the market, those that are typically offered in our major evening sales – on a digital platform. This was an extraordinarily important decision for us, because it would ultimately dictate whether or not we would be able to carry on conducting high level business in a newly digital environment (spoiler: we very much can!).
"As we move into a new era for the art world, my role is to lead these kinds of forward thinking tactics to ensure that we are presenting our audiences – both new and established – with the greatest works available on the market, and doing so in a way that is more engaging than ever before."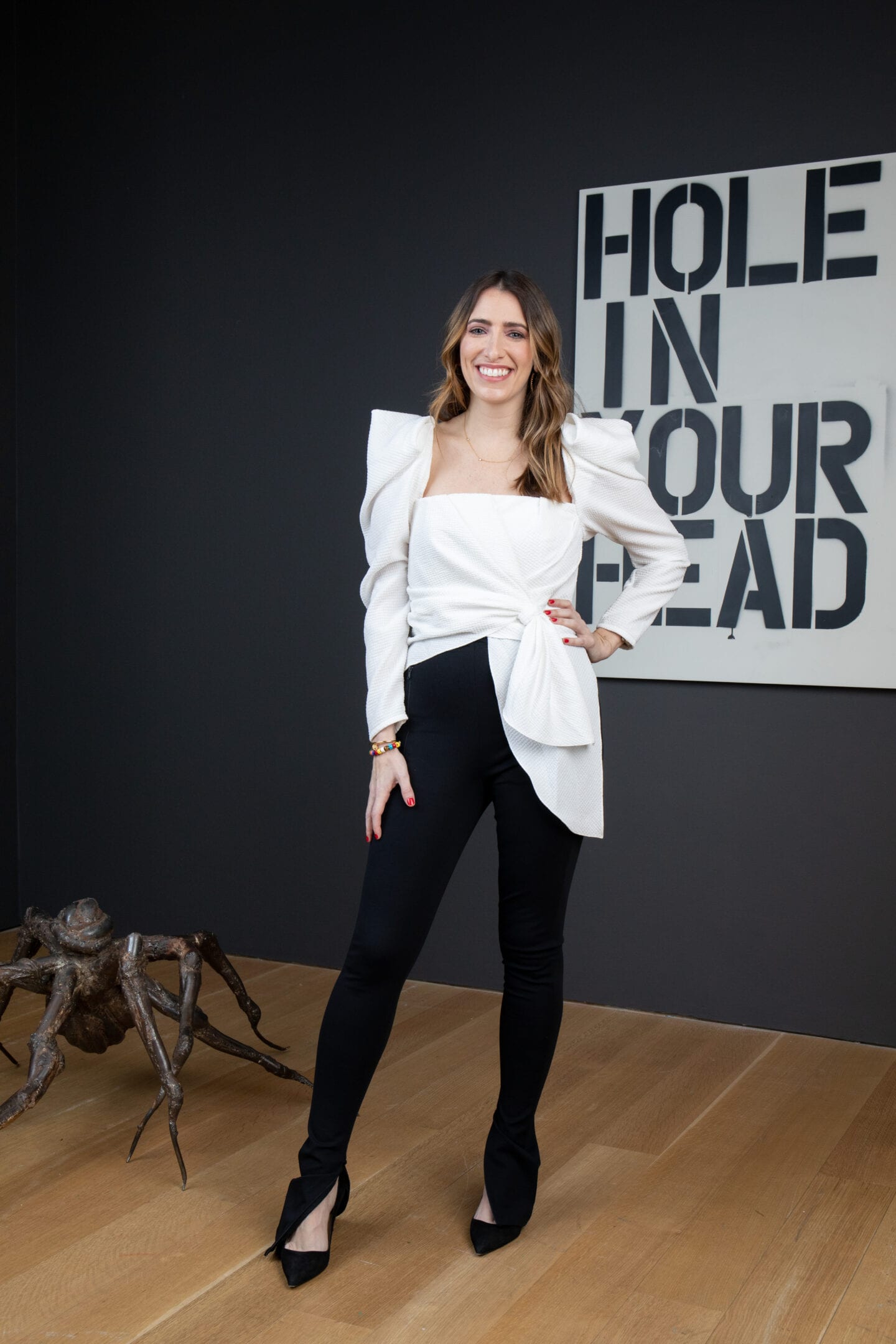 Johanna Flaum with Louise Bourgeois, Spider V, 1992 and Christopher Wool, Hole, 1992.
What is a typical day for you?
Although they vary dramatically, a typical day could look something like this.
9-9:30AM Beginning with a discussion with our private sales team to discuss a new exhibition.
10-10:45AM Strategy meeting focused on how we will present our marquee sales in the Spring.
11:30-1PM A client visit with a collector who is moving and is considering the most opportune works to sell at this moment.
1:30-1:45PM Lunch.
2-2:30PM A pricing session with our Day sale team to come up with the best estimate strategy for a new group of works.
3-3:45PM A meeting with our web team to discuss implementing AR into the marketing of upcoming sales.
5-5:30PM Finishing the work day with a call with a long time client, who wants to hear what I am seeing in the market, and what I thought about the new Alice Neel show at the Met.
"Dana Schutz has had one of the most dramatic and exciting career trajectories to witness. She is a tremendously talented artist, and the demand for her work has grown exponentially over the past 2 years or so, and not only from American collectors."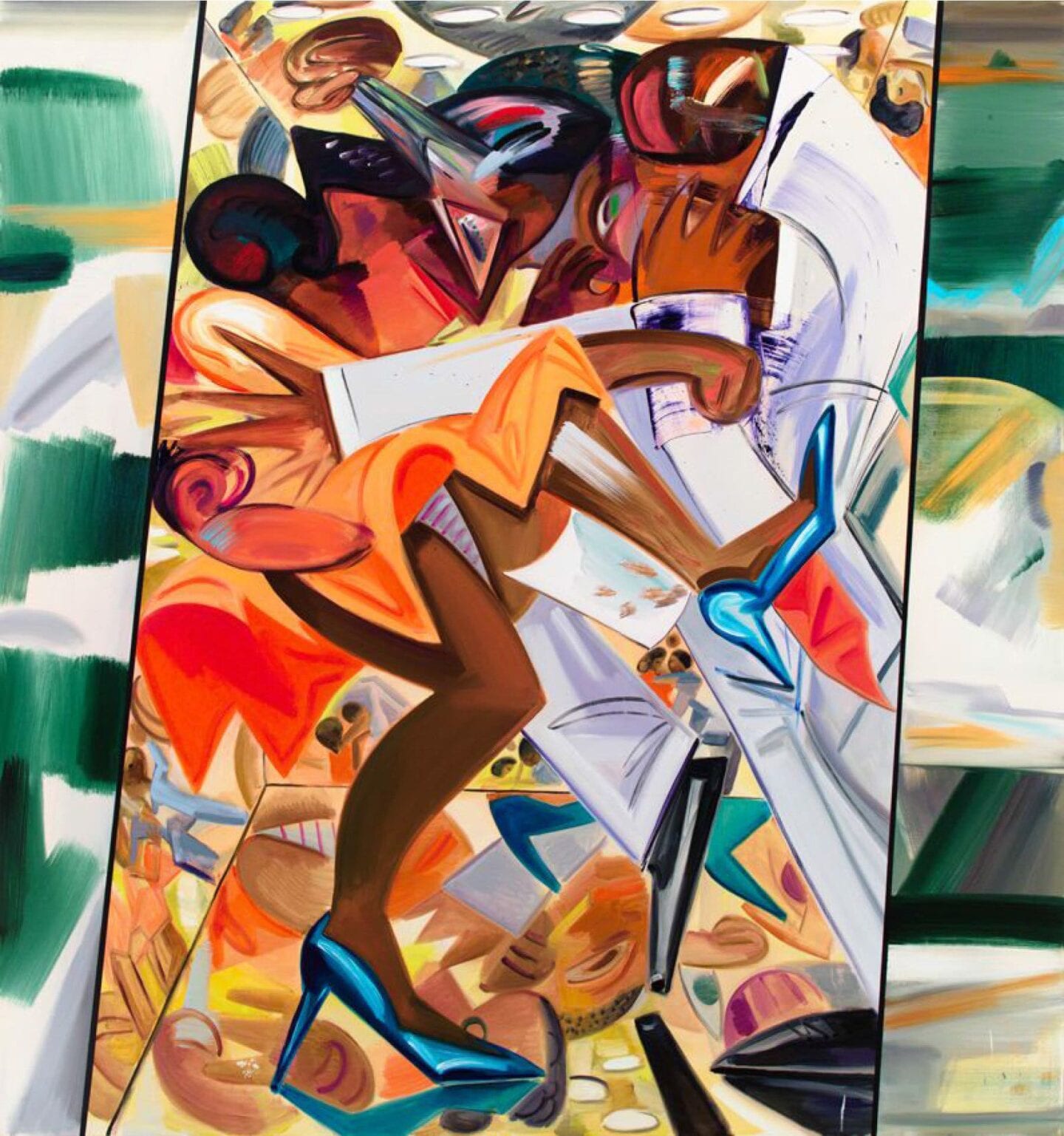 Drana Schutz, Fight in the Elevator, 2015.
Who are some female artists whose careers you've witnessed changed through auction?
Dana Schutz has had one of the most dramatic and exciting career trajectories to witness. She is an tremendous talented artist, and the demand for her work has grown exponentially over the past 2 years or so, and not only from American collectors. This past December, Elevator, one of her most celebrated canvases was sold in Hong Kong for $6,456,648, doubling the pre-sale estimate and establishing a new world auction record. This being a live streamed auction, there were phone bidders in both the Hong Kong and New York sale rooms, and there was tremendous competition from around the globe on this work before it ultimately sold to a bidder in Hong Kong. This is a prime example of a female artist seeing market and institutional recognition in real time, which has not always been common in years past.
On the other side of the spectrum, we are seeing tremendous demand for the works of Ruth Asawa, an extraordinarily talented Japanese American artist whose work was largely overlooked by the market until the final years of her life. In 2013, Christie's put on an exhibition of her sculptures, and brought her vision to light for many collectors. Following that breakthrough show, we have seen an atmospheric rise in the demand for her work, which continues to grow year after year. Last July, in our ONE auction, we set a world auction record for one of her most sinuous hanging sculptures, which realized $5,382,500.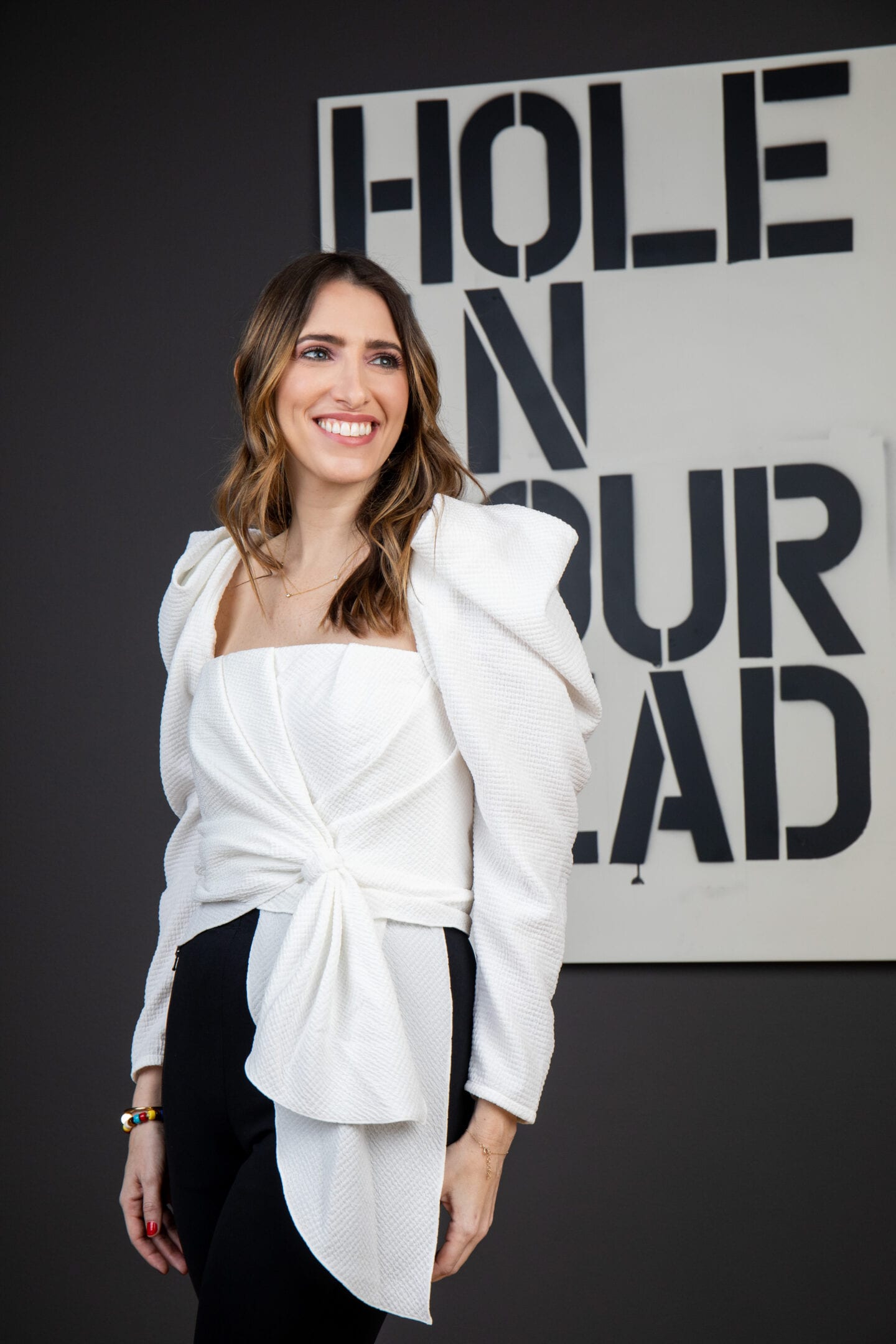 Johanna Flaum with Christopher Wool, Hole, 1992.
You mentioned a few tips on leadership in the workplace, even in everyday meetings. What are some things young professionals can do to stand out?
The truth is, that there are societal expectations of female behavior that are often antithetical to leadership behavior, and that is something that we as women, need to reconcile with. With this in mind, one of the most important things I think someone can do to grow as a professional, as well as a person, is to become comfortable with speaking up. As simple as it may seem, being heard can be one of the most challenging hurdles for any young professional. I recognize this becomes even harder over screens and there are a few very micro behavioral shifts, which I recommend to anyone looking to assert themselves in our new virtual corporate environment.
1. Sit at a desk and lean into the camera, and therefore into the conversation.
2. I strongly believe in the camera being on to articulate that you are participating in the conversation even when you aren't speaking. Other attendees see through your body language that you are actively listening and taking a role in the conversation.
3. To the extent that it is possible, keep the microphone on. Removing this barrier to entry is very important, because by eliminating the need to perform an extra step to participate and being able to speak makes it much easier and more natural to insert yourself into the conversation.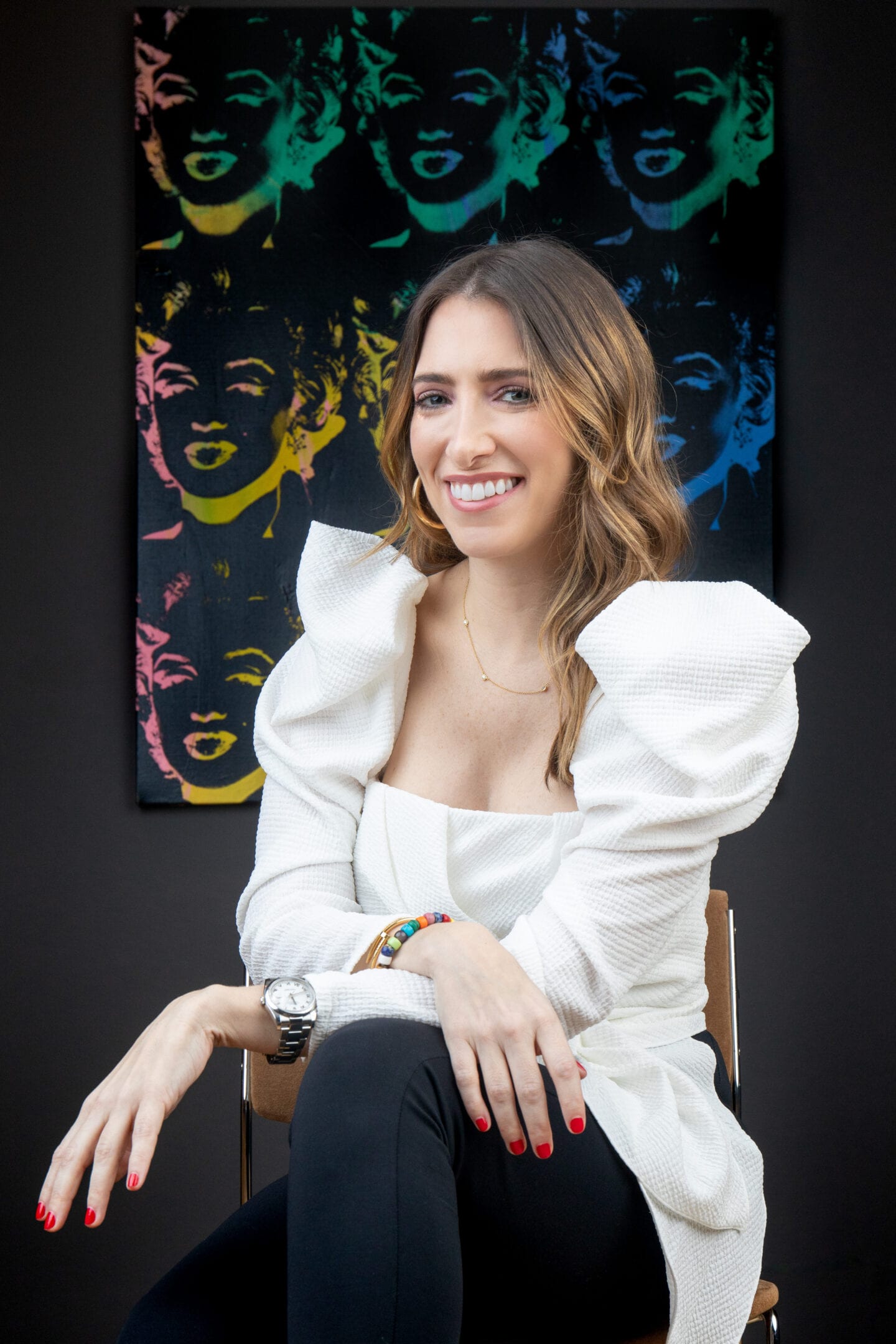 Johanna Flaum with Andy Warhol, Nine Multicolored Marilyns (Reversal Series),1979-1986.
See Also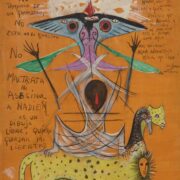 This past year, auction houses have seen a dramatic shift of physical to digital. You now stream live to over a million people. What is a live stream auction and what are all the moving parts to make it happen?
From the beginning, we knew that we would need to confront the biggest challenges head on: How are we going to best market highly-valued works to a global audience without touring them around the world. How are we going to engage with international bidders given their limited ability to travel to physical exhibitions and sale rooms? How are we going to produce a sale that captures the drama of our major auctions while granting the accessibility of online bidding?
The answer to these questions was a highly adaptable relay-style auction that provided an international platform for approximately 70 works. An online auction featuring live competition between the specialists bidding on the phone and the auctioneer in each region. A televised event that would capture the adrenaline of an in person experience for bidders and spectators.
One of the biggest concerns was whether it was possible to stage a successful sale without tours or major public exhibitions. Anyone that is passionate about art knows that nothing will ever replicate the in-person experience. However, in those first months we quickly came to realize that collectors were open to making major acquisitions based on their trust of the Christie's brand, and a high quality virtual representation of the work. This meant that at Christie's we did everything possible to present objects in a way that facilitated deep connections between collectors and works of art without necessitating physical viewings. Although Christie's has always had a robust digital offering, in the time between going into lockdown and launching this sale, Christie's was able to launch a range of online features that significantly enhanced the collector's ability to interact with art visually, intellectually and emotionally, from home. This included virtual galleries, super zoom and augmented reality, as well as newly enhanced videos, content, digital viewing rooms and online exhibitions.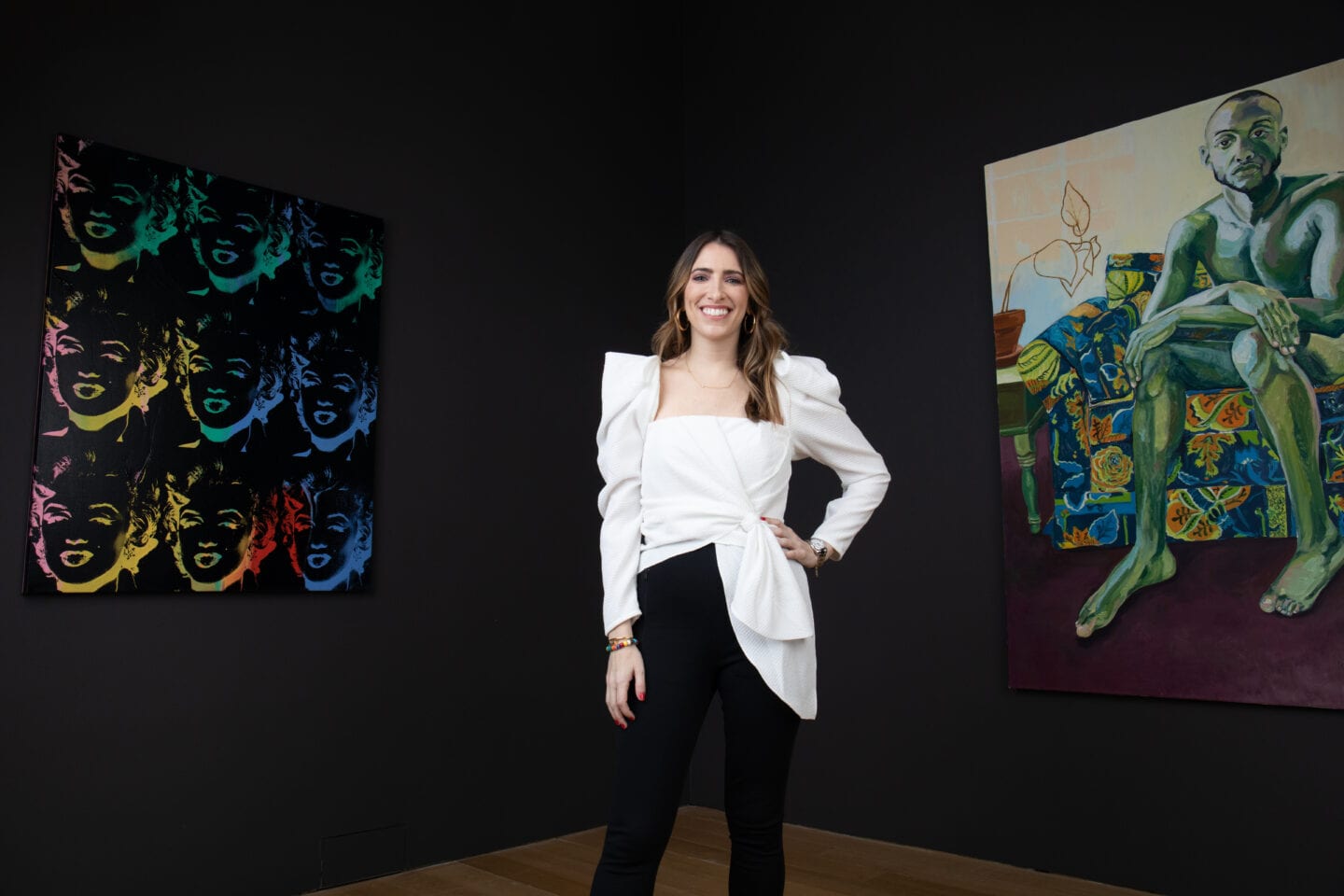 How did you attract a global audience for an online auction?
This was addressed by decentralizing the sale. By breaking the sale into four distinctive parts sold one after the next in Hong Kong, Paris, London and New York offered under the banner of one major auction, we were able to create an auction experience that was just as relevant in Asia as it was in Europe, the UK and in North America. The added level of regional interest provided the kind of global reach that we felt was necessary in that moment to sell major works of art.
We also thought it would be of tremendous value to bring the art to the collectors. Whereas the majority of the market would typically be in New York, or travel to New York ahead of our major auctions to preview the works, in 2020, much of the market had decamped to the Hamptons. So we made the decision to bring the majority of the works from the New York portion out east over the 4th of July Weekend. We worked with a local institution that was closed to the public due to Covid regulations, and were able to utilize their beautiful galleries to stage an exhibition, which was open by appointment. This was a truly impactful decision, and was of major benefit to the final results.
Our first live streamed sale was a true success, both in terms of the financial results and the viability of the auction model. From there, we were able to adapt and develop the model for the auctions that would follow.
Although those firsts months were challenging, the rewards were undeniable, and I suspect that many of the lessons learned from that live-streamed sale will continue to inform our approach for years to come.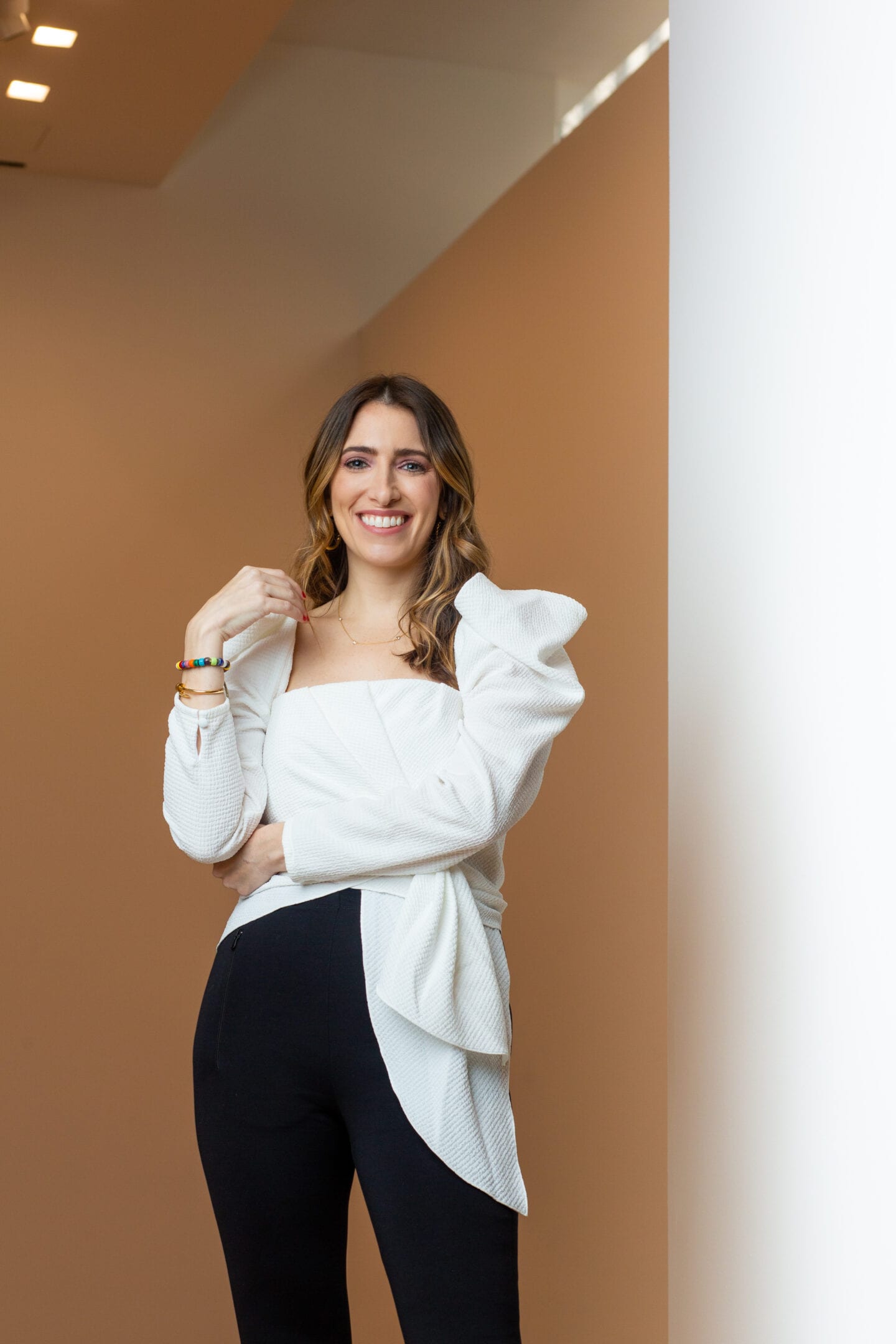 Will the auction world ever go back to live in person auctions? What are some effects you've noticed?
Yes, absolutely we will have live auctions again, and they will benefit from all of the work we have done to optimize the at home viewing experience. Our renewed approach to presenting auctions will allow us to better serve the market by presenting an increasingly dynamic way to participate, whether that be in the saleroom or from the comfort of your office.
This is also true of the education process. Soon we will be able to hold in-person programming and expansive public exhibitions again, but we are also going to continue to develop the digital tools that make it possible to have a meaningful interaction with a work of art on your laptop.
Even though this past year has been extraordinarily difficult, it has also brought a new way forward. At Christie's, we bring everything we have learned, and a new set of priorities into this new era.
You've been at Christie's for about 15 years. What is one piece of advice you would give to your younger self?
You have to advocate for yourself. No one can read your mind, so don't be afraid to ask for what you want!