Description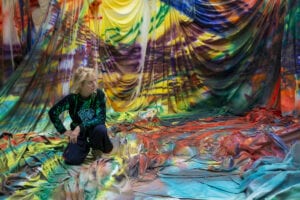 Widely known for her in situ paintings, in which explosive color is sprayed directly onto architecture, interiors, and landscapes, Katharina Grosse embraces the events and incidents that arise as she works, opening up surfaces and spaces to the countless perceptual possibilities of the medium. Approaching painting as an experience in immersive subjectivity, she uses a spray gun, distancing the artistic act from the hand, and stylizing gesture as a propulsive mark.
Created in response to the COVID-19 pandemic, the Artist Spotlight series highlights individual artists, one week at a time, whose exhibitions have been affected by the health crisis. A single artwork by the artist is made available with pricing information for forty-eight hours only. A new Artist Spotlight will be unveiled every Wednesday. The selected work by the highlighted artist will be made available on Friday at 6am EDT.
Artist Spotlight: Katharina Grosse features a recent work from the artist's studio. For more information, please contact the gallery at [email protected].