Description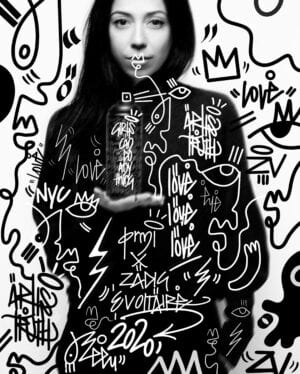 Jormi is a designer and artist born in Venezuela. She studied art in Paris, graduated in Fashion Design from Parsons and currently living in New York City.
Her signature handwriting and style can be easily recognized at first sight: black and white, visually stimulating, which can be described as a mix of monochromatic artwork, calligraphy and symbols with a touch of graffiti.
Her art is not just a statement, it's a mindset. Jormi uses her words, messages, and artwork as a tool for empowerment. Her objective is to create dialogues between the viewer and the artwork, stimulating a connection capable of awakening an inner force to pursue the most elevated version of ourselves.
Jormi is also specialized in providing solutions within luxury fashion, art and lifestyle markets. Since her arrival to New York, Jormi has strengthened her expertise in social media management, brand development, digital marketing solutions for an elite list of clients from Latin America, Asia and the USA. Jormi is currently working as a freelance artist for renowned worldwide luxury brands.