Description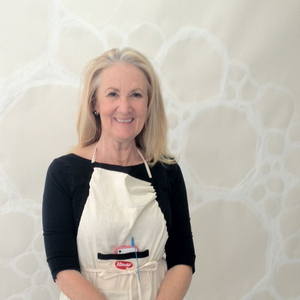 Karen Tompkins is an artist based in New York City. Throughout her lengthy career, Tompkins' artistic process has focused on revealing the mystery of the universe. By engaging with scientific knowledge, she creates large bodies of work that shed light on nature from the very smallest, sub-atomic particles, to the largest structures in the universe, such as galactic filaments.
As a Visiting Artist at the American Academy in Rome, Tompkins researched the astronomy of Galileo Galilei at the Vatican Rare Manuscripts Library. His revolutionary discoveries of sunspots, the Jovian moons and the craters on the moon all became the subject of her most recent series of paintings. Her most celebrated piece in this series was an 8×9 foot replica of the mirror of the James Webb Space Telescope composed of 19 hexagonal paintings of sunspots. A former project, "Speed of Light," investigated the 110 luminous objects whose light fills the night sky and were catalogued by 18th century French astronomer, Charles Messier. Messier, a comet hunter, was frustrated by objects which resembled, but were not comets, so he compiled a list of them, to avoid wasting time on them. These lights, swirling and blazing with piercing points of light became the subject of a dazzling series of 50 paintings titled "Speed of Light."
Tompkins evokes the mystery and complexity of nature, that inspired the 19th century artists, Frederic Church and Thomas Cole, as well as contemporary artists such as Olafur Eliasson and Tomas Saraceno. It is Tompkins' belief that we are all made of the "star stuff" which composes the universe and binds us to the ecstatic pulse of nature. These works reflect the complexity of an infinite cosmos in which everything is connected. Tompkins has participated in over forty solo and group exhibitions during the course of her career. She studied painting and drawing at the Academy of Fine Art in Rome, Italy and at the Pratt Institute Graduate School in Brooklyn, New York. Her work is included in numerous private, corporate and museum collections.