Nina Chanel Abney's Curation Packs the Perfect "Punch" for LA Summer

Featured artist Nina Chanel Abney curates an expansive lineup of California talent at Jeffrey Deitch Gallery in Los Angeles—many of them young, African-American, and female—Punch LA buzzes with a vibrant contemporary sensibility.
---
The walls of Deitch's Hollywood gallery glow with hypnotic pops of neon and glitter, mesmerizing like the LED-lit background of an iPhone screen. In fact, many of the subjects in the exhibit seems to be sourced from an Instagram feed or filtered by a snapchat. Though references to pop-culture abound throughout the space, closer inspection reveals the material elements of many of the works. Khari Johnson-Ricks' cutout paper works flutter of the walls, Devan Shimoyama's satyr subject wears a pair of glued on cut offs amidst a collage of painted on and plastic flowers, and the fabric details of Tschabalala Self's portraits demand attention. Many of the works have unfinished and imperfect elements, scrawling pencil marks that zig zag across oil paint and underneath pools of watercolor pigment. The tension between material and virtual, perfect and disheveled is palpable–and its presence throughout the gallery seems to unify this ambitious exhibition of 39 artists.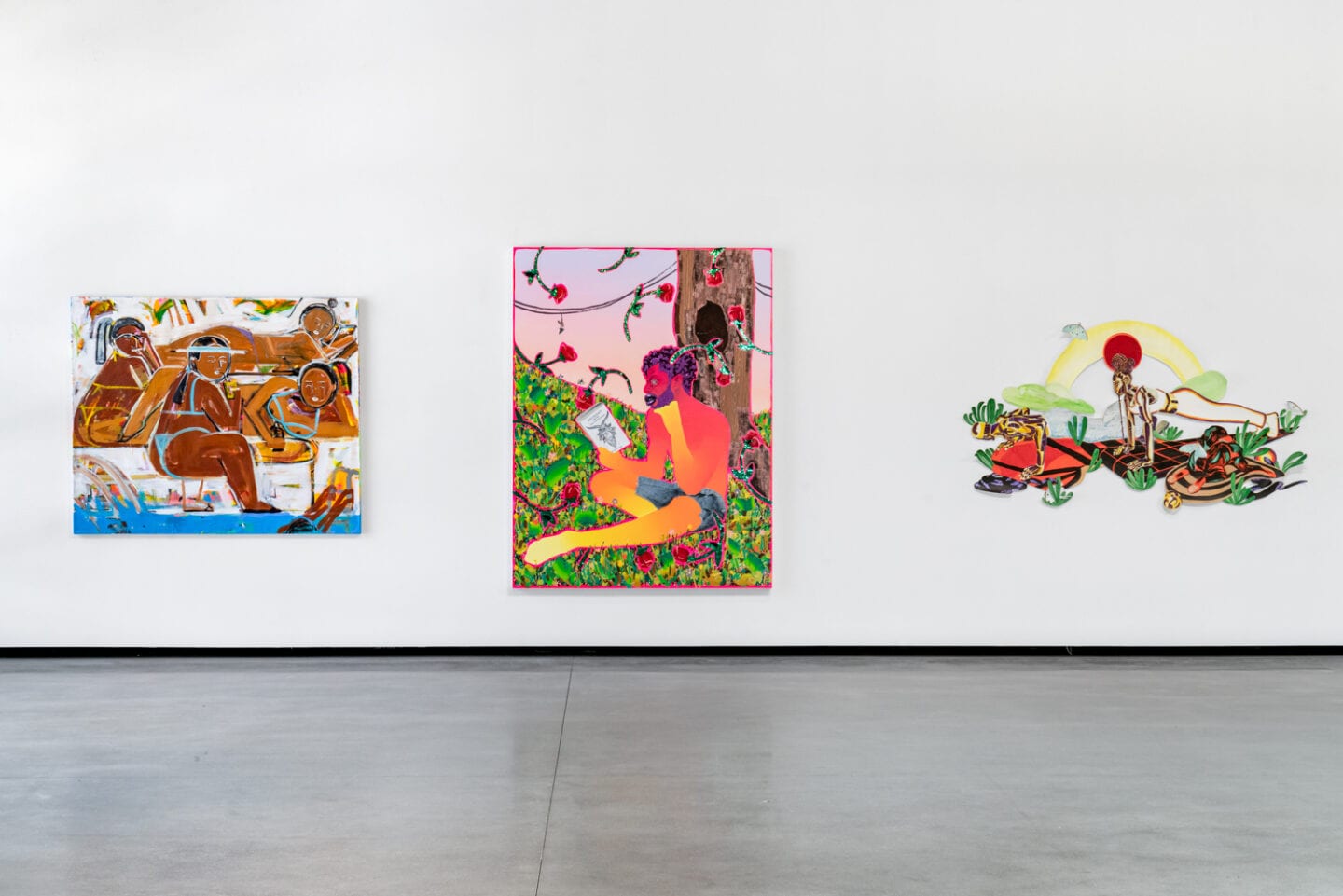 The Deitch exhibit in LA follows a successful NY "Punch" show. In this iteration, artist and curator Nina Chanel Abney drew on her own circle of peers to create a diverse range of living artists. The notion of artists curating artists is gaining popularity, and the exhibition coincides with the Artistic Choice, a show on view at Guggenheim curated from museum's collection by six contemporary artists.
Moreover, Punch features the work of many female and African-American artists, heralding an important change of leaders within the art world. Though the work ranges vastly by medium and artist, the lens of figuration allows the artists a universal context to narrate the hybridity of contemporary art discourse.
Jordan Casteel Jordan Casteel's piece, triumphs in its depiction of everyday beauty. Unlike the artist's typical frontal views, here the figure faces away, highlighting the luminous musculature of her back and the bright geometry of folded fabric in her dress and headscarf. Currently showing for her first solo exhibition at the Denver Art Museum in "Jordan Casteel: Returning the Gaze" through August, Casteel's detailed practice and reverent treatment of subject celebrates the people she views in her hometown of Harlem, NY.
Cheyenne Julien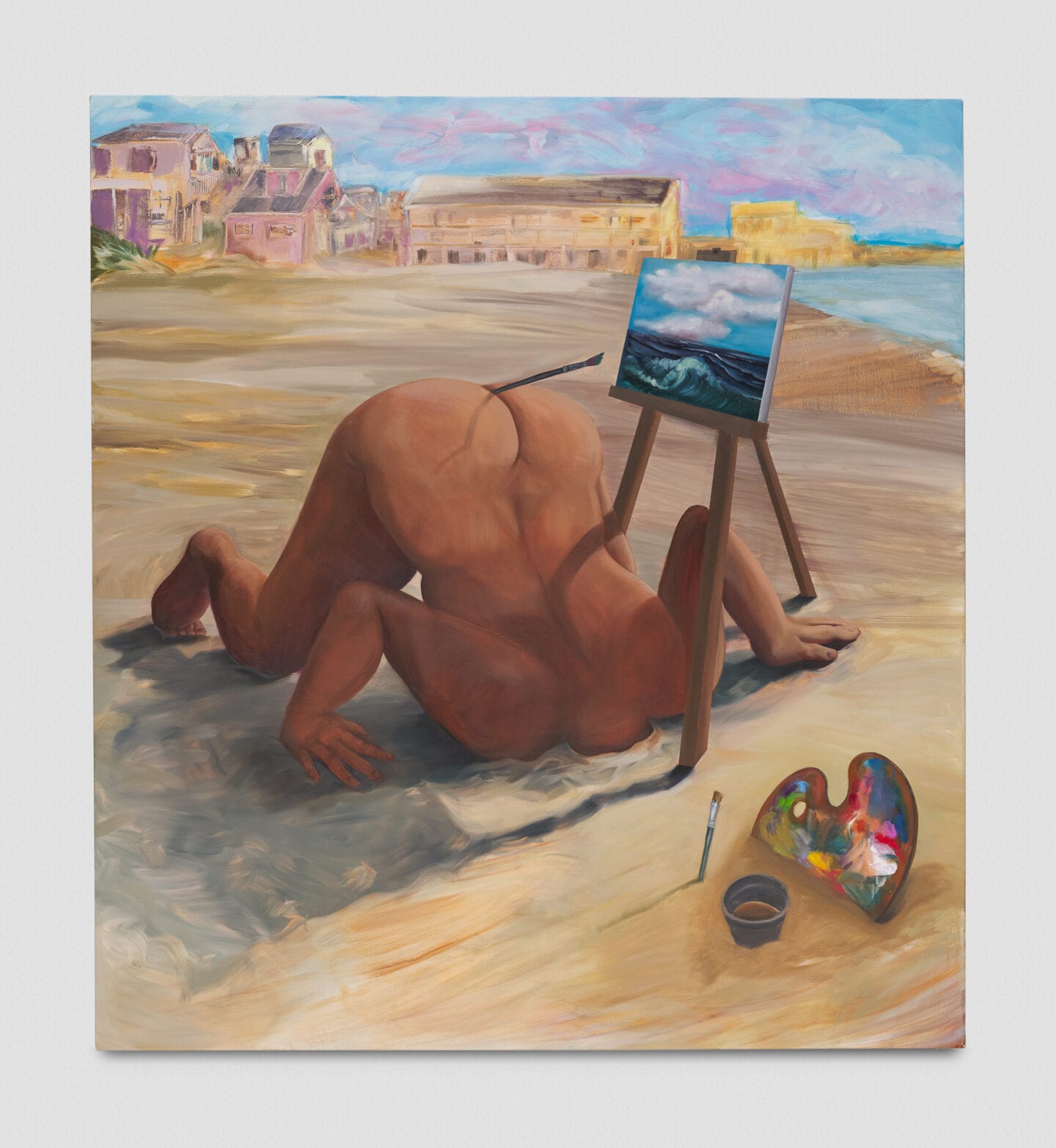 Cheyenne Julien's piece "Plein Air" plays with elements of Impressionism, using pastel tones to paint a beach town. Against this dreamy background, a brown body contorts itself, buttocks protruding to proffer a paintbrush. It seems that Julien uses this stylized satire to reproach a history of painting which profits off black and brown bodies as subjects. Simultaneously, she makes space for herself as an artist by reclaiming the paintbrush as her method of protest.
Lucia Hierro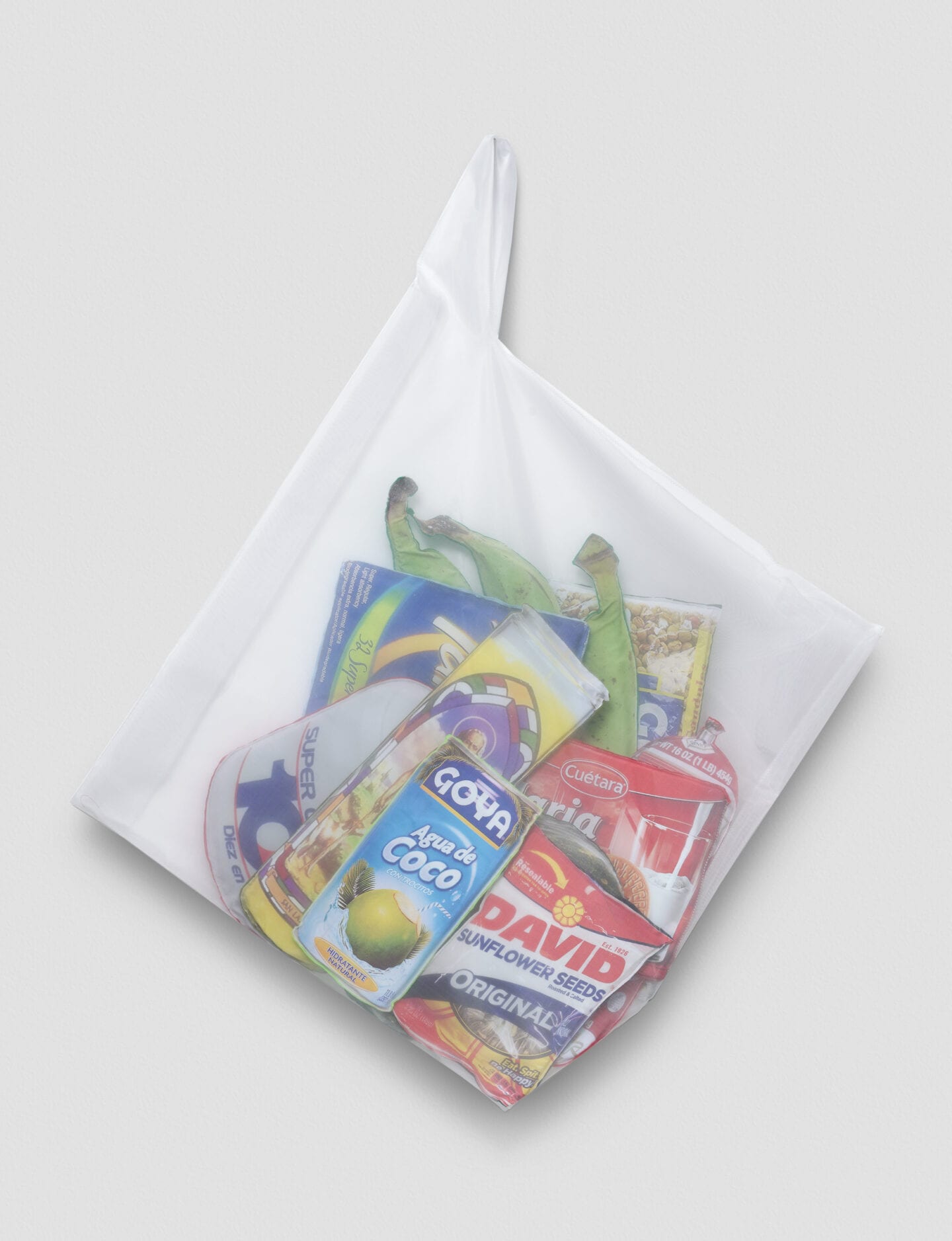 Lucia Hierro fills a massive polyester bag with the contents of a shopping bag–plantains, sunflower seeds, and coconut water. Using the material goods familiar to her Dominican-American community, Hierro reimagines the assumed universalism of Warhol, Wesselman and Lichtenstein's Pop-Art.
Lauren Halsey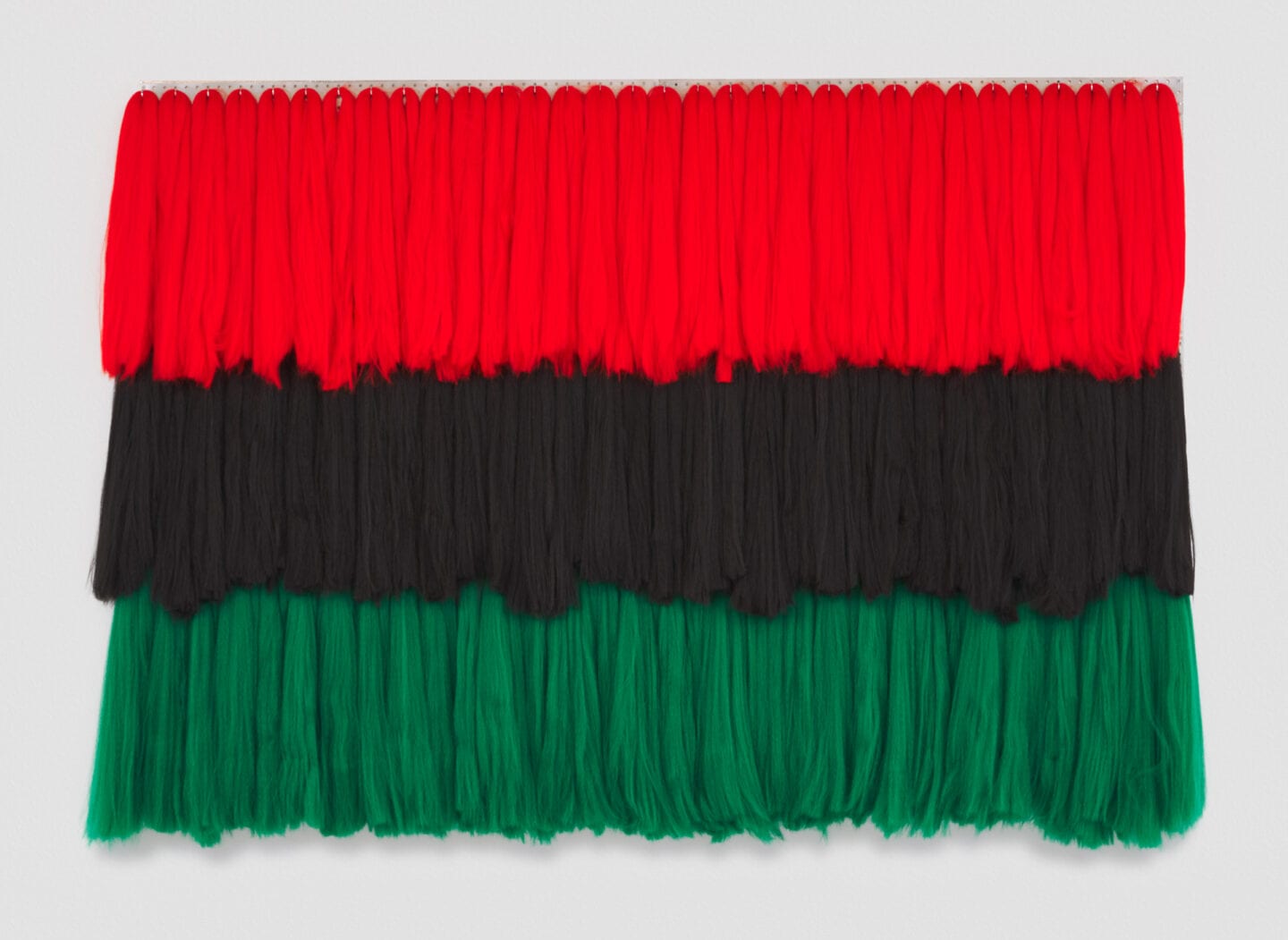 Lauren Halsey uses a collage of weave (synthetic hair) to compose a Black Liberation Flag, the material a commentary on the tension between goods circulated but not owned within her South Central community.
Tschabalala Self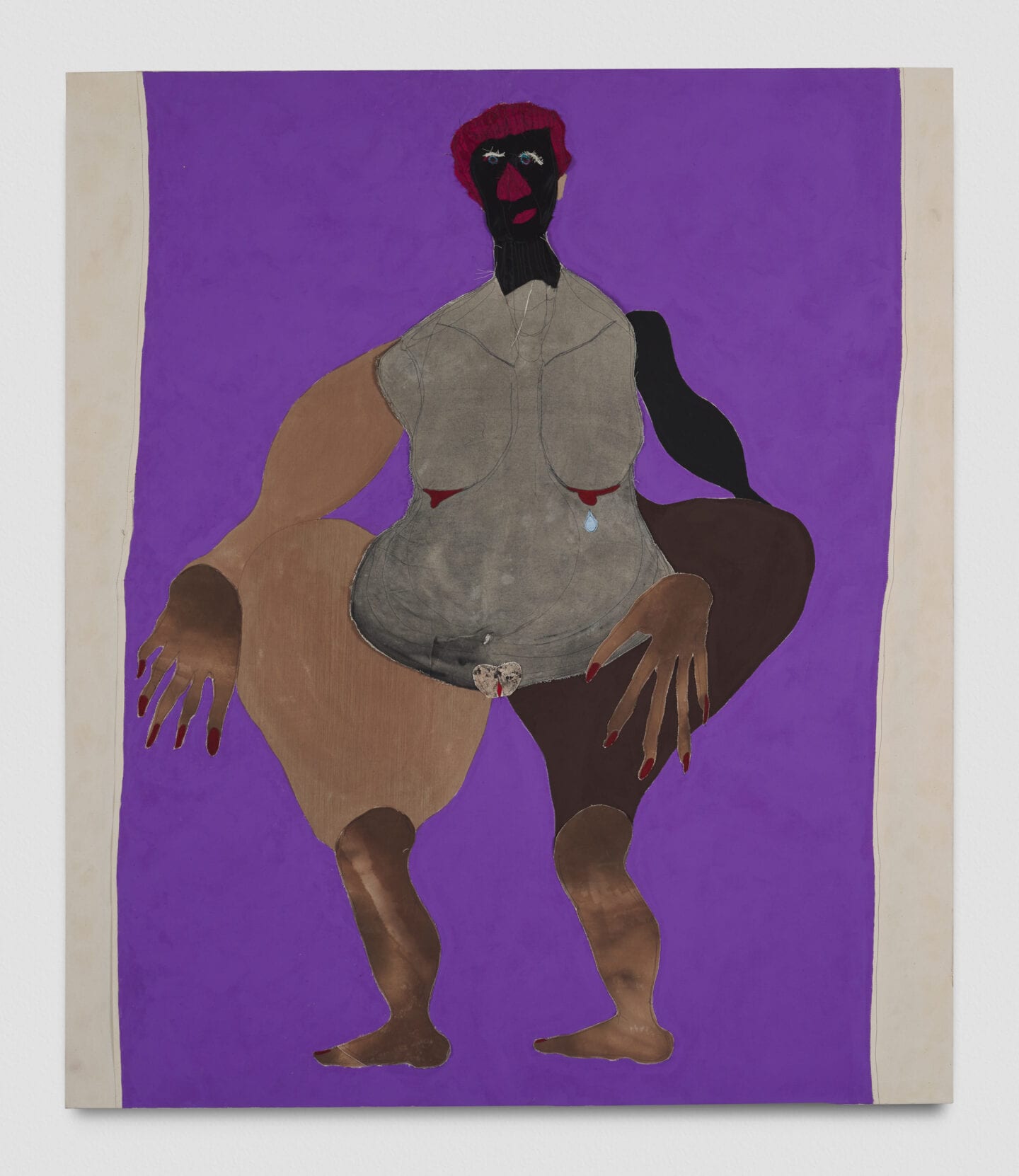 Tschabalala Self enters a new stage in her practice, shifting the attention away from her more intricately detailed backgrounds to highlight the subject. In her piece Madam, her figure squats against a violet background, oversized painted hands revealing the detailed fabric of the woman's genitals. Fabric and  paint coalesce in a monumental tribute to the black female body.
Caitlin Cherry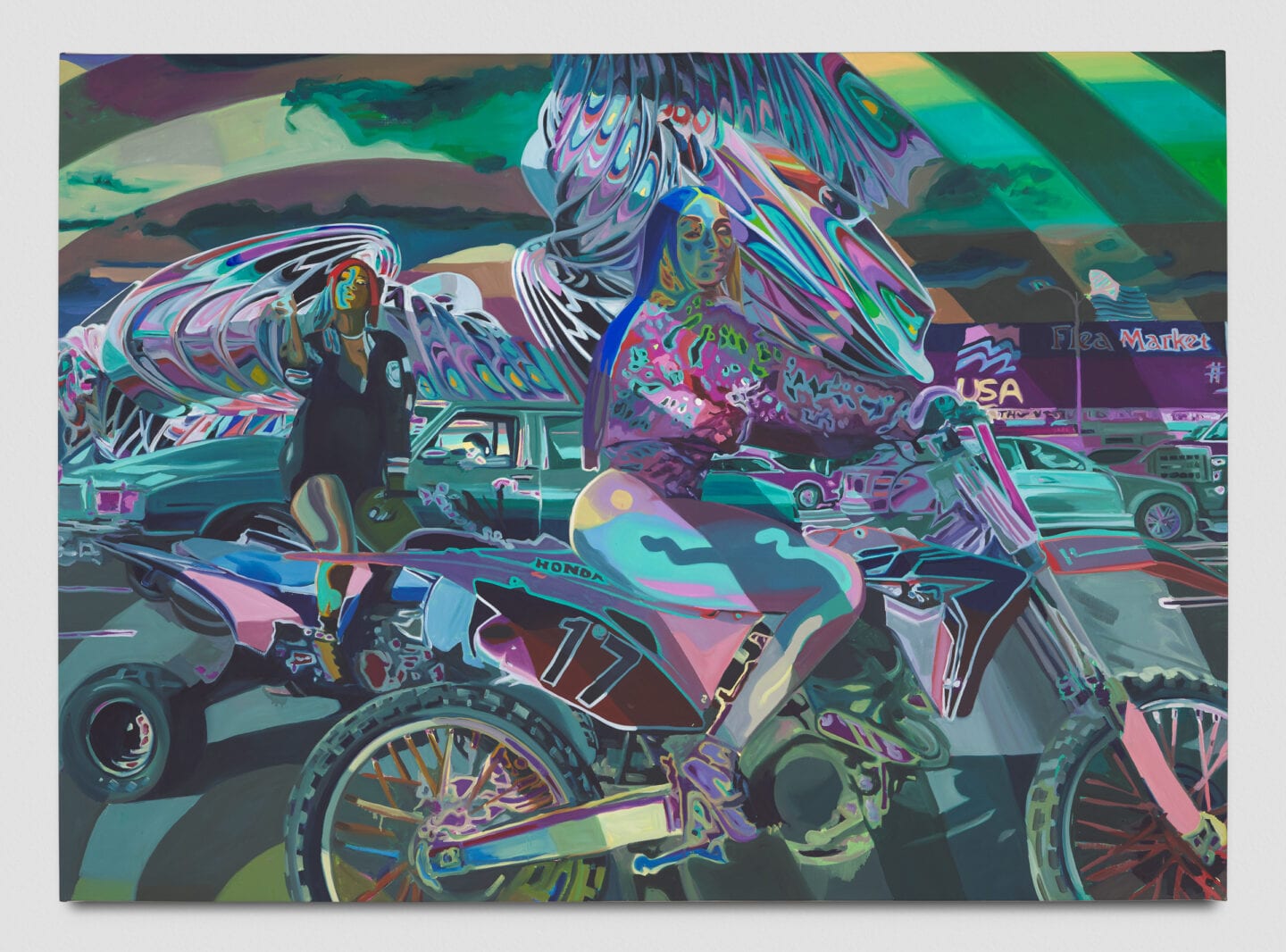 Caitlin Cherry commands the canvas in lurid arcs of teal and magenta. Up close a refracted pattern of abstraction, the work coalesces to reveal two figures haughtily meeting the viewer's gaze from the backs of motorcycles. She crosses the historically heady voyeurism of Kirchner with the gloss of modern Instagram aesthetic to highlight a continual and objectifying gaze.
Nina Chanel Abney

Curator Nina Chanel Abney's mural resides center stage, it's bright rhythm and confluence of art historical and cultural motifs (Haring, Lawrence, black power, and police violence all unapologetically combined). An overload of references and sensory stimulation, it picks up on the dominant cord which runs through such a vibrant and ambitious exhibit.
A sense of fantasy is intentionally prevalent throughout the space, allowing viewers to envision and understand a changing world for artists. By giving space to these works, Abney prioritizes the emergence of diverse artists. Many of the artists use glitz to draw attention and evoke this more inclusive future, but the motifs of normal life ground the work in reality. It's a future that's more than a market trend, and it achieves reality within Deitch's gallery space.