We are proud to present The Nature of Women, featuring 9 sensational artists whose works explore the ways in which women relate to Mother Nature. These works weave together the human psyche, the female identity, and our place in nature, revealing the interdependence between us and our planet. Perpetually evolving, growing, protecting, cultivating, expanding, and unifying: women are the threads of our social fabric, and we have the power and the responsibility to save our planet.
Curatorial Statement
"What if we ascribe to the philosophy that we are all interconnected? That there is an intelligence far greater than humans at work? What if the virus was actually an awakening from Mother Nature—a start to the decade so raw, so painful, so unforgettable, that it uprooted humanity from its mindless habits—galvanizing each individual to collectively reset, reflect, and sow the seeds of change.
If we just paused for a moment to observe the world around us, we would not be able to ignore the damage we are incurring on our planet. Melting glaciers, rising sea levels, and scorching heat waves are already driving many species to extinction, and these damages are only increasing over time. The silver lining is: if human influence is the cause of climate change, we can also be the drivers of reversing it."
Curated by Claudia Cheng
This exhibition will support The Nature Conservancy, one of the most effective and wide-reaching environmental organizations working to create a world where people and nature can thrive.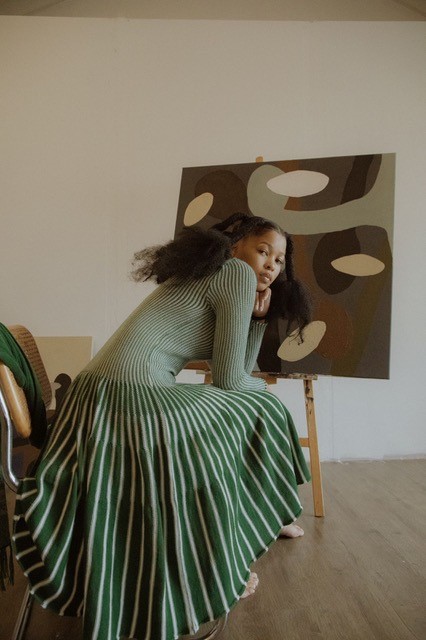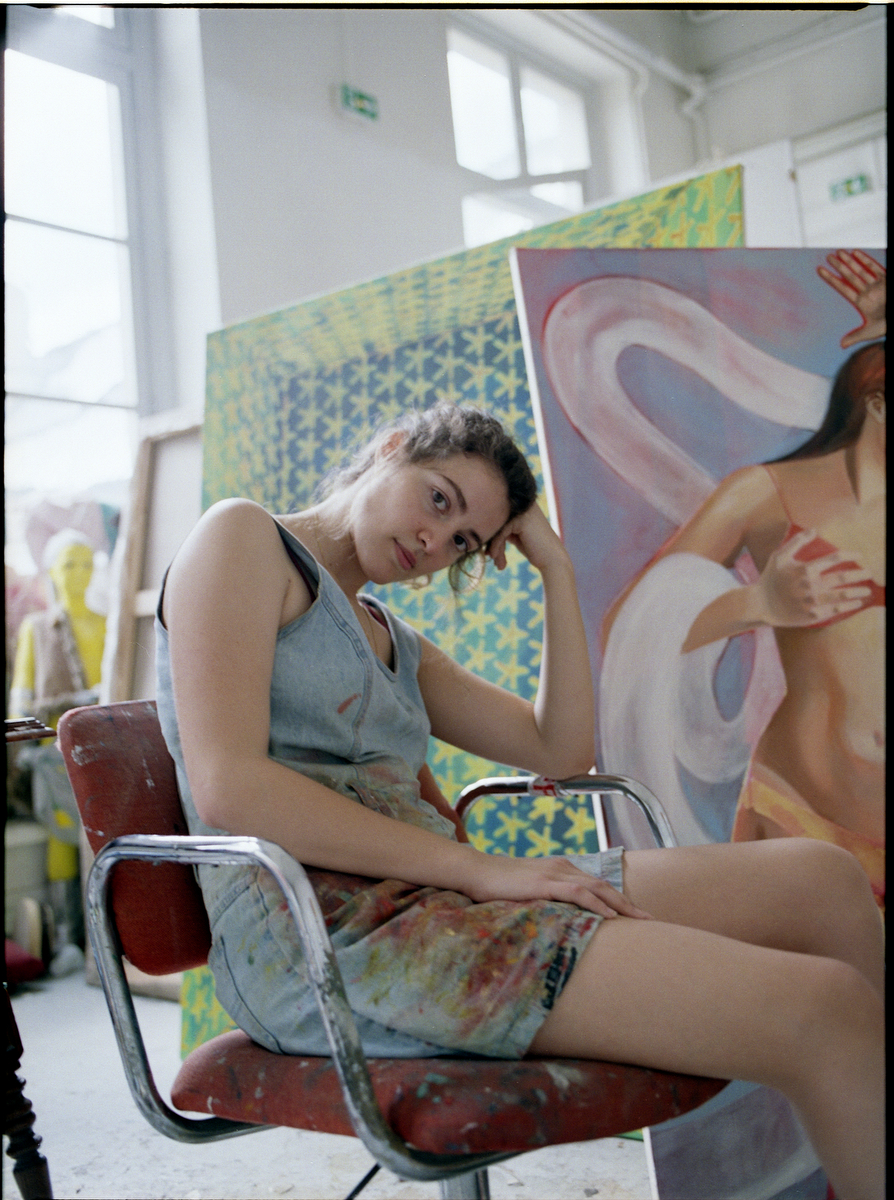 Cecilia Granara
Cecilia Granara was born in Jeddah, Saudi Arabia, in 1991. Of Italian nationality, she grew up in Mexico City, Rome, and Chicago. She is a painter and a writer, drawing on self-fiction, poetry, and religious and symbolic iconography. She is interested in cultural attitudes to sexuality and bodies, as well as the use of colour as a vehicle for emotions. She studied at Central St. Martin's School of Art and Design in London, the Ecole Nationale Superieure des Beaux Arts in Paris, and Hunter College in New York City. Solo shows include "Quatre Coeurs" at Exo Exo, Paris and "Lasciare Entrare, Lasciare Andare" at Studiolo Project, Milan. She participated in group shows at Galerie Jousse Entreprise, High Art, ps120 Berlin, and Brigade Copenhagen. She was a finalist in the Antoine Marin Prize in 2019 and has been nominated for the Cairo Prize in 2021.
On Green Living: "One thing I do to be green is: I subscribed to a laundry detergent delivery service called 'Spring'. They only use products that are non toxic and natural, their packaging is 100% plastic free, and they collaborate with the French postal service for carbon footprint friendly deliveries. Most laundry detergents have toxic and harmful ingredients that cause water pollution, and are packaged in plastic!"
Zahra Holm
Originally from Sweden and Tunisia, contemporary artist Zahra Holm lives and works in Paris, France. She started drawing at a very young age and is a self-taught painter, primarily working with oil paint. She is fascinated by the female form, the main subject of her work. Her bold use of colour and curvaceous lines create striking compositions that reflect the beauty and power of women.
In Zahra's latest works, her link to nature is omnipresent. She believes that nature is part of our body and soul. Now more than ever, she feels the need to reconnect with nature. In her paintings, you can feel the sun, the sunset, the sea, and sunkissed skin…The result is a fusion between abstract landscapes and bodies, where landscapes fuse into bodies, bodies into landscapes.
On Green Living: "I do different things for green living: I haven't eaten any meat in 6 years and I tend to do that all my life. I'm very careful in what I consume in general, I avoid plastic, careful with my use of water, I recycle my garbage. I always try to find a second option when I need to buy something: like furniture, clothes (I don't buy fast fashion, only vintage or sustainable brands)… and I buy less. Less is more attitude. Quality, not quantity. I don't have a car and avoid taking Ubers. I love to walk so it's always a pleasure, especially when you live in a town like Paris."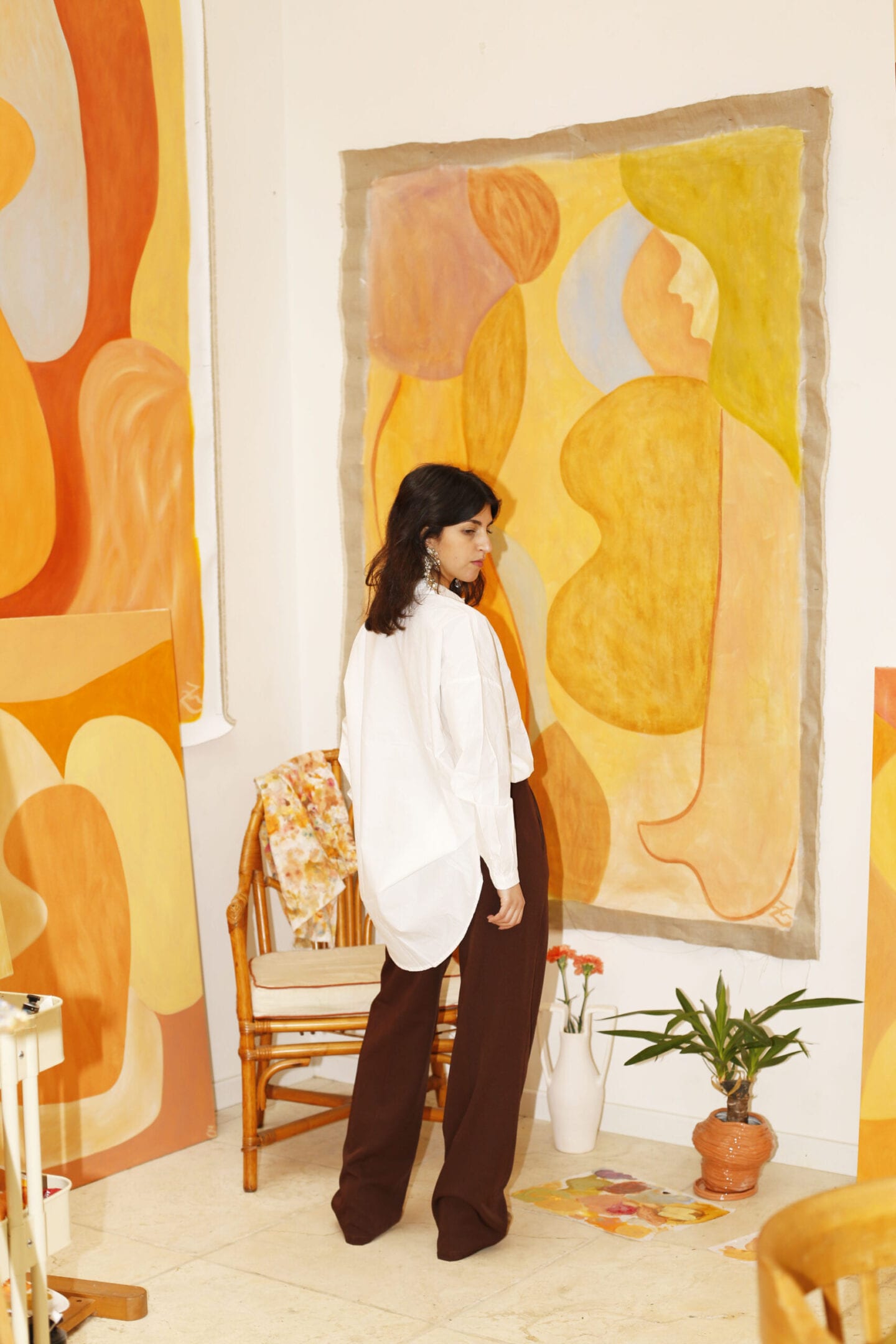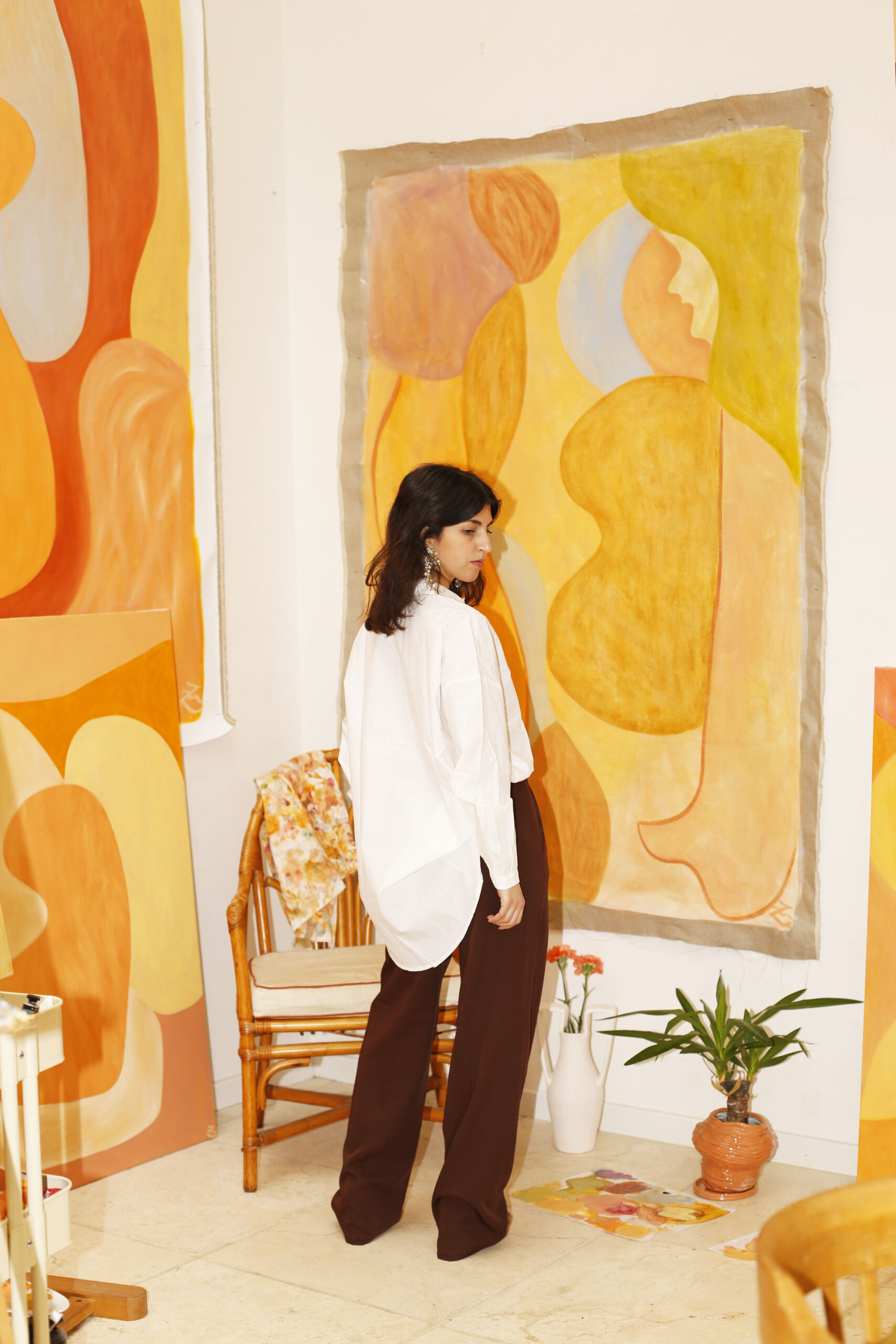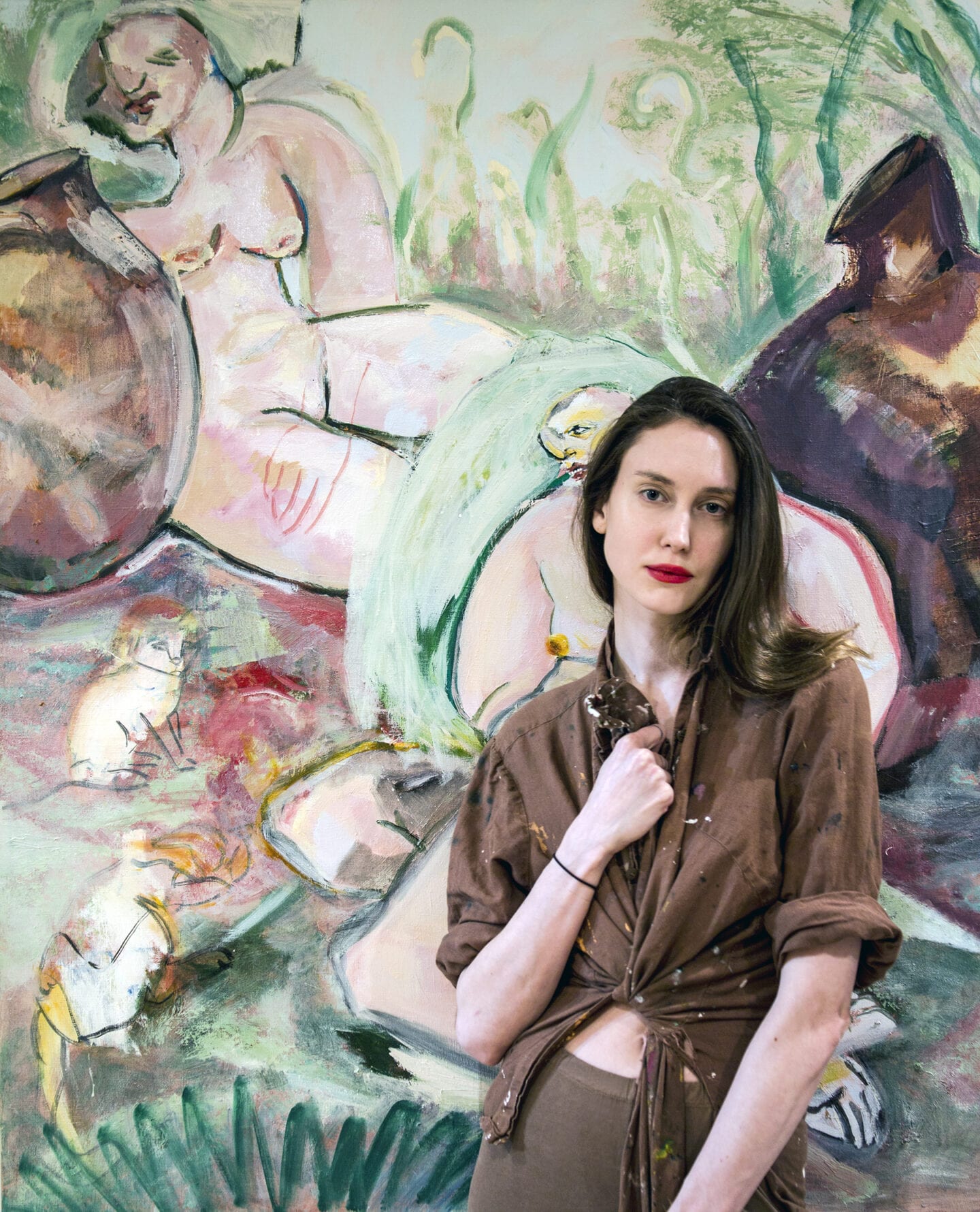 Jay Miriam
Jay Miriam is a Brooklyn-based artist who paints portraits of everyday people doing everyday things. Her fluid figures merge with and emerge from poetic scenes of nature. She is interested in painting moments of lingering time: an emotion or a relationship at a specific instance. Miriam avoids photographic references in her process. Instead, she pulls from a memory or story and reinterprets it. Often each painting takes months and up to one year to complete. 
On Green Living: "I use biodegradable, plant-based, dye-free, natural diapers for my baby. Before she was born I began to research diapers and was mortified by what I learned. The average diaper you might see in your local supermarket takes about 500 years to decompose. American babies go through about 5,000 diapers before they're potty trained.  We have landfills of diapers. Disposable diapers often contain dyes and dioxin (all those cute graphics are actually horrible for the environment), and dioxin is a carcinogen. Before having my baby I never would have even considered the effects diapers have on our environment, but it's substantial."
Lulama Wolf
Johannesburg-based artist Lulama "Wolf" Mlambo has a striking, pared-down style that blends anthropomorphic elements with vernacular architecture, natural elements, and more. Her themes are often rooted in the links between science, spirituality, and history, from a contemporary South African perspective, interrogating a pre-colonial African experience by engaging in smearing, scraping, and pigment techniques that were used in domestic-architecture African homes, along with references to the patterns of traditional women-made textiles.
These two works are part of Formless Feminity, a body of work dedicated to the delicacy and the balance of the feminine energy. It speaks on the unexplainable nuances that have to do with what challenges woman, those who identify as and how they navigate around it. In these pieces, Wolf has completely deconstructed what is recognizable and played on what the eye can identify with, further creating the anti-body to highlight the spirit.
On Green Living: "One of the things I use for sustainability in my own life is being intentional about recycling, using earthenware and cutting down on wasteful habits. Sustainable in present time has become a large price but if used in a basic way of doing things, it can be implemented by all."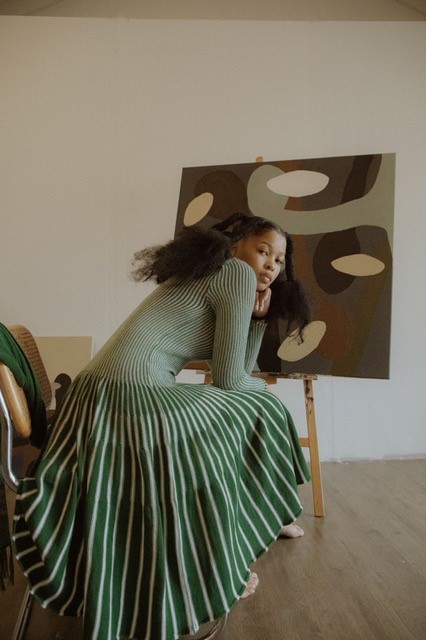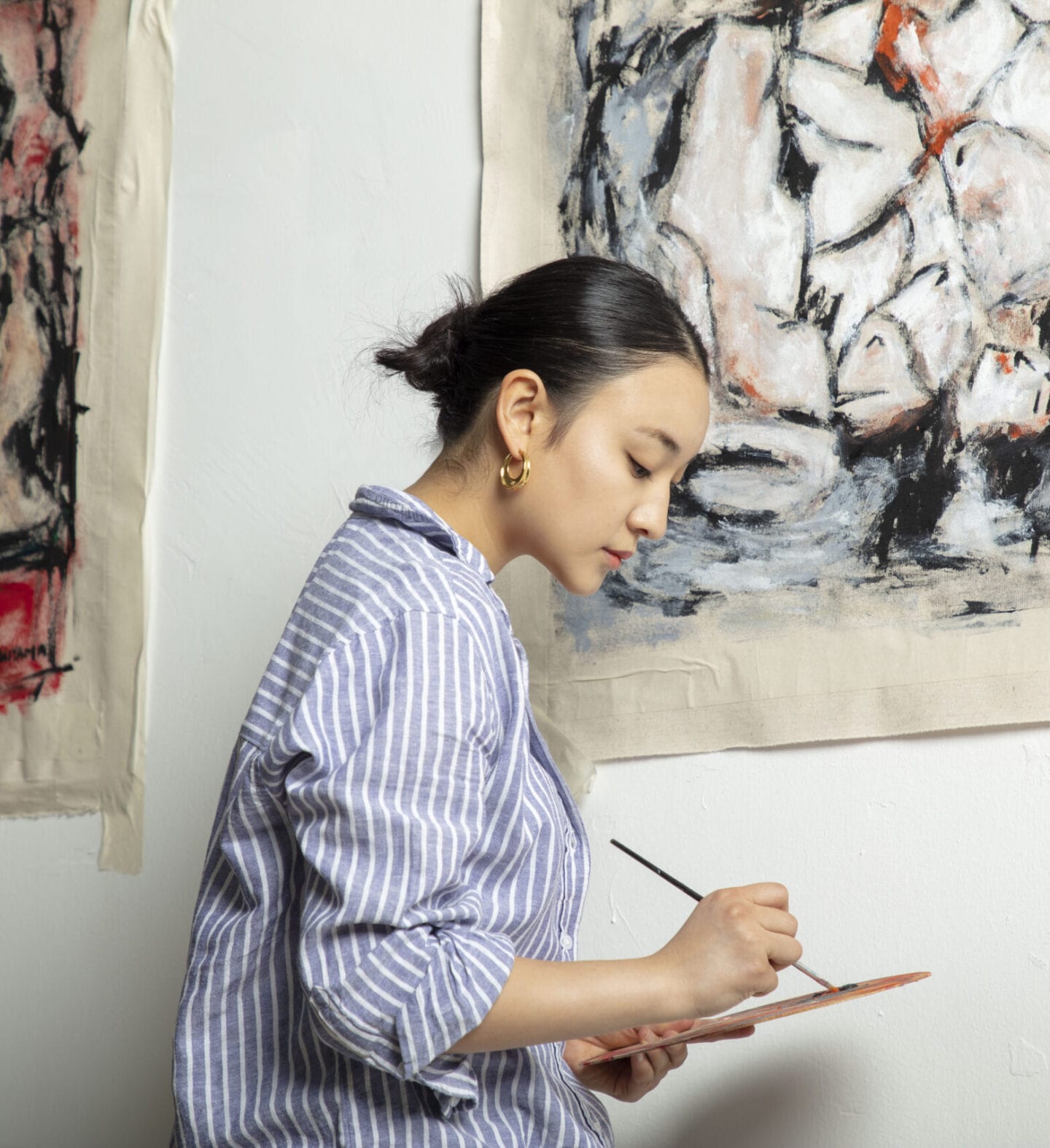 Mizuki Nishiyama
Mizuki Nishiyama is a mixed-Japanese artist based in New York. She creates raw, vivid, and multifaceted paintings that explore the fragile human condition, drawing inspiration from the East and West, bridging her Hong Kong, Japanese and Italian cultural heritages.
Embracing deeply personal experiences to craft each artwork: the artist's ongoing relationship with anxiety and trauma has greatly influenced her practice, and has fueled her to confront vulnerability, fragility, and the human condition. Painting is a chaotic yet meditative process for Nishiyama that allows her to make sense of the more tempestuous periods in life.
On Green Living: "Growing up in Hong Kong, the air pollution has only gotten worse over the years. A lot of the emissions come from factories in Mainland China, but also vehicle carbon emissions in this dense city. A couple years back, some friends and I wrote a proposal to limit idling in the city, and eventually spoke at the legislative council to have the law passed. It is now illegal to idle in Hong Kong for more than 3 minutes! Hong Kong is a fast paced metropolitan city, where we constantly witness new development plans on existing land. It is crucial in this environment to be restoring vital plants that provide oxygen, stabilise soil, and take care of our wildlife!"
Maja Ruznic
Maja Ruznic (b. Bosnia & Hercegovina, 1983) is predominantly a painter, drawing on personal and collective memories to create works that deeply connect with the human psyche. She describes the process of painting as trying to remember a dream, touching on Bracha L. Ettinger's theories of 'matrixial borderspace': the space of shared effect and emergent expression, across the thresholds of identity and memory.
Ruznic deftly weaves themes of trauma and suffering with mythology and healing, softening the darker subject matter in her work. She looks to evoke transitional moments, like dawn and dusk, containing illuminating and eternal qualities. This timelessness permeates the paintings, tracing journeys and rituals, histories and secrets. Nostalgic and empathetic, the works ultimately speak of human experience.
On Green Living: "Aside from underwear, socks and shoes, everything that I wear in second hand clothing. My mother refurbishes vintage clothing and often gives me many great garments. Recycled clothing is a great way to be fashionable without adding to the world's waste. I also drink water out of thermos water bottles and only seldom buy water. I also try to support local products as much as I can."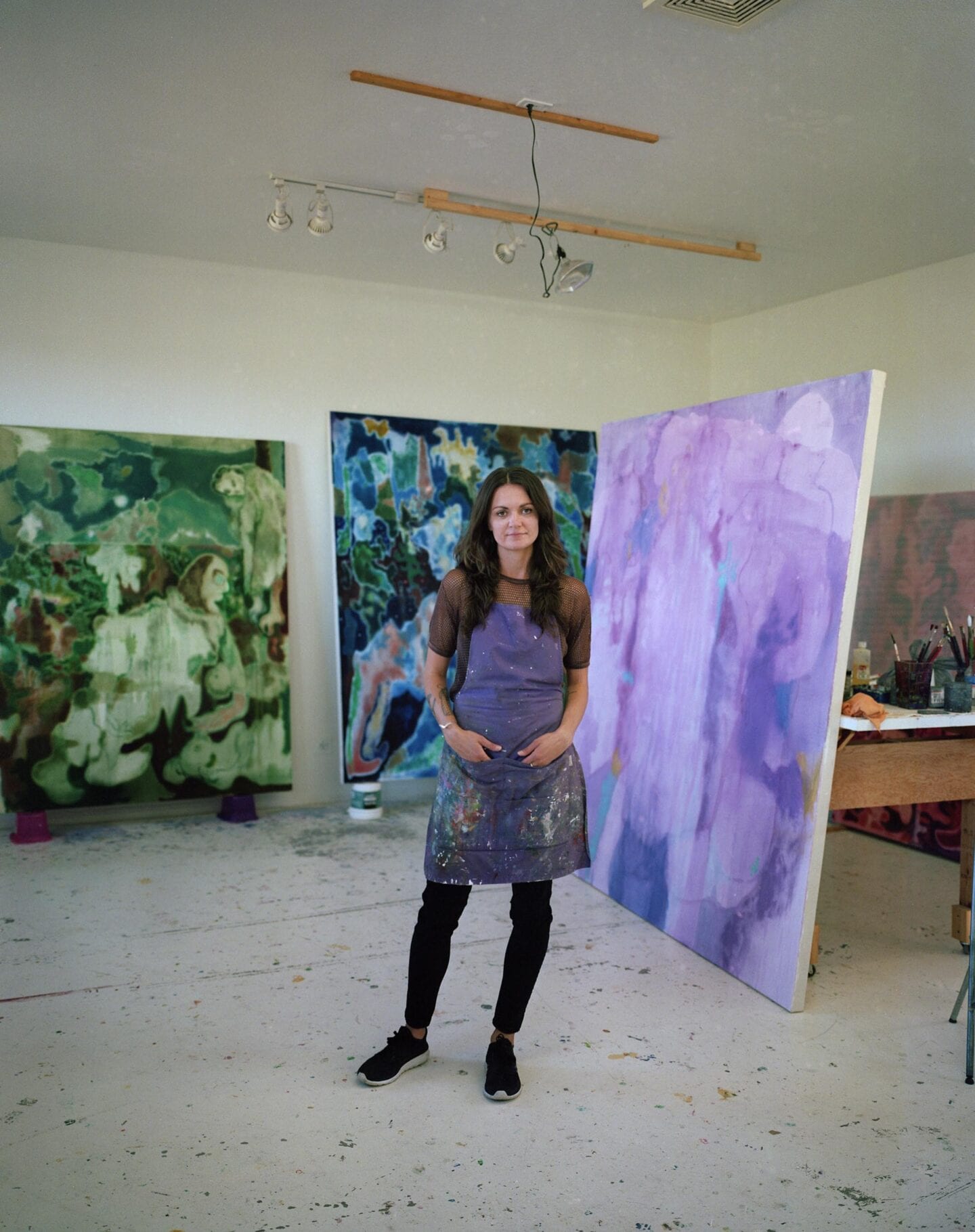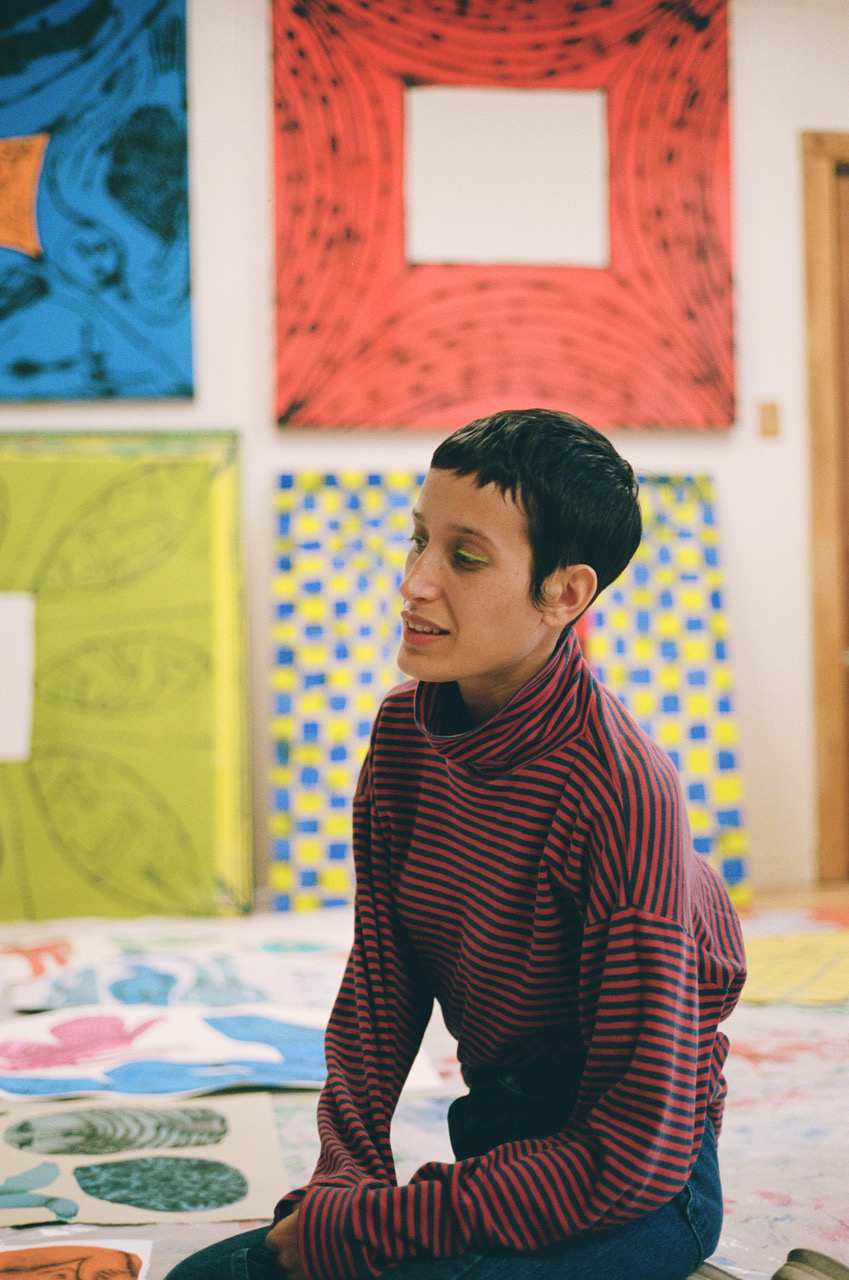 Emma Kohlmann
Emma Kohlmann's series of watercolour and sumi ink drawings depict sensual figures in various stages of development and decay. The collection of work is based on erotica, but also draws on and utilizes other aspects of historical narratives such as primordial Venus figurines, ancient statues, and tantric illustrations. Fluid figures seem to naturally emerge out of wondrous spills. The eroticism of these works is a refreshingly punk, feminist take on contemporary sexuality. 
Kohlmann's work can be viewed as a collection of lost and found ideas, objects and images. Retrieving them from wherever they live in the depths of her mind. Subconsciously and consciously, she creates patterns of symbols, shapes, and figures, which then become part of an unspoken narrative. A lineage from primordial times, through ancient cultures and into the present. Kohlmann guides the connection between the unspoken with form.
Gal Schindler
Gal Schindler (b.1993, Israel) works into wet layers of oil paint with a gesture that's both sharp and fluid, revealing figures in between the back and front of the slick surface. Schindler's figures are not depicted on the canvas, but rather embody the painting itself. With contorted poses that fill the canvas, the line of the figure breaks up and melts into the background, with prominent eyes that glare back at the viewer. Referencing ancient middle-eastern symbols and modern female writings, she delves into the gaps within visual and verbal language. Gal lives and works in London, UK.
On Green Living: "Global warming and the growing loss of biodiversity are alarming and highly important issues. I have been vegetarian for about 6 years and I try to eat vegan at least 2-3 days a week! We all have more impact and power than we might think to change the destruction of the earth we live in. When it comes to our decisions about what to eat, for most of us it is an unrestrained choice – we eat what we want. Just by choosing not to eat meat, there is an immediate effect on our environment. We do not eat alone, as we are social creatures, we live in communities and we usually influence or inspire each other."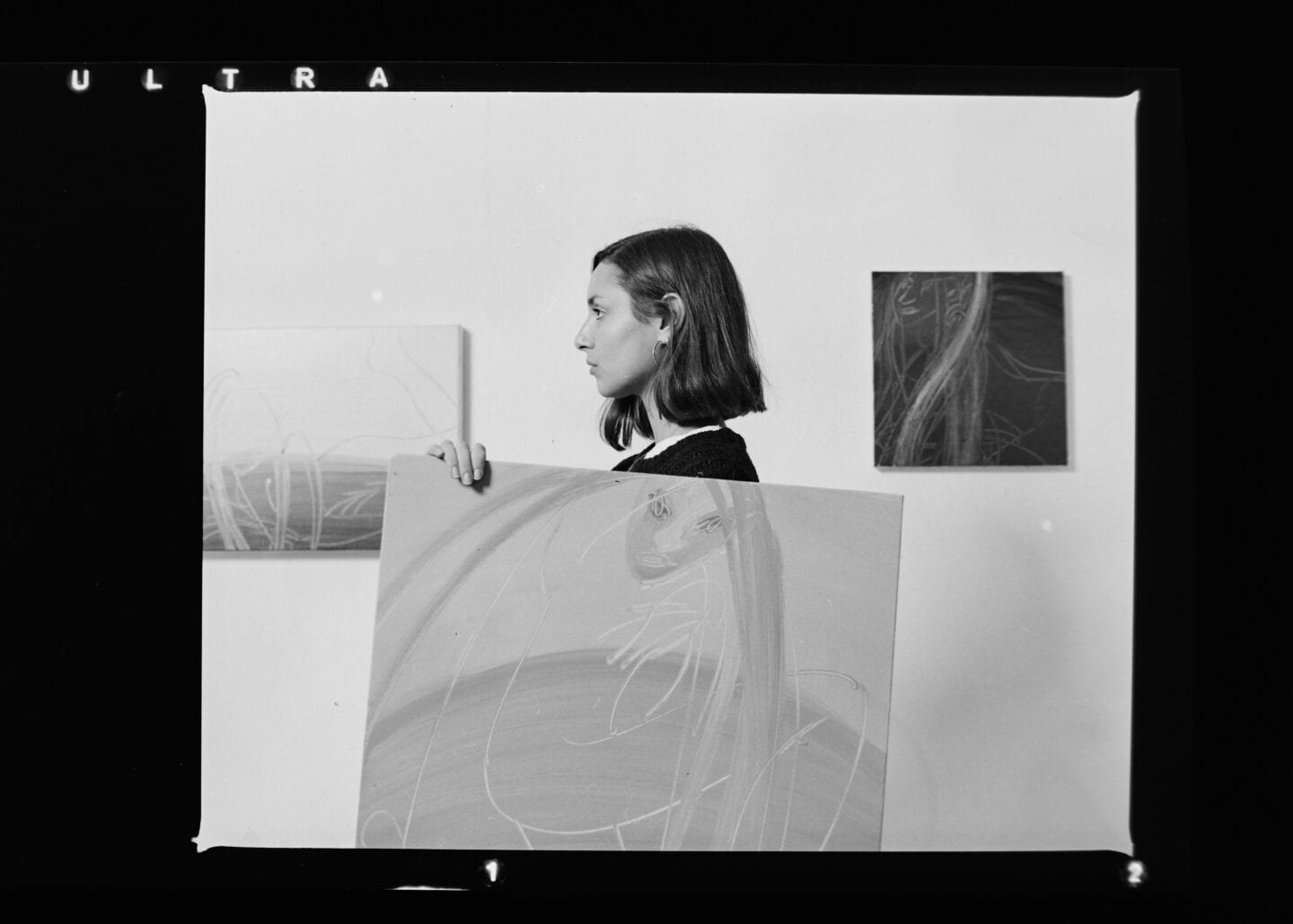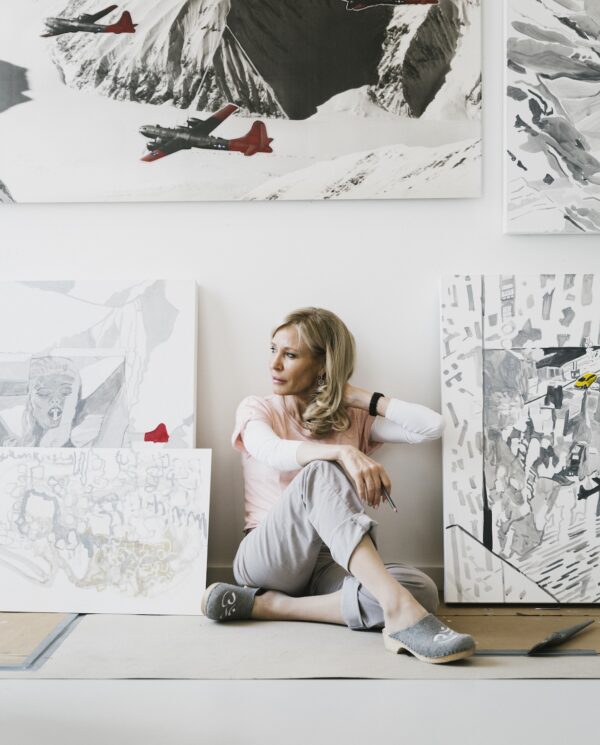 Paula Crown
Paula Crown is a multimedia artist who lives and works in Aspen, Colorado and Chicago. The Aspen Map series is based on trail maps in Aspen that are abstracted, layered, and rotated to reveal new forms and patterns. Maps often have their own viewpoint and biases, Crown's reconfiguration is a reminder that we must always question the information presented to us and ask what has been left out of the story.
Derived from an angled overhead perspective of the trail map of ski runs at Aspen Snowmass, Crown uses a blend of digital and analog drawing techniques to overlay viewpoints while flattening perspective. The most elaborate sketches become paintings, which start as printed color forms on glassy smooth gesso-primed linen, each with a distinct and nuanced color palette.
On Green Living: "If we aspire to be a society with a conscience then we must think about our consumption habits and recognize their effects. Creatives can all set the tone, promulgate the values, and work to build a more responsible and reinforcing relationship with the world. In the case of single-use plastics, our legacy is piling up in landfills and forming bogs in our oceans. My work speaks to this mounting crisis and in my own day to day, I apply awareness to my own consumption of single-use plastics by always striving to use reusable materials whenever possible." 
Giving Back to Mother Nature
In efforts to not only declare change, but also become the change, ART SHE SAYS will be donating a portion of its profits to The Nature Conservancy, one of the most effective and wide-reaching environmental organizations working to create a world where people and nature can thrive. Founded in the U.S. through grassroots action in 1951, The Nature Conservancy has over one million members and has protected more than 119,000,000 acres of land and thousands of miles of rivers worldwide.
The donations from this exhibition will go towards The Nature Conservancy's 'Mangrove Market Women' initiative, which aims to create long-term solutions for mangrove forests and the women of Papua New Guinea through sustainability, educational opportunities, and economic development in their communities.
Restoring biodiversity to our Earth is crucial for our ecosystem. Greater species diversity ensures natural sustainability for all life forms. Healthy mangrove systems act as critical nursery areas that help support local fisheries and overall marine biodiversity, as well as offer tremendous protection to coastal communities against storm surge and coastal erosion. Mangrove forests also store huge quantities of carbon, thereby mitigating further greenhouse gas emissions.
Women's education is another key solution for a more sustainable planet. In order to curb the rising population of the human population, which by 2100 is set to be 11 billion people, enabling young girls to complete an education at school is vital. Extending access to education will create better economic opportunities and enable broader careers prospects, thus slowing the population growth rate.