Hayv Kahraman's Army of Contortionist Women
Hayv Kahraman, a living breathing contortionist in her own right, sought to archive her memories which she felt were disappearing. These memories, her life story and identity, are central to her latest exhibition, 'Not Quite Human,' on view at the Jack Shainman Gallery in New York from September 5 – October 26, 2019.
---
In Hayv Kahraman's latest collection of work, women's bodies are pushed to the extreme. Their torsos and legs hang above their heads, their bodies manipulated, twisted then fixed into abstract shapes. Some forming bridges with their arching heads which are positioned (impossibly so) to face their ankles or sometimes to meet the viewers' perplexed eyes. These figures are then stacked on top of each other creating bodily pyramids and humanoid towers. Towers appearing more secure than those constructed with aluminium and steel. At first glance, their flexibility amuses you, striking you with wonder, but the closer you get, the more uneasy you begin to feel. The longer you stare, the more you realise these women are not quite human.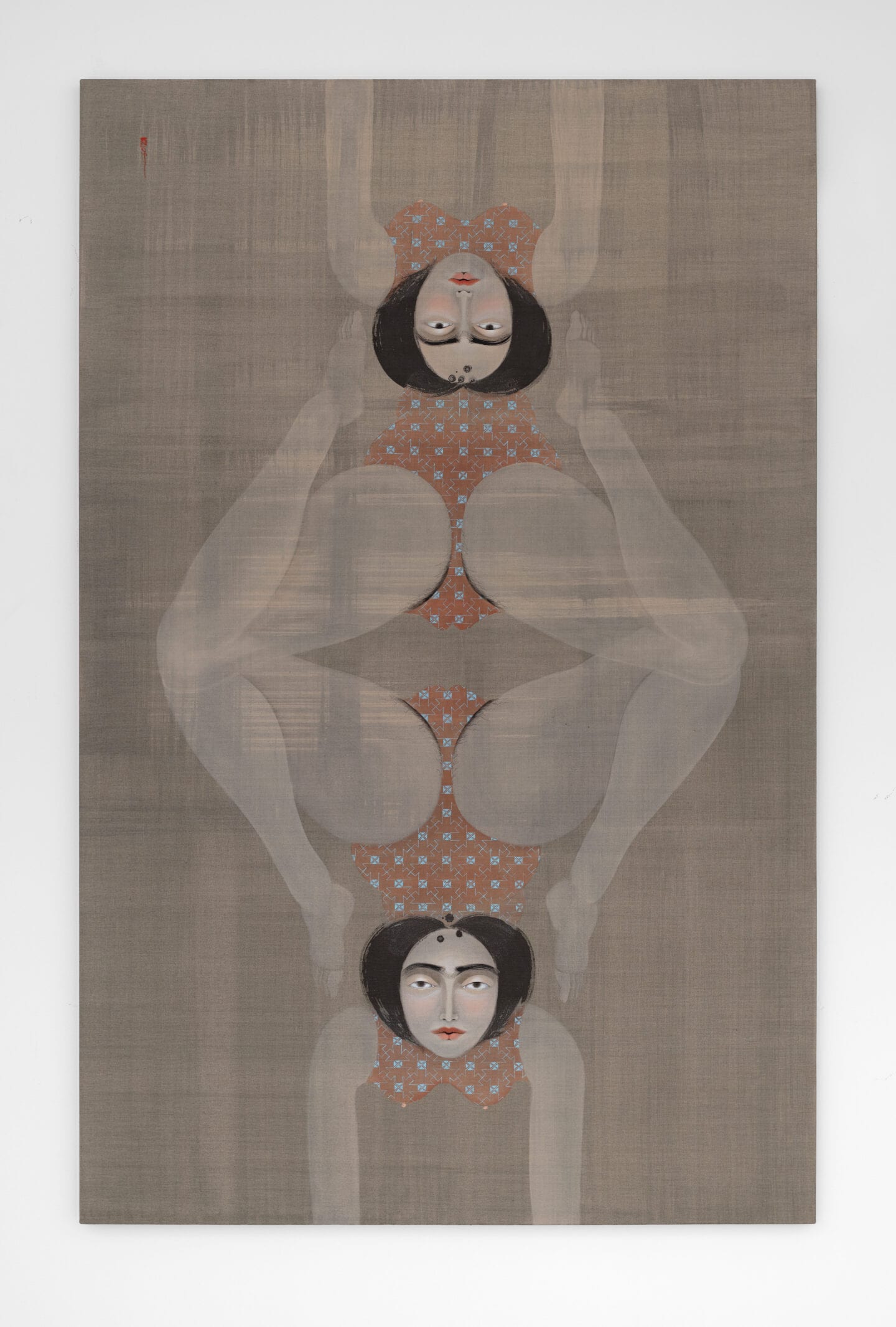 Kahraman's life is anything but ordinary. Born in Baghdad, Iraq, she is half-Kurdish of Iraqi origin. She became a refugee at age ten when her family emigrated to Sweden—forming part of one of the largest exoduses of the Kurds from Iraq during the 1990s. Inspired by the different stages in her life, Kahraman's work addresses the politics of gender, the fetishism and dehumanisation of the 'exotic other' and post-colonial attitudes as it relates to her experience living as an émigré. Issues such as the war in her birth country of Iraq, and images of disfigured mine victims, a city ravaged and covered in debris, all inform her work and can be seen in the painful facial expressions and postures of the contortionists. The women that Kahraman envisioned and painted become both subjects and objects. This is her fourth solo exhibition at the Jack Shainman Gallery on West 24th Street in Chelsea.
Possessing pale, ghostly appearances with almost transparent skin, Kahraman's army of contortionist women appear to be fading into the background. Disappearing from life, history, and memory. Their fleshy and supple bodies dressed in lightly patterned leotards are jarred by their raven-coloured hair, pinned up in a nest-like bun, their thick yet defined eyebrows and seductive strawberry-red lips. Exploring the hyper-visibility of skin, Kahraman creates these 'multiple selves' as a kind of archive. One containing the memories of her time living in Sweden, where people would stare at her as she walked down the street for her different appearance. People chose to see only her features or the things that made her unique, choosing to ignore the person herself.
Daringly exposing their breasts while maintaining a contorted position, these women are also referents of sexual provocation and submissiveness. Yet through their direct stares and the apparent strength of their bodies, they display an energy that is at once threatening and powerful. Naturally prompting a mixture of desire and fear on the part of the viewer/voyeur.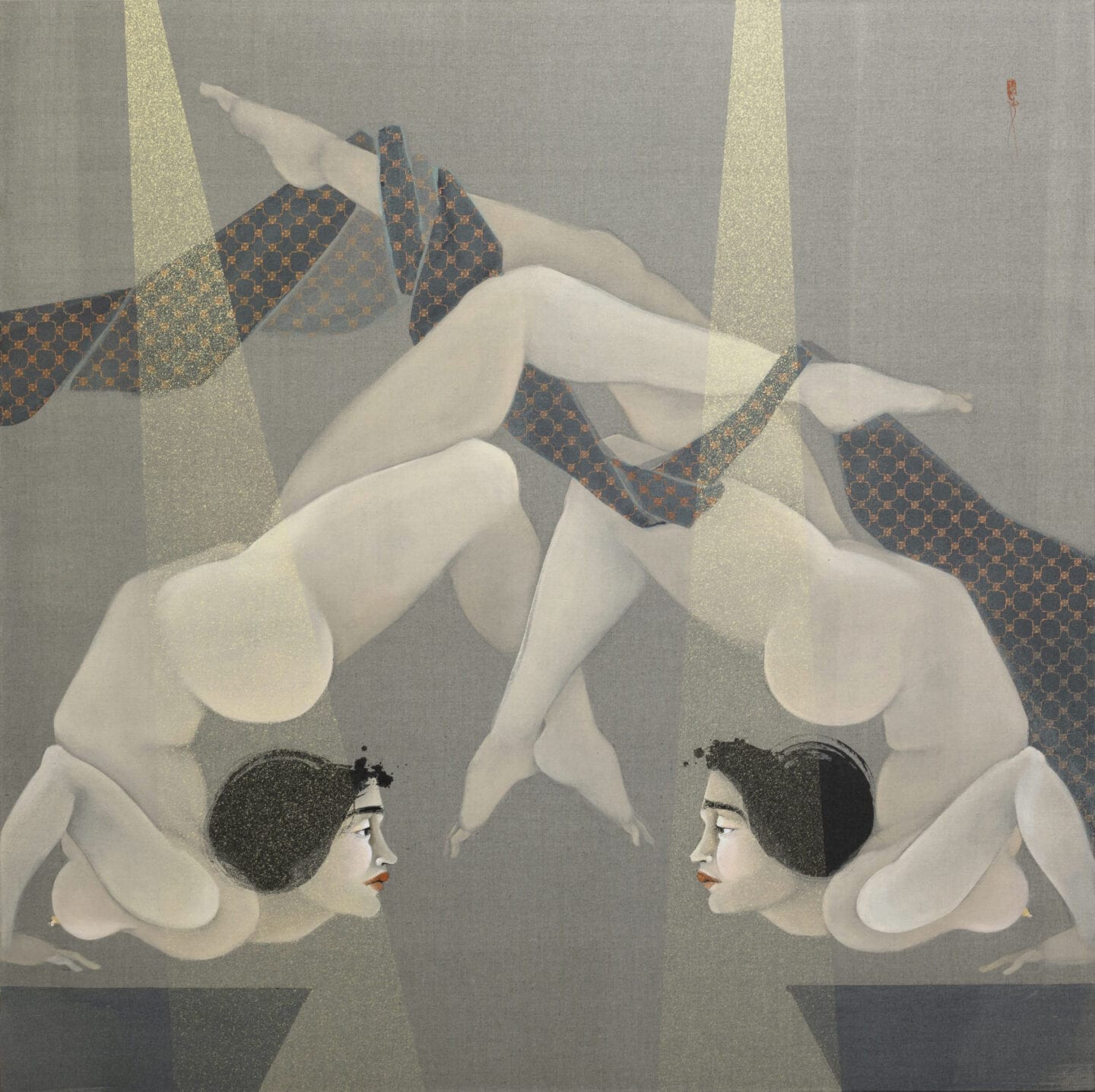 An intentional ambiguity is created to leave behind the rigid and exhausted dichotomy of obedience and insurgence. Instead striving to blur the line between exoticism and eroticism. The motif of the manipulative seductress—mocking trickster confronts the traditional systems of power through the body.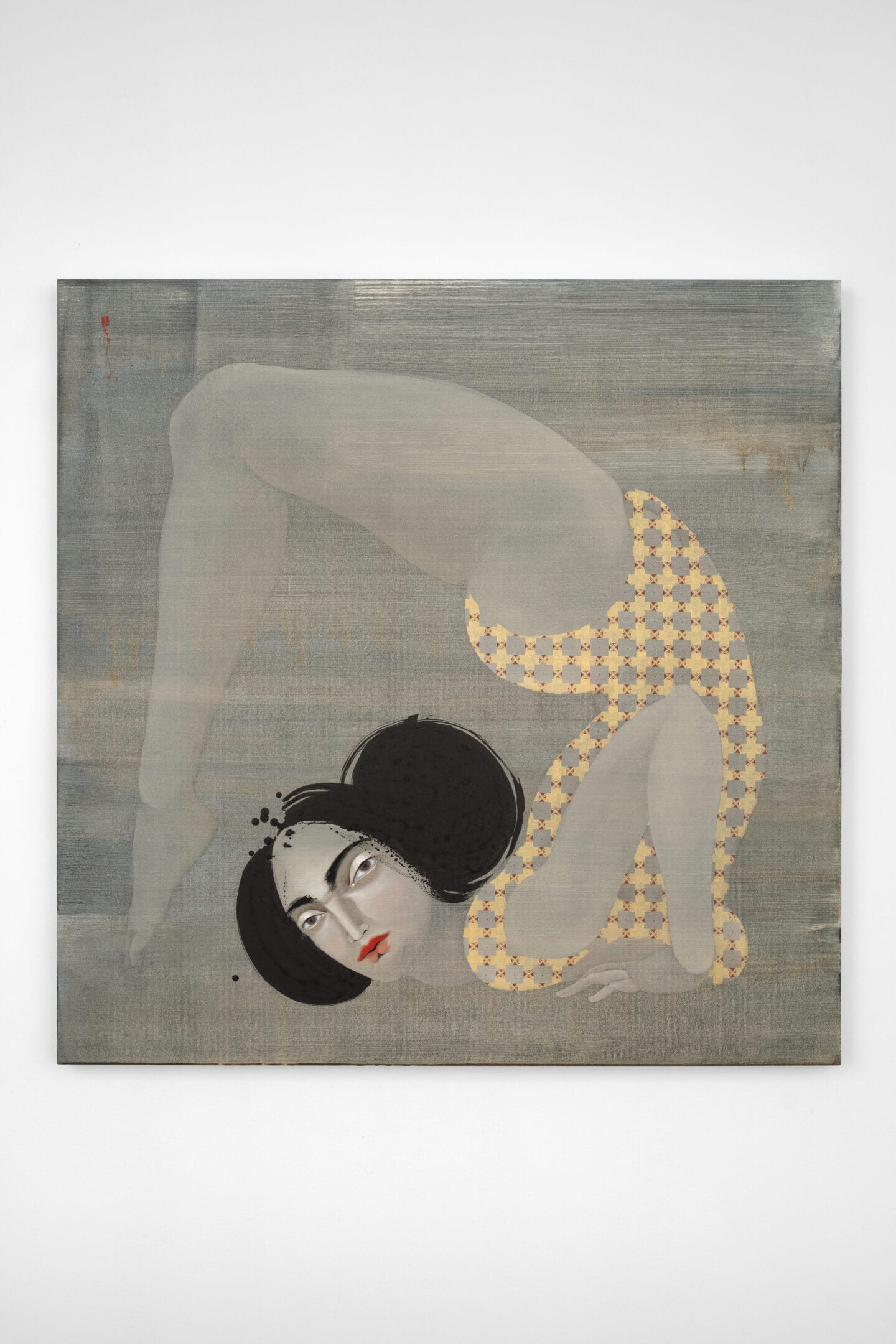 These works representing cultural struggle and post colonial sentiment are large. Most are five feet tall, some reaching nine. Although Kahraman did also include smaller drawings as part of the collection. These drawings beautifully capture the artist's sense of dispossession and otherness with some images containing nothing more than a few pairs of limbs. The visual produced is reminiscent of those amorphous drawings one sees at a therapist's office that are supposed to reveal one's true character and state of mind.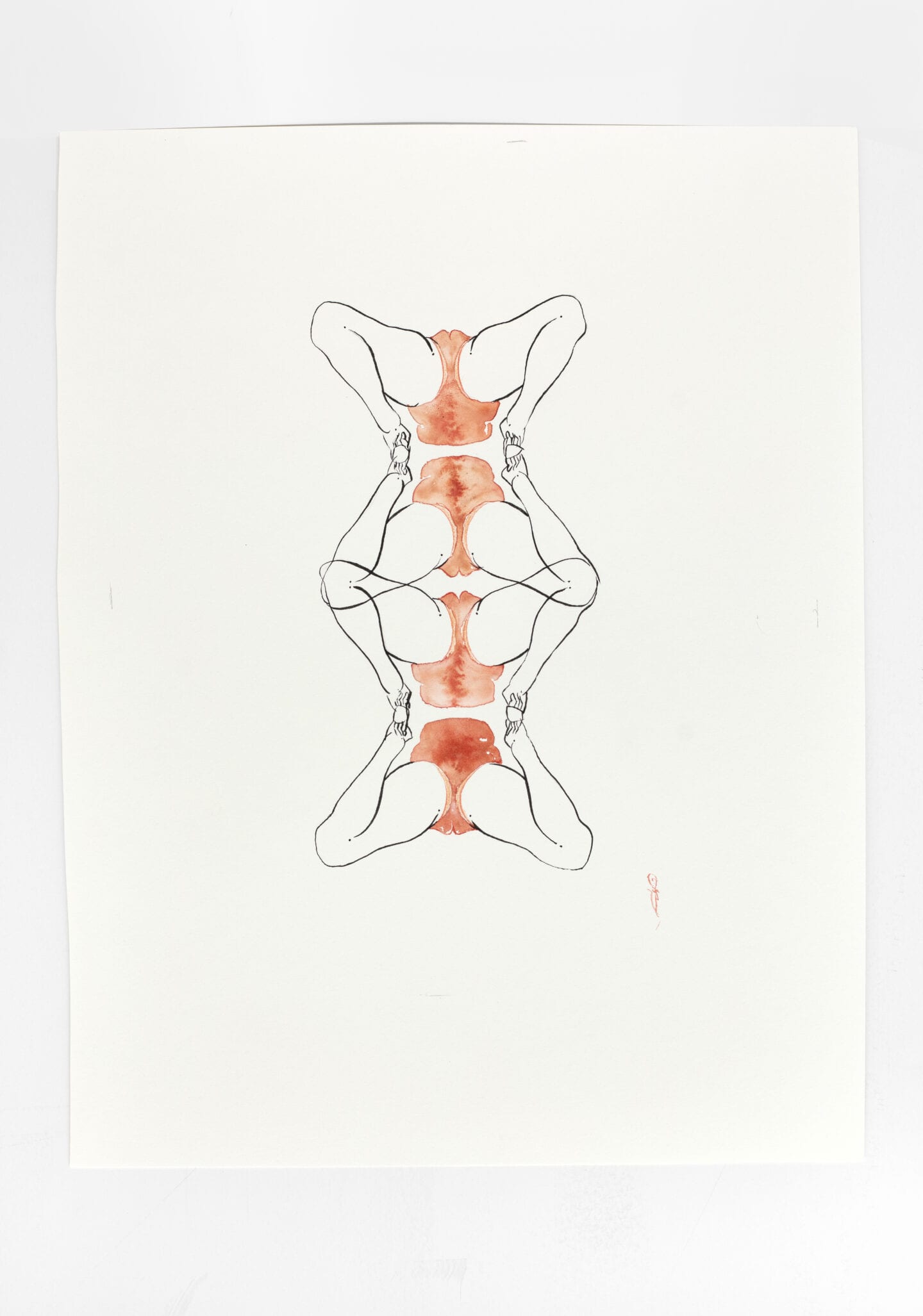 Not Quite Human was inspired by a performance piece Kahraman created in Los Angeles—where she is currently based. This can be seen in the faint appearance of spotlights that shine on the bodies of these performer-contortionists. During the performance in L.A., which featured twelve dancers, specific memories of the Kahraman's childhood had been resurrected. These memories were of the ballet classes she took as a young girl in Baghdad before she and her family fled from Iraq. The contortionist women she painted are lastly said to take inspiration from Kahraman's unique physical ability of dislocating her shoulder and hip, a trick she often used to create a spectacle out of.
---
Featured Image: Hayv Kahraman, Not Quite Human 4 (detail), 2019. © Hayv Kahraman. Courtesy of the artist, Jack Shainman Gallery, New York, VELMETTER, Los Angeles, and The Third Line, Dubai.