From Paris to Berlin: Johanna Dumet's Playful Imitations on Luxury Fashion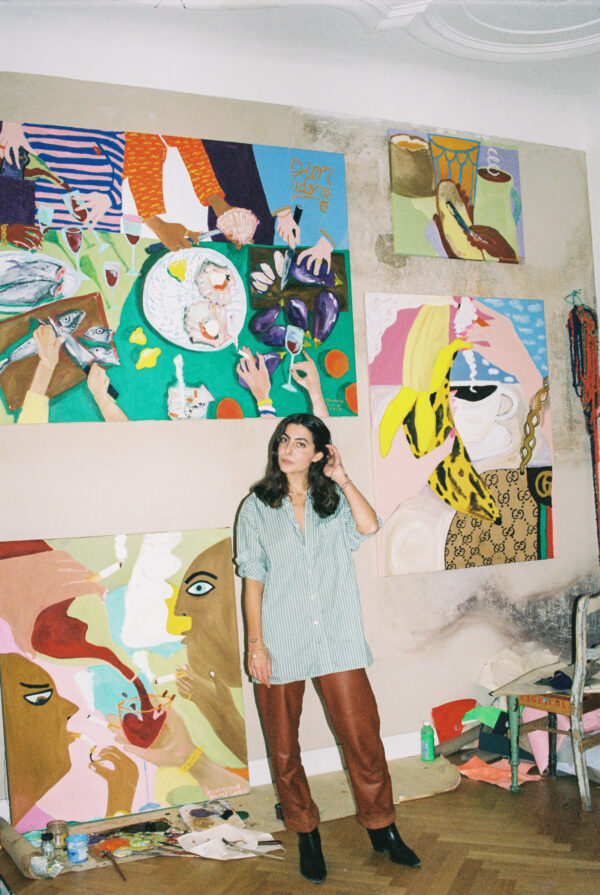 Bold colours and playful patterns of coveted luxury fashion logos fill the Berlin-based artist's studio in her new series of work exploring the irony of consumerism in contemporary society.
---
In the 1950's, Andy Warhol's fascination with consumer culture took the art world by storm, taking everyday items such as the Campbell's soup cans and turning them into mass productions of fine art prints, an artistic process that dominated the American pop art movement and forced us to critique capitalistic society. In a more elevated approach, Paris-born artist Johanna Dumet is challenging another kind of consumerism, this time emulating coveted high fashion brands such as Dior, Prada, Hermès, and Louis Vuitton–exploring society's perception of luxury logos and the individual who wears them.
"As a society we spend a crazy insane amount of money on these [logos]," the artist says. "This is a form of communication to the rest of the world. No matter where we live and how old we are–these logos tell the rest of the world: 'Look, I have an expensive bag, it means I have money. I am part of this group of people and I made it!' This is what interests me, the power of a logo, a brand name."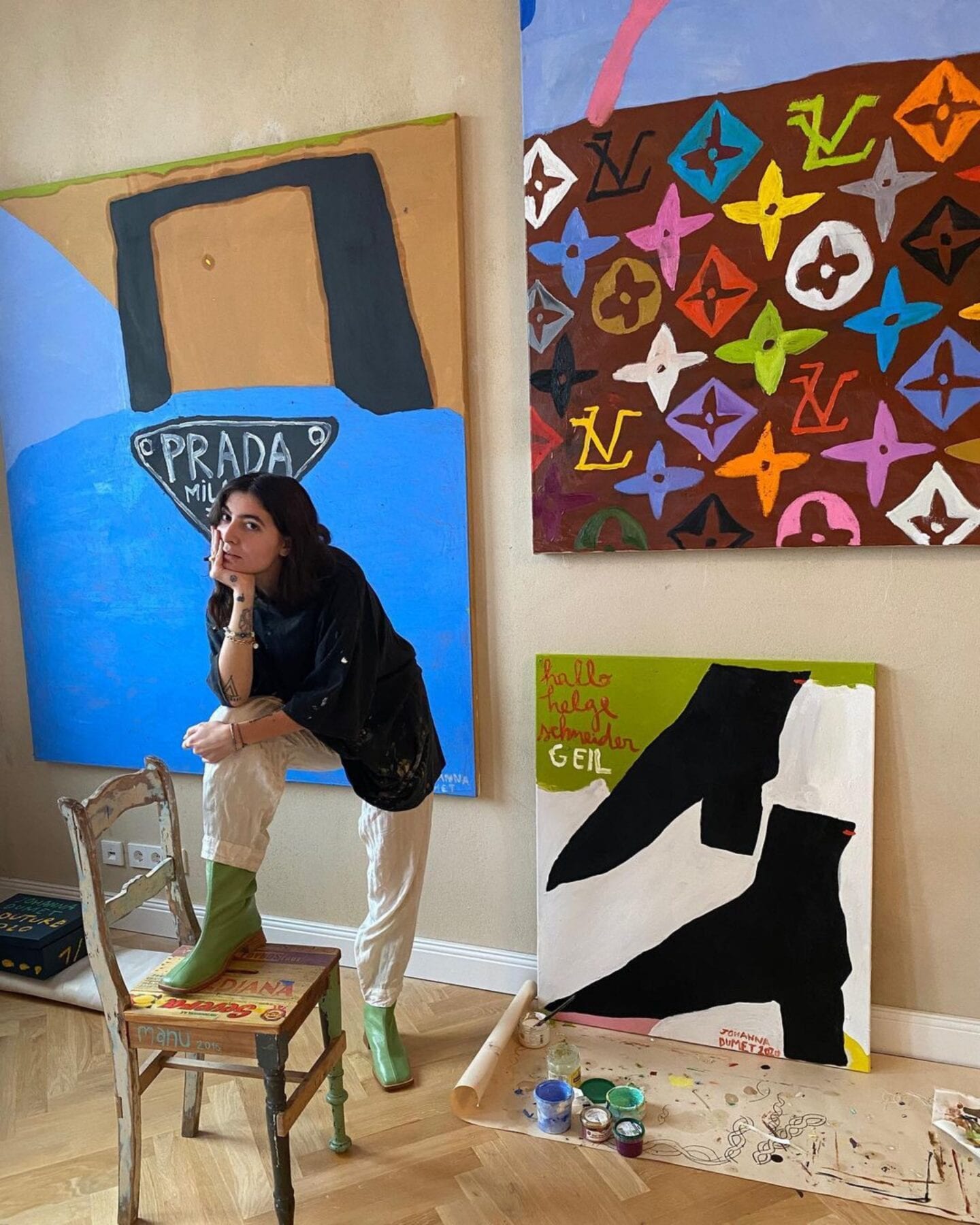 In her Berlin studio, you will find a never-ending catwalk of colours: a tumultuous palette of vibrant blues, greens, pinks, and oranges. With a background in fashion design, Dumet's embrace of colour was inspired by an internship experience she had in Calcutta, India. "Together [they] might read like the wrong combination of colours," the artist says. "but it was so intense that I started to find it exquisite and realised that there are no rules with colours, they can all fit really well together."
The artist's Berlin studio is a vast penthouse in Villa Heike, an old German villa built in 1910, which she's had since 2012. (Nowadays, a studio space like this is few and far between as Berlin has quickly become the new hub for European artists and creators, driving its real estate to high demand.) Working with oil paint, oil sticks, and gouache on paper or canvas, Dumet flirts between the figurative and the abstract, creating playful imitations of luxury objects such as shoes or handbags painted in sporadic palettes of her own choice. Her work is often framed within her impressive studio space, surroundings that almost become an extension of the pieces themselves.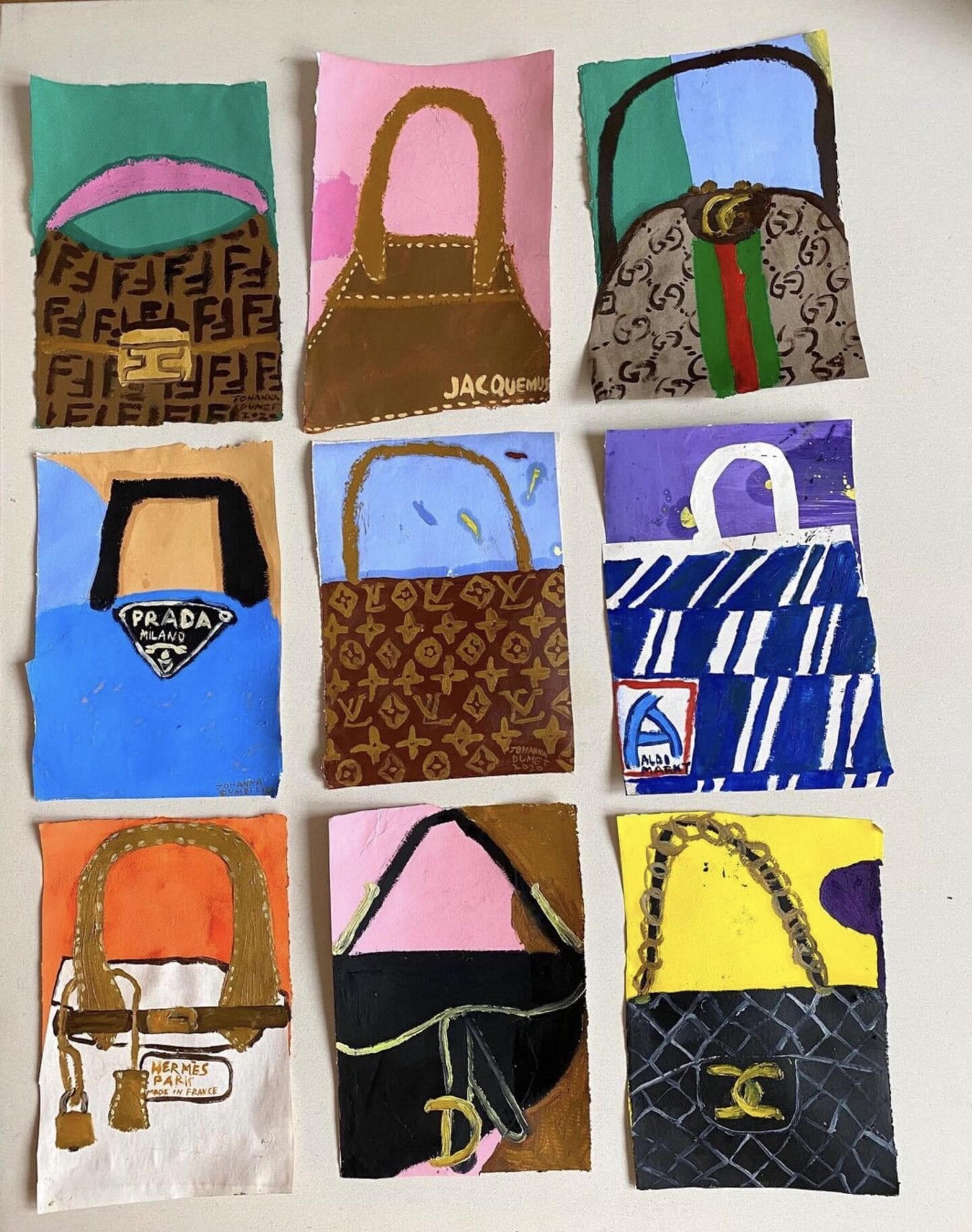 On her pre-war walls you will find large scale canvases featuring a blue Prada bag or a classic brown Louis Vuitton with a pink handle and rainbow symbols. On her wooden herringbone floors, which are usually flooded with sunlight from the windows, you'll find a large scale cigarette sculpture and scraps of colorful paper that Dumet has cut herself for painting.
Beyond these ironic images, Dumet also satirizes these luxury logos by placing them within the everyday banalities of life, such as in her latest work, The Real Clubhouse, where she humorously weaves the illusion of high glamour at which these objects are worshipped into a detailed scene at the breakfast table. In this work, she portrays a man wearing a red sweater with a Lacoste alligator logo cracking an egg and a woman squeezing orange juice with a classic black Chanel bag on the counter beside her. Peering closer, you can also find more subtle logos such as the Chanel C's on the collar of the cat or on the violet Louis Vuitton sleeves of another woman slicing pears.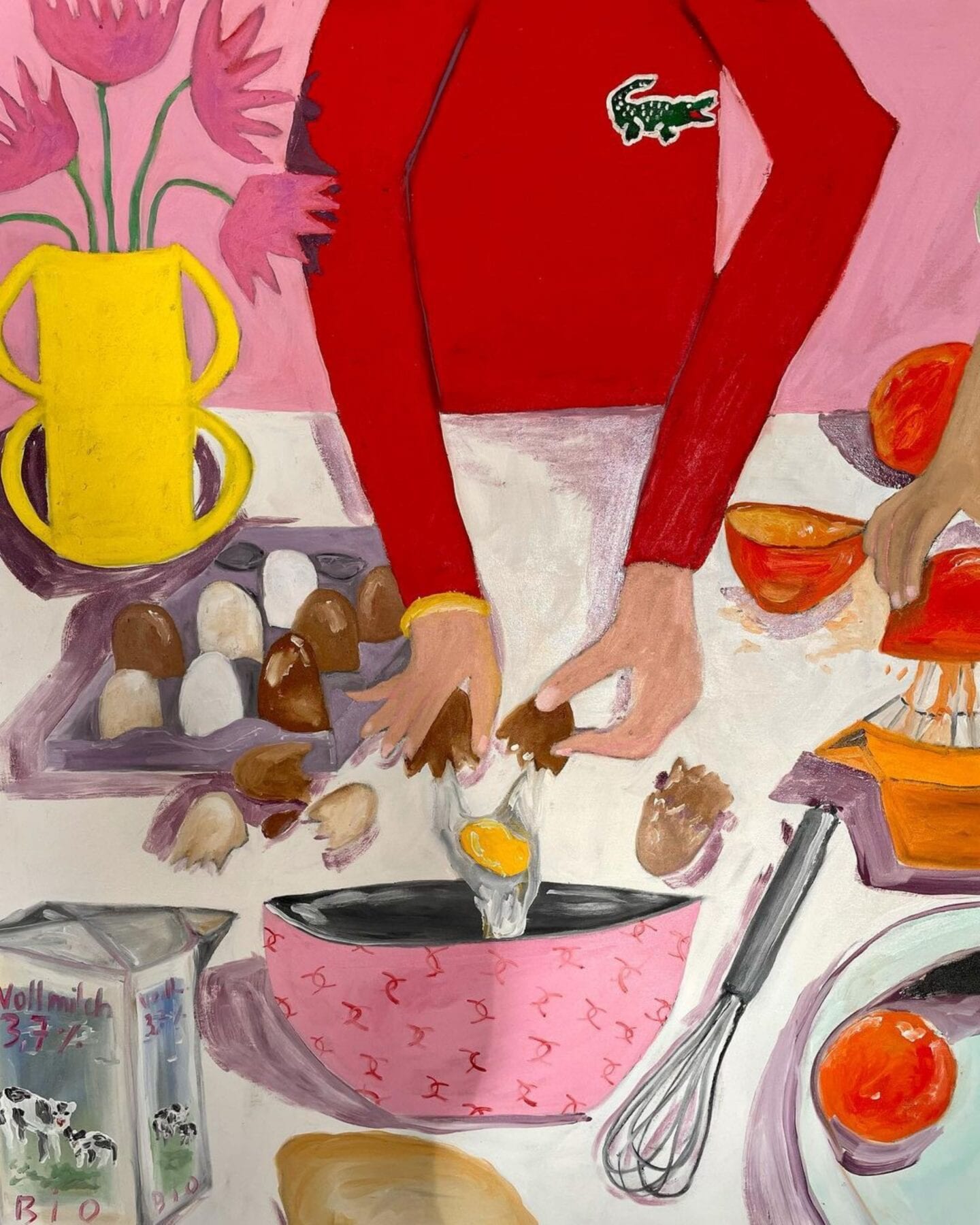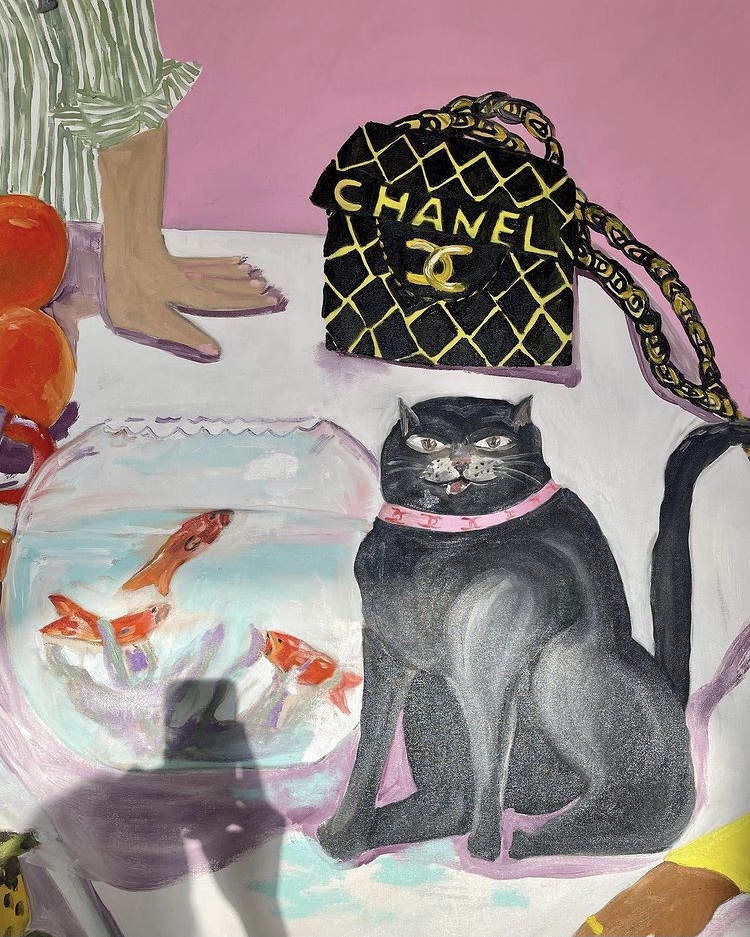 For her current show with ART SHE SAYS, the artist has created a series of works on paper featuring "12 objects of desire"–multi-colored version of Chanel, Prada, Louis Vuitton, Hermès. The collection is available until the end of February.
"That's why I'm a painter today–my studio and the blank canvas is where rules and time don't exist. It is where I'm completely free. To me, this is a pure luxury."

–Johanna Dumet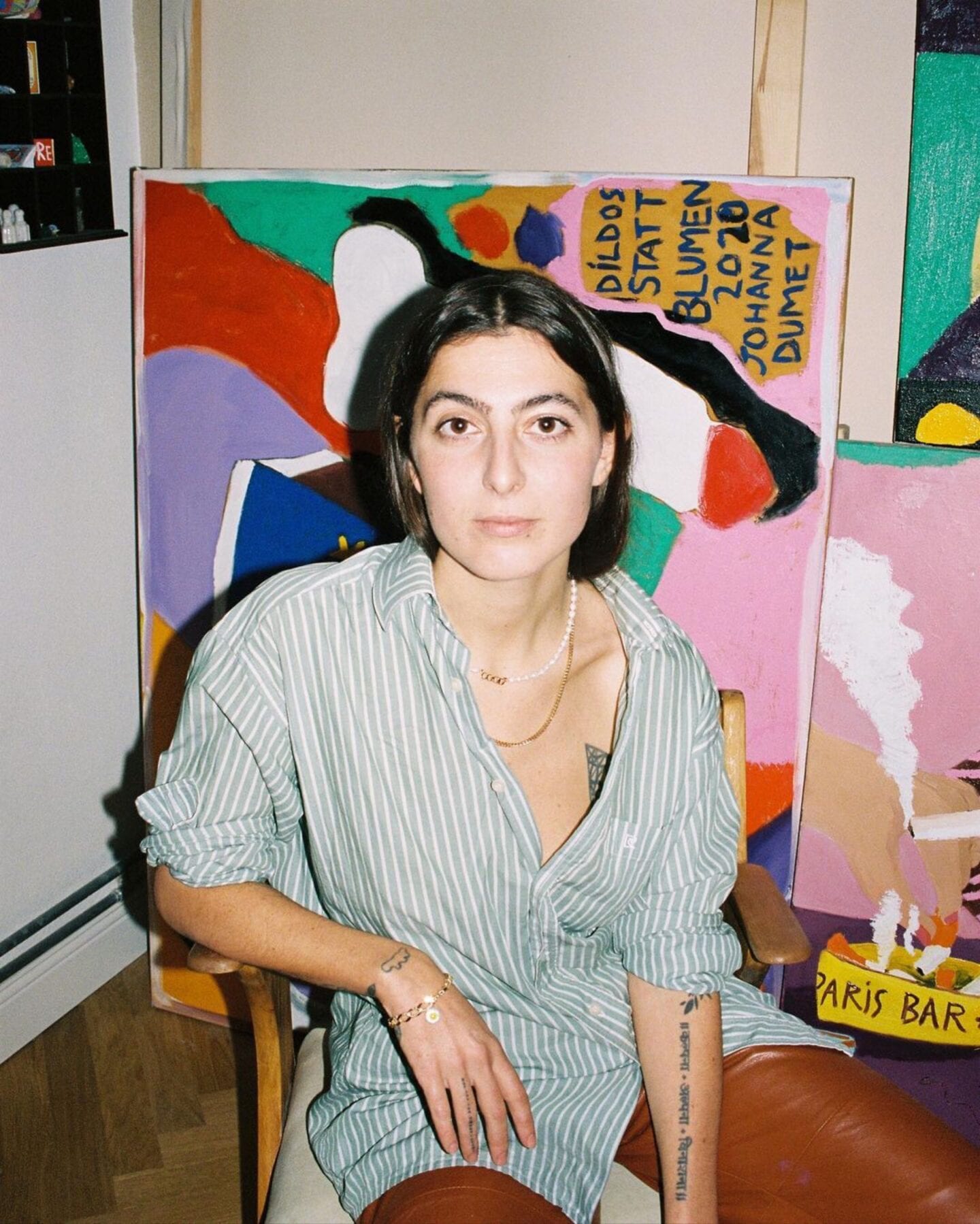 Describe your work in three words.
Seductive, colorful, ironic.
What is your creative process?
Depends. Sometimes I know what to paint so I sketch with charcoal and then paint. Sometimes I don't know what to paint so I apply colors on the canvas and try to find out in the abstract shape I have created something figurative and then I paint it.
Where do you source your materials?
I follow fashion, not as much as I used to, but I always keep an eye on what's going on. I love to dress well myself so I'm always checking here and there for vintage treasures for myself. If I can't afford it or have no need for it, I use it as inspiration for my paintings. Would definitely love having all the handbags I've just painted, but… you know!
What is your approach to color?
I see colors as feelings, colors can talk, they are memories, sensations, they are meaningful, they also tell you which other color they want to be put next to. Colors have such a power. They can bring us happiness. This is how I work with them, being aware that they are powerful.
Who are some contemporaries or figures in art history who have influenced you?
There are many and I am planning to paint them. To give a few, Peggy Guggenheim, Milton Avery, Jean-Michel Basquiat, Fernando Botero, Nina Simone, Henry Matisse, Joseph Beuys, Helge Schneider, and so on.
What motivates you to create?
My dreams and goals, I am still young and I have a still a long way to go, I guess I will be painting all my life and I paint everyday already so my creative process, no matter what I do or where I am is always on, I'm absorbing the world and try to find beauty in it and translate it onto the canvases.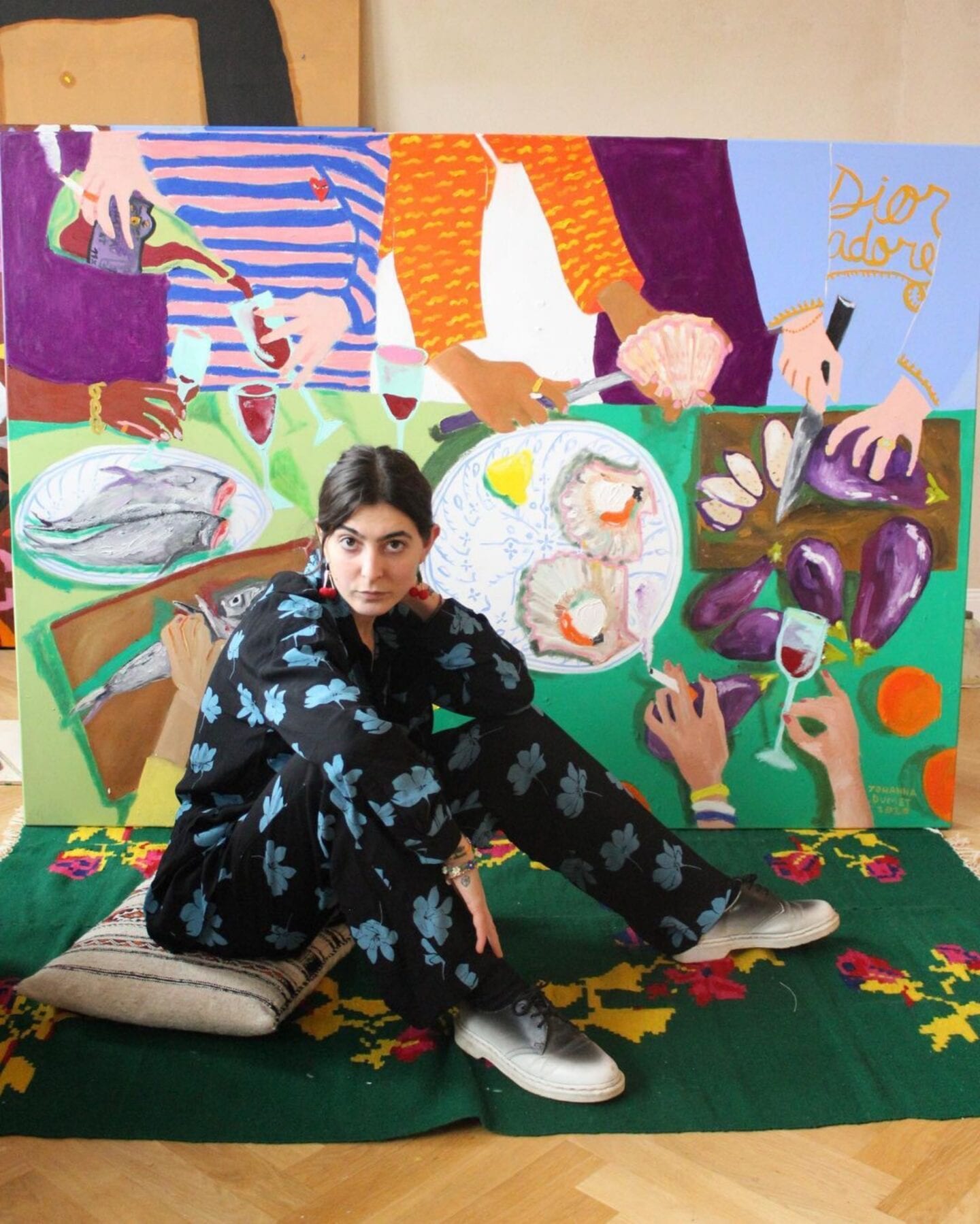 What is your philosophy on life?
To be free. To keep the freedom I had as a child growing up in the French countryside with no neighbors and the whole world, although small, was mine, I was so close to nature and could do anything I wanted, almost! That's why I'm a painter today–my studio and the blank canvas is where rules and time don't exist. It is where I'm completely free. To me, this is a pure luxury. My partner, the sculptor artist Manuel Wroblewski, has the same philosophy in life and we are both looking for a bigger place by the sea where we can create our worlds away from toxicity.
What is one artist living or dead you feel a great connection to? Someone whose work has inspired your own practice and what you're creating these days?
I know it's cliché because we are both French, but Henry Matisse. I discovered his work really early and it accompanied me in my journey. More than his paintings, I am connected to his lifestyle, his urge to paint. He could paint around 80 oil paintings in a month, and when I heard that it really motivated me to work harder. I managed to paint 12 oil paintings in a month after that and it felt good!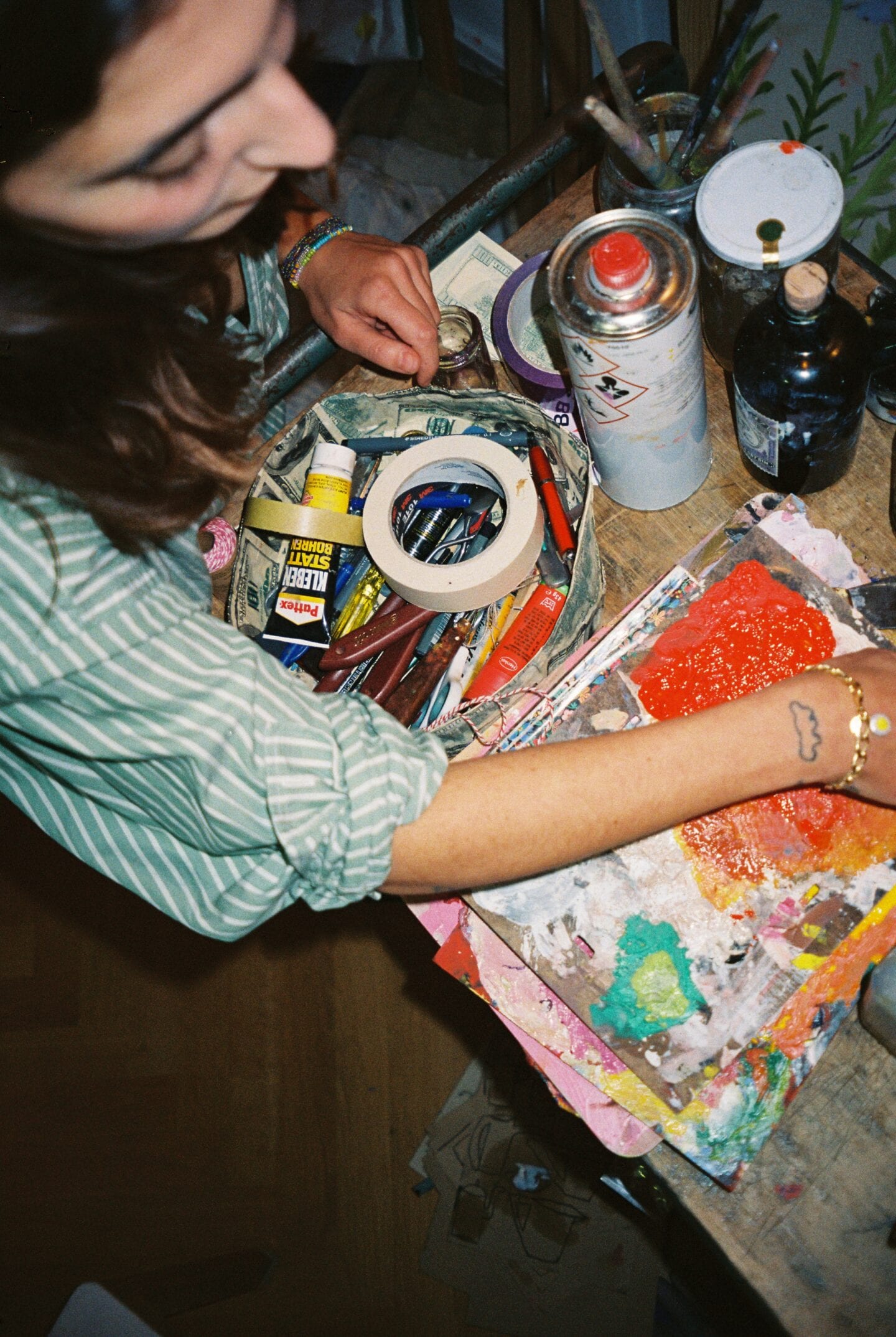 What's something you will not be doing in 10 years?
Smoking? Maybe, though..
Tools or mediums you're dying to experiment with?
Clay and porcelain. I am planning on buying a ceramic Kiln this year and can't wait to work with this wonderful material again. To me, working with clay is a sort of meditation.
Silence or sound while creating? If sound, what are you listening to right now?
Mostly silence, so that I can hear myself thinking. When sound is on: Often we put on the NPR Tiny Desk and let it run–always looking for new artists to listen to!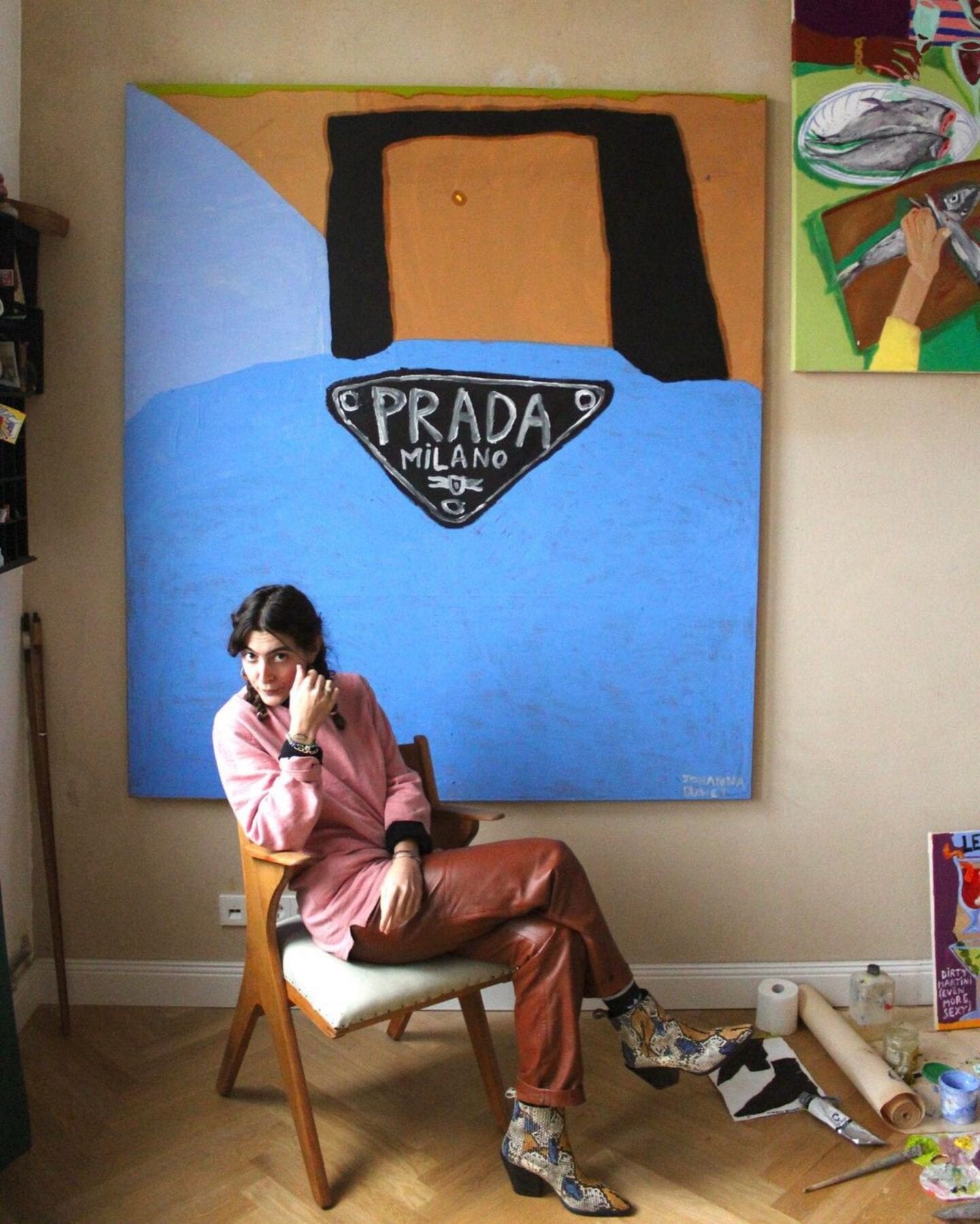 If you could have a drink with one artist, who would it be?
Tom Waits!
What makes you laugh no matter what?
My boyfriend's dance moves, hahahahaha!
Name your favorite female artist.
Helen Frankenthaler since many years.
What makes you excited about the future?
I have made big plans about the future and I can see that I am getting where I want to be. Things are happening more and more, and this is really exciting. If you work hard, dreams can come true. I wish everyone would know that!
---