Francesca DiMattio's Collaboration with Tory Burch Imbues the Decorative with Strength and Power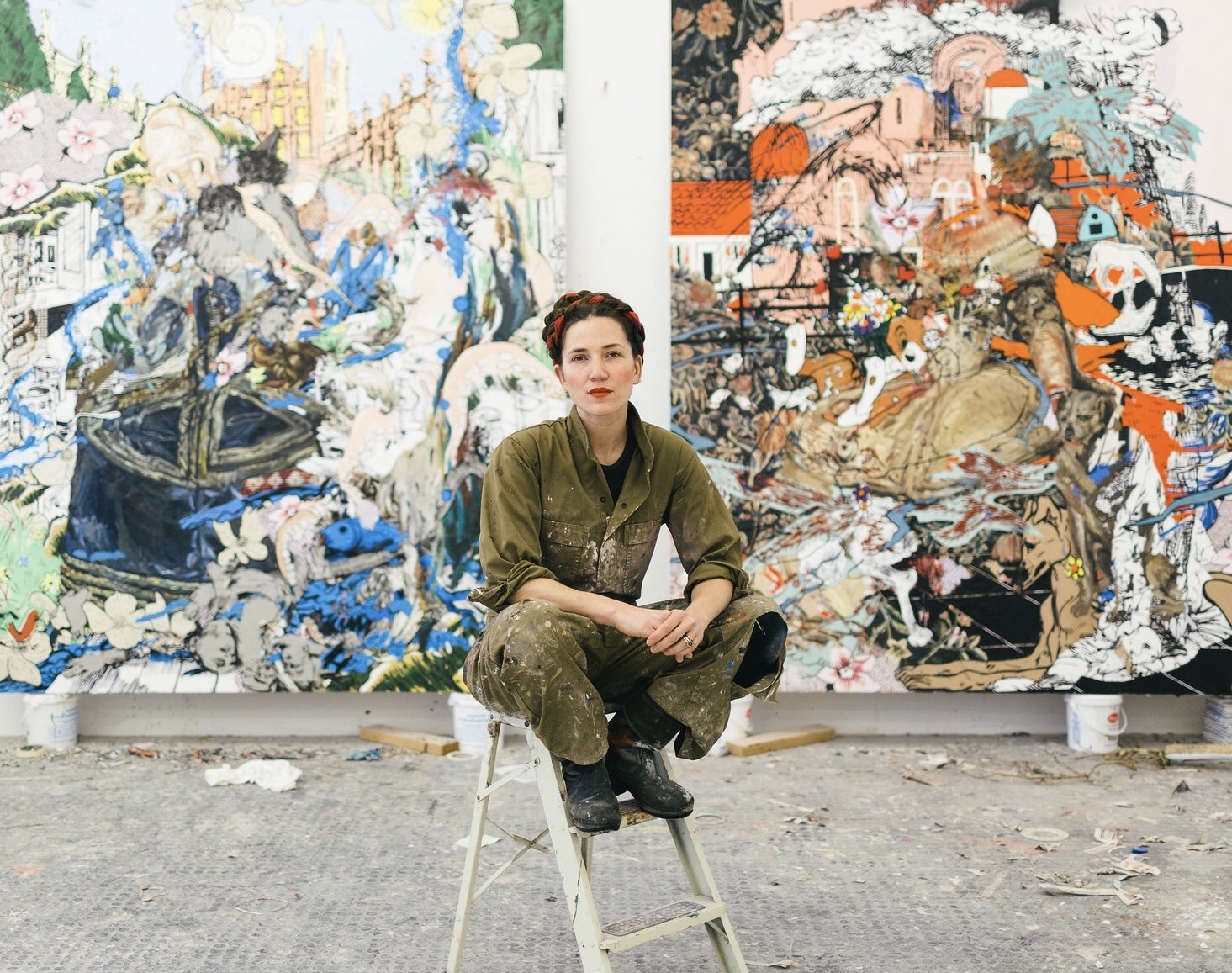 This Fall/Winter 2020, American designer Tory Burch was inspired by the porcelain sculptures of Francesca DiMattio, a New York-based artist who creates imposing structures that challenge traditional norms of femininity.
---
Previously exhibited at Salon 94, American artist Francesca DiMattio's ceramic sculptures mix elements both delicate and monumental, resulting in imposing structures that challenge our ideas about strength and power. Each sculpture's impressive size and ambiguous shape blur the lines between what's man-woman, old-new, high-low. Borrowing from a vast range of historical techniques and incorporating decorative motifs often written off as feminine and frivolous, such as wedding beads and basket weavings, DiMattio's ultimate aim is to create an "unstable headspace, where our notions of taste and beauty, quality and gender are upended and confused."
For Tory Burch FW20, the artist designed twelve florals for the collection, based on her and Burch's shared appreciation of the history of Turkish, English and French porcelain. The collection features a series of maximalist, exuberant prints—each based on a DiMattio sculpture from the Tory Burch runway (which took place at Sotheby's New York)—ranging from painterly florals to abstract takes on Sèvres porcelain.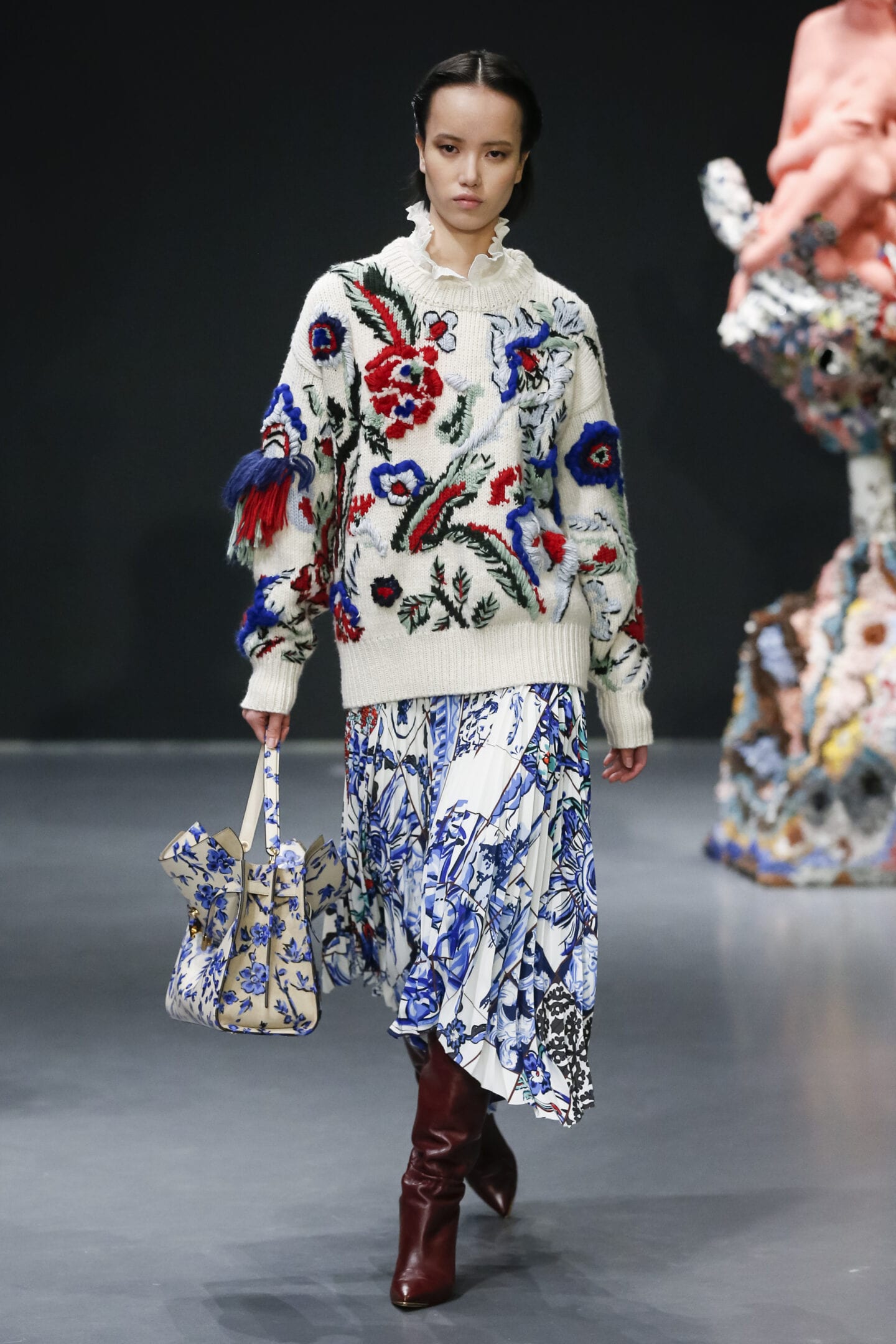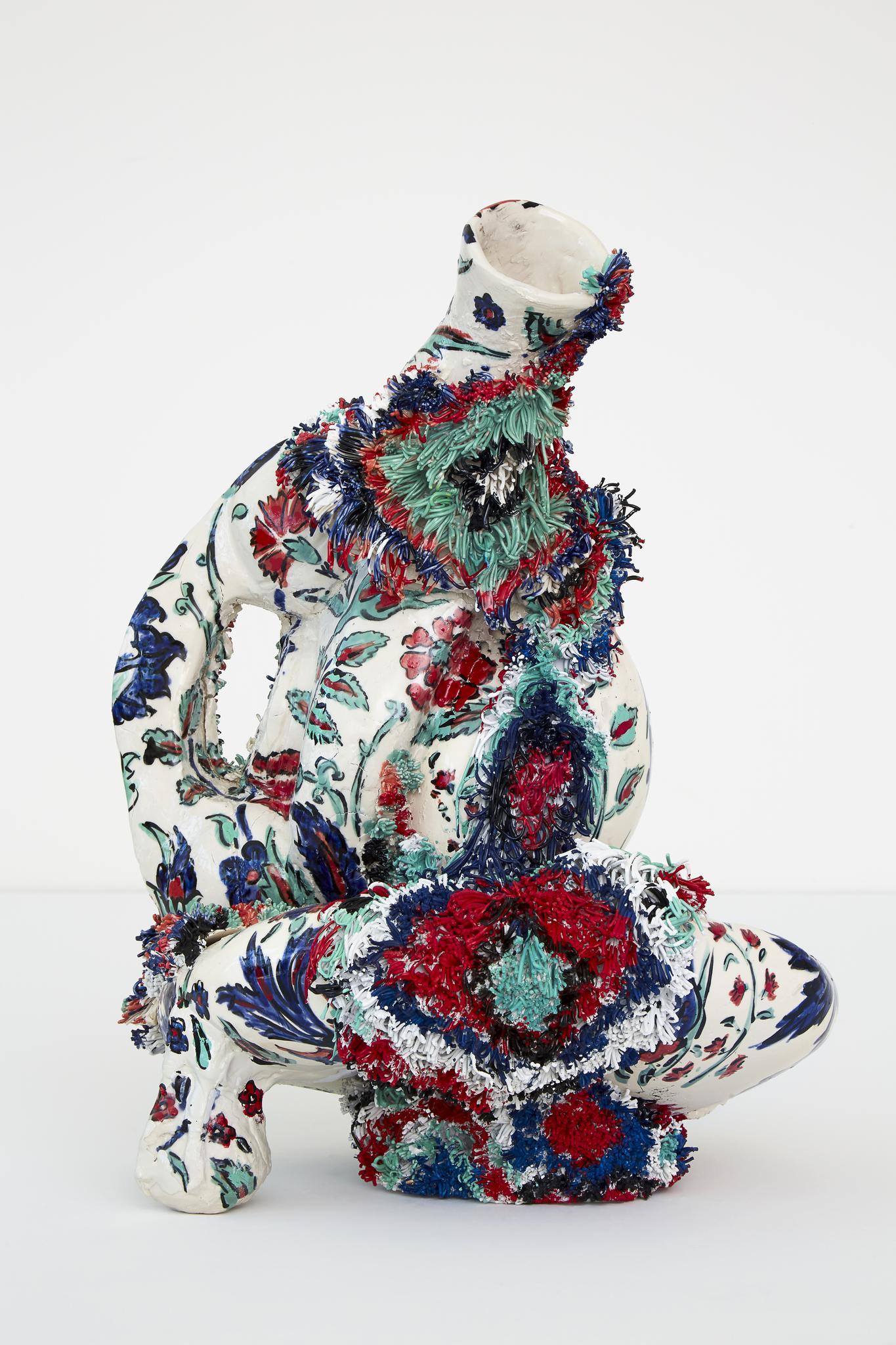 "I hand-painted these designs over and over until they became gestural, quick and expressionistic rather than careful and delicate," DiMattio says. "They have an urgency and toughness that is uncharacteristic from their decorative origins. The colors, too, are brighter, bolder versions of what you would see in classical porcelain."
The collection reinterprets classic and nostalgic themes that interplay between masculine and feminine, tradition and modernity: menswear suiting cut with a softer shape, structural details played against fluid silhouettes, historic references reworked with modern ideas. All epitomized in the gray power suit, silk lace blouse and tall leather boots.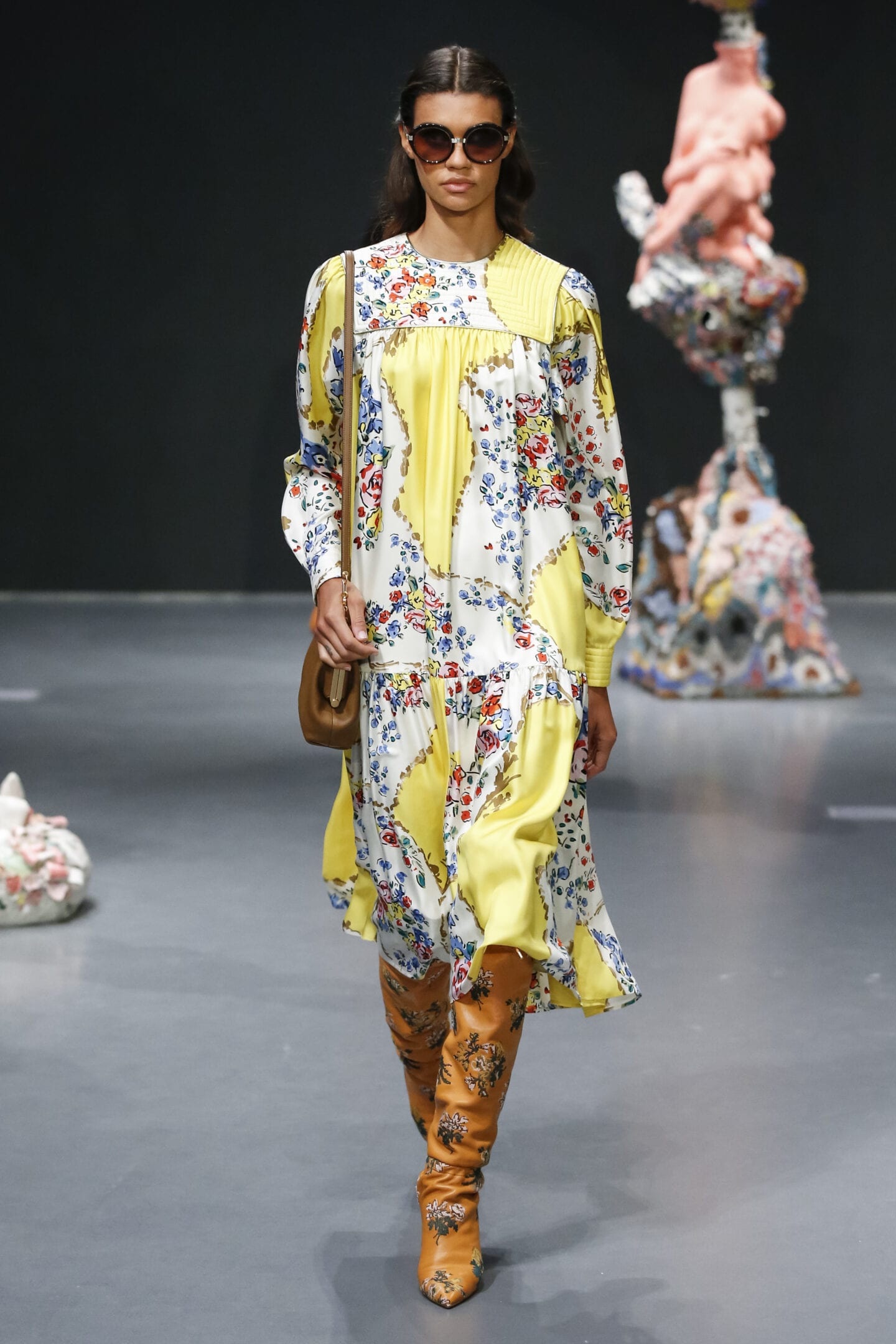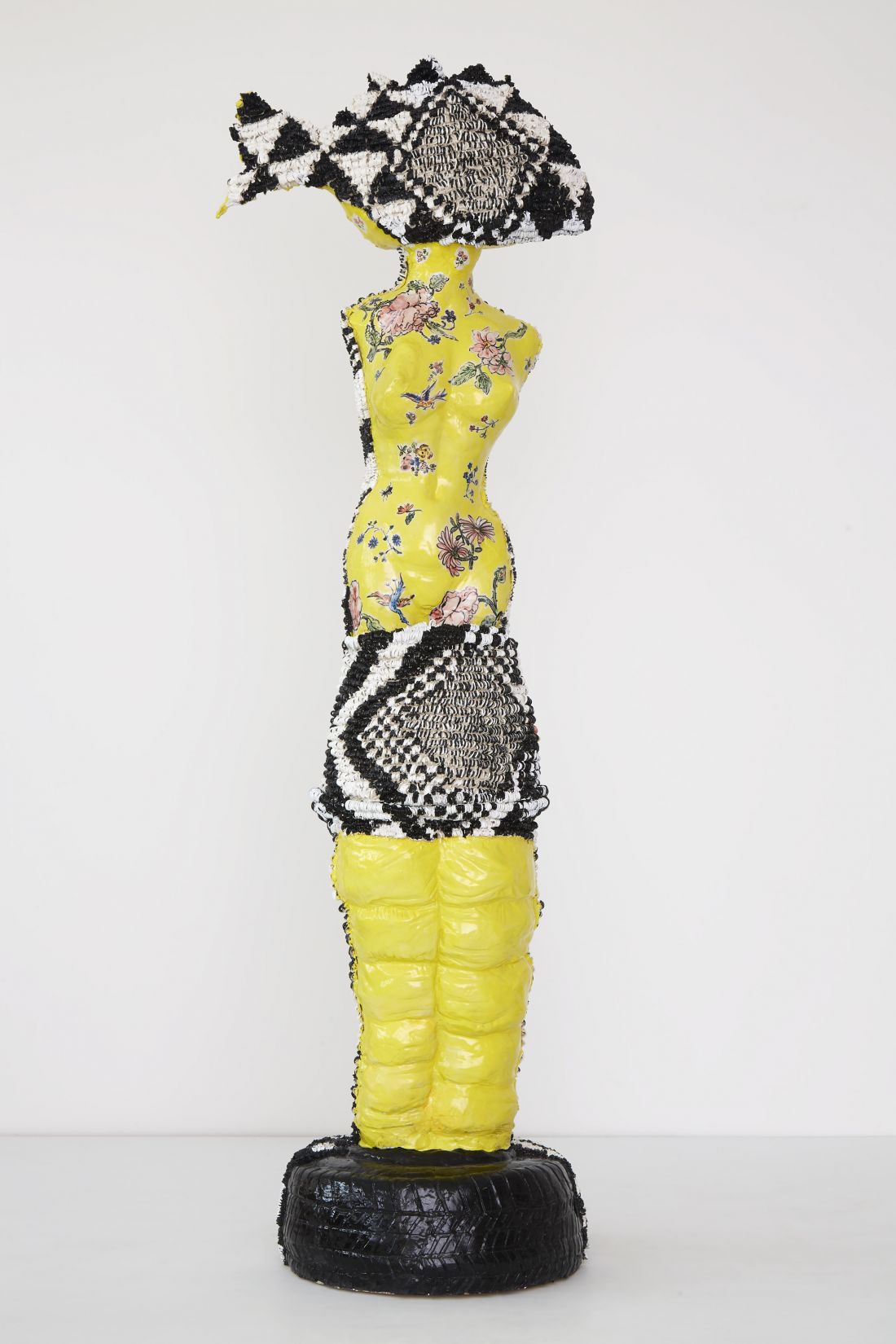 Burch says of the collaboration: "I remembered from studying art history how the work of Judith Leyster, one of the great Dutch Masters, was misattributed after her death simply because she was a woman. It's a struggle that women artists have faced throughout history and still do to this day."
Below are some of our favorite sculptures by DiMattio combined with her latest designs in the Tory Burch Fall/Winter 2020 Collection.