Behind the Scenes with Studio 54's Iconic Photographer Rose Hartman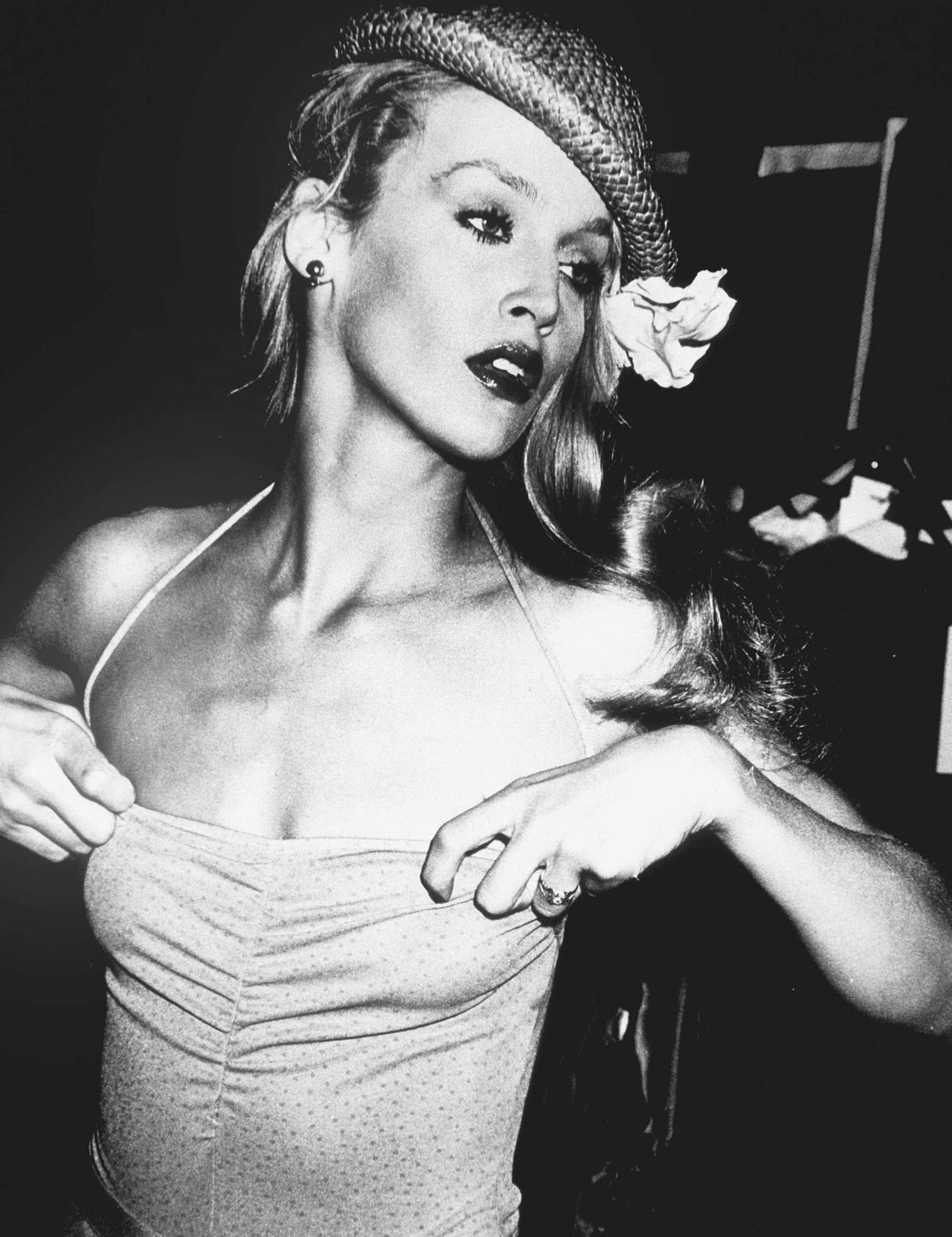 From April 4-7, fashion, celebrity, and nightlife photographer Rose Hartman will have her works shown at Throckmorton Fine Arts at the AIPAD Photography Show at Pier 94 in New York City.
---
A few blocks from her apartment on Charles Street, Rose Hartman arrives to meet us for breakfast at Sant Ambroeus in the West Village. Ordering a cappuccino and croissant, the iconic 81-year-old photographer talks to us about her retrospective career shooting over four decades of New York City's most creative energies and high-strung personalities, offering an unprecedented visual entree to today's most celebrated individuals who transformed New York into the most fascinating city in the world.
A native New Yorker, Hartman found her true calling for photography while working for the SoHo Weekly News. Her first noteworthy assignment was the 1976 wedding of Ernest Hemingway's granddaughter, Joan Hemingway, to New York restauranteur, Jean De Noyer. Her coverage was published on the cover of the Daily News Record, a prominent fashion publication. Afterwards, her career took off — she took her camera where nobody else wanted to, photographing backstage at fashion shows and shooting celebrity icons in some of the most legendary settings of New York City nightlife, from Studio 54 to the Metropolitan Museum's Costume Institute Gala.
Among Hartman's most recognizable photos include Bianca Jagger riding a white horse at the Studio 54 nightclub on her 30th birthday. Her photographs have been published in countless newspapers and magazines, including The New York Times, Harper's Bazaar, Rolling Stone, Vanity Fair, W, and Vogue, among other international publications. Most recently, her works have been used in Netflix's latest documentary on Studio 54, which follows the rapid rise and fall of the Manhattan discotheque and the glittery debauchery that attracted the city's eccentric and elite. Her published books include Birds of Paradise (1980), Incomparable Women of Style (2012), and Incomparable Couples (2015). She is the subject of the 2016 documentary film, The Incomparable Rose Hartman.
"You have to have a certain tenacity to be a photographer like Rose, to get yourself front and center and to get that shot." —Phillip Bloch, Creative Style Director
---
You've been called fearless, relentless, and an icon for photography of fashion, celebrities, and events.
Yes, those words are true.
So I want to ask: What are the characteristics of your photography and how has your style shifted over the years?
Well clearly when I started in 1976 I had big cameras and film. And as you probably know, there are no rolls of film available. So even if I wanted to continue, I couldn't. The labs that printed everything are gone. So, I moved to digital, I had a big digital camera, and I also, believe it or not, most recently used my iPhone. Which may sound strange to you, but I have gotten some really wonderful pictures.
How do you see the future of photography in the era of iPhones and Instagram?
I will never take a selfie. Ever. People photograph me a lot and I hate it. I don't like seeing myself image-wise. I sent you the Beijing (Vogue) article which I just did a few months ago. I shot that with an iPhone and that's not manipulated. That's my eye. I think being a photographer has to do with your eye and not your equipment.
When was the first time you used a camera?
It was 1976, and believe it or not, I knew an editor at a publication called The Daily News Record, which is like Women's Wear Daily, but devoted to men's fashion. So I said I'm going to Sun Valley to take a workshop, and they said: "We're going to give you an assignment at the Hemingway wedding." So that meant the granddaughter of Ernest Hemingway. It was a big deal. And it was so beautiful.
I got there, I met Mary Hemingway, who was at that moment the widow of Ernest — he had already killed himself. But then, I got to go to endless parties before the wedding of the granddaughter to Jean De Noyer, who owns the restaurant De Noyer in New York. It was quite a gathering and I loved meeting all these new people, whether they were actors or whomever.
Do you remember what kind of camera you used?
Olympus.
"I think the beauty of Rose is that she is a woman understanding a woman photographing a woman." —Donna Karen
---
As one of the few female photographers during the late 70s, what was it like to work in a male dominated industry?
Believe me, most were male, most were — I don't want to say "killers" — but tough, tough, tough. They never hurt me, but they would push to get in the front. You know it's funny, I never really thought about it. I would take my camera — Studio 54 started in 1977 — I'd take the subway to 50th Street, go inside, hide my cameras in the speakers because the speakers were gigantic — dance — I always would there — and when something would happen I would run to the speaker (I wouldn't be very far because otherwise the cameras could have been stolen) again — Olympus system, big lenses — and then I would start to shoot whoever I wanted to. No one told me you can't shoot there or shoot that. They didn't have advertising signs.
Describe what the energy of Studio 54 was like.
You must see the documentary. The director of the film sent interviewers who came to my apartment and set up everything. I'm edited out, so don't look for me in the film — that's all I'm going to tell you, which really made me disappointed. Then they put my photos in Ian Schrager's book.
Did you always want to be a photographer?
Well I loved style. Style might be a woman in Rajasthan walking with a vessel of water on her head looking so marvelous with dozens of bracelets and brightly colored sarees. I was a high school English teacher and I was very strict. This was on the Lower East Side. I would say to the students: "Well if you don't want to learn, then just leave." And they couldn't believe it so they never left.
For me, personal style is everything, and it doesn't have anything to do with money. I mean, you've seen, quote on quote, "Ladies Who Lunch," and I've photographed all of them. They're wearing designer clothes — and they're beautiful clothes — but it doesn't say anything about the owner except she bought the clothing. And when you see the fashionistas who I've photographed through the years, someone just crossing the street in the Village — maybe a young artist, or an acting student — someone who puts together clothing to make a statement of originality — I just love that. I'm just attracted to that. Just for a moment. It doesn't last. See the person, boom, finished.
"Hartman carved her place in history with fearless ambition and an eye for photographing split-second intimate moments of high fashion." —The Austin Chronicle
---
So how long were you a teacher and what made you take the plunge to start photography full time?
Since it was very frustrating to be a high school English teacher — I was very young at the time — I kept thinking, well, there's something else. I had this Russian boyfriend and he saw how frustrated I was and said, "Well what are you interested in?" And I said: "Well, I love behind the scenes. I love to see people getting ready." And basically, that would be the fashion shows and, I don't know, it just happened, I'd say.
I mean, I was photographing Kate Moss, Cindy Crawford, and Stephanie Seymour, and Christy Turlington. Sometimes I was not invited backstage and sometimes I was. It would depend, some designers were very strict at the time.
What was it like to shoot with a bunch of male photographers around you?
I wasn't the only woman, there were 4 or 5. Once I decided that I wanted to photograph — I loved seeing my images — especially when they were published, let's say in Vanity Fair. I thought: "Oh my god, this is fabulous!" This was the high point. For example, I was in the New York Times when they did a big story on Donna Karan when she started her career. They used my picture way, way back. So I love those moments.
Describe the moments before clicking that shutter and taking a photograph. What do you look for when capturing a photograph?
I look for an expression that's very lively, whether the person is speaking to somebody or just sitting quietly. But something in the face that's not a public persona, and I can't explain when I take it — I just take it. And I only take a few pictures, like Bianca on the horse — I only took two pictures because they took the horse away.
Describe your photographs in 3 words.
Intimate, individualistic, beautiful. Because really, people always say the subjects look so beautiful and I say: "Well that's what I wanted." I didn't want them to be eating a croissant — I would never take that photo honestly. Or when Calvin Klein was flirting with a young man, because he was making people believe he was not gay. And I still say hello to him — he lives in the neighborhood. Meaning I was never trying to catch someone. So therefore, I would never make a lot of money like Ron Galella would hide in the restaurant. [Paparazzi] would sleep in cars all night and wait because maybe somebody was having an affair. I would never do that.
"It's a very very complex of a situation—who is she? Is she an artist or is she just an observer? Because she's not truly a paparazzi, but in a way she's even more invasive because she waits for that perfect moment when no one's looking." —Ronald Sosinki
---
Can you describe the difference between paparazzi and fine art photography?
Difference is the paparazzi would do anything — you know they rented helicopters and fly over weddings or rented motorboats to get close to the island where a couple was honeymooning. I was invited inside. So when I was at Studio 54, I was one of the few photographers invited inside. In other words, I never bought a ticket, I never waited in line, I would just say hi and walk in.
Name your favorite photographers.
One is Deborah Turbeville, unfortunately she passed away. She made the "Bath House" on Saint Marks Place, which was her early, early project and they were beautiful. Another one is Susan Meiselas who photographed wars in El Salvador and Nicaragua, and actually got shot — she's alright but she certainly did not hold back — I respect her so much. I also like Ellen Von Unwerth, who's a fashion photographer— sexy, beautiful images.
Did you ever receive any formal training?
I took workshops — I took a lighting workshop at ICP, I took a summer workshop in Tuscany, before Sun Valley, I was in Boise, Idaho — which is like a population of two. I go to lectures all the time that are presented by photographers, I go to galleries all the time that specialize in photography.
Do you have any favorite galleries?
I love Staley-Wise and I love the Throckmorton Fine Arts. And I'm hoping that when I'm in AIPAD on April 3rd, the most prestigious photography show in the country, that people will buy my photos and then Throckmorton Gallery will say: "We want you to be in our gallery."
Tell us more about your upcoming exhibition at AIPAD.
I would always go to Latin American photography exhibits at Throckmorton and would always have a friendly relationship with them. This gallery is often in other art fairs and they just said to me: "We would like to show you at AIPAD, which is the Association of International Photography Art Dealers." Then they chose a number of pictures that I had printed very carefully, and now we'll see what happens.
What has been your favorite photo that you've taken?
Well I love the show of Mick and Bianca kissing because you or anybody will never see a shot of them kissing. And this was after her birthday at Studio 54 — again that shot of her on the horse, was the shot seen 'round the world. It made Studio 54 instantly world famous because it was just so iconic and gorgeous.
Do you continue to photograph to this day?
The last pictures were at Beijing. I had a Studio 54 exhibition. I was in a gorgeous hotel, I could go swimming everyday inside. Then I would go to the points of interest, the forbidden city, et cetera. I was with a female curator.
What inspires you?
Just something. When you saw that red and gold image from Beijing, that woman was going to her wedding. I ran across the street, and I didn't think she'd understand me because really, people in Beijing do not speak English, unless they are in very high positions. But she did and I said: "You look beautiful!" She said, "We're going to our wedding." But she stopped for me, because I think she was very flattered, here I was, this Western woman. I took two or three pictures and off she went. So I don't even know how to explain it, I just get a feeling inside, "Oh, I really want to photograph that person." It may not always work, let's say if she got into a car she would have disappeared.
Have you ever had moments like that where you saw something amazing and you didn't get to capture it?
Well the other night I was at the play "Gloria," based on Gloria Steinem's life. So who's sitting there? Hilary Clinton with Gloria Steinem. So I spent most of the evening looking at their most glorious expression. Can you imagine if you were watching a play about your life and photographs of you when you were younger? She's 85.
Tell us about your recent documentary.
'The Incomparable Rose Hartman' — it's entertaining. You'll hear a lot of different comments. As you know, everyone has their own agenda. I think you could pick out who those people are. Some were just fantastic. There's a range.
I had given a talk on Madison Avenue and this man was there with a woman who was with an agency that made commercials on Mercer Street called "The Artists Company." And they just came up to me because they loved my presentation — I'm very funny when I talk about photos, et cetera, humorous per se. And they said: "We would like to make a documentary." I didn't know them at all. And that's how it happened, honestly, as simple as that.
How do you uncover people's inner persona in your photographs?
I photographed Catherine Deneuve at MoMa, there was a film showing, she was there I was here. And I will often say to some people, "You look fabulous tonight," or, "What designer are you wearing?" when it's Ralph Lauren's wife. And they would break out laughing. I'd try to get them to remove the public face — that's very important. So again, a funny remark. What would Ralph Lauren's wife be wearing? Not de la Renta!
I can speak to anybody, I don't have any problem. Once, back to Catherine Deneuve, she was walking on Prince Street with no makeup — this was years ago — looking quite plain, I would say. I said: "Madame Deneuve, I would love to take one photo." She went: "No." And I never, ever asked again. Because as soon as you ask, if the answer is no, it's over. So I'd always tried to be discreet — I like to say I'm like a fly on the wall and I'm always looking for the best, and I'm the worst, as you I'm sure could tell.
Tell us about your recent project, "Femme Fatale."
"Femme Fatale" is what Musée Magazine called it but I'm calling it "Eye Candy." Somebody has suggested it and I liked it. To me, "Femme Fatale" is not a mannequin, "Femme Fatale" is a person. And in the sense of "Eye Candy," you look at that window and you want to be inside. Somebody wrote that: "Outside is hell, the windows are limbo, and inside of the store is paradise." Believe me, I didn't say that, but I thought it was a great line.
What was the turning point of your career?
I think photographing Bianca on the white horse changed my career because everyone I meet, even today, they know that picture. They may not know I took it, they'll say: "You took that?" So it continues. I love that response.
What does photography mean to you?
Probably everything. Because remember, I'm freezing time. I also read something that I relate to: "In the photo, the person is always young, never deteriorates." Many of these people remember I photographed them years ago and I still see them if they haven't passed away — like Calvin Klein, who is often here. Somebody like that. I was photographing him when he was just beginning his career.
---
Rose Hartman is based in New York City. www.rosehartman.com