Art Auctions: What You've Always Wanted to Know But Were Too Afraid to Ask

Going once, going twice, and SOLD! All about the fast-paced, exciting world of art auctions, and the ins-and-outs of bidding hard and smart on contemporary art.
---
If you're a Sex and the City aficionado, you may be familiar with Christie's auction house. Flash back to Sex and the City: The Movie, where Samantha and the girls attend an auction to bid on the cherry-picked diamond flower ring. Critical to this scene is Samantha's act of buying something for herself, in addition to the thrill of bidding in a real-time auction.
This scene takes place at Christie's, one of the big players in the auction world. While Christie's is a space to bid on many items, from houses to jewelry, a main focus remains their art auctions. So, whether you're a SATC fan or not, let us take you into the world of art auctioneering.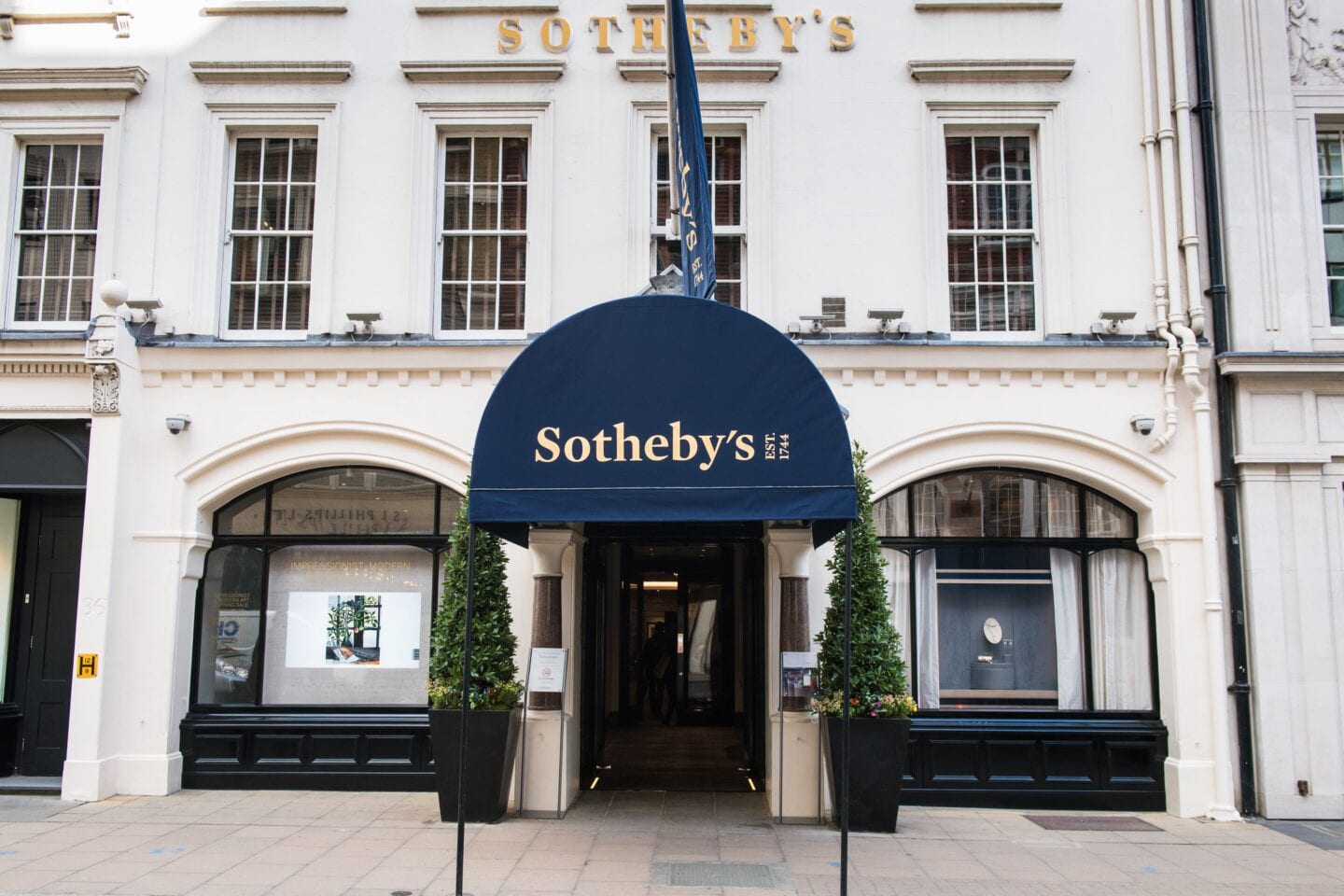 What is an auction house?
While many view art auctions as exclusive events reserved for the elite, they're actually public events. Anyone can stroll in and attend (to get a bidding paddle requires a little more effort, but more on that later). Think of auctions as the "sport" of the art market. Just like with any sporting game, a little preparation is required from all teams involved. Prior to the live event, auction houses provide online catalogues of works which will be sold. The catalogue is the most important source of information. One can browse through the upcoming lots and see their estimated value. The price range, which is determined by the auction house, is simply an estimate and provides a starting point for what the works will sell for. The catalogues also include the provenance, information about the history of the work and where it has been exhibited. It's important to note that auction houses are almost the biggest drivers of the art market. Sales at public auctions exceeded $30 billion in 2019, almost 45% percent of the total art market value!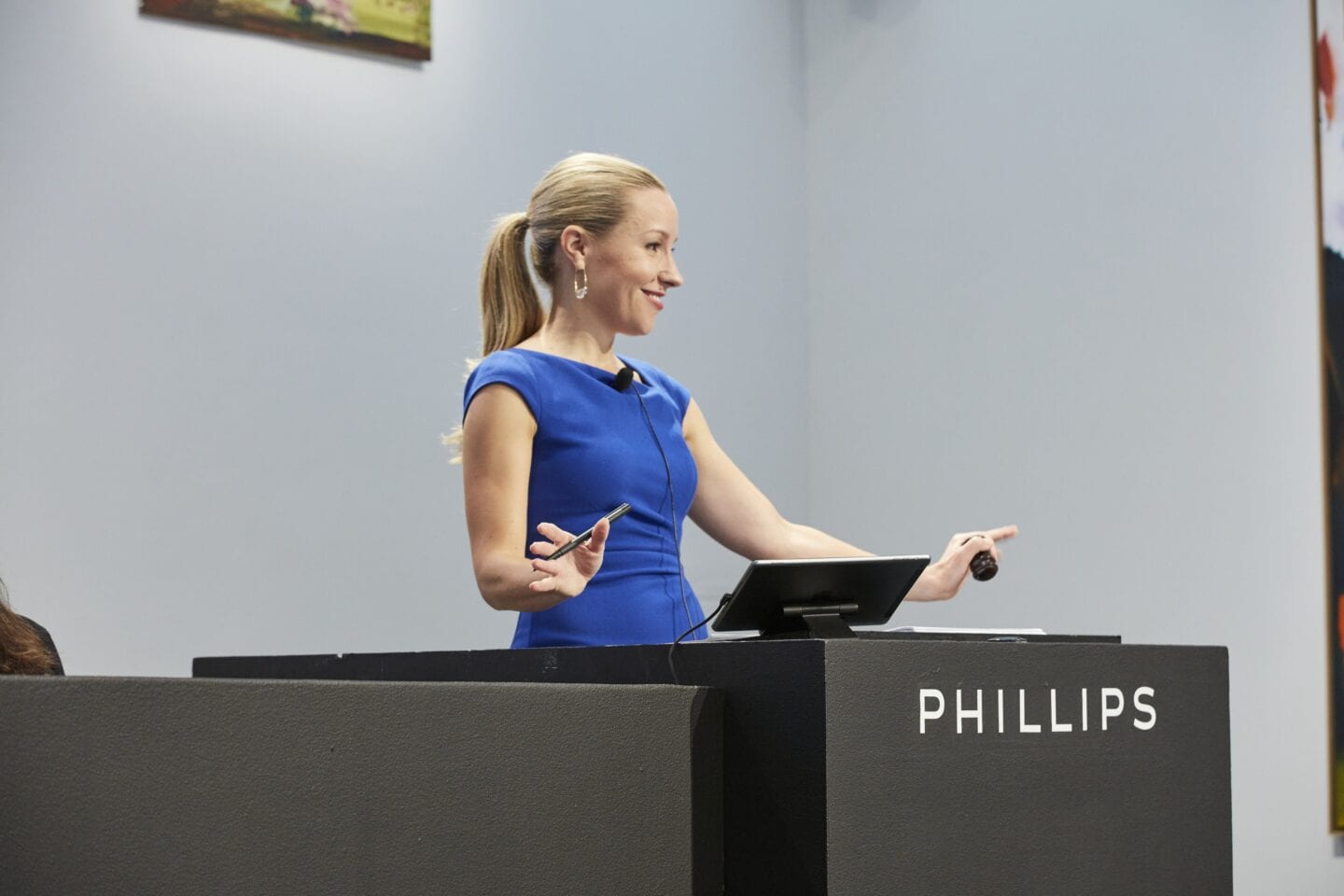 How can I attend?
While auctions are public events, one must go through a pre-check to actually be given a paddle. The checking process starts with the registration of your name, shipping address, and payment details. After this your IP address is checked against the supplied address and your card is checked for sufficient funds. All of this happens behind the scenes before you're given a paddle, a telephone bidding line, or access for online bidding.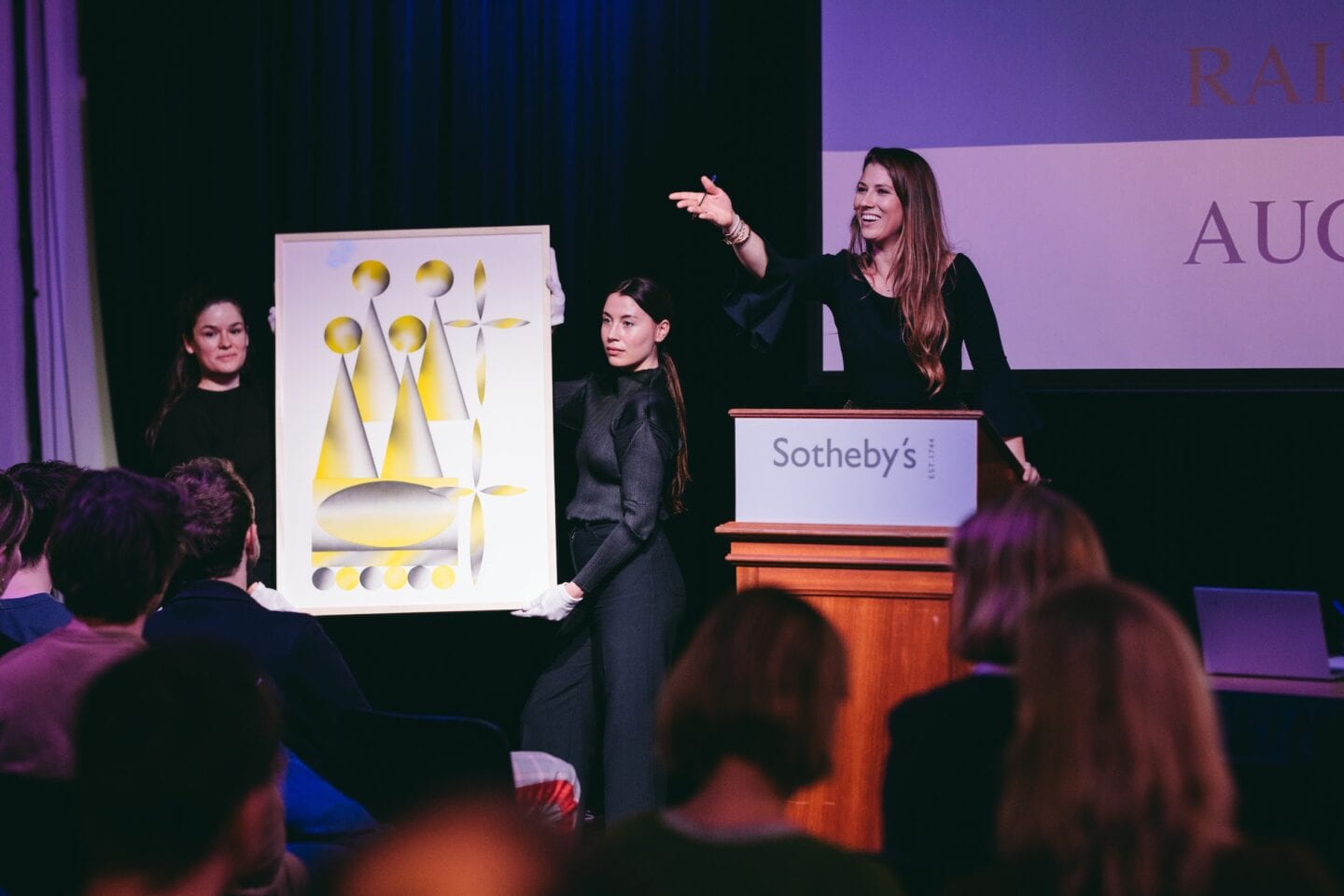 Which auction houses should I know?
The three key players in the world of art auction houses are Sotheby's, Christie's, and Phillips. Let's start with Sotheby's. Sotheby's was founded in London in 1744 as a bookseller. In 1955, it became the first international auction house after establishing itself in New York. It would also become the first international auction house to sell in Hong Kong, Russia, India and France, setting a precedent for the international influence the art auction houses have today. For 31 years, Sotheby's was listed on the New York Stock Exchange as a public company with shareholders and a public valuation. In June 2019, however, the ownership was transferred to "Bid Fair," a company owned by French Israeli telecom entrepreneur, and art collector Patrick Drahi.
Another key player in the auction space is Christie's. Christie's was also founded in London and arrived shortly after Sotheby's in 1766. Today, Christie's has offices in 46 countries and hosts about 350 auctions each year. Sotheby's and Christie's are infamous for being the two big names in the art auction industry, but there's a third important player to know: Phillips. This auction house was also founded in London in 1796, in the same era as Christie's and Sotheby's but with a different mission: to help artists spark their careers. It's a smaller rival, with a different focus. Phillips is owned by the Mercury group, a Russian luxury goods company, whose headquarters are based in New York. Together Sotheby's, Christie's, and Phillips compose "The Big Three" art auction houses.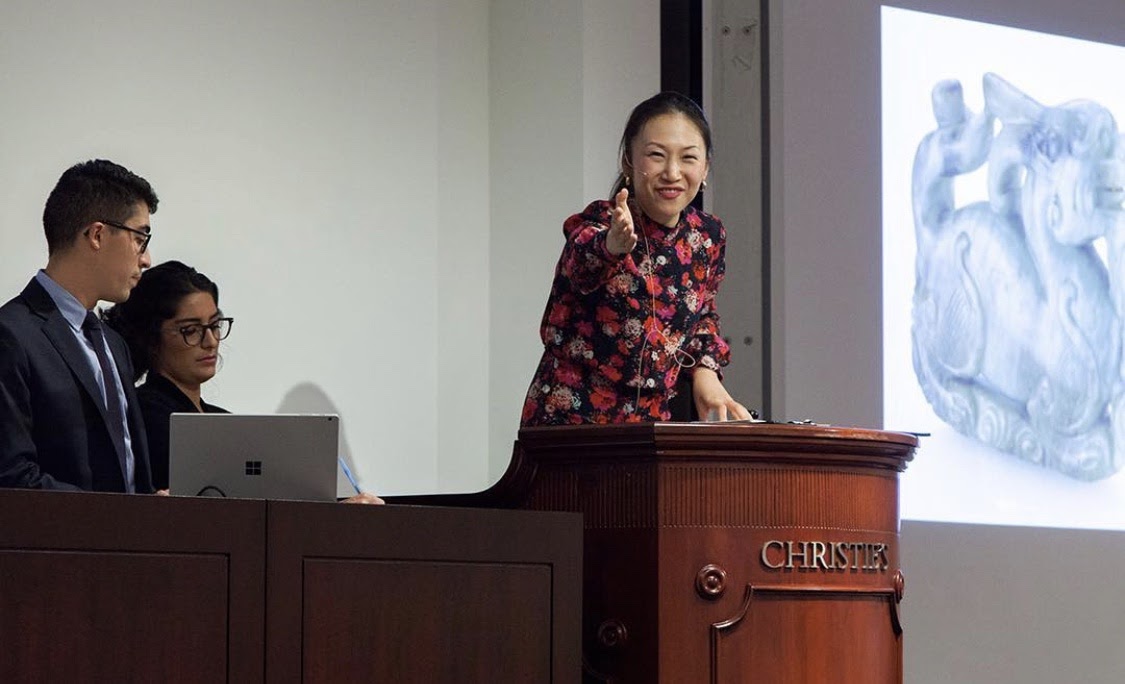 What auction lingo should I know before stepping into an auction house?
We already mentioned the importance of doing some "prep" work, and vocab is one facet of this preparation.
Auctioneer. The heart and soul of the auctions, who is responsible for MCing the auctions and keeping track of the bidders, including those bidding via the telephone. Auctioneers may appear slightly pompous and serious, yet they also have the humor of first-class comedians. They are uniquely able to balance this with the coolness of a pilot, which makes auctioneering a challenging and exciting role.
Lot. The work included in a specific round of bidding, either a single work or several grouped by artist or theme. These will be called out by the auctioneer throughout the session.
Estimate. The prediction, made by the auction house, of what the lot will sell for. The estimate is presented as a range to allow for different bids, and is included in the pre-released online catalogues. If a work sold for above its price, it's said to have gone beyond its "high estimate."
Telephone Bid. Not every bidder has to be physically present during an auction. This allows for anonymous buyers to bid via telephone bids, who sit behind the auctioneer in a "phone bank."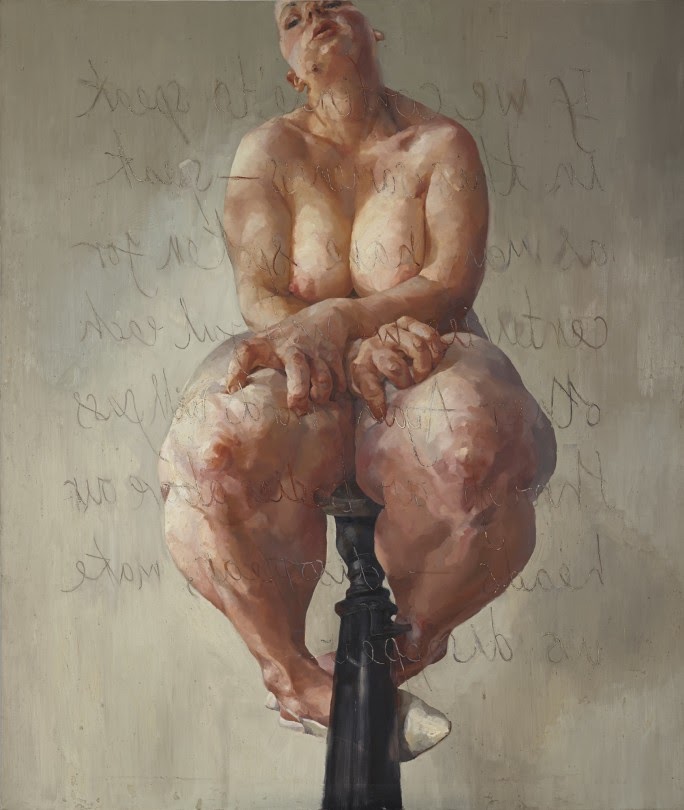 What is the most expensive work ever sold at an auction?
The world record for highest sold artwork at an art auction is held by none other than Leonardo da Vinci, whose work Salvador Mundi from circa 1490 sold for $450.3 million at Christie's in November of 2017. Next to the attention the work gained due to its sale price, the work has attracted some controversy about its conservation and cleaning efforts, leading some to question its originality. It's also important to mention the world record for highest sold artwork at an art auction by a female artist. Jenny Saville broke the record in 2018 with her sale of Propped, which sold for $10.9 million at Sotheby's. Critical here is the stark difference between the same record for a living male artist: which is held by Jeff Koons' Rabbit, sold for $91.9 million, showing that the gender gap is very much alive in the world of art auctions.
Enjoyed this Art Auction 101? Learn more about the insider world of art auctions, including a live excerpt of a Christie's viewing on Episode 4 of Art Fix. Sign up for our newsletter to receive a special ART SHE SAYS discount code for 15% off your contemporary art course membership.